Here are three over the top overcab storage cubbies.  Who would have thought this much storage could be possible in the cabover?
1. Cubbies in Overcab for Added Storage
Submitted by: Mark Siminoff, 2005 Dodge Ram 3500, 2004 Alpenlite Saratoga 935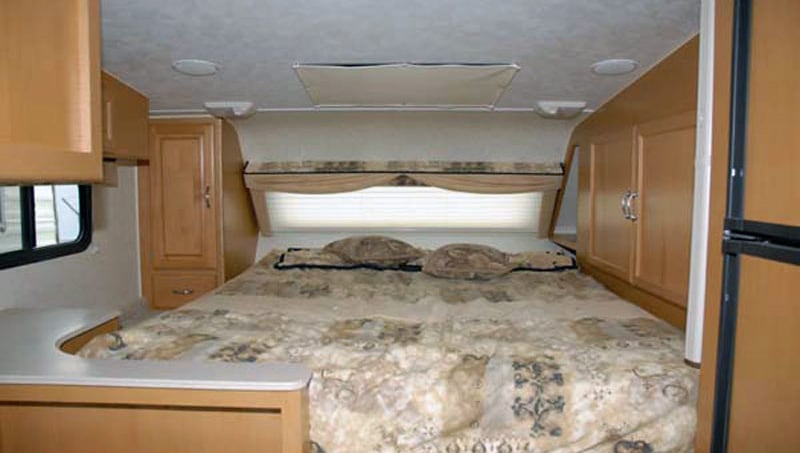 Above: The cabover before the modification
My wife, two children (who are seven and nine years old) and I do a lot of extended traveling in our truck camper.  We were constantly struggling with not having enough well-organized storage space.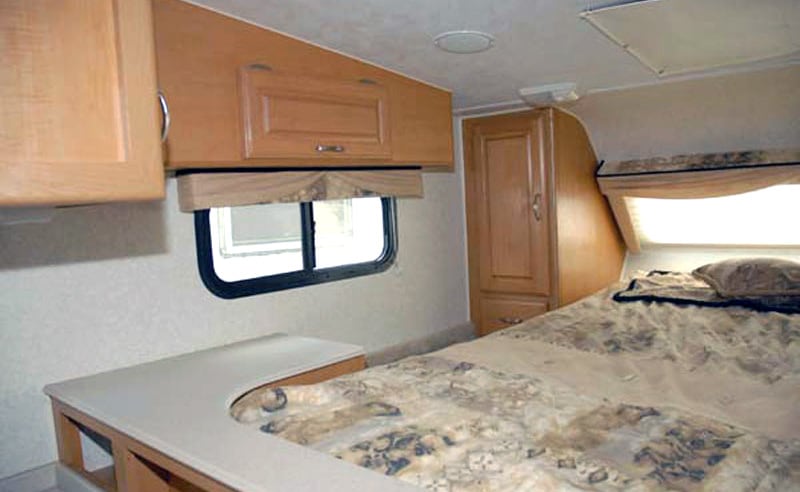 Above: The driver's side cabover before the modification
To address this need, I modified the wardrobe and cabinets on both sides of the cabover area of my truck camper so that we would have room for all of our clothing (both clean and dirty), linens, towels, toys, books and musical instruments.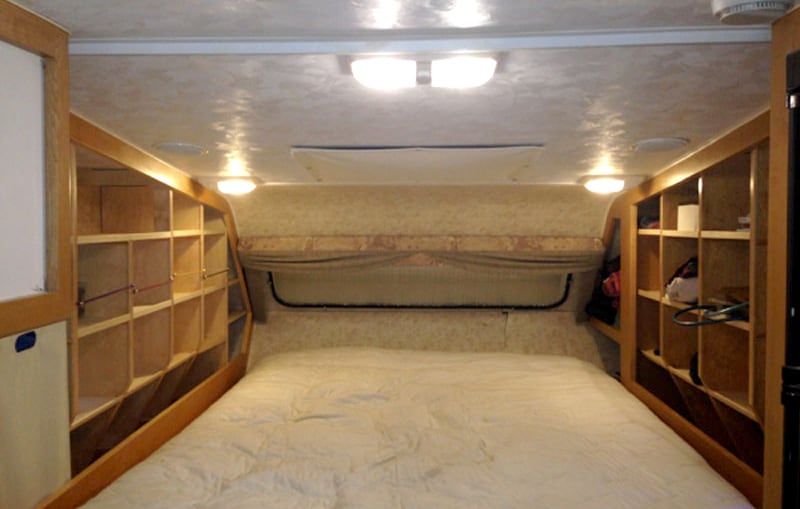 Above: The completed cubbies in the overcab, scroll down to see Mark's process
The factory installed wardrobe on the passenger's side consisted of a small, difficult-to-access closet with a pair of doors that opened over the mattress.  It only offered space for items hung on hangers or placed on the floor.  The cabinets on the driver's side were small, difficult to access, and didn't have any shelving.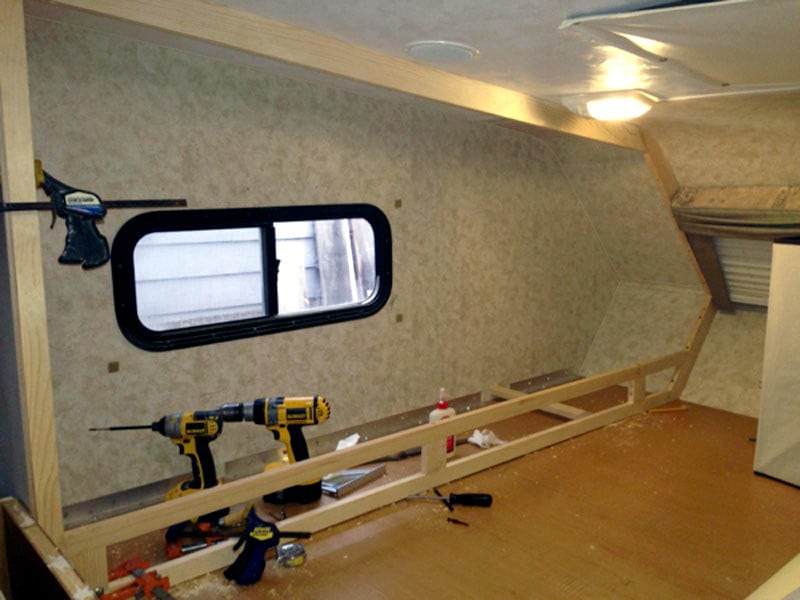 To better manage our storage needs, I built custom cubbies that are designed to hold folded clothing, plastic bins (for things like socks, underwear, toiletries, and personal electronics), and/or shirts and jackets on hangers.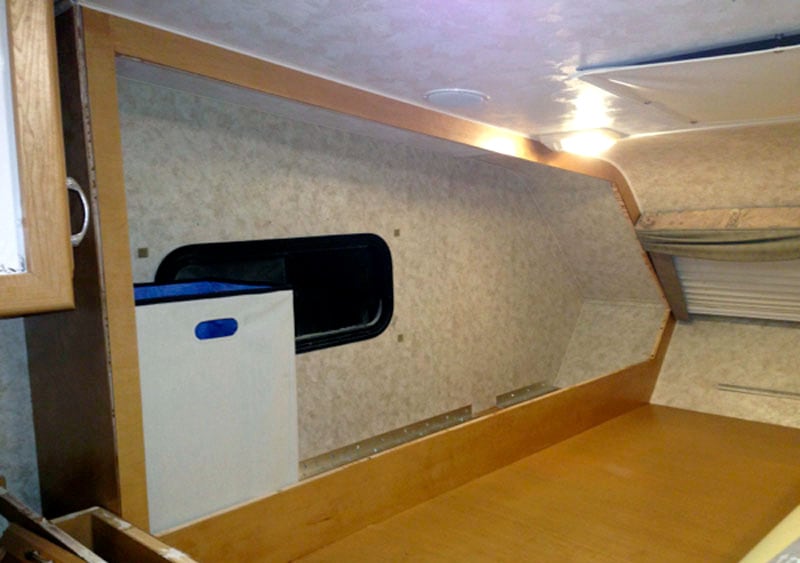 All of the individual shelves are easily removable so that space can be made for large items if necessary.  On the driver's side there is a canvas dirty laundry hamper which can be easily carried into the house or laundromat.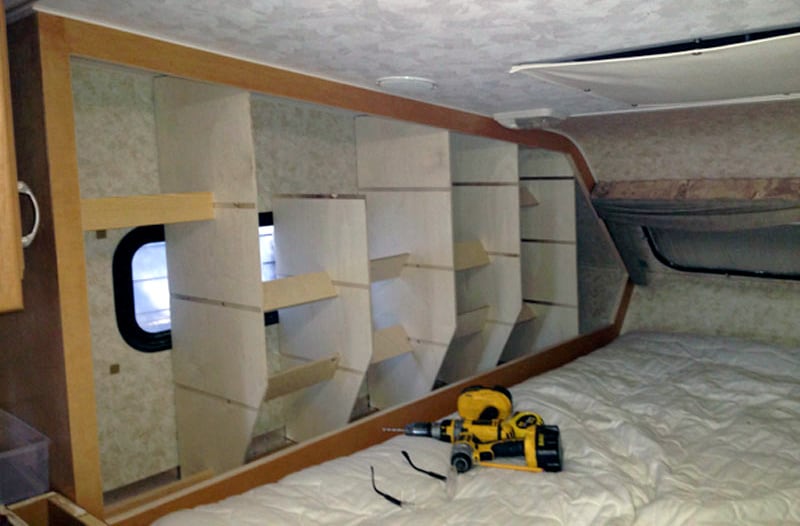 A spare flat-folded hamper is stored alongside the open one and can be deployed if the primary one gets full.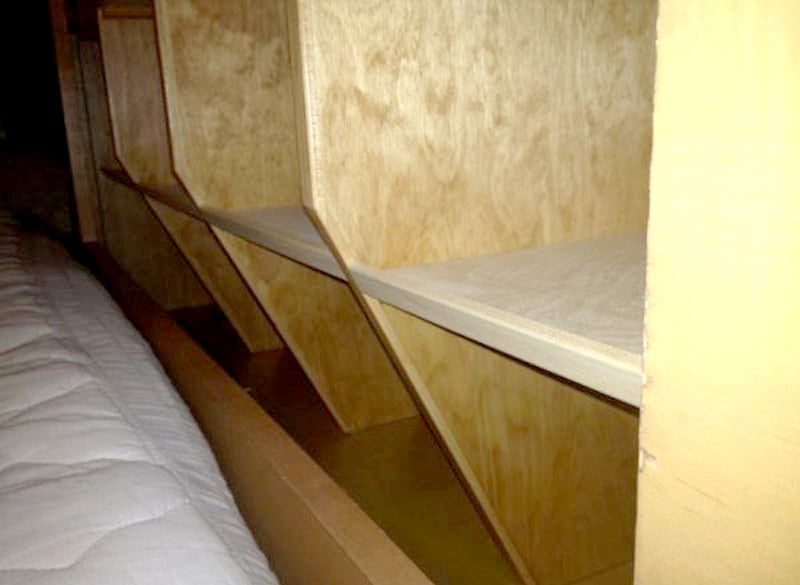 On both sides there is a generous space along the floor where long items, like fishing poles, umbrellas, and kites, can be stowed.