Shoes take up so much room, but are also constantly needed, so they need to be easily accessible.  Bill, Ray, and Steven share their creative shoe storage solutions.
1. Cargo Nets For Shoe Storage
Submitted by: Bill Harr, 2005 Toyota Tundra, 2013 Four Wheel Camper Hawk
On our east coast trip, we put our shoes on the floor under the over hang on the driver's side cabinet.  Soon we both had two pair of shoes out and the area was getting messy.  The shoes also slid around when we traveled.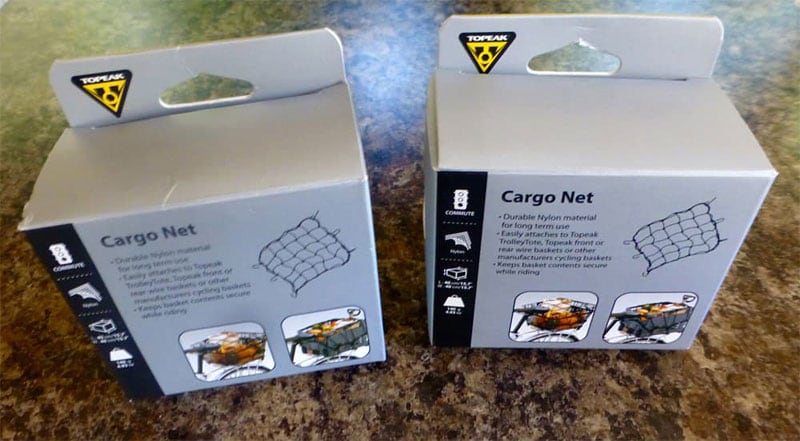 I bought two 15-inch by 15-inch bicycle cargo nets at REI $6.95 each.  I took the metal hooks off and then used zip-ties to join them together making a 15-inch by 30-inch net.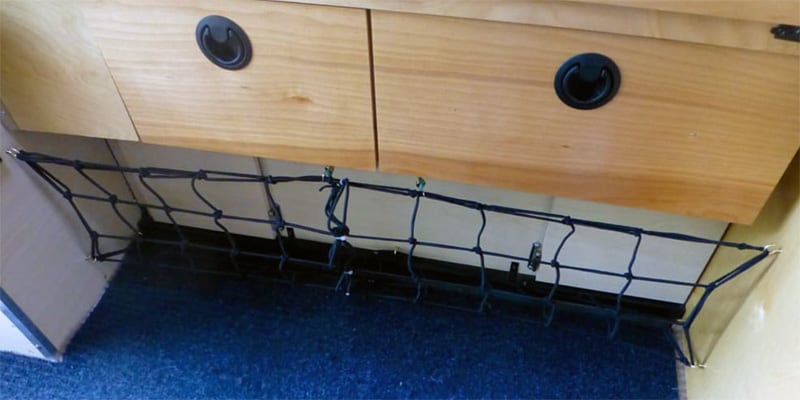 The two nets were joined together with zip-ties and cup hooks were used on each end.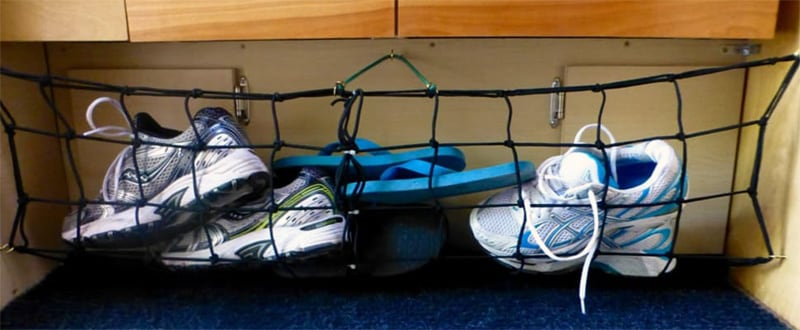 I installed cup hooks on each end of the over hang area to attach the net.  I did put a cup hook in the middle bottom and on top.  The top center hook has a small bungee cord attached to it and the net.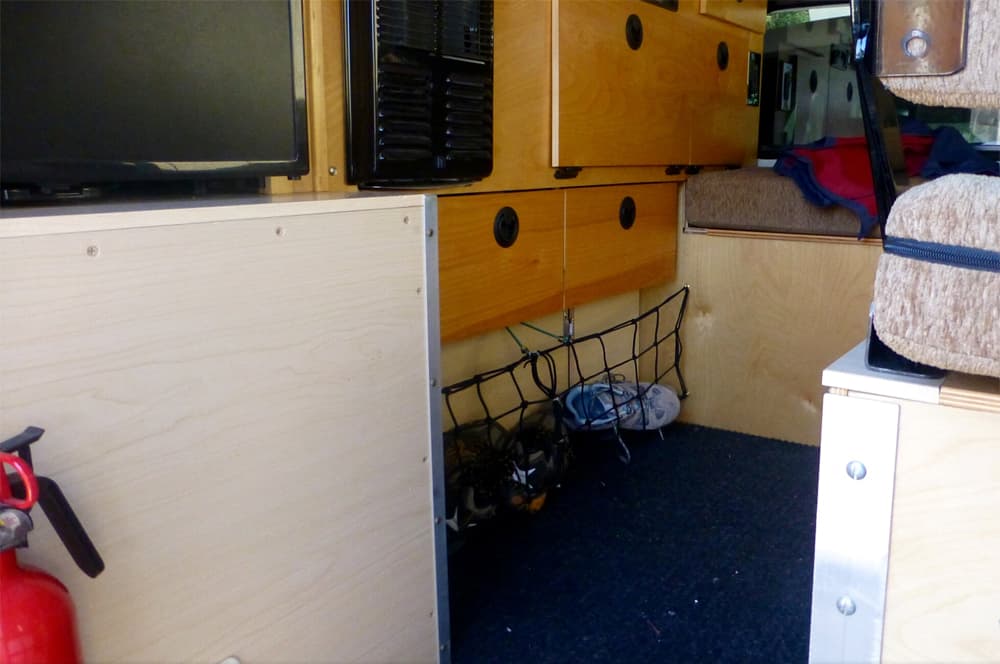 Above: Now our shoes are easy to access and out of the way
This mod used an area that was not being used and keeps our shoes where we can get them.  I have taken a couple of trips and this mod is working great.  The shoes are always out of the way and handy when we need them.
This project took me less than an hour to complete and it cost less than $20.  In my opinion, the skill level of this mod is easy.
2. Boot Tray To Keep Mud, Grass, and Leaves Off The Floor
Submitted by: Ray and Brenda Fair, 2013 Silverado 3500, 2015 Eagle Cap 850
An ongoing battle was keeping our truck camper's floor clean and free of mud, grass and leaves that were brought in on the bottom of our wet sneakers and boots.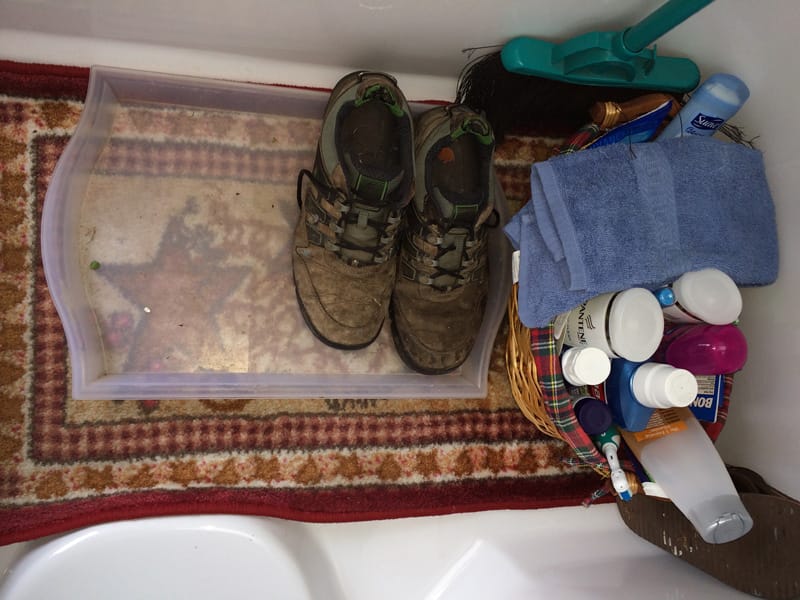 This was resolved with the purchase of a $2 large plastic serving tray (23-inches by 18-inches) that was purchased at a local Walmart.
The tray was placed just inside of the door where sneakers and work boots are placed after entering the camper.  The tray helps keep the floor of the camper cleaner.
It took me no time to complete this modification and cost me $10.  In my opinion, the skill level of this modification is easy.
3. Command Hooks To Hang Shoes
Submitted by: Steven Sternberg, 2013 Chevy 2500HD, 2012 Palomino 8801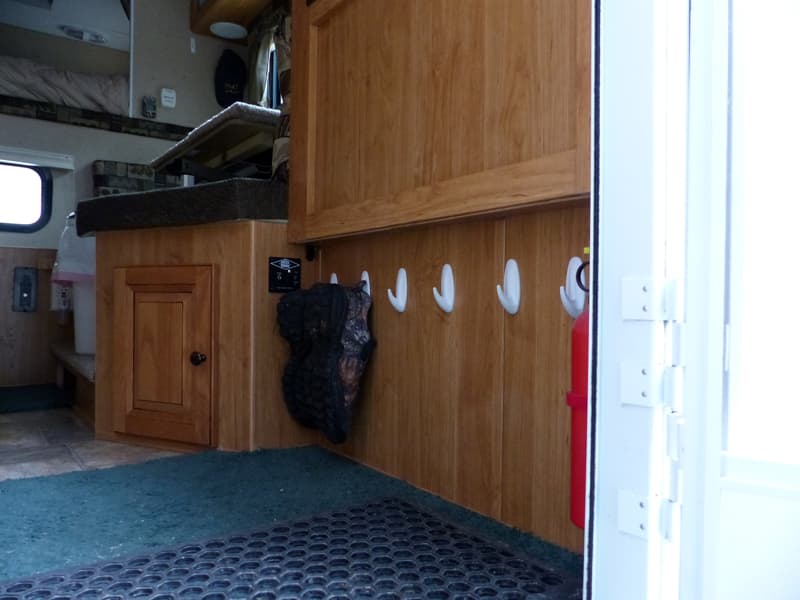 I have added stick on Command hooks for a shoe rack because I wanted easy shoe storage.  The shoe rack is for stationary use.
It took me 5-minutes to complete this modification and cost me $15.  In my opinion, the skill level of this modification is easy.