How do you get even more storage out of your pull-out pantry?  Rudy, Cindi, Dan, and Darrin show us how in these four outstanding pull-out pantry storage solutions.
1. Custom Made Pull-Out Pantry
Submitted by: Darrin Pickett, 2016 Ram 3500, 2016 Lance 855s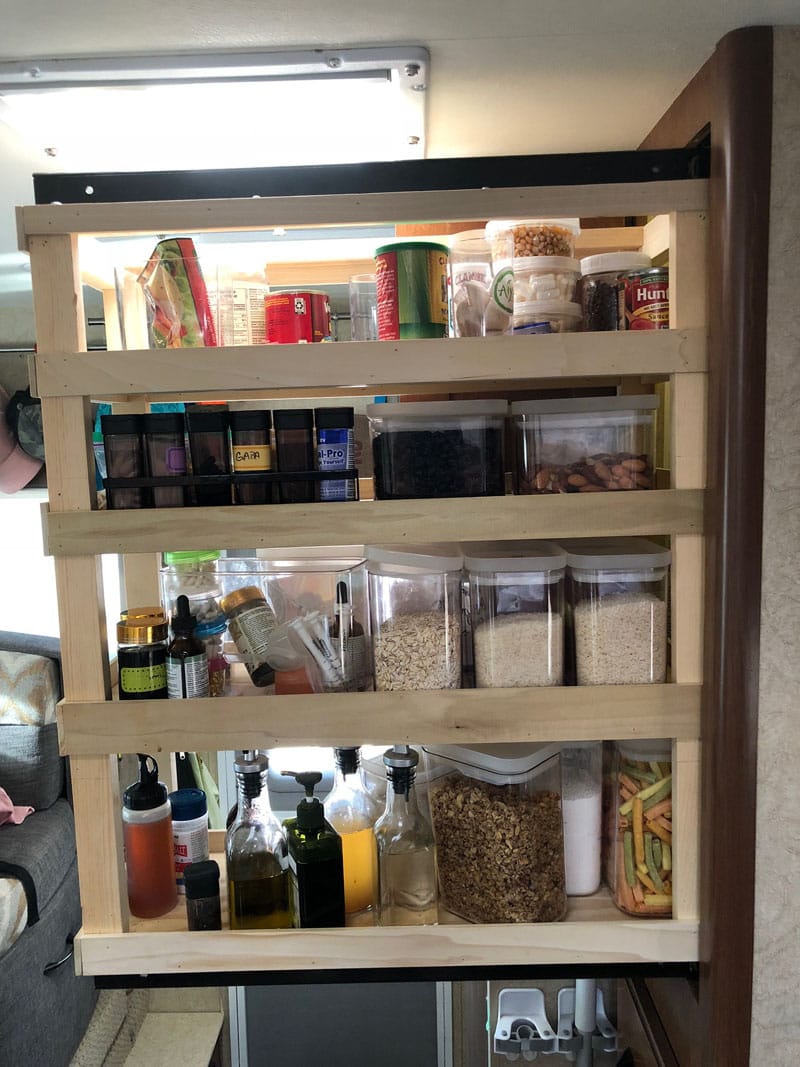 Our Lance camper had limited kitchen storage and my wife really likes to cook.  Some models have a pull-out pantry, but ours didn't have that option.  To the left of the kitchen was a small closet that we thought would be better used as a pantry.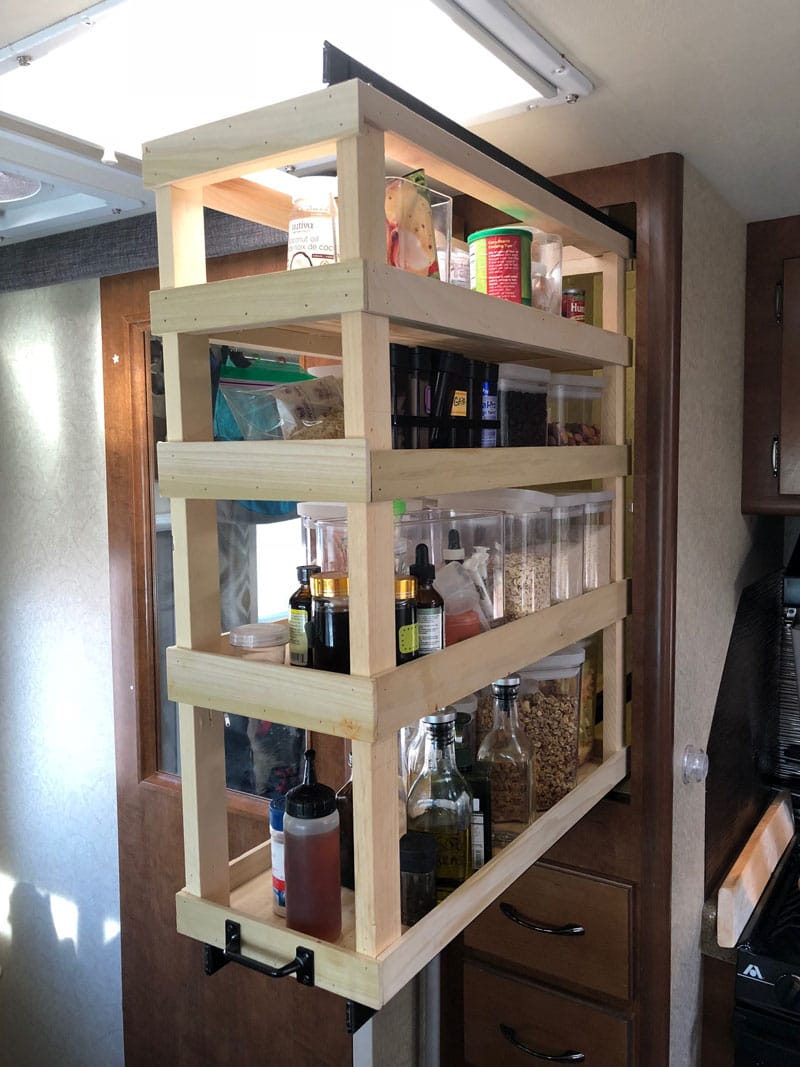 After looking around extensively, I couldn't find a ready-made pull-out pantry that would fit our closet.  I decided that I could make my own pantry that would fit the space exactly without wasting any room.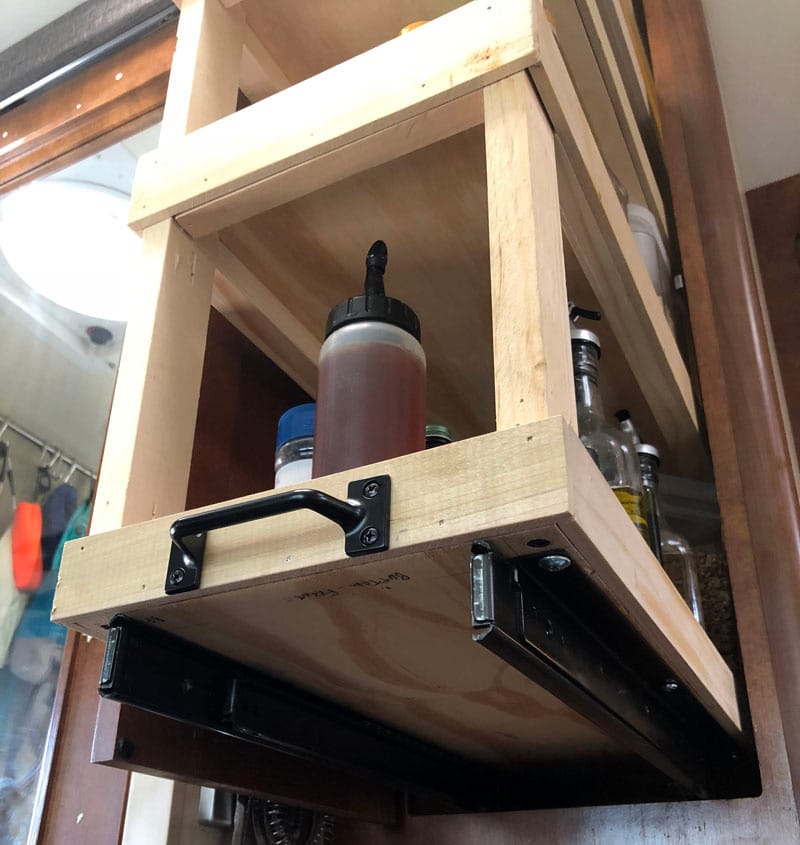 Using 130-pound, 24-inch entertainment center slides, I built my own pantry.  It has four shelves and fully extends from the closet to provide full access from the side.  To prevent the top from moving when we travel, I added a third slide on the top and use a small piece of wood in front.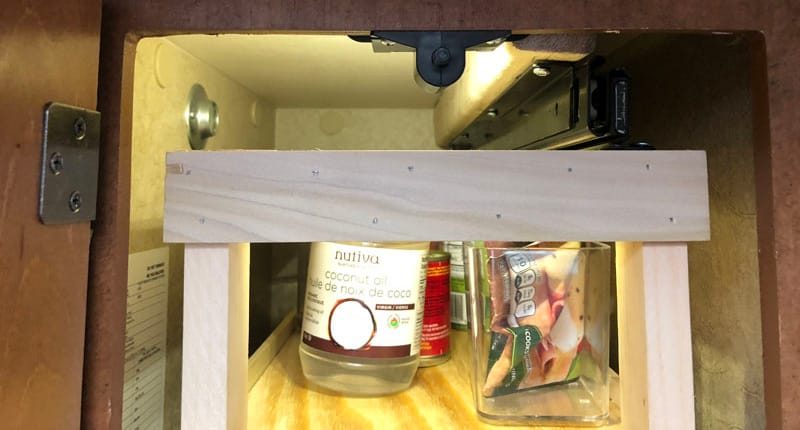 I used small poplar pieces from Home Depot so that I wouldn't have to rip bigger pieces of wood.  While a little more expensive, it made the project way easier.  Probably two-thirds of the cost were the three heavy-duty slides.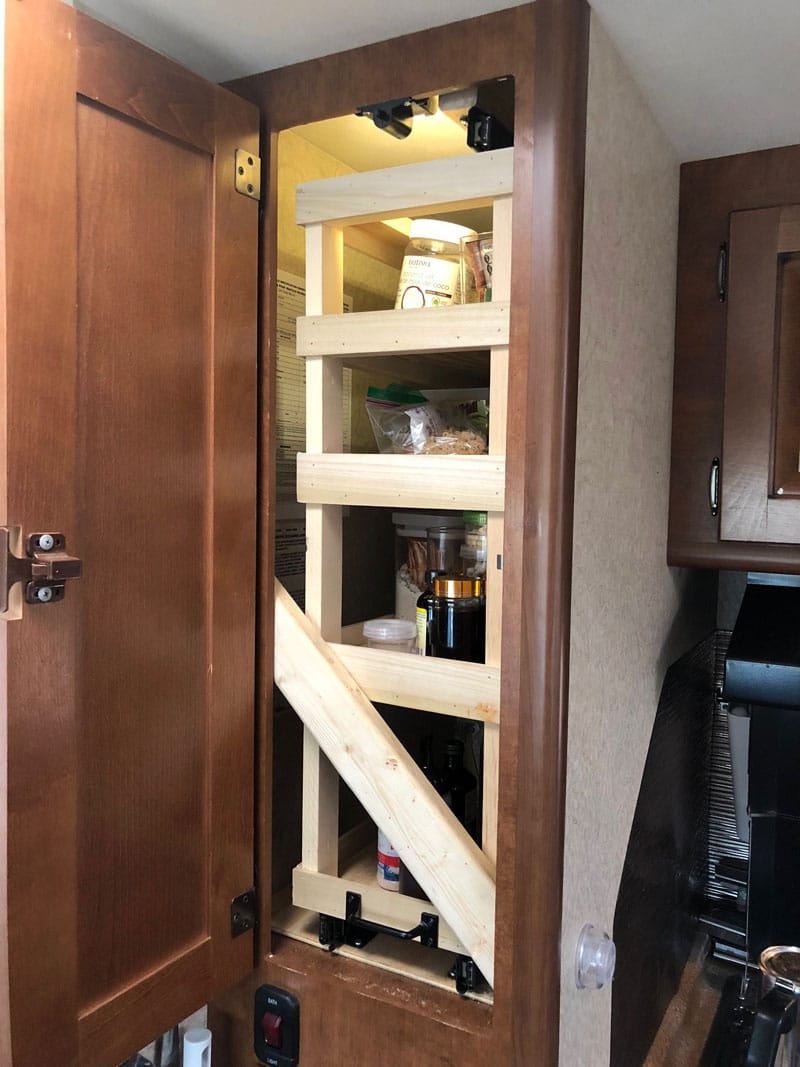 The mod worked amazingly well.  We've just completed a three month adventure and the extra storage was an absolute must.
It took me eight hours to complete this modification and cost me $150.  In my opinion, the skill level of this modification is medium.
2. Pull-Out Pantry With Drawer Glides
Submitted by: Dan Lucas, 2014 Chevy 2500HD, 2014 Lance 855S
My Lance 855S had a clothes closet next to the stove.  That space is better used as a pantry.  The opening has a width of 9-inches and a depth of 25-inches, so custom drawers were needed.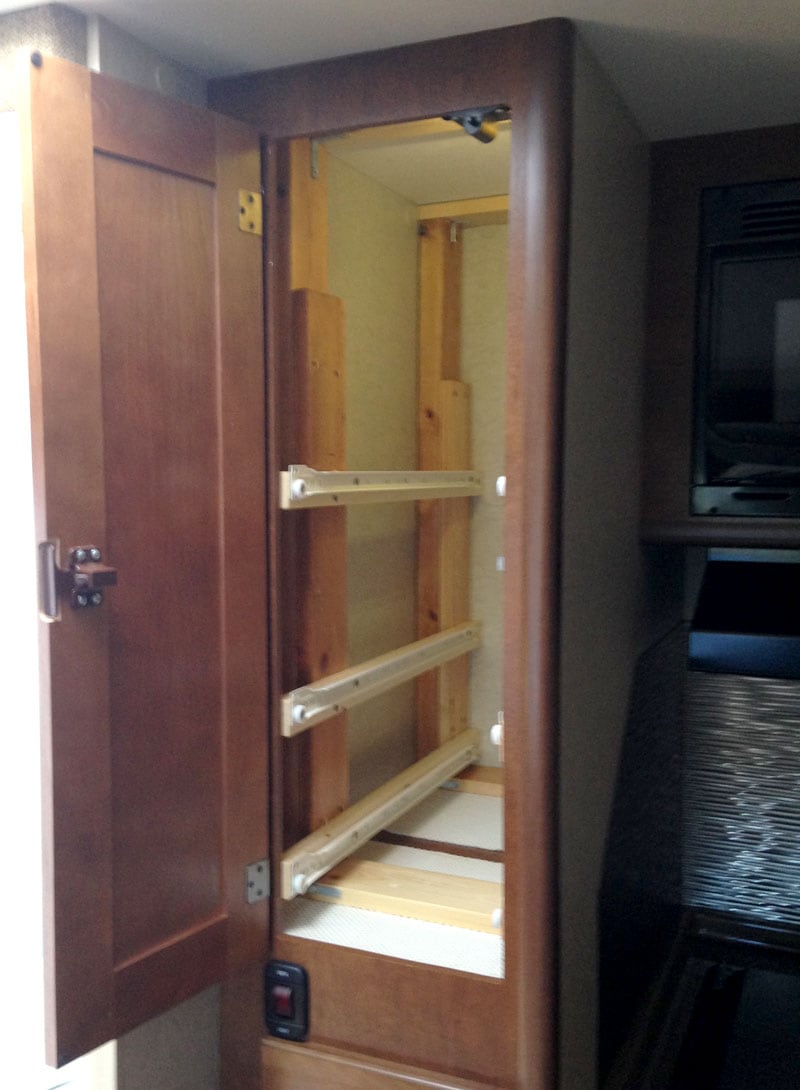 First, I created a frame by filling the space in three dimensions.  In my opinion, the walls were not capable of anchoring drawer guides.  This filled the space, so no attachment to any wall was needed.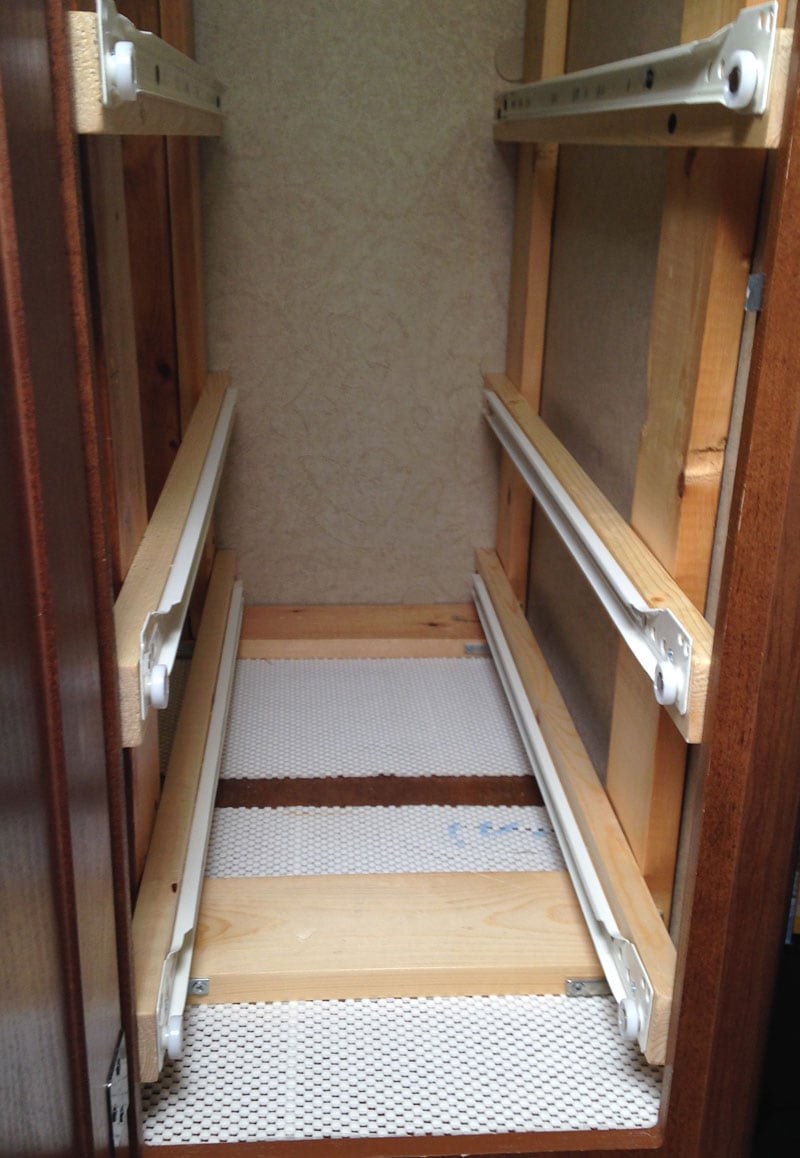 The drawer glides were 24-inches long purchased from Home Depot.  Next, I constructed three drawers to fit a width of 8-inches and a length of 25.5-inches.  I used 1/2-inch by 4-inch craft wood.  On the upper rear and back sides, a taller 1/2-inch by 6-inch board was used to hold pantry items in place while on the road.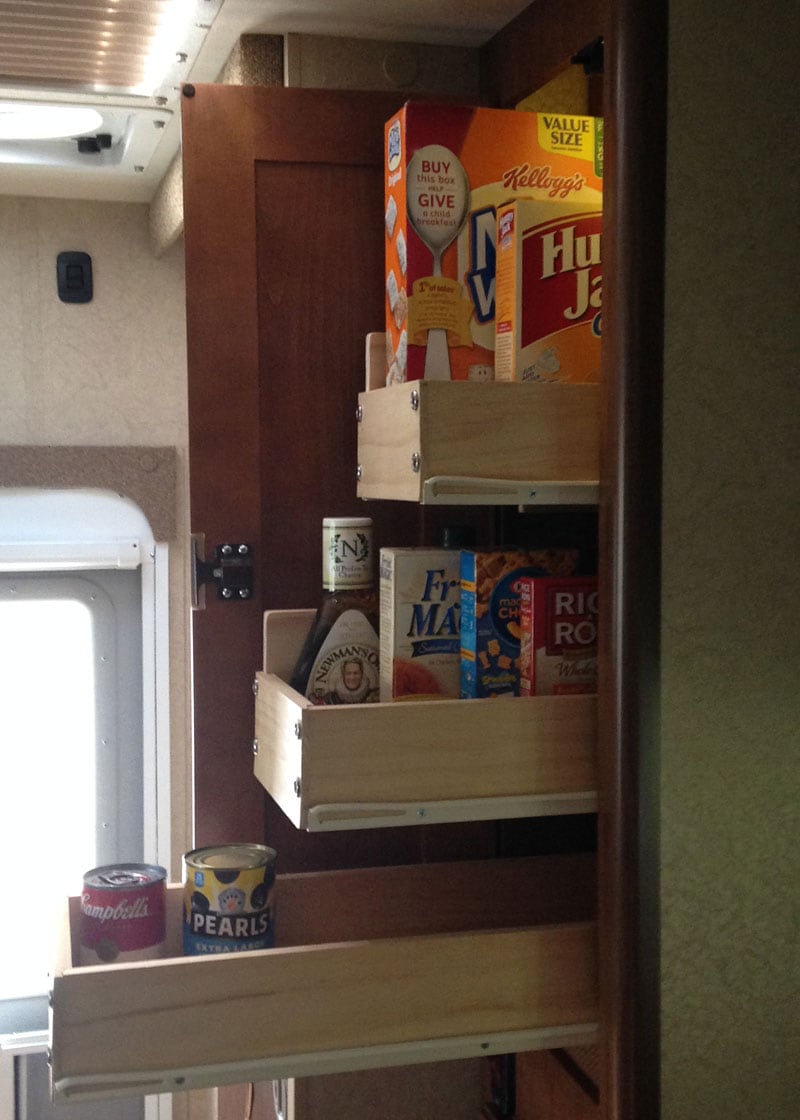 The unit was assembled with a minor adjustments for one drawer since the opening was not quite square.
It took me about eight hours to complete this modification and cost me $80 for wood and glides.  In my opinion, the skill level of this modification is medium.
3. Hard Maple Pull Out Pantry Storage
Submitted by: Rudy Drexler, 2006 Chevy Silverado 3500, 2012 Arctic Fox 1150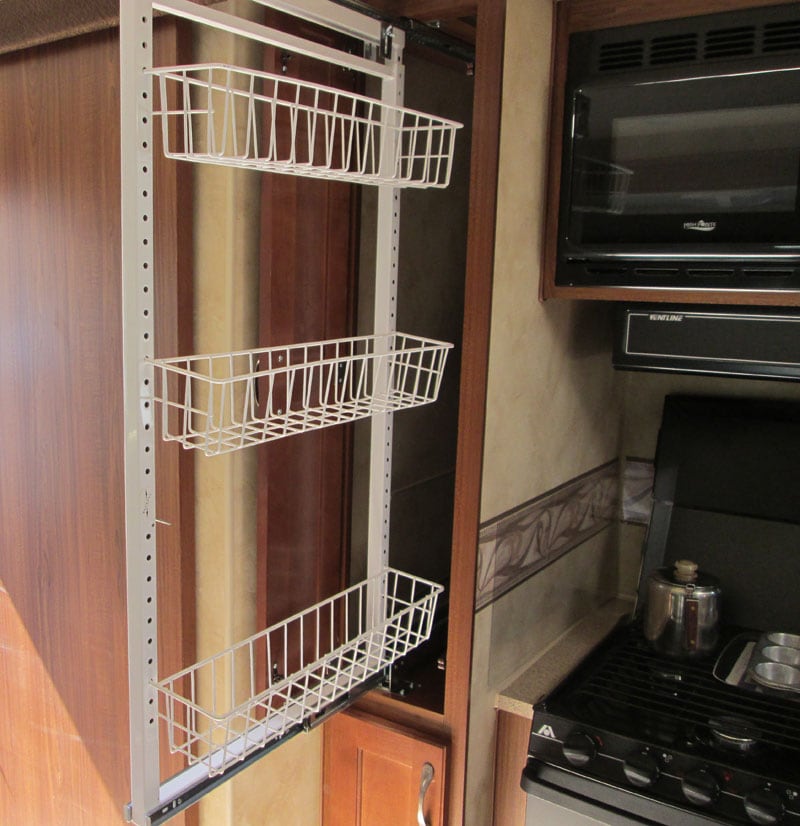 Above: This is the original Arctic Fox 1150 pantry
Here we have a wasted space issue.  The Arctic Fox 1150 truck camper has a built-in pantry on slides.  As standard equipment a huge white shiny metal frame on slides holding three wire baskets is included.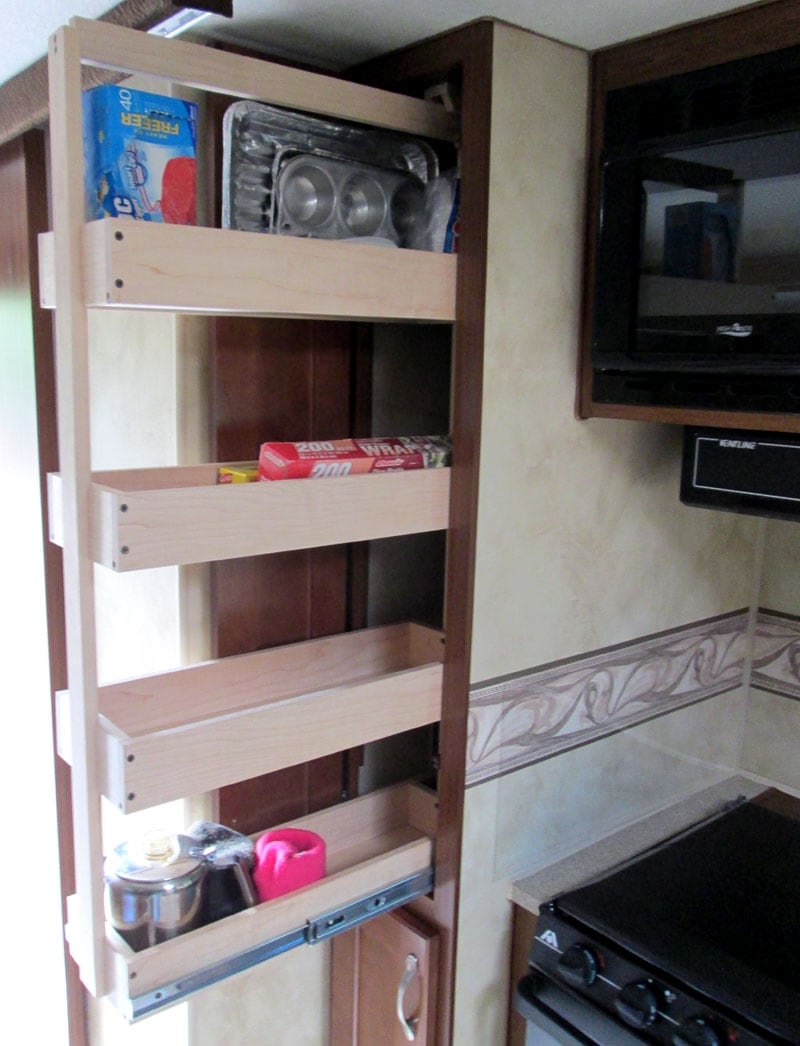 Above: The modified pantry made from home grown hard maple
With a bit of Yankee ingenuity, and some home grown hard maple, I built four shelf pockets and reused the original 100-pound slides.  One shelf pocket holds more than three wire baskets.  The pantry capacity has more than doubled, plus my wife is very happy.
4. Installing Wider Bins In The Pull-Out Pantry
Submitted by: Cindi Goodrich, 2006 Chevy Silverado 3500, 2008 Lance 1191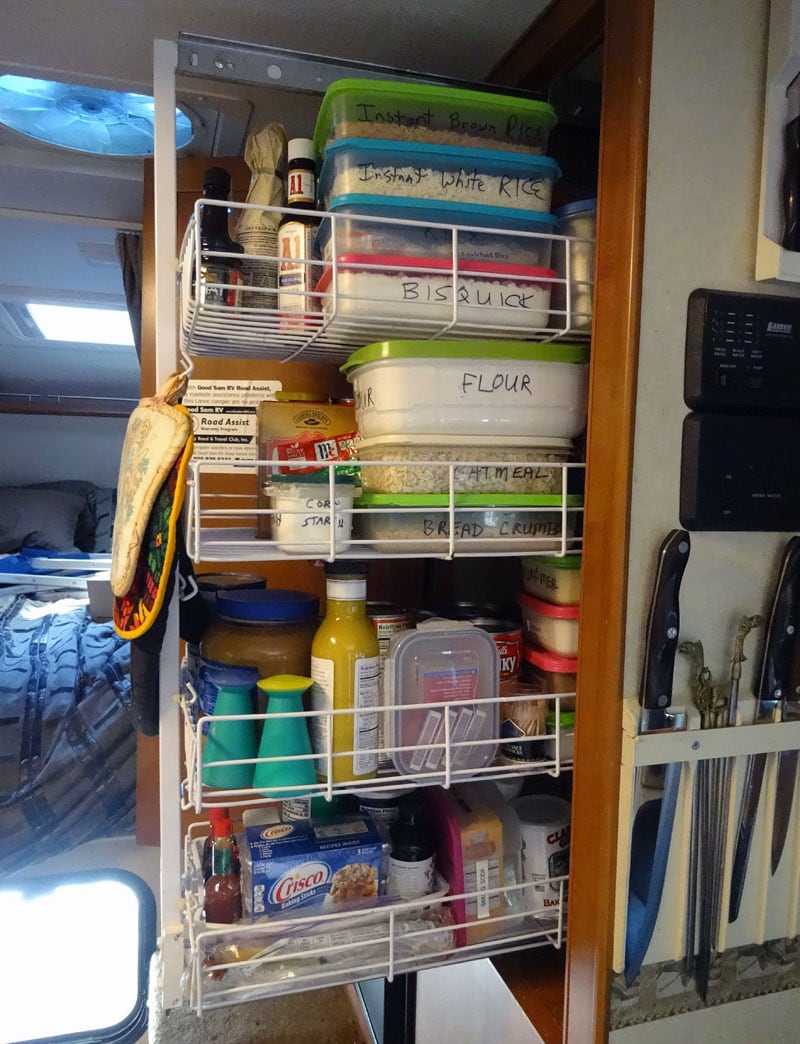 Our Lance Camper came with three narrow shelves in the pantry.  The newer models have the wider shelves, which I purchased.  I installed the three new shelves, but kept one of the narrower shelves at the bottom.  This way I have four shelves, and the narrow shelf allows for cereal boxes, boxed soups, and cake mixes to slide in on the sides.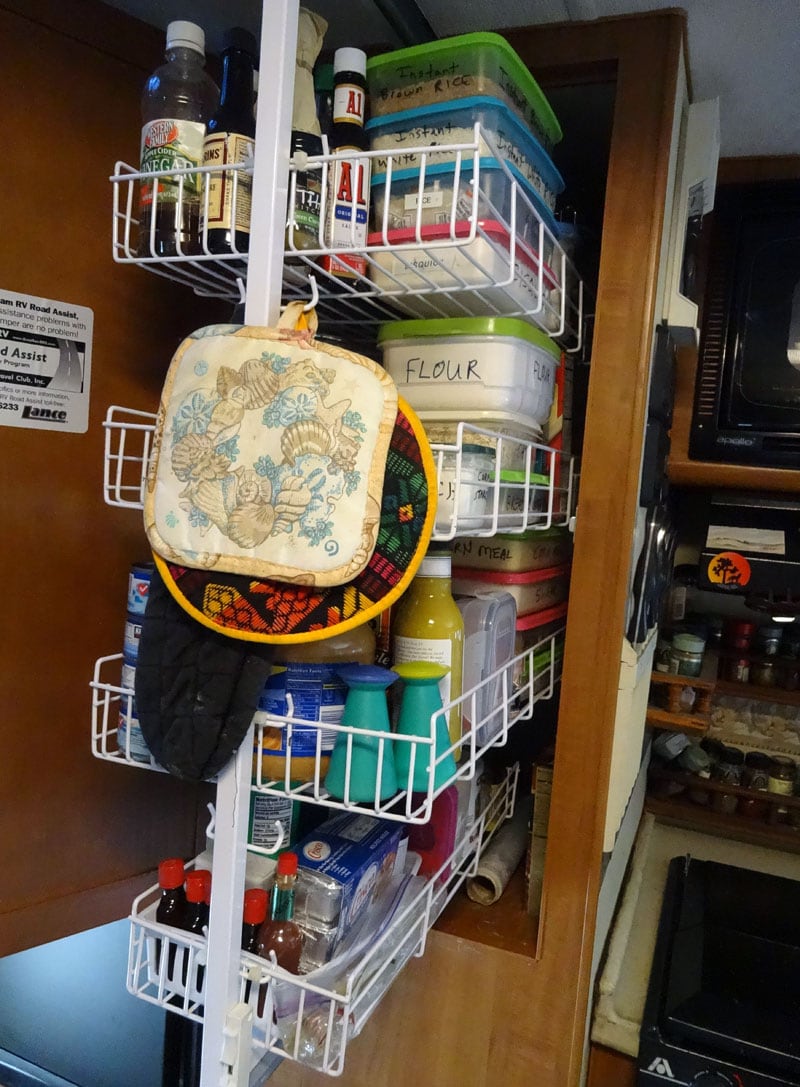 I also bought lots of rectangular Rubbermaid containers to store my dry goods (flour, sugar, rice, oatmeal, etc.).  I used a Sharpie to label the sides of these containers and they stack four high on the shelves.  This keeps them safe from critters and moisture.