Instead of having a drawer with silverware and utensils just thrown in, these eight mods show how to keep forks, spoons, knives, spatulas, can openers, cork screws, and scrapers organized.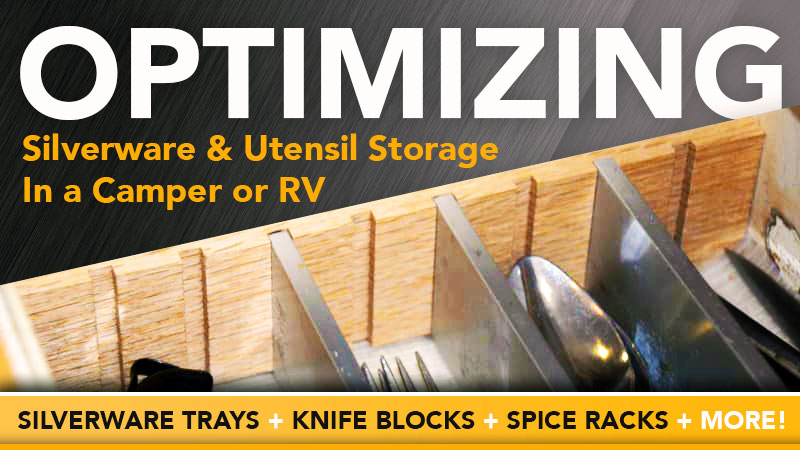 1. Adjustable Silverware Drawers
Submitted by: Charles Coushaine, 2001 Ford F350, 2012 Chalet DS116RB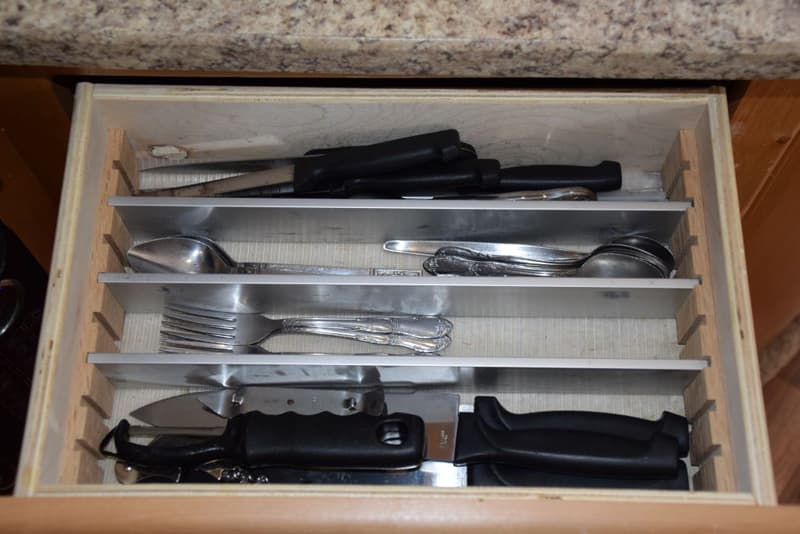 The kitchen drawers in our Chalet truck camper are all unique in width and depth. Finding a silverware tray to fit the inside of our non-standard drawers is nearly impossible. Buying one close enough in size assures you that there is precious space that is wasted. I wanted something that was not only adjustable to fit all the different knives and fork sizes but also utilized 100-percent of the available drawer space.
I decided to custom-fit my drawer divider right into the drawer itself. This started by measuring the depth of the drawer and then cutting two pieces of oak to that size.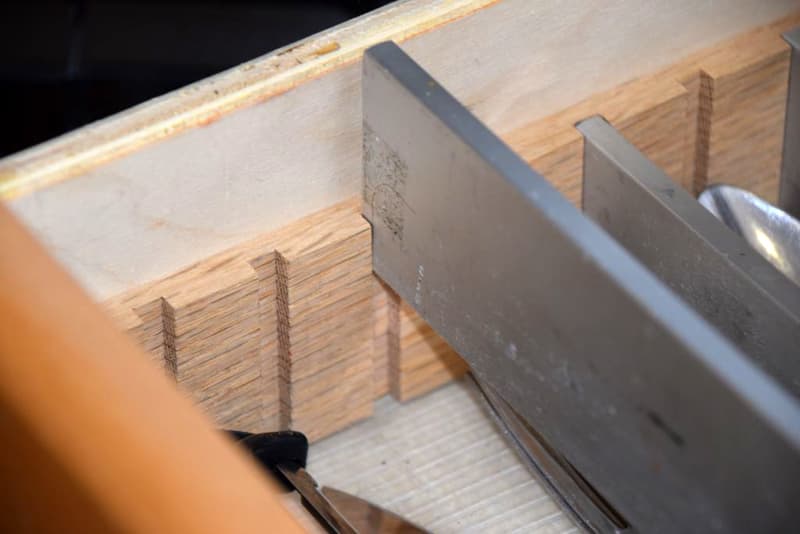 Then I added 1/4-inch wide dados spaced along the entire edge. Once finished, I fitted them into the drawer and measured across the opening across the 1/4-inch wide dados, Then I cut some matching aluminum bar stock (this could also be wood if you like) to form the dividers. The aluminum bars hold the wood pieces in place so there was no need to do any gluing or nailing to secure everything in place.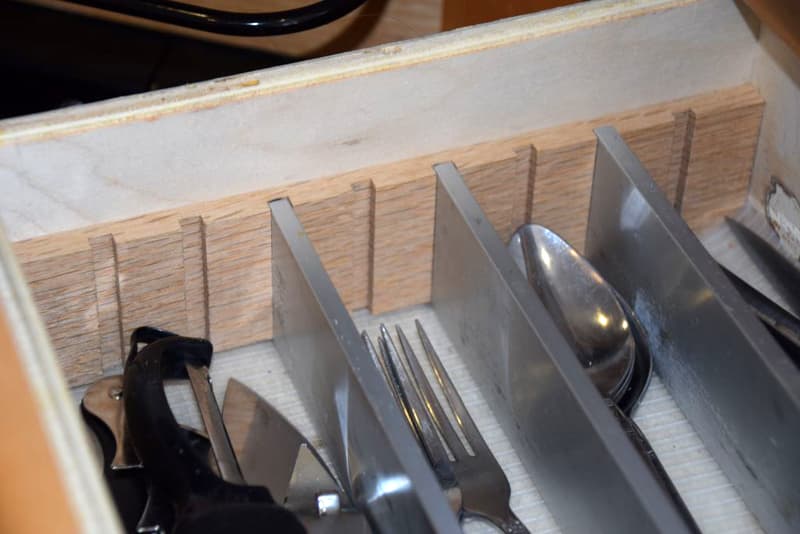 This mod has worked out perfectly. My wife can now decide which dado each aluminum divider goes into based on the size/space each piece of silverware needs. The adjustability is excellent and assures that the drawers utilize 100-percent of the available space.
It took me two hours to complete this modification and cost me $20. In my opinion, the skill level of this modification is medium.
2. Removable Countertop Utensil Holder
Submitted by: Russell and Gretchen Berquam, 2014 Ford F350, 2015 Arctic Fox 1140
Campers never have enough storage in the kitchen, so we added some countertop storage in the kitchen.
We are able to keep the large cooking utensils on the counter, even when we are driving down the road. Since the utensil holder would never stay in place in motion down the highway, I fastened it to the countertop.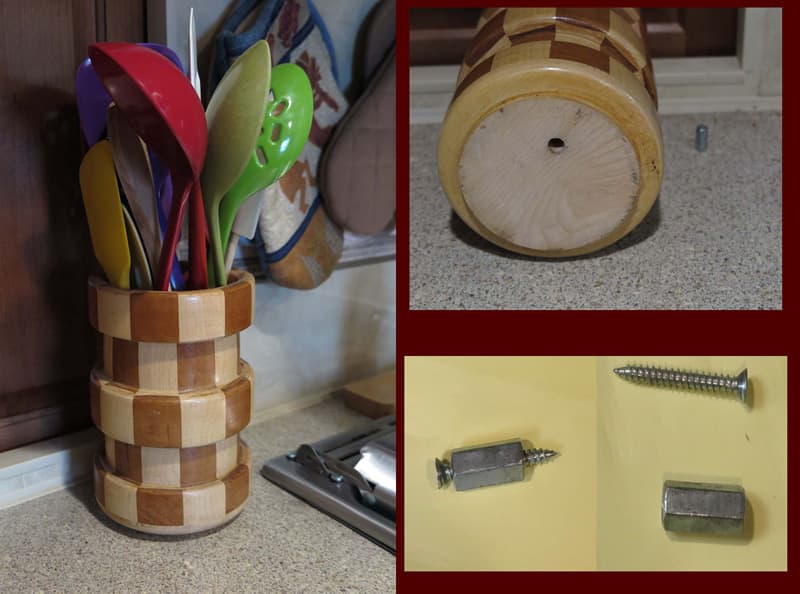 I mounted a post in the countertop 3/4-inch high and 5/16-inch in diameter. I used a wood screw with a long nut for the post, but a short piece of tubing would also work.
Next, I drilled a hole in the utensil holder the same size as the post on the countertop. I slide the holder down over the stud and fill it with spatulas, spoons, scrapers, or whatever. The holder is easily removable for counter cleaning. Since the hole in the utensil holder is a snug fit on the stud, it stays in place even on the roughest roads.
The pictured holder was turned on my lathe, but I have made several holders with 3-inch or 4-inch PVC pipe with wooden and plastic bottoms. I painted the plastic holders to match the decor of the kitchen.
It took me one hour to complete and cost $2. In my opinion, the skill level of this mod is medium.
3. Knife Block Behind Stove
Submitted by: Pam Conner, 2015 Ford F350, 2015 Arctic Fox 1150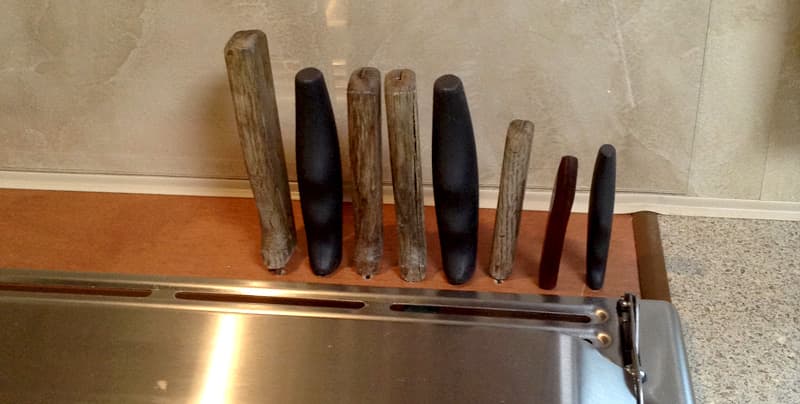 Before our truck camper, I owned a fifth wheel. Behind the stove and oven on our fifth wheel were knife slots. I liked having that space to keep sharp knives from moving around and dulling while driving. It also kept young hands away from them.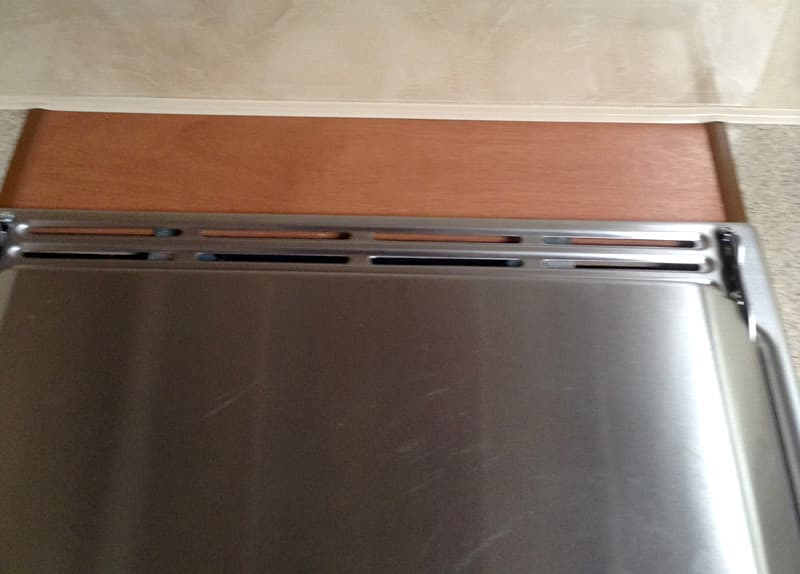 For this mod, I started by removing the drawers next to the oven to check behind it for wiring, pipes, etc. Once I verified it was clear of obstacles, I checked to see how much space I needed in between the knives, and the length of slot each knife required.
Once I had those measurements, I marked the slot spacing on the board and drilled pilot holes on each end of the slot. From there I proceeded to cut a slot between each pilot hole.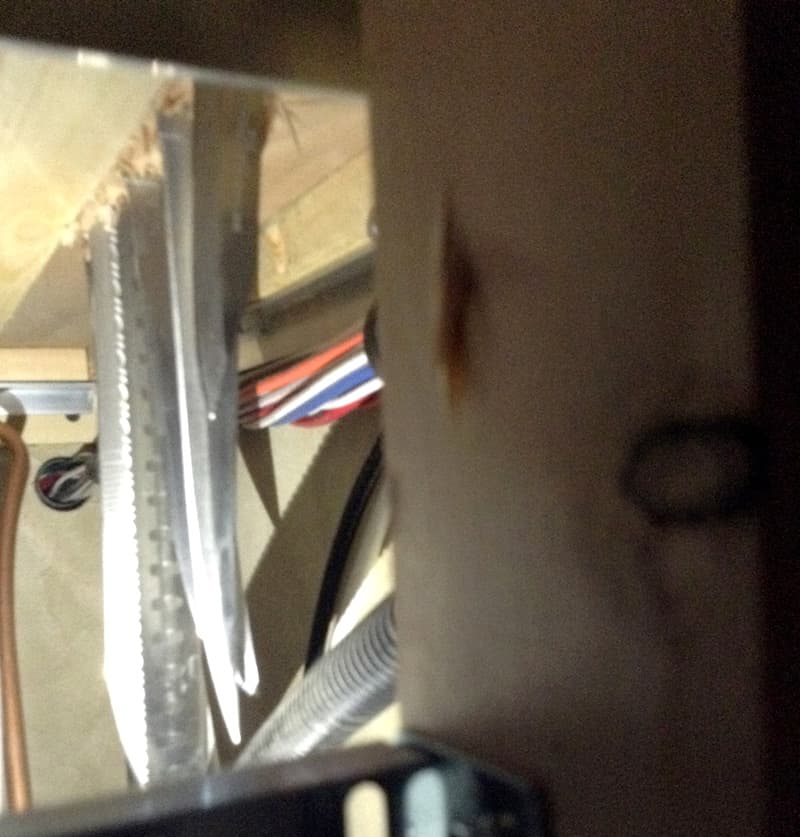 Then, I inserted each knife into a slot. I discovered that the longest knives needed to be toward the center of the space and the shortest knives could go on the edge.
Having had this set up in a previous camper, I knew this mod will work out great for me.
It took me one hour to complete this modification. It was free because I already had the few tools needed for this mod. In my opinion, the skill level of this modification is easy.
4. Laser Engraved Utensil Holder
Submitted by: Duncan Crawford, 2008 Ford F450, 2015 Northstar 12STC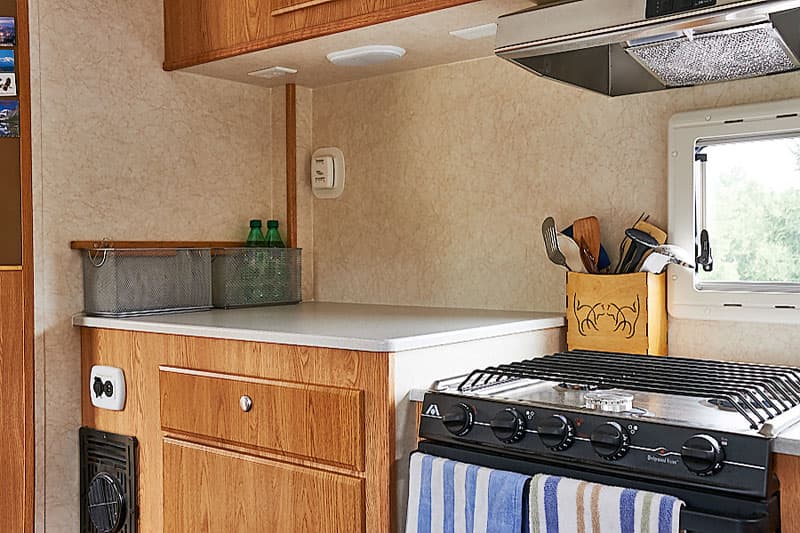 I needed a handy place for oversize cooking utensils where they could live going down the road and not dump on the floor. We have too many tools to fit in the drawer space below the counter, and the plastic drawer unit we added in the cabinet above doesn't have drawers quite deep enough. Note that the picture shows the full load. On short trips, some might be left home or stored elsewhere.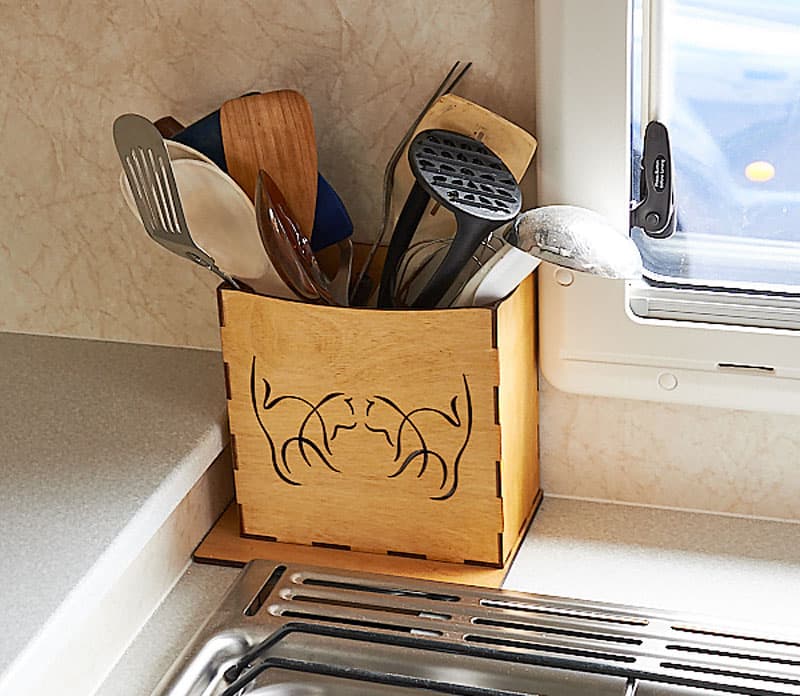 I designed and built a countertop box sized to fit behind the stove. The width allows it to be captured between the raised counter and window frame, while an enlarged base captures it between wall and stove and prevents tipping – unless the camper angle exceeds about 45 degrees.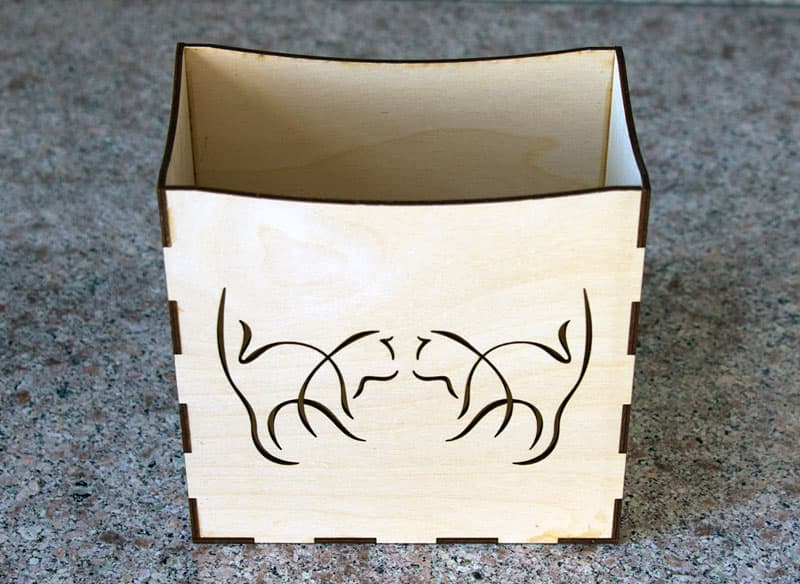 I designed it in CorelDraw and cut it from ⅛-inch Baltic birch on my laser engraver. The decorative pattern is vector-cut through the material. The finish is blonde shellac.
While every tab is glued, I added some clear epoxy on the inside/top of each corner to ensure – on bumpy roads – the full utensil load wouldn't result in joints coming apart.
It hasn't moved in several thousand miles, and everything is at hand. Fortunately, we have not tested the extreme camper angle anti-tip feature.
It took me three hours to complete and cost $6 for materials. In my opinion, the skill level of this mod is hard if you don't already have the tools. If you already have the tools, it's easy.
5. Plastic Dividers for Silverware Organization
Submitted by: Tracy and Steve Schuster, 2015 GMC 3500, 2012 Lance 992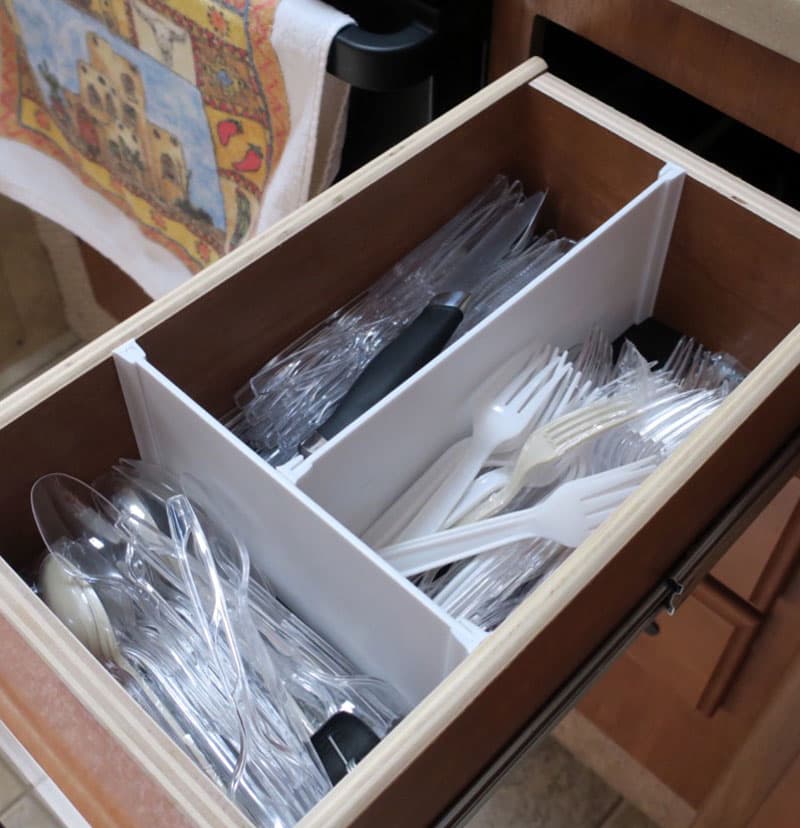 No silverware or other divider seemed to fit the drawers or our utensils well.  We added plastic dividers that you cut to fit in any configuration you want. Then, we attached them to the inside of the drawer.
6. Modified Bamboo Organizer For Silverware
Submitted by: Bob Johnson, 2000 Chevy 3500, 2002 Lance 921S
I always like to make things since I am handy. Truck camping involves maximizing space.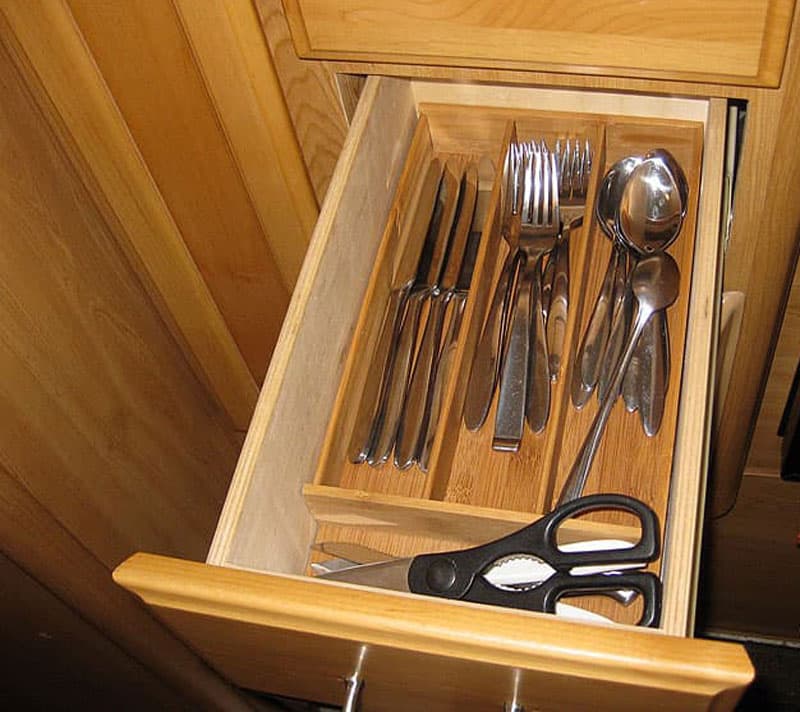 I made a silverware drawer organizer for my Lance 921.  I purchased a bamboo organizer from Walmart and modified it to fit the drawer.  An added bonus is that with the removed section, I made a spice rack beside the range hood.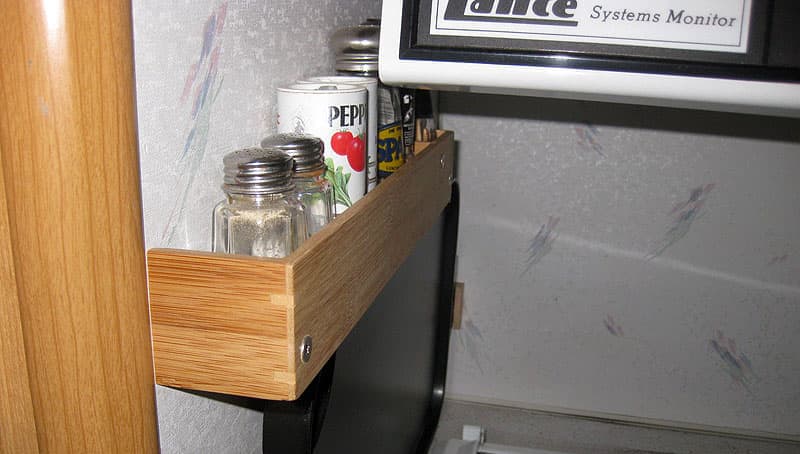 It took me half an hour to complete and cost under $15. In my opinion, the skill level of this mod is easy.
7. Wall Mounted Knife Rack
Submitted by: Cindi Goodrich, 2008 Lance 1191, 2006 Chevy Silverado 3500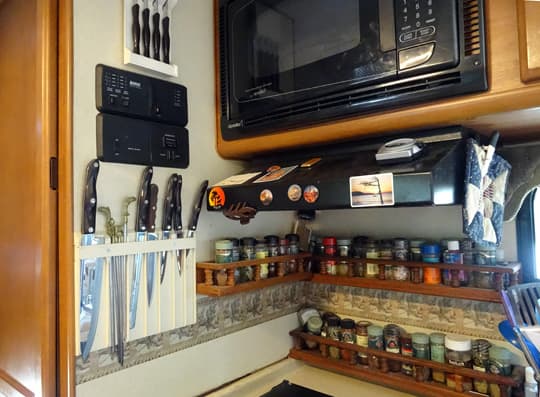 If you're like me, cooking while in the camper is not all about a campfire. I bring a fully stocked pantry, recipe books, lots of pots and pans, and utensils. But, where do I put them in the limited storage on a truck camper?
While looking at the galley walls, I found space for two knife racks. This is a very safe way to store knives. I also bought a large metal utensil holder for those that I use the most. When traveling, it fits in the smaller sink. I also found a magnetic kitchen timer that sits nicely on the stove hood vent.
8. Knife Rack Inside Cabinet Door
Submitted by: Thomas Bustamante, 2001 Ford F350, 2011 Outfitter Juno 10.5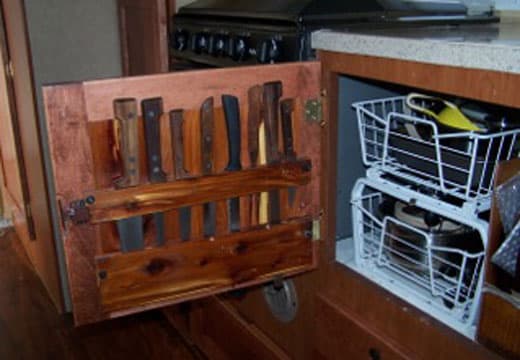 We have a pop-up truck camper and have to be judicious and organized with our space. We have a knife rack installed in the panel of the inside shelf door. It was built with extra cedar paneling that I had in our garage. As you can see the stove and sink are right there and this made it very accessible, safe and convenient while cooking.
Disclaimer: The modifications above are submitted by Truck Camper Magazine readers.  It is your responsibility to make sure that any do-it-yourself modification project you undertake is safe, effective, and legal for your situation.