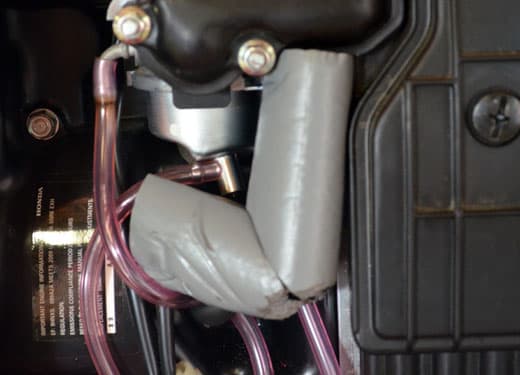 Above: The cold weather silver insulation
Please note that if you have a Honda EU2000i generator with the cold weather silver insulation visible (directly to the left of the air filter) you will need to move that pilot hole ½" to the left of the center of the "X" for the hour meter body to clear.
18. Now that you have a pilot hole established, you can proceed to drill the larger hole from the front towards the back.  You will need a 2" hole saw as that is what it takes to fit the hour meter.
I recommend drilling this larger hole from the front of the cover to the back to have a nice smooth surface for the Hour Meter Gasket to sit against. You will get some burrs at the back of the cover and these can easily be removed.
Now I realize not everyone owns or has access to a drill press.  An electric drill will do the job.
Now remove the locking back plate clamp from the hour meter.
Then slide the hour meter in place and slip the locking back plate clamp back on the body of the hour meter until it's tight.  If you have a glue gun, you may want to drop a dollop of glue in the locking tabs just as bit of insurance the keep that locking back plate in place.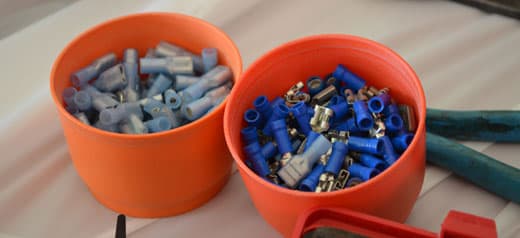 19.  At this time you can also work on the other ends of your wires.  These wires are going to connect to the hour meter.
Cut about a one inch length of heat shrink tubing and slide it over each wire.  Then add the ¼" female solderless connection and crimp.  Slide the heat shrink tube over the crimped solderless connector and use heat gun to shrink the tubing accordingly.
Once the hour meter is locked in place, all that is needed is to put the wire on the proper ¼" tabs.  The back of the hour meter is marked positive (+) and negative (-).  In my example, the wire with the white tape goes on the negative (-), and the other wire goes on the positive (+).  Above you can see that I used a glue gun to glue the locking back plate to the body of the hour meter just in case the vibration from the Honda generator somehow unclips that backing plate.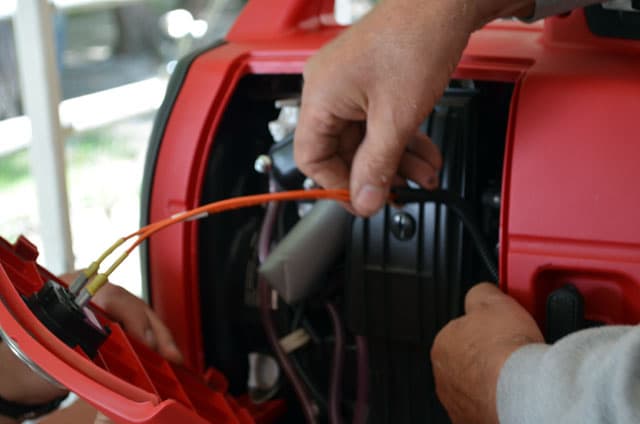 Now you will have to bend the entire solderless terminal and the ¼" tab sticking out to the rear of the hour meter towards the left to clear any obstruction it may hit.  After a few tries at slightly bending these tabs until the access door closes easily, you are finished.
Above: Guy Dalphond with his installed Honda EU2000i generator hour meter