Mike Tassinari, aka Mikeee, shows us how to install an hour meter on a portable Honda EU2000i generator.  Look out little red Honda, Mikeee has a drill.
Mike Tassinari frequently offers newbie and technical seminars at his North-East Truck Camping Jamborees.  At the Mid-Atlantic Truck Camper Rally this past year, Mike offered a newbie seminar on truck camping basics including how to maintain truck camper water heaters, refrigerators, and air conditioners.  At other Jamborees, Mike hosts truck camping safety seminars and checks camper smoke alarms and propane compartments.
Essentially, Mike is a walking and ever talking hands on technical encyclopedia of truck camping knowledge.  Lucky for us, he also happens to work for Klondike Bars.  What would Mikeee do for a Klondike Bar?  You're about to find out.
This past May, Mike offered a "do it yourself" seminar at the annual Lobstah Bash Jamboree on how to install an hour meter on a portable Honda generator.  Honda EU2000i generators have become a standard in the truck camping industry and community and we personally prefer them to built-in generators for their efficiency, quiet operation, and versatility.  Mike's seminar revealed one more advantage of the Honda EU2000i, easy maintenance.  And with his hour meter modification, the maintenance gets even easier.
Below is the step-by-step process showing the installation on Guy Dalphond's Honda EU2000i generator.  Although this installation isn't very complex, please do not attempt this modification if you're not hands-on and technical.  The installation may also void your Honda warranty.
Thank you, Mikeee!
Honda EU2000i Generator Hour Meter Installation
By Mike Tassinari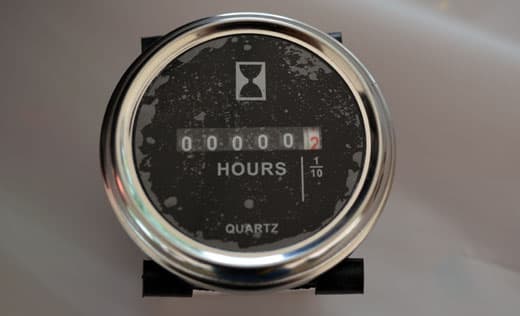 Above: The hour meter helps you monitor the hour usage in portable generators
The easiest way to monitor the hour usage for my new Honda EU2000i generator was to install an hour running meter.  After a bit of poking around inside the Honda EU2000i, I found very few places to mount one physically inside the unit.  I decided that the easiest way to install an hour meter was to mount one on the service access cover.
An hour meter works by using D/C current to power a tiny motor inside the hour meter, thus turning the numbers on the dial.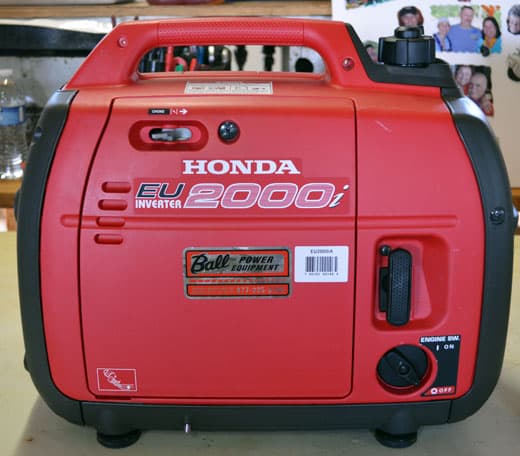 Above: Before the hour meter is installed on a Honda Generator
Since my preliminary investigation of my Honda showed an easy way to get that D/C current via the D/C charging circuit on the front of the generator, I knew that was where I was going to install my wires to power up the hour meter.
Part 1 – The Hour Meter Wiring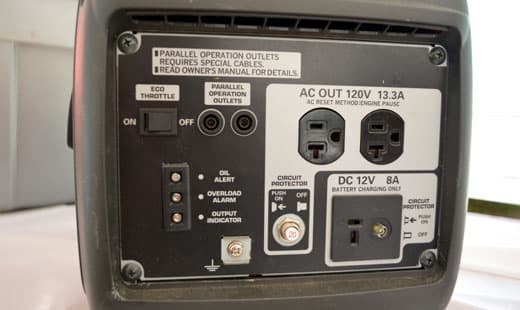 1. Remove the four screws that hold the faceplate of the Honda generator.
2. Lift the face plate up and out to reveal all the wiring behind that face plate.  The object is to get at and remove the D/C 12 volt, 8 amp charging module, so we can tap off those two wires and feed our hour meter.
3. To remove the charging module component from the face plate you will have to push in the four corner tabs while gently putting pressure from the back of the module towards the front.