Dinettes have been changed, counter solutions constructed, bunk rails installed, camper stabilizers created, tank capacity increased, and more.  Pick your favorite, and vote.

Welcome to the January 2016 Monthly Mod Contest.  Please review the following twelve Medium Mods and vote for your favorite.  We will announce the January 2016 Mod Contest winner next week.  For more information about the Monthly Mod Contest, including how to enter, click here.
This contest is now over.  To see the January winner, click here.
January 2016 Mod Contest Entries:
#1 Aaron Summers, Moorpark, California
2005 Nissan Titan
2003 Northstar TC650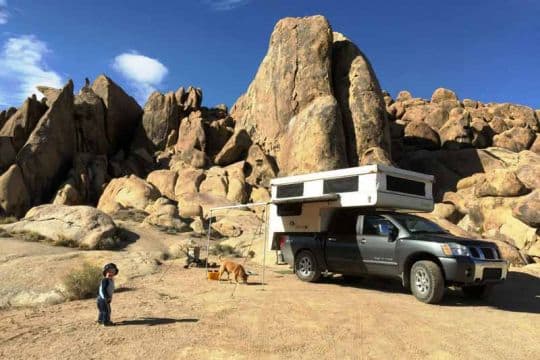 Baby on board!  A camper that was previously only occupied by me and my dog, is now occupied by two adults, two dogs, and a toddler.  I needed to find a way for Owen, now one and a half years old, to play and sleep safely in the camper without rolling off of the dinette, which we keep folded down into a bed 100% of the time.
I researched many existing baby-security items but nothing would work well and stow away small enough when not being used.
Above: Dinette bed area with an without crib – click to enlarge
Using the tough canvas material from an old Slumberjack sleeping cot, a wood dowel, and closet rod mounts, I created a wall which closes off the dinette and creates a type of crib for Owen to sleep and play.  When not in use, the canvas rolls up and stows out of the way.  The mod doubles as a great place to store items while traveling, and keeps stuff from falling to the floor when off-roading.
Above: More pictures of Owen in the dinette crib area – click to enlarge
It's been over a year and five successful trips since I installed the mod.  It's a perfect little area for Owen to play while we are cooking or setting up camp.  And, when it's nap time, my wife and I can enjoy being outside knowing that he is sleeping safely inside.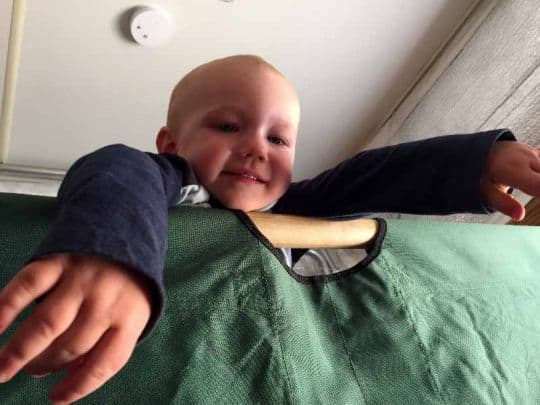 Above: Owen's crib inside the camper – click to enlarge
It took me three hours to complete and cost about $10 for the wood dowel and closet rod mounts.  I already had the canvas.  In my opinion, the skill level of this mod is easy.
#2 – Frank Niehus, Elbert, Colorado
2007 Ford 350
2007 Arctic Fox 1150
Above: The Arctic Fox 1150's extra counter top extension – click to enlarge
The Arctic Fox 1150 has an extra counter top which is stored in the hanging closet.  It's very hard to remove, and sometimes damages the door jambs and door.  Like most people, we never used it.  For us, it's not worth getting it out and trying to put it back into a full clothes closet.