Drawers have been added, a dinette table changed, exterior steps built, a pop-up shower improved, and lots of new storage created.  Select your favorite core mods, and vote.

Welcome to the November 2015 Monthly Mod Contest.  Please review the following twelve Core Mods (aka medium)  and vote for your favorite November 2015 mod.  We will announce the November 2015 Mod Contest winner next week.  For more information about the Monthly Mod Contest, including how to enter, click here.
November 2015 Mod Contest Entries:
1. Vic Smith, Coquitlam, British Columbia
2015 Ford F350
2013 Adventurer 89RB
From the factory, my camper storage drawers are four inches in depth.  With only four inches in depth, items would sometimes disappear into the cavity behind the drawers.  After having this experience on multiple occasions, I decided to improve the drawers to better utilize the vertical space inside the drawer area.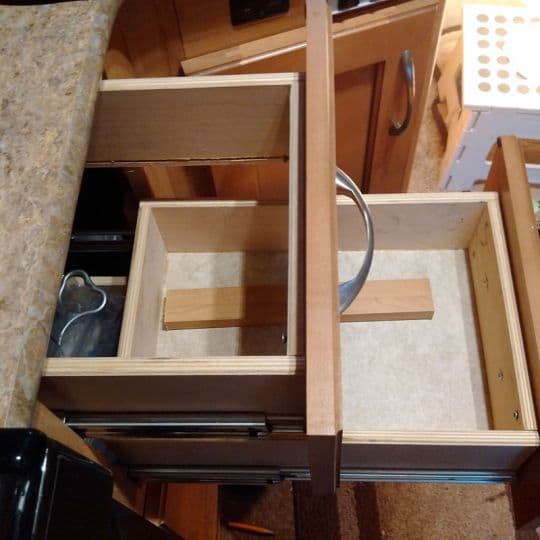 Above: The storage drawers before the modification – click to enlarge
I started by removing and dismantling the upper four inches of the drawer.  I kept the drawer slides on, removed the drawer bottom, removed the lock, and reassembled it.  I then removed the drawer frame cross member between the top drawer and the middle drawer.  I cut some spare wood panel to a ten inch size and screwed it into both the top and middle drawers, making one big drawer.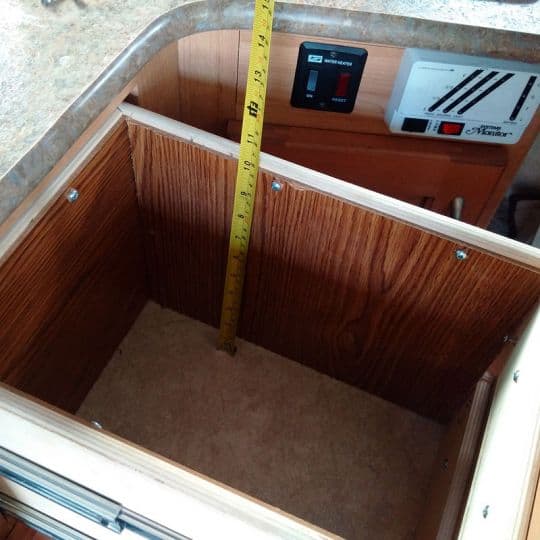 Above: The new bigger drawer – click to enlarge
I put the new bigger drawer back into the two drawer slides with the lower part having the lock.  Eight plastic glasses are used to store items vertically, like utensils.  If I need an upper drawer again, it can be returned to its original state as two separate drawers, as nothing was destroyed or discarded.  The deeper drawer has greater volume capacity with an increase of 25%.  Items are efficiently accessed much better.
Above: The new drawer can store bigger items – click to enlarge
It took me one hour to complete and cost no money at all (I already had the wood panel).  In my opinion, the skill level of this mod is easy.
2. Cheryl Nelson, Enid, Oklahoma
2004 Chevy Duramax 3500
1990 Shadow Cruiser 9.5
On our Shadow Cruiser 9.5, we have an offset rear entry door which leaves a big empty space.  With no grey water tank, the "blue boy" portable grey water holding tank ended up inside the camper.  I hated that.
Above: A welded up a cage/track transports the old blue boy – click to enlarge
Using a bow rail off a boat hanging out in our barn, we designed and welded up a cage/track to transport the old blue boy outside of the camper where it belongs.