From clever storage solutions to dinette alterations, pet protections to barbecue buddies, see what a few bucks and a couple hours can do.  Then choose your favorite Mini-Mod, and vote.

Welcome to the October 2015 Monthly Mod Contest.  This month we are featuring twelve examples of the least time intensive, least expensive, and easiest to perform mods, the Mini-Mods.
Please review the following twelve Mini-Mods and vote for your favorite October 2015 mod.  For more information about the Monthly Mod Contest, including how to enter, click here.
CLICK HERE TO SEE THE OCTOBER 2015 WINNER!
October 2015 Mini-Mod Contest Entries:
#1 – John Wells, Hollidaysburg, Pennsylvania
2011 Chevy 3500
2012 Chalet Ascent S100F
For years we have suffered a misdemeanor attack by our truck camper at the end of every drive.  I'm referring to the "Assault and Bottle-ry" that occurs the first time you open the medicine cabinet door at the end of a long or short trip.  I'm thoroughly convinced that these bottles of shampoo, deodorant, bug repellent, and sunscreen, to mention a few of the major offenders, all conspire during the trip to leap from the cabinet at the first opportunity.  The really annoying ones end up in the toilet of our wet bath.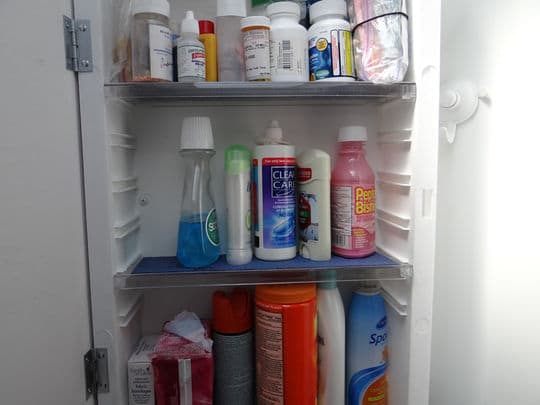 Above: Police line-up of the "Usual Suspects".  "I saw it all, Officer.  It was that Big Pink guy on the right end!".  Click to enlarge.
I ruminated over the ideal solution for a few months and I stumbled upon some rigid plastic tubing that spawned an idea in my mind.  Actually, the tubes were bovine artificial insemination pipettes.  TMI?  Hey, I'm a retired veterinarian; you use the tools you have.
You might use one-quarter inch to five-sixteenths inch rigid plastic or polycarbonate tubing available on Amazon and elsewhere.  The tubing is flexible enough to allow bottles to be wiggled in behind it, yet rigid enough to prevent anything from falling out at the end of a trip.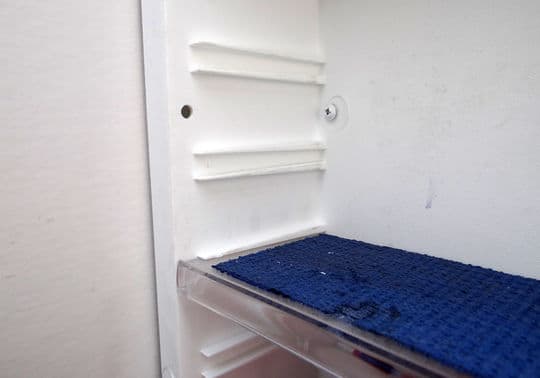 Above: Sample blind hole in side of medicine cabinet.  Click to enlarge.
Holes were drilled at the appropriate height for the contents of each shelf.  Our medicine cabinet has an outside flange that acts as a stop for the tubing, so the holes only penetrate the inner wall of the cabinet.  If your cabinet has no flange to act as a stop, or you can't drill the necessary blind holes, drill the holes all the way through and slip a tight fitting O-ring on each end of the tube to keep it centered within your cabinet.
Tubing is about three-quarters inch wider than the interior of the cabinet, and springs into place very securely by just flexing slightly.  After several trips and a couple thousand miles, "Assault and Bottle-ry" has been effectively outlawed in our camper!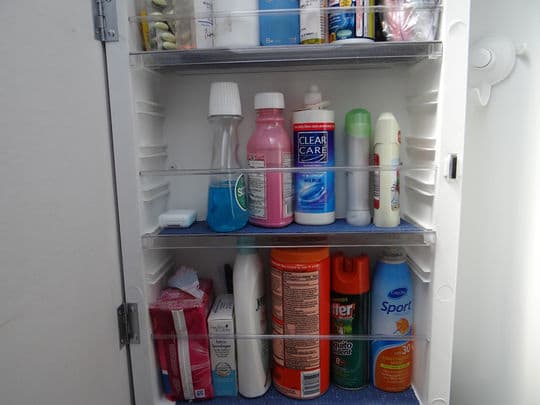 Above: All the violent offenders effectively restrained.  And, the plastic rods can be sprung right in and out for easy cleaning.  Click to enlarge.
It took me an hour to complete this mod, and cost five dollars.  In my opinion, the skill level of this mod is easy.
#2 – Bill Harr, Stockton, California