It took me four hours to complete and cost $40.  In my opinion, the skill level of this mod is easy.

#3 – Gerry and Lynn Minor, Dunnville, Ontario
2009 Ford F150
2006 Palomino 1251
While traveling to Colorado last May, we quickly realized that not having a self-contained unit had some downsides, like what to do with dish water after you stop for lunch in the parking lot in the middle of Indianapolis Motor Speedway.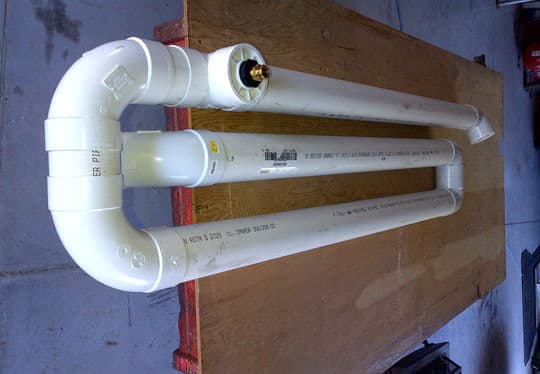 Above: Gerry's grey water auxiliary tank – click to enlarge Gerry's photos
When we got home, we first upgraded to a larger pop-up camper since space was always an issue.  But, I still had to solve the grey water issue as the camper didn't have a grey water holding tank.  After a failed attempt to use a portable waste tank, I came up with this idea.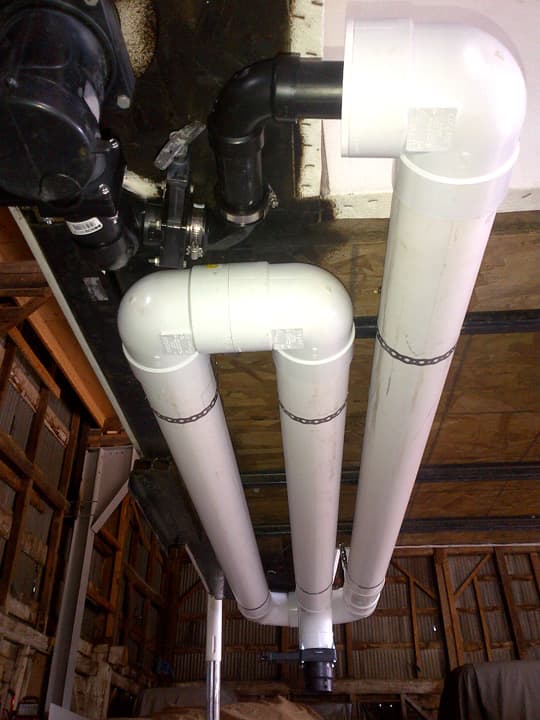 Using just ordinary drain pipe from our local hardware store, and a few plumbing fittings, I created a loop of pipe that holds just about as much water as our onboard fresh water tank.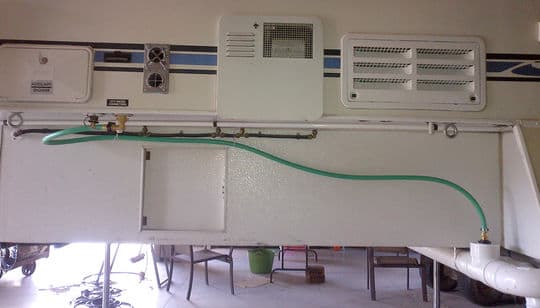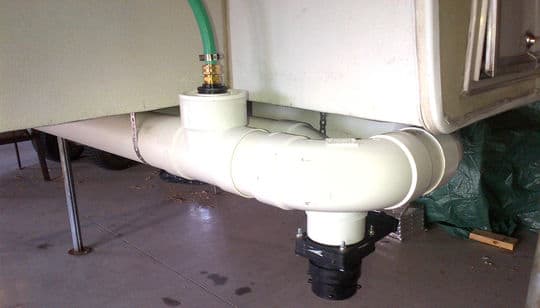 Then, I installed a T where the camper drain came out the bottom and added a blade valve to allow the water to enter the new holding tank.
Hint: It is hard to see in the pictures, but I used a rubber elbow to connect to the camper.  This allows for some vibration.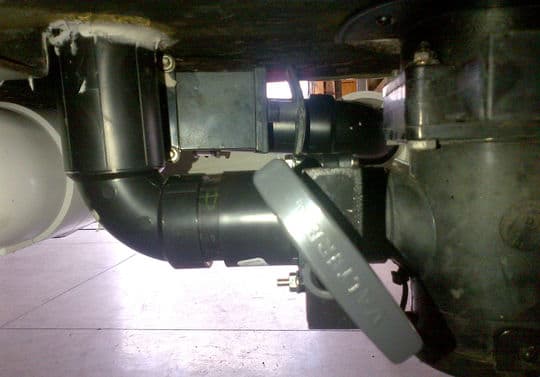 Now we can use the sink, rinse our feet after a day on the beach, or even take a quick shower after hiking.  Only basic tools are required for the project, and it works great!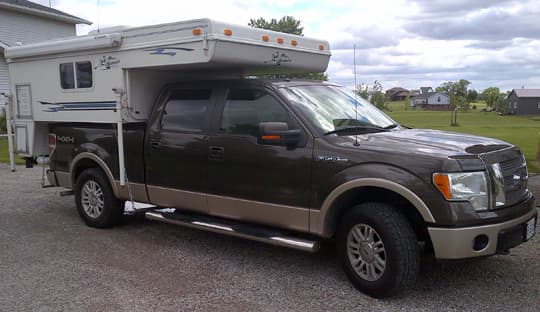 It took me five hours to complete and cost $100.  In my opinion, the skill level of this mod is medium.

#4 – Doug Jenkins, Hazelbrook, Prince Edward Island
2003 Ford F-250
2003 Palomino 8801
Before making this latest modification, we made a significant modification to the rear entry area of our camper.  This included two steps with room on both sides for storage tubs.  These tubs hold items ranging from a barbecue, tent shelter, and a generator.
After that modification, we planned a long trip from the east coast of Canada, down the eastern seaboard to Florida, west through the southern states, up the West Coast, and back across Canada for home.
During our trip planning and preparations, we decided to bring bicycles.  The step and storage modification is perfect for our needs, and we were looking for a way to add bicycles while maintaining clear access to the rear camper entry door.