Cabover handles added, cubby shelves installed, cleaning kits mounted, water hoses hidden, muddy shoes contained, and much more.  A dozen clever mini mods compete for your vote.

Welcome to the May 2016 Monthly Mod Contest.  Please review the following twelve Mini Mods and vote for your favorite.  We will announce the May 2016 Mod Contest winner next week.  For more information about the Monthly Mod Contest, including how to enter, click here.
March 2016 Mod Contest Entries:
1. Bill Harr, Stockton, California
2005 Toyota Tundra
2013 Four Wheel Camper Hawk Shell, custom build interior
In the Four Wheel Camper Hawk model, there isn't a good place to grab when you're getting out of the cabover bed.  For us old guys, this is important for those late night nature calls.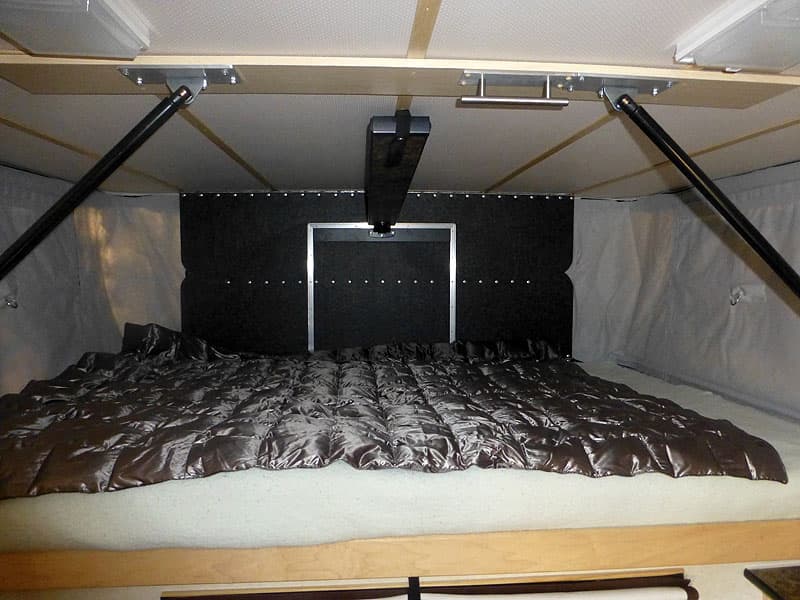 To address this, I added a handle to the push-up board over the bed.  I looked at just a large gate handle, but my wife said not in her camper.
So I found a nice looking stainless drawer handle.  I cut a piece of aluminum flat bar, drilled holes and counter sunk the back for flush allen screws.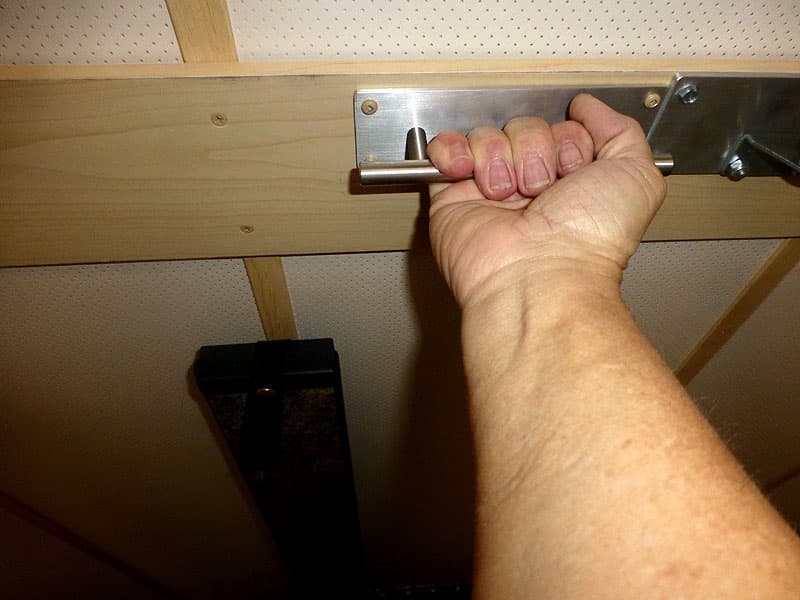 The handle is used every time we use the camper.  I'm not sure why I did not add it much earlier.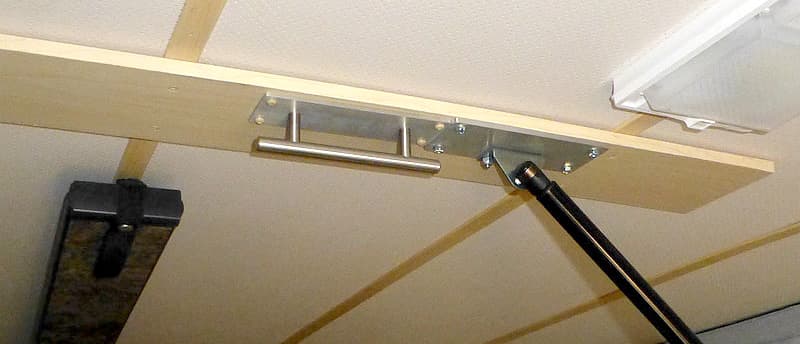 It took me less than an hour hour to complete and cost under $10.  In my opinion, the skill level of this mod is easy.
2. Scott Roberts, Isanti, Minnesota
2015 Dodge Ram 3500
1995 Hallmark Cuchara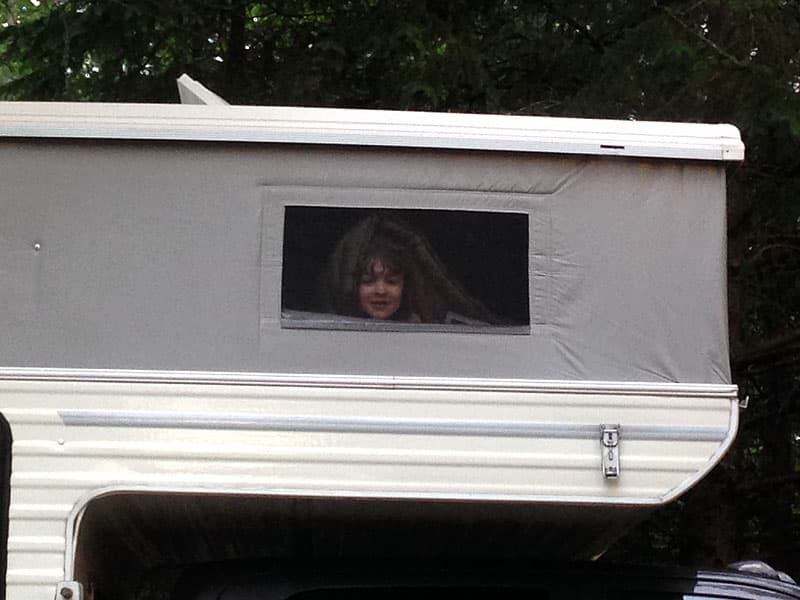 I needed to make the camper dark so my four year old could sleep.  The factory curtains mysteriously ended up pushed to the side, letting the light in, with my daughter's face pushed against the glass seeing what the others in the camp were up to.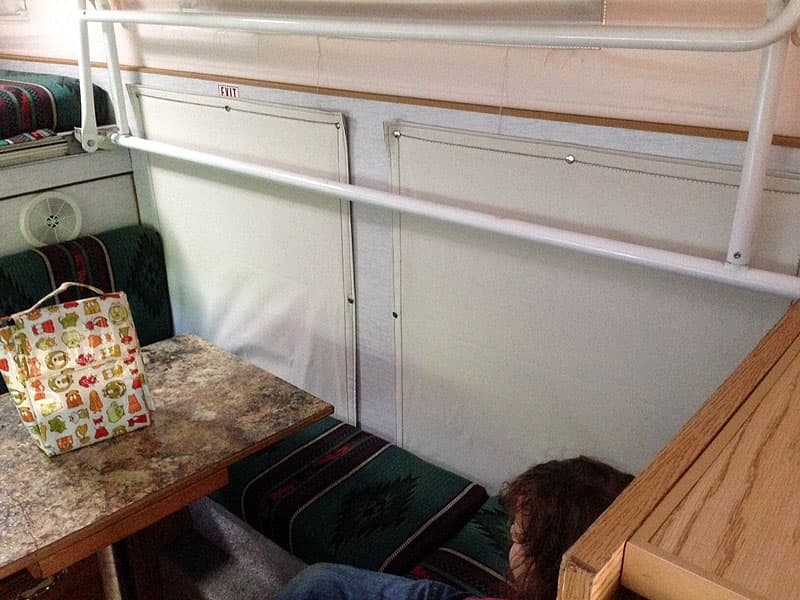 I purchased a few yards of a heavy gray duct material to back the blackout material I bought from the fabric store.  I made curtains/blackout shades that were two inches bigger than the entire window.  I screwed the male part of the snaps to the wall and put the female on my shades.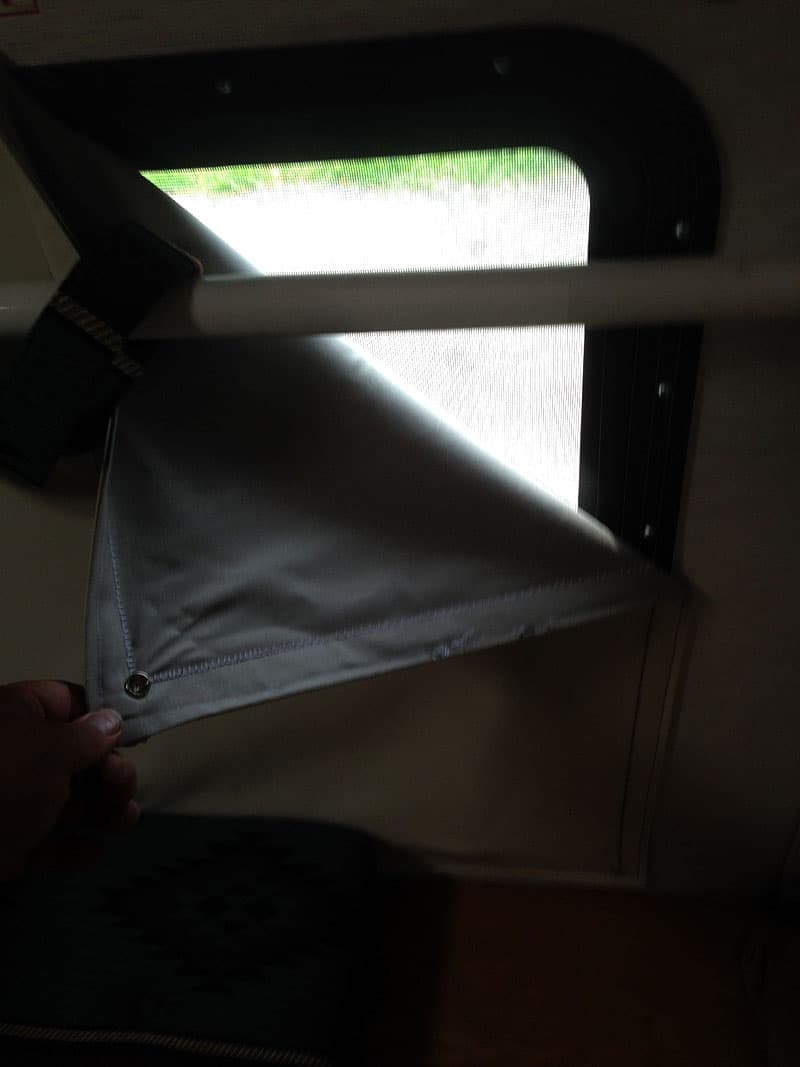 If you just make the shades without the blackout material, they will let a lot of light and heat in during the day.  In the dinette area, regular curtains bunch up and get caught on the pads.  For some reason they are never closed all the way and don't stay open all the way either.  If I want mine open, I just unsnap the bottom, roll the shade to the top, and tie them off.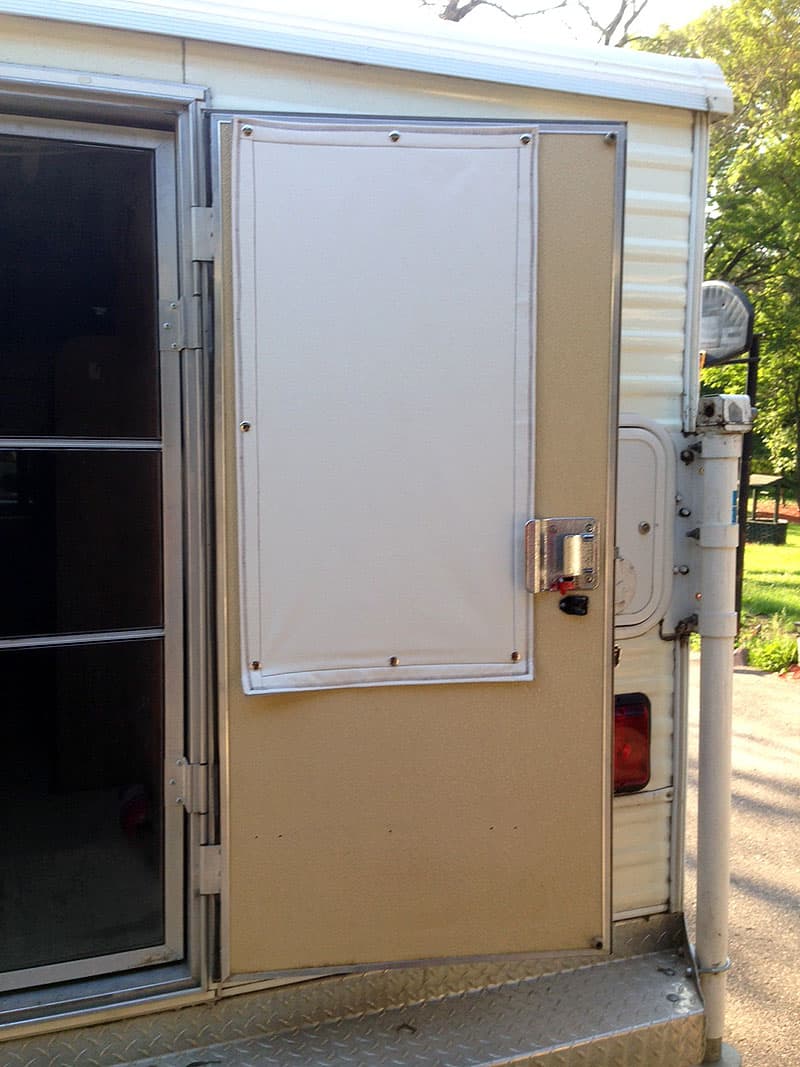 It's been working great.  I just got back from a week long trip to Michigan and returned with a well rested child.
It took me four hours to complete and cost $60.  In my opinion, the skill level of this mod is easy.
3. Rick W., Carmichael, California
2004 GMC Sierra
2004 Sunlite SB RK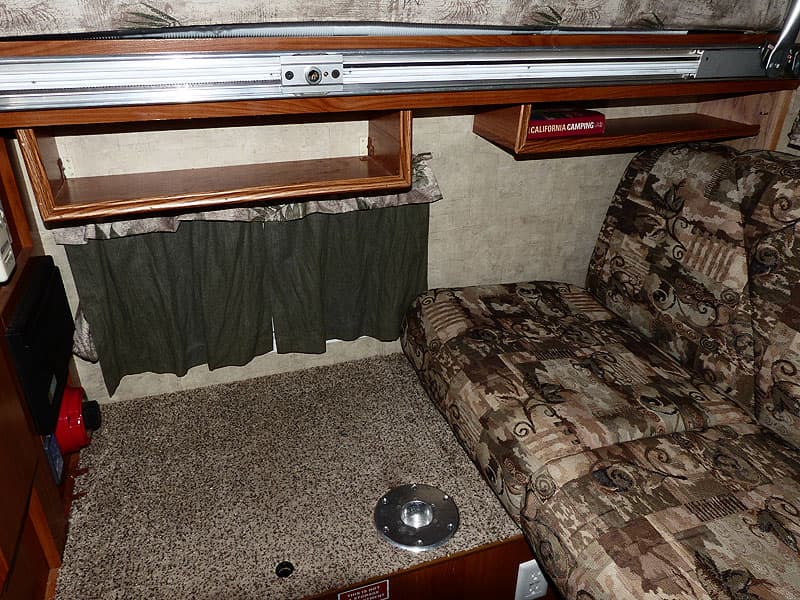 I installed these cubby shelves to add space for maps, books, and small pocket items.  The shelves are installed just under the bed's overhang.  The one on the left is positioned just above the window valence.  The one on the right is just above the sofa's back.  The space between the shelves accommodates the range of motion of the fold down sofa bed.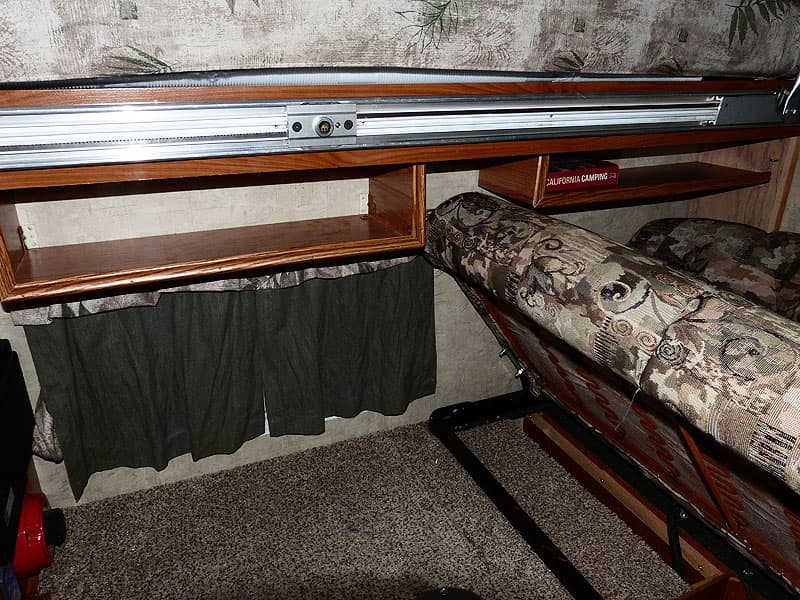 The shelves are made from scrap laminate flooring and a piece of plastic molding.  They are mounted with a few small angle brackets.  Bungee cords are stretched across the front to keep items in place on rough roads.
It took me about two hours to measure, design, and build and cost less than $10.  In my opinion, the skill level of this mod is easy.
4. Roger Odahl, Vancouver, Washington
2008 Dodge Ram 3500
2004 Eagle Cap 950
When we travel I like to keep our truck and camper clean, if possible.  There are actually a few RV parks that allow washing of vehicles.  When we find one, I will clean of the bugs, dirt, and debris from the vehicle and my wife will do the laundry.  Time wise, we both finish at about the same time.
I needed a place to store the long handle wash brush and a long handle towel holder.  I purchased a 5-foot, 4-inch diameter sewer pipe that is threaded on both ends for screw-on caps.  This pipe fits under my rear bumper, which holds the sewer hose on the Eagle Cap 950.
The Orange Grove RV Park near Bakersfield has a great wash area.  Also, the Oasis RV park in Quartzsite, Arizona has a high pressure wash system and it's right next to the laundry facilities.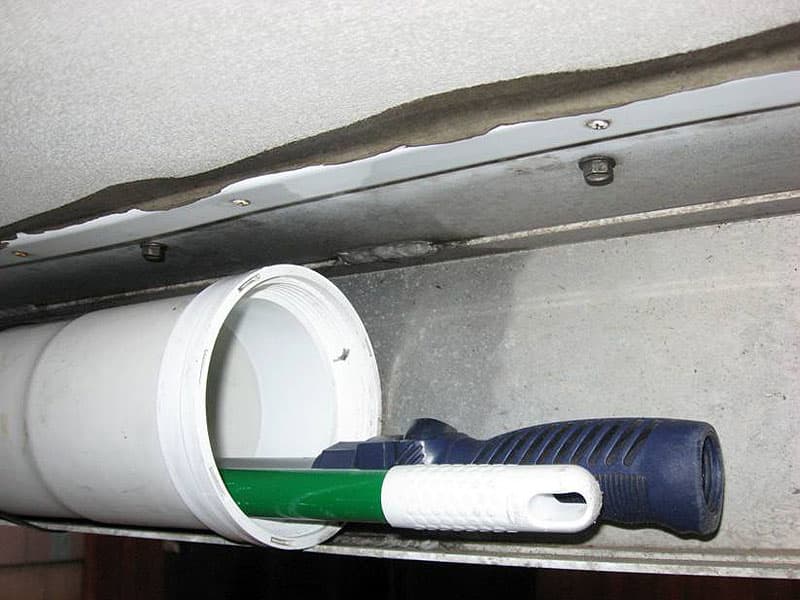 To make it stay in place, I drilled 3-3/8-inch holes on the lip that the sewer tube sits on.  I used a small square file to notch a flat section in the round hole.  I had 18-inch, 3/8-inch zip ties available.  I always carry various sizes in my tool bag.  The tube stays quite secure.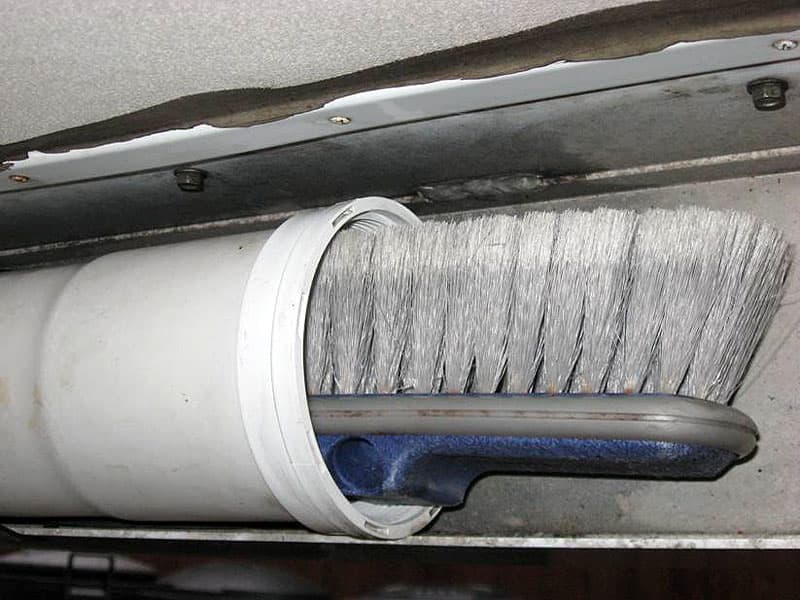 I use the driver's side of the tube to retrieve the brush and handles.  So, when placing the tube, be sure to allow enough room after removing the cap for the handles to slide out.
On the passenger's side of the tube I keep a tightly rolled 5×7 plastic tarp just in case I have to be under the vehicle.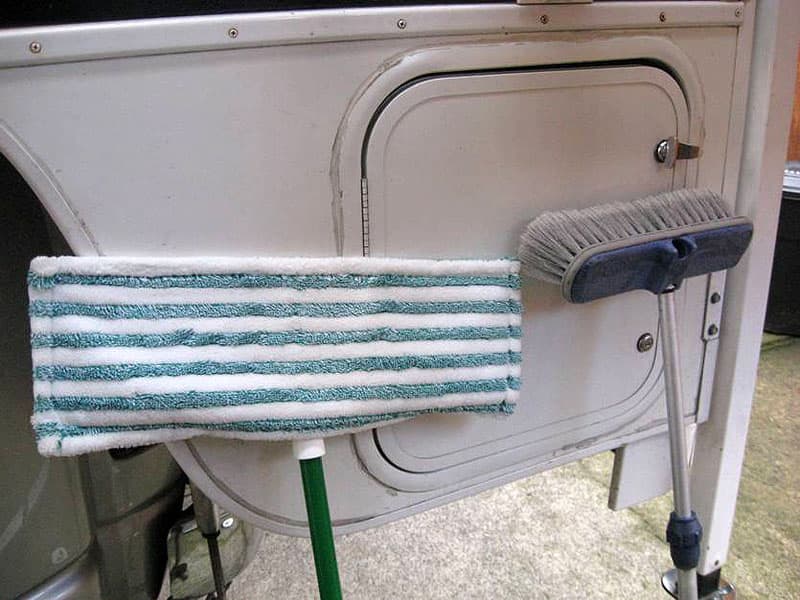 The wash handle is a 3-foot extension model and the brush is soft bristle.  I got it from Camping World.  For drying off water, I wrap towels around the flat swivel head mop that one can find at Walmart or your local grocery store.  The flat head snaps off the handle and I store that in my propane cabinet along with two towels for the drying off duty.
This is a very convenient way to carry cleaning tools while on the road.
It took me less than two hours to complete this modification and cost me around $20 or less.  In my opinion, the skill level of this modification is easy.
5. Bill Peters, Whitney, Texas
2013 Chevy Silverado
2013 Four Wheel Camper Hawk
One or more of our four-legged children like to stretch out on the bench in our Four Wheel Camper Hawk.  The bench is right below the kitchen counter, which often has something placed on it, unless of course it slides off.  The children did not like being sporadically bombarded by sliding dish pans, so something was needed to block the slide.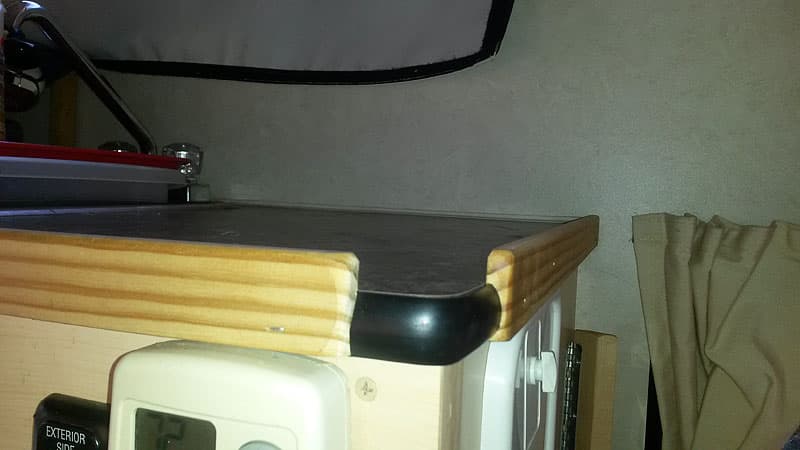 The existing countertop had the typical plastic molding inserted into the edge.  I removed this and replaced it with a piece of one inch lathe that had been varnished.  I attached it to the countertop edge with wood glue and staples.  It is one inch wide, so it sticks above the countertop by about a quarter inch.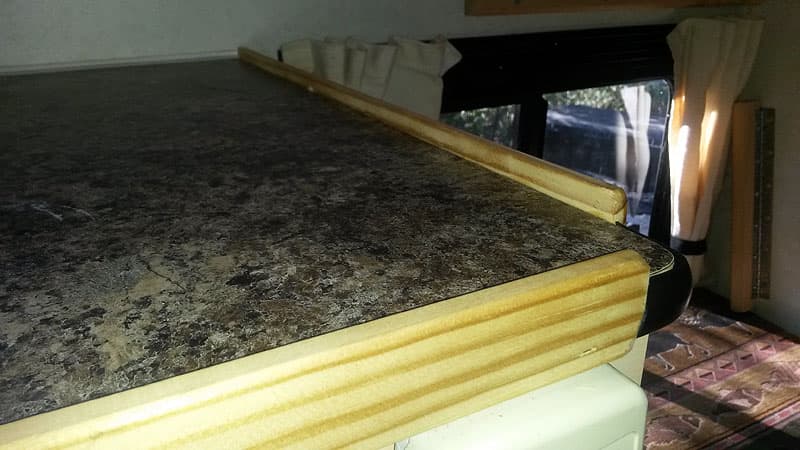 The original countertop has a rounded edge, so I retained some of the original moulding to cover this area for both appearance and safety: appearance to keep a hole from appearing between the wood and countertop at the corner; safety to not have a pointed edge.  The wood lathe had one edge rounded, and I used a sander to round the exposed ends.
The children are very happy.  Their mother has mixed reactions.  She can no longer easily set something on the edge, but also reduces the chances of inadvertently knocking something off the counter due to the small space.
It took me one hour to complete this modification and cost me $5, plus existing spray varnish.  In my opinion, the skill level of this modification is easy.
6. Tom Stock, Waunakee, Wisconsin
2003 Chevy 2500HD
2000 Bigfoot 9.6
One of the most awkward things to store in a truck camper is a 50-foot water hose which is rarely needed, but nice to have when you need one.
We used to coil a 50-foot hose up and store it in the basement, but found that you can never quite get all of the water drained out of it.  So I started to carry it in the space over the wheel well where a little water won't hurt anything.
My previous Coachman camper had enough room between the pickup rail and the camper to reach my hand in to pull the hose out of its hiding place.  However, our new to us Bigfoot camper has only enough room above the rail to fit a hose, but not a hand.  So hose removal now required camper lifting.  Not good.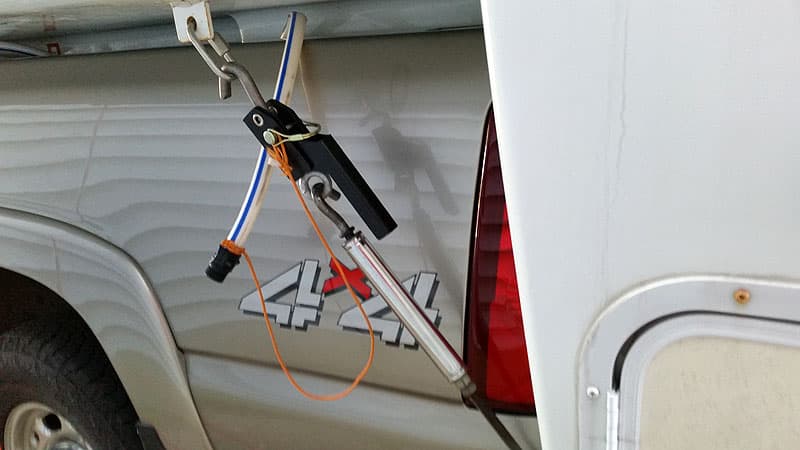 The very simple modification required me to take about two feet of orange cord and tie one end to the end of the hose.  A small loop is on the other end which is held by the keeper pin for my Fastgun tie-downs.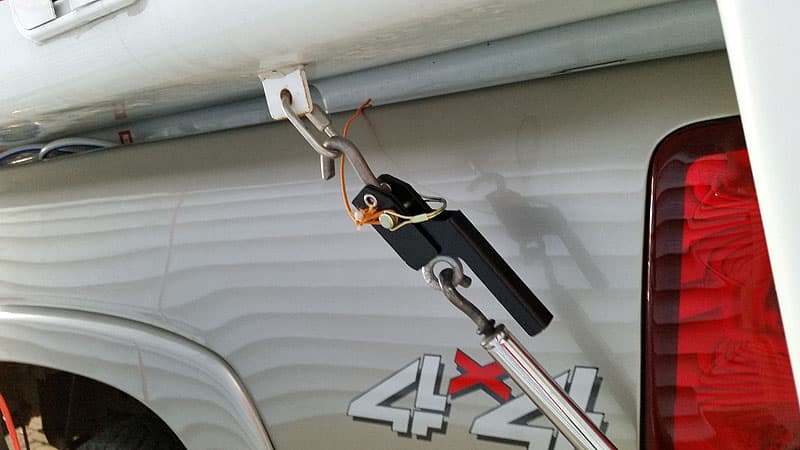 Now the hose is easily stored out of the way by feeding it back and forth into the slot between the rail and the camper with only a small orange cord sticking out and attached to my tie-down keeping it within easy reach at all times.
This may qualify for the simplest modification of all time and is as easy as tying your shoes.  It takes all of two minutes if you take your time.  Most importantly, it costs nothing.  There is a reason for hanging on to those broken shoelaces and pieces of string too short to save.
7. Bob Johnson, Milbank, South Dakota
2000 Chevy 3500
2002 Lance 921S
I always like to make things handy.  Truck camping involves maximizing space.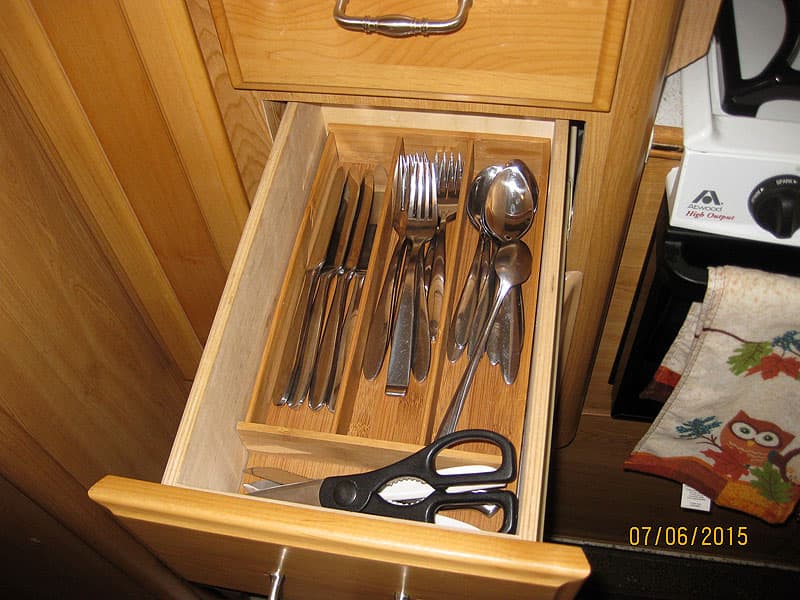 I made a silverware drawer organizer for my Lance 921.  I purchased a bamboo organizer from Walmart, and modified it to fit the drawer.  With the removed section, I made a spice rack beside the range hood.
It took me half an hour to complete and cost under $15.  In my opinion, the skill level of this mod is easy.
8. Alain Larose, Pointe Aux Outardes, Québec, Canada
2011 Ford F-450
2004 Lance 1181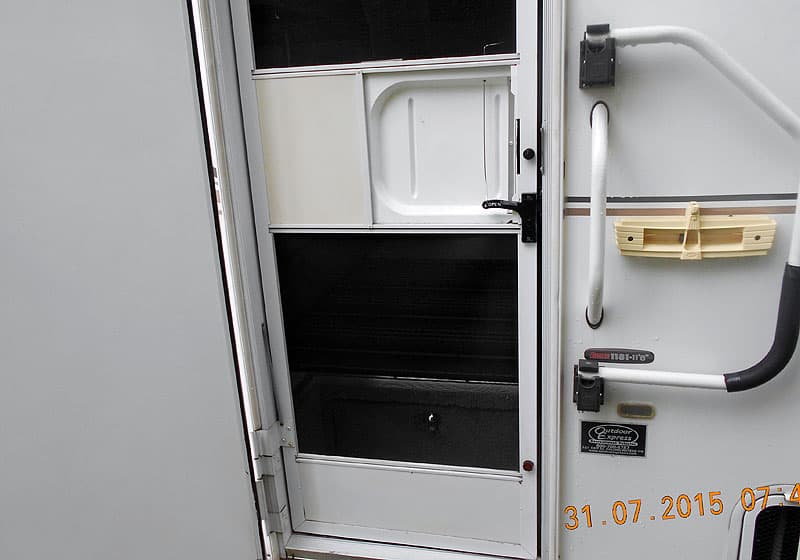 When we want to open the screen door and having something in our hands, it's difficult to slide the trap.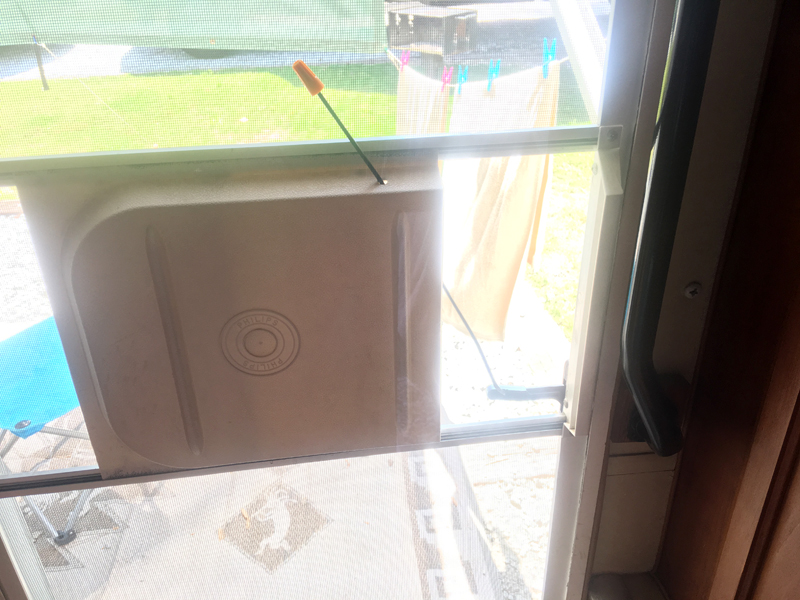 I drill two smalls holes, one on top of the sliding door and the other in the door handle.  I bent a bicycle spoke.  Et Voila!  It works fine.
It took me fifteen minutes to complete and cost $1.  In my opinion, the skill level of this mod is easy.
9. Charles Coushaine, Punta Gorda, Florida
2001 Ford F350
2012 Chalet DS116RB
Our Chalet double slide has a huge 62 gallon fresh water tank, and a tank level meter that has lights for each third.  These lights are not very accurate, and we usually need much less than the lowest light or twenty gallons, which is about 160 pounds of water.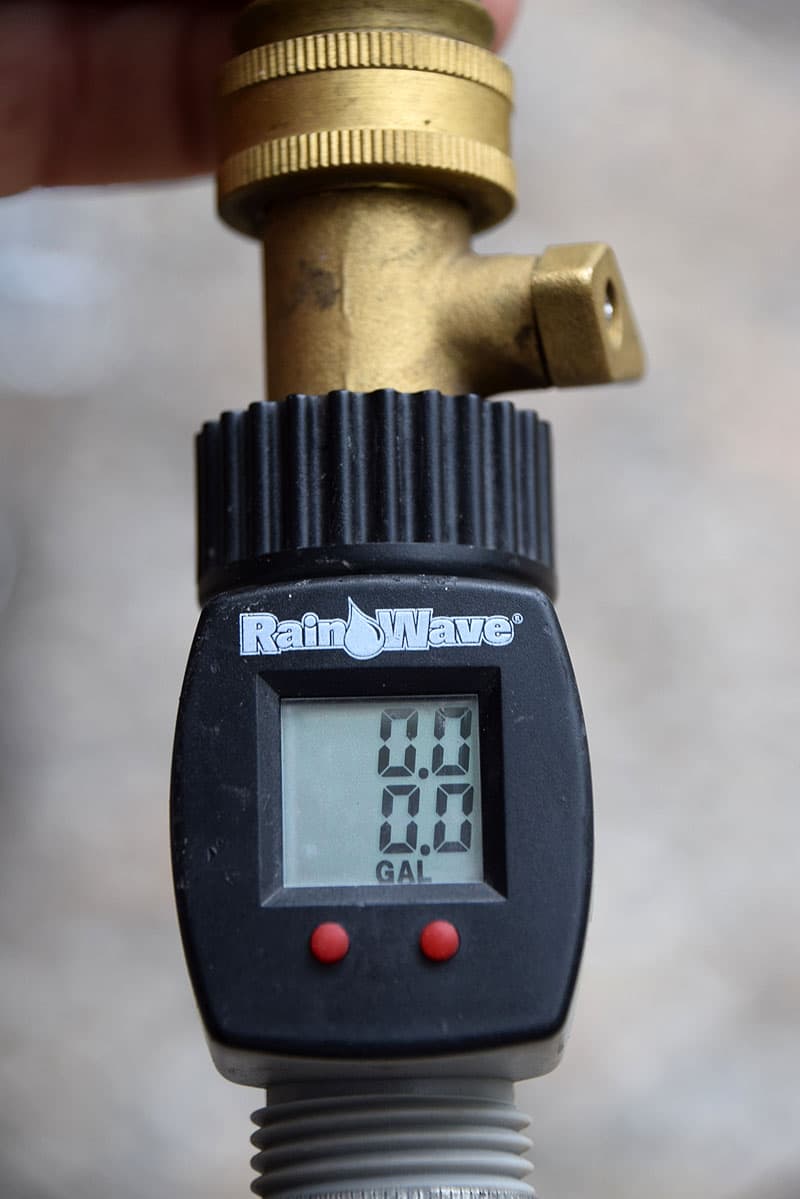 To more accurately control the weight of the water in my fresh water tank, I put together this nifty metering system to dispense exactly the amount we need.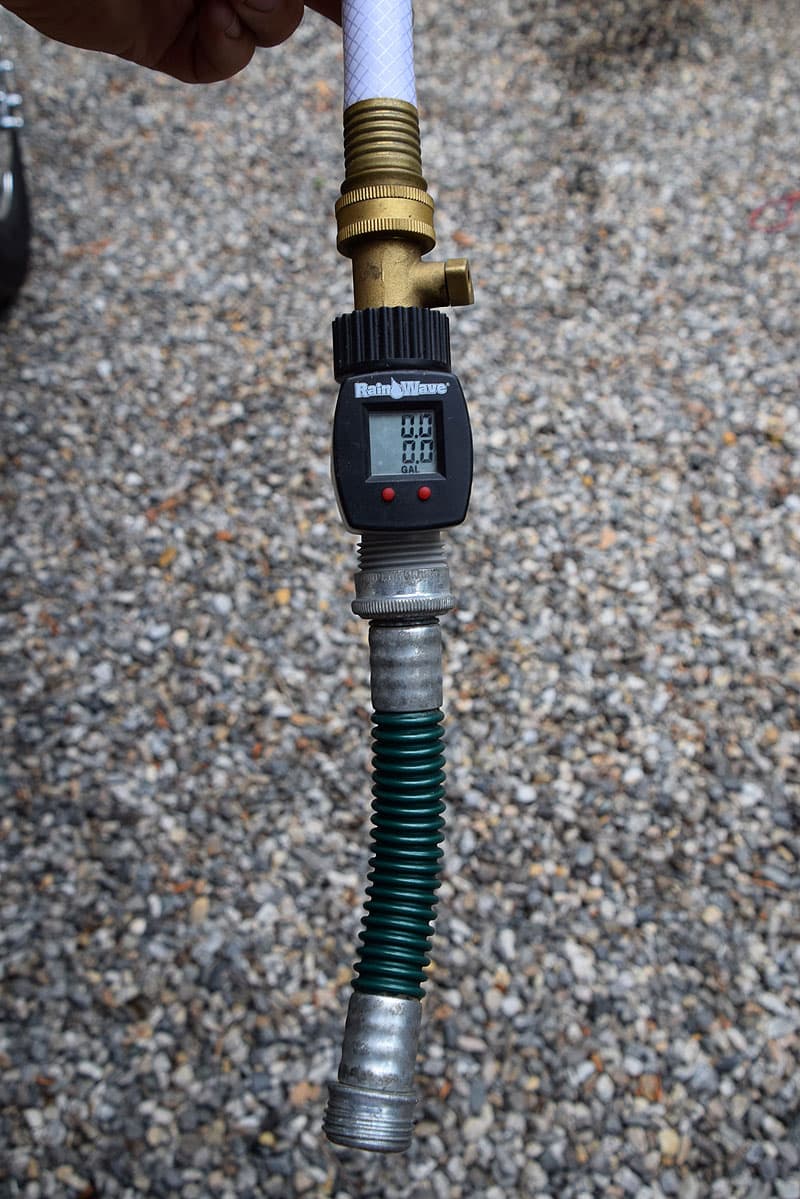 I put together a water meter with an on/off valve and a small hose extension.  These were easily put together and allow for an exact amount of water to be added to the fresh water tank.
Please watch the video to see how it works:

We know from experience that we use approximately six gallons of water for each day of dry camping we do.  This includes taking showers, washing dishes, drinking water, etc.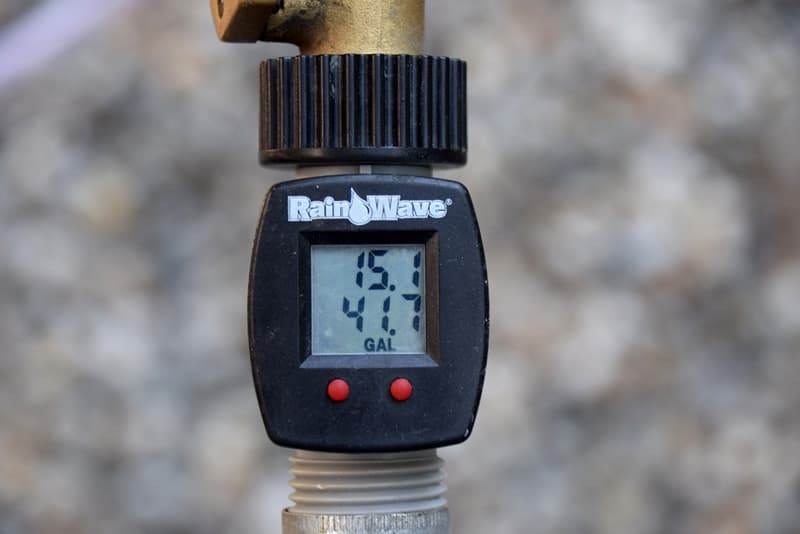 Using this metering system allows me to very accurately put water into our fresh water tank and control the weight of the water.  I no longer carry around excess water and weight as I travel.
It took me one hour to complete and cost $35.  In my opinion, the skill level of this mod is easy.
10. Jean Landau-Vogt, Faison, North Carolina
2015 Ford F350
2016 Northstar STC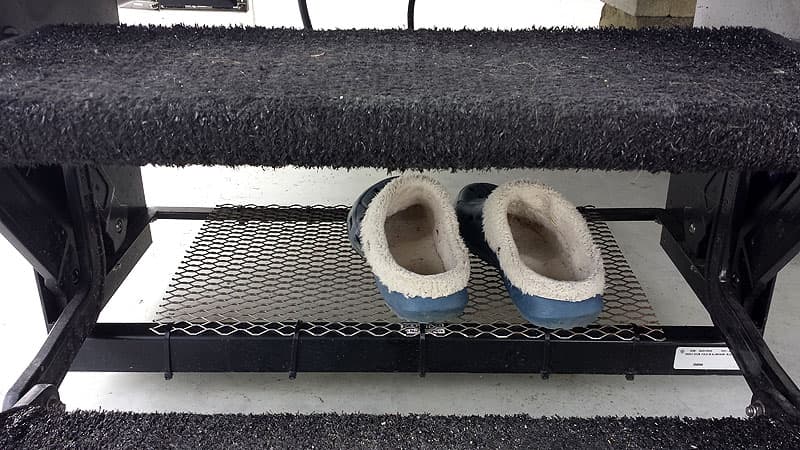 We got our first truck camper after downsizing from a 35-foot fifth wheel.  One issue was shoes.  We often have wet, muddy shoes from dog walking and there was always a pile of shoes inside the door.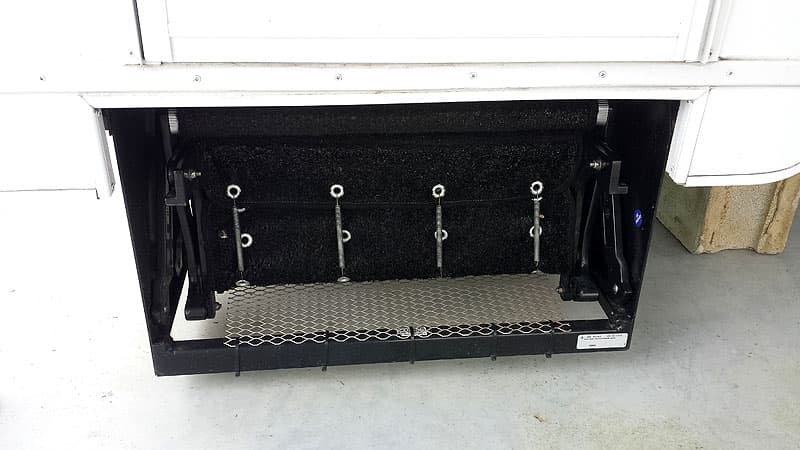 First, my husband cut a piece of expanded metal to fit the bottom of the folding step box and attached it with tie wraps.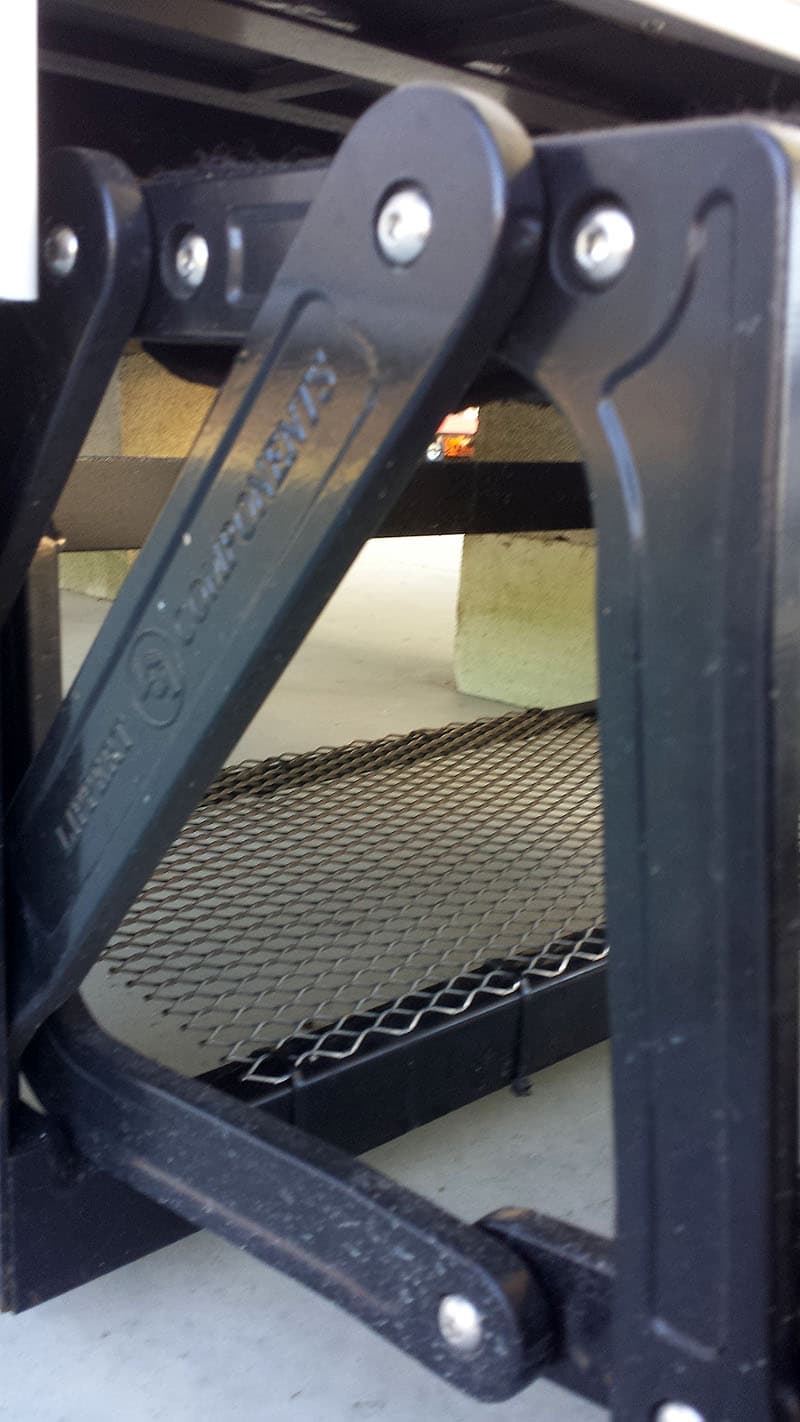 It doesn't interfere with operation of the steps.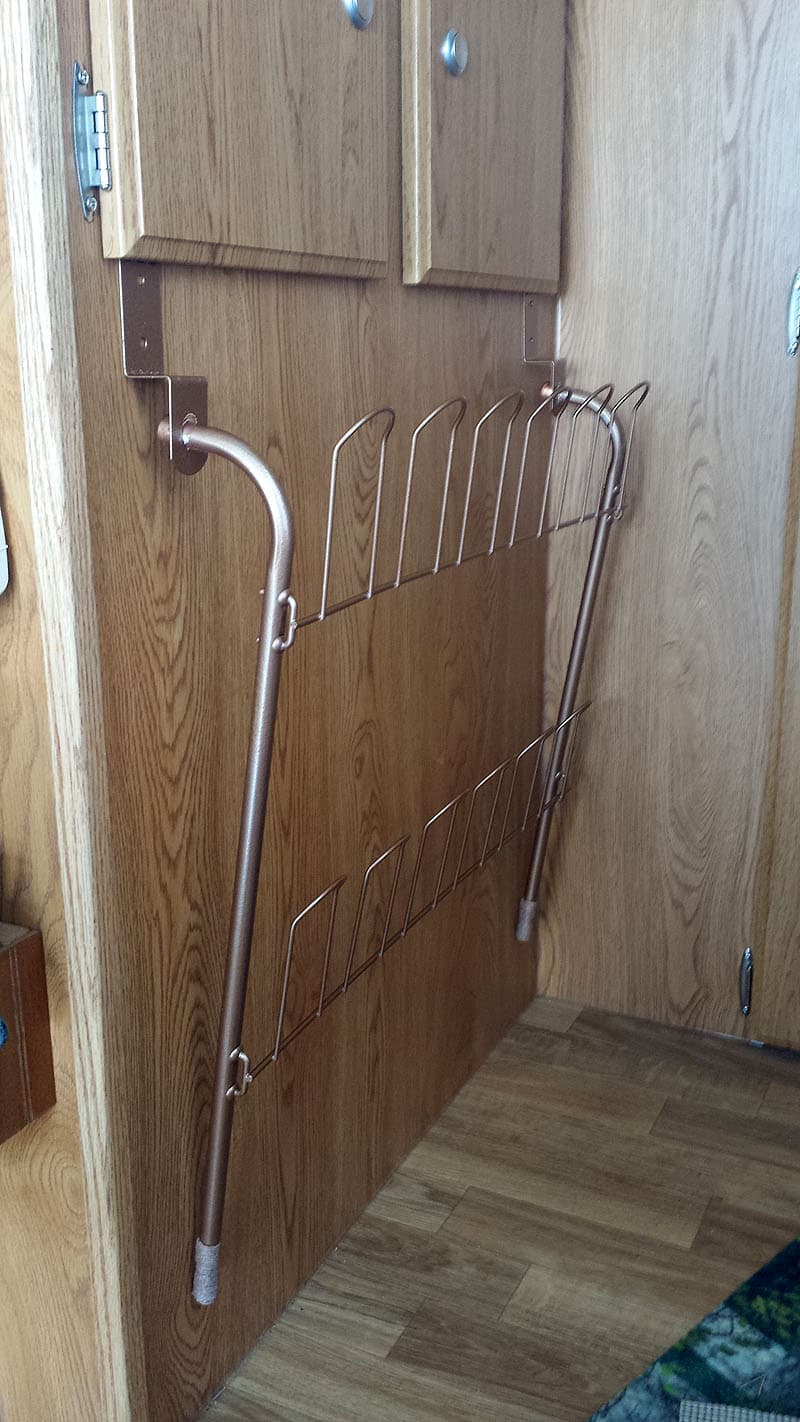 I found an over the door shoe rack at Walmart on sale for $5.  Using just the top section, spray painted to make it more attractive, it holds six pairs of shoes out of the way.  The over the door hangers fit right in the cabinet doors making it a non-permanent installation.
Wet and muddy shoes can dry outside out of the weather and we no longer trip over a pile of shoes inside the door.
It took me three hours to complete this modification and cost me about five dollars.  In my opinion, the skill level of this modification is easy to medium.
11. Jim Kauffman, Fernandina Beach, Florida
2015 Dodge 5500
2014 Eagle Cap 1160
I wanted to be able to determine and see the water temperature at the sink during the day or night.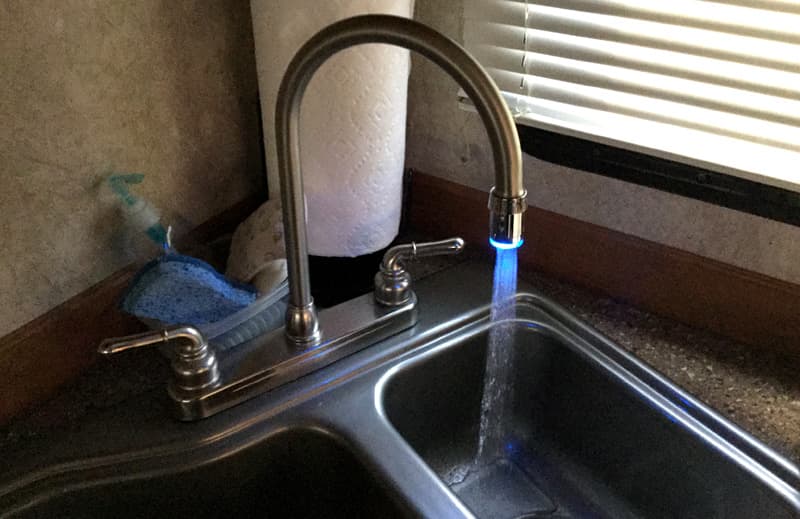 I purchased a LED temperature controlled attachment for the end of the faucet.   When the water is cool, it will be blue water.  When it is warm water, it will be green.  When the water is hot, it will be red water.  The photo shows cold water, which is blue.  This works day or night.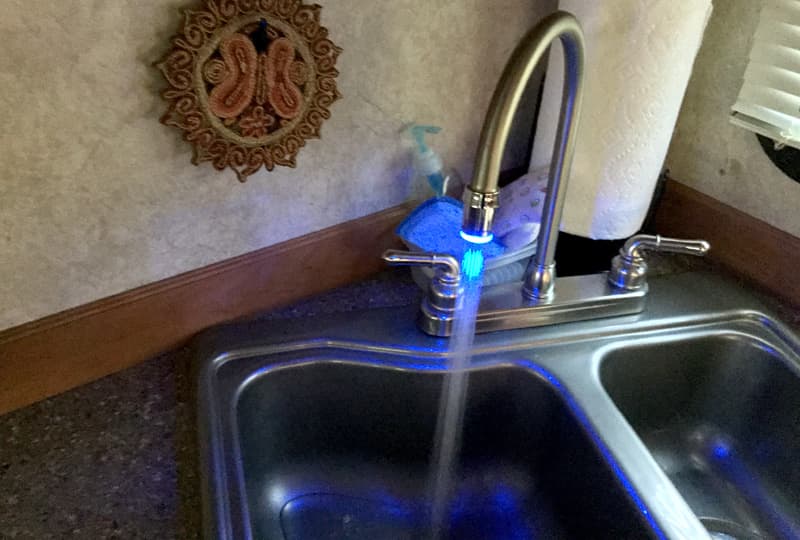 The LED temperature controlled attachment works great, especially at night.
It took me one hour to complete this modification and cost me less then $10.   In my opinion, the skill level of this modification is easy.
12. Robert and June Morrissey, Savannah, Georgia
2011 Ford F350
2012 Lance 850
The reason for this modification is to improve the conversion of the U-shaped dinette from a table setting to a bed in our non-slide Lance 850.
In our truck camper, the table top is used as the surface to support the cushions when converted into a bed for sleeping.  It overhangs the edge by many inches and has no support under it for a large portion of the table.  It also makes it a tight squeeze to get into the bathroom at night as our truck camper does not have a slide.  It does not obstruct passage into the camper during the day.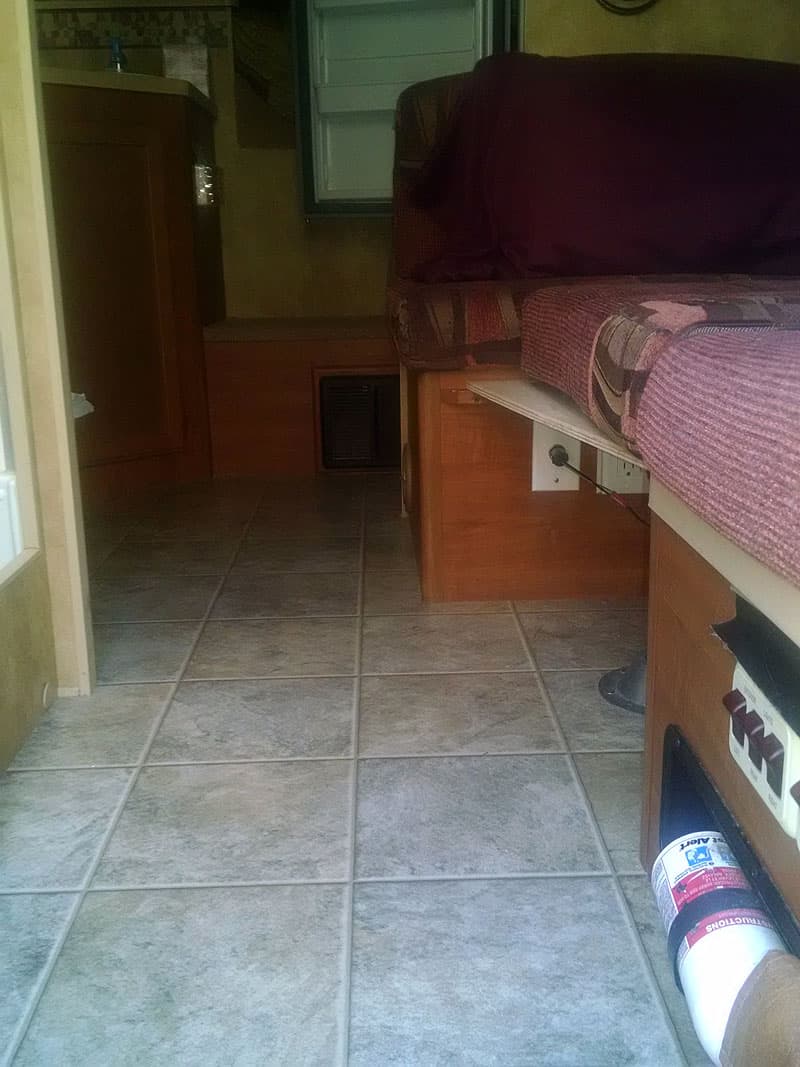 One small piece of plywood, cut to fit, easily replaced the table top as bed support.  The table top stores overnight in the bathroom completely out of the way.
We usually leave this board in place during the day and during meals as we eat from lap trays.  It doesn't take up nearly as much hallway space as the original table top did.  It makes for more roomy and comfortable seating to watch a video.  It also makes for a nice nap spot during the day or when traveling without having to climb into the cabover bed.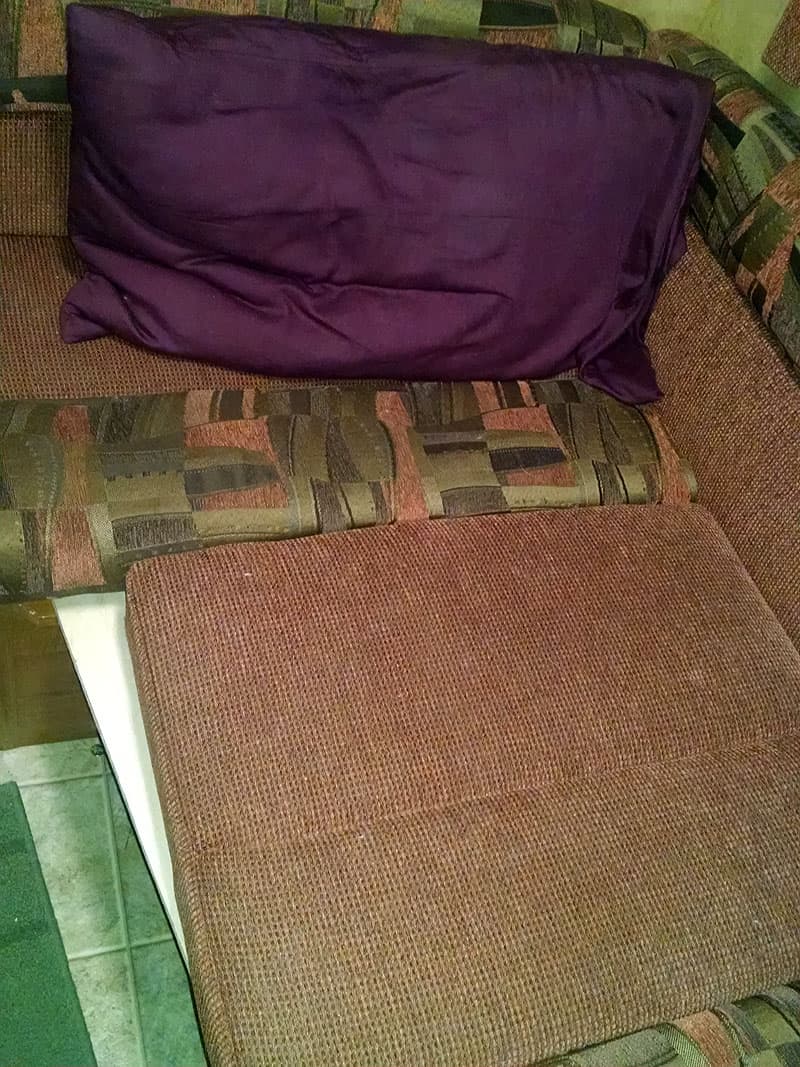 If we want to return the table to its full upright position during the day or night, the modifying board stores under a cushion.
It took me a quarter-hour to complete and cost $5.  In my opinion, the skill level of this mod is easy.
Click here to vote for your favorite 3 mods from this month's contest.
Disclaimer: The modifications above are submitted by Truck Camper Magazine readers. It is your responsibility to make sure that any do-it-yourself modification project you undertake is safe, effective, and legal for your situation.
Enter Your Mods Now!
If you'd like to enter mods into TCM's Monthly Mod Contest, click here. You can enter as many mods as you want, at any time. Good luck mod makers!