A rear has been rebuilt, exterior storage constructed, recliner love seat installed, roof lift created, jack bracing system built, and a custom porch added.  It's time to vote!

Welcome to the December 2015 Monthly Mod Contest.  Please review the following six Mega Mods and vote for your favorite December 2015 mod.  We will announce the Mega Mod Contest winner next week.  For more information about the Monthly Mod Contest, including how to enter, click here.
CLICK HERE TO SEE THE DECEMBER 2015 WINNER

December 2015 Mod Contest Entries:
1. Thomas Wilson, Walkertown, North Carolina
2015 Chevy 3500
2015 Adventurer 89RB
Above: The empty space that was in the overhang – click to enlarge
I purchased a 2015 Adventurer 89RB, which is designed to match long or short bed trucks.  I matched the camper to a 2015 Chevy 3500 short bed and wanted to make use of the space behind my truck's tail lights.
First, I made a template out of plywood.  The template gave me the sizing for my inside metal and provided a pattern for the rough cut-outs for the doors.  Placing the template against the inside wall on each wing, I cut out the door openings using a sabre saw.  I changed blades for each door.  Then, I installed storage boxes on each side of my camper.
The doors are quite similar to factory doors and it has provided about 3.8 cubic feet of space on each side of camper.  The result has more than met my expectations and just fits perfectly with camper loaded and unloaded.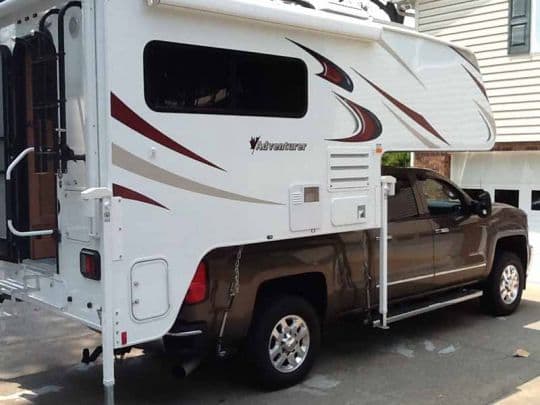 Above: The overhang doors are now on both sides of the back of the camper – click to enlarge
It took me eight to ten hours to complete and cost approximately $225.  In my opinion, the skill level of this mod is hard and that's only because I had to locate a supplier for the doors.
2. Boyd and Marsha Pettitt, Stockbridge, Georgia
2007 Dodge 3500
2007 Arctic Fox 811
We use our truck camper to travel a lot.  Since retiring in 2011, we have traveled to all but three states, and all but three or four of the Canadian provinces.  The only problem we have had with camping in our 2007 Arctic Fox 811 is the uncomfortable dinette seating.  We wanted to stretch out and rest at the end of the day.
I removed the heater, dinette, and lower storage drawer in the slide.  We never used the built-in propane heater.  Instead we carry a small electric heater for when we have shore power, and a Mr. Buddy portable propane heater for when we are boondocking.  As a general rule, we don't travel during the winter.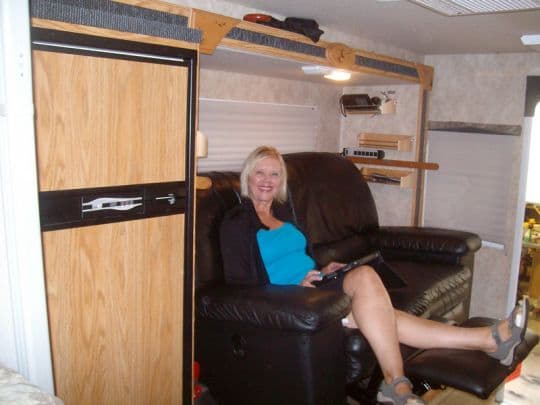 Above: New LazyBoy leather reclining love seat replaced the dinette – click to enlarge
Then I found a like new LazyBoy leather reclining love seat for $150.  This particular model was the correct width and and was easy to disassemble and fit through the rear camper door.  Once inside, the love seat was simply screwed down to the camper floor.  We also installed outlet strips for charging phones, cameras, and computers.