A cork board, clothes line, or strategically placed Velcro tissue box can help make a truck camper into a comfortable home on wheels.  And the Level 3 Decorative Mod Winner is…

It may be too much information to bear, but we pride ourselves in actually showering in the truck campers we use.  While truck camping or at home, our cat Harley simply licks himself clean, but that method is far too impractical, not to mention difficult for us to follow – especially on the road.  Don't ask how we know this.
Naturally, showering in a truck camper always results in three large wet towels; one for each of us to dry off, and another to dry the shower stall or wet bath.  Having showered in no less than twenty or thirty truck campers over the years, we are fairly certain that almost no one in the industry has had this experience.  That's right, the industry does not shower in their own campers.  Either that or we have discovered an even more embarrassing fact; the industry doesn't use towels after they shower, they shake.
What evidence do we have of this?  The almost complete absence of sufficient towel racks and hooks in brand new truck campers.  Truck campers almost never come with enough bath towel racks and/or hooks to support towels for two adults.  It's a scandal.
This is where the art of simple or decorative mods, performed by actual truck camper owners who actually use their truck campers, can make all the difference.  To celebrate these simple mods of great significance, we have introduced Level 3 Decorative Mods to the 2014 Top Mod Contest.  Here's to hooks, lines, racks, and dry towels from coast to coast!
Level 3 Decorative Mod Winner: Heidi Nicholl, California
2013 Chevy Silverado 2500 HD
2005 Lance 815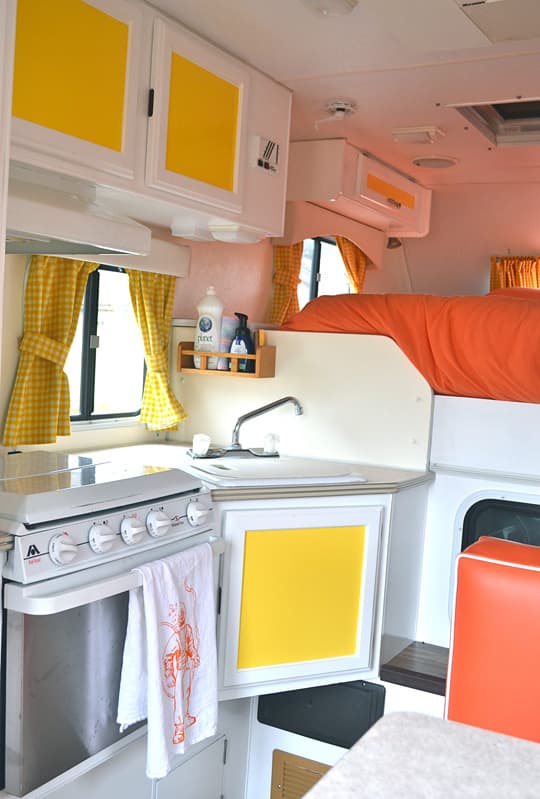 Above: The kitchen of the Lance 815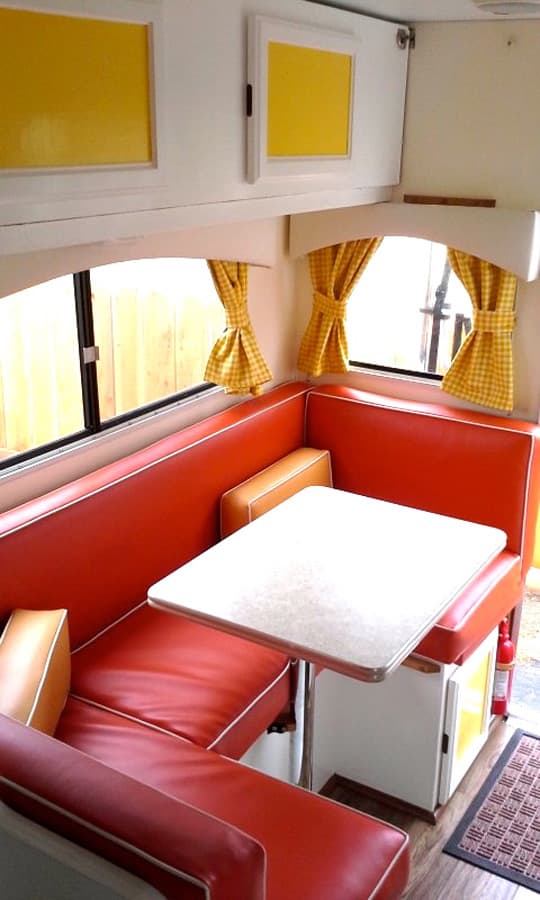 Above: The dinette of the Lance 815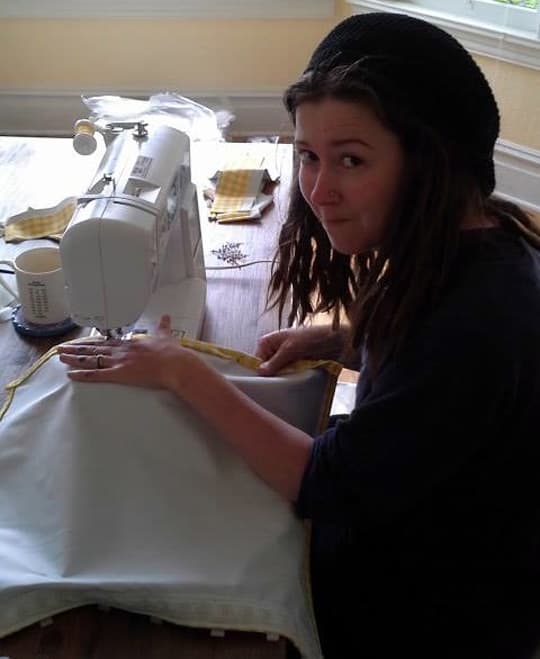 I re-did the interior of my Lance 815.  I made the curtains myself and we got a local upholsterer to make new covers for the cushions.  We have dogs and we wanted something bright and attractive, but very easy to maintain, hence the vinyl.  I can sew, but the vinyl was more of a professional job.

I painted the walls in a cream color and most of the wood work in bright white.  We removed all the doors and painted them white.  Then I picked out the accent color to match the curtains.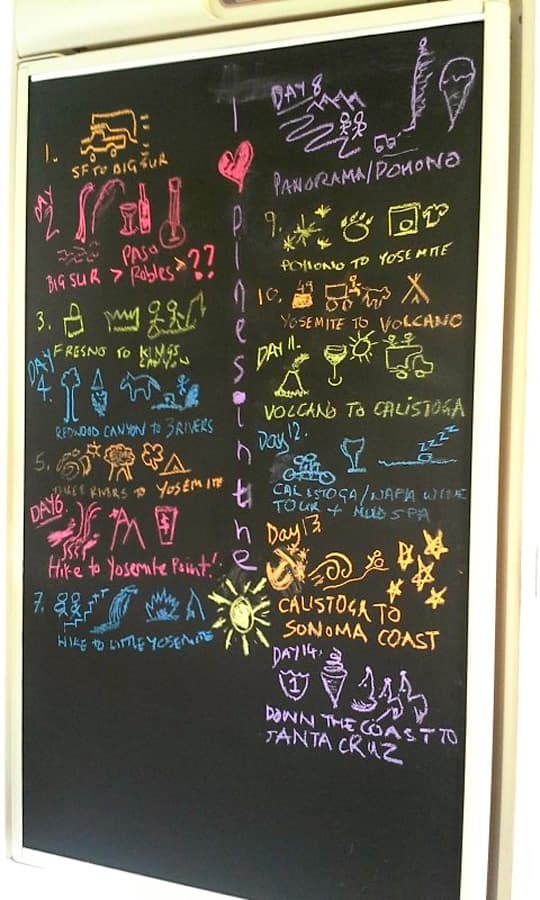 We've also put blackboard paint on the refrigerator.  We think it works brilliantly having the blackboard paint.

Level 3 Decorative Mod Runner-Up: Bob Hall, California
2005 GMC Sierra 2500
1996 Lance Squire Lite 8'6″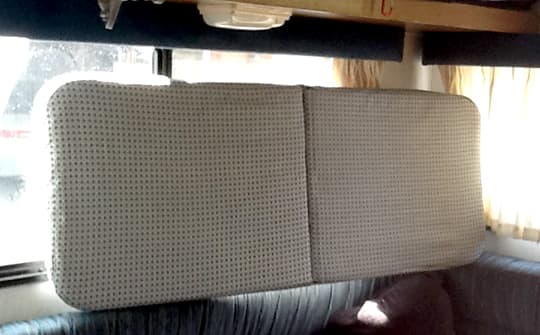 I made insulators to help keep out the heat and cold.  They are made out of half inch pink styrofoam used for home insulation.  They are covered with quilt batting and then cotton fabric.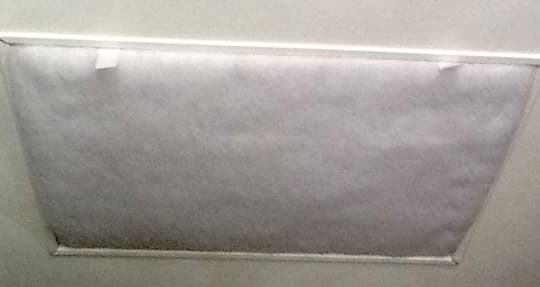 The insulator in the escape hatch is two pieces glued together and then covered with batting.  The hatch cover comes off when I want to ventilate.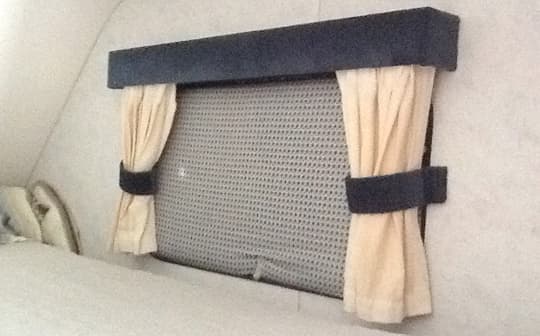 The two insulators on the windows next to the bed are left in all the time.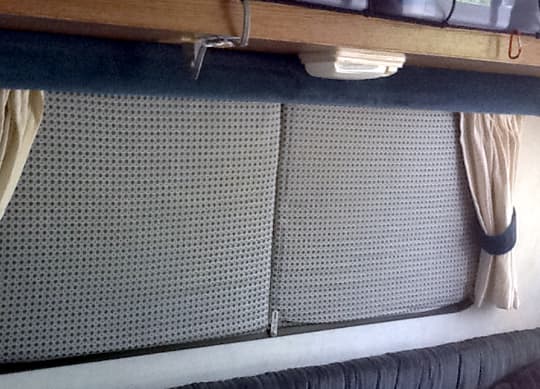 The one next to the dinette only goes on at night.  The windows have little nylon clips to hold them in place.  The door window and the window over the sink don't have one yet because I ran out of material.
Level 3 Decorative Mod Runner-Up: Rudy Drexler, Vermont
2006 Chevy Silverado 3500 dually
2006 Host Rainier 9.5 SS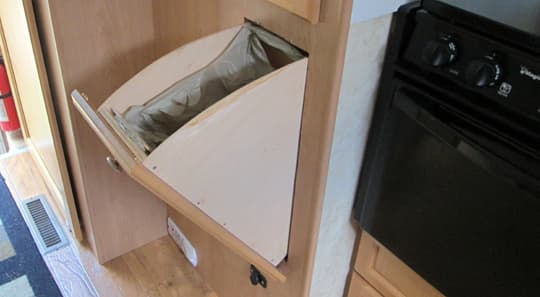 Up until 2013, I had a Host Rainier 9.5 SS truck camper.  As always, there is room for improvement.  I noticed in the Host truck camper there was a large area hidden and not used next to the two propane bottles with access from the exterior.  So again, using Yankee ingenuity, I cut into the inside wall and built a tilt out trash bin with standard grocery store plastic bags as bin liners.  Another area used for something that was always unsightly and in the way.  All campers should have a built in trash receptacle.
Michelle Curns, Oregon
2008 Ford F450
2014 Arctic Fox 1150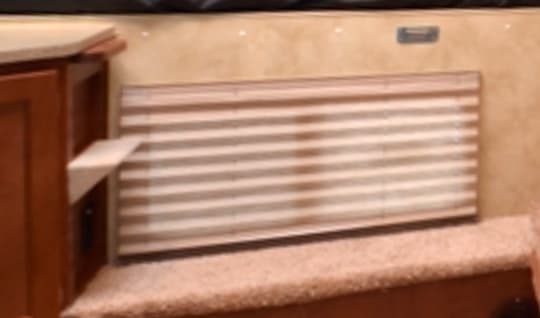 Above: The factory installed blinds
I removed the factory installed blinds that covered the window that lined up to the rear of the truck.  I did this for two reasons; one, they were made of fabric and their proximity to the floor made them prone to dirt, dust, and dog hair.  This made the blinds impossible to keep clean.  Second, I have two dogs that I was afraid would destroy the blinds.
I made and installed an arctic grade vinyl cover with felt backing for moisture control and nickel plated brass snaps to mount them.  Our Fantastic Fan vents came with these covers, so I went to the fabric store to find the materials to copy them.  I used a basic sewing machine for the cover.  The cover measures sixteen inches by thirty-six inches and the snaps are mounted using stainless screws into the wall.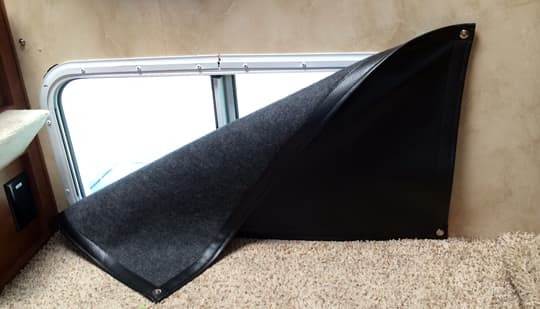 It's an easy on/off window cover that's heavy duty enough to withstand toe kicks from bed access.  It's always clean and blocks out any light.
Cindi Goodrich, California
2008 Lance 1191
2006 Chevy Silverado 3500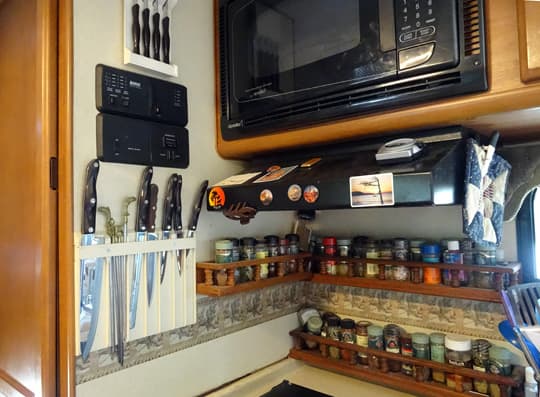 If you're like me, cooking while in the camper is not all about a campfire.  I bring a fully stocked pantry, recipe books, and lots of pots and pans.  But, where do I put them in the limited storage on a truck camper?
For my kitchen remodel, I started with the spice rack.  The one provided was woefully inadequate, so I moved it to the wall near the entrance and made it into a remote control holder.  I replaced it in the galley with several West Marine teak spice racks.  Now, you name it, I have it.
While looking at the galley walls, I also found space for two knife racks.  This is a very safe way to store knives.  I also bought a large metal utensil holder for those that I use the most.  When traveling, it fits in the smaller sink.  I also found a magnetic kitchen timer which sits nicely on the stove hood vent.
Eldor and Dorothy Eisen, Texas
2005 Ford F350
2007 Lance 1055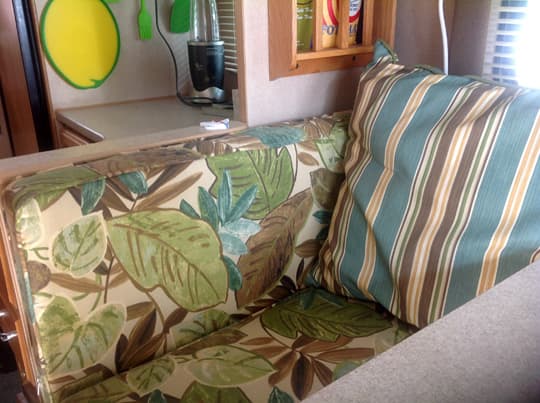 We purchased the camper used and needed to make it our camper.  I'm not sure why camper interiors are designed with mostly brown tones, but brown is not a color that I want to live with.
I spent time looking for the right fabric.  It needed to coordinate with the brown valances because I didn't want to tackle them at this time.  I found a bright colorful fabric to recover the ugly brown cushions.  I also brought a coordinating fabric and covered two large pillows to lean against when relaxing.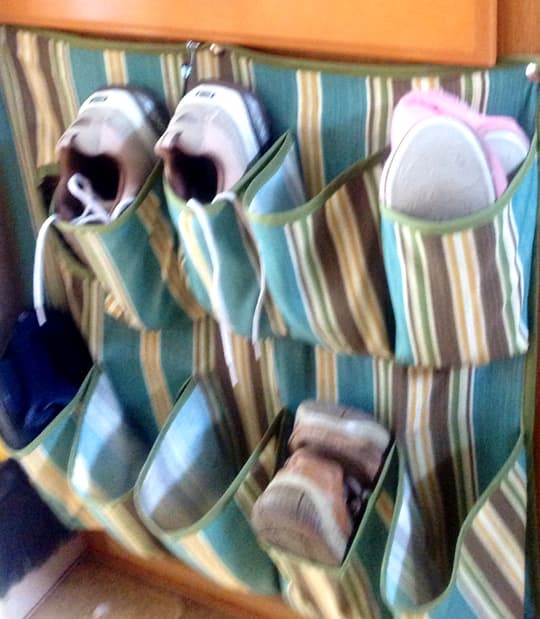 Looking around the camper, I spotted a space that was perfect for a shoe caddy.  I made a shoe caddy with the coordinating fabric.  Now our shoes are secured and out of the way.
I had some small pieces left from projects, so I replaced the curtain on the window to the truck.  Now our camper is much more Eisen friendly.  There will be some more changes in the future.
Charlie and Jeannie Coushaine, New Hampshire
2001 Ford F350
2012 Chalet DS116RB
When we purchased our Chalet DS116RB truck camper, it came with a standard shower curtain in front of the shower.  Unfortunately, unless you were careful to keep the curtain inside the bottom of the shower stall, water could easily escape.
To prevent this permanently, I installed a Shubb Shower Door in place of the curtain.  This easily unwinds to close for showers, then winds back up and squeegees the water off the door as it retracts back into its holder.
To do the install the Shubb Shower Door, however, required me to do some custom framing at the bottom of the shower stall for the bottom door track to sit on.  I accomplished this with some three quarter inch thick solid vinyl purchased at Home Depot.
One piece was custom cut to match the bi-level contour of the tub bottom, and the second piece was custom fit to sit on top and provide a mounting place for the bottom Shubb door track.  Once installed, and caulked with white silicone, this worked perfect!
Jack Purdy, California
1969 Ford F250 Camper Special
1970 Roll-A-Long Sportster 9.5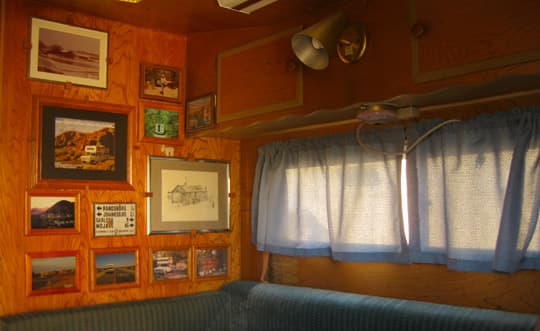 I got a great idea one day.  Wouldn't it be nice to have a picture wall of memorable places and things related to our truck camper travels?  I gathered pictures and memorabilia from thirty plus years of travel and boondocking in our truck camper.

After I filled the wall above the dinette, I started putting them in any open wall space.
Bill Harr, California
2005 Toyota Tundra
2013 Four Wheel Camper Hawk shell, custom interior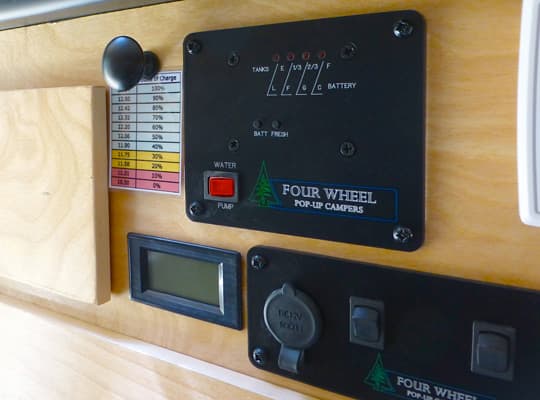 After our shake down trip in my Four Wheel Camper Hawk, we realized we had no where to hang a trash bag or dish towel with the new door and drawer latches I used.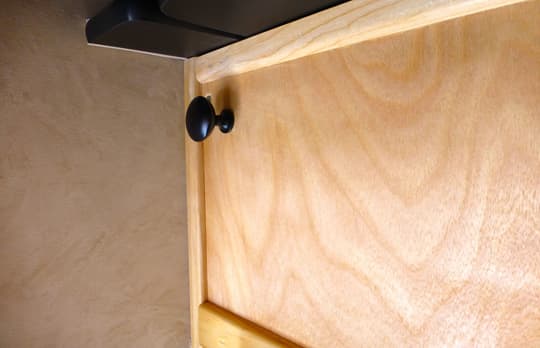 I bought two black door knobs and screwed them into the cabinets where we wanted them.  They work great.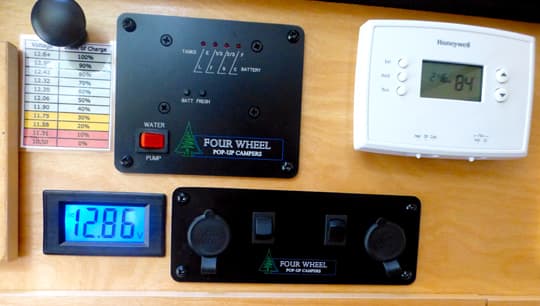 The knob is in the top left of the picture.  It is holding a voltage and percent of charge chart.  I have installed a voltage meter below that is switched off the left 12-volt socket switch on the Four Wheel Camper panel.
Jeff Dieter, New York
2013 Chevy Silverado 2500
1999 StarCraft 952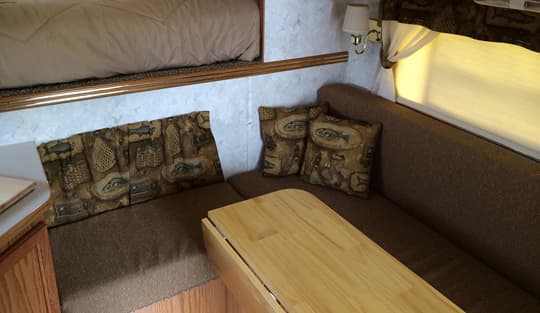 My wife and I just got into truck camping last year and we were so excited to find this 1999 StarCraft 952.  We enjoy the camper, but thought we would update it over last winter.  It was a great project and kept the camping spirit alive though this long cold winter.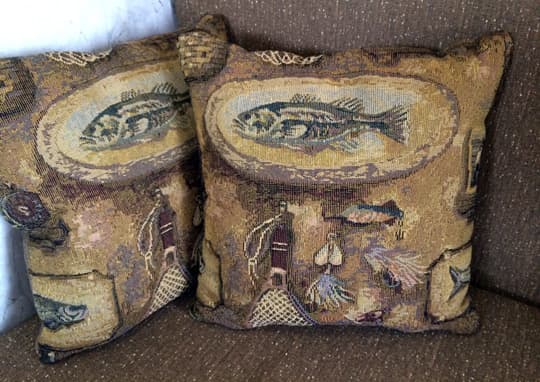 We like to fish and love the outdoors so, when we saw this fabric with fish, fishing nets, and fishing poles, we knew it would be for us.  We installed new carpeting that goes with the fishing themed valances and throw pillows.  The dark brown fabric for the seat cushions and the light colored curtains finishes it all off.
Jesse Taylor, Pennsylvania
2006 GMC Sierra 2500 HD
2005 Lance 815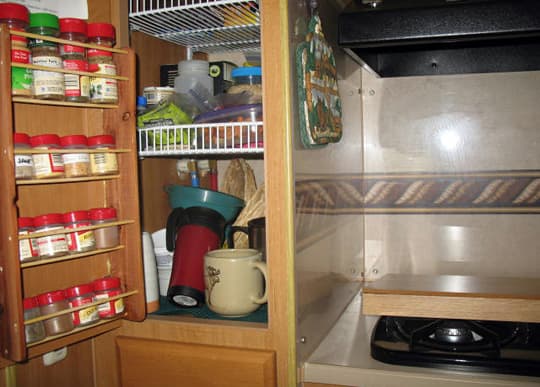 This is a spice rack that I made and installed on the inside of the clothes closet next to the stove.  I also installed adjustable wire racks for pantry items like dried food and plates on the bottom shelf.  You can also see a clear Plexiglas splatter shield on the left and behind the stove.  The stove has a wood grain cover made from leftover laminate flooring.
Ruthi Pippin, Florida
2007 Dodge Ram 2500
2008 Lance 825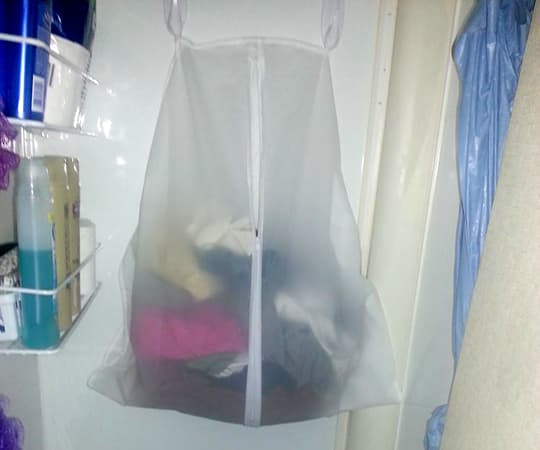 In answer to my problem of where to hold and how to transport dirty laundry, I came up with this solution.  Using two heavy duty Command Strip brand hooks, I attached them high on the wall behind our toilet.  I purchased several inexpensive garment bags (two in a package for about five dollars from Target) and made two hanging loops on each shoulder of the bag using zip ties.  When I am ready to take my dirty laundry into the laundry mat, I simply unhook the garment bag and carry it with me.
Taryn Prodan, Alberta, Canada
2003 Ford F350
2006 Arctic Fox 990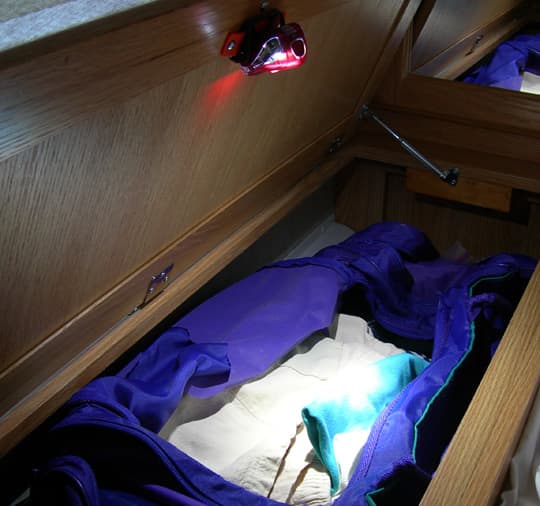 We are Canadians who camp in the middle of winter.  In those months, it is dark from 4:00pm until 8:30am.  We were frustrated trying to see in our dark clothes lockers in the overcab.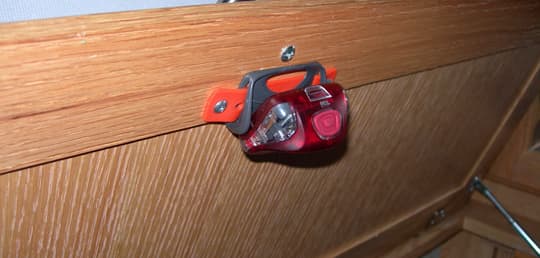 Our solution was to install Petzl headlamps (from our tent camping days).  They are powered by three AAA batteries and therefore do not drain our electrical system.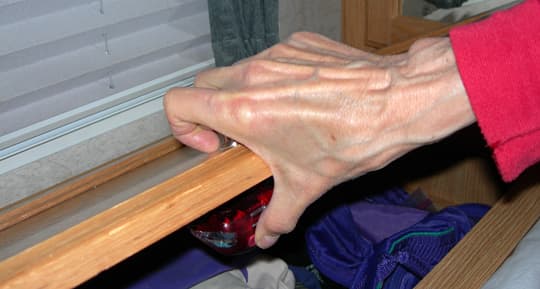 We threaded strong rubber through the strap bracket, mounted it with wood screws, and rotated the light to point downwards.  It is simply a matter of opening the lid with the fingers of one hand while having your thumb available to push the light switch.
Eldon Rhodes, Texas
2008 Chevy Silverado 3500
2011 Lance 1050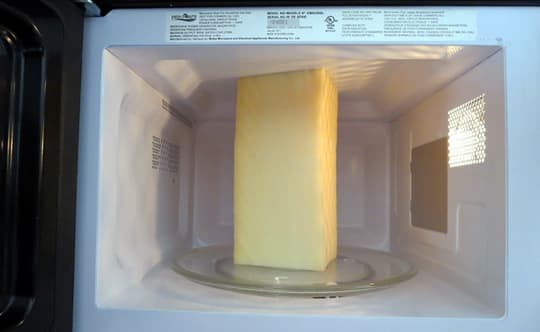 It is surprising how some times the simplest and least expensive mod can make your life so much less frustrating.  Like when you go to put something in the microwave after a long day on the road and the first thing you have to do is to reinstall the turntable because it has bounced out of place.  Well this mod fixes that.
It comprises of a four inch by four inch foam block cut to length and installed between the turntable and the top of the microwave.  The foam block was salvaged from some foam I had after replacing the factory foam in my dinette cushions.  So now at the end of that long day I just have to remove the foam block and get on with fixing supper.
JoJo and Alain Larose, Quebec
2011 Ford F450
2005 Lance 1181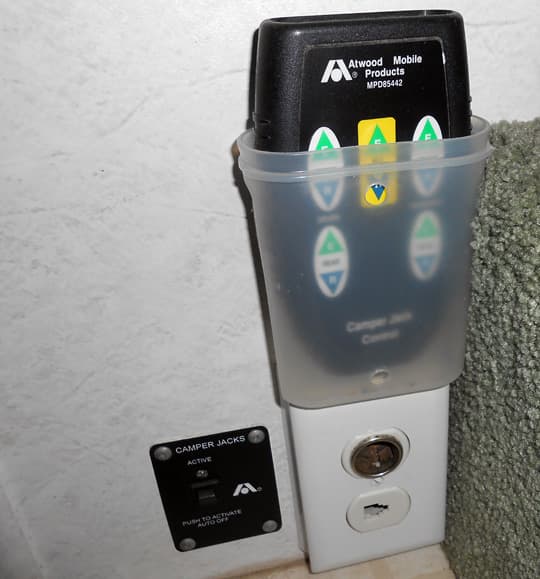 This is a holster for the camper jacks remote control.  It's made with an empty plastic salt box fixed with two little screws.
Bill and Sue Billyard, Ontario
2000 Dodge Ram 3500
2000 Real Lite 11.5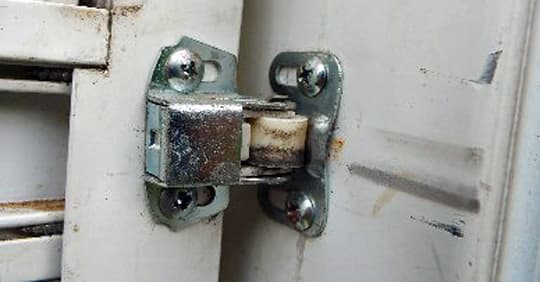 We found that opening the screen door from inside when the outside door was open was a pain.  Our solution was to install a roller type cabinet drawer catch on the door and move the factory installed catch in so that it would no longer catch, but would still engage with the outside door when it was closed.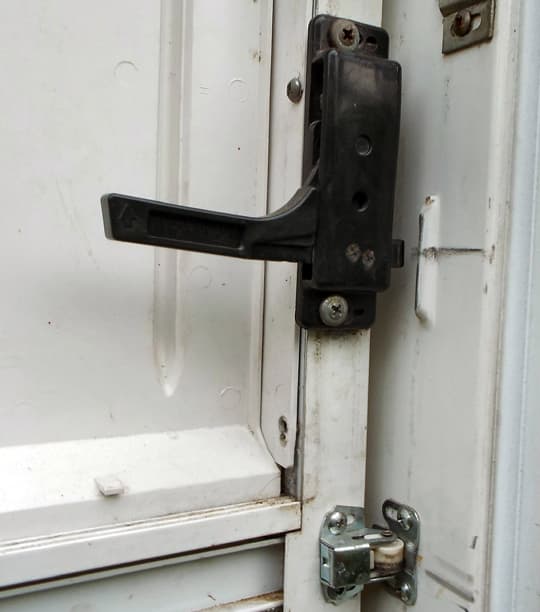 Now in order to go out we just give the screen door a nudge and it opens.
Don Crafts, Tennessee
2004 Dodge Ram 3500
2012 Camplite TC8.5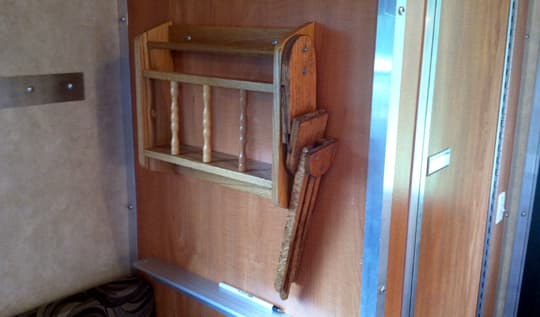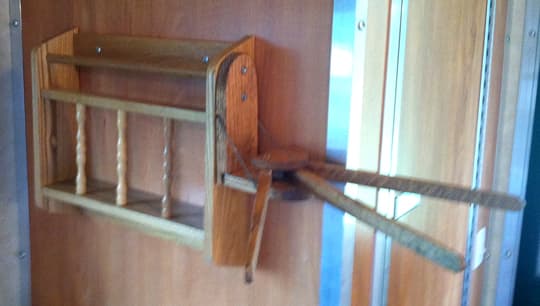 We installed this wood magazine rack and hand-crafted folding towel rack.
Jerry Comfort, Michigan
2012 Ford F150
2013 White Water 865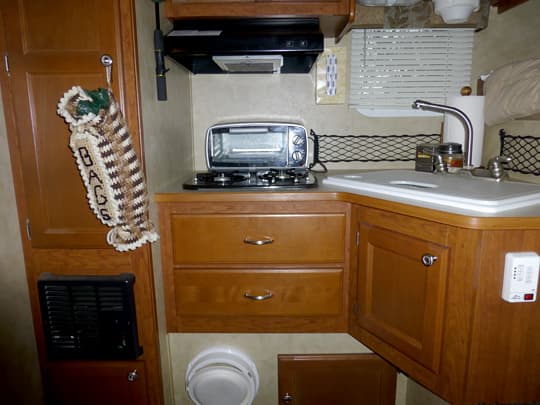 I used to have a thirty-one foot motor home.  I was used to having more storage than I needed.  Then I got a truck camper.  It's been a major difference!  Reality sets in real quick and I needed to get creative with space saving ideas.  I came up with seven simple ideas for creative kitchen storage.
First, I have a plate holder near the floor, a garbage bag holder and dispenser, a tissue box stuck to wall with Velcro, a bowl holder mounted under cabinet, a bungee cord cargo net used to store anything that would fall off the counter when driving, a vertical paper towel holder in dead space behind the sink, and I cut out a fish cleaning table to fit around sink fixtures to give more counter space when not using sink.  It also fits over the stove top when I'm using the sink.  This allows me to have more storage space in the cupboards, drawers, and counter top.
Don Crafts, Tennessee
2004 Dodge Ram 3500
2012 CampLite TC8.5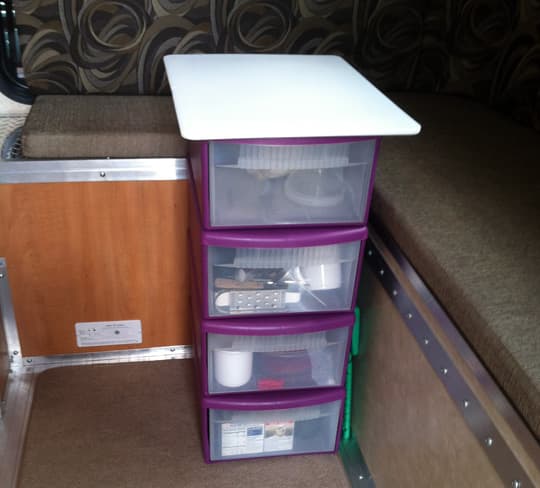 Our folding table seemed always to be in our way whether in use, or folded.  We replaced it with these four light weight stacking drawers.  We put a piece of anti-skid material on top and then a plastic cutting board.  It's large enough for us and can be moved easily for cleaning.  My wife really appreciates the extra storage space.
Mark Siminoff, California
2005 Dodge Ram 3500
2004 Alpenlite Saratoga 935
For comfort, and to ensure proper operation of my absorption refrigerator, I like to level my truck and camper as soon as I get to a campsite.  However, I had always struggled with storage and deployment of my twenty leveling blocks.  I choose to use Lynx Levelers.  I used to keep them in the basement, but they were difficult to access and took up a lot of space.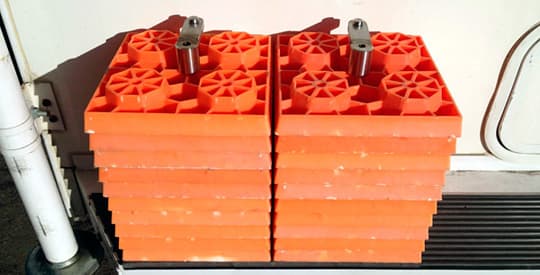 While looking for a solution, I realized that there's a flat, unused spot on my truck campers rear bumper and there's a convenient mounting hole right in the center of each block.  For this simple mod, I drilled two holes and installed a pair of 3/8-16 stainless steel threaded rods (aka all-thread) in the top surface of the bumper and slid the leveling blocks over the rod.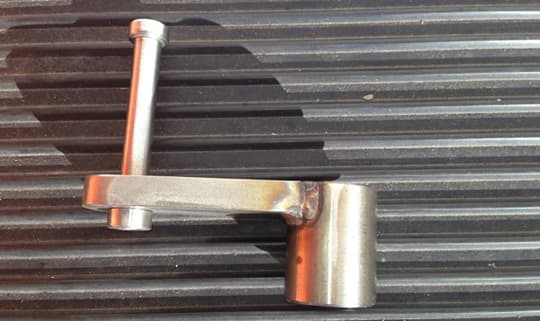 Then I fabricated a pair of stainless steel speed-nuts that allow me to quickly and securely clamp the blocks in place.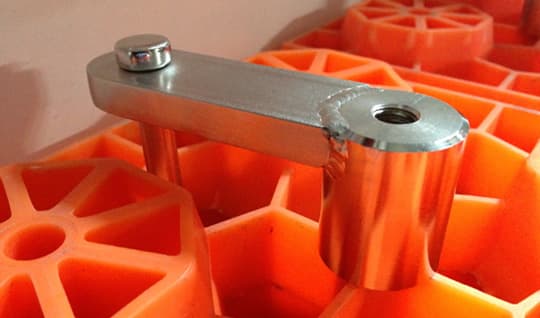 The design of the handles of the speed-nuts allows the handle to be slid down into the openings of the blocks.  This prevents them from loosening while underway.  After welding the speed-nut components together, I had them electro-polished so that they would look pretty and remain rust-free.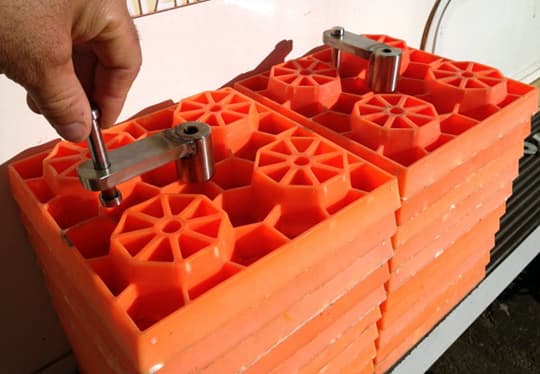 There is a foam-rubber pad between the bottom block and the bumper which provides some compliance and prevents the blocks from rattling.  Now my leveling blocks are always at the ready and don't take up precious storage space inside my truck or camper.
Doug Jenkins, Prince Edward Island
2003 Ford F250
2003 Palomino 8801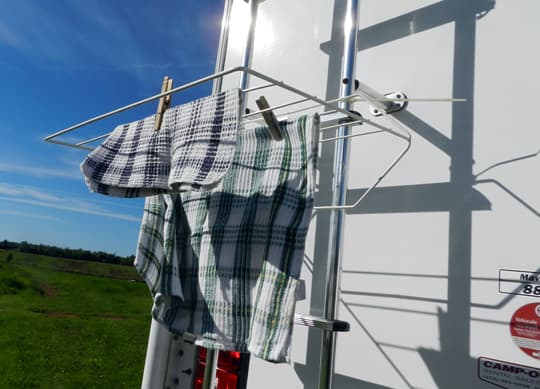 This is our recycle and reuse themed item.  The necessity arose from camping in state parks where the standard rule is that you cannot hang a line between trees for a clothes line.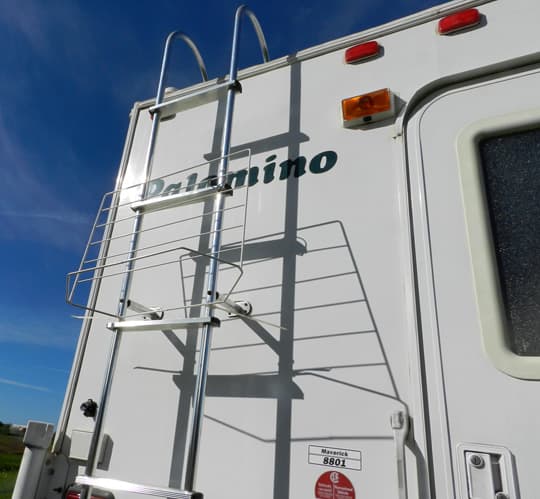 The idea came to me when I was getting rid of our old deep freezer.  I noticed the wire freezer shelf looked perfect for a small clothes dryer for the truck camper.  I attached it to the rear ladder with two zip ties and fashioned a hook from a piece plastic covered wire that I had on inventory.  This keeps it in the upright position when it was not in use.
As you can see, it's perfect.  It's light weight, and even better, it was free!
Paul and Marceil Gathany, Ohio
2009 Chevy Silverado 1500
2007 Sun Lite
Over forty-nine years of camping, we have found it important to have the use of a clothesline.  Some parks, public and private, do not permit clotheslines to be strung from trees or other structures.  It obviously can be a hazard!
For a previous fifth wheel we owned, we purchased an aluminum clothesline unit that fastened to the sewer hose bumper.  The two mounting brackets were fastened to the bumper with U-bolts, then the five feet long square aluminum frame was placed onto them.  The clotheslines were woven back and forth between the two aluminum frames spaced about four to five feet apart.  This was a simple, but effective way to dry those wet things without creating a personal hazard.
Given the greater need to efficiently use the space in our truck camper, we needed a way to deal with drying towels, etc.  The issue was solved by modifying the clothesline unit that we had kept from our fifth wheel days.
Using the same holes used for the U-bolts, the mounting brackets were bolted on the underside, along the driver's side of the truck camper on the outer edge of the overhang.  Access from the inside of our camper allowed me fasten with carriage bolts. With poor access, lag bolts could be otherwise used.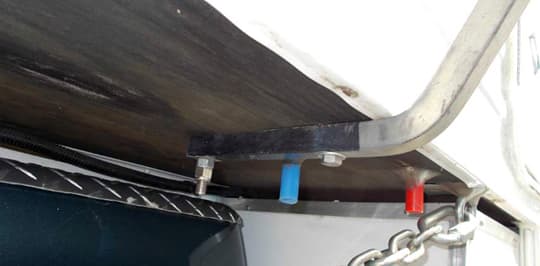 The aluminum frame required shortening to about two feet in length.  Otherwise, we would need a ladder to reach the lines.  We don't carry a ladder.
Also, the clothesline had to be shortened to fit the space we had available along the edge of the camper, and still have clearance of necessary camper hardware features like the water heater, tie downs, etc.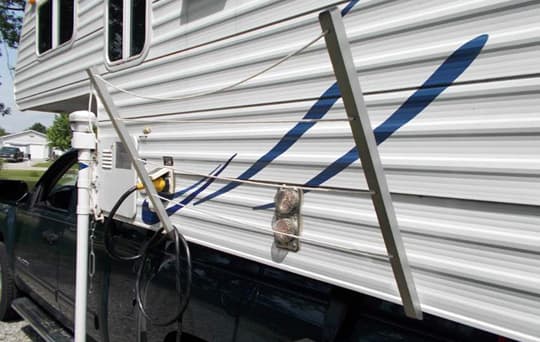 This modification has been a great help to us as we travel.  The lightweight clothesline rolls up, stows compactly, and is quickly put up and taken down.  And, we get things dried.  My wife is happy!
Eldor and Dorothy Eisen, Texas
2005 Ford F350
2007 Lance 1055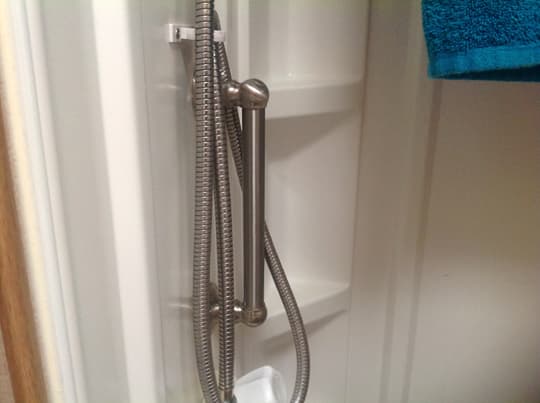 Safety is a priority.  I felt unstable in the shower because there was nowhere to hold on to.  We needed a safety bar.  The wall at the end of the shower is hollow.  The solution was to bolt the safety bar through the wall backed with a piece of three-eighths inch plywood.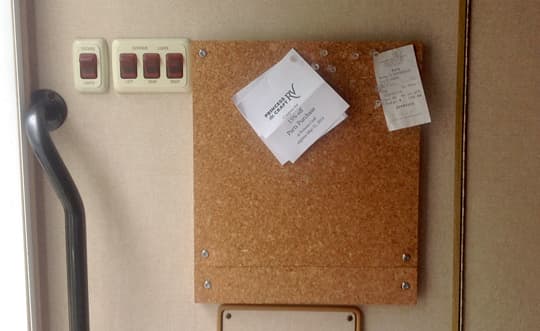 We glued cork tile to the plywood to form a bulletin board.  Now the shower is safer and we have a place to post our latest campground map.

Jesse Taylor, Pennsylvania
GMC 2500 HD
Lance 815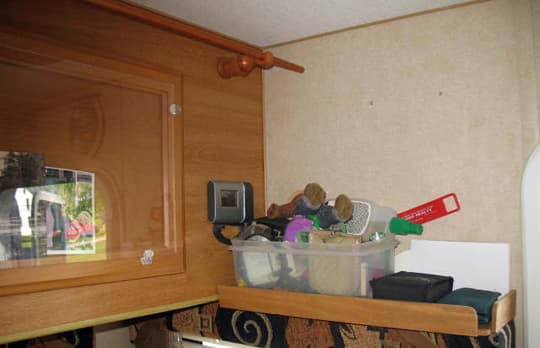 I installed a six foot curtain rod attached to the top front of the over-the-table cupboards.  The rod is handy for drying things as we go down the road.  I also installed a removable Plexiglas front for pictures of the kids and dog.   I also added a shelf for binoculars, notepad, indoor-outdoor thermometer, and a container of pens and other stuff (we don't have a junk drawer) screwed to the top of the window.

Jerry Comfort, Michigan
2012 Ford F150
2013 White Water 865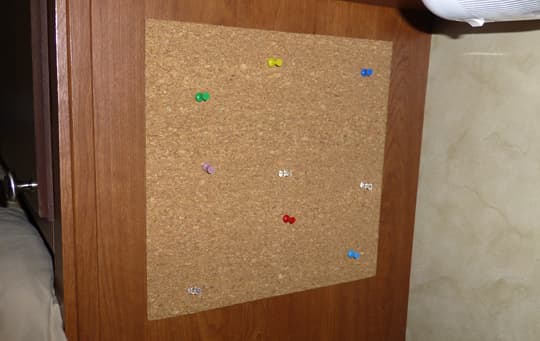 I didn't like having stuff all over the place in the camper.  I needed a junk drawer or something to organize papers, maps, and stuff I would accumulate on every trip I took with the camper.  Drawer space was out of the question.
I took a simple cork square that I purchased at Office Depot for about $2 and stuck it on the side of a cabinet.  To this cork square I can tack notes, brochures, maps, receipts, tickets, etc.  Instead of taking up space on the couch, sink counter, or bed and finding them on the floor, I have them there.  It also helps keep the camper cleaner and less cluttered.  It is a simple and inexpensive way of organizing.  I mounted the cork with double sided tape.  It doesn't get any simpler than this.
Disclaimer: The modifications above are submitted by Truck Camper Magazine readers.  It is your responsibility to make sure that any do-it-yourself modification project you undertake is safe, effective, and legal for your situation.
Click here to see The Top Mod Winner of 2014!