For Level 2 Part 2 we reveal more medium mods including hidden interior spaces, clever battery gauges, marine window installations, storage solutions, and more.  And the Level 2 Medium Mod winner is…

By this point in the annual Top Mod Contest reveal process, many of you are starting to show signs of MAMS.  Known more commonly as Mad About Mods Syndrome, the main symptom is talking endlessly about truck camper mods to your less than interested spouse long after they have passed out cold from a near fatal overdose of boredom and exhaustion.  Don't laugh, it could happen to you.
With that precaution, allow us to present the second installment of Level 2.
Level 2 Medium Mod Winner: Jeff Dieter, New York
2013 Chevy Silverado 2500
1999 StarCraft 952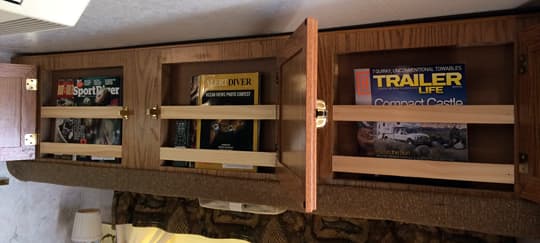 We are empty nesters and don't usually have guests staying with us in our camper.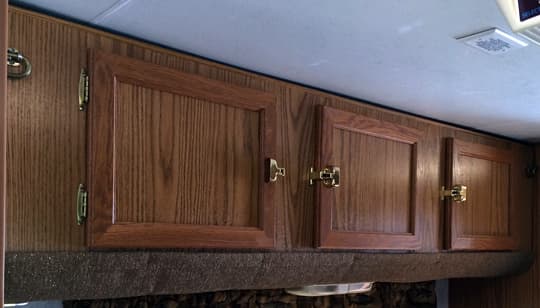 So, in our quest for storage that could be neat and organized, we converted the upper bunk of the camper.

We removed the mattress and created three magazine racks that can be used when the bunk is closed.  When the bunk is open, we have a 16-inch by 14-inch by 6-foot storage cupboard.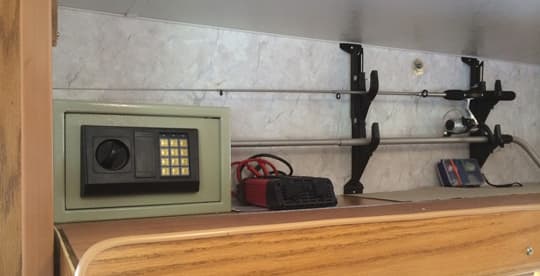 We installed a gun rack that can can also be used for my fishing pole, awning crank, and other long items.

We also installed a small safe to store small valuables.  Click thumbnails to enlarge.
Level 2 Medium Mod Runner-Up: Lucien F Langlois, New Hampshire
2012 Ford F250
2004 Lance 1025
This next modification is a direct idea from nearly 250 RV campers who winter in Key West, Florida.  The Navy RV campground at the Coast Guard Base on Trumbo Point has all of the amenities except shore power.  Nearly everyone there has a generator and ninety percent of these are Hondas.  They all have this neat modification installed on them.
This is the situation.  It's night time and time to shut down the generator, but you're all comfortable and nearly ready to hit the sack!  A remote generator shutoff switch would be just the thing.
I've looked at many of these mods and very few are well installed.  Wires are running out of covers or snaked out of the bottom don't look good, or for that matter, look safe.
The photos below show how I tackled this modification.  Some of you might say that Honda won't honor the factory warranty.  That might be the case.  What I can tell you is that those 200 plus RV campers have done it with no problems with the Honda ei2000 generators.  In all cases, I was extremely careful not to drill into an area that would harm any component or gas tank on the generator.
Some of the connectors I used were purchased from a giant yard sale in Big Pine Key, Florida.  I purchased two female and four male connectors.  I hardwired one line from the front bumper, generator location, to the camper.  This works well when we're on the road.  The other is a thirty foot extension that can be plugged in when the camper is off the truck and the generator is sitting locked up on the ground some distance away.