2012 Ford F150 Eco-boost
2013 White Water 865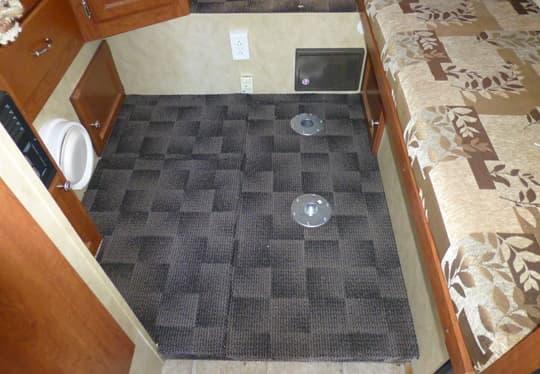 I am always looking for ways to add storage room for my truck camper.  The camper came with a raised floor with storage for the table only.  The rest of the floor was covered up solid.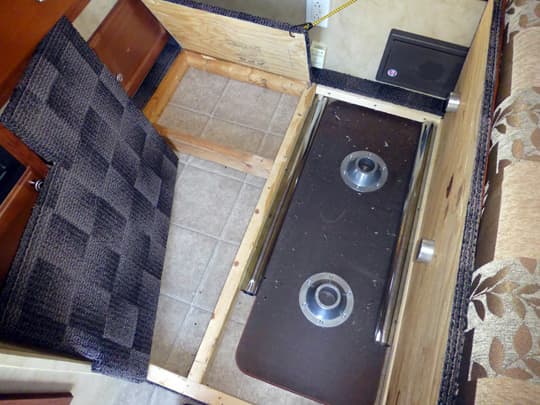 I simply took the floor apart and started over, keeping the table storage intact.  I cut out more area of the raised floor to get added storage under the carpet floor.  I can store a water hose, electrical cord, shoes, or other items.  I now have more storage room and still have the removable table.
Jim and Anne Beach, Alberta
2009 GMC Sierra 3500 HD
2013 Arctic Fox 865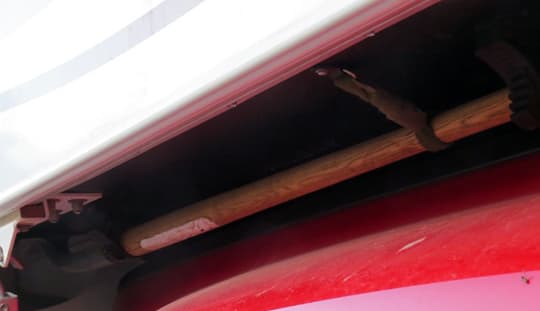 Many places we travel the Northwest Canada and United States require us to carry water and a shovel if we go off-road in forested areas.  You will always have water in you camper, but maybe not a shovel.  I like to use a long handled #2 shovel when possible, as it makes for less strain on the back.  Where do we carry such a beast on the truck camper?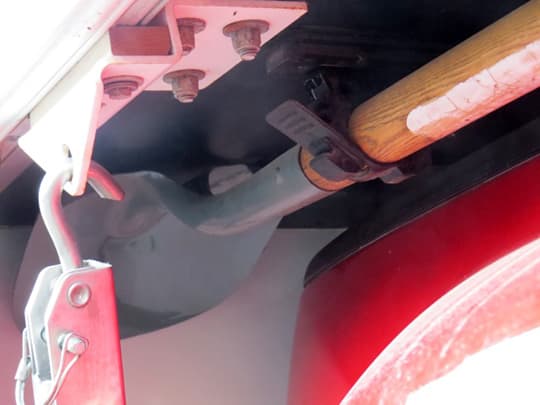 There is a lot of unused real estate on the underside of the truck camper overhangs.  It is an ideal place for a long handled shovel.  I used two one-inch to two-and-a-quarter inch Quick Fist rubber clamps on the underside of the truck camper over hang and three-quarter inch plywood blocks were need as packers to get the right clearance for the shovel.  I also installed a velcro strap as insurance.  The Quick Fists are available on Amazon for about $11 a pair, they are made in USA, are very durable and strong.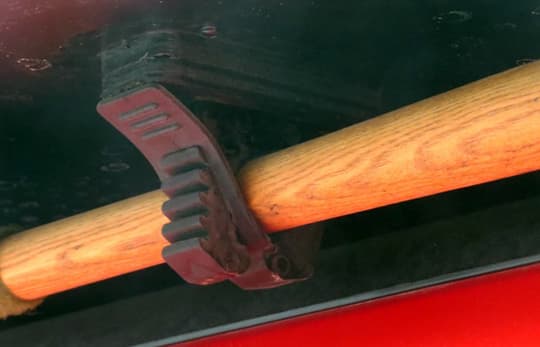 Now we comply with rules and filling those gold pans got a lot easier with a long handled #2.
Cindi Goodrich, California
2006 Chevy Silverado 3500 dually
2008 Lance 1191
The only place for large pots, pans, and bowls was under the sink, so I installed a pull out drawer for easier access.  The drawer was purchased at Bed Bath and Beyond and is a perfect fit.
Rudy Drexler, Vermont
2006 Chevy Silverado 3500
2012 Arctic Fox 1150
We have a bug, wind, and noise issue.  There's a large gap between my Arctic Fox camper and the Chevy Silverado's roof.
A lot of air gets trapped between camper and truck.  This creates some lifting of camper, oil canning, and noise.