I first used a high luster black Rust-Oleum Laquer spray that I bought at Home Depot.  Then, I painted a center stripe with Rust-Oleum's silver Hammered spray paint that added texture.  I followed that up with pinstripes on the borders of the painted area, added a decal of barbed wire over the silver and that was all it took to improve the cosmetic appearance of my camper a hundredfold.
Since I had been referring to the truck and camper combination as my White Stallion it is working out great.  It couldn't have been a better modification." – Guy Scrivner
Dave and Dora Donovan, Idaho
2007 Chevy Silverado 3500
2012 Chalet TS116
"It is pretty hard to take a shower and get dressed with any modesty in our Chalet TS116 camper.  The getting dressed is the hard part.  There is not that much room.  So I decided to make the bathroom bigger. All it took was a curtain track attached to the ceiling and an appropriate color matched shower curtain. You can fold it up completely out of the way when not in use and to close up the slides.  Problem solved." – Dave and Dora Donovan
Paul Foster, Maryland
2005 Ford F250
2008 Lance 845
"My modification is increased storage space where none existed.  We built a shelf for each side of the sleeping cabin to store small objects that may be required from time to time, like the television remote, a small flash light, a box of tissues, etc.
The shelf required a short wall that could be seen through in order to find what you're looking for.  The new shelf had to be short enough so the cabinet door would not be restricted by the shelf.
We stained the wood to match the existing wood color in the truck camper.  Then we used an aerosol urethane to get the best protection for the shelf riser that is on the wall. We bolted it down to the shelf with three eighth inch bolts with a pan head and big flat washers." – Paul Foster

Russell Bridges, Alabama
Dodge Ram 3500
Arctic Fox 990
"I have owned a number of different campers and they all seem to have one shortcoming in common.  There is no handy place to hang your hat, your coat, or even a leash near the door.
I found these neat hooks at Lowes.  They were inexpensive, very easy to install, and easy to remove with no damage to the sliding bathroom door on my Arctic Fox 990.  I think the utility is outstanding compared to the expense and time to install, making this a sweet little mod." – Russell Bridges
R.W. Johnson
2008 Ford F350
2007 Lance 851
"A modification we have made to our rig is the location of the fill ports for the air bags.  We mounted them in the fender well of the left rear wheel.  This is just below our house batteries on the Lance.  This makes it convenient to hook up our 12V compressor to the top off the bags.
The modification that makes this unique is that we mounted the fill ports inside a metal snap closing eye glasses case.  This keep the ports clean and easily accessible.  It's not a big deal, and it's handy." – R.W. Johnson
Larry Goosey, Idaho
2007 Chevy Silverado 3500
2005 Snowriver 9.5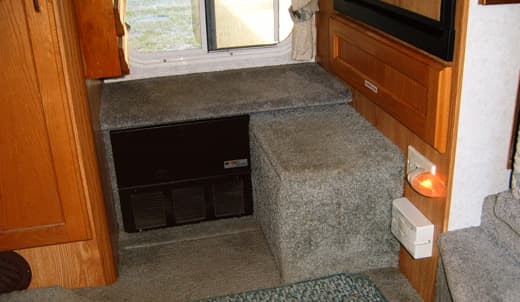 "We can always use a little more reserve power when boondocking.  Three batteries is better than two, so I built a plywood box in front of the step up to the bed and glued on some matching carpet.  I threw in a type 27 AGM (no gassing) and wired it directly to the converter box in parallel with the other batteries.  The mod has added a little more peace of mind on long weekends out in the woods." – Larry Goosey
Eldon Rhodes, Texas
2008 Chevy Silverado 3500
2011 Lance 1050
"This television travel mount was designed and built to securely hold my television while in transit.