Terry Rey, Utah
2007 GMC Sierra 2500
2011 Outfitter Apex 8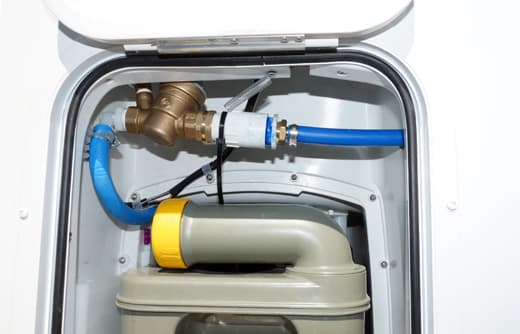 "Our 2011 Outfitter Apex 8 camper was optioned with a Thetford cassette toilet, which eliminates our dependency on dump stations.  It's great for boondocking.  The cassette toilet has worked great and we are very pleased with it.
However, Thetford apparently has been plagued by a design defect for toilets that utilize the pressurized house water system.  The internal toilet water supply hose can burst with house water pressure (forty to forty-five psi), which is far below the hose's rated capacity of sixty-five psi.  This has happened to a number Thetford Cassette Toilet owners, including us.  We were boondocked on the back side of nowhere when our hose broke, flooding the wet bath.
After making a field repair and getting back home, I contacted Thetford, who, unfortunately, provided no solution or relief for the problem.  Therefore, I upgraded our cassette with a dedicated adjustable pressure regulator that is set to twenty psi, which has now eliminated any future water hose failure." – Terry Rey
Don Gill, New York
2004 Ford F250
2010 Travel Lite 875
"We installed a chair rail on the top of our cabinets using three-quarter inch by one and a half inch wood, stained to match.  We used double end tape to fasten to the top.
This gives us more storage for all kinds of extra stuff and keeps it from falling on the floor when driving.  We also use four inch high boxes (cardboard and plastic) to keep our stuff organized.  You need to leave four to five inch gaps at the ends of the rail to allow for the canvas material to fold in properly.
This was my wife's idea.  I just installed the rails.  It works great." – Don Gill
Bill Felinski, Texas
2010 Dodge Ram 2500
2008 Lance 971
"My modification is color LED Lighting under the awning.  Each area can be turned on and off by a switch inside that matches the existing switches.  The master on/off, color change, dimmer, and speed is operated by RF remote from outside.
The reason for the modification is lower power consumption than conventional awning lights.  It can be operated with the awning closed in windy environments and it's permanently mounted.
There are two videos (video with awning closed.MOV and video with awning open.MOV)  which would make it easy to see the finished project in use, but they don't do it justice.  I have also included several still pictures of the lights lit in a variety of colors." – Bill Felinski
Shelley Pike, Indiana
2009 Ford F350
2006 Lance 9'6″ Sportsman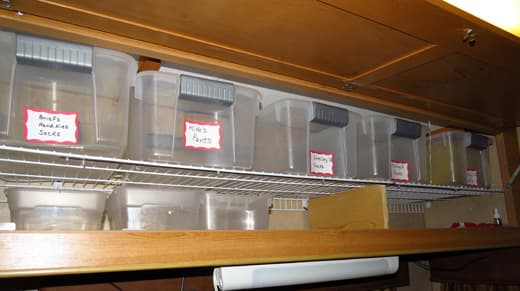 "Items that I stored in the cabinets were constantly falling because they were piled so high.  At times, I couldn't even find what I was looking for.  So, I bought plastic-covered wire shelves at Menards and cut them to length for each of the cabinets in our camper.
I hung the shelves with 3M hooks and tape.  I also drilled a small hole in each hook and doubly secured it with a one inch drywall screw.  The six-foot shelf in the cabinet shown could not be inserted in one piece so I cut a piece of one-by to stabilize the match-up area and fastened the one-by with L-brackets top and bottom.
I found clear plastic tubs that exactly fit the top shelf and each is labeled according to contents.  The bottom shelf has some open storage and some tub storage.  These shelves have organized the cabinets to the point that everything we need to carry has a spot with room left over.  I don't know why I waited six years!" – Shelley Pike
Guy Scrivner, Washington
1992 Ford F250
1994 Shadow Cruiser Model 850
"Restoring, salvaging, and modifying things to make them just right for me is something I love to do.  There is nothing in my opinion that is uglier on an older truck camper than the graphics.  Those old multicolored stripes did nothing but date my camper.  But what do you do?  I stressed over this for months and finally decided why not just paint over them.