TCM announces the Top Truck Camper Modder for 2012 and the winner of the $100 fuel card.  Fifteen more mods bring our two week mod-a-thon to a fabulous finish.

Welcome to the fourth and final contest entry article from the 2012 Top Mod Showdown Contest.  For the fourth installment, we are announcing the winner of the $100 Fuel Card Prize.
The winner of the Top Truck Camper Modder for 2012, and the $100 fuel card is…
Top Camper Modders for 2012: Roger and Kathy Sather, Minnesota
2008 Dodge 3500
2012 Arctic Fox 811
"We did this modification to make the seating more comfortable.  We gave up the original foam seats in three to four months.  In a truck camper your seating is limited.  Our real concern was did we have enough room between the booths to do this.  We spent a good deal of time finding suitable chairs.
We added a shelf under the window and another shelf across the two booths.  The booth plywood deck was a half inch, we changed it to 29/32 inch for more chair stability.  The table is from IKEA, with adjustable leg height.  The chairs are from Staples, and were chosen due to the arms that go up for ease of chair entry and exit.  The fabric trim around the booth was cut down to about two inches to provide more room for the chairs.
The rug is the second attempt because the first we had was too much contrast.  This one almost matches the factory carpet.  The wires are still a work in process.  We want them neater, but still have to move them with computers to go to WiFi locations." – Roger and Kathy Sather
2012 Top Mod Contest Entries Part 4
Pete Horneck, Colorado
2006 Dodge Ram 2500
2010 Hallmark Milner LX
"We like to bike and ski.  We have a pop-up truck camper and didn't want the weight and inconvenience of our gear on the roof.  We also tow trailers so we didn't want a rack in the hitch receiver.
My solution was to mount a Thule rack system on the back wall.  It's versatile, and handles bike trays, snowboards, and skis.  And whatever else we strap to it, like a shovel.  It's also a makeshift ladder if you lock yourself out on the roof!  It's easily removable when you don't need it, leaving only the mounting pads.
I'm really happy with this mod that's really about what we like to do with the camper!" – Pete Horneck
Alex Blasingame, California
2007 Ford F250
2002 Lance 815
"This platform results from some cab slapping I experienced from my second trip on the White Rim Trail in Utah.  The idea was to get the camper high enough above the cab to prevent any contact from the cabover part of the camper.
In building this raised platform, I incorporated two slide-out drawers for storage, with each drawer being about forty inches long.  My third trip on the White Rim Trail proved this mod has worked.  One unexpected side effect from raising my camper this high was the elimination of the wind noise at freeway speeds that had been happening." – Alex Blasingame
David, Dana, and Elly Erickson
plus Tallulah and Tugaloo our Vizsla dogs, Georgia
2011 Ford F350
2012 Adventurer 86SBS
"My paddle holder is a simple solution for securely storing our canoe paddles out of the way.  I purchased four pole stowage clamps at a local marine supply store.  I screwed them safely into the ceiling of the camper.   Now the paddles are locked up and out of the way." – David, Dana, and Elly Erickson
Bill Harr, California
2005 Toyota Tundra
2002 Four Wheel Camper Hawk
"Everyone with a small camper needs to save water.  With dirty hands to wash, I have to turn on my pump and adjust the flow.  In doing this, I got things dirty and wasted water.  To solve this problem, I added a small switch to turn the pump on and off that we can push with our shin.  It has worked so well.  We have water when we want it and it's off when we don't use it.  We can still adjust the flow with the valve and we leave it at a happy spot for washing up.  This is one modification I would not want to be with out." – Bill Harr
Pete and Linda Clark, Ohio
2006 Dodge Ram 3500
2008 Snowriver 10.2 RK
"Our 2008 Snowriver has lots of storage, but no handy place to hang our hat, or our jacket for that matter.  My dear wife came home from Krogers with a nice coat and hat rack with a badly needed clock.  She wanted to mount it within the mirror of the bathroom door.  A couple of shaped pieces of flat bar, a little welding, drilling, and paint got the mounting points to the mirror frame where they are now securely mounted.  And we can even still use the mirror." – Pete and Linda Clark
John Wells, Pennsylvania
2002 Ford F350 Powerstroke Dually
2005 Lance 1025
"Even with the factory storm window, the cabover window sweated profusely due to proximity to faces of sleepers, and also left our sleeping area chilly.  We insulated and eliminated the cabover window, added a decorative decal, and changed the curtain.  We solved the problems by insulating with five layers of aluminized mylar bubble insulation between the glass panes.  Then we applied a decorative pickup truck window decal to the outside of the window.  We modified the interior curtain to minimize intrusion on sleeping space.  It looks great, and works great!" – John Wells
Kerry Stark, Pennsylvania
2009 Chevy Silverado 3500 dually
2010 Arctic Fox 1140
"I wanted to increase my storage area over the countertop by adding another upper shelf, yet not interfere with the useable counter space that I already had.  I built a portable shelf system that sets up in less than thirty seconds, and stores neatly against the cabover wall when not being used.  I can use it with one or two removable legs.  It is especially nice when we are set up at a campground or dry camping for an extended time.  It gives us easy access to the daily used items that we need.  When stowed away, it locks in place so it doesn't move or interfere with the slide-out operation." – Kerry Stark
Mike Billmann, California
1993 Ford F-250
1994 Lance Squire Lite
"My modifications are for external storage.  I like a big, safe, sturdy platform when I take that first step out the back door of the camper.  My back porch does just that.  The porch soon turned into a storage box as I realized how much storage it could provide.  The box is wood, and is bolted to a steel frame that goes into my receiver hitch.  The top is aluminum.
As you can see in the pictures, I have steps leading up to the porch, a grab handle to steady yourself, diamond plate top for a non-skid surface, and the porch is painted to match my camper complete with reflectors for night time safety.
Inside the box is a permanent, homemade insulated cooler with overflow and drainage tubes.  There is also ample storage, especially for dirty items that you wouldn't bring inside the camper, like bait.  Also, notice there is a PVC fishing rod holder behind the ladder.
I've gotten many compliments on the back porch and storage box and it also provides a great place to sit and enjoy a soft drink while taking a quick break at a rest stop.  We can also back the rig up to the water's edge, cast our line, and wait." – Mike Billmann
Dave and Lila Weinstein
1999 Dodge Ram
2005 Arctic Fox 1150
"We took out the rear dinette bench on our Arctic Fox 1150 and put in a small, comfortable, swivel barrel upholstered chair.  I cut twenty inch half circles into the table so I could swivel around.  The chair is a lot more comfortable than the dinette bench.  Plus, we got to burn the bench out in the desert for a great fire." – Dave and Lila Weinstein
Brian Hoekstra, Arizona
2007 Chevy 2500HD
2011 Lance 855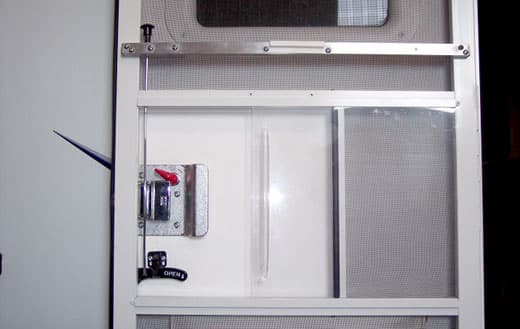 "I added a screen door grab bar with a latch release.  On campers with basements, the latch is at knee level.  I put the button in so I don't have to bend down to open the screen.  You also don't have to slide open the plastic door to go in or out of the screen." – Brian Hoekstra
Glenn Yauney, Oregon
1995 Chevy Silverado 3500 Dually
2000 Arctic Fox 1160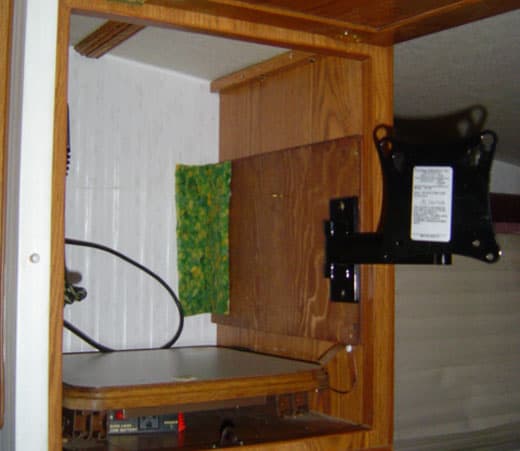 "I added a flat screen television in the television cabinet on a swing-out wall mount.  The old television mount was a sliding shelf, which only held a thirteen inch television.  With the swing-out mount, we were able to use a twenty-two inch flat screen television, which swings back into the factory cabinet on a diagonal.  Each corner of the cabinet was padded with foam rubber to prevent the television from hitting the corners while traveling." – Glenn Yauney
John Wells, Pennsylvania
2011 Chevy Silverado 3500
2012 Chalet Ascent S100F
"I wanted to add a second television in the bedroom and supply both televisions with cable and antenna signal and either 12-volt or 110-volt power when needed.
The Chalet Ascent supplies 12-volt power and a 110-volt outlet near the television mount at the rear of the camper.  I'm too fussy about picture quality to use any of the available 12-volt televisions.  I purchased a Samsung twenty-two inch HDTV with very low power draw.  I planned to power it with a small inverter when boondocking.
The inverter has a cooling fan that makes noise, so I chose to mount it in the basement with a remote switch to power a new inverter-dedicated outlet near the entertainment center.  Wiring to power the inverter is supplied with a PIAA relay-equipped motorcycle driving light harness, good for 30 amps.
A grounded cord with plug carries power to the new outlet.  A short extension cord wall-mounted and carried up to the television mount allows the television as well as the DVD player to be powered from the inverter simply by moving the plugs and turning on the inverter.   Part A of the problem solved.
Part B problem solving: Marylou decided she can't see the rear television well enough from the bed and wishes for a second television on the bedroom wall.  Impossible?  Telling me that is like waving a red flag at a bull!
Fishing wires and RF cable was a challenge and involved pulling all the access panels in the basement, removing the drawer under the refrigerator, and taking the walls and ceiling out of one outside storage cubbies.  The power and signal has to come from the left rear of the camper all the way to the right front, and up the bedroom/bathroom divider wall.
The bedroom wall was not very sturdy, so I made a hardwood panel to glue and screw to the wall for mounting that is now invisible when the television is on board.  I added wall outlets for power and cable output.  The television signal supplied by television outlet #2.  I discovered that outlet behind the factory supplied wall box for television #1 and fished it all the way to the front of the camper along with the 110-volt power cable for the outlet.
All access panels from the bowels of the camper, the drawer under the refrigerator, as well as the walls and ceiling of this outside cubby were removed to fish RF and power cables from the left rear to the right front of the camper.
Sam's Club had this efficient JVC 22″ HDTV with built-in DVD player, with fine picture quality.  When finished, nothing visible but the television.  Both televisions and DVD players can run on shore power or inverter power, and can get signal from the Jack RV Digital Antenna that I installed on the roof." – John Wells
Anne and David Veres, Calgary, Alberta
2001 GMC Sierra 2500HD
2010 Travel Lite 875SB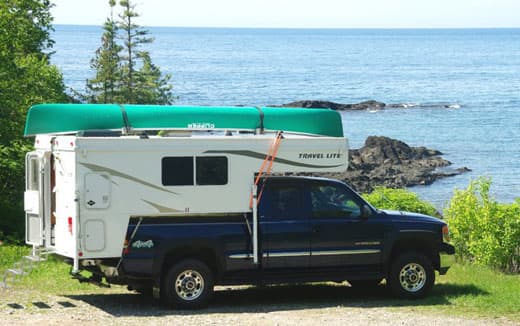 "We are traveling across parts Canada and my Husband Dave had to make the modification to our truck camper so he could bring our canoe along.  It was quite a task, as the length of the rack had to be redesigned to be long enough for the roof (his favorite purchase is an extendible aluminum ladder)!  I know he was off buying longer metal bars, painting them, putting rubber on them and getting me up there helping him.  We have been traveling and still on the road.  One of the most beautiful and biggest Provincial Parks is in Ontario, Algonquin Park, a paddler's paradise." – Anne and David Veres
JT More and Sue Jurf
2004 Ford F250
2005 S&S Ponderosa 8.5
"Sue likes retro old school and loves to change the flavor.   Heavy duty removable hook and loop on plastic frames have made for a more homey feel." – JT More and Sue Jurf
Brad Caroline, California
2001 Ford F350
2012 Outfitter Apex 9.5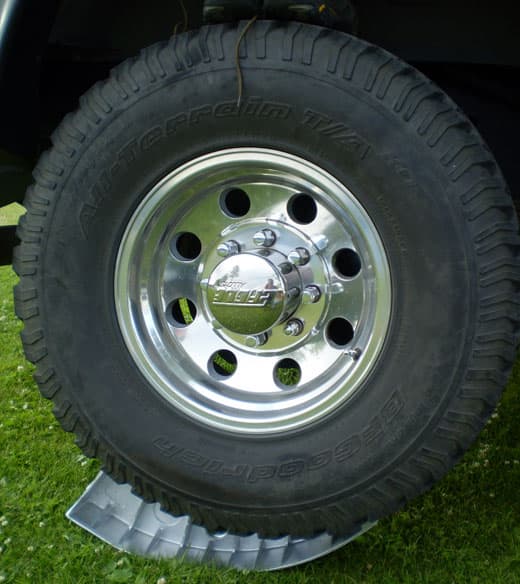 "For leveling the camper, I use the EZ Jack.  I carry two.   I just place them on the low wheel side(s) and drive on until level.  It gives me five inches of lift.  When turned over, the EZ Jack adds two more inches to make seven.  They are built like a tank and are better than the plastic blocks, or rocks." – Brad Caroline

Disclaimer: It is your responsibility to make sure that any do-it-yourself modification project you undertake is safe, effective, and legal for your situation.