Make more room for mods as part three of the TCM mod-a-thon contest entries roll in with fifteen magnificent mods.  Take a peek at the grey tank tube.

Welcome to the third of four contest entry articles from the 2012 Top Mod Showdown Contest.  The first three installments include a runner up $25 fuel card prize announcement.  Later this week, in our fourth installment, we will announce the winner of the $100 Fuel Card Prize.
Runner-Up Winner #3: Bill Harr, California
2005 Toyota Tundra 4×4 TRD
2002 Four Wheel Camper Hawk
"A Four Wheel Camper uses a hose and bucket as a grey water tank.  If we wanted to stealth camp, we couldn't use the sink.  I built a small tank that fits between the camper and the side of the truck.  Because I have a Toyota Tundra, I did not have room to run a drain between the camper and the tail gate opening.  To solve this, I drilled a hole in the side of the stop for the tail gate and added a valve.  This hole is covered when I put the tail gate back on if I take the camper off.  This modification has worked out great.  I have another report about it on Wander the West." – Bill Harr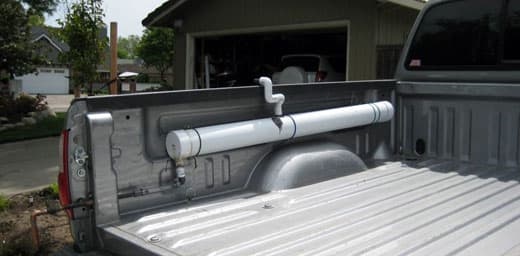 2012 Top Mod Contest Entries Part 3
Virgil Apilado, California
2006 Chevrolet Silverado 2500
2006 Lance 845
"Every time I go camping, I look for somewhere to store my tools as they are always in my truck cab.  One day I was looking at the fire extinguisher holder and was curious what was behind it.  There were six screws so I took out my Philips screw driver, unscrewed them, and removed the panel.  Then I took my flashlight and looked inside.
Low and behold there was a big cavity with over a cubic foot of storage.  I found a small door from a previous modification and placed it on the right hand side of the Fire Extinguisher.  It fit perfectly.  Then I took a pencil, drew a line, and started cutting using a utility knife.
Once that was complete, I installed a three-quarter inch piece of wood inside the edges where I cut to reinforce the panel and hold the door hinges and a latch at the opposite end.  After the door was installed I added a shelf right in the middle.  The project is finished it is a nice storage area for tools, water, beer, etc." – Virgil Apilado
David, Dana, and Elly Erickson
plus Tallulah and Tugaloo, our Vizsla dogs, Georgia
2011 Ford F350
2012 Adventurer 86SBS
"I made a bunk restraint.  The bunk was a factory option that we ordered with the camper.  Adventurer does not supply a child restraint so I made my own for our daughter, Elly.
The restraint, a protective lattice, is stored on the rear wall of the camper by two velcro straps around one of the dowels.  When the bunk is down, the restraint is hinged on two L brackets with a closet door slider pin.  This was the best hinge option for ease of removal while storing.
The bottom of the restraint is secured with sliding door locks on each end.  I've also placed a car window heat reflector in the window for insulation on cold nights.  Elly loves her baby cage and has been sleeping happily in there for almost a year." – David, Dana, and Elly Erickson
John Wells, Pennsylvania
2011 Chevy Silverado 3500
2012 Chalet Ascent S100F
"We wanted to be able to sit up and watch television in the camper bedroom.  Comfy for sleeping?  You bet!  Sitting up watching television or reading?  Not unless you've got scoliosis like Quasimodo!
We found foam wedges to fill the space between the curved nose of the camper and the not-so-curved spines of the occupants.  We have two foam wedges for each side.  There are various densities and sizes available.  I found a good selection on Amazon.  We have firm density on the bottom, and a lighter density on top.  You can see how they'll fill the curved nose of the camper when placed in position.  With foam wedges in place, we add a couple pillows.  It looks pretty inviting.
Now my wife can see that television she had me install in the bedroom!  The wedges can be placed off to one side, or on the side tables when not in use.  One or two can be used as desired if you like an elevated sleeping position." – John Wells
Art and Mabel Davidson, New York
2007 Chevrolet 3500 Dually
2003 Bigfoot 30c10.11SL
"I have camper steps to replace the original folding steps.  The steps attach to the Torklift SuperHitch extension.  The bottom step folds up for travel and can be removed and a ball mount inserted for towing.  The top step can be lowered for access to the basement storage." – Art and Mabel Davidson
Glenn Yauney, Oregon
1995 Chevy Silverado 3500 Dually
2000 Arctic Fox 1160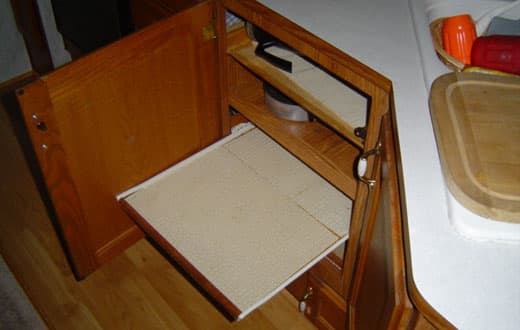 "I added a sliding shelf in between two other factory shelves in the bottom cabinet.  This eliminated having to stack utensils and also provided an area for bread that could be accessed from above when the shelf was pulled out.  The sliding shelf brackets have an indent when closed to prevent unexpected sliding of the shelf during travel." – Glenn Yauney
Charlotte and Hank Huizenga, Alaska
2005 Chevrolet 2500
2004 Arctic Fox 860
"We have made many improvements, but the one I love the best was when we removed the refrigerator front panels and replaced them both with safety mirrors.  They were easily ordered and cut by a glass repair shop.  We lived in the camper for two years and will probably use it again for a lower forty-eight trip.  Having a full length mirror at the right height and safely installed for rough roads was wonderful." – Charlotte and Hank Huizenga
Steve Saunders, Georgia
2000 Ford F250
2008 Palomino Bronco 1251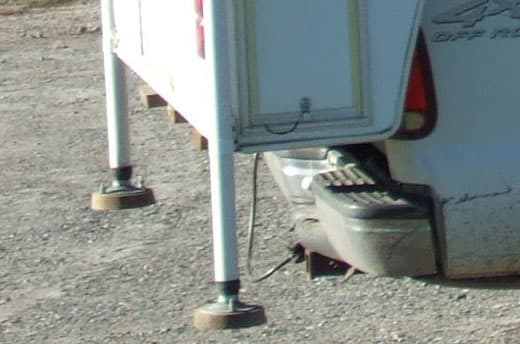 "My modification is pretty simple.  It has kept me from lugging around extra boards for the jack stands to sit on as I travel.  I cut out a circle in a pressure treated two inch by ten inch board just about three-quarters of an inch bigger than the bottom of the stand.  I drilled an extra hole in the stand, one was already there, and attached the cut out doughnut to the bottom of the stand.  I used two carriage bolts, two washers and four nuts (two nuts on each bolt to lock them in place) per stand.   Thousands of miles later they are still secure, have worked great and, best of all, I have never left one behind!" – Steve Saunders
Randy Andres, California
2009 Ford F350
2004 Bigfoot
"My wife and I enjoy tandem biking.  When we bought our Bigfoot camper last year, we realized hauling our tandem bike would be problematic.  Putting it on the roof was just too strenuous.  It didn't fit inside the camper or across the front bumper and we didn't like it on the ladder.  Our solution was to use the camper jacks.
Our tandem bike is fastened to a strut channel that spans the front and rear camper jacks.  First, we drilled a hole in the two jack pads on the driver (or passenger) side.  Then, we cut a strut channel to the length that would span from front jack pad to the rear jack pad.
After that, we bolted the strut channel to the jack pads using drilled holes.  Then, we fabricated a bike axle (I used angle iron and a threaded rod) and attached it to a strut channel.  Next, I bolted the front bike fork to this axle.  I use a cam strap to secure the rear tire to the strut channel.  I also added an aluminum C channel for the rear tire, but it is not needed.  I use a ratchet strap from the camper tie-down eye to the rear of the bike.  This takes weight off of the strut channel and keeps the bike from bouncing on rough roads.
My goal was to be able to fabricate this without a welder using only common hand tools.  If I had a welder, I would weld square u-bolts to the under side of strut channel and bolt the strut to the non-descending part on jack leg.
This arrangement has worked well.  The bike is out of the way and it's easy to mount and dismount.  I can still, carefully, lower the jacks to stabilize the truck.  And, if you enjoy people honking and waving at you, mount a dummy to your bike before you head down the road.  No, not your spouse!  A crash dummy." – Randy Andres
Glenn Daigle, Virginia
2009 Nissan Frontier King Cab
2010 Lifetime Tent Trailer
"I converted my Lifetime tent trailer into a truck camper.  I removed the axle, the fenders, and the tongue.  Then, I added extensions to the wing legs." – Glenn Daigle 

Jerry and Judy Funk, Full Timers
2006 Chevy Silverado 3500
2012 Lance 1181
"Table drawers are very handy for all sorts of things.  They can be purchased at Camping World.  They keep things organized, handy, and save space.  They are easy to install and open from your seat without getting up." – Jerry and Judy Funk
Pam and Chuck Bradford, New York
2001 Dodge Ram 1500
1996 Jayco Sportsman 8
"Pam and I have been camping for many years.  We started out in tents, moved to a pop-up travel trailer, and then bought a Class C motorhome.  This Spring, in an effort to cut down on our fuel costs for our fishing trips, we searched for and then found a used Jayco pop-up truck camper in excellent shape.  Even before we picked it up, I was planning out some of what we considered required modifications.
One of these modifications was the addition of hot water to the truck camper's amenities.  The addition of hot water to our Jayco required a number if smaller modifications, all of them a part of the whole.
First, I needed to decide what type of water heater to use.  Because of our familiarity with the standard Suburban six gallon water heater, we looked at this option first.  We decided that it might be a possibility, but it would use up way more of the limited storage space than we could do without.
While I searched for some other option, I came across tankless hot water tanks.  After some research, we decided on the EZ101 Tankless Water Heater.  These heaters are turned on and off with flowing water, so we needed a way to make the water flow.  The Jayco had only a fifteen gallon fresh water tank, and a hand pump style faucet at the sink.  A twelve volt water pump, regular water faucet, and new plumbing were required.
For the pump, I used a spare Shurflo pump that I had on hand.  I chose a tall style faucet to allow for more space in the sink for cleanup.  I opted to replace all of the water pipe with half-inch PEX and shark-bite fittings.  During the plumbing phase, we also added an exterior shower station to allow us the possibility of a shower when boondocking.
Next in the planning, we had to decide where to mount the EZ101.  The best spot for it, in our opinion, was on the back exterior wall, street side.  This also required me to run a new propane supply line to this area, and to do some modifications to the pressure regulators in the propane tank locker.  Our Jayco pop-up utilizes a solid wall at the rear of the camper.  This may not be a requirement for this modification, but it does make us feel better about the chimney being close to the camper.  The EZ101 does not require a chimney, but I added a double walled chimney and a chimney cap, just to make sure any fumes are above the camper and less likely to enter the living area.
How does it all work?  When not attached to city water, it goes like this; Turn on the pump switch located at the sink.  When you turn on the hot water faucet, a second or two later, you hear the water pump kick on.  Then, if you move to the camper door, you can hear the EZ101 burner turn on.  Moments later, hot water flows from the faucet.  My dear wife gives it two thumbs up!" – Pam and Chuck Bradford
Thomas Bustamante, New Mexico
2001 Ford F350
2011 Outfitter Juno 10.5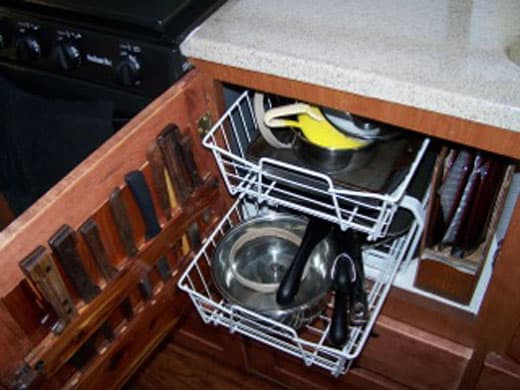 "We installed two wire sliding drawers for pots and pans.  They were purchased at Home Depot.  It fit perfect and was simple to install.  I also installed the plate holder on the right of the shelf.  You will note that I pulled out the bubble wrap from between the plates to illustrate what we use to cushion the ceramic plates while traveling on often very rough roads.  I know ceramic plates are heavy and breakable, but they please my wife tremendously." – Thomas Bustamante
Paul and Marceil Gathany, Ohio
2009 Chevy Silverado 1500
2008 Sun Lite by Sun Valley, Inc., 865SE
"We tend to enjoy camping in what many call the off seasons in the Midwest.  Early Spring and late Fall tend to be seasons when we get more variables in weather, especially temperature.  For example, in late May, we returned from a short trip to the Upper Peninsula of Michigan.  We often required heat in the camper during the evening and sometimes overnight as well.
Over the years we have experienced the noise of the typical gas furnace in campers.  At night, the repetitive cycling is hard on light sleepers.  Using an electric space heater in a truck camper, with a quieter fan, can be a hazard due to the likely possibility of tripping over it.  Since we must conserve room in the truck camper, I made a modification for a built-in electric heater.
At the floor level, our camper had a door that looked like a nice sized cabinet.  But when opening the door, it was only about six inches deep.  At first, we used it for plastic and paper sack storage.  One day, while running the wiring to install a tank monitoring system, it occurred to me that the opening of the door was the same size as the furnace opening eighteen inches above it.  So why not try to build in an electric heater within that space?
First I had to find one that fit the available depth.  As it turned out, Walmart sold an inexpensive ceramic space heater that was shallow enough to fit.
Safety was a primary consideration.  I lined the small compartment with an aluminum box with riveted edges.  Even though the space heater is made to throw the heat outward to its front side, the liner makes a safe environment to contain the heater, especially since the case had to be taken off the unit.
The heater nicely fastens into the pocket.   There is plenty of space around the unit to allow for needed air circulation.  Although it provides two levels of  heat (1000 and 1500 watts), we found the lower setting to be sufficient.
In my collection of electrical parts, I found a thermostat that we removed when converting our house baseboard heat to a heat pump.  The thermostat is mounted below the gas furnace thermostat.  The source for electric is wired to a breaker in the circuit breaker box.
A grill matching the gas furnace grill was purchased as an appropriate means to cover the heating unit and that meets standards for what the RV industry uses on many gas heating units.  It works great!  By setting the thermostat we stay comfortable and warm on those cool evenings when we want to get out of the rain, watch television, play games, or read." – Paul and Marceil Gathany
Alex Blasingame, California
2007 Ford F-250
2002 Lance 815 

 "I made overload spring stop extensions for my last trip on the White Rim Trail. This not only gave my truck better handling off road, but also increased my truck's departure angle and rear height. I did this as a results of airbags prove to be counterproductive in off road conditions. I used 2 inch square stock and welded two strips of flat stock on one end with a space wide enough to hold the stock rubber pad from the spring stops. Using another piece of flat stock with two holes drilled in it  matching the two bolts that were weld to the other end of the square tube. Before welding the bolts in place the square tube had to be grinded to match the curve of the spring stop. This was done for all four overload stops." – Alex Blasingame
Brian Hoekstra, Arizona
2007 Chevy 2500HD CC SWB
2011 Lance 855
"I built cabinets for the front bunk, and designed and fabricated a cabinet door mounting bracket for the television.  The television can swing both directions so it can be watched from the dinette or the front bunk." – Brian Hoekstra
Lucien and Helen Langlois, New Hampshire
2012 Ford F250
2004 Lance 1025 Lite
"My modification is a bolt-on front receiver to my snowplow mount for a fabricated bike rack.  The bike rack is made of aluminum H-beams and aluminum parts from a commercial window frame.  This keeps the weight down.  My wife and I are right now in Grand Forks, North Dakota on our way to Alaska.  The camper hasn't fallen off yet and the bikes are still with us." – Lucien and Helen Langlois
 
Disclaimer: It is your responsibility to make sure that any do-it-yourself modification project you undertake is safe, effective, and legal for your situation.