Make more room for mods as part three of the TCM mod-a-thon contest entries roll in with fifteen magnificent mods.  Take a peek at the grey tank tube.

Welcome to the third of four contest entry articles from the 2012 Top Mod Showdown Contest.  The first three installments include a runner up $25 fuel card prize announcement.  Later this week, in our fourth installment, we will announce the winner of the $100 Fuel Card Prize.
Runner-Up Winner #3: Bill Harr, California
2005 Toyota Tundra 4×4 TRD
2002 Four Wheel Camper Hawk
"A Four Wheel Camper uses a hose and bucket as a grey water tank.  If we wanted to stealth camp, we couldn't use the sink.  I built a small tank that fits between the camper and the side of the truck.  Because I have a Toyota Tundra, I did not have room to run a drain between the camper and the tail gate opening.  To solve this, I drilled a hole in the side of the stop for the tail gate and added a valve.  This hole is covered when I put the tail gate back on if I take the camper off.  This modification has worked out great.  I have another report about it on Wander the West." – Bill Harr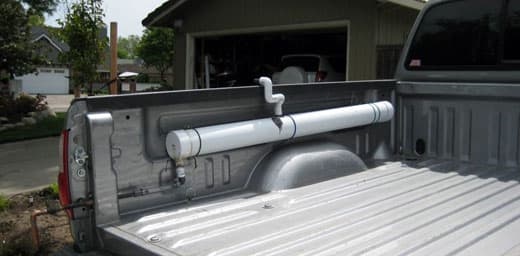 2012 Top Mod Contest Entries Part 3
Virgil Apilado, California
2006 Chevrolet Silverado 2500
2006 Lance 845
"Every time I go camping, I look for somewhere to store my tools as they are always in my truck cab.  One day I was looking at the fire extinguisher holder and was curious what was behind it.  There were six screws so I took out my Philips screw driver, unscrewed them, and removed the panel.  Then I took my flashlight and looked inside.
Low and behold there was a big cavity with over a cubic foot of storage.  I found a small door from a previous modification and placed it on the right hand side of the Fire Extinguisher.  It fit perfectly.  Then I took a pencil, drew a line, and started cutting using a utility knife.
Once that was complete, I installed a three-quarter inch piece of wood inside the edges where I cut to reinforce the panel and hold the door hinges and a latch at the opposite end.  After the door was installed I added a shelf right in the middle.  The project is finished it is a nice storage area for tools, water, beer, etc." – Virgil Apilado
David, Dana, and Elly Erickson
plus Tallulah and Tugaloo, our Vizsla dogs, Georgia
2011 Ford F350
2012 Adventurer 86SBS
"I made a bunk restraint.  The bunk was a factory option that we ordered with the camper.  Adventurer does not supply a child restraint so I made my own for our daughter, Elly.
The restraint, a protective lattice, is stored on the rear wall of the camper by two velcro straps around one of the dowels.  When the bunk is down, the restraint is hinged on two L brackets with a closet door slider pin.  This was the best hinge option for ease of removal while storing.
The bottom of the restraint is secured with sliding door locks on each end.  I've also placed a car window heat reflector in the window for insulation on cold nights.  Elly loves her baby cage and has been sleeping happily in there for almost a year." – David, Dana, and Elly Erickson
John Wells, Pennsylvania
2011 Chevy Silverado 3500
2012 Chalet Ascent S100F
"We wanted to be able to sit up and watch television in the camper bedroom.  Comfy for sleeping?  You bet!  Sitting up watching television or reading?  Not unless you've got scoliosis like Quasimodo!
We found foam wedges to fill the space between the curved nose of the camper and the not-so-curved spines of the occupants.  We have two foam wedges for each side.  There are various densities and sizes available.  I found a good selection on Amazon.  We have firm density on the bottom, and a lighter density on top.  You can see how they'll fill the curved nose of the camper when placed in position.  With foam wedges in place, we add a couple pillows.  It looks pretty inviting.
Now my wife can see that television she had me install in the bedroom!  The wedges can be placed off to one side, or on the side tables when not in use.  One or two can be used as desired if you like an elevated sleeping position." – John Wells