Pete Horneck, Colorado
2006 Dodge Ram 2500
2010 Hallmark Milner LX
"This is a mod at the highest level, the roof!  The Elixir escape hatch would continually work its way open while driving, eventually destroying the lid.  I ordered a replacement from BriRus (more dome shaped, more rigid; old lid in foreground, new lid in background).  I transferred reusable pieces from the old to the new and added my own ideas; an aluminum angle stock on the underside of the back edge to reduce flex and distribute clamping force, and a plastic coated wire cable to pull the lid down and secure it closed.  Since the new lid is translucent rather than opaque, we use Reflectix to insulate and keep the light out.  The cable secures around the crank handle.  So far, so good.  We'll have a good test this weekend in windy Wyoming!" – Pete Horneck
John Wells, Pennsylvania
2002 Ford F350 Powerstroke Dually
2005 Lance 1025
"How do we conserve the most electricity when boondocking?  We find and eliminate unnecessary electrical use.
Most refrigerators have a small heating element inside the door frame that fights condensation when humidity is elevated inside the camper.  The condensation is not a problem except that it might allow moisture and eventually mildew to develop around door frames and seals.  Resistance heaters, even low-output ones, use disproportionately large amounts of electricity, so they're a great thing to eliminate if possible.
Our previous Lance 835 had a refrigerator model that had a switch to turn this on and off as required to conserve electricity when humidity was low.  Many household refrigerators have this same feature.  The Lance 1025 Norcold did not provide this option.  I tracked down the wiring diagram for our model Norcold, and made sure the door heater circuit is not monitored by the computer.  You don't want it to throw error codes.  I then pulled the control panel, found the correct wire, and parted it, installing a 10A switch in the control panel so I can turn it on and off as required.
Voila!  There was substantial savings per day in electrical usage at the flip of a switch.  The square black rocker switch on the left of the control panel is the one that controls the doorframe heater." – John Wells
Thomas Bustamante, New Mexico
2001 Ford F350
2011 Outfitter Juno 10.5 Pop-up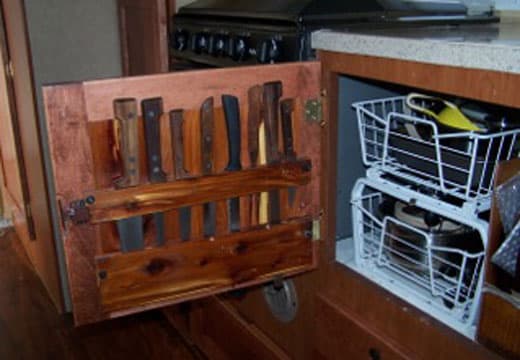 "We have a pop-up truck camper and have to be judicious and organized with our space.  We have a knife rack installed in the panel of the inside shelf door.  It was built with extra cedar paneling that I had in our garage.   As you can see the stove and sink are right there and this made it very accessible, safe and convenient while cooking." – Thomas Bustamante

Disclaimer: It is your responsibility to make sure that any do-it-yourself modification project you undertake is safe, effective, and legal for your situation.