The mod madness continues with sixteen more sweet truck camper mods to make your camper even more marvelous.  Step up to the cannon trailer!

Welcome to the second of four contest entry articles from the 2012 Top Mod Showdown Contest.  The first three installments include a runner up $25 fuel card prize announcement.  For the fourth installment, we will announce the winner of the $100 Fuel Card Prize.
Runner-Up Winner Day #2: John Wells, Pennsylvania
2011 Chevy Silverado 3500
2012 Chalet Ascent S100F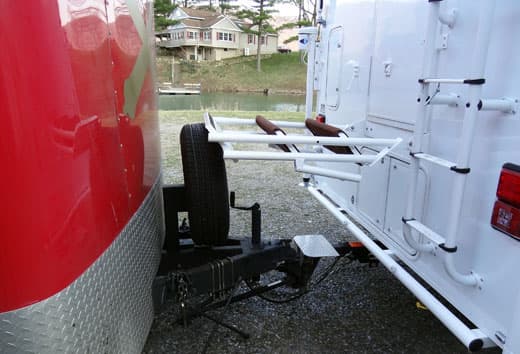 "The factory supplied steps were too long to allow deployment with the Haulmark Cannon Trailer (don't ask!) attached and were too short as to remain airborne when deployed with no trailer attached.
After much head scratching and considering several options, I decided that the best choice for convenience would be to fabricate a set of telescoping steps.  I searched available aluminum tubing sizes to get ones that would have the right combination of strength and inside/outside diameters to do the job.
I enlisted the aid of a local welding shop to make the bottom step and cut the original third step off to incorporate it into my design.  I drilled holes at appropriate locations to allow secure, quick adjustments to the length.  One-quarter inch steel spring retainer pins hold the steps in various positions.  The modified stairs are strong, reasonably light weight, and do everything I need them to do." – John Wells
2012 Top Mod Contest Entries Part 2
Mark Turnbull, North Carolina
1998 Chevy Silverado 1500
2011 Four Wheel Hawk Camper
"I started with two cargo carriers.  I cut one in half.  We then joined the half cargo carrier to the whole cargo carrier.  We then modified the half cargo carrier to have extended edges to accommodate my bicycle's tires.  This cargo carrier arrangement has carried my bike, a full sized spare, a Honda Generator, and a fourteen gallon gas tank for over 10,000 miles on my Alaska trip, and will for another 4,700 miles as we head home." – Mark Turnbull
Jerry and Judy Funk, Full Timers
2006 Chevy Silverado 3500
2012 Lance 1181
"We all can use more counter work space and this range top cutting board does triple duty.  It's a work space, cutting board, and backsplash all in one.   Easily remove the factory range-top cover and just set this board on top.  The rubber backing keeps it in place during travel and it serves as a backsplash while cooking.  It can be purchased at camping stores.
This mod is easy to do, would be used almost everyday, is light weight, takes up little room, can be used on almost any rig, and would be very handy for most campers." – Jerry and Judy Funk
Brian Hoekstra, Arizona
2007 Chevy 2500HD
2011 Lance 855
"There was a gap of about nine or ten inches between the tail light and wing, so I fabricated a seven inch deep compartment out of sheet metal and aluminum to store the hose and filter in." – Brian Hoekstra
Kerry Stark, Pennsylvania