The mod madness continues with sixteen more sweet truck camper mods to make your camper even more marvelous.  Step up to the cannon trailer!

Welcome to the second of four contest entry articles from the 2012 Top Mod Showdown Contest.  The first three installments include a runner up $25 fuel card prize announcement.  For the fourth installment, we will announce the winner of the $100 Fuel Card Prize.
Runner-Up Winner Day #2: John Wells, Pennsylvania
2011 Chevy Silverado 3500
2012 Chalet Ascent S100F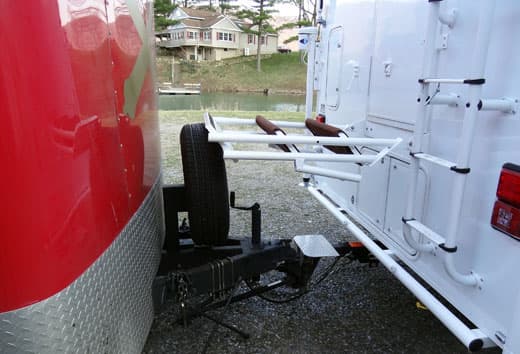 "The factory supplied steps were too long to allow deployment with the Haulmark Cannon Trailer (don't ask!) attached and were too short as to remain airborne when deployed with no trailer attached.
After much head scratching and considering several options, I decided that the best choice for convenience would be to fabricate a set of telescoping steps.  I searched available aluminum tubing sizes to get ones that would have the right combination of strength and inside/outside diameters to do the job.
I enlisted the aid of a local welding shop to make the bottom step and cut the original third step off to incorporate it into my design.  I drilled holes at appropriate locations to allow secure, quick adjustments to the length.  One-quarter inch steel spring retainer pins hold the steps in various positions.  The modified stairs are strong, reasonably light weight, and do everything I need them to do." – John Wells
2012 Top Mod Contest Entries Part 2
Mark Turnbull, North Carolina
1998 Chevy Silverado 1500
2011 Four Wheel Hawk Camper
"I started with two cargo carriers.  I cut one in half.  We then joined the half cargo carrier to the whole cargo carrier.  We then modified the half cargo carrier to have extended edges to accommodate my bicycle's tires.  This cargo carrier arrangement has carried my bike, a full sized spare, a Honda Generator, and a fourteen gallon gas tank for over 10,000 miles on my Alaska trip, and will for another 4,700 miles as we head home." – Mark Turnbull
Jerry and Judy Funk, Full Timers
2006 Chevy Silverado 3500
2012 Lance 1181
"We all can use more counter work space and this range top cutting board does triple duty.  It's a work space, cutting board, and backsplash all in one.   Easily remove the factory range-top cover and just set this board on top.  The rubber backing keeps it in place during travel and it serves as a backsplash while cooking.  It can be purchased at camping stores.
This mod is easy to do, would be used almost everyday, is light weight, takes up little room, can be used on almost any rig, and would be very handy for most campers." – Jerry and Judy Funk
Brian Hoekstra, Arizona
2007 Chevy 2500HD
2011 Lance 855
"There was a gap of about nine or ten inches between the tail light and wing, so I fabricated a seven inch deep compartment out of sheet metal and aluminum to store the hose and filter in." – Brian Hoekstra
Kerry Stark, Pennsylvania
2009 Chevy Silverado 3500 dually
2010 Arctic Fox 1140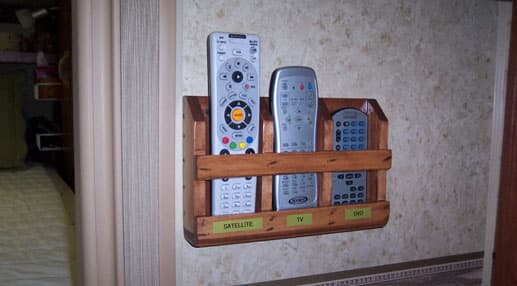 "How many times have we misplaced our TV/Satellite/DVD remote controls?  I made this simple remote control holder and placed it on the wall between the cabover and the galley.  Now no matter where I am in the camper, I can get the remote that I need.  Its depth accommodates all three remotes, yet is still tight enough to the wall so that it does not to interfere with the slide-out operation." – Kerry Stark
Bob Meigs
2011 Dodge Ram 1500
2012 Four Wheel Camper Raven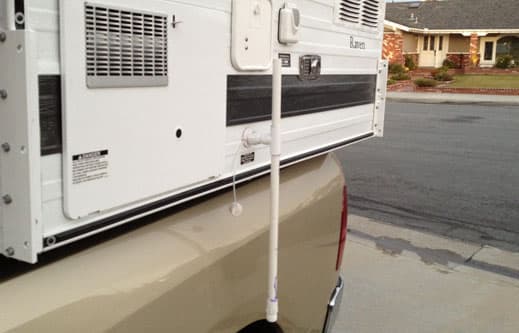 "Here's a simple mod I made for my Four Wheel Camper Raven.  I noticed that my sink was draining really slow in my new Raven so I made a vented pipe to remove the vapor lock while it's draining into the water bag.  All of the parts were less than ten dollars.  It's just some PVC pipe, a Tee fitting, a male threaded fitting and a female threaded fitting (all PVC).  You can see from the photo I have an open section above the tee that allows air to enter that vent.  Now my sink drains really fast.  I store the pipe in my camper while traveling." – Bob Meigs
Jake and Sylvie Mathis, Texas
1994 Dodge Ram 2500
2004 Northern Light 9Q Classic
"We didn't have shelves in our camper when we bought it, so we had to be creative and made some modifications.  Visiting one of our local home improvement stores, we purchased closet system shelves using an open frame rack." – Jake and Sylvie Mathis
Dennis Thorell, New Hampshire
2010 Chevy 3500 Dually
2009 Northern Lite 10'2″ CD Special Edition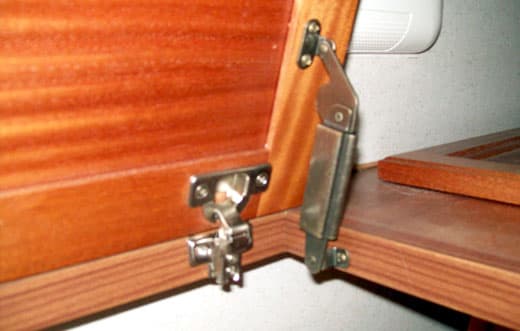 "I own a Northern Lite 10'2″ CD and put spring loaded hinges on the pajama lockers as you recommended.  It's a must do modification.  I can now use one hand instead of two to gain access to the lockers and the lid doesn't fall on my hand.  Campers aren't always parked level.  What if a young child, think little fingers, was in the bedroom area with the locker hatch up and the hatch lid fell down?" – Dennis Thorell
Art and Mabel Davidson, New York
2007 Chevrolet 3500 Dually
2003 Bigfoot 30c10.11SL
"I use centering blocks for easier loading of the camper and it keeps the camper from shifting while traveling.  I made the blocks from some scrap wood and covered them with carpet." – Art and Mabel Davidson
Paul and Marceil Gathany, Ohio
2009 Chevy Silverado 1500
2008 Sun Lite 865-SE
Left: Bottom of futon tilted up, slider system-top, slider fastened to futon, bottom: rail fastened camper
"Our camper has a refrigerator on the right as one enters the rear door.  Immediately next to the refrigerator is the typical over the wheel well couch/bed.  When we purchased the unit, we camped for a year or more using the pull-out couch/bed for sleeping.  It was simply two sheets of plywood with front trim facing.  There were two three-inch foam pads for the seat and seat back when in couch mode.  The same foam pads were used side-by-side in the pulled-out bed mode.
The bed was not too comfortable for sleeping, nor was the couch too nice for any length of time.  Ones weight compressed the foam mattress causing our legs to rest upon the trim facing.  It quickly became very uncomfortable for sitting.
One day my wife came home from shopping.  She asked if I thought a futon she had seen could possibly fit the camper as a replacement for our uncomfortable couch/bed.  I was skeptical, but we went to the store to take measurements.  Guess what?  It was going to be a good fit.  In addition, it was nicely padded, had springs underneath and the color matched the décor of the camper.  Wow!
When I took the old plywood out to modify the installation, I noted the weight I was removing.  The futon was about fifteen pounds lighter.  Fortunately, the futon's legs simply unscrewed.  To hold the futon in place, a slider/rail system was constructed for each end.  Each system consists of a slider on top, mounted to the bottom of the futon, and a bottom rail fastened to the over the wheel well area that fits into the slider.  The futon is only about an inch higher than the original couch/bed.
When in normal couch mode, it fits nicely next to the window as did the original back.  It's comfortable for sitting.  Converting to a bed and vice a versa is quick and easy.
By sliding the entire unit toward the walkway, then pulling the back forward two clicks, and letting the back fall back, it drops into the bed position.  A support leg on the outside right corner was re-purposed from the original equipment.
The futon easily goes back to the upright position by pulling up the back (under the window).  Then the entire futon pushes back to the window.  We have found this to be a good improvement for comfort.  Only slightly more space is required (not really noticeable).  It's far and away better now, to sit and sleep on.  A nice upgrade for a little over $100 and we reduce the camper weight by a few pounds." – Paul and Marceil Gathany
Glenn Yauney, Oregon
1995 Chevy Silverado 3500 Dually
2000 Arctic Fox 1160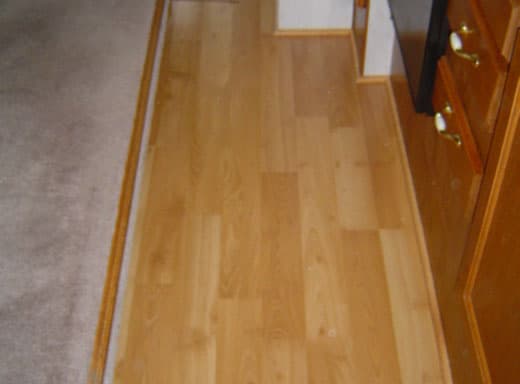 "I installed laminate flooring over the white linoleum floor.  The factory color for the linoleum was wrong for a truck camper.  The improvement was not expensive and immensely improved the looks and livability of the camper." – Glenn Yauney
Pete and Linda Clark, Ohio
2006 Dodge Ram 3500
2008 Snowriver 10.2 RK
"Our Snowriver had the television hook up in the corner of the kitchen which was always in the way while cooking and not visible at all from the bunk.  A major move was in order.
The television antenna cable and 12-volt power was routed through the base cabinet to a vent stack and up into the overhead cabinet.  There was an existing 120-volt receptacle for a microwave which we do not have.  I installed an inverter and a second junction box through which the antenna and inverted power run (for when we don't have shore power).
The articulated television mount was wider than the framing on the corner.  As a solution, I welded two pieces of flat plate on the television mount and then secured the L bracket to the corner.  The television can now be seen from the bed as well as the dinette and kitchen.
We had the wire spice rack from Walmart loose in an overhead cabinet, which was always being bounced around.  Surprise, surprise, it fit perfectly in the space where the television connections started and the basket was a gift.  The spice rack and basket modification was a side benefit of the modification to move the television from the counter to the wall." – Pete and Linda Clark
JT More and Sue Jurf
2004 Ford F250 Crew V10
2005 S&S Ponderosa 8.5
"Of all our improvements, our movable catalytic heater has really worked well.  We are skiers and typically ski out of the camper on location and at backcountry pull-outs twenty nights per year.  I "T'd" into the propane line of the refrigerator and installed a quick release propane bib with cut off valve into the dinette area.  I used a free standing Olympia Wave 3 heater with a flexible hose.  Our lowest temperature thus far has been about 0 degrees Fahrenheit.  We woke up in the morning at about forty-five degrees and used the standard forced air heat as a quick warm up.  It has actually paid for about a third of the total cost in propane saved this winter and there's no battery draw." – JT More and Sue Jurf
Pete Horneck, Colorado
2006 Dodge Ram 2500
2010 Hallmark Milner LX
"This is a mod at the highest level, the roof!  The Elixir escape hatch would continually work its way open while driving, eventually destroying the lid.  I ordered a replacement from BriRus (more dome shaped, more rigid; old lid in foreground, new lid in background).  I transferred reusable pieces from the old to the new and added my own ideas; an aluminum angle stock on the underside of the back edge to reduce flex and distribute clamping force, and a plastic coated wire cable to pull the lid down and secure it closed.  Since the new lid is translucent rather than opaque, we use Reflectix to insulate and keep the light out.  The cable secures around the crank handle.  So far, so good.  We'll have a good test this weekend in windy Wyoming!" – Pete Horneck
John Wells, Pennsylvania
2002 Ford F350 Powerstroke Dually
2005 Lance 1025
"How do we conserve the most electricity when boondocking?  We find and eliminate unnecessary electrical use.
Most refrigerators have a small heating element inside the door frame that fights condensation when humidity is elevated inside the camper.  The condensation is not a problem except that it might allow moisture and eventually mildew to develop around door frames and seals.  Resistance heaters, even low-output ones, use disproportionately large amounts of electricity, so they're a great thing to eliminate if possible.
Our previous Lance 835 had a refrigerator model that had a switch to turn this on and off as required to conserve electricity when humidity was low.  Many household refrigerators have this same feature.  The Lance 1025 Norcold did not provide this option.  I tracked down the wiring diagram for our model Norcold, and made sure the door heater circuit is not monitored by the computer.  You don't want it to throw error codes.  I then pulled the control panel, found the correct wire, and parted it, installing a 10A switch in the control panel so I can turn it on and off as required.
Voila!  There was substantial savings per day in electrical usage at the flip of a switch.  The square black rocker switch on the left of the control panel is the one that controls the doorframe heater." – John Wells
Thomas Bustamante, New Mexico
2001 Ford F350
2011 Outfitter Juno 10.5 Pop-up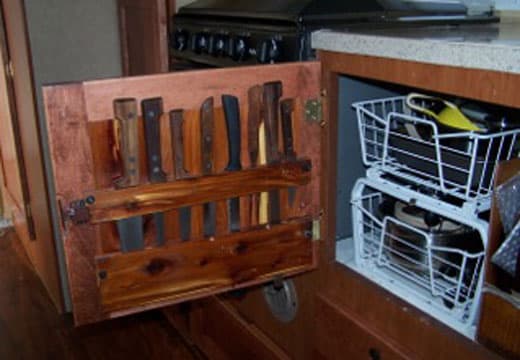 "We have a pop-up truck camper and have to be judicious and organized with our space.  We have a knife rack installed in the panel of the inside shelf door.  It was built with extra cedar paneling that I had in our garage.   As you can see the stove and sink are right there and this made it very accessible, safe and convenient while cooking." – Thomas Bustamante

Disclaimer: It is your responsibility to make sure that any do-it-yourself modification project you undertake is safe, effective, and legal for your situation.