Art and Mabel Davidson, New York
2007 Chevrolet 3500 Dually
2003 Bigfoot 30c10.11SL
"I made storage supports made from one 4X8 sheet of ¾" pressure treated plywood cut into a four 2X4 piece and notched out.  The pieces can be laid flat in truck bed under camper for use when traveling." – Art and Mabel Davidson
John Wells, Pennsylvania
2002 Ford F350 Powerstroke Dually
2005 Lance 1025
"We do a lot of boondocking.  We already had a solar panel and digital charge controller. We also had a Honda EU2000i suitcase generator.  How could we get more battery storage capacity in a camper only designed for one Group 31 battery?
We converted the unused generator cabinet to hold another Group 31 AGM battery.  Generator pre-wiring in the Lance allowed the unused cabinet to hold another Group 31 AGM battery.  Unused generator wires, very heavy gauge, are already carried to the cabinet in the bathroom that holds the solar charge controller and is adjacent to the battery compartment.
I converted the generator leads with battery terminals and connected them to the existing battery after drilling an access hole in the battery compartment.  The hole was sealed with Duxseal after passing cables through.  Back in the new battery (old generator) compartment, I installed a heavy duty cut-off switch in the hot lead, added battery terminals to the cables, and connected in parallel to the original battery.
I reinforced the floor pan in the compartment with several extra hold-down bolts to better support the battery weight.  Due to the common recommendation to not hook old and new batteries together, I purchased two new Group 31 AGM batteries when performing this conversion.  AGM batteries are needed for this conversion due to minimal off-gassing during charging.
The red key is the cut-off/isolator switch for this battery.  Even after the conversion, there's still plenty of storage space left for a tool bag, jack pads, etc." – John Wells
Joe Brocki, New York
1991 Chevy 2500
Late 1960's Leisure Time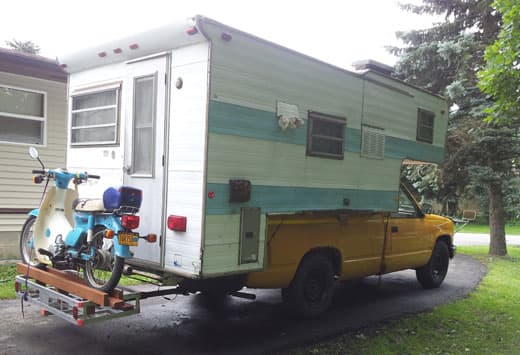 "I built a hitch extender to get the hitch out past the back of the camper.  Then I took a standard hitch mount luggage carrier and built a scooter attachment for it.  When I get the camper leveled out at my campsite, I can leave it that way.  I just hop on the scooter and ride to the store." – Joe Brocki
Pete Horneck, Colorado
2006 Dodge Ram 2500
2010 Hallmark Milner LX
"I prefer to cook outside rather than inside.  I recently retired my pristine 1984 Coleman liquid fuel stove and tailgating charcoal grill for propane versions.  The one pound LP bottles were kind of a pain so I had this fitting made to fit my thirty pound main tank.  With a fifteen foot hose that stores in the compartment and plugs in where the red cap is, I can reach any side of the truck to get out of the wind or under the awning.  It works great and I only have one LP tank to fill." – Pete Horneck
Brad Caroline, California
2001 Ford F350 7.3 4×4 diesel, 212,000 miles
2012 Outfitter Apex 9.5
"I am always short on plugs for charging all of our electronics.  This modification pops up adding three outlets and is nearly flush when closed.  Other models have 110v outlets plus USB.  I added two of these units to my camper (only came with a single duplex).  I love them." – Brad Caroline
David Miller Wostok, Alberta
2010 Ford F150
Adventurer 80GS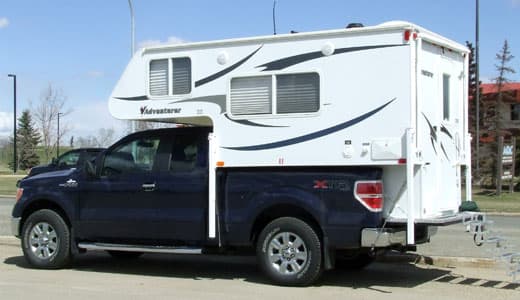 "My modification has to do with the tailgate.  With my old F150, we just used to open the tailgate and put the camper on.  This led to lots of stone chips on the tailgate.  When I bought my new 2010 Ford F150, the salesman said the tailgate with the backup camera was worth about $3000.  So I decided to build my own tailgate out of 2×2″ square tubing with three-quarters of a foot of plywood.  The aluminum checker plate on the top helps support the overhang on the camper and gives my wife a little deck on the back.  It works great." – David Miller Wostok