Get ready for part one of a four part, two-week, all-out truck camper mod-a-thon of epic proportions.

Welcome to the first of four contest entry articles from the 2012 Top Mod Showdown Contest.  The first three installments include a runner-up $25 fuel card prize announcement.  For the fourth installment, we will announce the winner of the $100 Fuel Card Prize.
The next two weeks will truly be a dream come true for all those truck camper modification craving readers who relentlessly pester us every year for more mods.  We're going to give you mods, mods, and more mods until you ask us for mercy.  You'll be practically begging for a simple truck camping lifestyle story when we're done.  I can hear it now, "Please Gordon and Angela, not another amazing mod.  We can't take it anymore!"
Runner-Up Winner #1: Kerry Stark, Pennsylvania
2009 Chevy Silverado 3500 dually
2010 Arctic Fox 1140
"This is a modification that I made to my Arctic Fox conventional dinette set-up.  I didn't want to lose the full table function, but I wanted the dinette arrangement to be more universal and comfortable.  I removed the main big table and made two smaller tables that would match together.  One piece uses the factory wall mount bracket and the other piece uses a floor pedestal mount that I added.  By using both together, I don't give up anything that was stock original.
I also have the capability of using just a small wall table for two, and that gives us some unobstructed seating at the aisle areas of the truck camper.  If I drop down the small table, I can make a U-shaped couch set up with no table(s) to interfere.  If I have the U-shaped couch set up, I can then use the optional second piece of table on a pedestal mount to still have use of a table while leaving the U-shaped couch in place.
I did have to contact the company that makes Northwood's cushions and had them assist me in locating new material and make the extra cushions that I needed.  I was able to closely match the factory table formica and the new tables were laminated over new plywood.  I purchased the pedestal mount online from an RV supplier.
After posting pictures of this modification on some other RV sites, several others have used the idea to convert their dinettes also." – Kerry Stark
2012 Top Mod Contest Entries Part 1
Tom and Joyce Wilson, North Carolina
2011 Ford F250
2003 Lance 815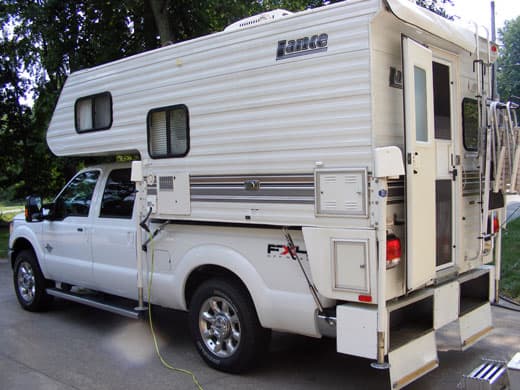 "We have a Lance 815 and we needed extra outside storage space for drinks, fishing rods, wet shoes, etc.  I made a storage box that attaches to the bottom of the camper.  It is light weight at less than forty pounds empty.  The storage space provides a 13" x 13" x 82" compartment that I use all the time." – Tom and Joyce Wilson
Sally Stomberg and George Brown, Washington
2006 Ford F-550 DRW
2006 Lance 1191
"I have come to the conclusion that someone who doesn't cook in a truck camper designed the galley in our Lance 1191.  There is practically no usable counter space unless the stove cover is down or the sink lid is on.  But you can't use the stove if the cover is on!
I did some research to see what other campers were doing to solve this issue because I know we aren't the only ones looking for more counter space.  We considered the flip-up countertop extension from Camping World but that was not usable nor large enough for what we wanted.  I wasn't able to find any other ready-to-go extensions either, so we decided to design our own.
After reviewing our options, we decided on locating the new countertop just below the closet that is between the refrigerator and galley.  We had about 19″ of width to use. What to use for a countertop was our next decision.  Do we build our own out of laminate and plywood or purchase a ready made cutting board close to the size we wanted?  A cutting board would do the trick.  I found a nice 18″ x 24″ cutting board at Bed Bath & Beyond.  George trimmed the back edge off to remove where the corners were rounded and then gave the board a coat of cutting board oil.
I researched many types of brackets and settled on a Sugatsune polished stainless bracket from Woodworkers Hardware.  Note to self: re-read the unit of measure before ordering.  Much to my chagrin, when my package arrived it only had one bracket in the box.  It was a nice looking shiny sturdy bracket, but there was just one of them.  We needed two.  I had looked at so many brackets and most came in pairs.  When I placed my order, I assumed it was for a pair, especially at almost $40 plus shipping.  So back to the computer I went to order another bracket.  And of course I had to pay for more shipping costs that would have been covered on my first order.  Drats!
The flip-up extension cost us $130 for the brackets and cutting board, definitely more than we wanted to spend.  It could have been done for much less money by using non-stainless brackets.  However, not only do we have nice form, we also have great function.  The flip-up extension is definitely what this galley needed.
Extension in the down position sticks out 1 and 7/8″ from the wall and the bracket is friction held in place during travel so it doesn't bounce around.  Now this is usable food prep space!  We still have plenty of room to move around the extension and get to the refrigerator.  Having the extra space to work with has been much more pleasurable." – Sally Stomberg and George Brown