Step-up the dinette, reach the vent, tension those towels, extend the awnings, hold the hats, stick the Airtabs, velcro the screens, and more!  The mini mods make another huge 10X10 impact.  Pick three and vote now.

Welcome to the ninth 10X10 Mod Tournament.  Please review the following ten mini-mods and vote for your favorite.
We will announce the winner next week.  For more information about the 10X10 Mod Tournament, including how to enter, click here.
Click here to vote for your favorite 3 mods from this month's contest.
1. David Fradkin, Effort, Pennsylvania
Dinette Step Up
2017 GMC 3500
2017 Lance 975
My wife and I found it difficult to step up into the dinette slide inside our Lance 975. Our old Lance 1161 had a ledge that was very helpful to step up into its dinette. The Lance 975 does not feature this helpful step.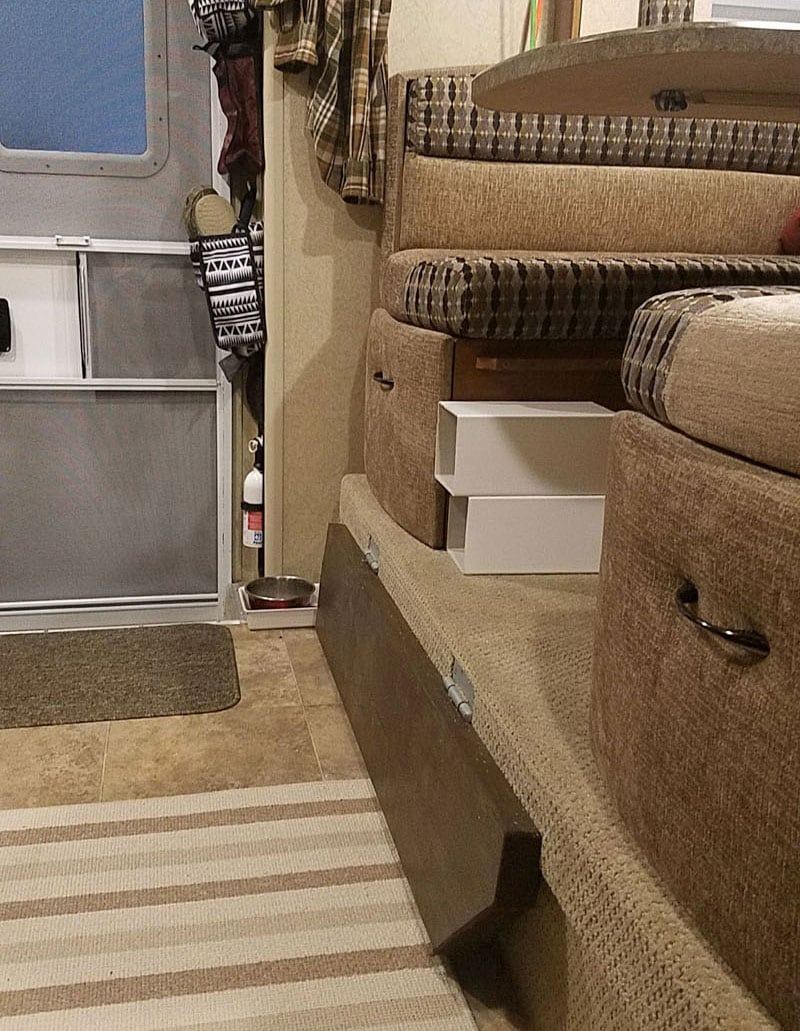 I created a step for our Lance 975 with a piece of 2×8-foot wood on hinges and some spare plastic fence post material as support. I stained the wood with deck stain I had laying around.
When we travel, I fold the wood down and stow the supports under the dinette. Then I close the slide. When we open the slide we lift up the wood and place the supports under it.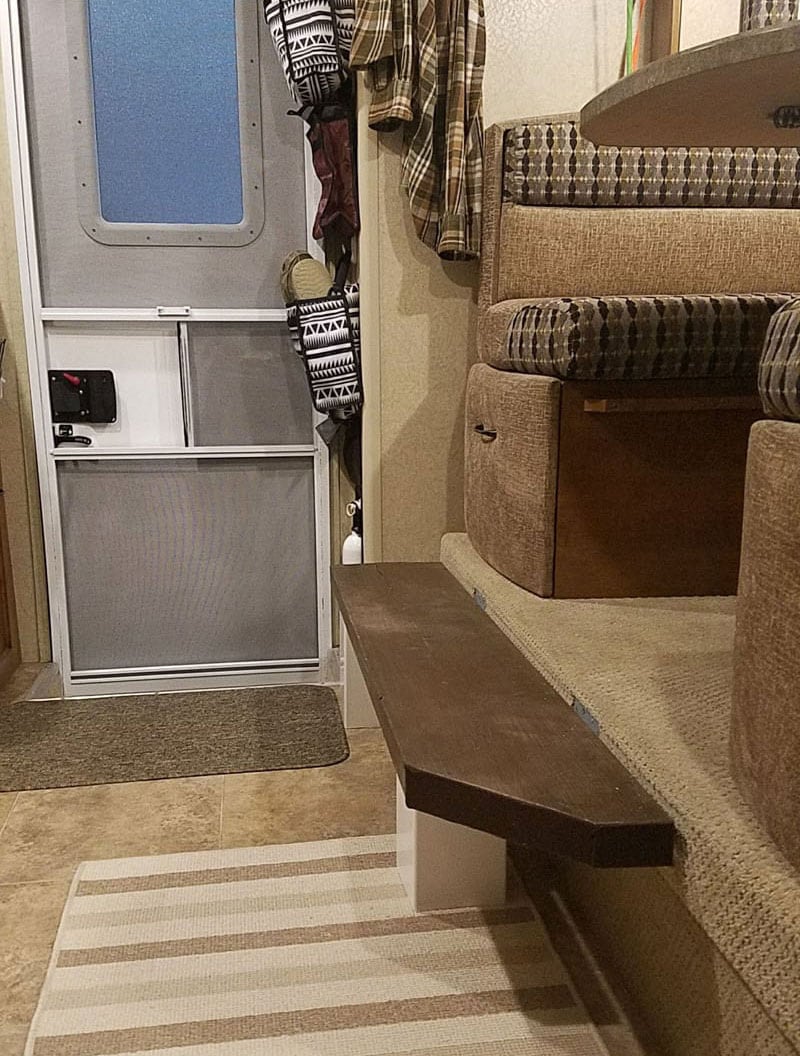 I cut an angle into the step to make more room when walking past it. I banged my shins a few times before thinking of this. I also applied felt padding to the angle to cushion a blow – just in case.
This mod has worked out wonderfully. We no longer have to grab on to the table to pull ourselves up while swiveling to get our butts into the dinette seats.
The modification took me one hour, not including waiting for stain to dry. It cost me $20 because I found the hinges on the clearance rack at Lowes.  In my opinion, the skill level of this modification is easy.
2. Craig and Karen Grisham, Mukwonago, Wisconsin
Stove Vent Cover Tool
2005 Dodge Ram 2500
2005 Northland Koala 850
When the camper was loaded on the truck, I could not reach the stove vent cover to latch or unlatch it. I made this tool to reach the stove vent cover when the camper is on the truck.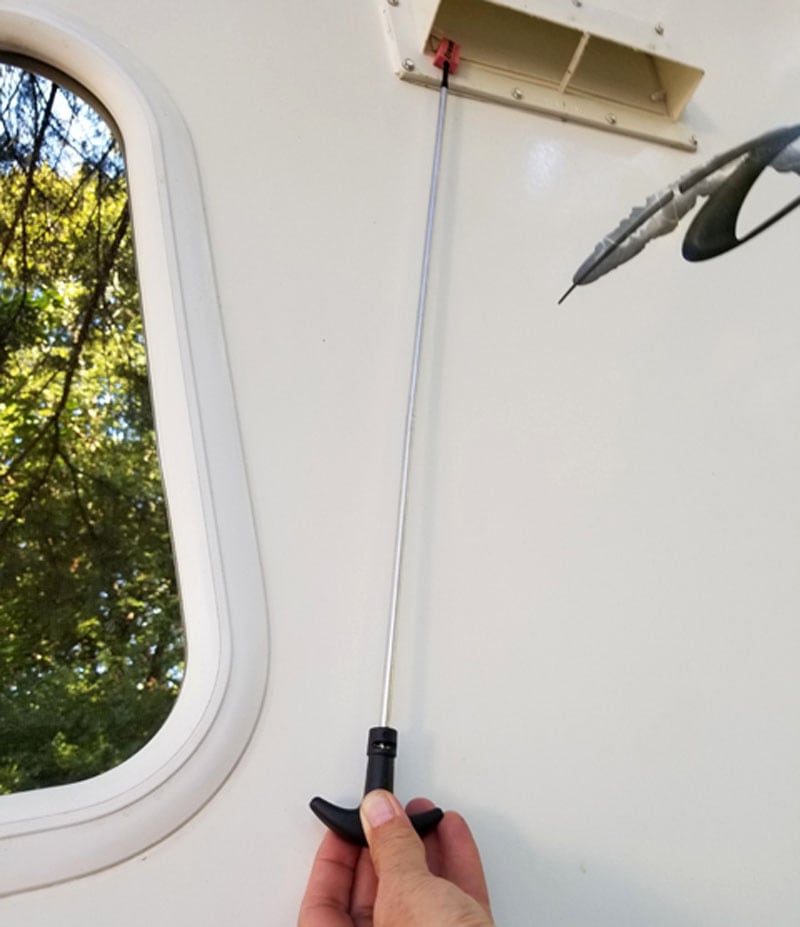 I use a cleaning kit for a gun to clean out the fresh water drain tubing on the camper. I thought it would be ideal for adapting this same tool to open and close the latches on the stove vent cover.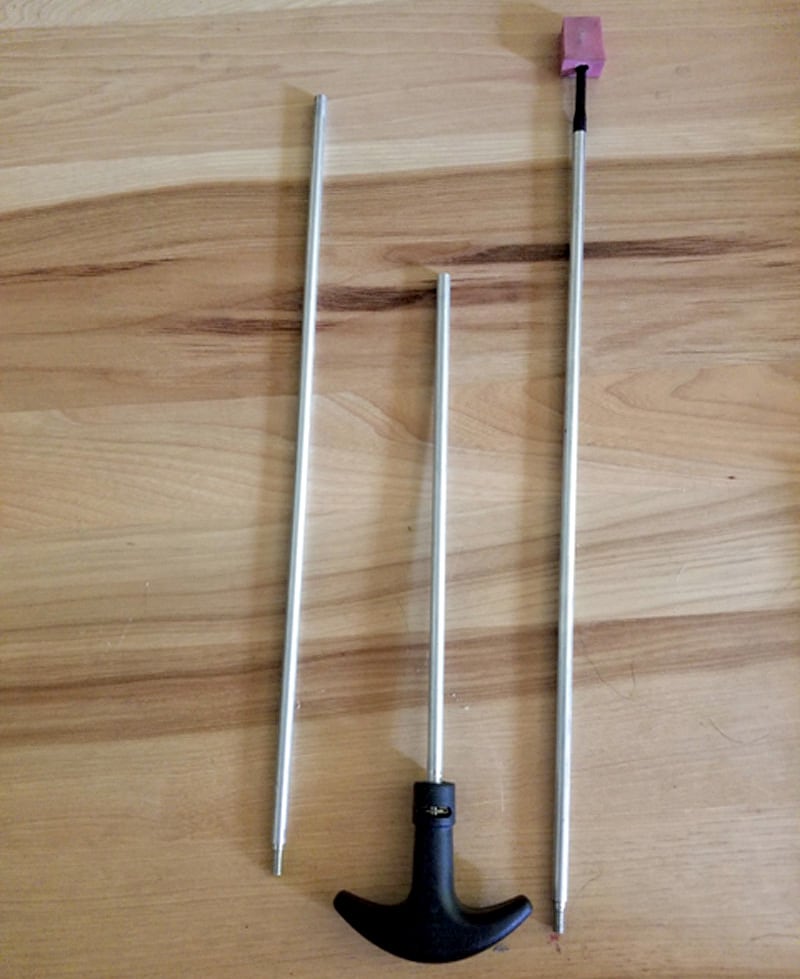 The tool has multiple sections I can use to extend the reach. All I had to do was attach something that would grip the latch. Then I could open and close the latch without pulling out a ladder or step stool. I cut a pencil eraser and adapted it with a pistol cleaning piece.