Ten medium mods give you more including more lounge-able space, more reliable tank sensors, more usable kitchen counter, and more flexible truck cab storage. But wait, there's more mods with more!

Welcome to the eighth 10X10 Mod Tournament.  Please review the following ten medium mods and vote for your favorite.
We will announce the winner next week.  Click here for more information about the 10X10 Mod Tournament, including how to enter.
Click here to vote for your favorite 3 mods from this month's contest.
1. Karen and John Dorman, Strathroy, Ontario
Dinette Table Size Change
2012 Ford F150
2017 Palomino SS-550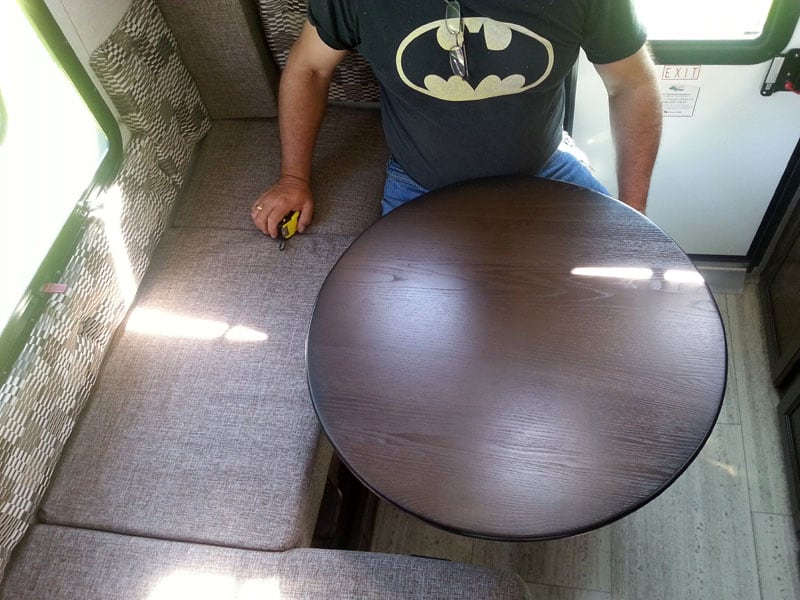 The dinette table that came with the camper was a tight squeeze to sit at. It also stuck out into the kitchen area a bit far and was too low for our liking.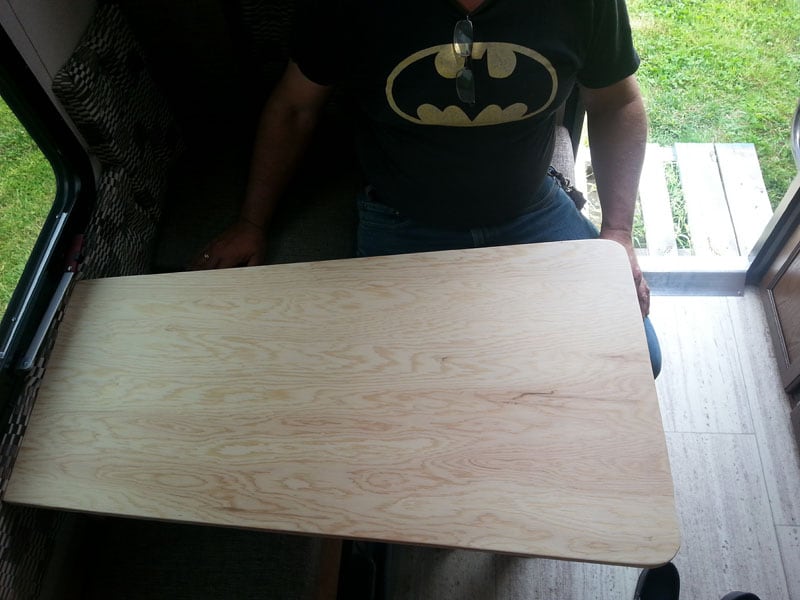 To address these issues, we removed the factory tabletop and replaced it with one that extended to the wall and not into the kitchen.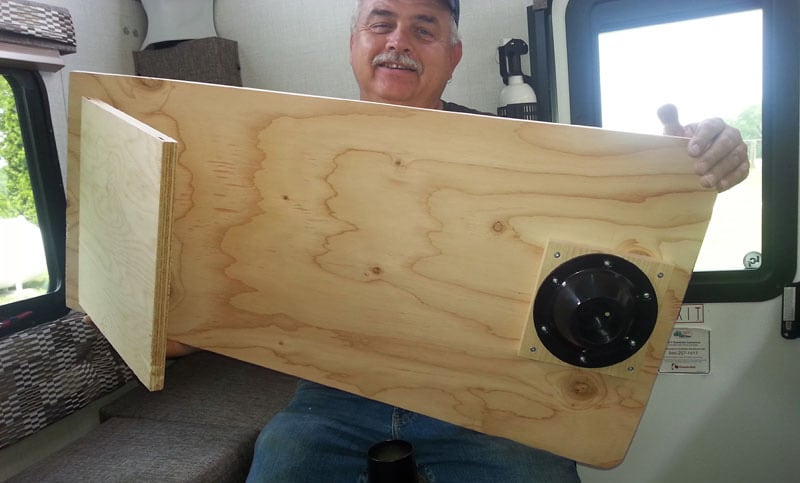 The new table utilized the existing table post and socket-mount attached it to the new tabletop.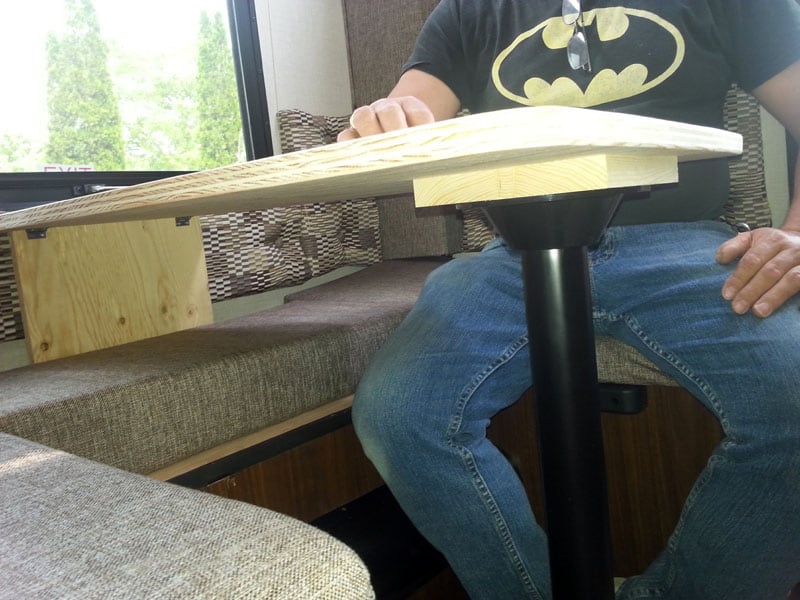 We added a lift to the table to improve the height. We used a plywood board to support the tabletop on the far side. The plywood slides between the cushion and the wall and is hinged to the wood seat.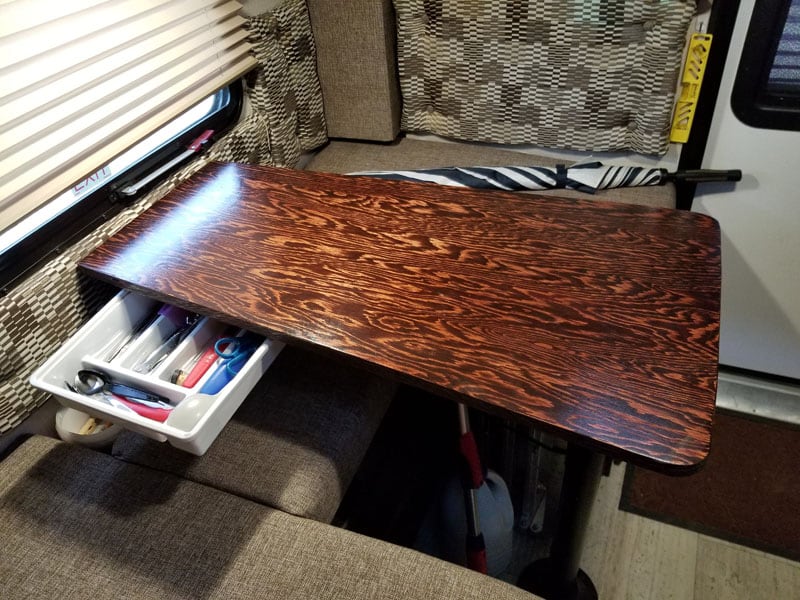 With the new tabletop installed, there's now lots of room to pass by the dinette table and use the kitchen counter area. The new tabletop has the same amount of table surface area as the old tabletop and adds a cutlery drawer.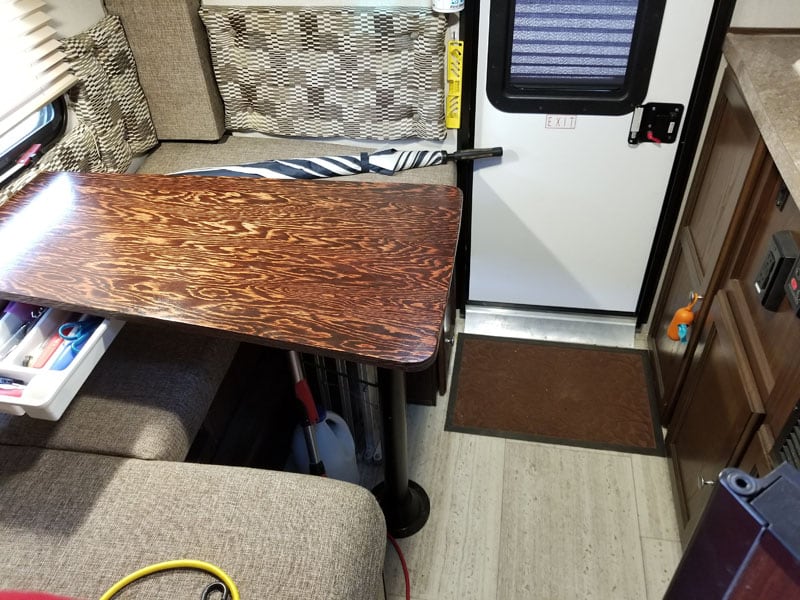 This modification took under two hours, plus the required drying time for stain/urethane. The mod cost me nothing because we had the materials, which would be approximately about $20 to $30 to purchase.  In my opinion, the skill level of this modification is easy if you have the tools and you know how to use them.
2. Ray and Brenda Fair, Hopkinton, Massachusetts
Holding Tank Sensor Upgrade
2018 Silverado 3500
2015 Eagle Cap 850
Our truck camper was plagued with false grey and black tank level readings. The industry commonly uses probes that are just long enough to penetrate the wall of the tanks and sense liquid. When the black and grey tanks invariably accumulate a coating of sludge, the probes present false tank level readings.