Fellow truck campers reveal how they work and make a living from the road. We also share how we discovered the ability to work on the road, starting with another website, and a startling revelation.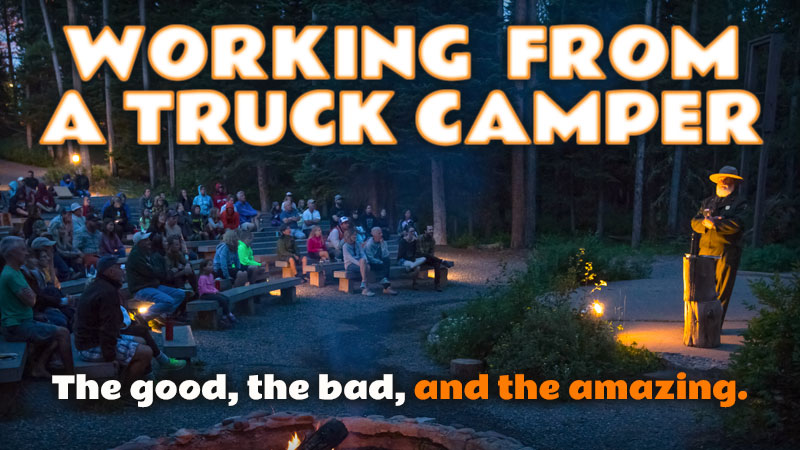 I distinctly remember the first time I learned about the DataStorm satellite internet system. I was reading the fantastic website, Where-RV-Now.com, by legendary truck camping pioneers Sterling and Teresa Udell. In the early-2000s they were traveling in a tricked-out Lance 1121 slide-out truck camper with a Ford F-550 and custom storage bed, publishing their blog and working from the road.
For those of you who haven't heard of Where-RV-Now.com, the site and its creators were true trailblazers. I honestly don't think Truck Camper Magazine would have happened without their powerful inspiration and example.
The second that I learned that there was a way to get internet from anywhere, I had a mind-blowing thought, "We could work from the road." That might not impress folks reading this article a decade-and-a-half later when everyone walks around with a high-speed cellular internet device, but it was revolutionary at the time. Laptops capable of internet access had become ubiquitous, and finally had screens and processors that could handle Photoshop and video editing. Together with WIFI and satellite internet, it was a recipe for transformation. All I needed was a marketplace that needed a magazine…
By today's standards, the DataStorm system was expensive, complicated, and limited. I recall the system cost being close to $5,000 and the monthly data fee about $100. It required a satellite dish with fickle orientation issues and was capped at 425mb per day. Needless to say, you weren't streaming Netflix, but that hadn't been invented yet. The DataStorm system was beyond our means, but the idea was planted.
In mid-2007, Angela and I embarked on our very first cross-country factory tour. We had no way to access the internet other than through open WIFI. With two white MacBooks, we found internet all over the place; from libraries and restaurants to camper manufacturers and dealerships. At that time, the majority of WIFI connections were unlocked. It was not unusual for us to pull into a shopping center or coffee shop after hours and find their WIFI open. As I liked to say at that time, we were WIFI pirates. Arrr!
Thankfully, cellular internet soon followed. We started with a Verizon JetPack with 3G internet. That was unbelievable; relatively fast internet darn near anywhere we could find cell service. The data was limited, but we weren't uploading videos, streaming, or watching a lot of YouTube back then. When we did need a lot of data, we would seek out a WIFI source. Together with the founding of Truck Camper Magazine, the dream of working on the road was fully realized.
As of 2022, we have gone through many iterations of cellular internet access. We have stayed with Verizon but upgraded to a better JetPack, and then switched to using our iPhones as hotspots. Data caps are no longer an issue for the admittedly expensive unlimited plans, and we find cellular internet access practically everywhere. The vision Sterling and Teresa showcased all those years ago is something we essentially take for granted today.
We have published this magazine from all over the United States and Canada as well as a handful of cruise ships in the middle of the ocean and a couple of European countries. Working from anywhere is one of my favorite benefits of running Truck Camper Magazine, second only to the amazing people we've met.
It's hard to recommend working from the road because it's so intertwined with the Gordian knot of one's life. For us, it was the sword that cut to the chase we so desperately wanted. Financial and personal freedom unparalleled. If you're out there Sterling and Teresa, thank you.
Working From A Truck Camper
What follows are the stories of fellow truck campers who also work from the road. Get ready to be inspired by an intoxicating blend of the American Dream, entrepreneurial spirit, and old-fashioned wanderlust.
Bryan Appleby
2008 Ford F-550
2008 Lance 1191
"I had been traveling full-time in my truck camper for more than a decade when I was contacted about an opportunity to return to the National Park Service to work as a Ranger. I had sold my home and jettisoned most of my material possessions to full-time, so I had the freedom to do and go wherever I chose.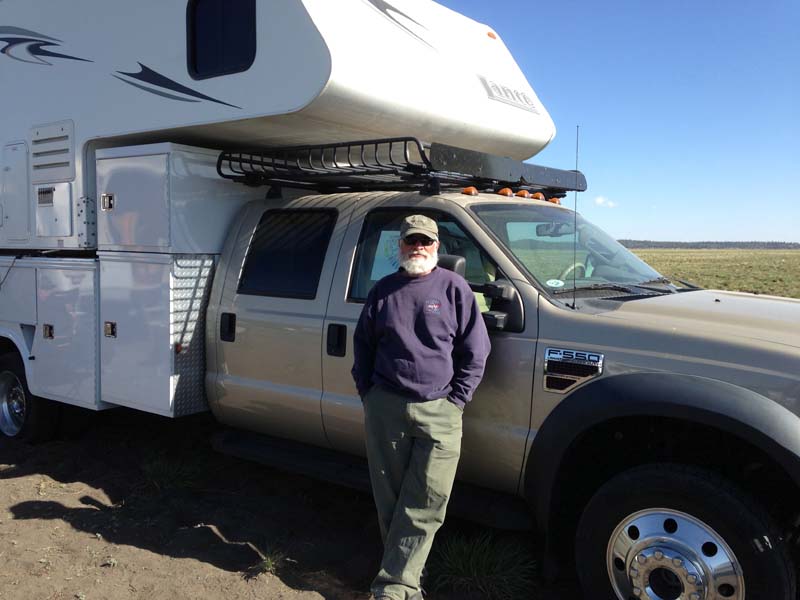 Above: National Park Ranger, Bryan Appleby, with his Ford F-550 and Lance 1191
Working as a Ranger in one of the jewels of the National Park Service was an easy decision. With the increasing summer tourist traffic in many of the places I looked forward to visiting, it was a good time to pause and work for the Park Service.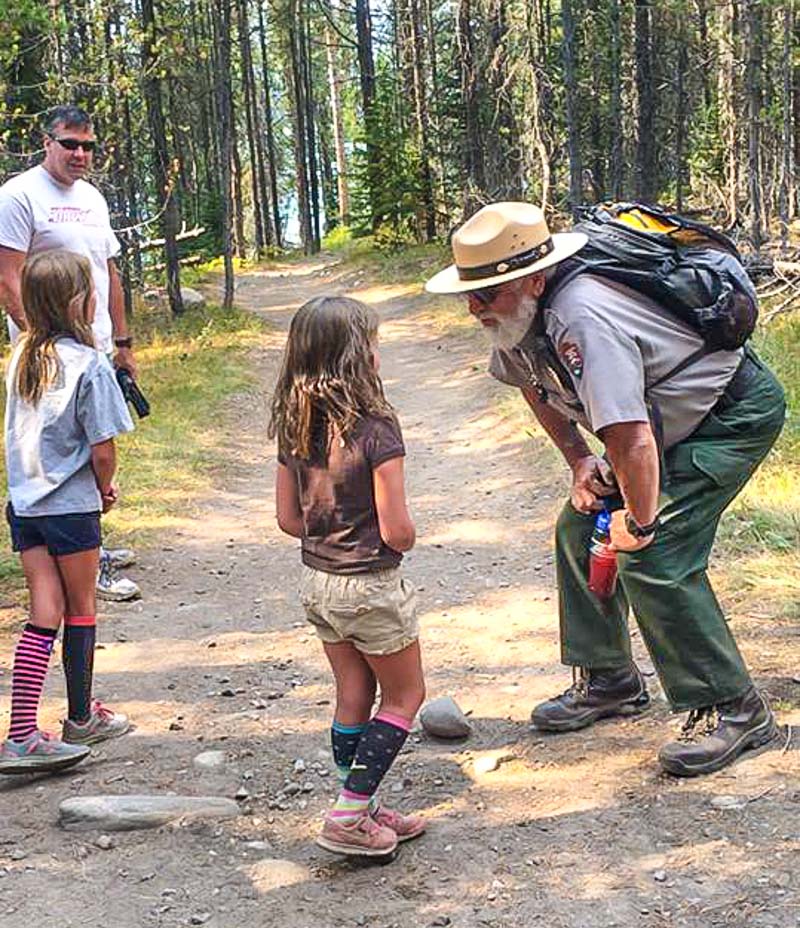 Above: Ranger-led hike to Swan Lake, Grand Teton National Park
A number of years ago I retired from a career in law enforcement. With this retirement, I have a pension that is supplemented by being a professional photographer, writer, and seasonal Park Ranger.
With the advances in cell coverage and WiFi hot spots, the opportunity to work while on the road has endless possibilities. There are also many opportunities for short-term and seasonal work if that is what you are seeking while traveling in a truck camper.
As for becoming a Park Ranger? All you need to do is apply for a position on the government website for hiring individuals.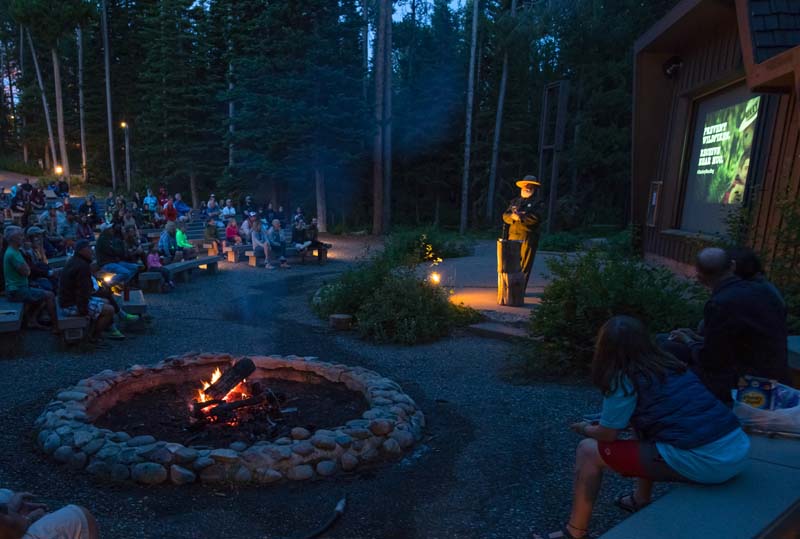 Above: Night of the Grizzly at Grand Teton National Park
During my seasonal work as a Park Ranger, there is a schedule and tasks assigned. In my case, this includes providing educational programs and roving trail patrols to enhance the visitor experience in the National Park where I work. I also do evening campfire programs and kayak tours for the visitors. This requires me to use my truck camper as my primary residence in an employee RV camp.
The benefits for me are purely a willingness to help others to enjoy our National Parks and I get to work in amazing and beautiful locations. I also travel to enjoy adventures and meet up with friends and family, as well as meet up with the new friends I have met during the time I was full-timing.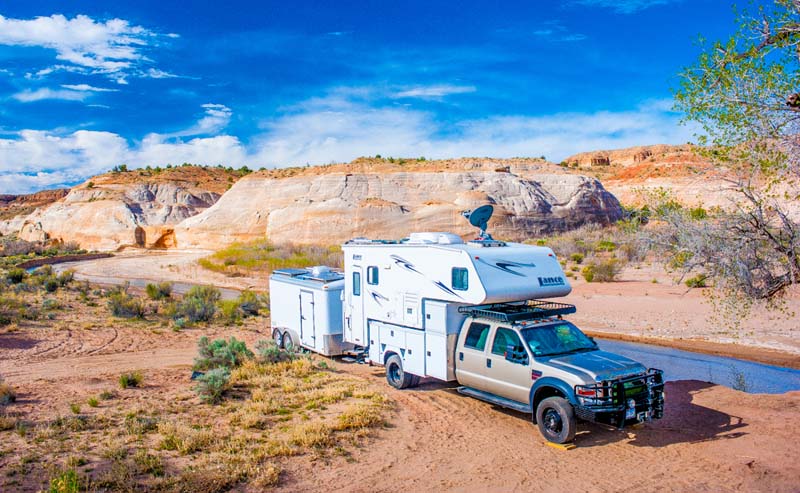 Above: Vermilion Cliffs National Monument, Ford F550 and Lance 1191
I was full-timing for almost 12-years and I enjoyed all the adventures I had. Now that I am not full-time on the road, I travel for shorter adventures and visit family and friends. The remaining time I can be found with my wife, Susie, in our home in Colorado.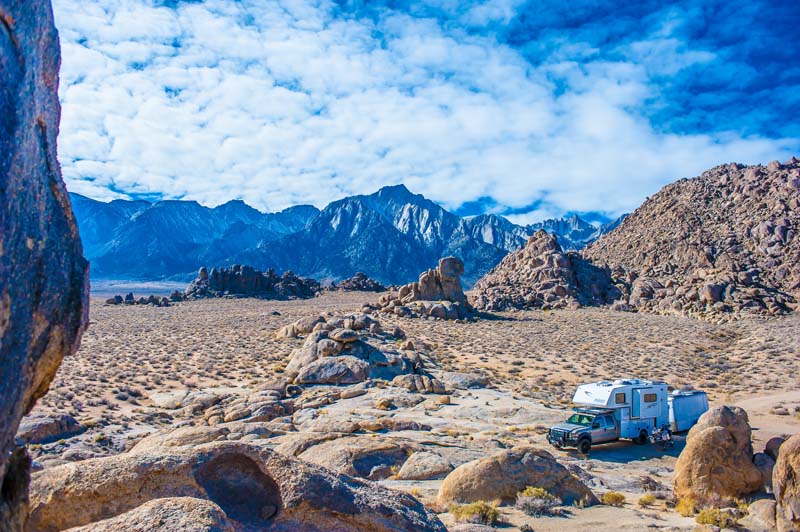 Above: Mt Whitney from the Alabama Hills, California
Definitely consider working from the road. There are many remote locations that are currently available. Each year that goes by, there is more connectivity off-the-grid.
I recommend taking the time to do a trial run with your significant other and your work to see if this is truly what you want to do."
Lincoln Benedict
2017 Ford F-150
2021 Rogue EB-1
"I am not sure if I fully qualify as working from the road since I'm part-time working out of the truck camper the past year. Out of the past few months, I've been on the road for about three weeks total.
The reason for this was my job went largely remote with Covid. I was going absolutely bananas in my living room and found the solution to be a truck camper. It let me work in places where I could indulge my main passions of cross-country skiing and Alpine Touring, both of which are usually two hours from our house. The truck camper has allowed me to ski before and after work and still meet deadlines.
My job is for a larger outdoor retailer in video production and middle management. A lot of the work is process and administrator work. With an internet connection, it is definitely doable. Even editing and filming is certainly possible off a hard drive with a decent laptop and remoting in.
On a recent filming assignment, I was able to do live edits in the camper while my colleague was filming. I still need to physically work on location on certain days, so I can not be fully remote. For full-time, I don't recommend my particular job, but for part-time, I am grateful for the flexibility to escape for smaller chunks of time.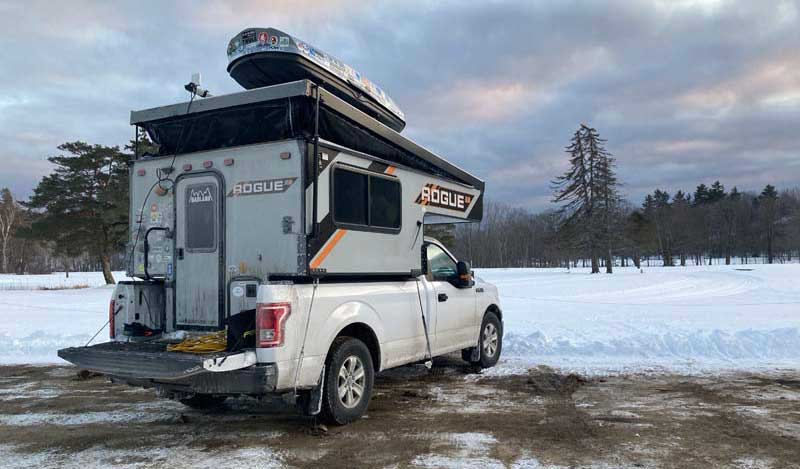 Work for me is generally from 8-5, in the truck camper. Sometimes I will get out for a lunch ski, but usually, it is straight through.
I average a week away from home per month during the winter. I could not do full-time with this camper setup in the winter because the condensation builds up too much.
Our truck camper has also been amazing for our off-time. My wife and I just returned from skiing in the Gaspé in Canada. We were able to boondock for four days with no cell service and had some amazing skiing. What a treat!
We also use the camper frequently for weekend adventures and my wife has taken it on her own for running races and vacations. It is one of the smarter dumb things I've ever done.
Working from a camper doesn't have to be all or nothing. Not everyone can do it. I still like to come home to my house but, at the same time, I am very grateful for the time I've had outdoors.

If you're on a computer, don't just hunt and peck on a laptop. Investing in a large display and keyboard will improve your work life and quality immensely. I am very happy with the way the roof tilts up and how everything easily stows. When I'm on the move, I can just put the roof up and get to work on my laptop.
I've optimized my power with 215-watts of solar and I have changed to a MPPT solar controller. Everything runs off DC except the monitor, which adds efficiency. I do not normally need to plug in to recharge if I have sun."
Edith Horn
2018 Ram 3500
2019 Northern Lite 10-2
"I retired from the Army in 2020. I was on my way to relocate and explore Alaska, British Colombia and the Yukon when Covid hit and the border closed. I arrived in South Dakota in mid-April to apply for domicile through the Escapees RV Club.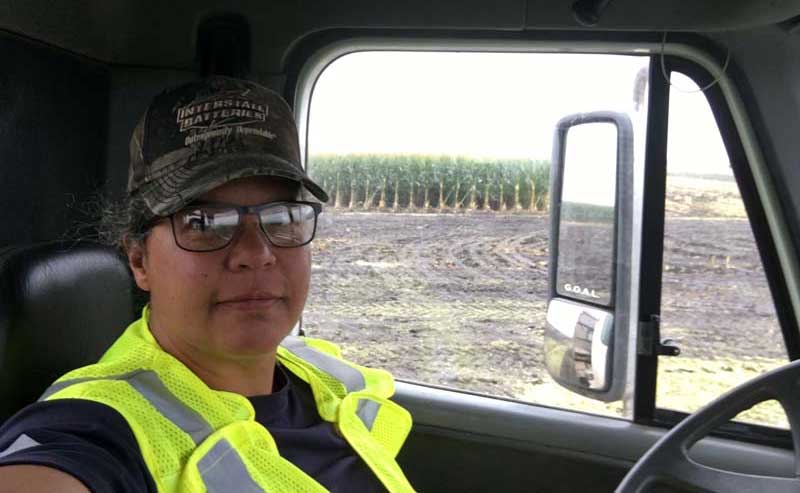 Above: Edith driving a tractor-trailer for Claussen Farm, Benson, Minnesota

As it turned out, the driver's license office was closed down until June 1st, so I found myself having to extend my stay at Heartland RV Park in Hermosa (pictured above). While waiting, Connie, the manager of the campground's Event Center, knocked on my door and asked if I wanted to work. When I learned that working paid for my campsite, I was all in. I worked the breakfast shift, did a little bartending, and worked some evenings for their dinner and music show. So that's how I was introduced to work camping.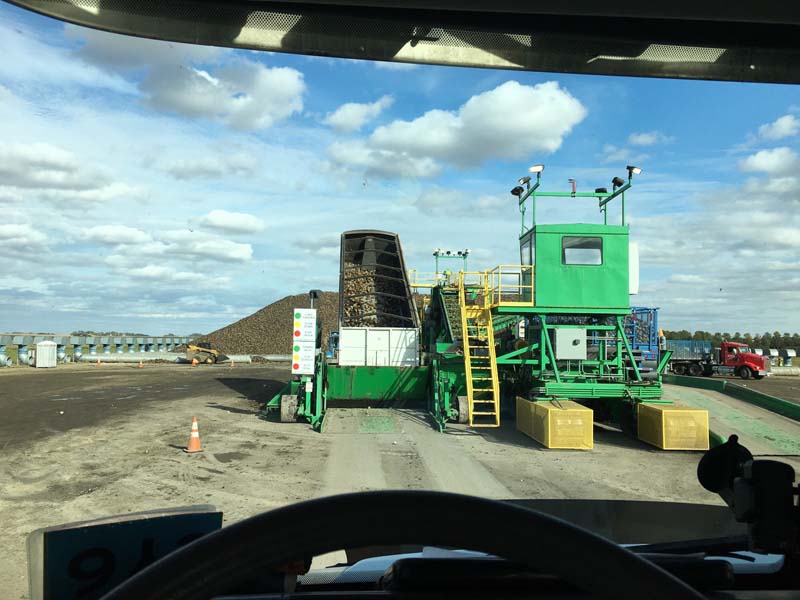 Above: Sugar Beet drop-off location near Benson, Minnesota
After my gig at Heartland RV Park in Hermosa, I tried my hand in the Sugar Beet industry working for a small family farm in Benson, Minnesota called Claussen Farm. They are the best.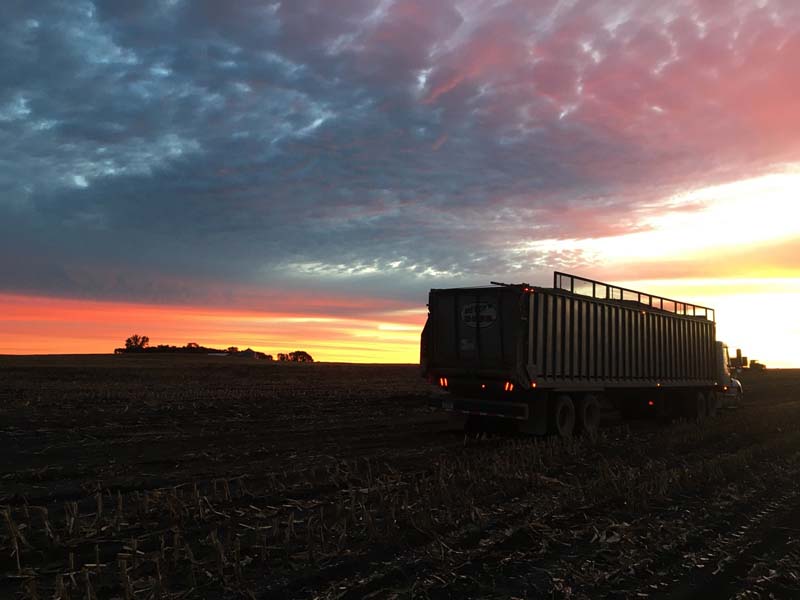 Above: The sugar beet harvest at one of the local farms we were harvesting
I got there during the Corn Silas harvest in August of 2020 and shifted into the sugar beets. I drove the big rigs that hauled the sugar beets. Once the sugar beet harvest was done, Claussen asked me to stay on to help with the corn harvesting and some beans as well.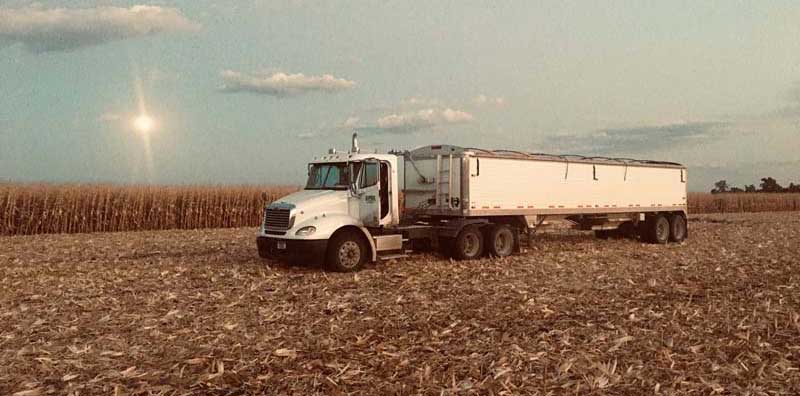 Above: The truck I drove after the sugar beet harvest
A year later I decided to purchase some property for a home base in southwestern South Dakota at an old Army munitions depot in the grasslands. I was hired full-time as the Program Manager overseeing all the construction there. I love the fact that I get to be outside every day, that the area is beautiful, and that it's also a working cattle ranch. The work is fantastic, and historical in a way.
Since I live and work on the property, I do all my computer work in my camper overseeing the hiring of work campers and projects that are ongoing. Some days I may be all day in the camper, but most days I head out around 8:30am to check on the crews, drive around and inspect projects, and make the long runs to Rapid City for building materials and supplies. I have recently been trained to operate the skids steer and the large CAT excavator for digging holes for septic tanks. I am typically done around 4:30pm and return back to my camper to enjoy the amazing sunsets here.
I wasn't looking for a full-time job, as I had gone back to being happily retired, but the contractor who also lives here on the property learned of my experience in an Army Engineering Company and my supervisory skills. He hired me on the spot.
I'm currently building a log cabin inside my bunker. As inflation has been driving up costs everywhere on just about everything, the extra cash came in handy for acquiring the large ticket items such as my solar system and lumber. The best benefit is that I work right here on the property I live, so there is no daily commute. This is helpful with the current and rising prices on diesel these days. My mini schnauzer, Jacque, can come along with me on some days.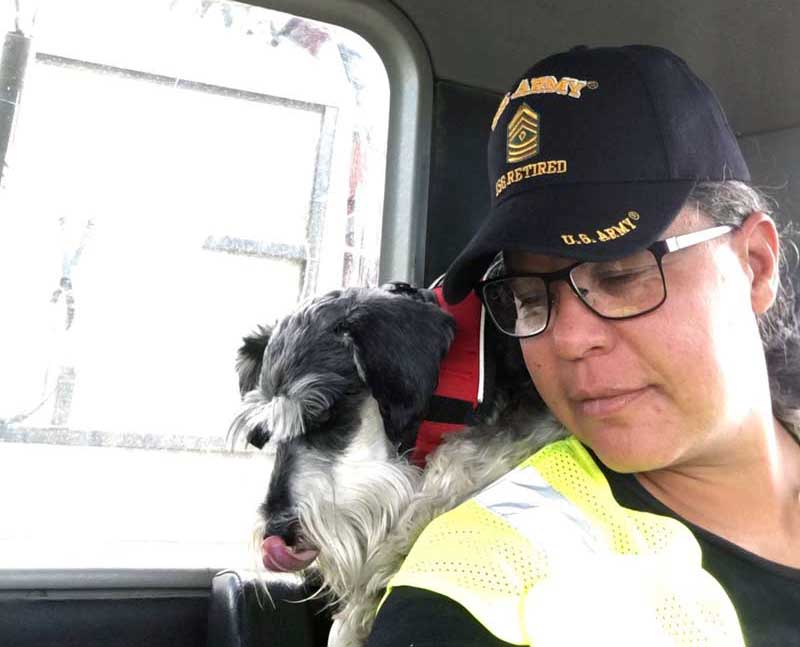 My camper has been off-loaded and sitting for the winter. Having weekends off and being so close to the Black Hills, the Tetons and Yellowstone, I'll be loading the camper back up for the get aways. I also have another big trip planned for September to return to North Carolina. When the winds aren't blowing out here in the Buffalo Gap National Grassland region, and being in a dark sky area, I sit outdoors and watch the amazing sunsets and wait for the best show in town; the starry night skies through my telescope.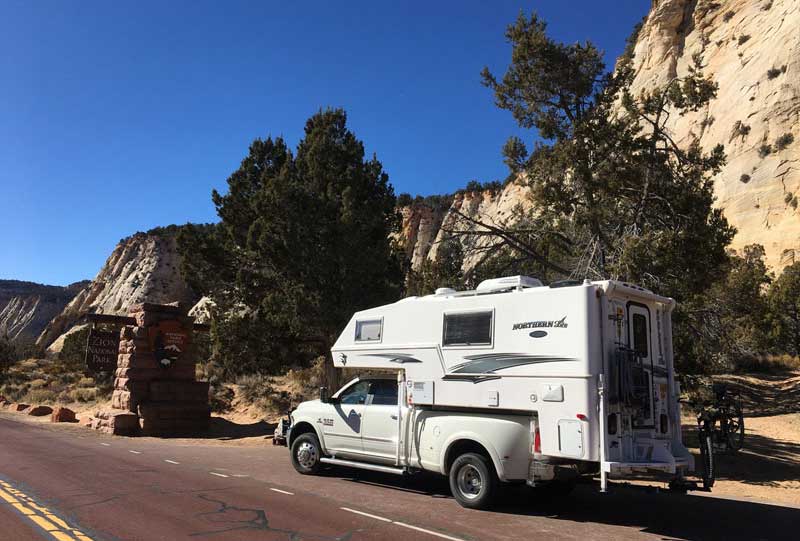 Above: Zion National Park, Utah
I have lived full-time in my camper since I purchased it from Truck Camper Warehouse in 2019, and have been on the road since 2020 until I landed this full-time position. So at least for now, I'm back to part-time travels. I'm considering taking the winter months off, venturing south, returning in April and working through October for the prime construction season here, but I haven't decided yet. The folks here are just amazing. I work with the people who live here in my community and we all help each other. So most likely, I'll be a part-time adventurer.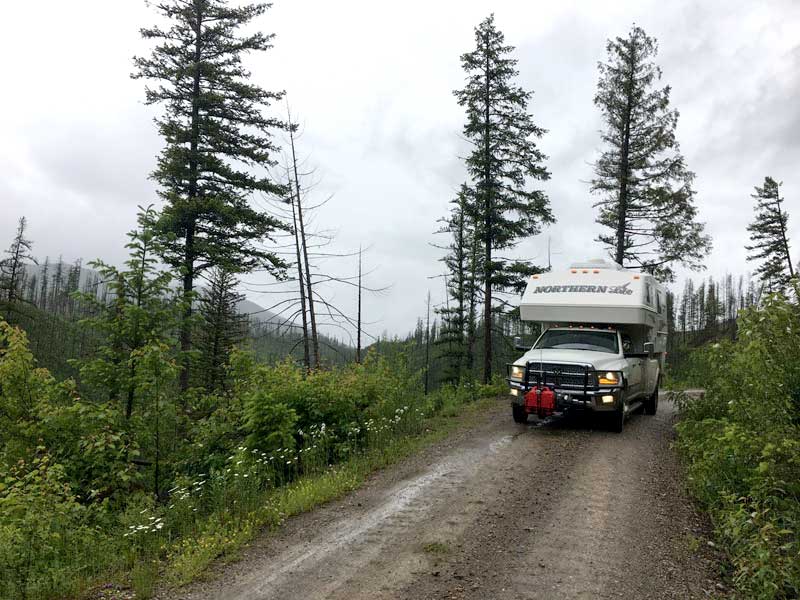 Above: Dirt roads in Glacier National Park, Montana
I love traveling and being in my camper. There are so many unique jobs out there. Some of them can push you beyond your comfort limits, and that's a good thing. I wasn't looking for work. It found me because I was traveling.
I love my work for now. I could make this into another career, but I'm not sure if that's what I want right now as thoroughly was enjoying my retirement.

I recommend that you get out and see what's there. Work camping is fun and exciting. The best thing, other than meeting amazing people, is that you can drive away for new locations."
Joe Gotreaux
1999 Ford F-350
1995 Bigfoot 10.6
"Our truck camper is an important tool for our weekend business that's away from our permanent shop. We print event shirts out of concession trailers at car shows, biker rallies, youth sporting tournaments, etc.
Before we were mobile, car clubs putting on car shows would buy a bunch of shirts to sell at their events. One club had to eat most of the cost of their shirts because of a rain-out the weekend of their event. Back in 1994, we put together a plan on how to bring our equipment to events to print only what was needed.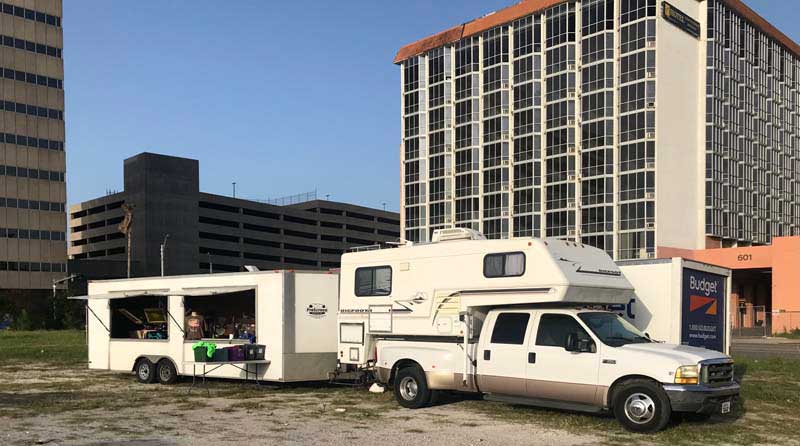 Above: Reguladores LEMC Nationals Rally in Corpus Christi, Texas
After several concession trailers and truck campers, we now have a couple of great rigs to produce shirts on-site at various types of events. The concession trailer is the working side and the truck camper is basically our hotel room. Inside are all our personal items plus more that would have to be carried up to a hotel room, unpacked, repacked and carried back down when we are ready to check out; favorite foods, beverages, pillows, movies, coffee, even our favorite toilet paper. It is truly our home away from home. I'll never stay in another hotel room again!
I went to art school in the early 1980s. That is when I was exposed to screen printing textiles. I started my printing business ProScreen in 1989. Immediately car clubs liked my illustrative designs and hand drawn cars. Most of the hand drawing methods went away with the modern computer, but I still occasionally get requests for old school car artwork.
Our weekend event business produces event shirts on location to print only the number of shirts needed. Organizers only pay for what is produced and there are no costly leftovers that spoil the organizers donation to various charities. It's a win-win for everyone! We produce shirts, meet tons of great folks, and help organizers make a profit so they can be very generous to their charities.
When my wife and I work at a weekend event, we stay in the concession trailer all day. At the end of the day we are tired and only want to cool down, clean up and eat a good meal. Our truck camper is like a hotel room, but better. Our truck camper is always with us at any event, so we simply take a few steps and we are in our room.
We don't have to leave our trailer alone and drive to a hotel room. We simply jump in the truck camper that is parked next to the concession trailer or still hooked up to our concession trailer. Sometimes we bring food to cook, or order delivery or drive to a restaurant because a truck camper can still park in an ordinary parking space, unlike a big RV. Nothing beats the truck camper.
Many of our weekend event organizers give us electrical hookups for the truck camper so we don't have to use a generator. Some of our friends we've made along the trail have offered us safe places to park and hook up at their home if we're in their area. We help them, and they help us, and we've made life long friends this way.
Occasionally, we park at a truck stop alongside 18-wheelers or behind a hotel or at Cracker Barrel to relax for a while if the drive is long. We scope out spots carefully for safety and take notes for possible future spots to stay at. Being just over 53-feet long, our truck camper concession trailer rig can't just go or park anywhere.
Our busy seasons are spring and fall. We go to events almost every weekend during this time. Winter and summer are just too cold or too hot to have outdoor events so those are the times we get to have to ourselves.
Honestly, we use the truck campers more for working weekends than personal pleasure weekends. We do get away a few times a year to camp and relax, especially at the beach or in secluded wilderness areas. We do visit some tourist spots too, but always end up in a quiet area for the evening.
Working and living on the road is not for everybody. I recommend to do a little soul searching before hitting the trail to know if it is right for you. Truck campers have made our weekend event part of our business much more comfortable for us. We are only steps away from our truck camper home when we are away from home working on the weekends."
John Johnson
2000 Ford F-250
1992 Fleetwood Caribou
"Oddly, I live in my camper more than I travel in it. I can't explain why, but I just prefer it to a large house. I've always worked from home, even before Covid, and I've gone through many desks, chairs, and home office combinations. None of them were as nice as my camper. I live in my camper full-time now.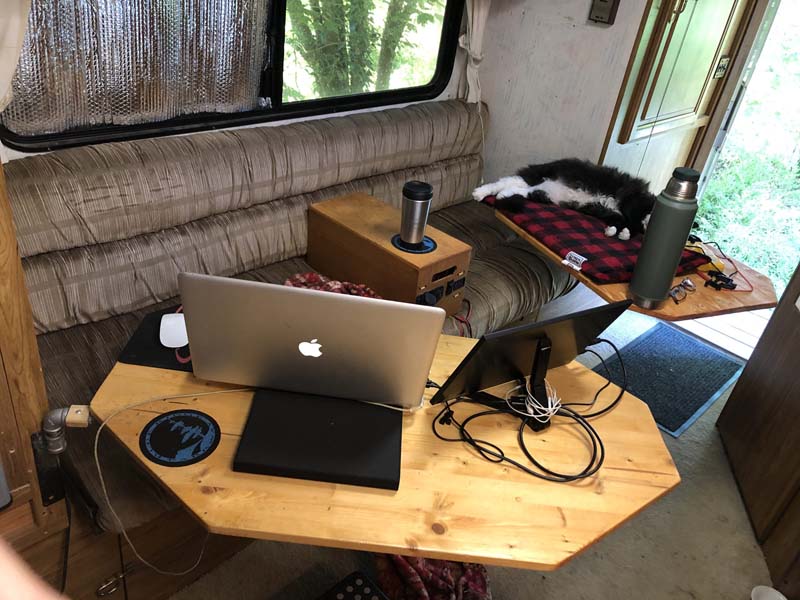 Above: Working from my backyard  complete with orchard, creek, and full hookup.
I'm a web developer for a major university, so having good internet is crucial. As soon as cell data became a thing, I stopped even trying to use campground or motel WiFi options. In my experience, maybe 1 in 100 work. I don't know how many times I've gone to the office to find out why it wasn't working, only to find myself configuring a router for free so I could actually get some work done.
Now that 4G is so widely available, it's almost a none issue. I don't even have 5G, and with a weak two-bar signal and my cell phone hotspot, I can not only work, but do video conferencing as well.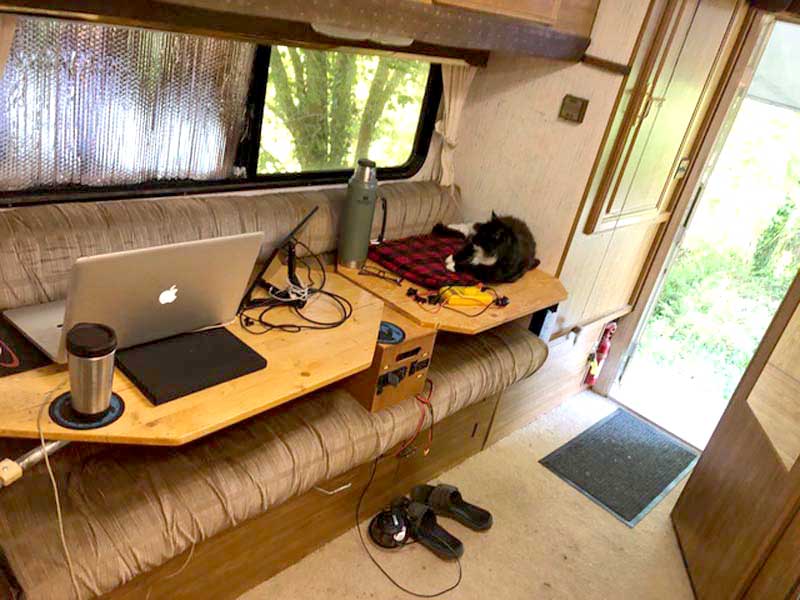 I work in the camper all day. After work, I have several hobbies that keep me busy. All require a desk area or computer.
I like to work in different places. It doesn't matter if it's my own backyard, in the middle of a forest, or in a Lowe's parking lot. Now that there are portable clothes washers, cordless tools, and solar, all of the pieces are there.
Twice yearly I go to on a 4×4 trip with a bunch of other old farts. Sometimes I work during those trips, but not full-time. I also go to the beaches and mountains in North Carolina.
I definitely recommend working from the road to others. One shocker for me was how much power my laptop and external monitor consume. My air conditioner runs fifteen minutes to cool things down, but the laptop sucks 3 to 8-amps down all day long. It adds up. I have a separate DIY power bank (about 175Ah) that just runs my office. I charge it from the main batteries when I have excess solar.
So, my advice? If you're going to boondock, and you work on a computer all day, you need lots of solar and lithium batteries."