Mark: That's right, we don't use propane.  We have two 125 watt solar panels for a total of 250 watts of solar on the roof.  I also have two AGM batteries.  I run the refrigerator on twelve volt.  We never boondock.  We go to full-service campgrounds all the time.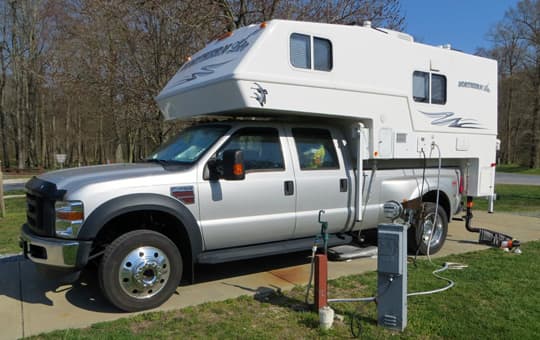 Above: Doris and Mark enjoy using full hook-up service at campgrounds and therefore don't need propane in their camper.
TCM: How do you heat the camper, and cook without propane?
Mark: We use an electric hot water heater, a portable heater, a hot plate, and Doris uses a toaster oven/convection oven for baking.  She has even roasted a chicken in the convection oven.
By not using propane, we can use the exterior propane compartment for storage.  I use it for a barbecue and charcoal.  We cook outside quite often.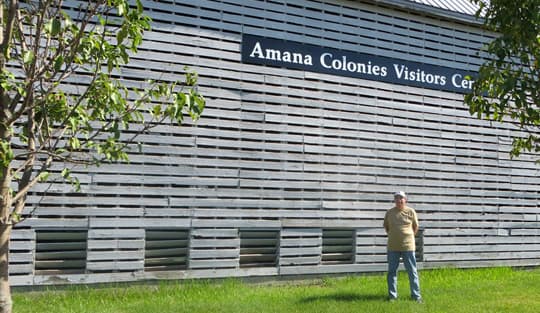 Above: Visiting the Amana Colonies during the 2013 Mid-West Truck Camper Rally
TCM: You've been to the North East Truck Camping Jamborees, the Mid-Atlantic Truck Camper Rally, and the Mid-West Truck Camper Rally.  You guys must really like the rallies.
Mark: We love the rallies.  We find we have a lot in common with fellow truck campers.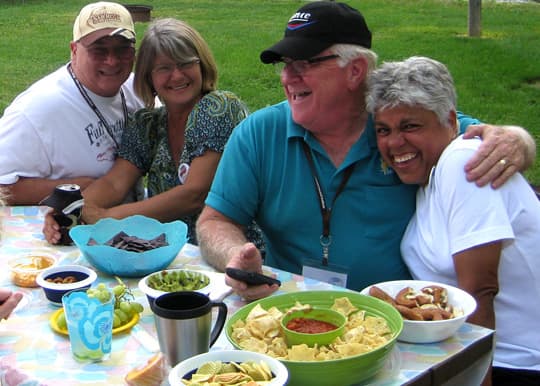 Above: Doris hangs out with friends at the Gettysburg North-East Jamboree.
TCM: Is there anything else that you'd like to add to your interview?
Mark: We live in our Northern Lite truck camper five months a year.  We're in it every day and it holds up great.  There have been no problems with it.
We've met a lot of great people through truck camping and look forward to meeting new friends down the road.
Truck: 2013 Ford F-550, crew cab, long bed, dually, 4×4, diesel
Camper: 2012 Northern Lite 10-2RR dry bath
Tie-downs/Turnbuckles: Torklift Fastguns
Suspension: N/A
Gear: Twin alternators, dual fuel tanks for a total of 68 gallons, and a Dish Tailgator portable satellite dish