Doris and Mark Bluth live in their 2012 Northern Lite 10-2 RR Dry Bath five months a year work camping and exploring various government owned parks and campgrounds.  And they do it all propane free.

When most folks think about retirement, the first thing comes to mind is not working anymore.  While the idea of not working appeals to many, some choose to retire and continue working in new ways, and on their own terms.
Take Doris and Mark Bluth for example.  They have discovered that they can volunteer work camp for the Army Corp of Engineers, National Parks, National Forests, and BLM lands and get free full-hook up sites in some of America's most beautiful locations.  Yes, there is actual work involved, but they find that trade off both rewarding and worth while.
For many this idea may present a new window of opportunity.  Work camping not only allows you to be out in nature enjoying your truck camper, but it makes the experience low to no cost.  Some work camping jobs even pay a small stipend in addition to offering a free full hook-up camp site.  Others offer fuel and other benefits.  Who knows, you may just find yourself dreaming of a work camping retirement.  The Bluth's story has certainly has opened our eyes to new possibilities.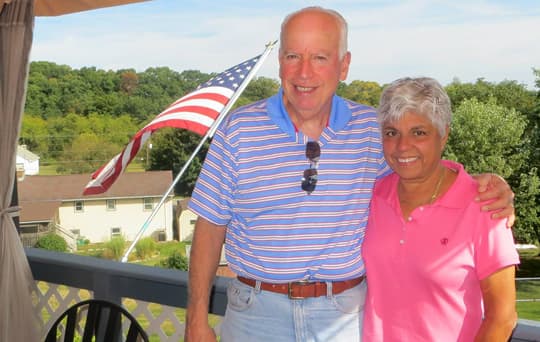 Above: Mark and Doris Bluth in Carlisle, Pennsylvania.
TCM: How did you get into truck camping?
Mark: Doris and I sold, rented, serviced, and repaired RVs for twenty-five years here in New Jersey.  We sold Fleetwood, Forest River, and Coleman brands.  Our dealership even had a luncheonette and a diesel fuel station.  Most of our customers were fishermen and hunters.
When it was time to think about our own RV, we wanted versatility and didn't want to tow anything.  Our first truck camper was a Northstar Igloo.  We had that camper for a couple of years, but Doris decided she would prefer a dry bath.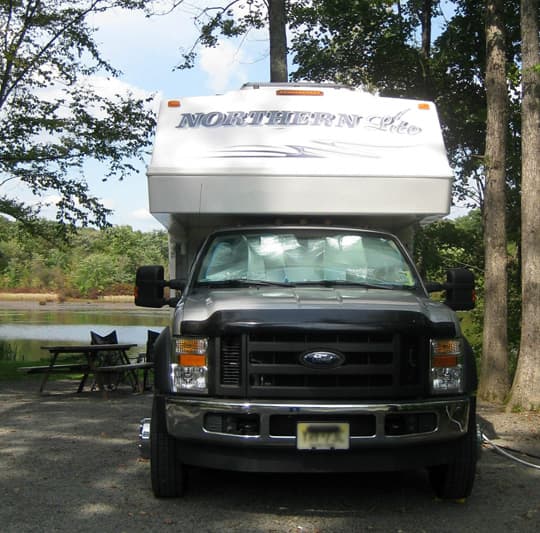 Above: Doris and Mark's Northern Lite 10-2 RR dry bath in the Poconos, Pennsylvania.
TCM: Is that when you looked into the Northern Lite 10-2 RR dry bath?
Mark: Yes.  As soon as Northern Lite announced the dry bath model, we decided to get it.  We really like Northern Lite's two-piece fiberglass shell construction.  There's nothing to delaminate.  In my opinion, Northern Lites are the the best truck campers made.
Above: Doris and Mark had a Ford F-450 before getting their F-550.  Here they are camping with their F-450 at Point Lookout State Park in Scotland, Maryland.
TCM: You also bought a Ford F-550 for the Northern Lite rig.  That's a lot of truck for a Northern Lite.
Mark: I like having a wide margin of safety.  The Ford F-550 has a GVWR of 18,000 pounds.  The truck only weighs about 8,800 pounds meaning we have approximately 9,000 pounds of payload capacity.  There's nothing wrong with overkill.
Above: The Bluth's Ford F-550 and storage body.  Click to enlarge photos.
TCM: Why did you choose to get a service body?