Doris and Mark Bluth live in their 2012 Northern Lite 10-2 RR Dry Bath five months a year work camping and exploring various government owned parks and campgrounds.  And they do it all propane free.

When most folks think about retirement, the first thing comes to mind is not working anymore.  While the idea of not working appeals to many, some choose to retire and continue working in new ways, and on their own terms.
Take Doris and Mark Bluth for example.  They have discovered that they can volunteer work camp for the Army Corp of Engineers, National Parks, National Forests, and BLM lands and get free full-hook up sites in some of America's most beautiful locations.  Yes, there is actual work involved, but they find that trade off both rewarding and worth while.
For many this idea may present a new window of opportunity.  Work camping not only allows you to be out in nature enjoying your truck camper, but it makes the experience low to no cost.  Some work camping jobs even pay a small stipend in addition to offering a free full hook-up camp site.  Others offer fuel and other benefits.  Who knows, you may just find yourself dreaming of a work camping retirement.  The Bluth's story has certainly has opened our eyes to new possibilities.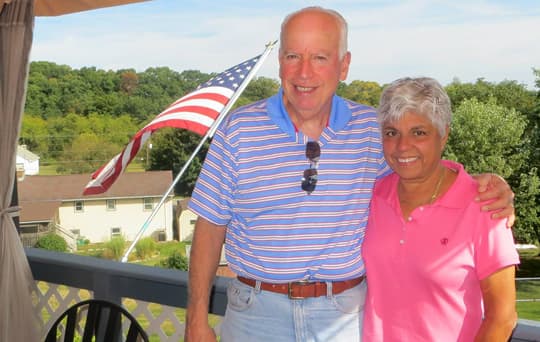 Above: Mark and Doris Bluth in Carlisle, Pennsylvania.
TCM: How did you get into truck camping?
Mark: Doris and I sold, rented, serviced, and repaired RVs for twenty-five years here in New Jersey.  We sold Fleetwood, Forest River, and Coleman brands.  Our dealership even had a luncheonette and a diesel fuel station.  Most of our customers were fishermen and hunters.
When it was time to think about our own RV, we wanted versatility and didn't want to tow anything.  Our first truck camper was a Northstar Igloo.  We had that camper for a couple of years, but Doris decided she would prefer a dry bath.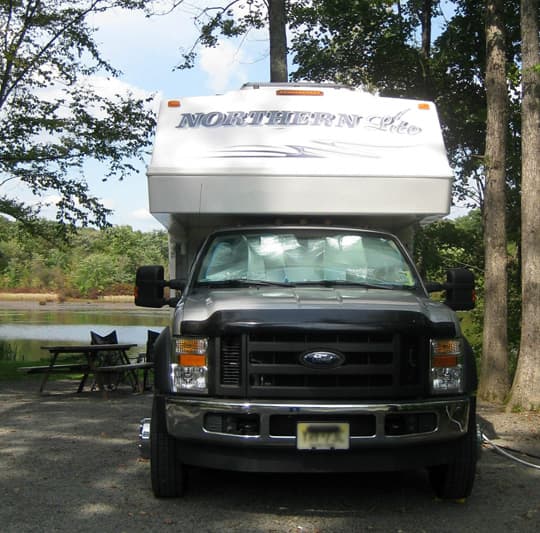 Above: Doris and Mark's Northern Lite 10-2 RR dry bath in the Poconos, Pennsylvania.
TCM: Is that when you looked into the Northern Lite 10-2 RR dry bath?
Mark: Yes.  As soon as Northern Lite announced the dry bath model, we decided to get it.  We really like Northern Lite's two-piece fiberglass shell construction.  There's nothing to delaminate.  In my opinion, Northern Lites are the the best truck campers made.
Above: Doris and Mark had a Ford F-450 before getting their F-550.  Here they are camping with their F-450 at Point Lookout State Park in Scotland, Maryland.
TCM: You also bought a Ford F-550 for the Northern Lite rig.  That's a lot of truck for a Northern Lite.
Mark: I like having a wide margin of safety.  The Ford F-550 has a GVWR of 18,000 pounds.  The truck only weighs about 8,800 pounds meaning we have approximately 9,000 pounds of payload capacity.  There's nothing wrong with overkill.
Above: The Bluth's Ford F-550 and storage body.  Click to enlarge photos.
TCM: Why did you choose to get a service body?
Mark: Doris and I are working in a remote area of Idaho this summer.  We will literally be seventy-five to eighty miles from shopping.  The rangers told us the volunteers usually go shopping only once a month.
The service body provides a lot more exterior storage so we can stock up for extended periods.  Fortunately, the place where we're going does provide a storage shed, refrigerator, and freezer.  With the Northern Lite 10-2 dry bath and Ford F-550, we'll be in good shape.
The Ford F-550 was only about $800 more than an identically specified F-450.  The custom service body was $12,000, but I got $1,000 off for the up-fit.  Instead of getting a Lariot, I got an XL.  With the extra money from not getting the Lariot, I got the storage body.  It works for us.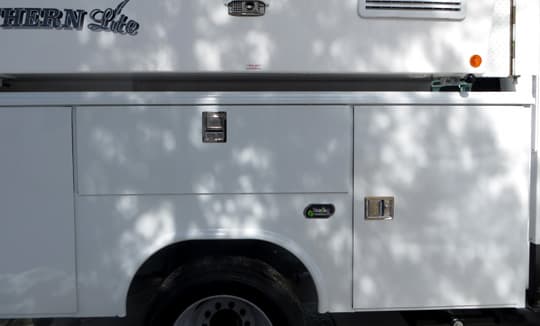 Above: The center of gravy sticker is forward of the rear axle by a couple inches.  The truck cab is to the right.
TCM: How did you get $1,000 off the storage bed?
Mark: My Ford dealer had the truck drop shipped directly to Auto Port in New Castle, Delaware.  A sales representative actually came to our house and measured the Northern Lite.  They had to make the service body lower and narrower because of the shape of the camper.  They also needed to make sure the wings of the camper would fit the service body.
The Reading storage body is nine feet long.  The base of the camper is eight feet long.  They had to build a bulk head one foot off the front of the truck so the camper would rest against the bulk head.  Since the wheel base on a Ford F-550 is one-foot longer than a standard pickup truck, the center of gravity remained two inches forward of the rear axle.  They did a great job of telling us exactly what they were going to do before they built the service bed.
I got the discount because my Ford dealer had the truck drop shipped to Auto Port.  That allowed us to get a $1,000 up-fit rebate from Ford.  If I had only bought the cab and chassis, I would not of received the rebate.
TCM: How much does the service body weigh?
Mark: Reading said it weighs about 800 pounds.  It's made from diamond plate aluminum.
Above: Auto Port carefully measured the camper to make sure the storage body would fit right on the truck.  Click to enlarge photos.
TCM: How did the service body affect loading and unloading the camper?
Mark: It's a slow process to load the camper on the truck.  They left a quarter of an inch on each side, so it is a tight squeeze.
The combination of the Ford F-550 and the service bed also makes the camper very high.  The bed of the service body is seven inches higher than a standard pickup.  When loaded, my rig is 12' 5" tall.  Living on the East Coast this means I need to be especially careful about overpasses and railroad tunnels.
They make GPS units that you can enter in the height of the RV and it will tell you where you can go.  I'm eventually going to get one of those.
Above: The Bluth's custom made tie-downs and Torklift Fastgun turnbuckles.  Click to enlarge photos.
TCM: What tie-downs and turnbuckles are you using?
Mark: Auto Port had to fabricate four tie-downs for my Torklift Fastguns to attach to.  I couldn't use the regular Torklfit tie-downs because the service body would be in the way.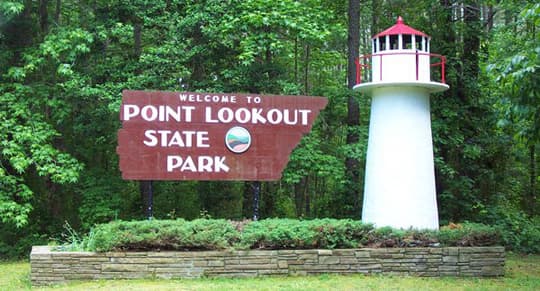 Above: Their first work camping site was Point Lookout State Park, Maryland.
TCM: Tell us about work camping.
Mark: This will be our third year work camping.  Our first year we worked for the Maryland Department of Natural Resources at Point Lookout State Park in Scotland, Maryland.  Last year we were at an Army Corp of Engineers park in Pella, Iowa.  This year we're at a Outflow Camp in Confluence, Pennsylvania.  We are going to be campground hosts.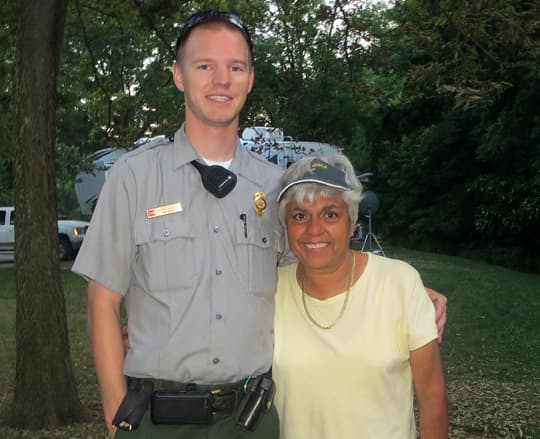 Above: Doris and Ranger Brian, Lake Red Rock, Pella, Iowa.
TCM: How did you get into work camping?
Mark: The government has a website, volunteer.gov, for volunteer positions at Army Corp of Engineers parks, National Parks, National Forests, and BLM lands.  You apply online.  They have a list of around 1,500 to 1,600 jobs.
All of the jobs are listed by state.  You simply click on the state you want to work in.  For each job there is a job description and hours listed.  Some jobs pay a daily stipend.  Others pay for propane or fuel.
We decided to volunteer our time and camp for nothing.  Most of the jobs include a full hook-up site, which we prefer.  They tell you the services they provide before you sign up.  You can apply for as many or few as you like and they usually respond within ten days.  They'll call you back and ask if you're available and interested.
TCM: What's the work schedule like?
Mark: This year we will be working thirty hours a week.  We make our own hours and have to work on the weekends.  The location we're at this year has river rafting in nearby Ohiopile and its also near Summerset, Pennsylvania.
Whenever we go somewhere, I make reservations in advance.  We try to be as organized as possible.  I also look for Passport America and Good Sam campgrounds because I get discounts.  I even applied for the Pilot Flying J fuel card because I get fuel discounts.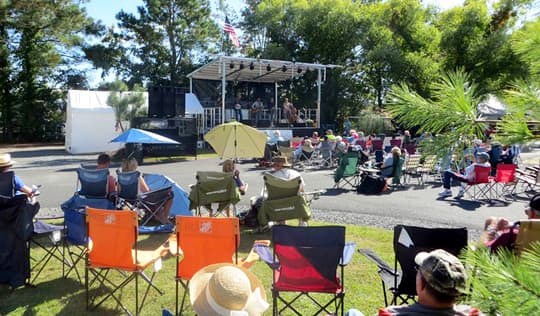 Above: Enjoying the Bluegrass By The Bay Festival in Ocean City, Maryland.
TCM: Beyond your work camping trip this summer, what else do you enjoy going while out truck camping?
Mark: We both enjoy Bluegrass festivals.  Each September we go to one in Ocean City, Maryland.  This will be our third year going.
We also like Fort Whaley Campground in Maryland.  They open from March through Memorial day.  The campsites are nice and they have an enclosed activity room.  They even run a bus to the Ocean City boardwalk from the campground.  We had our forty-fifth anniversary there.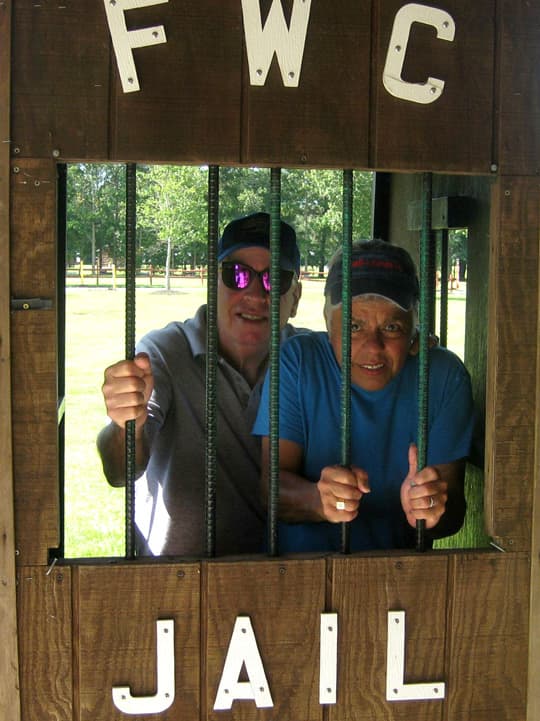 Above: Doris and Mark wound up in jail at Fort Whaley Campground on their 45th Anniversary.
TCM: Congratulations on the anniversary.  Am I right that you guys don't have propane in your truck camper?
Mark: That's right, we don't use propane.  We have two 125 watt solar panels for a total of 250 watts of solar on the roof.  I also have two AGM batteries.  I run the refrigerator on twelve volt.  We never boondock.  We go to full-service campgrounds all the time.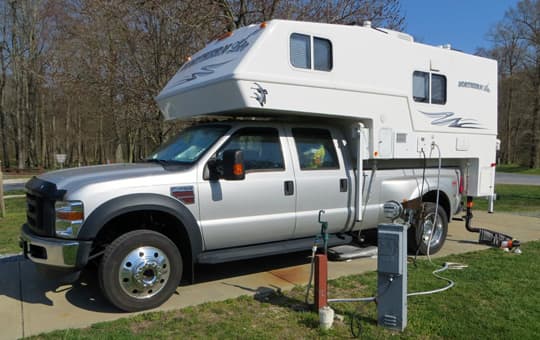 Above: Doris and Mark enjoy using full hook-up service at campgrounds and therefore don't need propane in their camper.
TCM: How do you heat the camper, and cook without propane?
Mark: We use an electric hot water heater, a portable heater, a hot plate, and Doris uses a toaster oven/convection oven for baking.  She has even roasted a chicken in the convection oven.
By not using propane, we can use the exterior propane compartment for storage.  I use it for a barbecue and charcoal.  We cook outside quite often.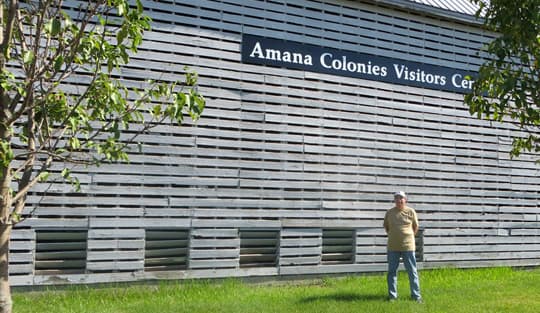 Above: Visiting the Amana Colonies during the 2013 Mid-West Truck Camper Rally
TCM: You've been to the North East Truck Camping Jamborees, the Mid-Atlantic Truck Camper Rally, and the Mid-West Truck Camper Rally.  You guys must really like the rallies.
Mark: We love the rallies.  We find we have a lot in common with fellow truck campers.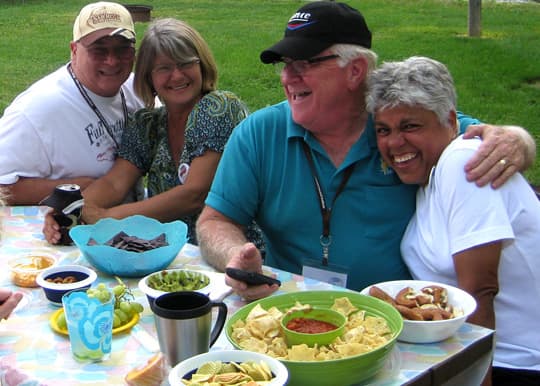 Above: Doris hangs out with friends at the Gettysburg North-East Jamboree.
TCM: Is there anything else that you'd like to add to your interview?
Mark: We live in our Northern Lite truck camper five months a year.  We're in it every day and it holds up great.  There have been no problems with it.
We've met a lot of great people through truck camping and look forward to meeting new friends down the road.
Truck: 2013 Ford F-550, crew cab, long bed, dually, 4×4, diesel
Camper: 2012 Northern Lite 10-2RR dry bath
Tie-downs/Turnbuckles: Torklift Fastguns
Suspension: N/A
Gear: Twin alternators, dual fuel tanks for a total of 68 gallons, and a Dish Tailgator portable satellite dish