Imagine waking up at 4:30am in your camper on a snowy mountain top in mid-February. Your mission is to trigger avalanches by skiing cross slopes, kicking overhangs, and deploying explosives. Wake up, sleepy head. It's time to have a blast!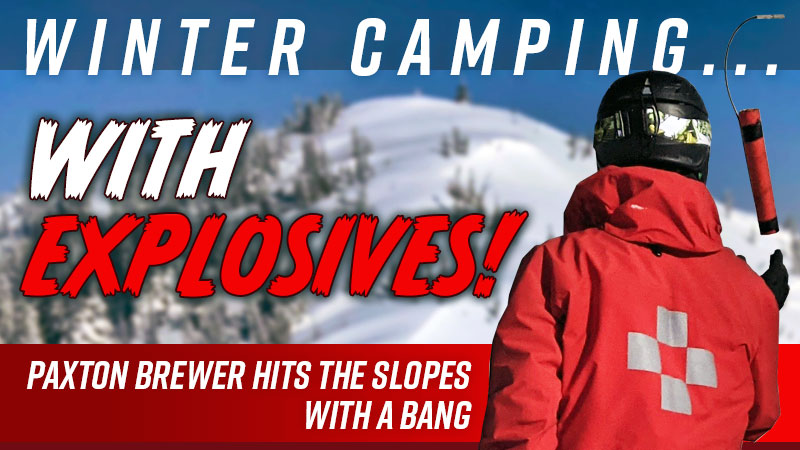 Waking up pre-dawn to ski cut, cornice kick, and deploy explosives in hopes of triggering a dangerous avalanche isn't exactly everyone's idea of fun, but Paxton Brewer loves it.
Living full-time all winter on a snowy mountain also isn't exactly everyone's idea of fun, but Paxton Brewer loves it. In fact, the more we learn about Paxton Brewer the more we realize this guy is living his best life on his own terms; work, play, and freedom.
Of course being a Ski Patroller, working avalanche mitigation, and living in a truck camper through a cold and dark winter on a mountain isn't all fun and games. Paxton has undergone rigorous training, and learned – sometimes the hard way – how to keep his camper safe and warm.
For his article, Paxton shares his story and reveals important techniques and product tips to make cold-weather truck camping as comfortable and easy as possible. Paxton may be living on a mountain all winter in a Capri Camper, but he's having a blast (literally), and staying snug as a bug in his camper home. And during his free time, he can ski to his heart's content. Well played, Paxton. Well played.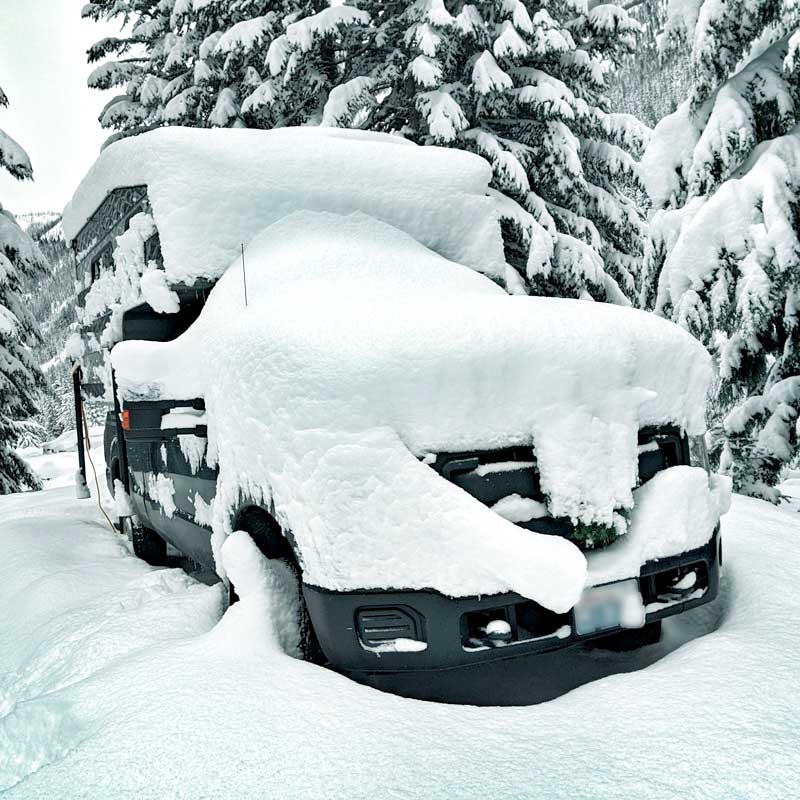 Winter Camping With Explosives
by Paxton Brewer
I'm a Professional Ski Patroller. I get up at 0430 to do avalanche mitigation work. The goal of avalanche mitigation is to start avalanches in a predictable, controlled manner so that they don't start spontaneously.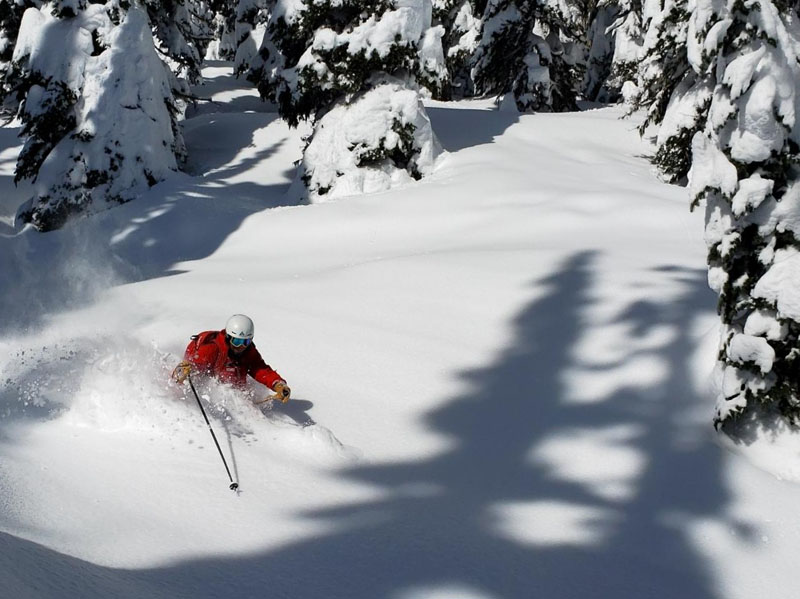 Before we open the ski resort to the public, our forecast team has made an assessment of the snow conditions and hazards. Based on this information, patrol teams head out to known avalanche paths to try and start avalanches. The avalanche paths are often in the dark during that time of year.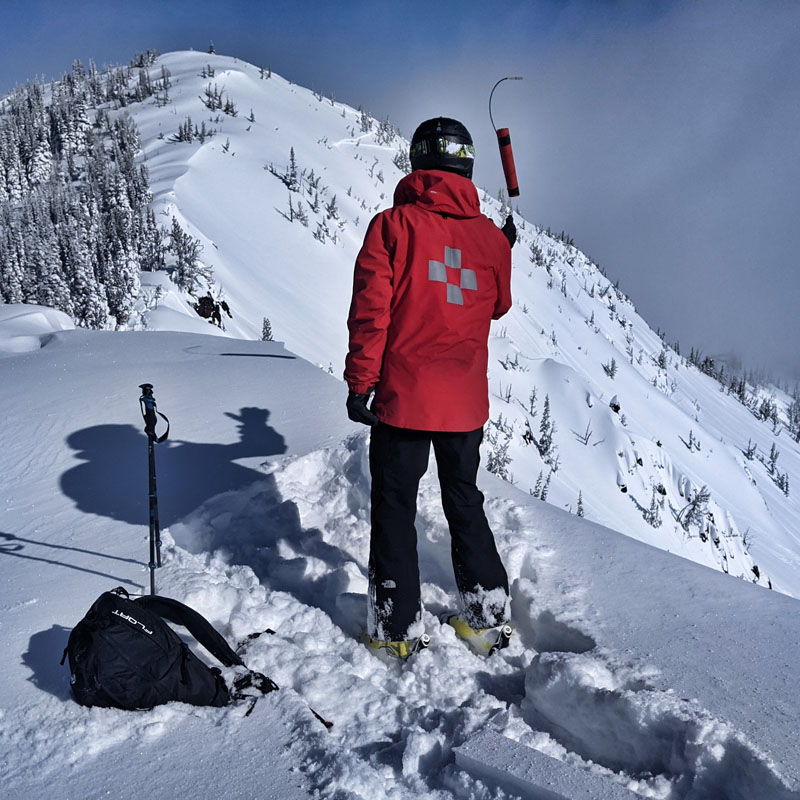 Avalanche mitigation is accomplished by ski cutting (skiing cross-slope), cornice kicking (kicking at overhangs of wind-blown snow until they release), and hand-deployed explosives. It's dangerous work, but it is very fun and rewarding.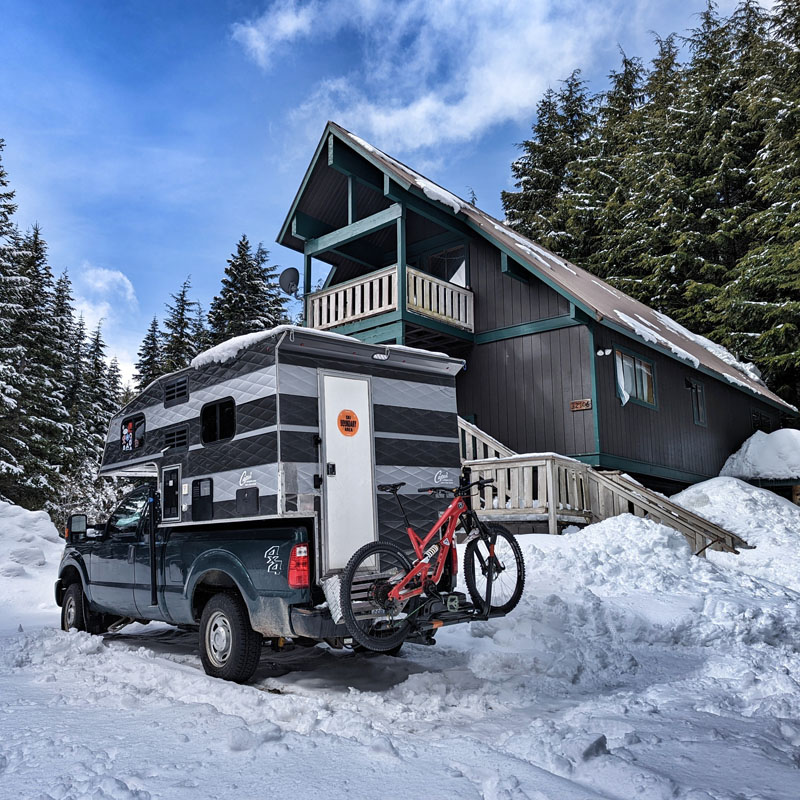 In the winter, I live in my Capri camper full-time at the ski resort. My rig is parked in the driveway of the Ski Patrol house. At my site, I have electricity, water, and an indoor bathroom. It's often so cold that the outdoor water tap is frozen.
Having electricity lets me keep a small oil heater running 24/7. I feel safe leaving it on when I'm gone, and it puts out dry heat. Of course, it only works when the camper is plugged in.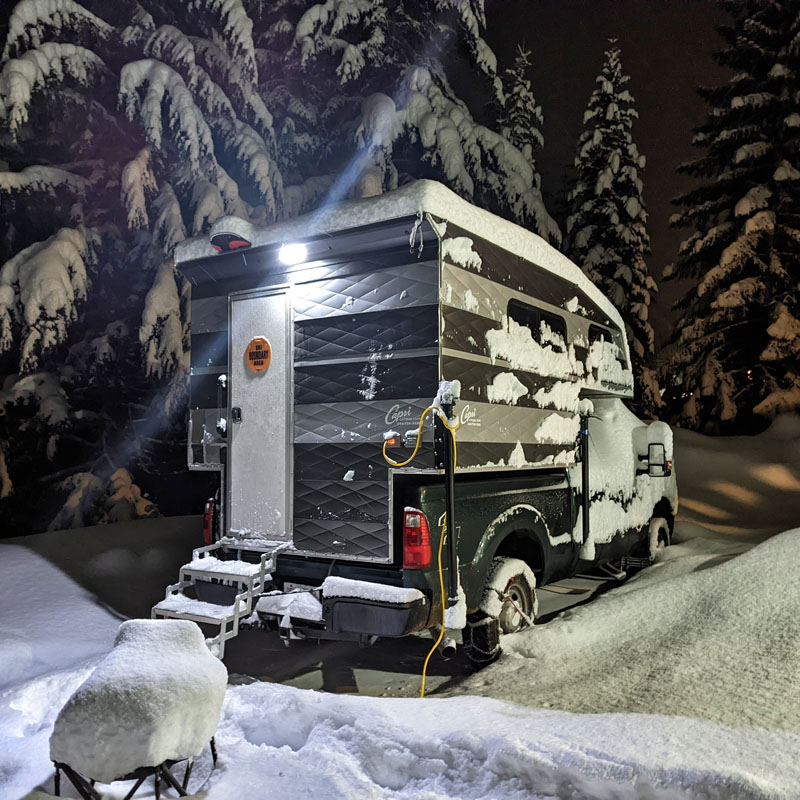 The indoor bathroom keeps me from having to shower in my camper. Condensation is a big issue in cold weather, and showering turns my camper into a wet sauna.
My camper doesn't have holding tanks. I don't have a head, but I have drain hoses for grey water. I'm always sure to use plant-based, biodegradable soaps.
The coldest temperature I've ever camped in was about -20 degrees Fahrenheit (-4 degrees Celsius). I was in the mountains near Mt. Rainier in Washington State during a cold snap. My drain hoses froze. The hose coming out of my fresh water tank froze. Thankfully, the hoses are flexible plastic, so nothing broke.
I learned a lot from that experience. Any hoses that go outside are now insulated with pipe insulation, which works great. I also have a marine bilge heater in the compartment that holds my water tank. This keeps it warm enough to not freeze and doesn't pull a lot of current.
On ski trips, I've also camped in the interior wilderness of British Columbia. I have a powerful indoor furnace, but it's propane and spews out moisture. Moisture is the constant enemy of truck camping in the winter.
I bought a breathable mattress pad which helps keep my mattress dry. I use an under-mattress air-flow platform to prevent my mattress from getting soaked with condensation. It's a HyPUR-Flo Moisture Protection by TOCHTA, but there are many brands of under-mattress air-flow platforms out there. The HyPUR-Flo was a bit pricey for what it is, but it works great.
I run the ceiling fan to pull moisture out several times a day. It gets a lot of use to keep condensation down. I was going to get a dehumidifier, but they pull far too much current to be practical. DampRid moisture absorbers work fairly well as a supplement to the other measures.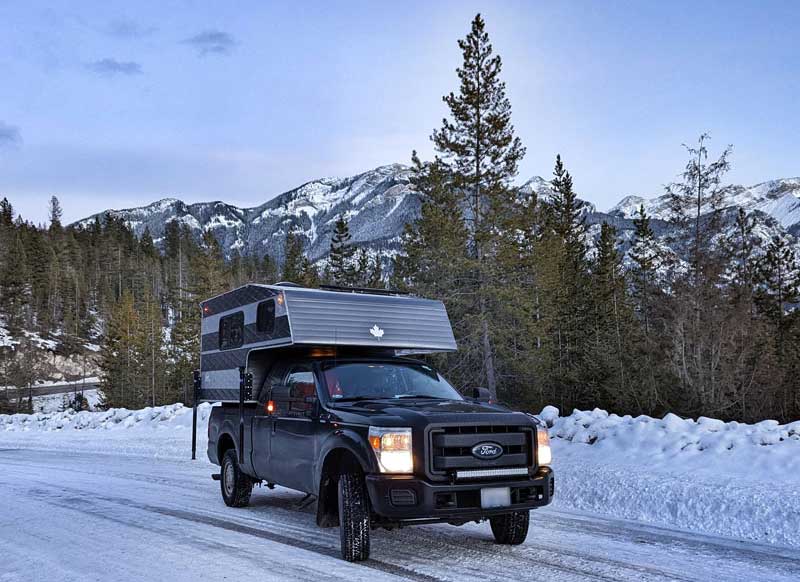 I drive a big four-wheel drive truck with good snow tires and chains. And I always have a shovel.
I don't need a lot of comfort, but I value the ones I have. I have a good, memory foam queen-size mattress. I insulated the windows with thick foam sheets. My heater keeps things warm and cozy, even in the coldest weather. And I manage to make very tasty meals on my two-burner stove. I drink a lot of herbal tea, read, and listen to music and podcasts on my portable Bluetooth speaker. A goal this year is to learn to play the ukulele. My home life is simple.
Like anything else, redundant systems are important. If your heat source goes out, do you have enough blankets and insulation to stay warm? If your water lines freeze, do you have a backup source of water? If your propane tank empties out, do you have a backup?
One important tip is to have blankets; a lot of blankets. Another important tip is to not let the snow pile up on your roof. And always carry a shovel and chains when driving in snow.
In the summer, I travel all over the United States and Canada guiding bicycle trips and mountain bike tours. We have routes and itineraries for our trips. I get paid to help people have a good time on bikes in amazing places while also keeping them safe and comfortable. The medical training I have from patrol (ski patrollers are trained to EMT standards at the minimum) transfers well to my summer gig.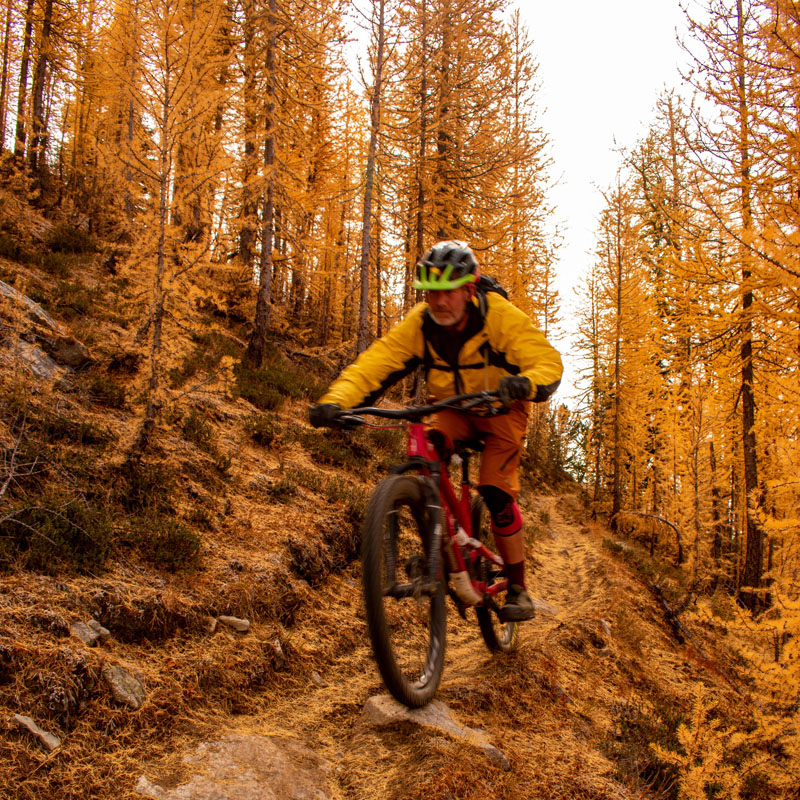 When I'm guiding during the summer, I'm not always in my camper. I often have to travel to far-flung places including The Black Hills, Banff, Jasper and the Bitterroot Mountains. In my downtime, I'm often truck camping out in the mountains exploring and riding my bike.
My 2012 Ford F-250 and 2018 Capri Retreat is pretty sweet. It's affordable on a Ski Patroller's meager wages, and it lets me live at the ski hill, which is an enormous advantage for me. My setup wasn't cheap, but I figure I'm still saving money by not paying rent. And I'm living on my terms, which appeals to me. I live in my camper for freedom and affordability, and I love it.