In the mid-1960s and early 1970s, truck campers were featured in truck commercials aired coast-to-coast.  Take a step back in time and marvel at these adorable and sometimes daring ads.  Teaser: prepare yourself for gunshots, roll-overs and new-found perspectives.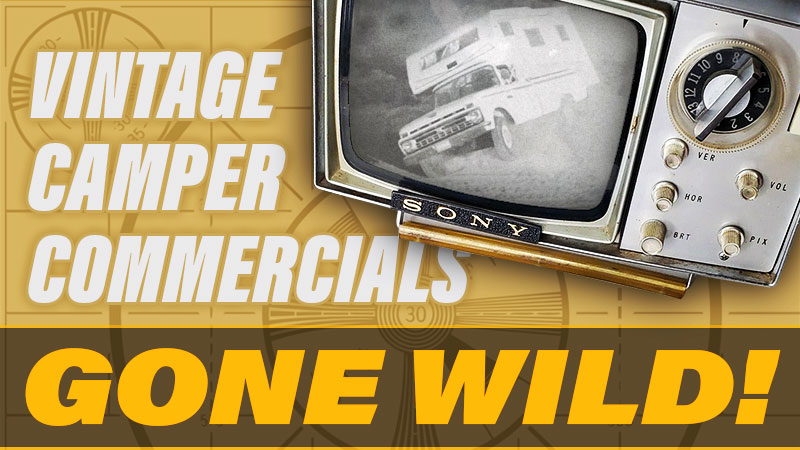 Over half a century ago, truck campers almost ruled the RV roost.  Travel trailers and motorhomes were available, but paled in comparison to the popularity of truck campers.
In light of this popularity, it's no surprise that the big-three truck makers not only made camper-focused versions of their trucks, but also used truck campers in their television commercials.  What we didn't know is these commercials are enjoying a second life online.
A few weeks ago we received an email from a long-time Truck Camper Magazine reader, Kevin Pinassi.  Kevin sent us links to four incredible truck commercials dating back to 1965.  When we watched these spots, we went absolutely nuts.  They're so much fun that we just had to share them with you.  Thank you, Kevin, for sending the ads our way.
1967 GMC Camper Cruiser Pickup Commercial
This commercial is almost too precious. I love the awkward glances and nods dad makes to signal his adoring wife and kids. And his quick dive to catch his running son off-camera is just perfect. Nice work, pops!
The message of this campy commercial still hits home today:
"This year has been a very good year for us. This is the year we finally bought our ski lodge… and our weekend home in the country… and our beach cottage… and our hunting-fishing retreat."
Many of us feel this way about our campers today. Ski lodge? Got it! Weekend getaway? Got it! Beach house? Got it! Hunting and fishing retreat? Got it!
Another interesting perspective is shared in the ensuing voiceover:
"For less than the price of a station wagon, you can get a GMC pickup specially equipped to carry your camper."
Station wagons are few and far between in 2020 having been long-replaced by SUVs. The more popular SUVs have entry points around $25,000; Honda CR-V ($25,150), Toyota RAV4 ($25,950), Ford Escape ($24,865), Chevrolet Equinox ($23,800).
The truck the commercial appears to be a 1967 GMC C2500. For an apples-to-apples comparison, I looked up the 2020 GMC Sierra 2500 regular cab and found the lowest prices hovering at $33,000. Maybe entry-level trucks aren't price competitive with SUVs, but the idea of using a truck as a daily driver and also using for camping still resonates.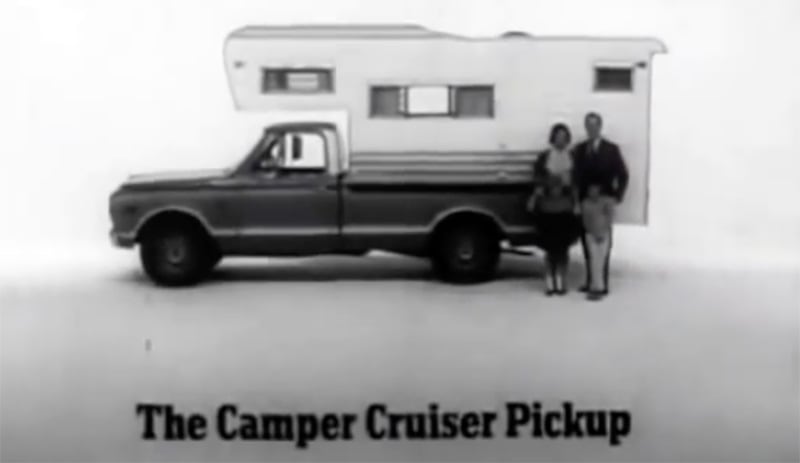 Some of you probably noticed the single cab truck and asked yourself, "Where do the kids ride?" Well, in 1967, the kids would ride in the camper. This is a definite safety no-no in 2020, and illegal in many states, but riding in the camper was common practice 53 years ago. They even had radio systems to communicate between occupants in the truck and the rug-rats in the camper.
And the top 5 things parents said over the intercom probably were:
1. "Settle down and behave yourself!"
2. "No, we're not there yet. Stop asking!"
3. "Don't make me pull this camper over!"
4. "What did you just throw out the window?"
5. "Don't the trucks to pull their horn!"
For the record, Chevrolet didn't introduce crew cab trucks into their lineup until 1973. GM was actually the last with this option and trailed Dodge and Ford with this option by 10-years (1963) and 8-years (1965) respectively.
Dodge/Ram and Ford truck fans shouldn't gloat too much. International Harvester introduced the first crew cab in 1957 with their Travelette model. Someone should bring back that iconic brand and give us a modern Scout pickup.
1965 Chevrolet C20 Pickup Camper 327
If Looney Tunes' Yosemite Sam directed a truck camper commercial, this would be it.  This spot is really short film complete with a story, acting and… wait for it… truck camper racing, shooting and flipping-over!  Angela literally screamed when she saw the conclusion of this action-packed feature.  It's hard to watch – and then it's funny.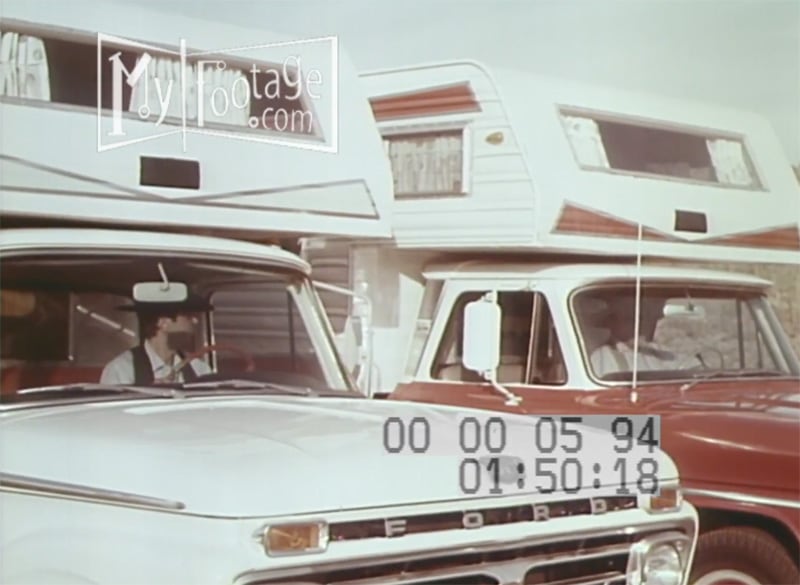 The voice-over introduction to this comedy pits the 1965 Chevrolet C20 against a competing Ford F-250. The script reads, "Finally, three-quarter ton pickups with camper options. Chevrolet has a 327s with Turbo-Hydromatic, Ford the 352 and the Cruise-O-Matic. The thing about a camper is that it's got to sit, handle, and run almost like a passenger car."
This is probably the dawn of people looking to pickup trucks as a true alternative to cars for daily drivers.  Fifty-five years later, the Ford F-150 is the best selling vehicle in America, and has been the best selling truck for 43-years.  The Ford F-250 might have rolled over in this farcical commercial, but Ford trucks won the marketplace race.
This ad is so much fun that we've decided to remake it.  Right now we're taking applications for anyone with a Chevy truck and camper and a willingness to test its vertical aptitude.  Our legal team may have a liability waiver for you to sign, or two.  You will also be required to provide your own cowboy hat, boots and vest.  Buckle up.
1973 Chevy C10 Camper Pickup Truck
Does anyone else feel like they're literally traveling back in time when you see a grainy film leader countdown?  8… 7… 6… And it's 1973.
This straight-forward commercial opens up on a strangely familiar mountain-side drive.  I say strangely because it looks like Glacier National Park's Going-to-the-Sun Road, but it's not named in the video or description.  However, those stone guard rails and mountain peaks sure look like Glacier.
The funny part about this ad likely being filmed on Going-to-the-Sun Road is that hard side campers are no longer permitted on that drive.  We drove our truck camper rig up (cliff-side) Going-to-the-Sun in 2005, but I don't think we were supposed to.  When we returned in 2010, they expressly forbid it.  Whoops.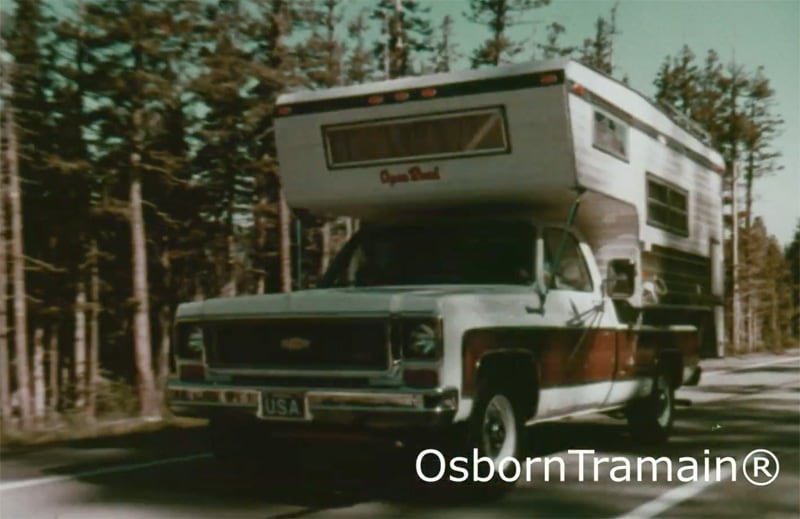 The truck featured in this ad is a 1973 Chevy C10 Deluxe Camper Special and, according to the announcer, it had an available Chevy 454 V8 engine.  That same engine was featured in the Chevy Camaro, Corvette, and Chevelle in various incarnations.
The Deluxe Camper Special came standard with load-control rear leaf springs, standard front and rear stabilizers (bars), and Chevy's Aluma-Pitch camper control equipment.  What's most amazing – and annoying – is how the truck manufacturers catered so well to truck campers four decades ago, but treat us as an afterthought today – if at all.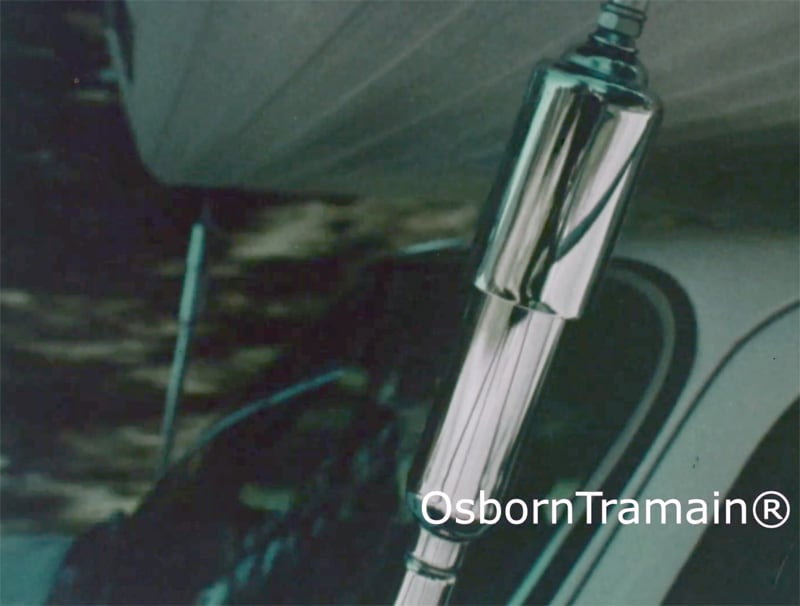 I literally did a double-take when the voice-over stated the cabover-struts were made by Chevy.  Forty-years after this commercial first aired, we did an in-depth review with the modern-day incarnation of these "Aluma-Pitch camper control equipment".
Lance Camper is the last provider of what we now call, "cabover struts", with dealers still recommending and installing them today.  Do they work?  Yes, but you really need to watch a certain Hula Girl in our cabover strut review testing and video.  Grass skirt included.
1967 Dodge Camper Special Truck
Here's a dream sequence we can all relate to… winning a truck, camper, and a boat!
And not just any truck, camper, and boat.  A 1967 D-200 Dodge Camper Special, an unspecified "family freeway camper", and a 1967 Chrysler 229 Hydro-Vee 17-foot boat with trailer.  Heck yeah!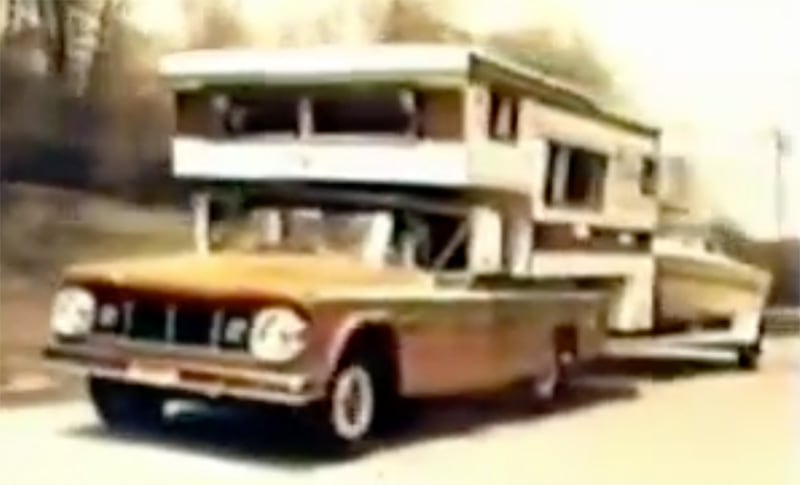 Unfortunately, the first thing that grabbed our attention in this commercial is how bad the rig sags in the first driving shot.  This is how some truck campers got a bad reputation back in the day.  The editing crew was sure to cut away almost immediately, but yikes.
Another shock happens when the announcer gives the cash value of this truck, camper, and boat – $10,000 in total!  That seems impossibly low until you convert the value of the US dollar with an inflation calculator.  $10,000 in 1967 is the equivalent of $77,575 (US dollars) today.  If anyone doesn't believe their dollars lose value over time, think again.
I may be reading into this too far, but my favorite part of this commercial is the mildly suggestive moment when the wife strokes her husband's shoulder and seductively says, "Dear, I know what you're thinking."
Given the cost and current demand, it's unlikely that a truck, camper, and boat manufacturer would team-up for such a give-away today.  That said, it's an idea companies should put in their back pocket.  There may be a day in the future when this idea is worth considering again.
I wonder who won in 1967.