Jim and Janet Manis show us how to turn a 2,200 mile trip into a 3,900 mile wandering adventure.  Step one, no itinerary or reservations.  Step two, just take off and be free.

Humans worry about almost everything.  Money, health, work, relationships, spiders – the worry triggers are never ending.  Watching the news can lead us to believe that planet Earth has become nothing more than a world of worry, full of paranoid people.
Then David Bowie, Glenn Frey, and other high profile musicians and celebrities pass.  These public losses remind us all that life is finite, and that we can waste a lot of precious time and energy worrying.  We need to do the things we dream of doing.
This was the thought we had while learning about Jim and Janet Manis and their seemingly worry-free truck camping spirit.  Plans?  Not really.  Reservations?  Not one.  General direction?  Sort of.  The Manis's idea of a great truck camping day is driving around aimlessly and finding whatever is to be found.  When they've had their fill, they stop somewhere, sleep, and wander some more the next day.
Speaking from our own perspective, we plan our routes and destinations, but love the days when we can explore an area without obligation or deadlines.  We are inspired by Jim and Janet's spontaneous, flexible, and easygoing perspective.  Maybe next time we get bent out of shape about something – in life or on the road – we'll say, "What would Jim and Janet do?"  Step three, no worries.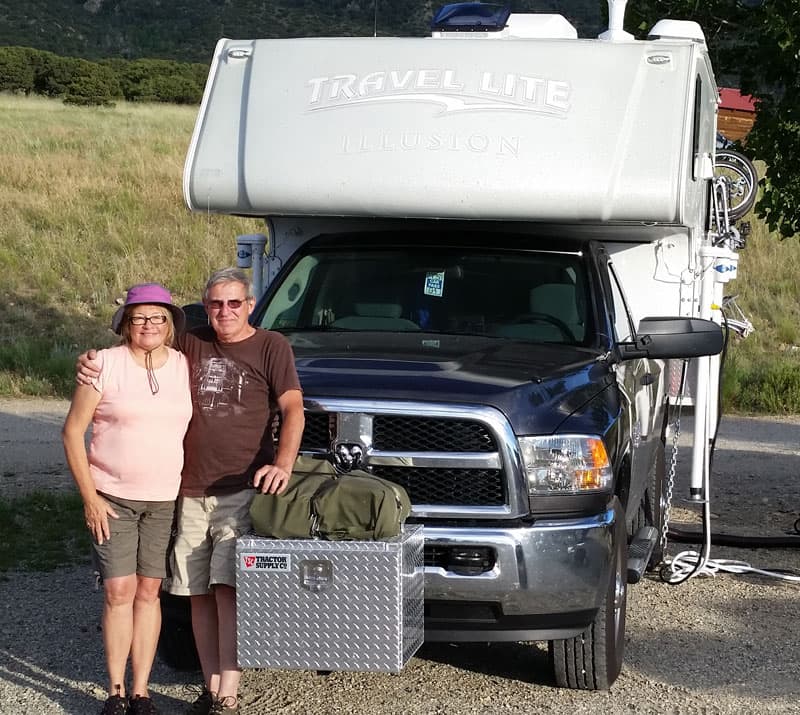 Above: Jim and Janet with their current truck and camper, a 2014 Dodge Ram with a 2016 Travel Lite 960R Illusion
TCM: How did you get into truck camping?
Janet: Jim and I started camping in a Dodge mini-motorhome when our kids were young.  We tent camped and towed a Honda Gold Wing motorcycle when our kids left home.  After four or five years, the ground got too hard and we did fly-and-drive vacations until we retired.
We were in Oregon visiting our son when we first saw truck campers.  His neighbor had a Lance Camper in his driveway separated from the truck.  We really liked his truck camper, plus we would have the truck.  The flexibility and "go anywhere" idea appealed to us.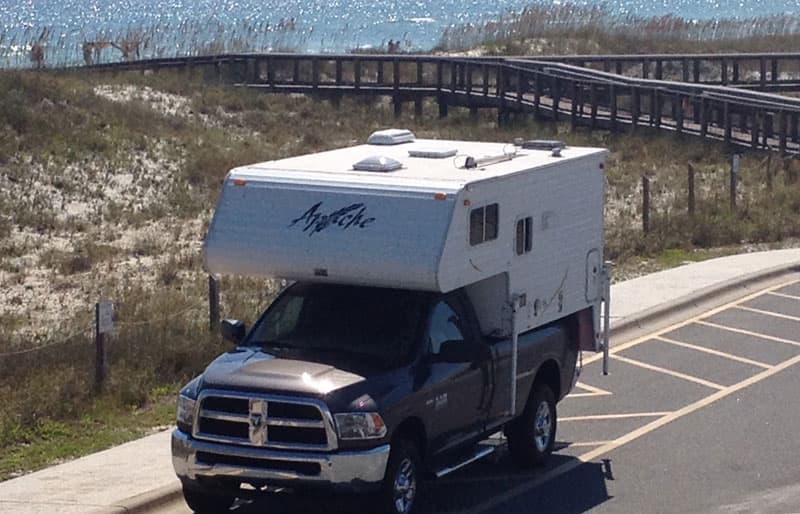 Above: Their first truck camper, a used 2009 Apache 8.6
We wanted to camp in all seasons.  We liked the hard side camper, although we did consider the pop-up because of the lower profile.  We bought our first truck camper, a used 2009 Apache 8.6, to see if we liked it.  We figured we could sell it if truck camping was not for us.
Our first long trip, after a few trial runs, was a month in Florida in October of 2014.  We had enjoyed the truck camper for two and three day trips and, after a month in Florida, we were hooked!
That's when we requested information and specifications through Truck Camper Magazine.  We contacted three or four of the manufacturers listed, but only CampLite and Travel Lite dealers responded.  Travel Lite was willing to build our camper the way we wanted it.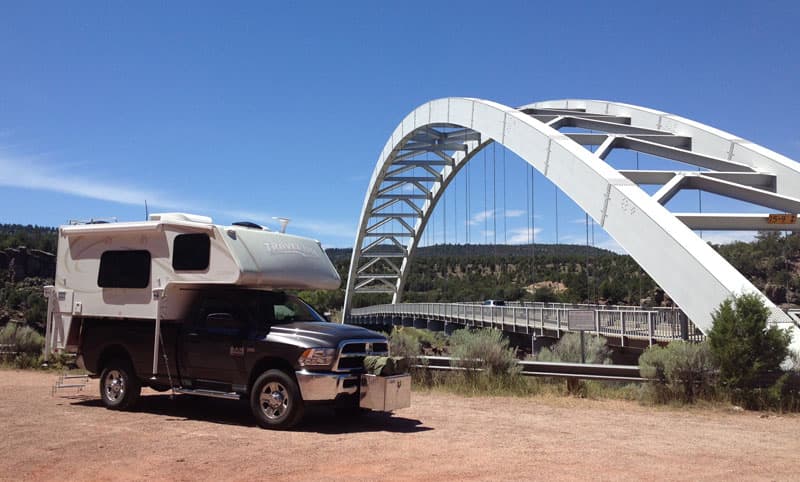 Above: Flaming Gorge Recreation Area, Utah
TCM: What were you requesting?
Janet: We wanted all LED lighting, back up LEDs for when we're loading, frameless windows, four-season insulation, storage under the u-shaped dinette, a wood laminate floor, a backsplash, shades on the windows, windows to open when it is raining, drawer gliders, and a recessed stove top with tempered glass.  That was my list.
Jim wanted exterior to be fiberglass, an electric and propane water heater, outside shower, low profile HD antenna, keyless entry, an AGM gel battery, a rear bumper, side awning, 18,000 BTU furnace, 9200 BTU Coleman air conditioner, two LP tanks, four season heated tanks, electric wireless remote jacks, lights in the ceiling that are adjustable for reading, tinted covers on the Fantastic Fans for the sleeper and bathroom, a bigger refrigerator, monitor panel, porch light, exterior hand rail, a good roof warranty.
Dustin at Travel Lite suggested that we order the 960R Illusion model since it had almost everything we wanted.  It was everything we wanted plus more. We decided that if we were going to do this, we were going to get everything we wanted.  We made a big investment and we got it.
TCM: Did you make any modifications after you took delivery?
Janet: For storage, Jim converted the panel under refrigerator to a fold-out drawer front.  He also made a storage area in the space at the top of the drawers under the dinette.
We added a front hitch and a box to the truck to carry our Honda generator.  Jim added a steel rack to the back of the truck for outside storage such as lawn chairs, firewood.  Our Torklift Glow Steps are attached to this rack.  Jim also added back-up camera from the truck's tailgate to back of camper's rack.
TCM: Tell us about planning for your trip out west this past year.
Janet: We drove 8,550 miles in 63 days and visited 16 states.  We did not do a lot of advance planning, but we looked at maps and read articles ahead of time.  On the road we're not real structured.  Jim and I have been married for 46 years, and from day one we've gotten in the car and just gone.  When we get tired, we stop.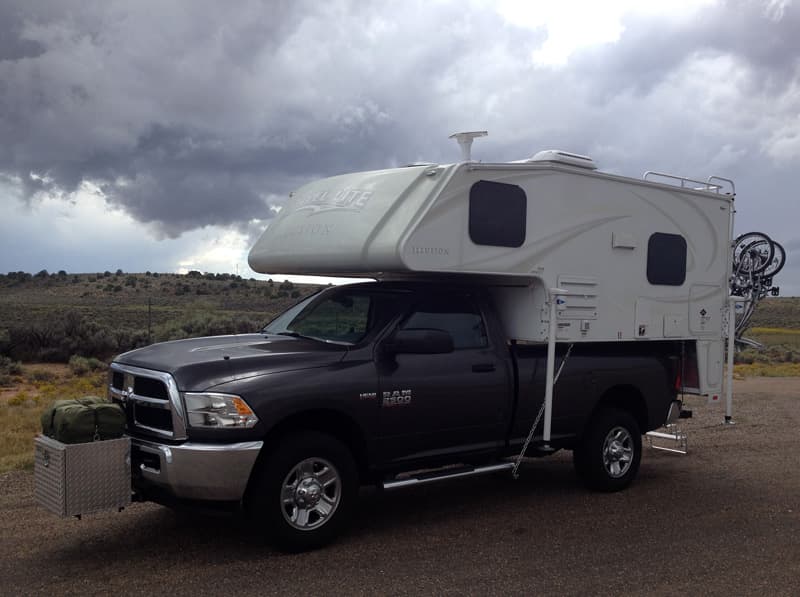 Above: Kaibab Plateau, Arizona
TCM: That's the spirit.  How did you decide where to go?
Janet: We would look at our big map with all 50 states, decide where we're going, and then decide which way to go.  I get travel guides from AAA and look up points of interest.  I'll look at highlights of each state.  For example, we wanted to go to Zion National Park in Utah so I checked it out on the internet and the AAA guidebook.
On this past trip, we met my brother at his home near St. Louis.  He made the Colorado itinerary, so it was a very structured trip.  He planned which campgrounds were were staying in, and made reservations ahead of time.  He had limited vacation time from work.
It's okay to travel that way, but we prefer to wander.  We'll read the map as we're traveling and talk to the people along the way.
TCM: That's called Road Magic, at least when it works.
Janet: With the truck camper, we are on our own.  We are totally independent and have everything we need with us.  We can stop and have lunch or go to bathroom when we want.  We are traveling and free.  That works for us.  It's the best way to travel.
On last summer's trip we had something of a route.  It's 2,200 miles to Portland from our house, but it took us 3,900 miles to get there because we went our own way.  We go a couple hundred miles a day, but it's us and the world.  We go as far as we want to go, and then stop.
TCM: What brought you to Portland?
Janet: Our son lives in Portland.  We always flew out in April and August staying a week in their home.  We used to stay in a hotel, but the rates went up, so we were staying in their house.  When we visited, the grandkids were staying in the living room on air mattresses.
My son's house has an RV pad that was there when they moved in.  When we got to their house, we backed up our camper, put our steps down, and plugged in, and got the lawn chairs out.  It was like being at a campground, but our kids and grandkids were there.
We played games with the grandkids in the camper.  We had our own space and didn't have to put the grandkids out of their bedroom.  We could have morning coffee in the camper, then take our stuff in the house and shower.  Once a week we went to Camping World to dump.
My son and daughter-in-law went to work and we spent time with the grandkids.  My son has an extra vehicle, so we used that to see the area and come back.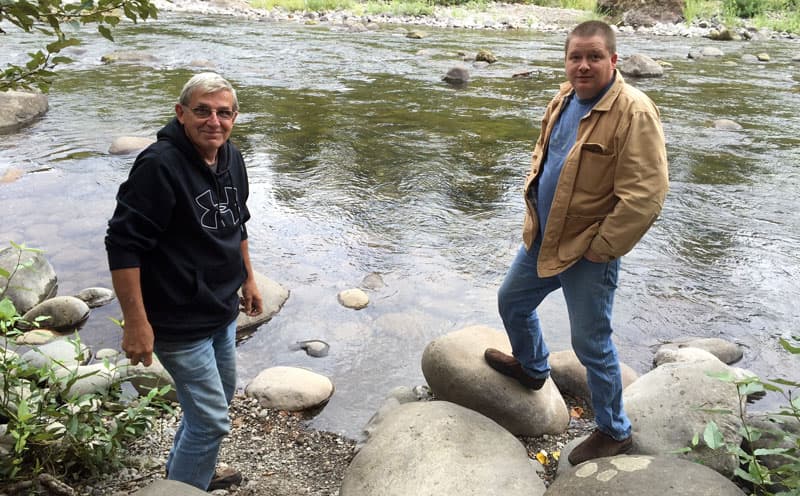 Above: Jim and their son, Mike, in Oregon
Janet: The best part is that our son, Mike, and his dad are very close.  When they moved out to Oregon it was really tough.  While we were in Oregon, they went shooting and four-wheeling together.  We were there for a month, and nearly every day they'd go to the mountains or to the sports shops.  They had a lot of quality time together.
Having our own space gave us all privacy.  We were still together as a family, but had breaks from each other.  The truck camper made a great extra bedroom.  This is now going to become an annual thing.
TCM: That's fantastic.  We have also enjoyed staying with friends and family, but not staying in their house.  That's one of our favorite advantages of a truck camper.  Where else did you go with your truck camper when you were out west?
Janet: We went to Bonneville Lock and Dam on the Columbia River.  It's run by the Corp Engineers and has an underwater view of the fish ladder.  There is also fish hatchery, trails, fishing area and visitor center.
Multnomah Falls is on Columbia River Gorge Scenic Highway along with many other waterfalls and hiking trails.  Crown Point Vista House on Historic Columbia River Highway is a great overlook of the Columbia Gorge.
Above: Swan Island Dahlia farm festival in Cranby, Oregon
Swan Island Dahlia farm in Canby has a festival in August.  For two or three weeks in August they open up the fields.  Their festival is at the farm during the weekend.  Jessie and I didn't go on the weekend.  During the week they open up the farm and allow you to pick flowers and walk the fields.  There weren't a lot of vendors there during the week.
The tulip festival is at Wooden Shoe Tulip Farm in Woodburn, Oregon, southeast of Portland in April.  You get in a wagon and they drive you to the tulips.  I wanted to see how the tulips were grafted.  You can buy plants there as well.
If you are really into gardening, go into Portland to the test rose garden.  It's free.  A lot of roses there came from England during World War II so they wouldn't get damaged during the war.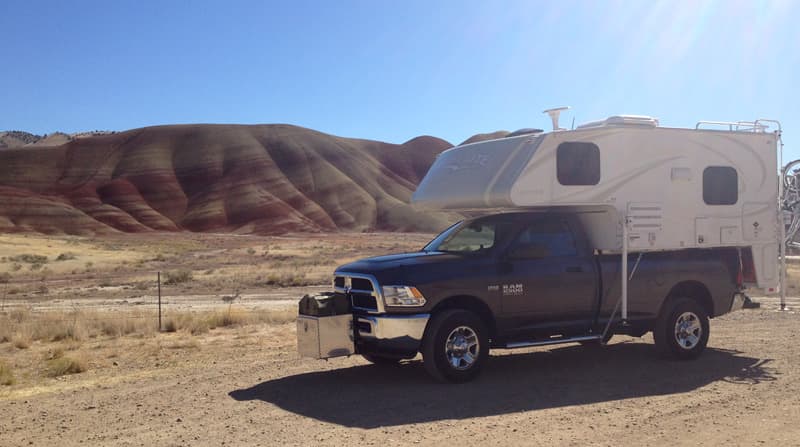 Above: The Painted Hills, John Day Fossil Beds National Park, Oregon
We visited John Day Fossil Beds National Park in the Painted Hills Unit.  It has an amazing drive and trail.  One of the trails has a boardwalk and is handicap accessible.
We camped with some firefighters in John Day, Oregon at the county park.  That was very nice camping.  We knew there had been fires there all summer.  We were ready to stop for the night and looked on the All Stays app for a campground.  It was an honor system county park campground.
We pulled in and there were 500 pup-tents.  We were thinking there wouldn't be a spot for us there, but we were able to get full hook-ups.
Then we realized that all the tents belonged to firefighters.  Hundreds of trucks were lined up along the back in a grassy area.  They had a staging area where the townspeople had donated food, toothpaste, towels and etc. for the firefighters.
Next to us was a Class A motorhome.  He came over and told us that he had lost his home in the canyon fire.  He was 80 years old and he had 40 acres of property.  He told us that the place where they lived had 43 houses that were destroyed.  When the fire came they had fifteen minutes to get out.  They lost everything.
An older firefighter from Arizona sat down with us and explained how the firefighters fight the forest fires.  He told us that the firefighters there were working twelve to fifteen hour shifts.  They came in from all different park service areas.  They would rotate in and out.  We thought it would be crazy at night, but we never heard a sound.  The work they do is very humbling, and very dangerous.
Above: Driving through the Hoh Rain Forest, Olympic National Park, Washington
TCM: That must have been a humbling experience.  What else did you do in the Pacific Northwest?
Janet: In Washington state, we went to visit Jake the Alligator Man at Marsh's Free Museum in Long Beach.  There is access for driving on the beach there.
We camped in Forks, the town where Twilight novels are based, at Forks 101 RV Park.  The owners had lots of information about the Twilight novels.
The Hoh Rain Forest in Olympic National Park and Quinault have hiking trails, boating, and camping.  The rain forest is calming and serene.  There are markers sometimes saying "big spruce" or "big tree", but you have to watch or you'll miss them.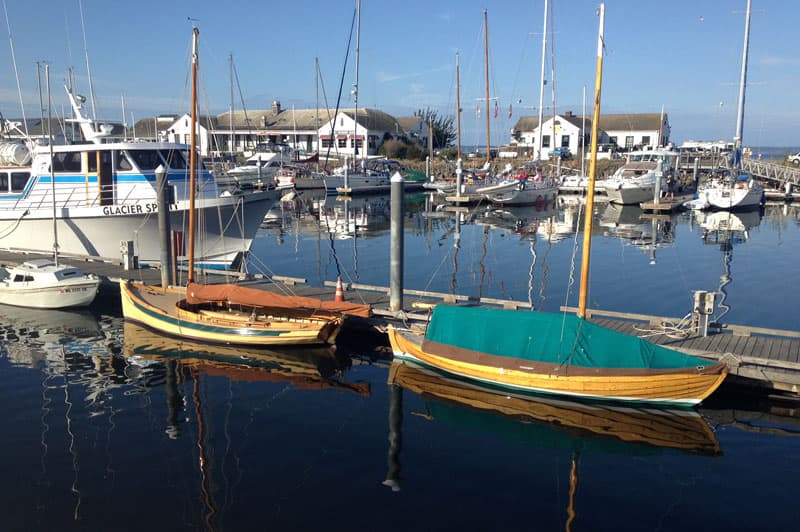 Above: The Point Hudson Marina, Washington
Port Townsend is a Victorian tourist town.  We camped at Point Hudson Marina and RV park at Port of Port Townsend.  It's an old coastguard station.  Our campsite was on the Port Townsend Bay.  We watched sea lions, the ferry, sailboats, and airplanes from our campsite.  It was a very relaxing place.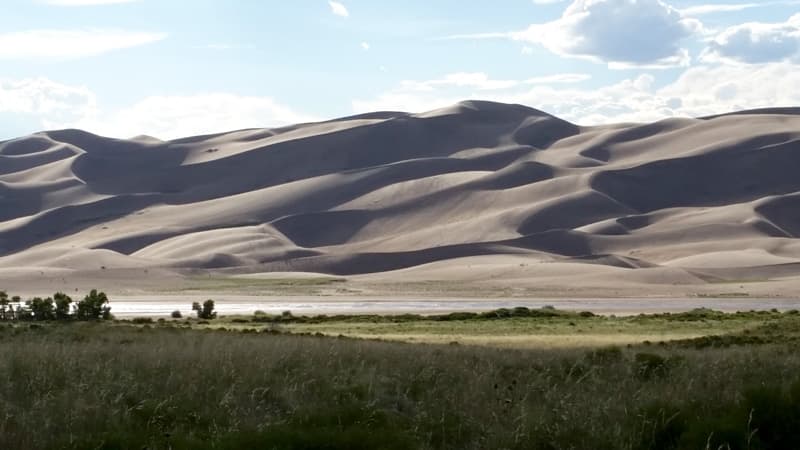 Above: Great Sand Dunes National Park, Colorado
TCM: We haven't been to Port Townsend, but hope to visit one day.  You said that you went to Colorado.  What did you enjoy while you were there?
Janet: Great Sand Dunes National Park in Colorado was a surprise to us.  The enormous sand dunes, river, and mountains were all truly impressive.  We took our lawn chairs and sat soaking our feet in the river.
TCM: We also had a great time at Great Sand Dunes National Park last year.  We highly recommend it too, but be sure to bring drinking water when you go on those dunes.  It's a strenuous climb.
Janet: We stayed at Pikes Peak RV Park in Manitou Springs, Colorado.  Our campsite was on the river and public transportation was across the street.  In town there are tasting soda fountains that each have a different flavor of drinkable spring water.  The drive along Highway 160 is beautiful.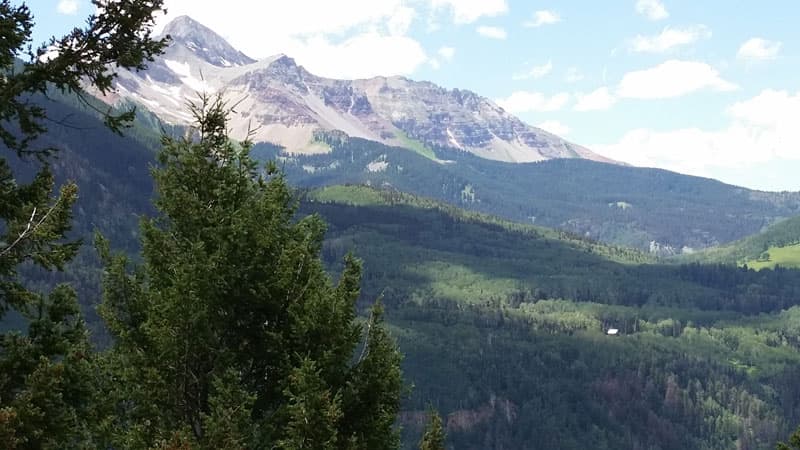 Above: Cortez to Ridgeway drive, Colorado
Highway 145 from Cortez to Telluride and Highway 82 to Ridgeway through the San Juan Mountains and the National Forest is spectacular.  We stopped to take photos and enjoy the view.  A biker asked us to take his picture in full gear so his friend would know he was there.  I had him take his helmet off so they would know it was him.  This would be a great motorcycle ride.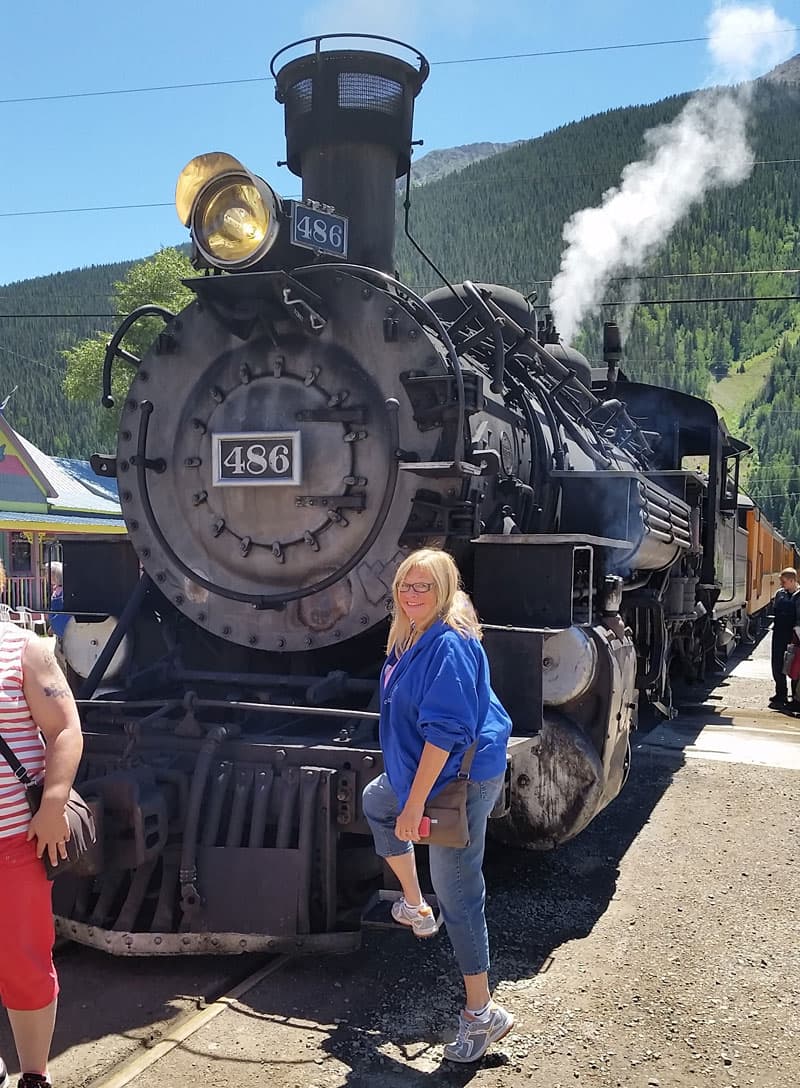 Above: Silverton to Durango train ride, Colorado
Black Canyon of the Gunnison National Park is primitive and dramatic.  We camped next to a deer in a thicket.  In the morning, armed park rangers were walking through the park because there were reports of rogue bears in our area.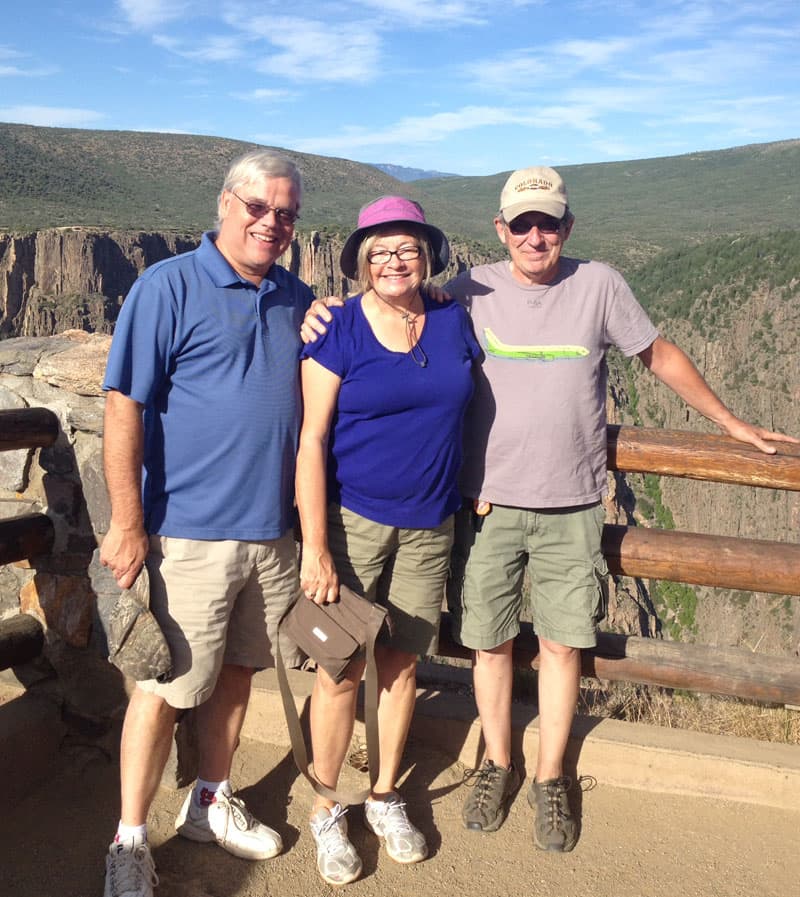 Above: Janet's brother camped with them while they were exploring Colorado – Black Canyon of the Gunnison National Park
My brother was with us in Colorado.  His wife and him bought a pull-behind pop-up trailer for the trip.  With our truck camper, we would arrive at a campground, plug-in, connect the sewer hose, and be dome in ten minutes.  My brother was setting up that pop-up trailer for over an hour.  He sold it when he got home and is now considering an RV that's quicker and easier to set-up.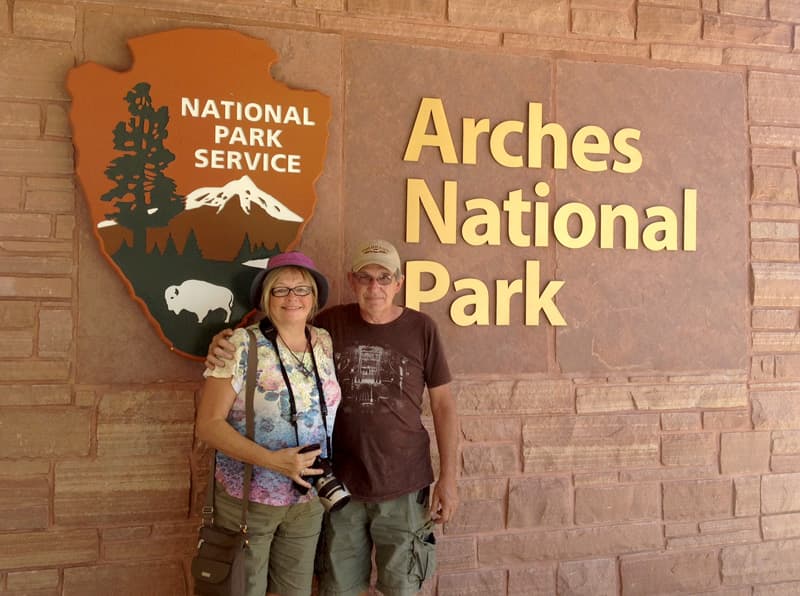 Above: Janet and Jim at Arches National Park, Utah
TCM: What did you enjoy in Utah?

Janet: We both liked the contrast between red rocks and pine trees at Red Rock Canyon National Conservation Area located next to Bryce Canyon.  All of the canyon parks in Utah are spectacular in their own way.
Above: Bryce National Park, Utah
We took Highway 14 between Cedar City and then Highway 89.  It's part of the Utah Scenic Byway.  It was steep with 8% grades and lots of tight hairpin curves, and we thought this was a shortcut.  I'm surprised the passenger's armrest is not broken.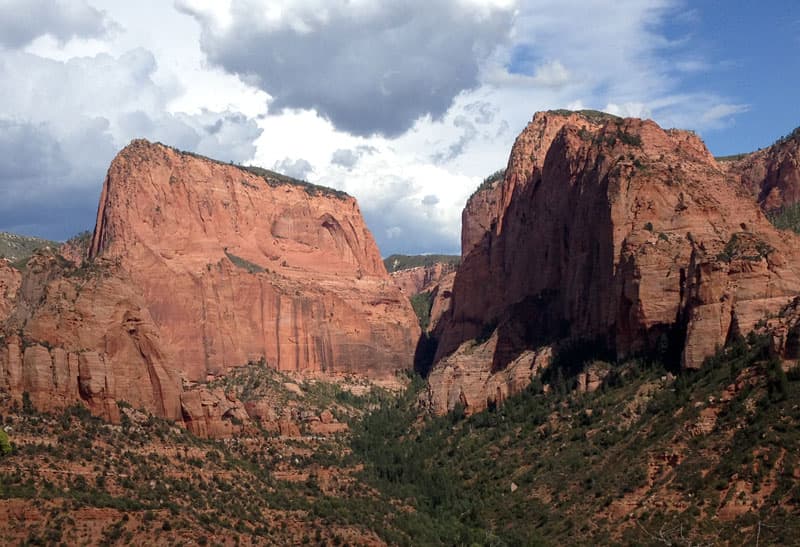 Above: Kolob Canyons, Zion National Park
Kolob Canyons, part of Zion National Park is a short circle drive.  The entrance is off of Interstate 15.  Hardly anyone was there.

Above: Promontory, Golden Spike National Historic Site, Utah
Near Promontory is the Golden Spike national historic site where east met west to form a transcontinental railroad.  It's out in the middle of nowhere!  We took rock roads to see the northern part of Great Salt Lake.  Signs actually tell you where you can boondock camp.  We were driving from the north to get to Promontory on secondary roads when we came upon huge bunkers and a rocket facility.  That was cool!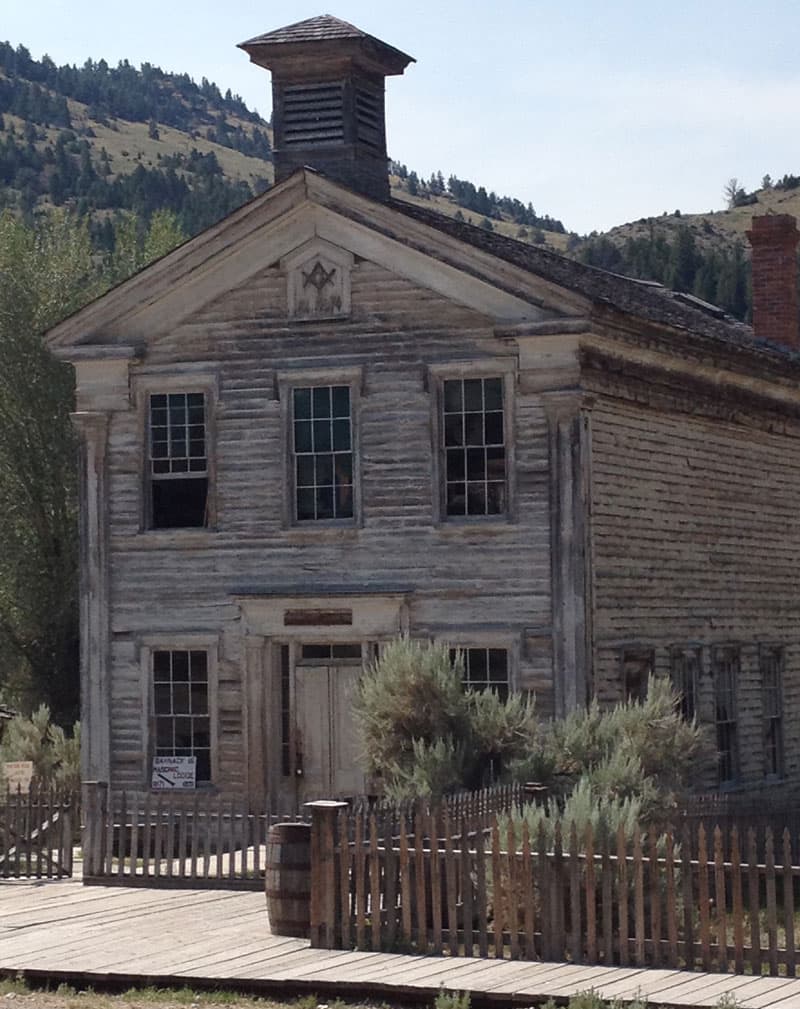 Above: A building from the mining ghost town at Bannack State Park
TCM: How about Idaho and Montana?

Janet: After the Flaming Gorge Recreation Area, we picked up Highway US30 and took it into Idaho.  Lava Hot Springs, Idaho is a small town that has tubing in the river from the spring.  It is a great place for kids of all ages.  We loved the sign that said, "Do not go over the dam".
West of Dillon, the mining ghost town at Bannack State Park has over fifty buildings that are preserved in the time period.  Almost all of the buildings were open.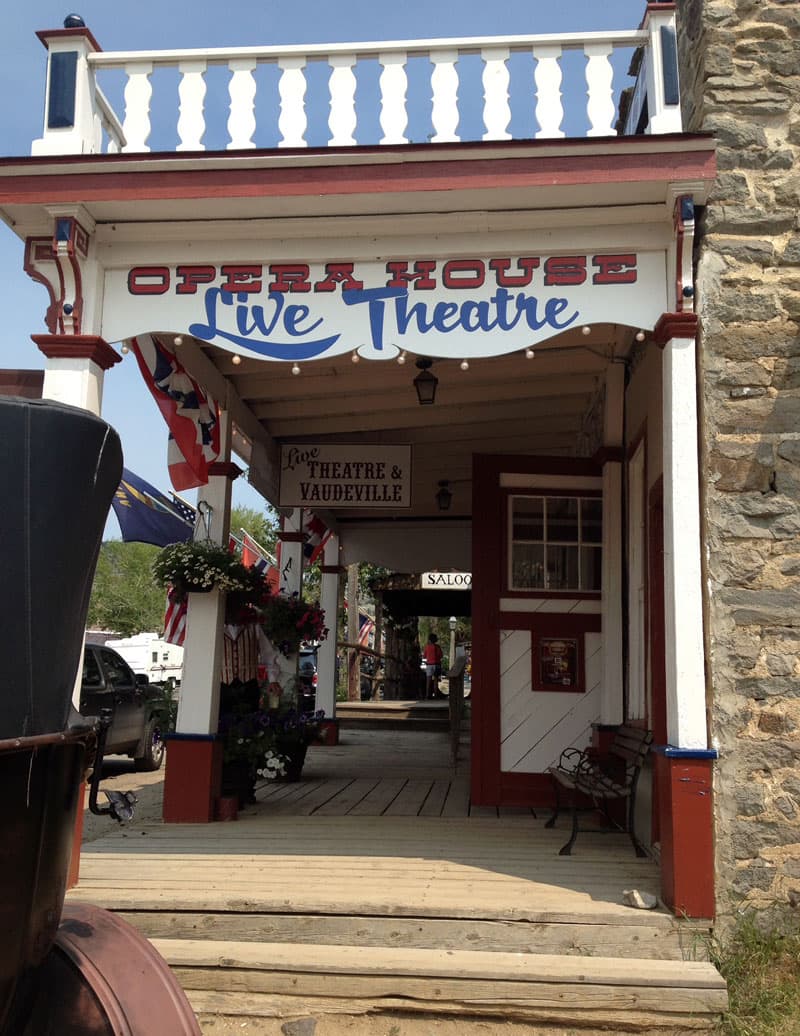 Above: The Opera House in Virginia City, Montana
Virginia City, east of Dillon, is a walking museum.  Each building is set up for whatever business it was in the past.  For example, the barber is shaving a customer, the post office is in the general store, etc.  There is an opera house that puts on a show.  We camped at Countryside Campground, which was very clean and a friendly place.  They had quite the license plate collection.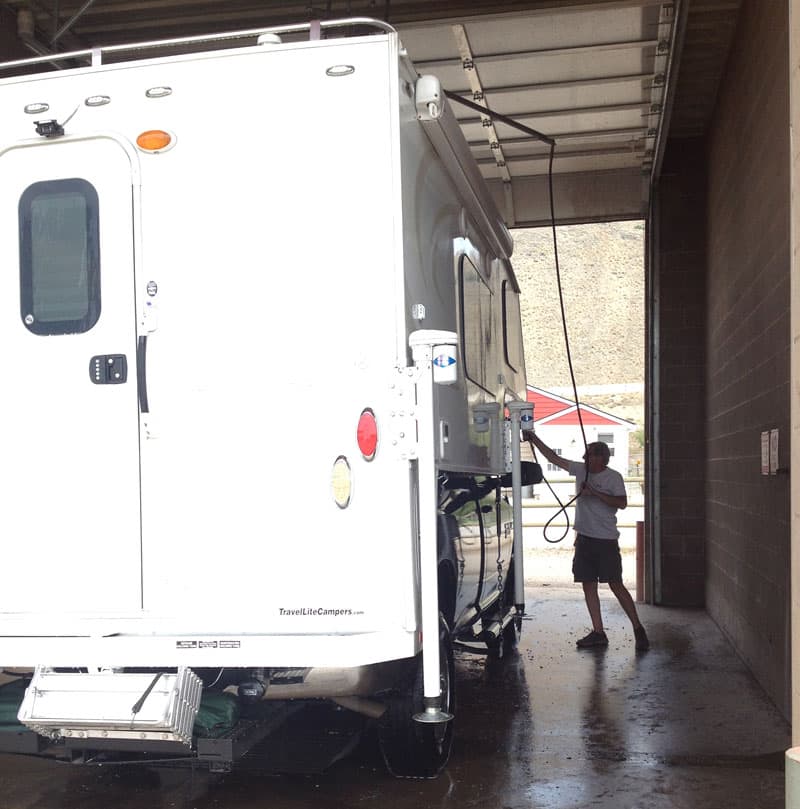 Above: Washing the camper in Hall, Montana
The Smoke Jumper's Museum in Missoula is very interesting, and it's free.  Smoke Jumpers are highly trained firefighters who parachute into remote areas of national forests to fight wildfires.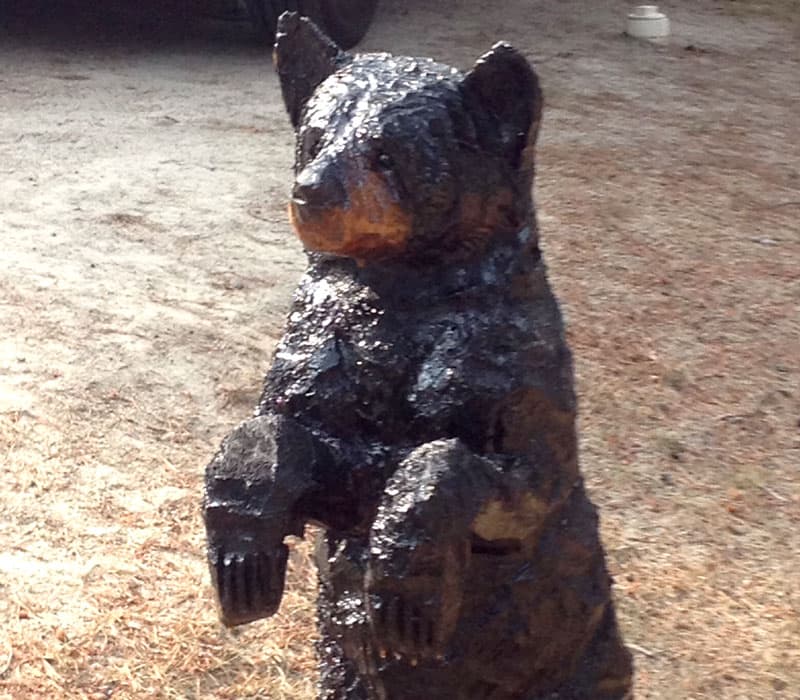 Above: Tree stumps carved into animals at Campground St. Regis
Off of Interstate 90 we stayed at Campground St. Regis, a privately owned campground.  Tree stumps from dead trees were carved into animals.  We saw carved bears, raccoon, eagles, etc.  That was another very clean campground in the pines.
Above: Pictures from the North Rim of the Grand Canyon, Arizona
TCM: You also went to the North Rim of the Grand Canyon in Arizona.  Tell us about it.

The North Rim of the Grand Canyon is ruggedly primitive compared the south rim.  The drive to the rim went through a huge area of Kaibab National Forest that was, in parts, previously destroyed by fire.  Then the drive opens up onto massive meadows and pine trees.  There are quite a few campgrounds with self check-in.
Heading east from the north rim of the Grand Canyon, we twisted and turned with Highway 89 ALT along the Paria Plateau.  The Vermillion Cliffs and Marble Canyon in northern Arizona are spectacular.  We were there during a storm and the rainbows were magnificent.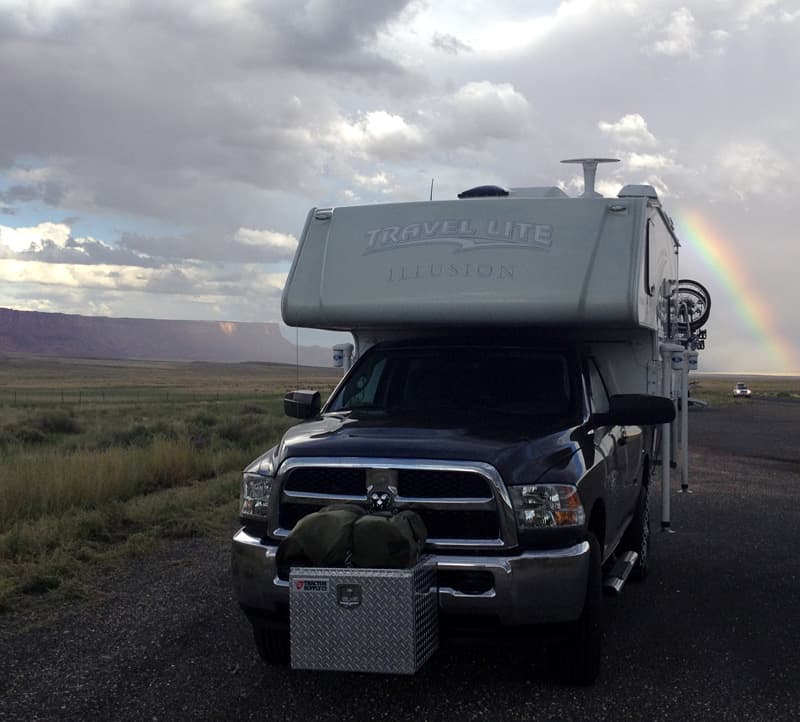 Above: Paria Plateau, Arizona
In Arizona we also drove on Route 66.  The Painted Desert Inn in northern part of Petrified Forest National Park was originally built in 1920.  It overlooks the Painted Desert.  Route 66 is preserved in the park. The dedicated area is a good photo op for Route 66 fans.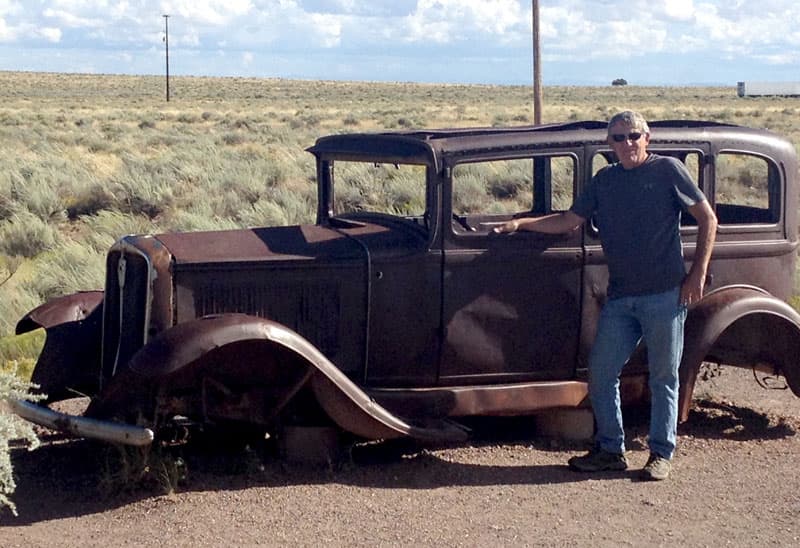 Above: Jim on historic Route 66 in Arizona
San Jose de Laguna Mission Church is off I-40 in New Mexico.  I saw it on a map and we decided to go.  It was built in 1699 has mural walls, and hand carved doors, and is open year round.  It was free and very cool!
Stanley Marsh's Cadillac Ranch is a pull off on the frontage road.  The Cadillacs are standing on end in a field.  It's free to walk in.  Just park on the side of the frontage road. Some of the cars have so much paint on them its hard to see the parts.  We met folks from Copenhagen when we were there.
TCM: You said that you went to Florida with your first camper.  Where did you enjoy camping?

Janet: The Florida panhandle is so relaxing.  There are no fast food and no big box stores.  It's old Florida.  We camped at Carrabelle Beach RV Resort with beach access across the street.
We liked St. George Island because of the pristine beaches, boardwalks, and the clean campground.  We spent time in Apalachicola walking around looking in shops and had some great seafood.
We also enjoyed Long Key State Park in the Keys.  Our campsite backed up to the Gulf of Mexico.  Florida State Parks have clean campsites and bath houses.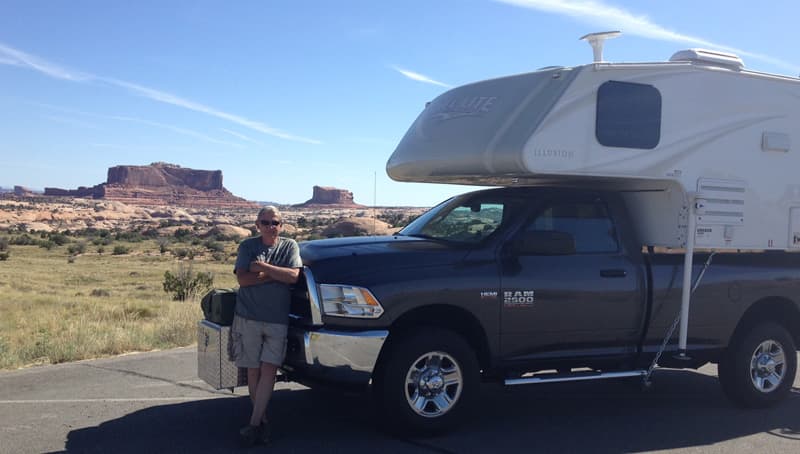 Above: Jim in Canyonlands National Park, Utah
TCM: Other than visiting family and sight seeing, what do you enjoy doing when you're out truck camping?
Janet: We both enjoy taking hikes in the National Parks.  I'm an avid photographer and Jim enjoys metal detecting.  We also geocache, and people watch.
When we can, we will go to a shooting range and Jim will shoot.  We also use our truck camper for day trips to sporting activities.  He can also stay in the camper while I go shopping.  It's not just a vacation vehicle.
Our favorite things is to just drive around aimlessly.  Then we'll pick a destination and go where the moment takes us.  That's a perk of being retired.
TCM: What are your truck camping plans for the future?
Janet: This summer we plan to drive to Oregon again to spend time with family.  July and August are the best months to go to Oregon.  We liked staying at my son's house so much that we're going back this year.
We don't like driving through Chicago, so we have already planned to go through Michigan's Upper Peninsula and Lake Superior.  The Shipwreck Museum is excellent and we want to take the Pictured Rocks boat tour.
We are planning four days or more at Grand Teton National Park in September on our way home from Oregon.  We'll go to Devils Tower National Monument and maybe Badlands National Park, and probably back home through Michigan.
Then there is one of the world's largest cuckoo clocks in Sugarcreek, Ohio.  We'd also like to go on short trips around our home state of Indiana.  The road beckons!
We plan on driving the Natchez Trace Parkway from Nashville, Tennessee to Natchez, Mississippi this year.
TCM: Is there anything else that you'd like to share?
Janet: The "on our own" truck camping lifestyle appeals to us.  We like getting away from it all to just take off, whether it be for a day or for months.  We can do that in our truck camper.
We met so many wonderful people traveling.  Our country is so beautiful, and there are so many places to see.
Truck Camper Rig
Truck: 2014 Dodge Ram 2500 HD, 4×4, Gasoline, Long Bed, Single Rear Wheel
Camper: 2016 Travel Lite 960R Illusion
Tie-Downs and Turnbuckles: Happijac
Suspension: Boss air bags
Gear: Front generator box with front hitch installed, Rear steel carrier rack, Torklift Glow Steps, Snow Plow package from factory