Jim and Janet Manis show us how to turn a 2,200 mile trip into a 3,900 mile wandering adventure.  Step one, no itinerary or reservations.  Step two, just take off and be free.

Humans worry about almost everything.  Money, health, work, relationships, spiders – the worry triggers are never ending.  Watching the news can lead us to believe that planet Earth has become nothing more than a world of worry, full of paranoid people.
Then David Bowie, Glenn Frey, and other high profile musicians and celebrities pass.  These public losses remind us all that life is finite, and that we can waste a lot of precious time and energy worrying.  We need to do the things we dream of doing.
This was the thought we had while learning about Jim and Janet Manis and their seemingly worry-free truck camping spirit.  Plans?  Not really.  Reservations?  Not one.  General direction?  Sort of.  The Manis's idea of a great truck camping day is driving around aimlessly and finding whatever is to be found.  When they've had their fill, they stop somewhere, sleep, and wander some more the next day.
Speaking from our own perspective, we plan our routes and destinations, but love the days when we can explore an area without obligation or deadlines.  We are inspired by Jim and Janet's spontaneous, flexible, and easygoing perspective.  Maybe next time we get bent out of shape about something – in life or on the road – we'll say, "What would Jim and Janet do?"  Step three, no worries.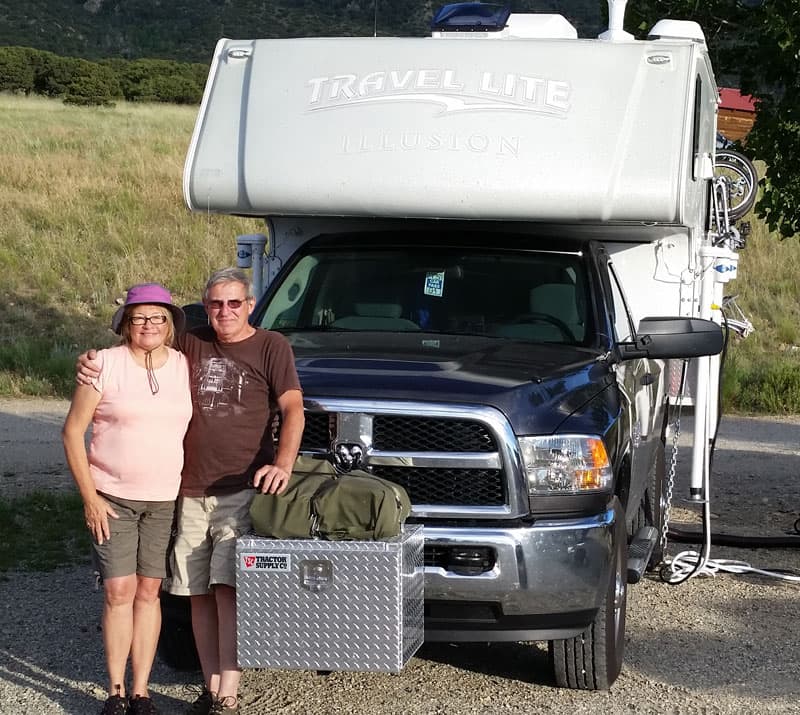 Above: Jim and Janet with their current truck and camper, a 2014 Dodge Ram with a 2016 Travel Lite 960R Illusion
TCM: How did you get into truck camping?
Janet: Jim and I started camping in a Dodge mini-motorhome when our kids were young.  We tent camped and towed a Honda Gold Wing motorcycle when our kids left home.  After four or five years, the ground got too hard and we did fly-and-drive vacations until we retired.
We were in Oregon visiting our son when we first saw truck campers.  His neighbor had a Lance Camper in his driveway separated from the truck.  We really liked his truck camper, plus we would have the truck.  The flexibility and "go anywhere" idea appealed to us.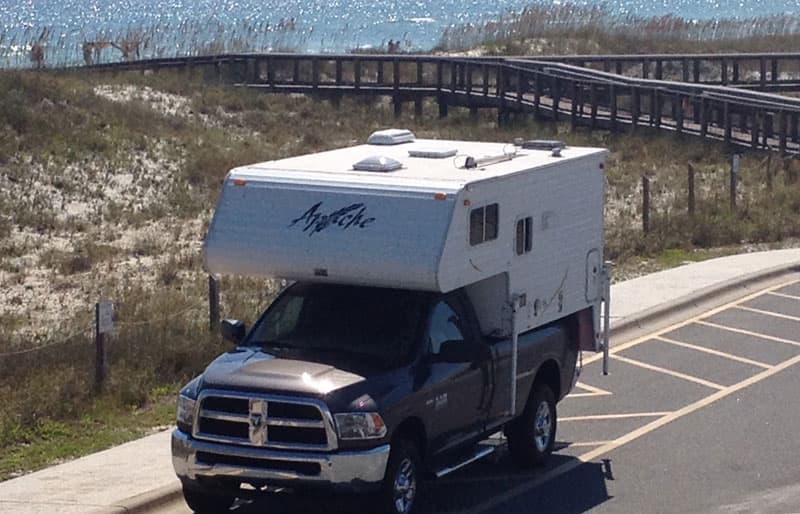 Above: Their first truck camper, a used 2009 Apache 8.6
We wanted to camp in all seasons.  We liked the hard side camper, although we did consider the pop-up because of the lower profile.  We bought our first truck camper, a used 2009 Apache 8.6, to see if we liked it.  We figured we could sell it if truck camping was not for us.
Our first long trip, after a few trial runs, was a month in Florida in October of 2014.  We had enjoyed the truck camper for two and three day trips and, after a month in Florida, we were hooked!
That's when we requested information and specifications through Truck Camper Magazine.  We contacted three or four of the manufacturers listed, but only CampLite and Travel Lite dealers responded.  Travel Lite was willing to build our camper the way we wanted it.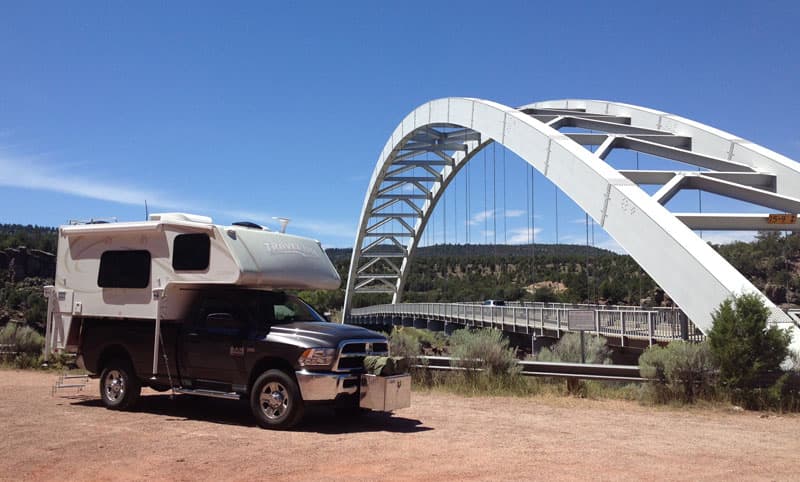 Above: Flaming Gorge Recreation Area, Utah
TCM: What were you requesting?
Janet: We wanted all LED lighting, back up LEDs for when we're loading, frameless windows, four-season insulation, storage under the u-shaped dinette, a wood laminate floor, a backsplash, shades on the windows, windows to open when it is raining, drawer gliders, and a recessed stove top with tempered glass.  That was my list.