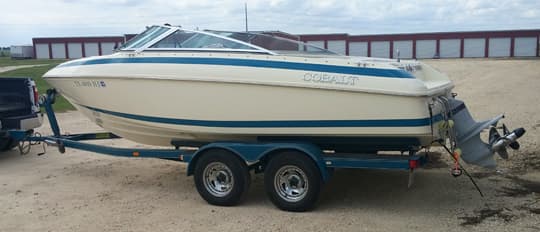 "I have a ski boat towed with four foot stinger.  We pleasure cruise and ski, and tow the grandkids in a large tube." – Paul Roberson, 2014 Ford F350, 1988 Lance 930, 1995 Cobalt 20 ft ski boat
"We tow a Com-Pac 16 sailboat behind our Sun Valley Sun-Lite truck camper.  We spend winters in Rockport, Texas surrounded by Gulf waters living in a fifth wheel, sailing our 1975 Com-Pac 16 MK 1 in the Gulf Coast waters as often as weather permits.  At the end of April we store that sailboat in Texas and head for our lake home in Northern Minnesota.
Last year we bought our first truck camper, a gently used 2004 Sun Valley Sun Lite 955 SD, replacing a small twenty-one foot towable trailer we rarely used in the summer.  The idea was to be able to do more camping and sailing on the bigger lakes in the northern regions of Minnesota, Wisconsin, and the Upper Peninsula of Michigan.
The truck camper now allows us to tow our newer model 1980 Com-Pac 16 MK 2 on our camping trips, something we couldn't do with the 36 foot fifth wheel and didn't want to try with the small towable trailer.  Yes, we like Com-Pacs and have one in Texas and one in Minnesota.  They both have the same name, "Tomfoolery".
The truck camper also allows us to visit family and friends and attend events that require an overnight stay in the Twin Cities, which are 180 miles away from our home. We have a dog and I am allergic to cats so sleeping in the camper parked off the street in our own bed works very nicely.
Our first major trip with our Sun Valley towing our sailboat was to Crystal Falls in the Upper Peninsula of Michigan.  We spent a week there in the municipal campground, towing the sailboat to a nearby reservoir.  It's wonderful sailing on water dotted with small islands and very little development of the shoreline.
Sailing on lakes, many which have bays and channels that change the direction and intensity of the wind, becomes the challenge.  We day sail and rarely spend the night preferring to sleep in the slightly larger, more comfortable truck camper.
The Com-Pac is a very sturdy, shoal draft boat.  It's comfortable to sail in all wind conditions. It has 450 pounds of ballast, needs eighteen inches of water to float and has a small cabin that can sleep two.  In the past we sailed smaller, open boats but they required constant attention to sail adjustment and balancing in higher winds.  Once the winds started gusting over 18 mph it became tricky and we would often get wet.  Now I just reef the main and/or pull down the jib and have sailed in 20 mph winds with gusts to 30 or more.
The Sun Valley is a hard side without slide-outs, just what we wanted.  The truck being a one ton dually handles it and the boat with no issues.  In fact, on the trip to Michigan, we went through a few miles of bumpy road construction.  A few miles down the road I looked in the side mirrors and could not see the sailboat!
I looked through the door of the truck camper using the rear view mirror and my wife, Joy, looked using her side mirror but neither of us could see the sailboat!  In a panic, we quickly pulled over wondering where we lost the sailboat and if it had caused an accident.
It was still there.  Since we were heading straight down the road directly into the sun we couldn't see a shadow and the boat and trailer weighing around 1,300 pounds isn't very noticeable when being towed.  We now have a rearview camera system that we will install this summer!
As others have indicated, we were sailors first, but our truck camper now allows for an expansion of that hobby and comes with additional benefits we didn't always have with our towable trailers." – Tom Julkowski, 2005 Ford F350, 2004 Sun Valley Sun-Lite 955 SD, 1980 Com-Pac 16 MK 2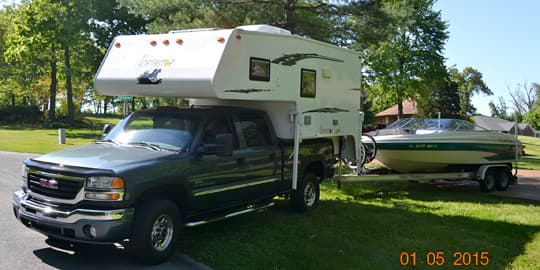 "I tow a 2003 Glastron GX 205 placed on a custom all-aluminum dual axle (Kodiak disk brakes) trailer, with a total weight around 5500 pounds.  Due to my long trailer tongue I do not need an extension, however I removed my factory hitch and installed a Tow Beast just for peace of mind.  There are threads online about cracking on the GM factory hitches when towing at your upper limits.  I installed airbags and sway bar on my truck to add stability.  My Happijac tie-downs are used as a carry over from previously owned 1999 Sun Lite pop-up.
We have been stationed all over the United States with the military.  We enjoy skiing, tubing, fishing and fellowship with new friends on our boat.  Best of all, when we PCS (permanent change of station), our rig allows us to hit lakes and campgrounds that we otherwise might never visit." – Jason Franz, 2007 GMC 2500HD, 2010 Northstar 8.5 Arrow, 2003 Glastron GX20.5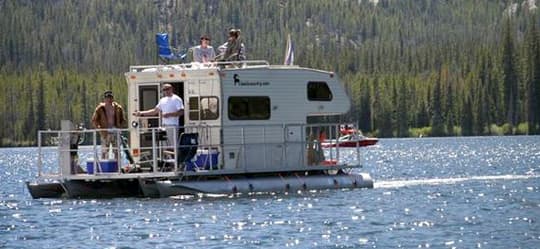 "I pulled this picture off Google because I'm a smart-ass and this is the first thing that popped into my brain when I read the question." – Redneck Bob