What has two slides, a washing machine, scooter, and a remote controlled Quadcopter with HD video?  It's a Bird.  It's a Plane.  Look out America!  It's the Coushaines!

Charlie and Jeannie Coushaine sold their house in New Hampshire and hit the road full-time in a Chalet DS116-RB last October.  Think that's interesting?  You haven't heard the half of it.
Wherever they go, Charlie flies his tricked out DJI Phantom Quadcopter equipped with a GoPro Hero3, gimbal stabilizer, and carbon fiber rotors.  Think that's cool?  We're just getting started.
Every morning the Coushaines eat breakfast as their built-in washing machine washes their clothes – in their truck camper!  Is that too much to handle?  Too bad, there's more.
Charlie and Jeannie have set-out to explore America from coast-to-coast, Florida to Alaska, for two years.  Oh wait, make that three years.  Or maybe five years.  Let's try this again…
Charlie and Jeannie Coushaine, after ten years of dreaming about seeing America, have hit the road with a deep bucket list, a finger to the wind, and an open mind to whatever road magic may come their way.  This is the big dream folks.  The holy moley. The "that only happens in the movies" thing.  This is it.  The Coushaines are doing it – right now and in living color as you read these electrons.
Please allow me to introduce two of the most inspiring and fun people we've met in a long time.  Get your rotors turning for the Coushaines.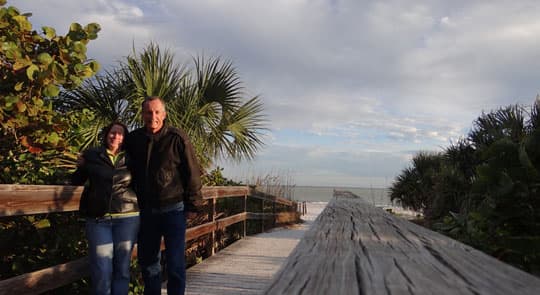 Above: Jeannie and Charlie Coushaine at Sanibel Island, Florida
TCM: How did you get into truck camping?
Charlie: My wife and I have been avid campers for many years.  We started in a tent, got a twenty-eight foot tag-a-long, and then a thirty-seven foot fifth wheel.  As the kids grew up and moved away and retirement approached, our life-long plan to take a two year USA cross-country trip came closer to reality.
To that end, we went to multiple camping shows a year looking for the perfect retirement rig.  We wanted something small enough to go off-grid and allowed for stress free driving and re-fueling.  But, we also wanted something that wasn't too small that my wife and I would be on top of each other.
We looked at everything from Class As, Class Cs, fifth wheels, and truck campers.  All seemed to have their benefits and lifestyle fits, but the truck campers seemed to fit our needs best for ease of towing, getting in and out of gas stations, and off-grid ability.  However, after looking at truck campers over the years, we found them to be just a little too small for our liking.
All that changed a year ago at a RV show in Boston.  There we saw a huge crowd around and inside a Chalet DS116-RB truck camper.  We checked it out and were immediately sold.
It was unbelievable!  It had dual slide-outs, side entry, a rotating television which allows independent entry into the bed area, and a dry bath which can be accessed with the slide-outs in.  The actual camper floor is above the truck bed rails giving the camper significantly more floor space.  The DS116-RB is what we had been looking for.
The show model was so full of people that I stepped out only to be standing next to Carl Kern from Chalet.  Carl was Chalet's chief engineer.  Carl explained how he studied the other brands of truck campers and designed Chalet to be even better.  That sold us!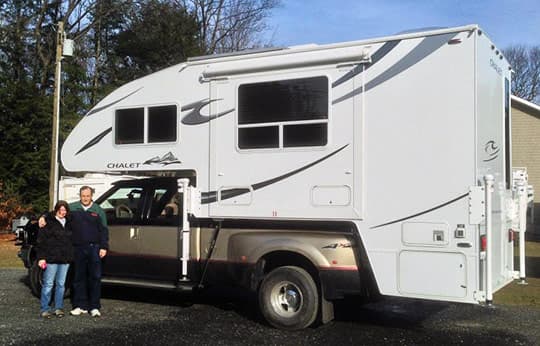 Above: Jeannie and Charlie picking up their Chalet DS116-RB from Truck Camper Warehouse
We bought our Chalet DS116-RB from Truck Camper Warehouse in New Hampshire and the experience was fantastic.  The owner, Bill Penney, and his son Ryan, have been excellent to work with.  Per our request, they added a 145 watt solar panel on the roof, and coupled that with two deep cycle batteries to allow us to go off-grid whenever we want.