What has two slides, a washing machine, scooter, and a remote controlled Quadcopter with HD video?  It's a Bird.  It's a Plane.  Look out America!  It's the Coushaines!

Charlie and Jeannie Coushaine sold their house in New Hampshire and hit the road full-time in a Chalet DS116-RB last October.  Think that's interesting?  You haven't heard the half of it.
Wherever they go, Charlie flies his tricked out DJI Phantom Quadcopter equipped with a GoPro Hero3, gimbal stabilizer, and carbon fiber rotors.  Think that's cool?  We're just getting started.
Every morning the Coushaines eat breakfast as their built-in washing machine washes their clothes – in their truck camper!  Is that too much to handle?  Too bad, there's more.
Charlie and Jeannie have set-out to explore America from coast-to-coast, Florida to Alaska, for two years.  Oh wait, make that three years.  Or maybe five years.  Let's try this again…
Charlie and Jeannie Coushaine, after ten years of dreaming about seeing America, have hit the road with a deep bucket list, a finger to the wind, and an open mind to whatever road magic may come their way.  This is the big dream folks.  The holy moley. The "that only happens in the movies" thing.  This is it.  The Coushaines are doing it – right now and in living color as you read these electrons.
Please allow me to introduce two of the most inspiring and fun people we've met in a long time.  Get your rotors turning for the Coushaines.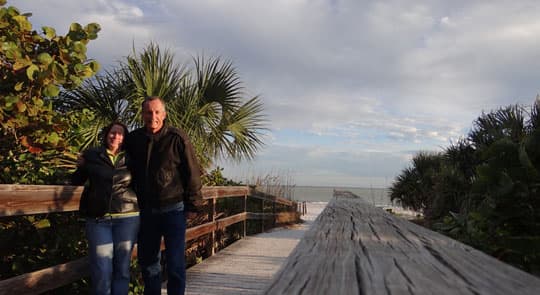 Above: Jeannie and Charlie Coushaine at Sanibel Island, Florida
TCM: How did you get into truck camping?
Charlie: My wife and I have been avid campers for many years.  We started in a tent, got a twenty-eight foot tag-a-long, and then a thirty-seven foot fifth wheel.  As the kids grew up and moved away and retirement approached, our life-long plan to take a two year USA cross-country trip came closer to reality.
To that end, we went to multiple camping shows a year looking for the perfect retirement rig.  We wanted something small enough to go off-grid and allowed for stress free driving and re-fueling.  But, we also wanted something that wasn't too small that my wife and I would be on top of each other.
We looked at everything from Class As, Class Cs, fifth wheels, and truck campers.  All seemed to have their benefits and lifestyle fits, but the truck campers seemed to fit our needs best for ease of towing, getting in and out of gas stations, and off-grid ability.  However, after looking at truck campers over the years, we found them to be just a little too small for our liking.
All that changed a year ago at a RV show in Boston.  There we saw a huge crowd around and inside a Chalet DS116-RB truck camper.  We checked it out and were immediately sold.
It was unbelievable!  It had dual slide-outs, side entry, a rotating television which allows independent entry into the bed area, and a dry bath which can be accessed with the slide-outs in.  The actual camper floor is above the truck bed rails giving the camper significantly more floor space.  The DS116-RB is what we had been looking for.
The show model was so full of people that I stepped out only to be standing next to Carl Kern from Chalet.  Carl was Chalet's chief engineer.  Carl explained how he studied the other brands of truck campers and designed Chalet to be even better.  That sold us!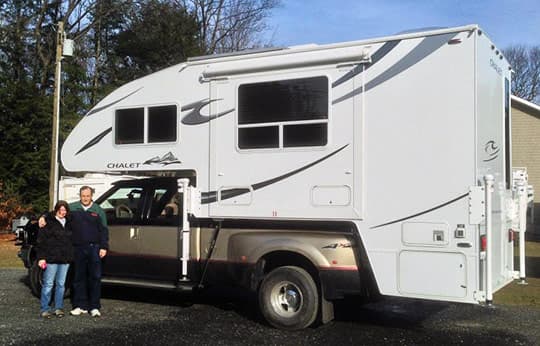 Above: Jeannie and Charlie picking up their Chalet DS116-RB from Truck Camper Warehouse
We bought our Chalet DS116-RB from Truck Camper Warehouse in New Hampshire and the experience was fantastic.  The owner, Bill Penney, and his son Ryan, have been excellent to work with.  Per our request, they added a 145 watt solar panel on the roof, and coupled that with two deep cycle batteries to allow us to go off-grid whenever we want.
After they were done, I took the rig to my house in New Hampshire and continued to customize the camper and truck for almost a year while preparing for our trip.
Jeannie: It's a big change going from a huge house and people around you, to two people in a vehicle on the road.  Before we bought this camper, we talked to people who had traveled cross-country in big Class A motorhomes, but we didn't want to tow a vehicle.  This camper is exactly what we needed.
TCM: Tell us about the two year cross-country trip your now on.  Where did the idea come from?
Charlie: For ten years we have been planning and saying that, when we retire, we would take a two year trip and see every state.
Jeannie: Part of the inspiration for this trip was my experiences growing up with a father in the Army.  Like many military families, we moved around quite a bit.  Along the way, we did a forty day cross-country trip from Alaska to San Francisco by way of New York and Miami.
TCM: That's quite the route.
Jeannie: Yes, it was.  That experience has stayed with me and inspired my interest in a cross-country trip.  Of course our route is a little less aggressive.
Charlie: I have never been west of the Mississippi and always wanted to go to Alaska.  We found RV Trip Wizard, and planned our trip there.  We can access it from anywhere.  We can plan the route and pick campgrounds.  It will tell you everything about the campgrounds, giving you a link, rate, and whether it's Good Sam or Passport America campground.  We always know where we're going next.
During the year before the trip, I got all the modifications done to both the truck and camper, and we tested out the entire system with a maiden voyage trip to Martha's Vineyard.  Everything worked great.  Once our house in New Hampshire sold, we were ready for our departure.
TCM: How long are you into your trip at this point?  And where have you gone so far?
Charlie: We started the trip on October 1st, 2013.  The two year plan is flexible.  It's two years in concept.  Now that we've started, it's clear that we can't see all fifty states and all that we want to see in just two years.  It might be five years.
Above: Video from the Badlands National Park, South Dakota
We started by going straight out to North Dakota where we returned our two cats to our son.  Then my son, his wife, Jeannie, and I went to South Dakota to the Badlands National Park, Crazy Horse Memorial, and Mount Rushmore National Memorial.
Above: Charlie, Jeannie, their son, Charlie and his wife, Jessica at Mt. Rushmore, Crazy Horse, and Badlands National Park, South Dakota
My son and his wife returned home, and we went to Saint Louis to visit Jeannie's brother for three or four days.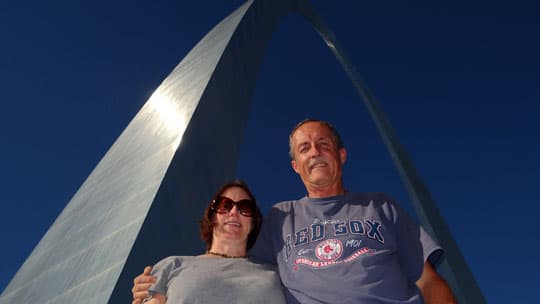 Above: Jeannie and Charlie at the The Gateway Arch, also known as the Jefferson National Memorial Expansion in St. Louis, Missouri
I flew the arch with my Quadcopter, and we did touristy things.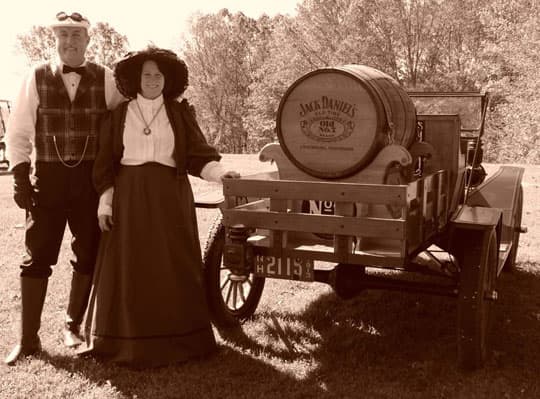 Above: Jack Daniels Distillery, Nashville, Tennessee
Jeannie: Then we went to Nashville and visited the Jack Daniels Distillery, the Grand Ole Opry, the American Pickers store, and the Dukes of Hazzard museum.  We definitely recommend Grand Ole Opry and the backstage tour.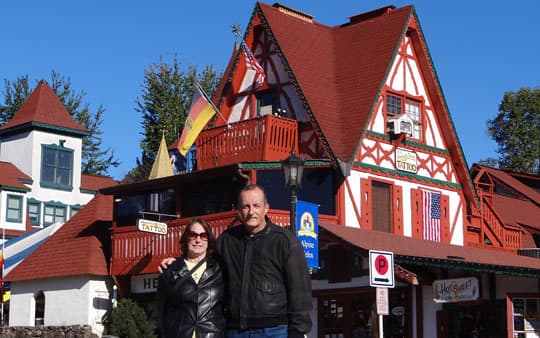 Above: Helen, Georgia, a German Bavarian town
Charlie: Then we went to Helen, Georgia, which is a German Bavarian town.  We were there during Octoberfest.  There were German oom-pah bands and the whole nine yards.  You've got to go to experience the architecture, beer halls, German food, and entertainment.  It's just an hour north of Atlanta.  We stayed at Timber Ridge Resort in nearby Cleveland, Georgia, just six miles outside of town.  Friends had recommended that we visit the town of Helen.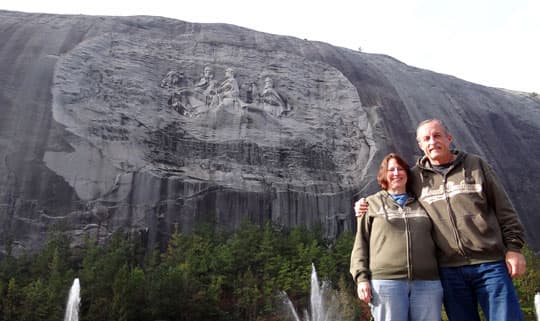 Above: Stone Mountain Park, Georgia
Then we went to Stone Mountain, which is a monument to three main confederate generals.  It is big in comparison to Mount Rushmore.  No one was there, so we got the Quadcopter out and flew it around.
Above: Video of Turtle Beach Campground, near Siesta Key Beach in Florida
From there we headed south to Turtle Beach Campground, near Siesta Key Beach in Florida.  It is a great little campground on a single road that goes to the beach with sites on either side.  There are only about forty sites.  You can walk to the end of road to the beach.  Everyone is down there watching the sunset and hanging out.  It's also two to three miles from Siesta Key beach.  That's a perfect distance for our Honda scooter.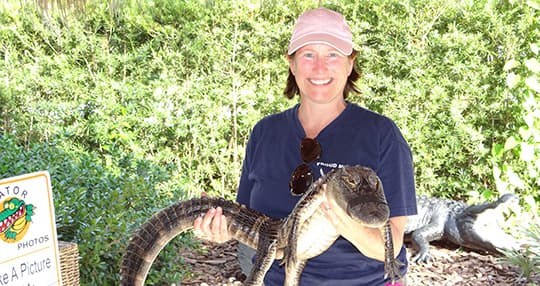 Above: Jeannie at the Gator Park in the Everglades, Florida
Jeannie: After Turtle Beach, we went to Charlie's parents house and then down to Boyd's Key West Campground.  We also went to Jetty Park Campground in Cape Canaveral.  That was awesome, but you need a reservation.  There are water-only sites right on the canal where the cruise ships go by and when they blow their horn, the big rigs respond by tooting their horns.
Charlie: Then we went to Daytona Beach and from there before attending the North-East Truck Camping Jamboree at Disney.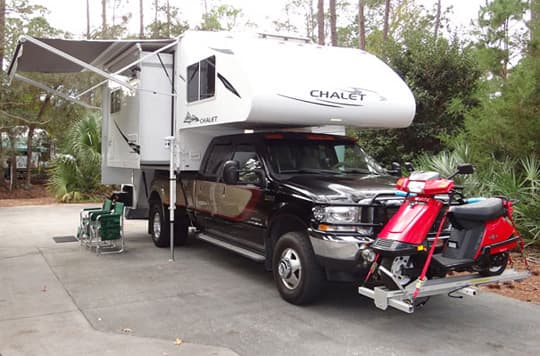 Above: Ft. Wilderness Campground, Florida
TCM: It sounds like you guys are having a blast.  Are there any set goals for the trip?
Charlie: We have a few things we definitely want to do.  We're going to Mardi Gras, San Antonio's River Walk, Grand Canyon National Park, and Alaska.  We also want to go to Lake Mead and rent a house boat and visit San Diego's Gaslamp Quarter.  We're just now formalizing our trip to New Orleans.  We also want to leave ourselves open to road magic.  Disney wasn't planned, it just worked out.
Jeannie: We have a bucket list.  We want to go to the Oregon coast, the vineyards in Napa Valley, and I want to show Charlie stuff I saw as a kid.
Charlie: To hit all fifty states, we are going to fly or cruise to Hawaii while we're out in California.
We had so many friends that stated our trip was a dream of theirs.  They asked for a way to follow us as we traveled.  To that end, I signed up for an online trip journal called Mytripjournal.com.  This has been great for allowing our friends to follow along as we travel.  Please see our trip log at the following link to see how far we have made it to date: http://www.mytripjournal.com/coushaineUSAtour2013-14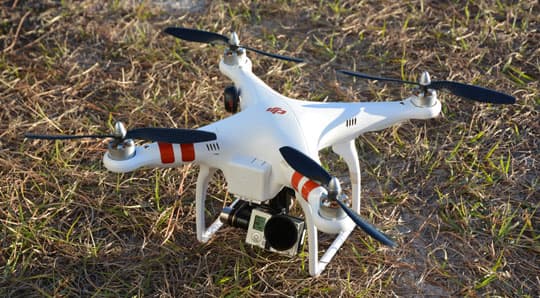 Above: DJI Phantom Quadcopter with a GoPro Hero3
TCM: Tell us about the Quadcopter.
Charlie: It's a DJI Phantom Quadcopter with a GoPro Hero3.  When I decided wanted to take aerial photography to sell our house, I started doing research and found the DJI Phantom Quadcopter.  It was only three months old, so I was a very early adopter.  I bought the Quadcopter and flew it for a month before I bought the GoPro.
I was only getting semi-satisfactory results from that set-up as I couldn't see what I was recording.  Now I have goggles that allow me to see the video as the Quadcopter is flying.  If you go onto YouTube, and you put in "DJI Phantom Quadcopter" you will start seeing videos of how people upgraded with different goggle-based vision systems.
About six-months ago, I added up a gimbal to stabilize the video.  I am also constantly upgrading the firmware for the Quadcopter.  I have to hook the Quadcopter up to my computer and upgrade it using the DJI website, so I usually wait a few revisions and then update.
I have prepared the DJI Phantom Quadcopter for the new FAA ratings.  You can enter in how far and heigh you want to fly, so I set the height at four hundred feet to comply with FAA.
TCM: How does the DJI Phantom Quadcopter work?
Charlie: There's a sequence to flying it.  I put the battery in and spin the Quadcopter around a couple times to set the compass.  This allows the Quadcopter to know where it is.  It takes five minutes to warm up and set the home position with the GPS.  If you fly out of range, it will automatically come back to where you set it off.  I've used that feature a couple times.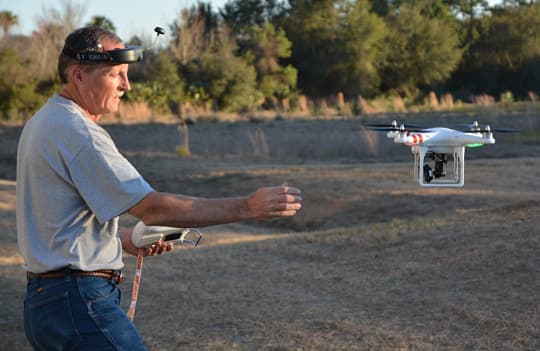 Above: At the end of the flight, the Quadcopter hovers for Charlie to grab it
TCM: How long does a flight last?
Charlie: When we first got it, it lasted ten to twelve minutes.  With the added weight of the Go Pro Hero3, the bigger battery, and gimbal, each flight lasts only about five to six minutes.
TCM: The video you get with the Quadcopter and GoPro Hero3 is unbelievable.
Charlie: The GoPro Hero3 video quality is outstanding.  I have also mounted the GoPro on the scooter or on my helmet.  I have a pole that the GoPro can go on which I've used for parasailing and scuba diving.  The GoPro has a water proof case.  It's a lot of fun.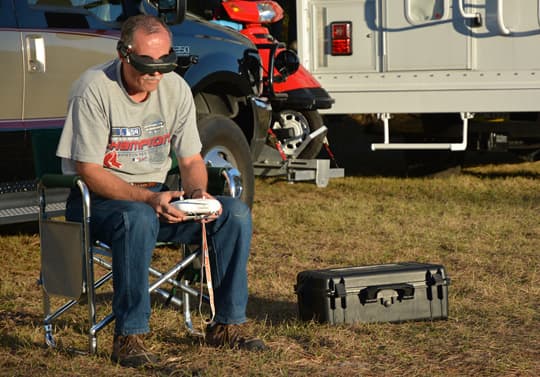 Above: Charlie watching the GoPro Video through the Fat Shark goggles
TCM: How do you edit your videos on the road?
Charlie: Microsoft Movie Maker is easy to use.  The more I use it, the better I get.  Some of the videos are 600-800 meg, so uploading is a challenge.  I often have to wait until I get a good internet connection to upload the videos to YouTube.
I want to point out that I always fly the Quadcopter with a spotter.  When flying, I can only see what the camera is seeing.  Jeannie will tell me that there is a tree in my way and I have to fly higher.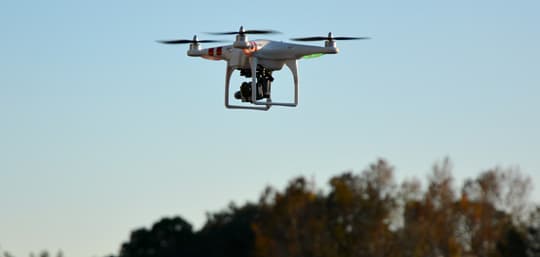 Above: DJI Phantom Quadcopter with a GoPro Hero3 in flight
TCM: Have you ever crashed?
Charlie: Many times.  I have disassembled and reassembled the Quadcopter to fix various things twenty to thirty times.  You have to learn to take it apart completely.  It's a Do-It-Yourself hobby.  That was one thing I never realized.  You need to do that if you want to keep upgrading and adding things.
One thing I upgraded was the rotor blades.  The Quadcopter comes with soft blades, but they're not good for filming.  I got carbon fiber blades for more stable flying.
TCM: What does the DJI Phantom Quadcopter cost?
Charlie: The set-up I have costs about $2,000.  That includes the DJI Phantom Quadcopter, the Go Pro Hero 3, and Fat Shark goggles.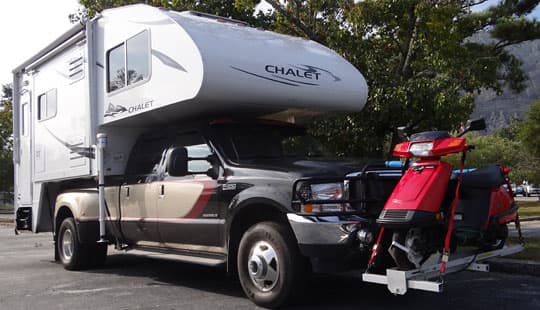 Above: Their 2004 Honda Elite CH80 scooter
TCM: Tell us about your Honda scooter and how it's worked out on the road.
Charlie: The scooter is a 2004 Honda Elite CH80.  It's a 80cc Honda.  Anything over 50cc you have to get licensed and insured.  It's only 175 pounds and powerful enough for two people.  A good friend recommended the CH80 for its reliability and efficiency.
We added a front receiver hitch so the Honda can come along with us.  The mount is lowered so the scooter doesn't block our visibility while driving.  The only thing I see is the scooter's mirrors and handlebars, but they are in the breakdown lane.
TCM: Do you use it much?
Charlie: We use it all the time and have found that we can take scooter almost everywhere.  When we went to Daytona, we picked a campground that was close enough to the beach with roads that are forty-five miles per hour or less.  Key West was a much better experience because we had the scooter.  I love it.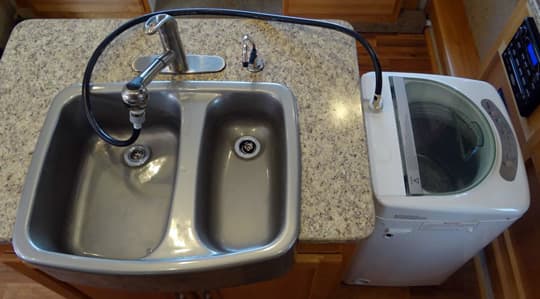 Above: The Haier HLP21N washing machine in the Coushaine's Chalet DS116-RB
TCM: As if we needed one more thing to make your story interesting, you also have a washing machine in your truck camper.  How the heck did you do that?
Charlie: If we were going to take two year trip, I was not going to take a day a week to go to a laundromat.  In our Chalet double-slide, there's room in between the island and the television.  The unit, is a Haier HLP21N.  It runs of 120 volts.
TCM: How did you install it?
Charlie: The washing machine is suspended off the floor on a dove tail joint.  I ran the plumbing directly into the kitchen sink and installed a special connection on the tap that fits directly into the washing machine.  The installation is very clean and functional.
The whole idea is that we use the washing machine almost every day.  We put our dirty clothes in and start the wash when we eat breakfast.  When we're in campgrounds we hook up to water and sewer.  It takes one and a half gallons for a load of laundry.  We have done many loads in it.
TCM: How do you dry the clothes?
Jeannie: We hang our clothes on a line outside or in the bathroom to dry.  We have even done sheets one at a time.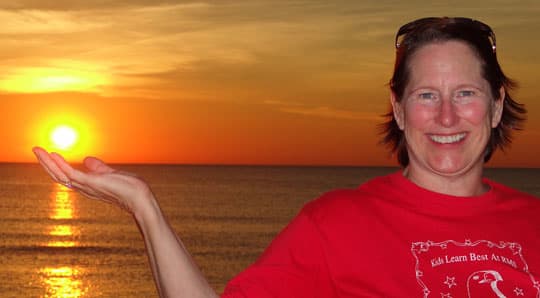 Above: Jeannie at Turtle Beach, Florida
TCM: That's amazing.  You guys are true out-of-the-box thinkers.  I know a few readers are reading your interview thinking, "I gotta get me one of those Quadcopters, and the washing machine!"  Or maybe that's just us.  Are you happy with the experience of full-timing in a truck camper?
Jeannie: I thought we would have times we would want to take breaks from the camper.  When we stayed two weeks at Charlie's father's house, we were both anxious to get back on the road.
Charlie: I think we could travel this way indefinitely.  We love being on the road!  We've kept connected through our trip journal, phone calls to our kids and, if we have good internet, we can Skype.  We fly the Quadcopter everywhere we go.  Our goal is to film the country as we go.
Truck: 2001 Ford F350, crew cab, long bed, dually, 4×4, diesel
Camper: 2012 Chalet DS116RB
Tie-downs/Turnbuckles: Torklift
Suspension: Airbags
Gear: 145 watt solar panel, 12V, 120 psi air compressor for tires and air bags, Blu Ray player,  Rear view camera, Haier HLP21N washing machine, 2007 Honda Elite CH80 scooter
Do you have a neat hobby on the road like Charlie and Jeannie Coushaine with their quadcopter?  Maybe you go metal detecting, bass fishing, or photograph wildlife.  Please share your story about your unique hobby on the road.