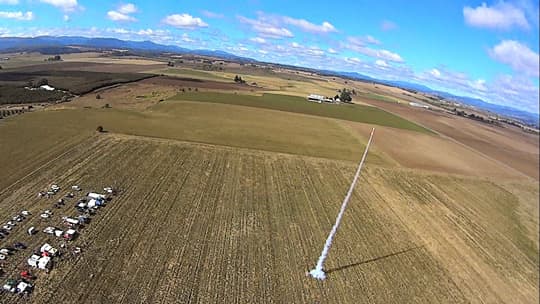 Above: Oregon Rocketry Fillible's Follies event, Sheridan, Oregon. Photo courtesy of Rod Moorehead.
TCM: How did you get involved with the Oregon Rocketry Club?
Gary: I attended one of their launches and immediately joined.  There are rocketry clubs all over the country.  There are also two national organizations that provide oversight and rules and regulations to the launch events.
There's Tripoli Rocketry Association and the National Association of Rocketry.  The focus of the national organizations are somewhat similar, which is to promote amateur rocketry.  But they each have a different philosophy.
The National Association of Rocketry has competitions and educational activities for kids and youth groups.  Their focus is promoting rocketry to young people and into careers in aerospace.
Triply Rocketry is for experimental rocketry, like fabricating motor formulas.  That's the organization to fly under for extreme projects.
I am a member of both.  They provide the insurance for rocketry activity.  Local clubs fly under their rules.  There are competitions, but not every organized launch event has competitions.  It's up to the host agency.
TCM: How do you make your own rockets?
Gary: You can buy kits.  That's how people start out.  Estes makes kits for kids.  You can get small model rocket kits at Walmart for as little as $10.  It goes up from there.  For the large scale projects like the one that flew to over 100,000 feet, it's a custom build.  Those can be four or five figures in cost.  That's another reason why a team approach is typical, so costs are shared.  Some teams have sponsors.  Big name companies sometimes kick in to be associated with the build and launch.
The high powered kits, like mine, are in the $200 to $300 range to purchase, including the kit that I purchased for level three certification.
Above: Level 3 certification flight; a 4″ diameter 8′ long rocket, flying on an M1297 motor that went to 14,500 feet
TCM: One of the photos was labeled, "My successful Level 3 Certification flight.  The rocket is 4″ diameter 8′ long flying on an M1297 motor.  It flew to 14,500 feet."  Do you have to be certified to participate with the rocketry organizations?
Gary: There are three levels of certification.  My kit for Level 3 Certification was about $275 dollars.  I kept track of my time building it.  It was about 100 hours of build time.  It flies to about 14,000 feet.  Flying it is a whole day event with the prep, launch pad, recovery, clean up, and doing post flight data analysis.  You only need a certification to fly high power rockets.
The model rockets are little and are launched again and again.  Those are fun to do with kids.  With the little rockets, you don't have to think too hard.  The small rockets are inherently safer and there is less risk.  You do not need a certification to fly model rockets.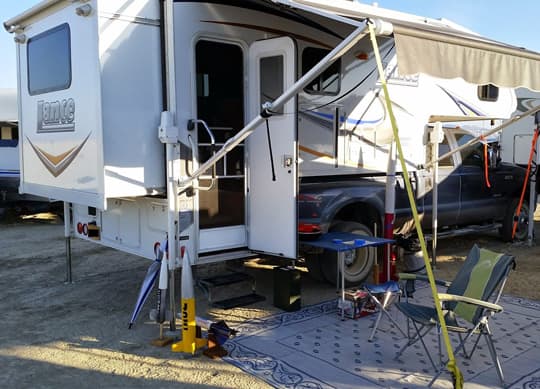 Above: The rockets being prepped before the flight
Above: A video of one of Gary's rockets being launched