Gary Lech's 2015 Lance 1172 takes him to the launch pad where he fires eight-foot Level 3 rockets 14,500 feet into the atmospheres of Oregon and Nevada.  Three, two, one…

If Gary Lech walked around a shopping mall with one of his rockets, he would be on the national news that evening, and not in a good way.  We're talking seriously big rockets, the kind that you have to call ahead to the Federal Aviation Administration, the National Guard, and other government organizations before even thinking about launching into controlled airspace.  These are not your everyday bottle rockets kids.
Fortunately, Gary is on our team.  As an avid truck camper, Gary uses his 2015 Lance 1172 to get to Oregon Rocketry Club events where he camps for long weekends of rocket launches and camaraderie.  After reading Gary's description of rocket events all over the country, we have put a few into our 2015 calendar.  See you on the flight line.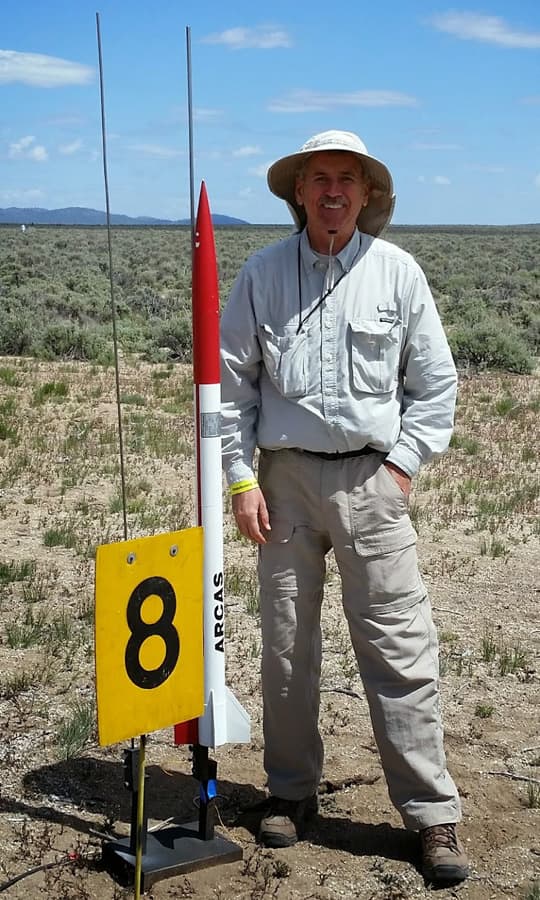 Above: Gary ready to launch a scale replica of the NASA ARCAS sounding rocket. It flew to 2,300′.
TCM: How did you get into truck camping?
Gary: My wife and I are former wilderness tent campers and backpackers.  When I retired in 2006, we moved from California to Oregon.  That's about when we decided to move up to something more comfortable than a tent.  I started by buying the biggest truck I could find, a 2007 Ford F-350 dually.  Then I found a used 2004 Eagle Cap 1150 truck camper, which we used for eight years.
The 2004 Eagle Cap was built by the original Eagle Cap company, Intermountain RV.  Unfortunately, the slide failed repeatedly, even after factory repair.  The third time we had problems, we decided to trade it in on something new.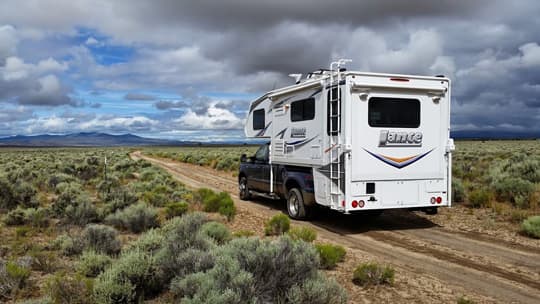 Above: Gary and Sally's Lance 1172 on the road to the Oregon Rocketry launch site near Brothers, Oregon
We talked about going to a fifth wheel because, being in our 60s, the truck camper was starting to get a little difficult to get in and out of.  Then we decided the side door 2015 Lance 1172 truck camper was a better fit for us.  My wife really wanted the couch and double slide, so the 1172 made perfect sense.  The 1172 is also more comfortable for us to get in and out of.  Besides, we like the freedom a truck camper provides.
The rig rides like a Cadillac when the camper is on the truck.  However, when the camper is off, it rides like a truck.  Let's just say you don't want to be sitting in the back seat.  I haul pellets for heat.  I can have two tons of pellets in the back.  My truck likes driving with a load.
Our truck camper allows us to get to remote places and be comfortable.  It's a great excuse to go out and wander around in the sage brush.  If we didn't have the rockets, people would think we were weird.  We get to scare the jack rabbits and see beautiful places in the country.  All of these rocket areas are spectacular, magical places.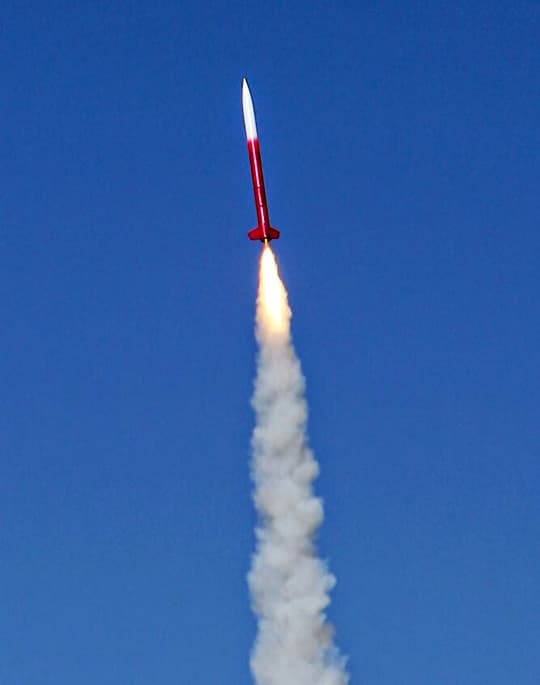 Above: One of Gary's rockets launching into the atmosphere
TCM: How did you get into rocketry?
Gary: I'm a retired geek.  When I was a kid, I launched rockets as a hobby.  As part of my new retirement, my wife bought me a small rocket kit for Christmas.  She put a note with it that said, "Here's something you can do in retirement".  After launching small rockets a few times, I got hooked on it again.  I am a born again rocketeer.
I found a network of clubs and joined the Oregon Rocketry Club.  One thing led to another, and rocketry became the center of another expanding universe.
As I got into it, my rockets got bigger and bigger, and my flying got higher and higher.  It's a great group of smart people who are involved in this activity.  There are lots of engineers and tech workers like myself.  It is a good fit amongst the people who do this thing we call amateur rocketry.  The sky is the limit of what you can do and how high you can fly.  In fact, there was just recently a new record of 118,000 feet by an amateur rocketry team at Black Rock playa in Nevada.