The same suction cup solution applied with two wall mounted soap dishes.
Meanwhile, in the cabover closet, Kathy found (and slightly modified to fit) a hanging organizer that's worked out perfectly to increase useable storage in the cabover.
We also added two six-volt golf cart batteries, which were a real squeeze to get into the battery compartment.  They have been worth it for the electrical longevity that they allow when boondocking, which is our preferred method of camping.
Just in case we need emergency power, we keep a quiet and portable Yamaha 2000 watt generator in the compartment where Adventurer normally installs an Onan.  We prefer the portable gas Yamaha generator to the built-in propane Onan generators, which we deemed much too noisy and vibration producing.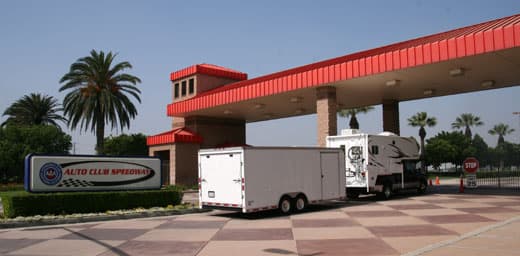 Dispersed camping is our modus operandi, and perhaps the most dispersed of the camping we do is at racetracks all over the Southwest.  Both Kathy and I race cars with the SCCA (Sports Car Club of America), and we tow a twenty foot enclosed Pace race car trailer.
It's made for some good natured ribbing between us, as once I traded paint with her pretty roughly – unintentional, I swear – as we came onto the main straight.  The track announcer yelled out, "And folks, they're married!" to the crowd, which got a huge reaction.  She still has a little of my paint left on her car, and has refused to polish it off as a reminder to me about that particular incident.  Grrr!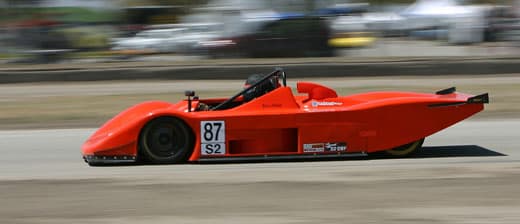 We both race in the same class car, at the same time, which can make for some pretty interesting tweaks to our marital relationship.  We have a saying amongst ourselves, "When the helmet goes on, the marriage is off!"  Is that ever true!  When we're on the racetrack, it's every man (or woman) for themselves, so get out of my way!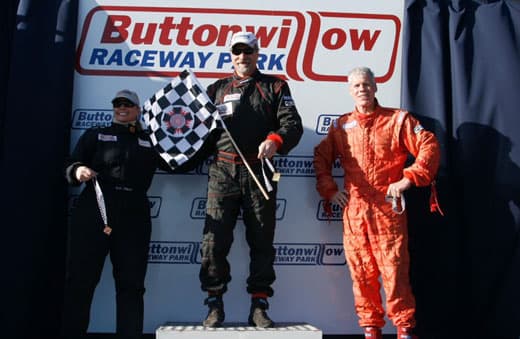 Our weekends with the SCCA are really fun.  Racing cars is exciting, as you might imagine, and it also builds character.  You must be prepared for every contingency, from rain, wind, and heat, to changing a clutch, repairing an engine, replacing bodywork, and hosting hearty meals and beverages for crew and friends.  All this while analyzing and tuning the car's suspension and aerodynamics to suit track conditions.  "It's more work than work!" as one of our compatriots once observed.  At the same time, it's very rewarding in uncountable other regards.

Our Adventurer truck camper is the ideal RV for this avocation.  In the tight paddock area that some tracks have, with trucks and trailers tightly packed in together, we can deftly maneuver into the narrowest of spaces, set up our race team, and camp right there in the race paddock.
The camper is our hospitality suite for us and our crew and our home away from home at the track.  When the time comes to put down the tools and race, it's also a changing room for getting into our racing fire suits.
If the trip to the track is a distant one, we'll drive all day and pull into a WalMart for a good night's sleep.  Then we're on the road again in the morning.  Our truck camper allows us incredible flexibility and comfort when we're wearing our racing hats.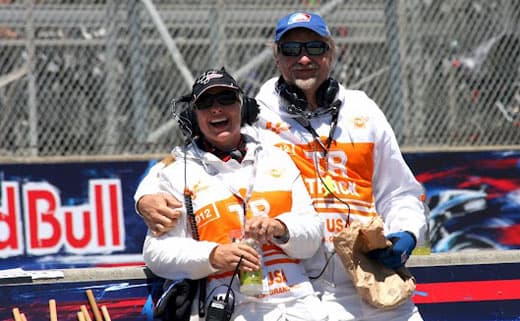 When we're not racing, we use the camper at the racetrack to do volunteer work as Turn Marshalls for races throughout the West.  Turn Marshalls are track side workers whose job is to communicate track conditions and commands from Race Control (in the tower) to the drivers on the track.  This is accomplished with about ten different colored flags that can be displayed stationary or waving, depending on the meaning intended.
Drivers risk their lives and equipment at every turn, and Turn Marshalls let them know the conditions ahead so they can confidently come around a blind turn at full speed knowing that the track is clear and safe ahead.  Turn Marshalls are also the first responders to fire and other emergencies as they may occur.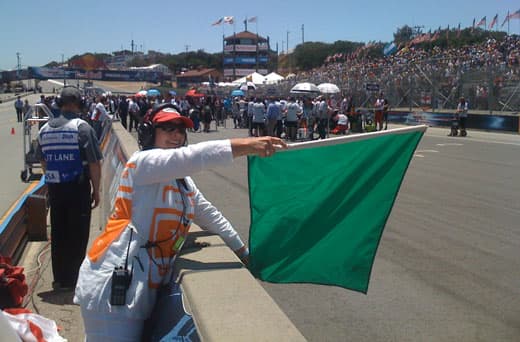 The best thing about being a Turn Marshall is the view.  We get to watch all kinds of races up front and center, without fences impeding our view.  We also enjoy full access to everywhere on the track, including on the track itself before and after the race.