Ed Krech volunteers in Alabama with his truck camper helping victims of the April 27th tornado outbreak.  Here's his story and some information on how we can all get involved, and help.

We prepared a list of questions for Ed's phone interview, but they weren't necessary.  After cheerfully saying, "Hello" and asking how we were doing, Ed began to unravel the story of his experiences helping the people of Alabama as they recover from the devastating tornados of April 27th.
Angela and I just listened, rapt in his words, touched by his emotion, and deeply inspired by the selfless and giving nature Ed has for his fellow man.  As he concluded his story, Ed explained it best, "I see the best of mankind in times like this.  Everyone is helping each other and people are loving each other.  I love it.  I step back and think there is hope for our world.  We are a good people.  We just don't hear enough about it".
We feel privileged to know Ed, and hope his story inspires you, as he did us, to do what we can to help the victims of the recent tornadoes.  For starters, we have a link to the Red Cross, one of the organizations Ed supports for tornado relief efforts.  Truck Camper Magazine has made a donation to the Red Cross in Ed's honor.  We hope you can help too.
Ed Krech in Alabama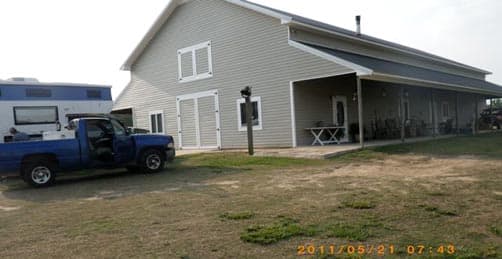 ABOVE: Ed's Outfitter truck camper next to the barn where he camped out
Currently, I'm in Rainsville, Alabama, which is ten miles west of Fort Payne, Alabama, home of the country group Alabama.  I've been here in Alabama since a few days after the tornado ripped through.
When I started helping out, I was in Hatton, Alabama.  When I first got to Alabama it was cold and pouring rain.  It was awful.  After four or five hours of working outside, I was soaked to the bone.  It was just a mess.
There looked like there was a lot of help in Hatton, and the recovery effort was pretty well organized.  So I started looking for another place to help out.  I was going to travel to Tuscaloosa, but then came here to Rainsville because this place got hammered and not many people were here helping because Rainsville hadn't received much publicity after the tornado.  Here in DeKalb County, Alabama, there were thirty-five to forty people killed.  The houses are totally gone in some places.
Pack Up and Go Help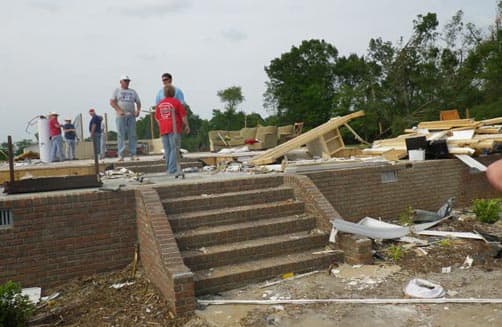 ABOVE: Ed volunteering in Rainsville, Alabama
Both times I've volunteered, I've just packed up and left.  The first thing I do when I arrive is contact the local Church of Christ, of which I'm a member back in Tennessee.  After that, I find the local city hall or sheriff's department and start talking to them.  When I get there I say, "I'm from Franklin, Tennessee and here to help".
Sometimes I have had to register and wear something to show I'm a volunteer.  The local churches are on the forefront of things.  People love to have you come in and be a part of it.  And the people you help are so thankful.
They also feed you well.  Today we had lunch and the ribs fell off the bone.  It's great southern cooking.  I had creamed corn, mashed potatoes, homemade rolls, and, for dessert, apple cobbler with ice cream on it.  It was a great lunch!  I've actually lost weight being down here.  I've gotten thinner and I'm looking good.
Helping Out in Alabama