I have a Harley Road Glide.  I tow it in the same enclosed trailer that I use for my Corvettes.  The trailer works out well for the Harley.
There was almost a million people at Sturgis this year, but we didn't have any traffic in the countryside.  Sturgis is three to four days of beautiful riding and meeting interesting people.  There are also events like drag races, hill climbs, and the bar scene downtown.  It's a great place to ride.
Above: The Formula 1 race in Austin, Texas – click to enlarge
TCM: Tell us about attending car races with the Phoenix Custom Camper.
Hugh: A buddy and I went to Austin, Texas for the Formula 1 race in the Phoenix Custom Camper.  I used the motorcycle to run between the racetrack and downtown Austin.  Formula 1 cars are similar to Indy cars, but more sophisticated.  Formula 1 cars have so much downforce that they could potentially ride upside down.
I also took my Phoenix Custom Camper, enclosed trailer, and motorcycle to the drag races in Gainesville, Florida.  Then we went over to Bike Week in Daytona for a few days.  The trailer worked out as a lounge and Pizza Delivery location at the campsite.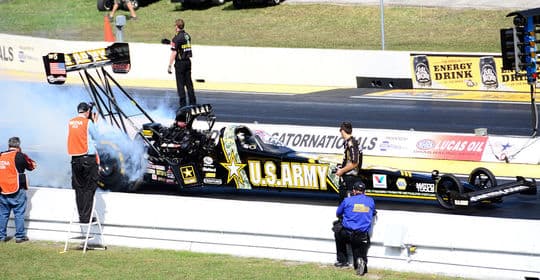 Above: The Gator National drag race in Gainsville, Florida – click to enlarge
I am a spectator at the drag races.   Locally, I go to the Gator National drag race at in Gainsville, Florida and the Atlanta Dragway race in Atlanta, Georgia every year.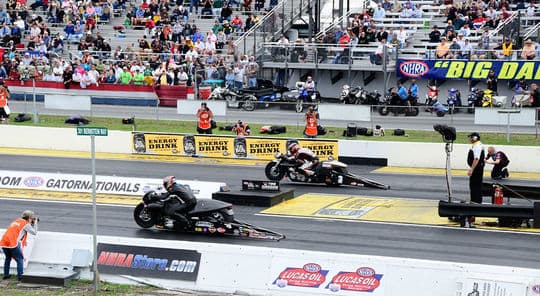 Above: The Prostock Motorcycle Race, Gainsville, Florida – click to enlarge
I'm going to 24 Hours Of Daytona in January 2016.  There are a few classes of cars at that race.  There will be the prototypes with limited rules.  It's about who will have the fastest car that lasts the longest.  Then there will be sports cars like Corvettes, Ferraris, and Porches.
I've never been to a twenty-four hour race, and I'm looking forward to it.  We have a spot on the infield, so the cars will get pretty close. It's $800 for four days, but the cars will be running all night with headlights on.  This is an endurance race, so the cars are designed completely different.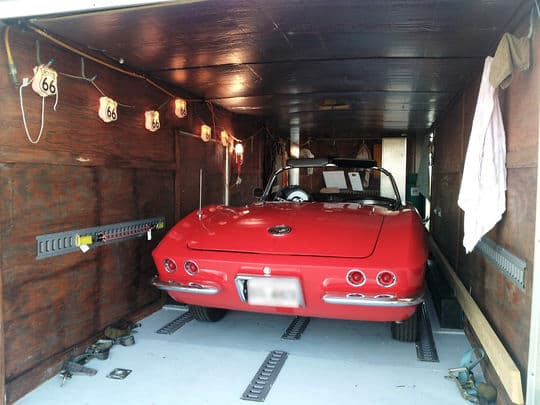 Above: Hugh's 1962 Corvette in the trailer – click to enlarge
TCM: You have both a covered trailer and an open trailer.  What's the difference for towing and application?
Hugh: The covered trailer is my portable garage.  It's really beneficial for the shows.  I can tow my car in the rain, and not have it dirty when I arrive.  Plus, when I'm at a show, I have my own garage to park my car in overnight.
Above: Storing the Corvette in the trailer keeps it clean overnight – click to enlarge