With his Phoenix Custom Camper rig, Hugh Benscoter tows his 1963 Corvette to Corvette FunFest, or his Harley Road Glide to Sturgis, NASCAR, and Formula 1 races.  This is life, in the fun lane.

Allow us to predict a few thoughts you are going to have when you read Hugh Benscoter's article.  First, "Nice car."  If you don't think a 1963 Corvette C2 coupe is at least a beautiful automobile, please check your pulse.
Second, "Nice motorcycle."  While some of us may not be motorcycle enthusiasts, it's tough not to admire the blend of classic and modern lines on a Harley Road Glide.  Let's just say Hugh has some iconic American toys.
Third, "That looks like fun".  With his Phoenix Custom Camper, Hugh tows his Corvette or Harley to a number of amazing motorcycle events and car races.  It would be great fun to take a truck camper to a NASCAR or Formula 1 race and experience that scene and event.  The Corvette FunFest, in particular, looks like something many Truck Camper Magazine readers might enjoy.  After talking to Hugh, we want to go.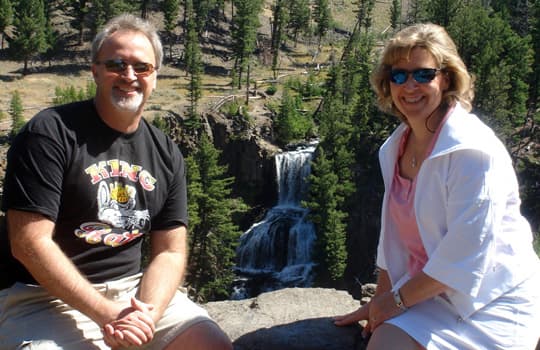 Above: Hugh and Patti Benscoter, Yellowstone National Park, Wyoming
TCM: How did you decide to get a truck camper?
Hugh: Before getting my truck camper, I thought about many options for camping and taking my toys with me.  I wanted to go to car shows, but hated to leave my car outside.  It seemed that I would always run into rain on the way to the shows.  A week of cleaning was wasted in a fifteen minute rainstorm on the highway.
I needed a covered hauler.  A truck camper seemed like the best option.  Now I can travel with a small trailer, a covered trailer, or no trailer at all.  I can take my car, motorcycle, ATV, or whatever I want want to take along.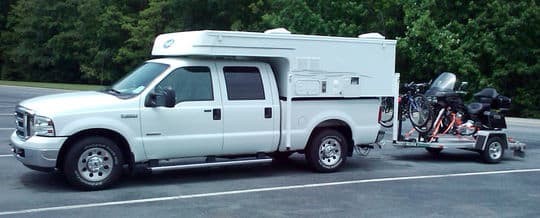 Above: Their Phoenix Custom Camper short bed has no overhang for easy towing
TCM: What led you to Phoenix Custom Campers?
Hugh: I needed a truck camper that was self-contained and the right weight.  No one really made a camper back in 2010 that would fit a short bed truck, had no overhang, and was self-contained.  That's how I came to Phoenix Custom Campers.  They set me up with a camper that fit my truck, hit my weight needs, and met my requirement to be self-contained.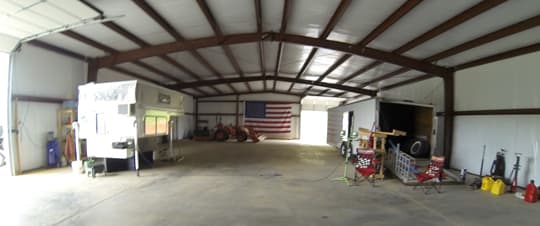 Above: Hugh's barn has a 14-foot bay door
I wanted a pop-up camper for low clearance and wind resistance.  I also wanted to keep the camper in my garage and out of the weather.  I store everything; Corvettes, motorcycles, ATVs, everything.  In fact, I just built a barn with a 14-foot bay door.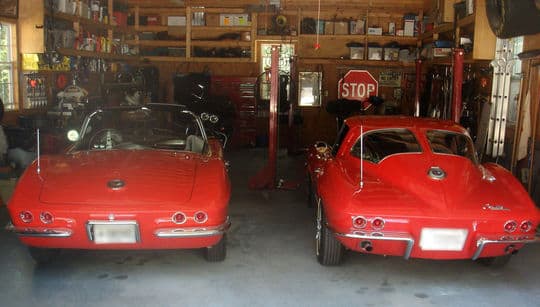 Above: 1962 Corvette C1 (left) and 1963 Corvette C2 coupe (right) in Hugh's garage
The camper needed to fit my short bed truck.  I wanted the camper to stop at the tailgate because I didn't want a truss extension.  I also wanted a wet bath and a cassette toilet.