With his Phoenix Custom Camper rig, Hugh Benscoter tows his 1963 Corvette to Corvette FunFest, or his Harley Road Glide to Sturgis, NASCAR, and Formula 1 races.  This is life, in the fun lane.

Allow us to predict a few thoughts you are going to have when you read Hugh Benscoter's article.  First, "Nice car."  If you don't think a 1963 Corvette C2 coupe is at least a beautiful automobile, please check your pulse.
Second, "Nice motorcycle."  While some of us may not be motorcycle enthusiasts, it's tough not to admire the blend of classic and modern lines on a Harley Road Glide.  Let's just say Hugh has some iconic American toys.
Third, "That looks like fun".  With his Phoenix Custom Camper, Hugh tows his Corvette or Harley to a number of amazing motorcycle events and car races.  It would be great fun to take a truck camper to a NASCAR or Formula 1 race and experience that scene and event.  The Corvette FunFest, in particular, looks like something many Truck Camper Magazine readers might enjoy.  After talking to Hugh, we want to go.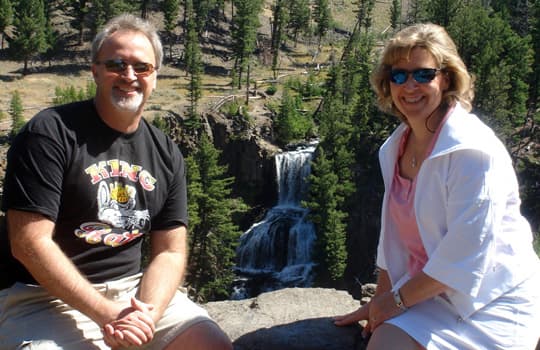 Above: Hugh and Patti Benscoter, Yellowstone National Park, Wyoming
TCM: How did you decide to get a truck camper?
Hugh: Before getting my truck camper, I thought about many options for camping and taking my toys with me.  I wanted to go to car shows, but hated to leave my car outside.  It seemed that I would always run into rain on the way to the shows.  A week of cleaning was wasted in a fifteen minute rainstorm on the highway.
I needed a covered hauler.  A truck camper seemed like the best option.  Now I can travel with a small trailer, a covered trailer, or no trailer at all.  I can take my car, motorcycle, ATV, or whatever I want want to take along.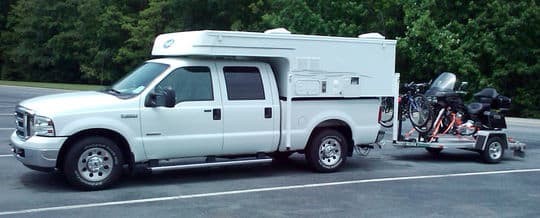 Above: Their Phoenix Custom Camper short bed has no overhang for easy towing
TCM: What led you to Phoenix Custom Campers?
Hugh: I needed a truck camper that was self-contained and the right weight.  No one really made a camper back in 2010 that would fit a short bed truck, had no overhang, and was self-contained.  That's how I came to Phoenix Custom Campers.  They set me up with a camper that fit my truck, hit my weight needs, and met my requirement to be self-contained.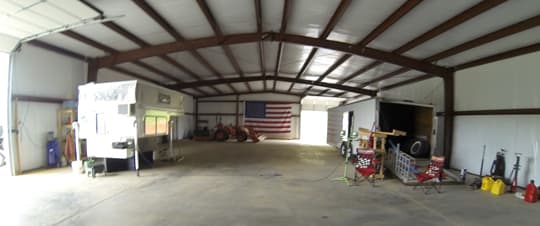 Above: Hugh's barn has a 14-foot bay door
I wanted a pop-up camper for low clearance and wind resistance.  I also wanted to keep the camper in my garage and out of the weather.  I store everything; Corvettes, motorcycles, ATVs, everything.  In fact, I just built a barn with a 14-foot bay door.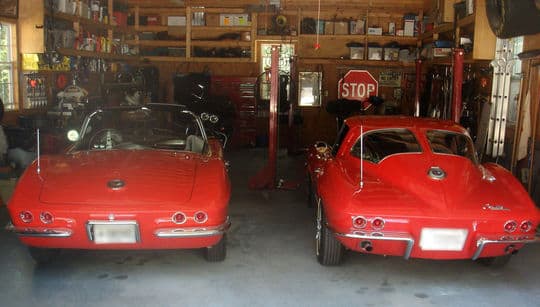 Above: 1962 Corvette C1 (left) and 1963 Corvette C2 coupe (right) in Hugh's garage
The camper needed to fit my short bed truck.  I wanted the camper to stop at the tailgate because I didn't want a truss extension.  I also wanted a wet bath and a cassette toilet.
Above: A self-contained short bed, pop-up camper with a cassette toilet – click to enlarge
Robby Rowe of Phoenix Custom Campers did a great job of building a self-contained camper that did not extend past the bumper of my truck.  He jammed a lot in a small space.  I don't know how he did it, but he did.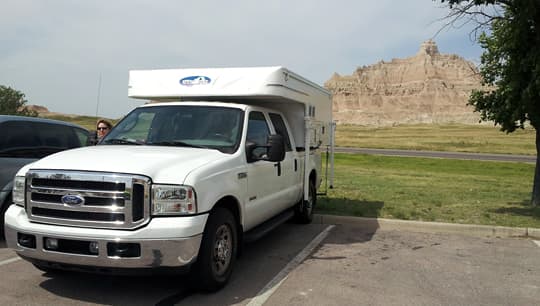 Above: Their Phoenix Custom Camper in Badlands National Park, South Dakota
TCM: Phoenix Custom Campers is factory direct from Denver, Colorado.  You live in Atlanta, Georgia.  How did that work?
Hugh: First I read the online reviews from other Phoenix Custom Camper owners.  Then I contacted Cari and Robby Rowe, Co-Owners of Phoenix Custom Campers, and they impressed me as honest and straightforward people.  I liked that I could buy a camper from a company where I could shake the owner's hand.
Back then, no one was offering six and a half foot pop-up truck camper with wet bath.  I didn't want to overload my truck, and Phoenix Custom Campers was able to give me everything I wanted.  They were willing to build a camper specifically for me.  I know that I was driving Cari nuts calling and emailing all the time with questions.  She was great.
We finally ordered our camper right before Christmas of 2010.  Even after the sale, the Phoenix Custom Camper team has been great.  I asked them for a ladder and they happened to have one in stock.  I don't have a lot of wall space because of the cassette toilet, and they came up with a solution so that I can leave my ladder on the back.  It has worked out perfect.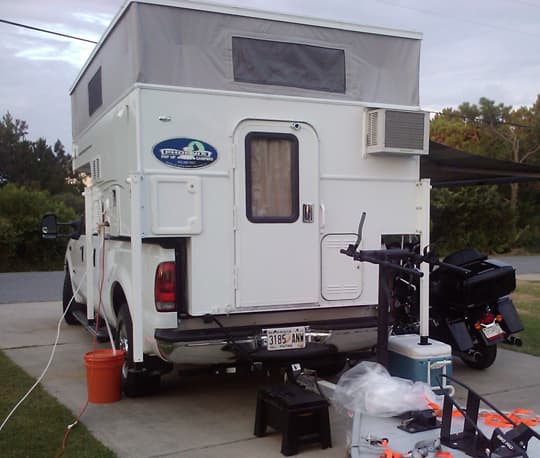 Above: The air conditioner is mounted on the back wall of the Phoenix Custom Camper
TCM: You have an air conditioner on the back wall of your camper.  People ask all the time about alternatives to roof top air conditioners.  What do you think of it?
Hugh: So far, so good.  It takes out the overhead problem and there's no hole in the roof.  It's no trouble because it sits off to side of the dinette out of the way.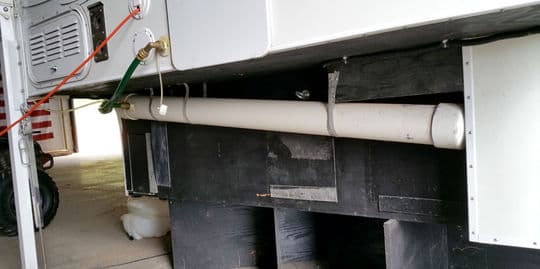 Above: The PVC grey water storage tank modification – click to enlarge
TCM: Have you made any modifications to your camper after taking delivery?
Hugh: I added a grey water storage tank to the camper after reading a TCM mod article.  I took PVC pipe that has an inlet and exit port on it and attached it to my camper.  It stores almost five gallons.  Before I had a hose that went into a bucket.  This solution was easy and the PVC tank stays with the camper.

Above: 1962 Corvette C1 (left) and 1963 Corvette C2 coupe (right) – click to enlarge
TCM: Tell us about your Corvettes.
Hugh: I have always loved Corvettes and I've always been into cars.  I bought my first Corvette when I was twenty-five years old.  It was a silver 1985 Corvette C4.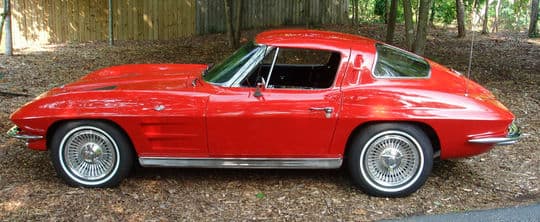 Above and below: 1963 Corvette C2 coupe – click to enlarge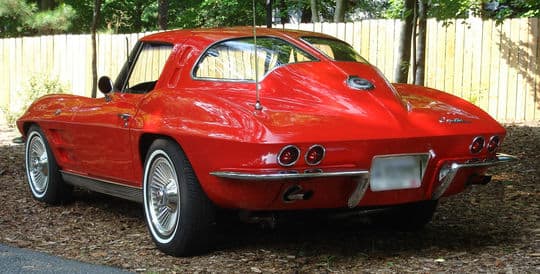 Then I bought a red 1962 Corvette C1 because that was the year I was born.  My third Corvette is a red 1963 Corvette C2 coupe, which is one of the top five Corvettes someone would want.  It was an only year car, so it's very coveted.
The 1985 Corvette C4 was a secondary car for me, whereas the 1962 and 1963 didn't have many miles.  I got nervous about driving the 1962 and 1963 Corvette after certain point because they were older and more valuable cars.  The 1962 also had drum brakes, so it didn't stop like new cars do.  Driving it in traffic was not a comfortable experience.  Eventually, I sold the 1962.  Now I take 1963 to shows.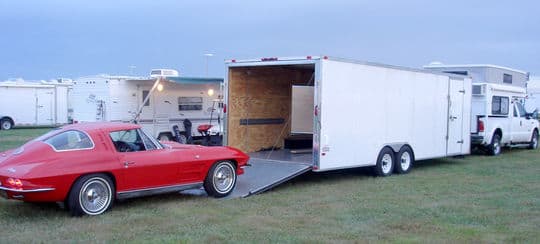 Above: 1963 Corvette and camping at FunFest – click to enlarge
TCM: Do you work on the Corvettes, or do you just take them to shows?
Hugh: I have worked on both the 1962 and the 1963.  With the 1962, I put in a new engine and rebuilt rear the end.  In the 1963, I installed a new transmission, and still have more work to do.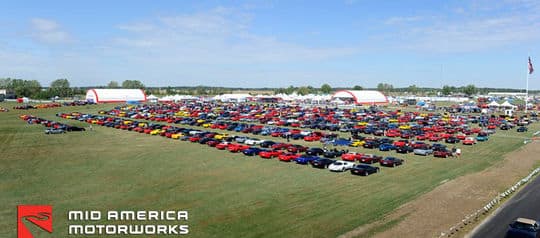 Above: Corvette FunFest is in Effingham, Illinois in September – click to enlarge
TCM: Tell us about Corvette FunFest.
Hugh: Corvette Funfest is run by Mike Yager and his family in Effingham, Illinois every September.  It's become one of the largest annual Corvette gatherings in the country.  They always have a band play Saturday night with all kinds of activities all weekend.  The event lets you dry camp on site for a $25 weekend pass which includes everything and a welcome bag.  Mike and his family put on a great weekend.
I have a job, so it's hard to travel to other shows.  FunFest has turned into one of the largest Corvette shows in the world.  They have a huge area for camping because Mike owns a huge plot of land.  Originally he wanted to have a racetrack there.  People can just park and camp for the weekend.  The grounds are nice and flat.
Above: Dry camping at Corvette FunFest – click to enlarge
I want to go to the Pennsylvania Corvette Show, but I haven't yet.  I go to shows for fun, not for the stress of judging.  I never could take the pain of someone picking over my car.  We just drive around and hang out with friends.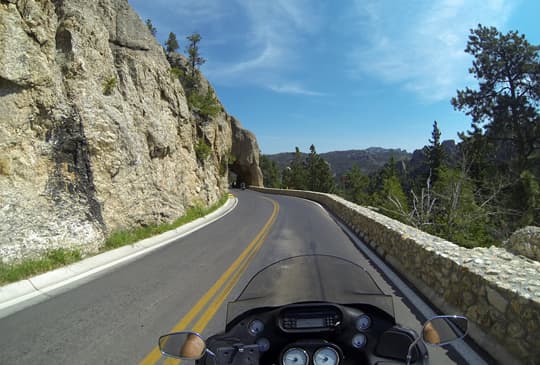 Above: Riding on the Needles Highway, South Dakota
TCM: You're also passionate about motorcycles and went to Sturgis with your Phoenix Custom Camper this year.
Hugh: Sturgis is definitely something to experience if you're into motorcycles.  Riding in that area is a beautiful experience.  There are also nearby attractions like Crazy Horse and Mount Rushmore.  You can ride on two lane roads and get far off the highway.
I have a Harley Road Glide.  I tow it in the same enclosed trailer that I use for my Corvettes.  The trailer works out well for the Harley.
There was almost a million people at Sturgis this year, but we didn't have any traffic in the countryside.  Sturgis is three to four days of beautiful riding and meeting interesting people.  There are also events like drag races, hill climbs, and the bar scene downtown.  It's a great place to ride.
Above: The Formula 1 race in Austin, Texas – click to enlarge
TCM: Tell us about attending car races with the Phoenix Custom Camper.
Hugh: A buddy and I went to Austin, Texas for the Formula 1 race in the Phoenix Custom Camper.  I used the motorcycle to run between the racetrack and downtown Austin.  Formula 1 cars are similar to Indy cars, but more sophisticated.  Formula 1 cars have so much downforce that they could potentially ride upside down.
I also took my Phoenix Custom Camper, enclosed trailer, and motorcycle to the drag races in Gainesville, Florida.  Then we went over to Bike Week in Daytona for a few days.  The trailer worked out as a lounge and Pizza Delivery location at the campsite.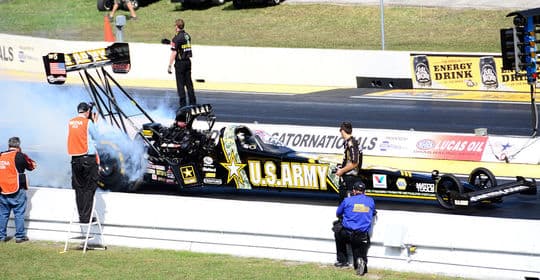 Above: The Gator National drag race in Gainsville, Florida – click to enlarge
I am a spectator at the drag races.   Locally, I go to the Gator National drag race at in Gainsville, Florida and the Atlanta Dragway race in Atlanta, Georgia every year.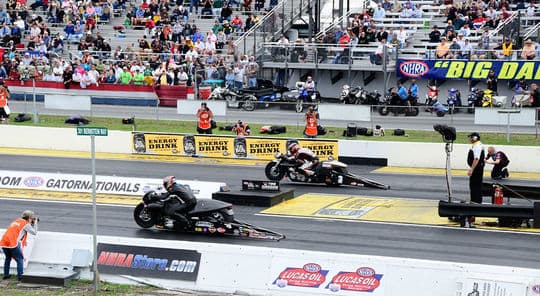 Above: The Prostock Motorcycle Race, Gainsville, Florida – click to enlarge
I'm going to 24 Hours Of Daytona in January 2016.  There are a few classes of cars at that race.  There will be the prototypes with limited rules.  It's about who will have the fastest car that lasts the longest.  Then there will be sports cars like Corvettes, Ferraris, and Porches.
I've never been to a twenty-four hour race, and I'm looking forward to it.  We have a spot on the infield, so the cars will get pretty close. It's $800 for four days, but the cars will be running all night with headlights on.  This is an endurance race, so the cars are designed completely different.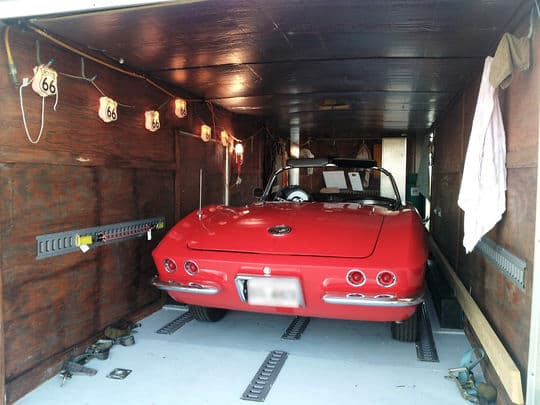 Above: Hugh's 1962 Corvette in the trailer – click to enlarge
TCM: You have both a covered trailer and an open trailer.  What's the difference for towing and application?
Hugh: The covered trailer is my portable garage.  It's really beneficial for the shows.  I can tow my car in the rain, and not have it dirty when I arrive.  Plus, when I'm at a show, I have my own garage to park my car in overnight.
Above: Storing the Corvette in the trailer keeps it clean overnight – click to enlarge
Even dew in the morning gets on the cars at shows.  I just roll my car out and it's clean.  Others at the show shake their heads at me.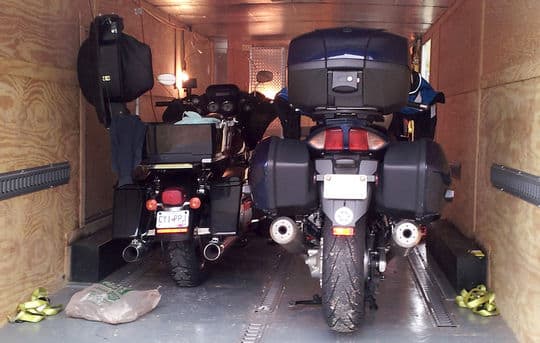 Above: Hugh's Harley in the closed trailer – click to enlarge
I can also tow my bikes in the covered trailer and have extra room.  When I have my bikes, I have a travel lounge inside to hang out when the weather gets bad.  There's also the security of being able to lock a covered trailer.
The covered trailer is more weight and the wind knocks into it going down the highway.  The open trailer is lighter and has less wind resistance.  It's also easier to tow an open trailer.  My toys are also really accessible with an open trailer.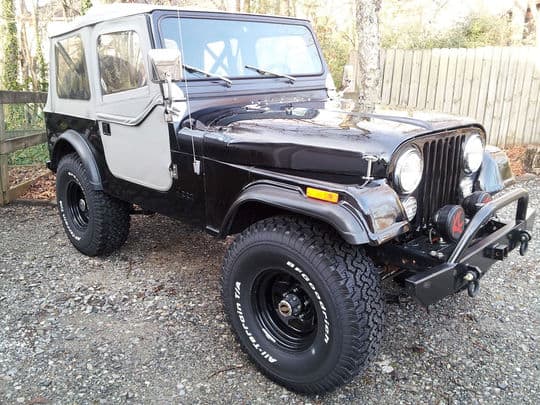 Above: Hugh tows his Jeep CJ7 on an open trailer because of the 35″ tires – click to enlarge
With the open trailer, I am able to tow my Jeep.  It has 35" tires so it won't sit in a covered trailers.  I have almost completely rebuilt my Jeep CJ7.  I have put in a new transmission, seats, engine, axles, leaf springs, and painted it.
I also have a side-by-side ATV that's 6.5' tall, so it can't fit in my covered trailer.  But, my toys aren't as secure on the open trailer at night because I can't lock it.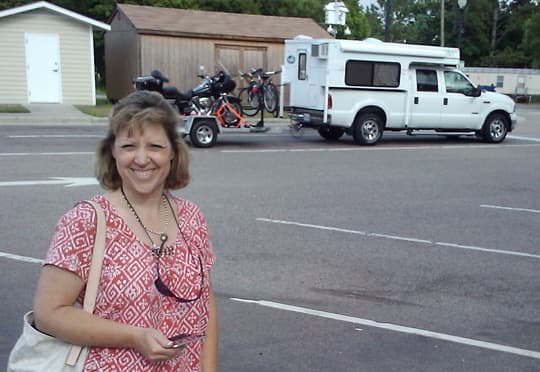 Above: Patti and the camper
TCM: Does anyone travel with you?
Hugh: My wife, Patti, travels with me.  She likes the Corvette show, but the drag races and 24-hour races stuff push her limit.  I have buddies who are crazy enough to go with me to those events, so it works out.
The Yellowstone National Park trip was the longest trip I've been on with my camper.  I took that with just the camper; no trailer.  We did a combination of camping and a few hotel stays.
I have to keep the wife happy with a hotel now and then on the longer trips.  It was good to break up the trip, and my wife got to use a bigger bathroom every once in awhile.  She thinks the camper is fun, but doesn't look forward to it like I do.
The combination of camping and hoteling works out well when we travel together.  Plus, a truck camper is one of the few things you can take to a hotel because you can park it where the other cars are parked.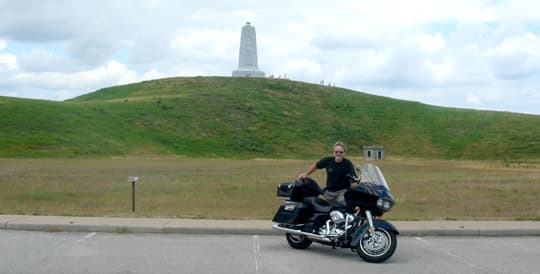 Above: Kitty Hawk, Outer Banks, North Carolina
My wife and I also really enjoyed North Carolina's Outer Banks.  It was perfect for the camper and the motorcycle.  We just hopped around to the sites.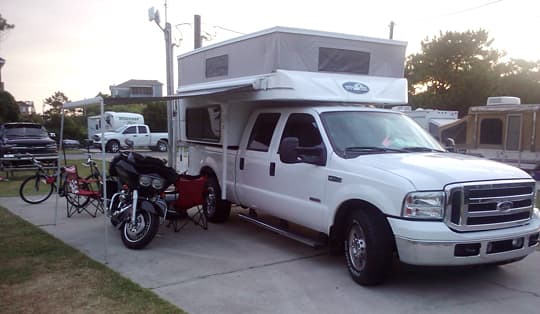 Above: Camping at Ocean Waves Campground in Waves, North Carolina
We camped at Ocean Waves Campground in Waves, North Carolina at a smaller campground.  We walked right over the dunes to the beach.  We took the motorcycle to see Kitty Hawk and went on three lighthouse tours.  It's a peaceful area that reminded me of the Florida Keys.
TCM: It is similar to the Florida Keys, and yet different too.  Is there anything else you would like to add to your interview?
Hugh: I love to travel and see the country.  I am not retired yet, but when I am, look out!
Rig Information
Truck: 2015 Ford F250 Platinum, Crew Cab, Short Bed, Single Rear Wheel, 4×4, Diesel
Camper: 2010 Phoenix Custom Camper
Tie-Downs and Turnbuckles: Torklift TieDowns
Suspension: Ride Rite Rear Air Bags