What happens when you take a triple-slide Chalet TS116 truck camper to the Sturgis Motorcycle Rally in South Dakota?  Good times.

Truck campers are absolutely perfect for attending just about anything.  Let's say your cousin is getting married two states away and you don't want to pay for a hotel or stay in your cousin's house.  Stay in your camper!  What if your grandson has an overnight Boy Scout camping event two hours away, and you don't want to stay in a tent.  Stay in your camper!
If there's an event, it's very likely you could take your truck camper and be a lot more comfortable.  The only times we have not taken our truck camper to an event is when it's in an urban area with no available parking.  We can count the number of times that's happened on one hand using only two fingers.  We almost always take the camper.
One event we have never considered was Sturgis.  For decades thousands of motorcycle enthusiasts have descended upon a small town in Meade County, South Dakota for a week of stunts, races, and community activities in August.  The crowded and crazy atmosphere of Sturgis is legendary.  We would have never considered going to Sturgis in a truck camper until we talked to Marvin Ankele.
Marvin owns a 2013 Chalet TS116 triple-slide and swears going to Sturgis in a truck camper can be fun for just about anyone interested in motorcycles.  Marvin also has tips about ATVing in Oregon and certain "Street Vibrations" in Nevada.  Clearly Marvin likes his adventure, and his vehicles, a little wild.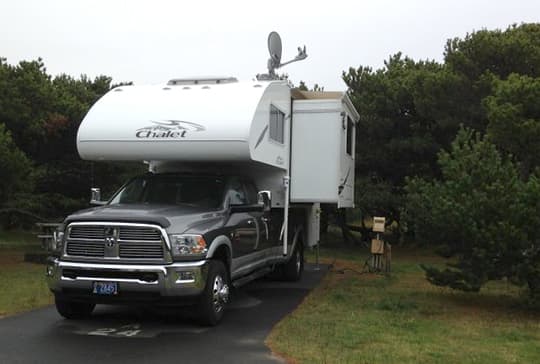 Above: Kathy and Marvin like taking their Chalet TS116 and Dodge 3500 to state parks in Oregon
TCM: How did you get into truck camping?
Marvin: I got started traveling with truck campers in my thirties.  Since then, my wife, Kathy, and I have had multiple motorhomes, travel trailers, and campers.  We've tried almost every type of RV.  In fact, we still have a forty-two foot motorhome.
My first truck camper was an used camper that I rebuilt.  I took that camper apart, rebuilt it, and repainted the exterior.  Then I bought a used eight-foot camper that we enjoyed for fifteen years.  Our next camper was a double-slide, which we loved.  Eventually, we wanted more room and moved up to our triple-side Chalet TS116.

Above: On the coast in Netarts, Oregon
I like the way Chalet builds truck campers.  I like the aluminum frame and light-weight Schwintek slide mechanism.  I wanted the triple-slide because I wanted a sofa.  We got tired of sitting in the dinette to read and watch television.  My wife and I enjoy movies, so I installed a thirty-two inch television and satellite dish.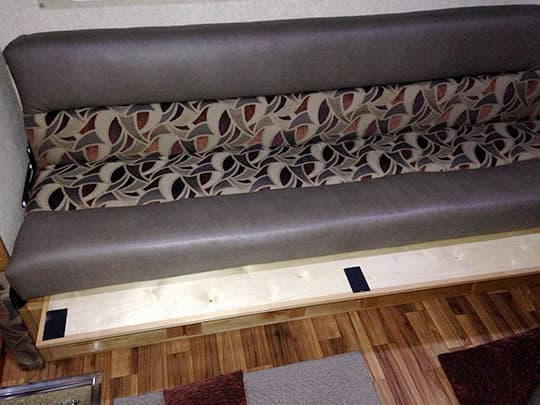 Above: This photo shows the board that was placed under the base on slide out channels on the sofa.  One is on each side.  There is a four inch wide bolster the height of the seat that velcros to the plywood.  That gives it the twenty-two inch seat depth.  When traveling we simply pull the bolster off and slide the plywood back in so we can get the slide all the way in.
TCM: You made some significant modifications to your sofa.
Marvin: Yes, I did.  I wanted a sofa that was deeper, so I installed a twenty-two inch sofa seat.  I happen to own an upholstery business, so this was an easy change for me.  I also built foam cube ottomans that are stiff and covered in vinyl.  We can use those on the inside or outside of our camper.
TCM: Your upholstery company may get a few calls from folks looking for a deeper sofa in their camper, or a foam cube inside-outside ottomans of their own.  They sound like great idea.
Marvin: We would be glad to help.  The deeper sofa is fantastic.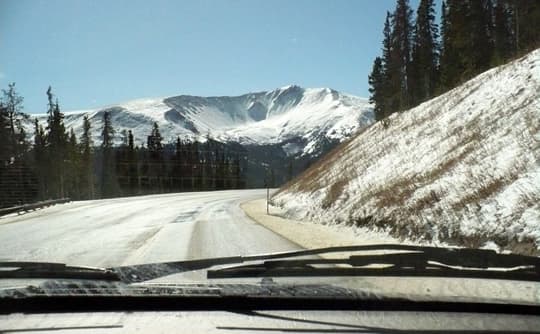 Above: Just west of Denver, Colorado
TCM: Tell us about your truck camping lifestyle, other than enjoying a deep sofa.
Marvin: Last year we spent three weeks in Cody, Wyoming and explored Montana, North Dakota, and South Dakota.  We traveled through Yellowstone National Park, Jackson Hole, and other popular spots on our way back home.  We've done lots of trips, but there's still a million places we haven't seen.
We always make a plan and it always changes.  Sometimes we get to a place we really like and other times we see a side road and go.  That's what we like about truck camping.  We can park in a regular parking spot and go to the grocery store.  We have also parked at family member's homes.  We can't do that with our motorhome.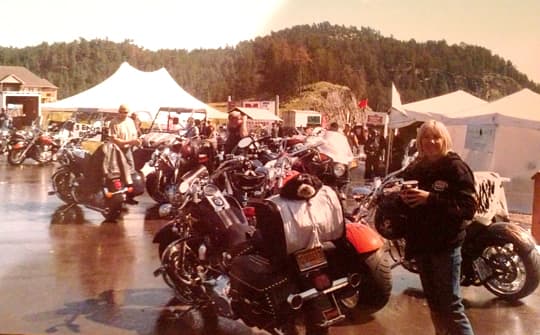 Above: Sturgis in South Dakota
We also like to attend motorcycle and hot rod events.  We have also gone out to Sturgis four times.  I'm a Harley guy.  There are tons of places to camp near Sturgis.  We make reservations at least six months to a year in advance.  There are 40,000 to 50,000 bikers there every year.
It's really stunning riding in that area.  It's beautiful country with the monuments and Custer State Park.  There are tons of things to do Sturgis week.  It's fun.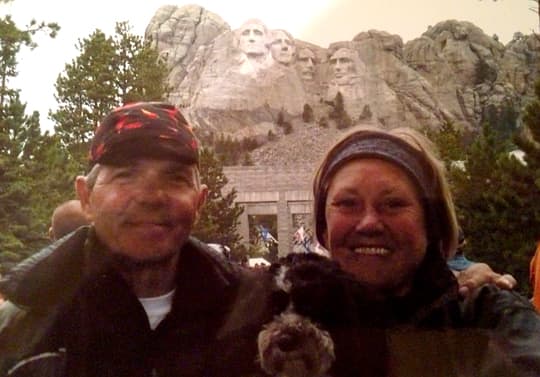 Above: Marvin, Tinker, and Kathy in front of Mt. Rushmore, South Dakota
TCM: Isn't Sturgis a bit crowded and rowdy?
Marvin: People think it's rowdy, but it's up to you where you want to go.  There are all types of people in all age brackets.  If you like motorcycles, it's a great time.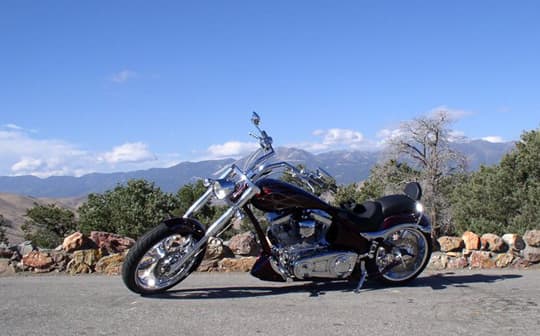 Above: Going to Street Vibrations in Reno, Nevada with his Big Dog Blue Dog motorcycle
TCM: Our cat, Harley, would surely be welcome.  Where else do you go?
Marvin: We've been to Nevada many times with the truck camper.  We go to Street Vibrations in September.  That's another Harley event in Reno.  We also go to Hot August Nights which is an event for hot rods.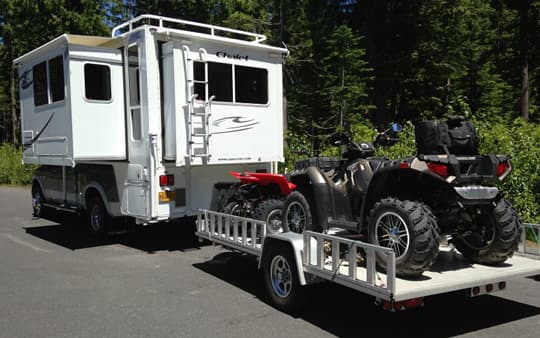 Above: Towing the ATVs is easy with their truck camper set-up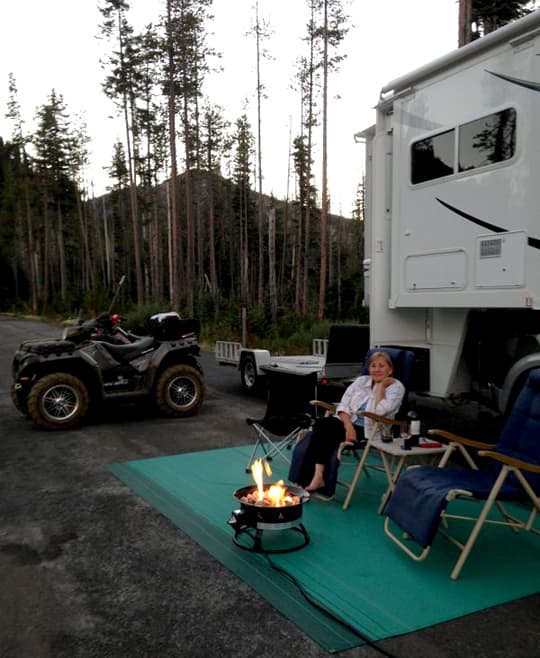 Above: Camping after a day of riding with the ATVs
We like to do everything.  We like to run ATVs.  We have towed our ATVs over to central Oregon.  We love getting in and out of places.  We'll go on short four and five day trips, which are easy with the truck camper.
We also like to rent boats and go fishing.  We used to snowmobile.  We're highly active people.  We both exercise and stay in shape.
Above: Riding trails with their ATVs
TCM: Truck camping, hot rods, and Harleys?  Sounds like a recipe for adventure.  What do you do with the ATVs?
Marvin: We mostly ride our ATVs on the beach and in the desert.  We take our ATVs everywhere but, in the West, they are fairly strict on where you can ride ATVs.  I look at Trail Source (http://www.trailsource.com/atv/) for ideas on where to go.  Trail Source shows trails all over the world on their website.
On certain trails in Oregon, the maximum ATV width allowed is forty-eight inches.  If you have a side-by-side, you can't take your ATV on those trails.  On the beach you can take anything.  Our ATVs are all under forty-eight inches wide.  That's why we have ATVs and not a side-by-side.
We also ATV in the summer at the Hoodoo Ski Bowl Snow-Park in central Oregon.  We can park there and take the trails from our truck camper base camp.  The park allows ATVs to use the snow park trails in the summer.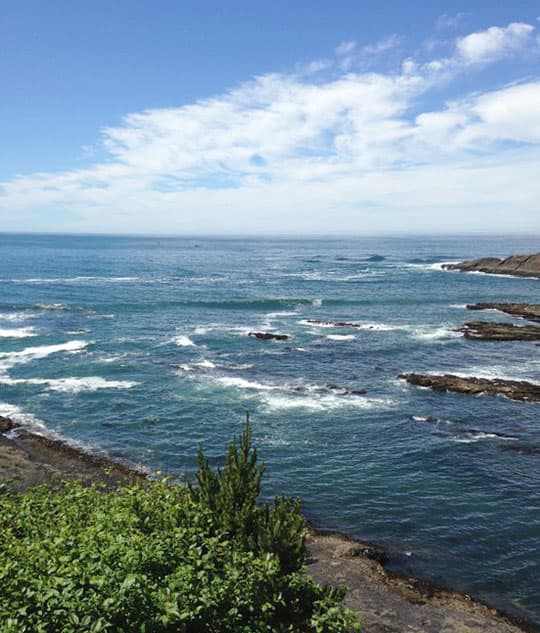 Above: Netarts, Oregon Coast, Oregon
TCM: We have heard of ski resorts building bike parks for the summer.  It makes sense for them to offer something different in the warm months.  Where do you camp near the beach in Oregon?
Marvin: The Oregon coast is only sixty-five miles from our house.  We go to the beach a lot since it's so close.  We mainly stay in state parks.  In Oregon, the state parks are really nice.  Some have hook-ups, and some have dry camping.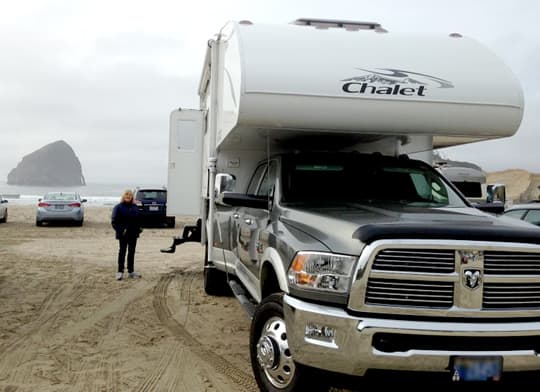 Above: Kathy at Haystack Rock in Cannon Beach, Oregon
We really like Haystack Rock at Cannon Beach.  We'll go out for lunch and hang out.  We also like driving up the coast and stopping at different places.
Mt. Hood is fifty-five miles away, central Oregon is 180 miles away, and the Puget Sound is 180 miles away.  There are ton of places for us to travel to within a two hundred mile radius of our house.  We have also built a house in Tucson, Arizona and have been there twice with our camper.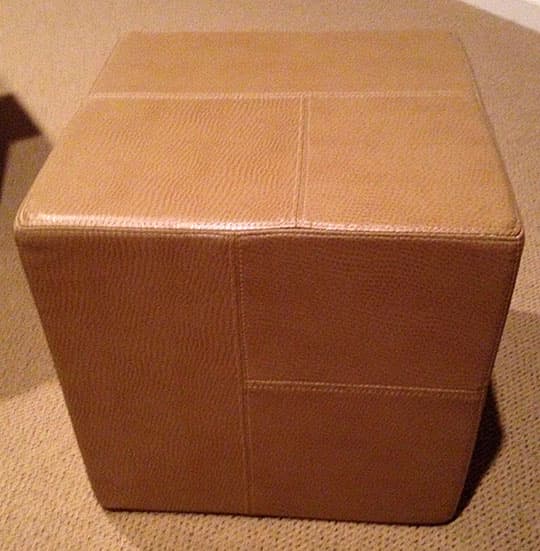 Above: Marvin made an ottoman for the camper that can be used indoors or outdoors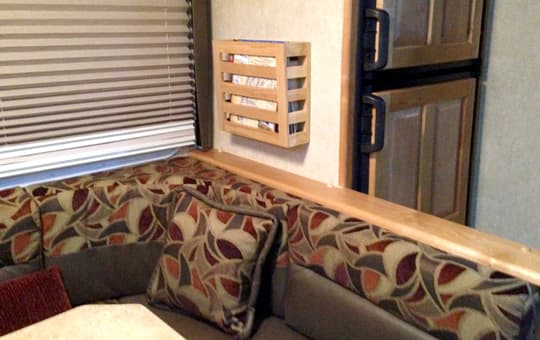 Above: The magazine rack and foam cushions in the dinette
TCM: Have you added any modifications to your rig?
Marvin: I started with the sofa and ottomans, but I didn't stop there.  I replaced the mattress and the foam cushions in the dinette.  Like I said, I own an upholstery business.  My dad started it and I worked for him.  He retired about thirty-five years ago.  I've been doing this for forty-eight years.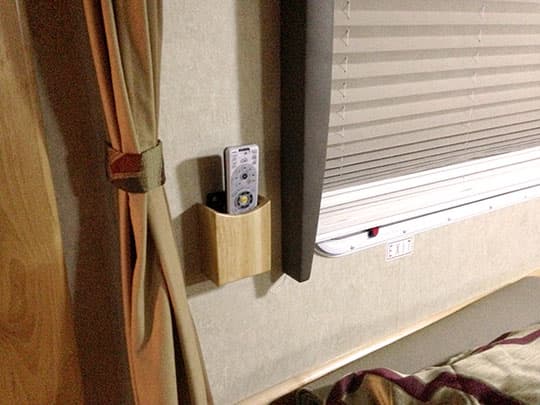 Above: A holder for their remote control
TCM: That's a lot of seat cushions.  Any other mods?
Marvin: Other mods I've done with our rig include an inverter for the two thirty-two inch HDTV televisions, four AGM glass mat batteries, flashlight brackets by the door and bed, and double latches on all my drawers.
I also installed holders for our remotes and a magazine rack by our U-shaped dinette.  One of my storage areas on the slide-out now has a shelf for cables to make them neat and tidy.  Little things add up to make a big difference day-to-day.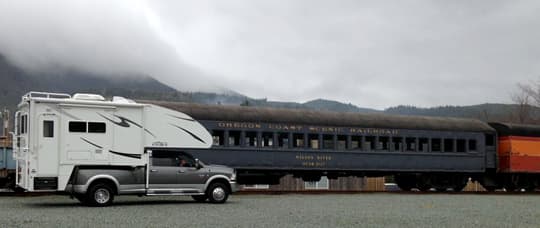 Above: Marvin and Kathy's rig in front of the Oregon Coast Scenic Railroad train in Garabaldi, Oregon
TCM: Have you made any modifications to your truck?
Marvin: The biggest difference I made to my rig was installing a Roadmaster sway bar.  I had a Roadmaster sway bar on my last truck and camper and loved it.  When we got the new truck, I took the sway bar from that truck and put it on the Dodge.  It didn't work the same, so I bought their new HD sway bar.  It works like a charm.  Even my wife noticed it was different.
Above: Tinker, Marv and Kathy's Havenese
TCM: What's it like to travel with your dog, Tinker?
Marvin: She's a Havenese from Cuba.  She weighs fifteen pounds and does everything with us.  She will ride on the back of our motorcycles and ATVs.
When we first got her, Tinker was the runt of the litter, and was supposed to be the smallest dog.  Well, she wound up being the biggest dog of the litter.  She goes hiking and up steep big rocks.  She does everything right beside us.
For a little thing she's got a big heart.  The Havenese dogs really bond with their owners.  She also likes the sofa in the camper.  The reason we got her is because Havenese dogs don't shed as much.  They also don't smell.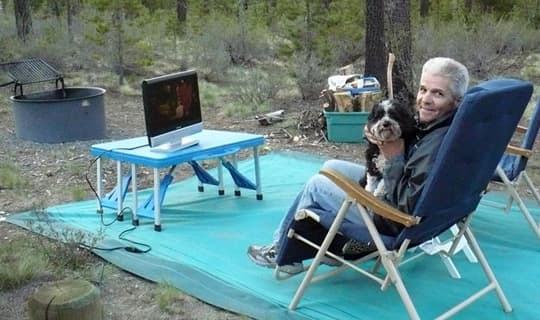 Above: Tinker and Marvin hanging out at the campground
TCM: Maybe Tinker can teach those tricks to our cat, Harley.  Where are you planning on going next with your rig?
Marvin: Our next trips will be to the Southern states, then to the East Coast and Alaska.  Those trips will be over the next three years.  After that, it's open.
The main reason we have a pick-up camper is because of the ease of mobility and the ability to travel in different types of weather.  We don't need tow car because we have the truck.
We love that we have a four-wheel drive rig.  I don't worry about snow.  Here in Oregon, we're near a lot of mountains.  With the truck camper and four-wheel drive, we can get up into mountains in the winter.  The campers are so well insulated and have great furnaces and dual-pane windows.
It's also not a hassle to just jump in the rig and take off for a few days.  We picked up the perfect rig for us and I know that we'll be happy with it for a long time.
Truck: 2012 Dodge Ram 3500, dually, crew cab, 4×4, diesel
Camper: 2013 Chalet TS116
Tie-downs/Turnbuckles: Torklift Fastguns
Suspension: Firestone Airbags, Roadmaster Heavy Duty Sway Bar
Gear: ATVs