What happens when you take a triple-slide Chalet TS116 truck camper to the Sturgis Motorcycle Rally in South Dakota?  Good times.

Truck campers are absolutely perfect for attending just about anything.  Let's say your cousin is getting married two states away and you don't want to pay for a hotel or stay in your cousin's house.  Stay in your camper!  What if your grandson has an overnight Boy Scout camping event two hours away, and you don't want to stay in a tent.  Stay in your camper!
If there's an event, it's very likely you could take your truck camper and be a lot more comfortable.  The only times we have not taken our truck camper to an event is when it's in an urban area with no available parking.  We can count the number of times that's happened on one hand using only two fingers.  We almost always take the camper.
One event we have never considered was Sturgis.  For decades thousands of motorcycle enthusiasts have descended upon a small town in Meade County, South Dakota for a week of stunts, races, and community activities in August.  The crowded and crazy atmosphere of Sturgis is legendary.  We would have never considered going to Sturgis in a truck camper until we talked to Marvin Ankele.
Marvin owns a 2013 Chalet TS116 triple-slide and swears going to Sturgis in a truck camper can be fun for just about anyone interested in motorcycles.  Marvin also has tips about ATVing in Oregon and certain "Street Vibrations" in Nevada.  Clearly Marvin likes his adventure, and his vehicles, a little wild.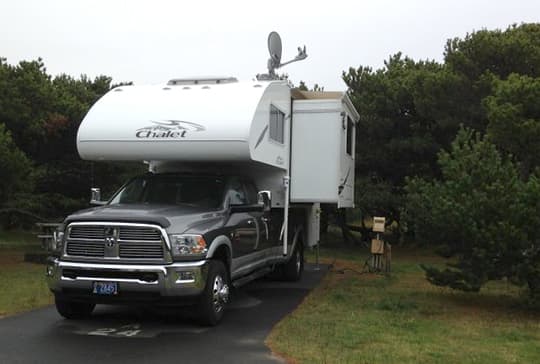 Above: Kathy and Marvin like taking their Chalet TS116 and Dodge 3500 to state parks in Oregon
TCM: How did you get into truck camping?
Marvin: I got started traveling with truck campers in my thirties.  Since then, my wife, Kathy, and I have had multiple motorhomes, travel trailers, and campers.  We've tried almost every type of RV.  In fact, we still have a forty-two foot motorhome.
My first truck camper was an used camper that I rebuilt.  I took that camper apart, rebuilt it, and repainted the exterior.  Then I bought a used eight-foot camper that we enjoyed for fifteen years.  Our next camper was a double-slide, which we loved.  Eventually, we wanted more room and moved up to our triple-side Chalet TS116.

Above: On the coast in Netarts, Oregon
I like the way Chalet builds truck campers.  I like the aluminum frame and light-weight Schwintek slide mechanism.  I wanted the triple-slide because I wanted a sofa.  We got tired of sitting in the dinette to read and watch television.  My wife and I enjoy movies, so I installed a thirty-two inch television and satellite dish.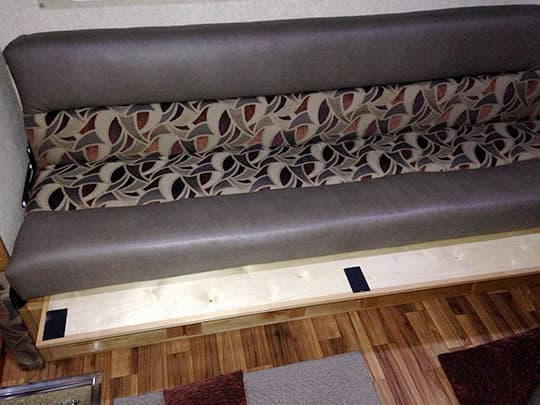 Above: This photo shows the board that was placed under the base on slide out channels on the sofa.  One is on each side.  There is a four inch wide bolster the height of the seat that velcros to the plywood.  That gives it the twenty-two inch seat depth.  When traveling we simply pull the bolster off and slide the plywood back in so we can get the slide all the way in.
TCM: You made some significant modifications to your sofa.
Marvin: Yes, I did.  I wanted a sofa that was deeper, so I installed a twenty-two inch sofa seat.  I happen to own an upholstery business, so this was an easy change for me.  I also built foam cube ottomans that are stiff and covered in vinyl.  We can use those on the inside or outside of our camper.
TCM: Your upholstery company may get a few calls from folks looking for a deeper sofa in their camper, or a foam cube inside-outside ottomans of their own.  They sound like great idea.
Marvin: We would be glad to help.  The deeper sofa is fantastic.