After a devastating financial setback, Key West home builder Michael Ra constructed one of the most creative homemade truck campers we've ever seen.  This is Michael's full-time truck camping story, and how he made things right again.

Truck campers are like squirrels.  No, they don't have bushy tails, climb trees, or hoard nuts, but they do have one trait that is undeniably 100-percent squirrel.  Allow me to explain with a short story…
Angela, Harley and I are driving down the highway in the middle of a deep conversation about the implications of artificial intelligence, virtual reality, and robots taking over when…
"Truck camper!" exclaims Angela pointing at an oncoming rig. "Looks like a Lance.  Or maybe an old Fleetwood?"
"I think it's a Lance.  Maybe a 2004 Lance 1130." I answer, and then return back to the impending collision of silicon learning and the fate of humanity.
Just as the dog in the movie Up is distracted by squirrels, we are instantly distracted by truck campers.  At least we don't chase them down the road and try to bite their tires.  Chase them, yes.  Bite their tires, no.
Which brings me to another story.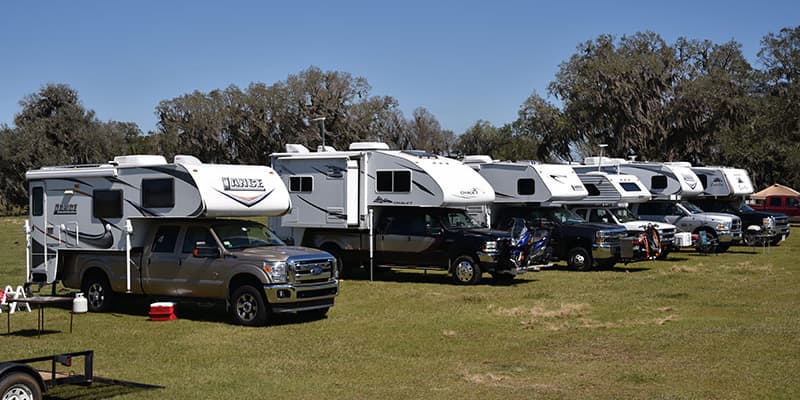 This past winter, a few dozen truck camper rigs converged at the Florida Flywheelers Antique Engine and Tractor Show in Fort Meade, Florida.  The four-day annual event features an open field for RV dry camping, perfect for a truck camper gathering.
My favorite part of Flywheelers, other than hanging out with fellow truck campers, is the obscenely large flea market.  Hundreds of vendors sell everything from antique tractor parts to fresh popcorn.  There's really no rhyme or reason to what you'll discover, which is an interesting and often confounding experience.  Just be careful not to get run over by the interweaving golf carts driven by folks looking somewhere else, and texting.
While exploring the flea market looking for LP records and stereo tube amplifiers (of course), we came across something instantly familiar, and yet completely foreign.
"Truck camper?" said Angela. "It looks homemade."
"Yeah, but not like anything I've ever seen before," I answered.  "What the heck is that?"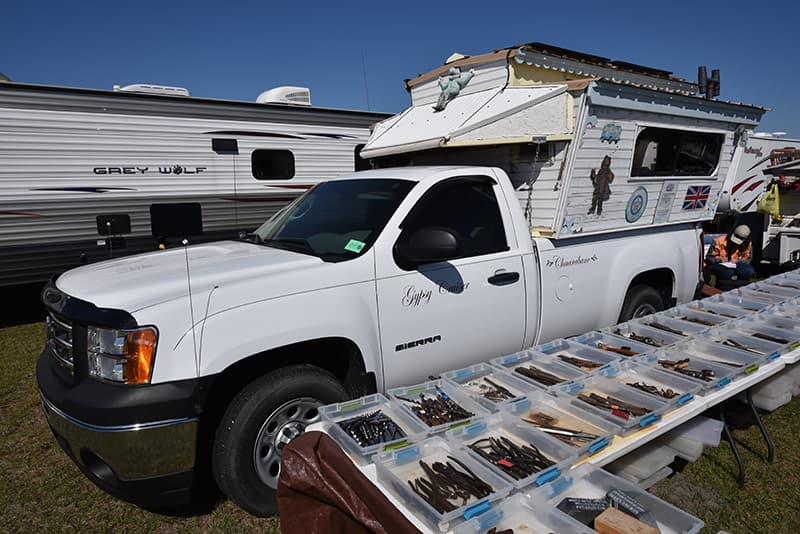 The cabover-less camper before us featured angled-out front, rear, and sidewalls, PVC wainscot paneling, a corrugated metal roof, residential exterior lighting fixtures, what appeared to be a chimney, and a menagerie of signs, ropes, handles, and other fanciful adornments.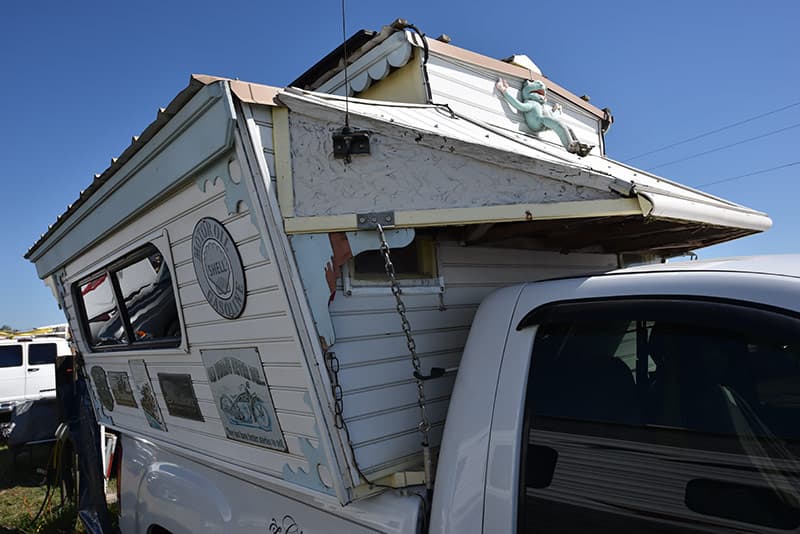 The closer we got, the more questions we had.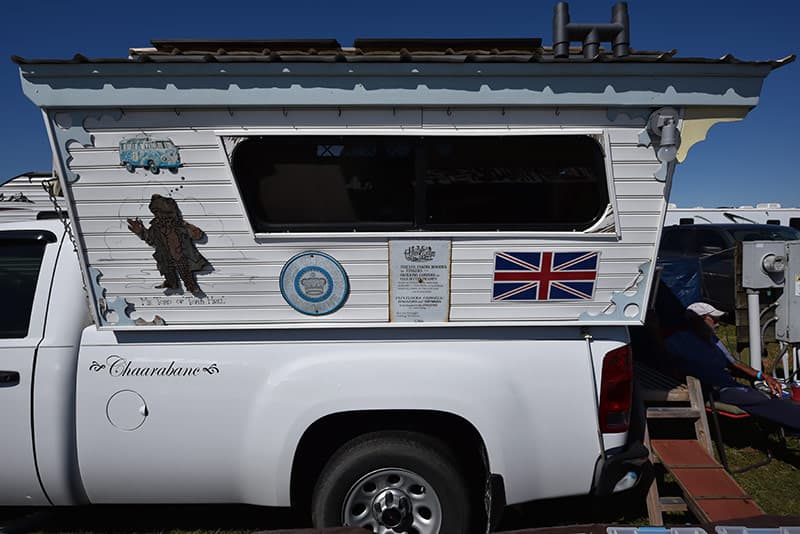 The drivers and passenger sides were intricately adorned with seemingly random signs and whimsy.