After a devastating financial setback, Key West home builder Michael Ra constructed one of the most creative homemade truck campers we've ever seen.  This is Michael's full-time truck camping story, and how he made things right again.

Truck campers are like squirrels.  No, they don't have bushy tails, climb trees, or hoard nuts, but they do have one trait that is undeniably 100-percent squirrel.  Allow me to explain with a short story…
Angela, Harley and I are driving down the highway in the middle of a deep conversation about the implications of artificial intelligence, virtual reality, and robots taking over when…
"Truck camper!" exclaims Angela pointing at an oncoming rig. "Looks like a Lance.  Or maybe an old Fleetwood?"
"I think it's a Lance.  Maybe a 2004 Lance 1130." I answer, and then return back to the impending collision of silicon learning and the fate of humanity.
Just as the dog in the movie Up is distracted by squirrels, we are instantly distracted by truck campers.  At least we don't chase them down the road and try to bite their tires.  Chase them, yes.  Bite their tires, no.
Which brings me to another story.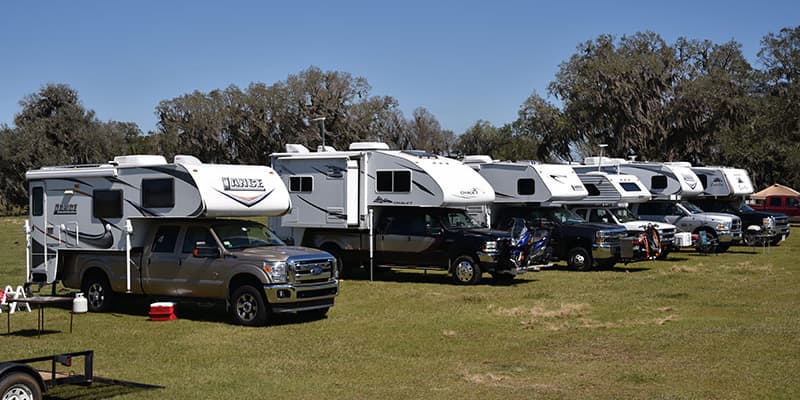 This past winter, a few dozen truck camper rigs converged at the Florida Flywheelers Antique Engine and Tractor Show in Fort Meade, Florida.  The four-day annual event features an open field for RV dry camping, perfect for a truck camper gathering.
My favorite part of Flywheelers, other than hanging out with fellow truck campers, is the obscenely large flea market.  Hundreds of vendors sell everything from antique tractor parts to fresh popcorn.  There's really no rhyme or reason to what you'll discover, which is an interesting and often confounding experience.  Just be careful not to get run over by the interweaving golf carts driven by folks looking somewhere else, and texting.
While exploring the flea market looking for LP records and stereo tube amplifiers (of course), we came across something instantly familiar, and yet completely foreign.
"Truck camper?" said Angela. "It looks homemade."
"Yeah, but not like anything I've ever seen before," I answered.  "What the heck is that?"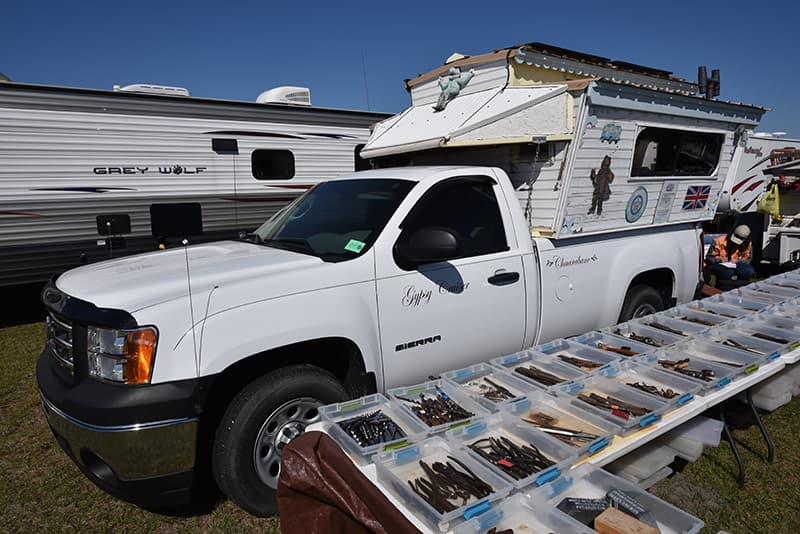 The cabover-less camper before us featured angled-out front, rear, and sidewalls, PVC wainscot paneling, a corrugated metal roof, residential exterior lighting fixtures, what appeared to be a chimney, and a menagerie of signs, ropes, handles, and other fanciful adornments.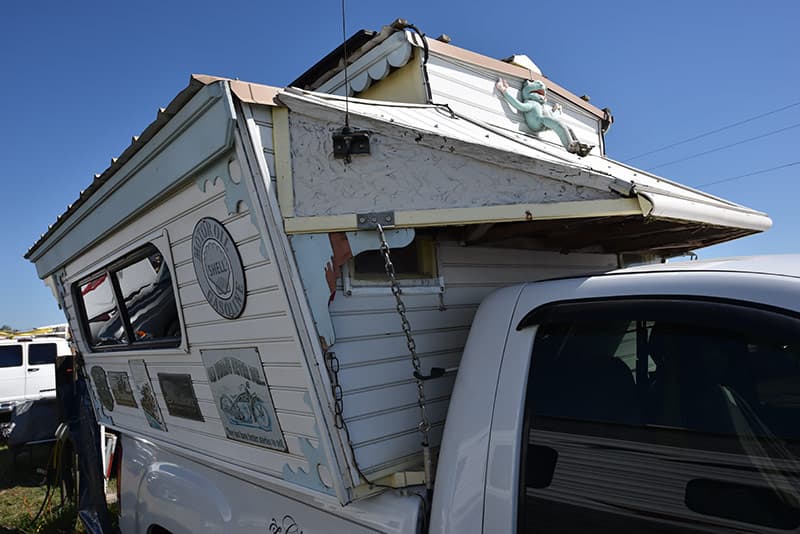 The closer we got, the more questions we had.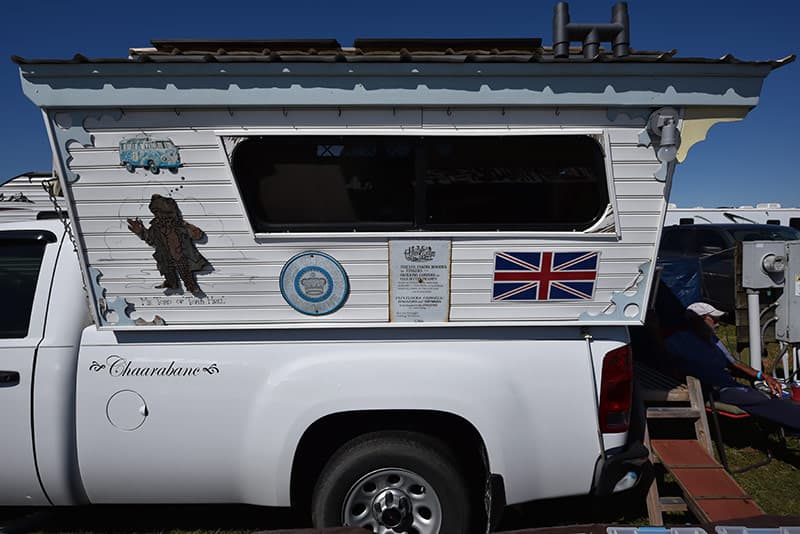 The drivers and passenger sides were intricately adorned with seemingly random signs and whimsy.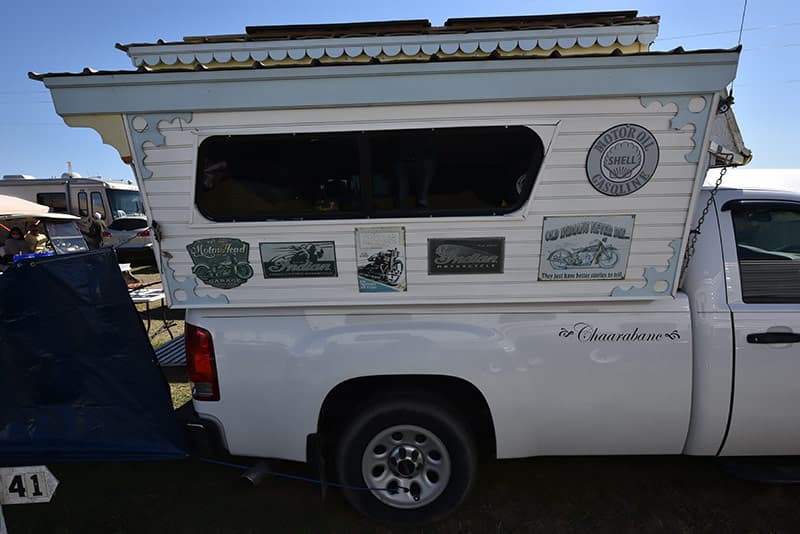 "Is this your camper?" asked Angela to the gentleman sitting beside this work of form and fantasy.
"Yes it is," answered Michael Ra.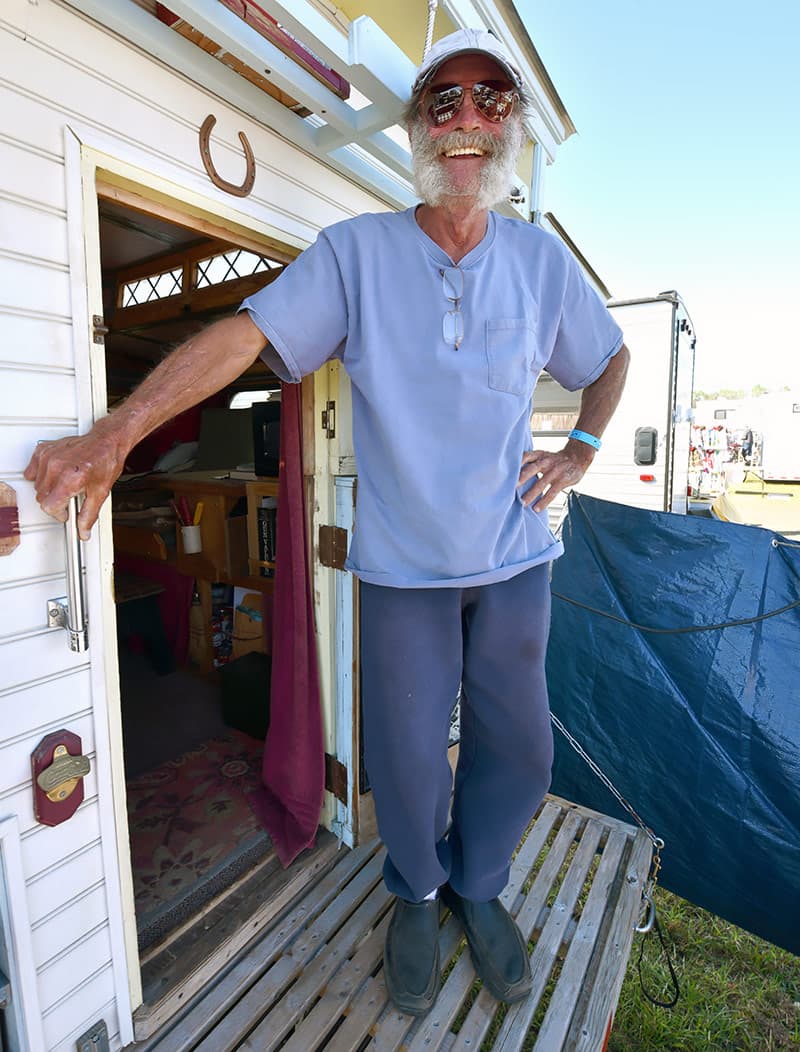 Standing at about five and a half feet tall, Michael Ra was as fascinating as his creation; thin build, weathered skin, curly white mutton chop beard, unassuming attire, and one of the happiest smiles and brightest demeanors we have ever encountered.
"It's really something," answered Angela, putting on her Editor hat.  "What's the story behind your camper?"
As Angela and Michael talked, I continued to survey his camper.  "Could I have a look inside?" I asked.
"Sure, have a look!" Michael responded.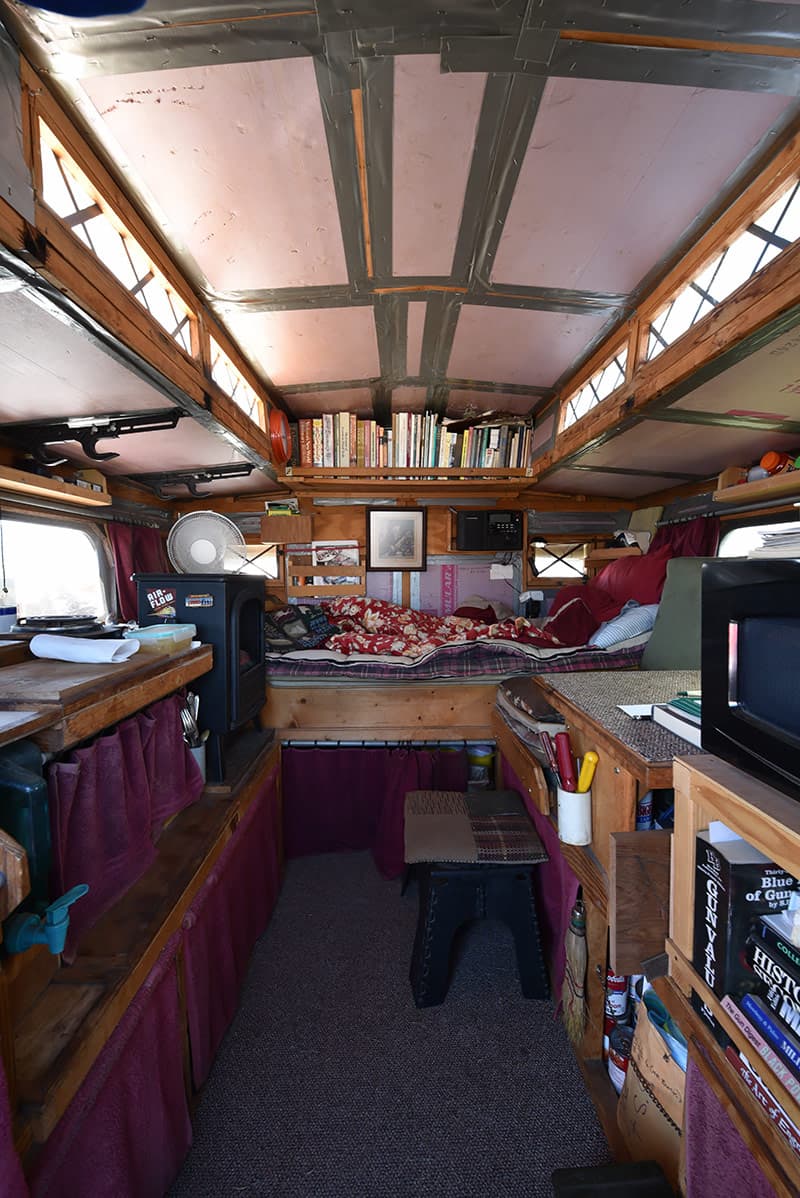 After taking a quick peek inside, I discretely said to Angela, "I will need the holy moly lens for this."
Angela knew exactly what I was talking about.  For assignments that require photographing exceptionally tight spaces, I have a super wide angle 14-24mm Nikon lens.  I call it the holy moly lens because (a) it's big and heavy, (b) it cost more than a $1.98, and (c) it's exposed design will not accept a protective filter.   Without a protective filter, this big, heavy, and expensive lens is one accidental bump away from actually being worth $1.98.  Like I said, holy moly.
"Gordon needs his holy moly lens," said Angela to Michael.  "It's back at our camper.  We'll come back tomorrow for pictures and your interview."  She has a way with subtlety.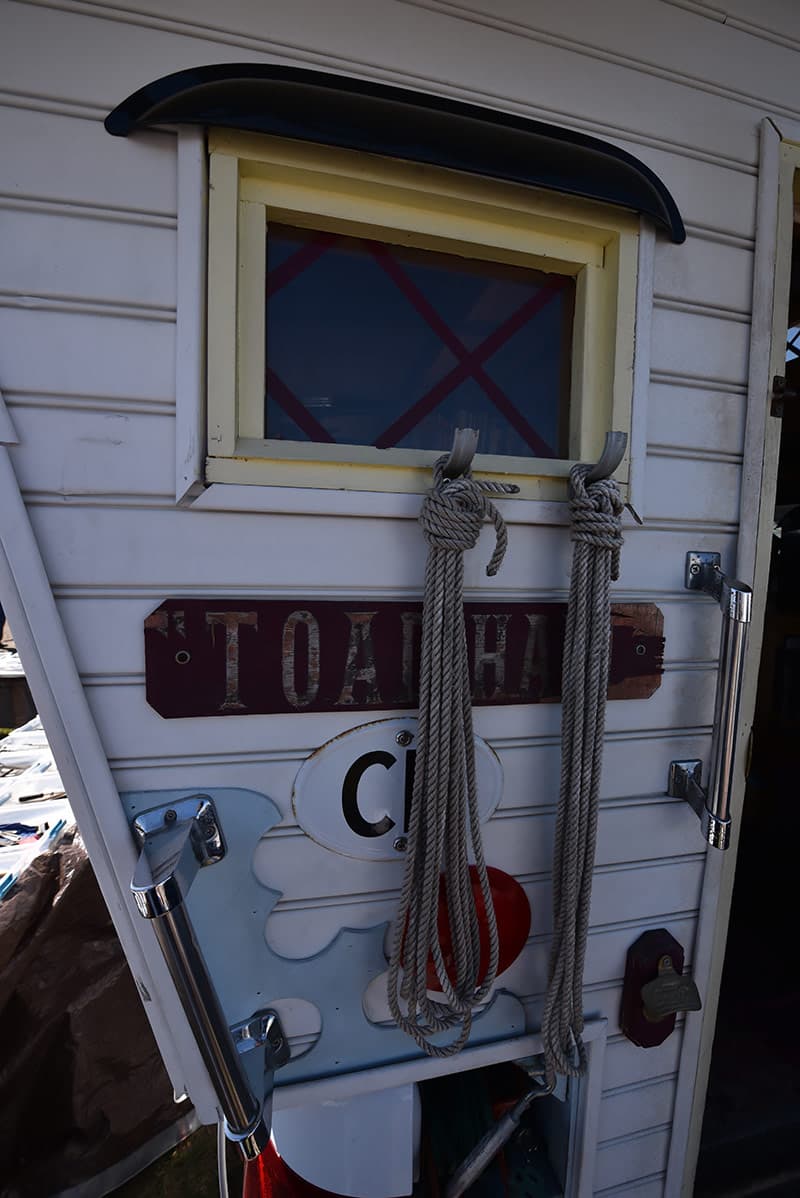 As promised, we returned the next day.  With Angela interviewing Michael, I walked in and around his creation photographing every detail.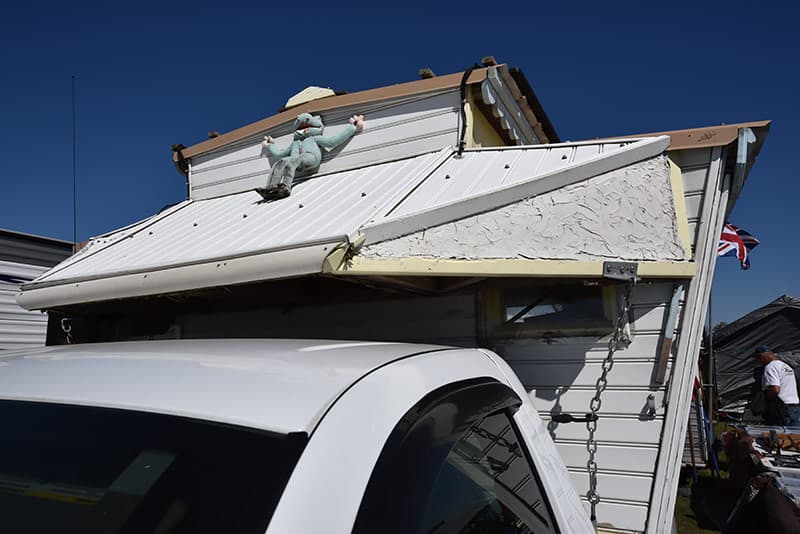 The more I looked, the more I found.
The more questions Angela asked, the more interesting Michael's story became.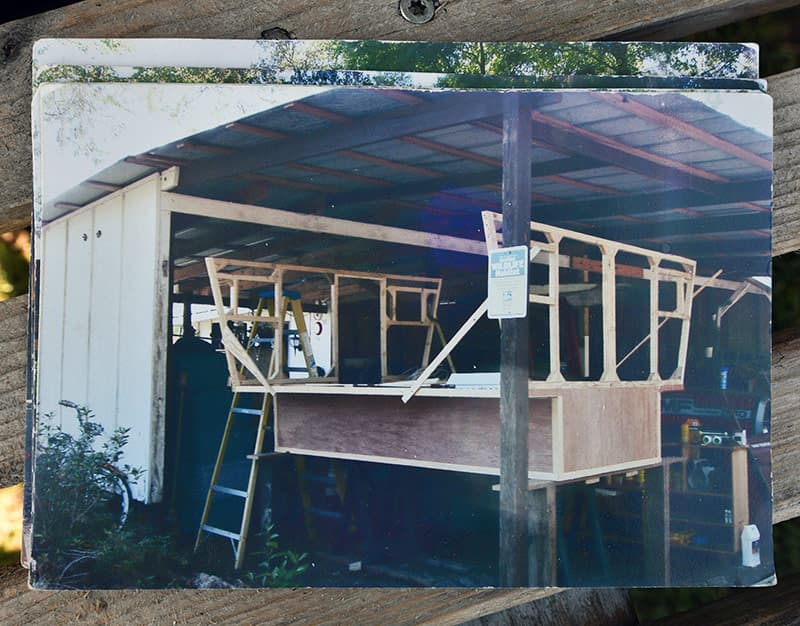 Above: Michael showed us photograph prints of his camper build.  Another three follow.
Five years ago, Michael's house went into foreclosure and he lost nearly everything.  Before that, Michael had been a general contractor in Key West building houses and delivering boats.  At the time of the foreclosure, he was building a house for a client and was allowed to stay and build his truck camper in exchange for the work.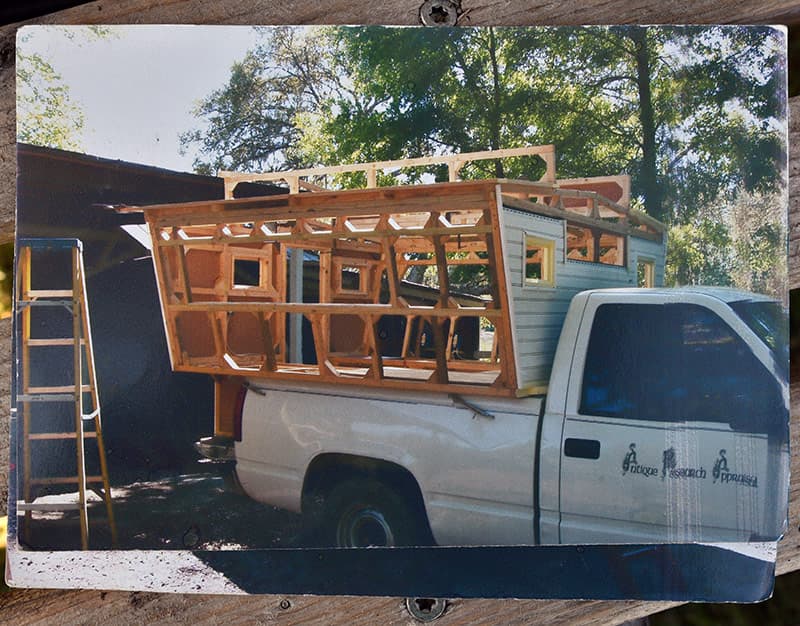 Building the camper took six months.  Once completed, he intended to live in the camper full-time.
"I had to make the situation right," he explained.  "I had no choice. It's like cancer. If you give up, you're dead."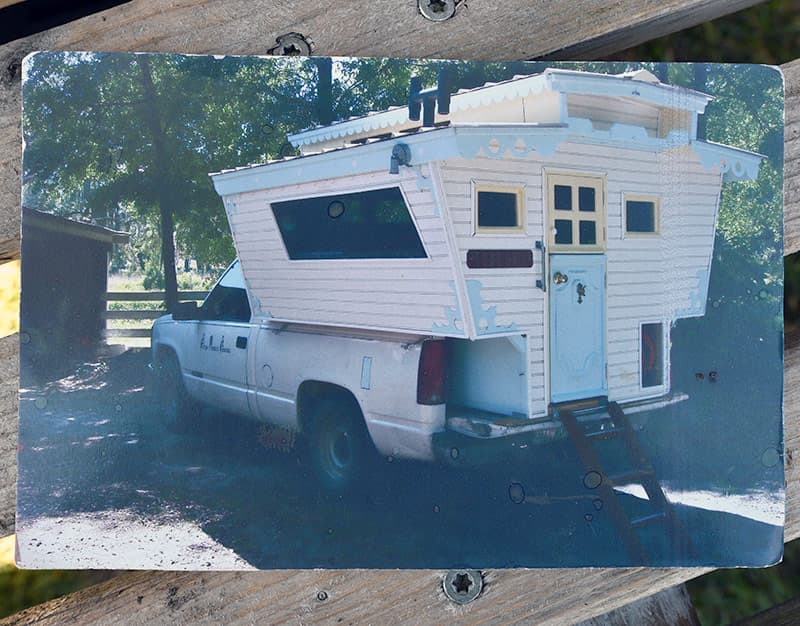 He based the design of the camper on the English gypsy caravans in the book, The Wind in the Willows by Kenneth Grahame.  "I'm a quarter English gypsy," he added. "I am originally from England and my family is still over there.  Now the people at the shows have become my family."
When asked how he built his camper, Michael stated, "This was the first thing I built for myself.  I built it out of my head.  There were no hand or computer drawings during the design or build process.  I simply measured the bed of the truck, and built the camper to fit.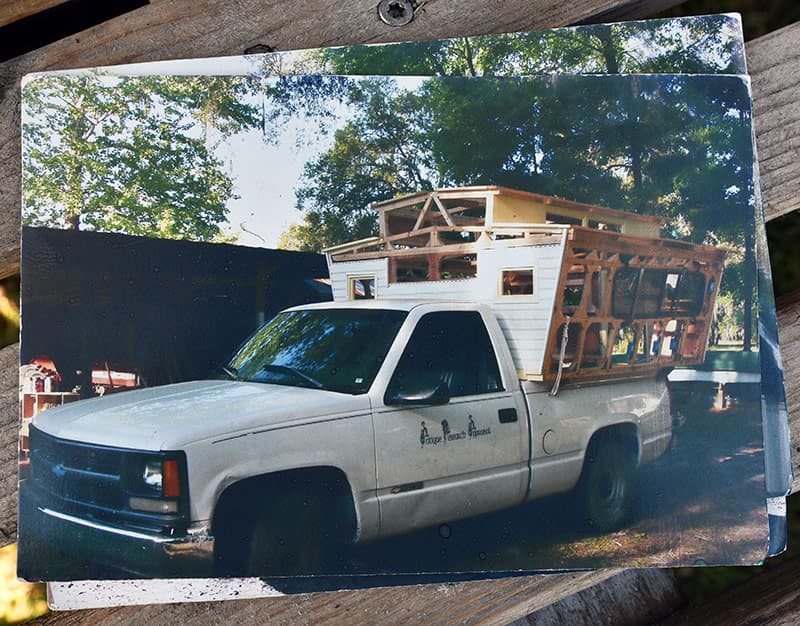 The camper is 80 two-by-fours covered with luan plywood, tar paper, and PVC wainscot.  The bunk is 6'6" by 3'0" and it slopes thirteen degrees.  It's a long enough bunk to make the camper 8-feet wide, which is the legal limit."
Noticing the absence of corner jacks, we asked Michael how he mounted the camper when it was completed, and what it weighed.  "I started the camper in a barn and then picked it up with a forklift to put it on the truck," he answered.  "The camper weighs 2,000 pounds and cost me $2,000 to build. So, a dollar a pound!"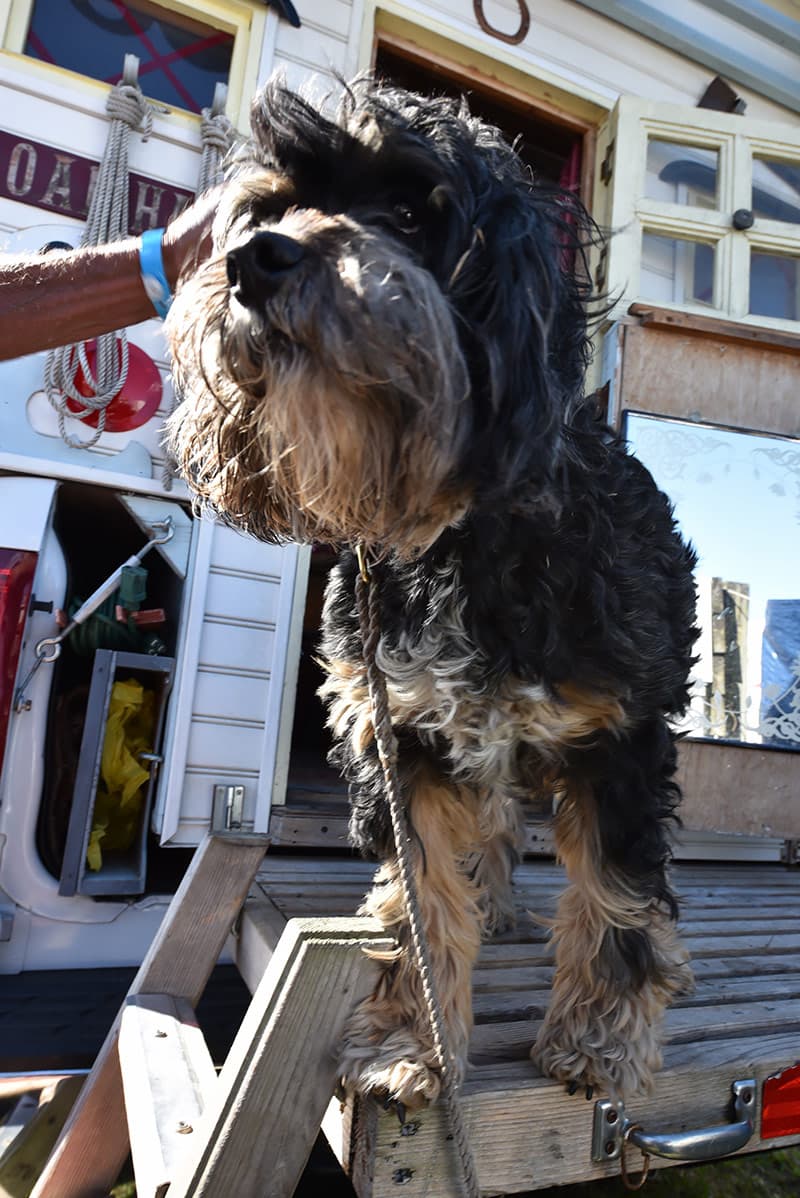 While we were talking to Michael, his dog, Bailey, sat nearby seemingly as happy and content as his owner.
"The ice box doubles as a dishwasher and water bowl for Bailey.  When the ice box drips, it comes out of the camper where it drips right into Bailey's water bowl."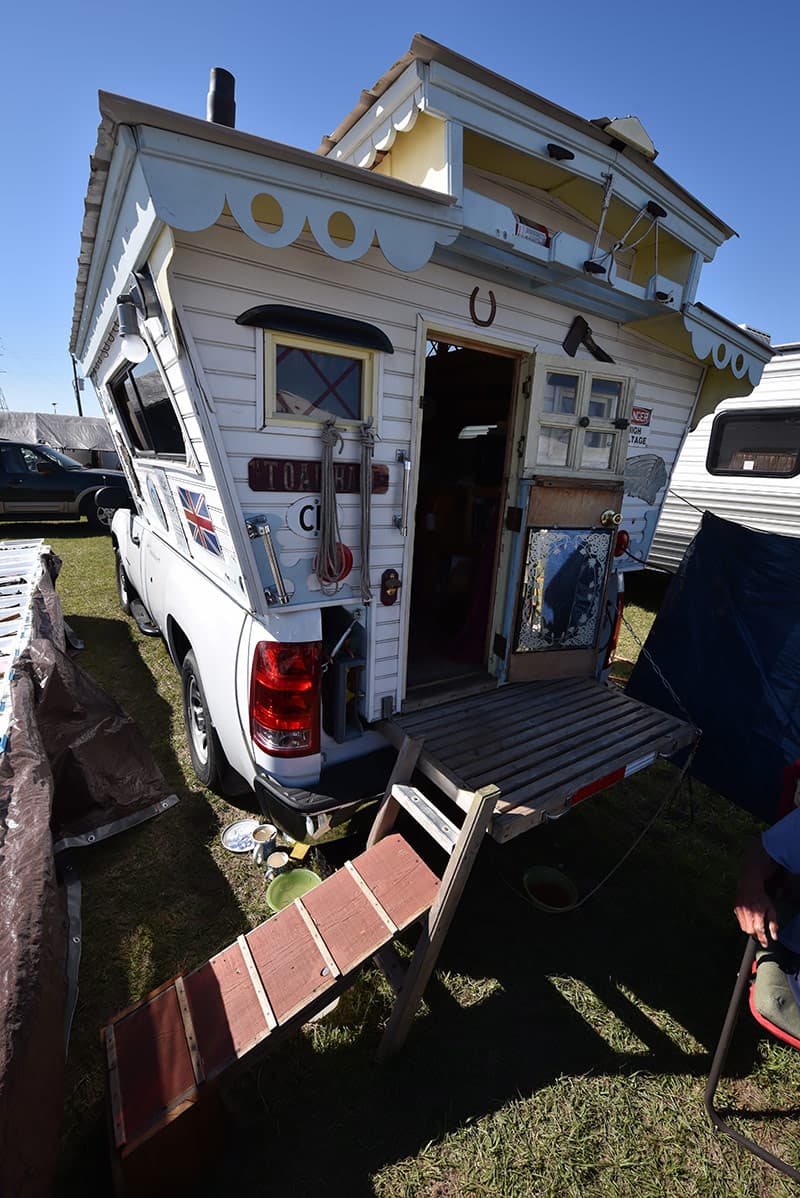 "I made a porch and ramp for Bailey that slides under the camper for travel.  The dog ramp helps Bailey easily enter the camper."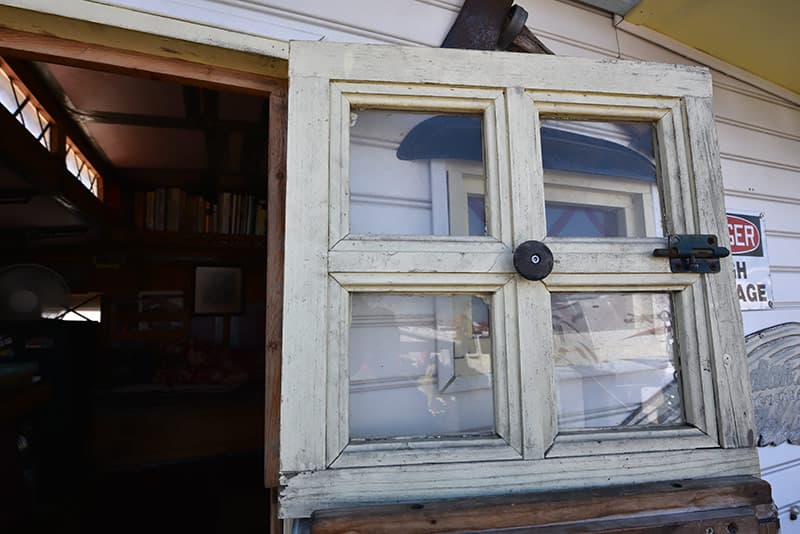 The rear Dutch door allows Michael to keep the upper door open for air flow while keeping Bailey safely inside the camper.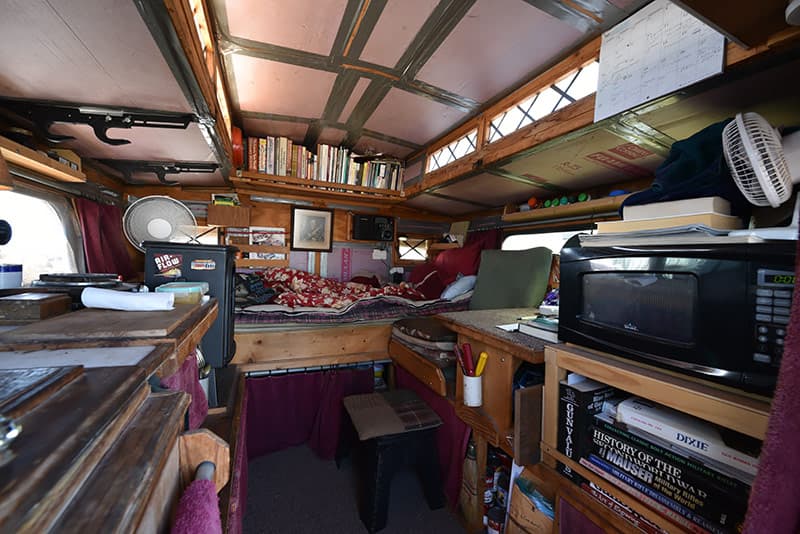 The open upper door also gives Michael a panoramic view from the back of his camper.  "Plus, I can see around my camper with the windows in the front," he added.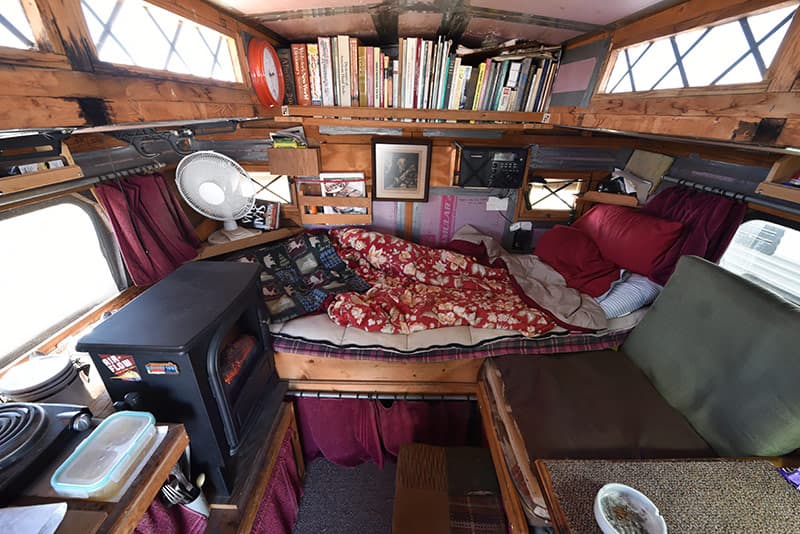 Angela is not one to go camping without creature comforts, so naturally she asked about this facet of Michael's creation.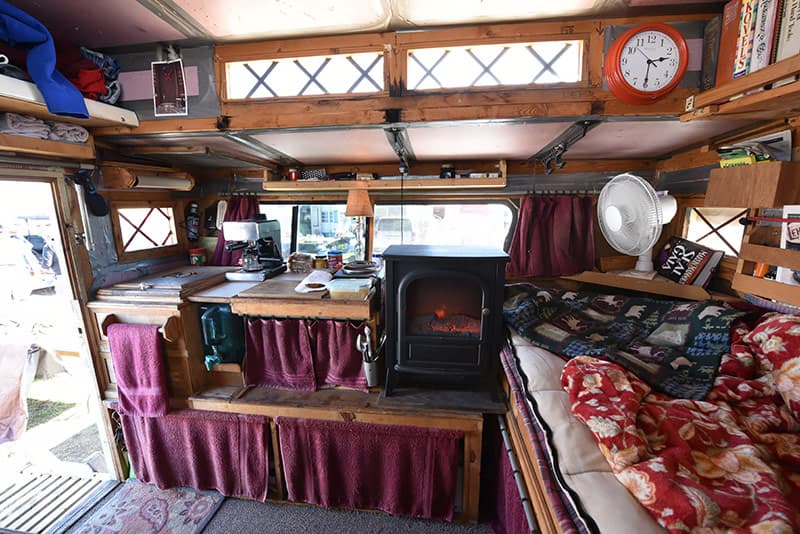 "There is a porta-potti under the bed, and an electric fire place for warmth.  The fresh water capacity is 2.5 gallons.  I have a hot plate and a microwave for making food, and plenty of books for reading."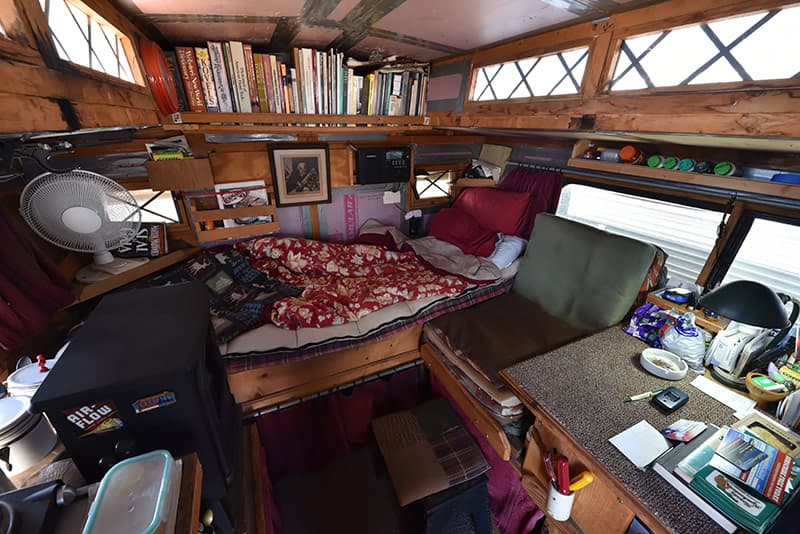 "There are two table lamps and an outside light.  For power, there is a generator, camper battery, 80-watts of solar, and an inverter in the cab of the truck," he added.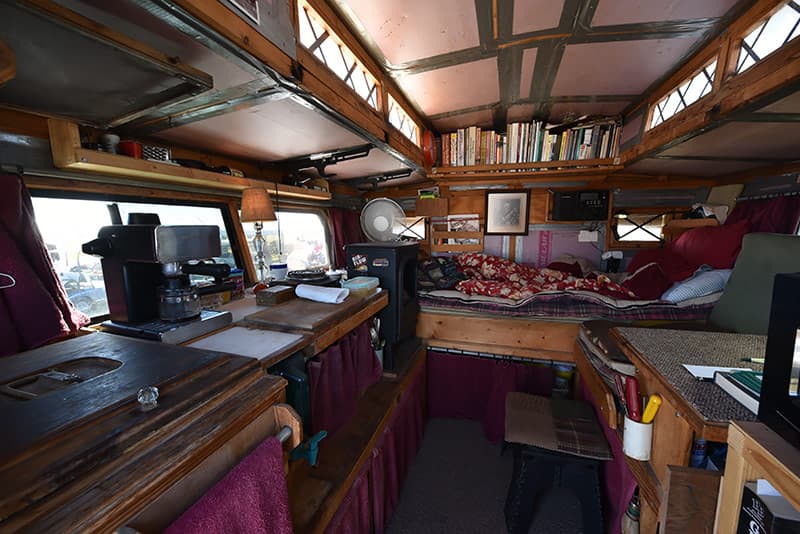 Finally, we asked Michael about his participation at flea markets and events like Florida Flywheelers.  Michael said he travels from Florida all the way to northern Michigan for his show circuits, participating in shows in Alabama, Ohio, Indiana, Illinois, Tennessee, and Kentucky.
He likes the tractor shows, like Flywheelers, the most because he can sell his tools and camp the longest in one place.  "At Florida Flywheelers, for example, I paid for two spots and I get power.  One spot is $65 for the two weeks, so I paid a total of $130 for two weeks of camping.  Plus, I sell my tools.  It's a good deal."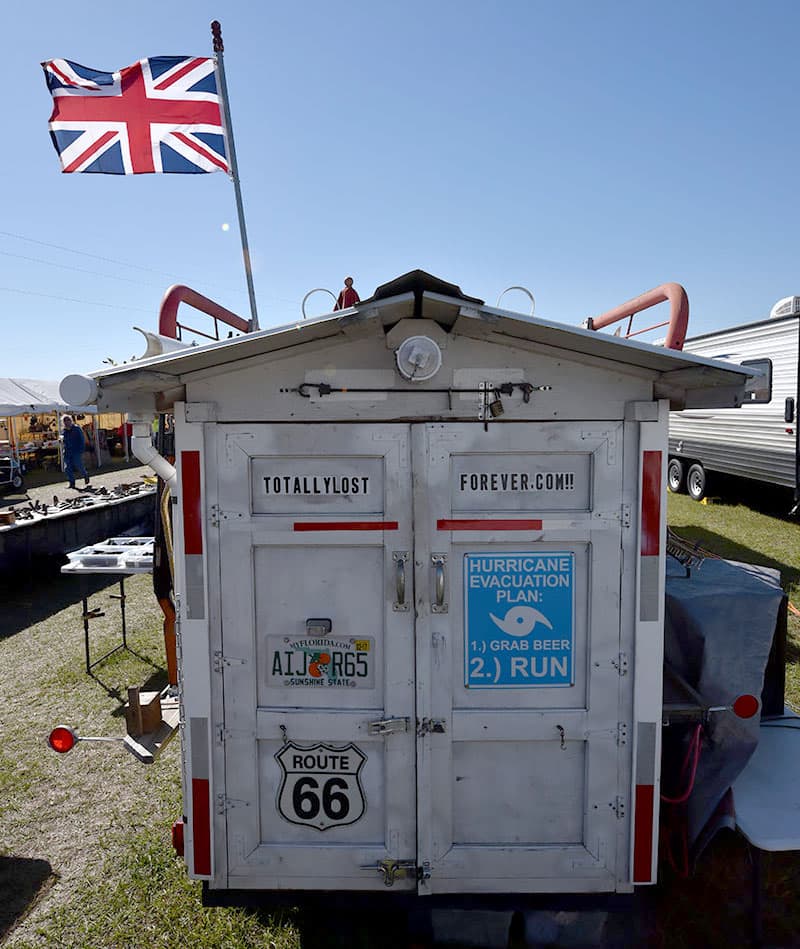 Michael also tows a travel trailer to carry the equipment and tools he sells.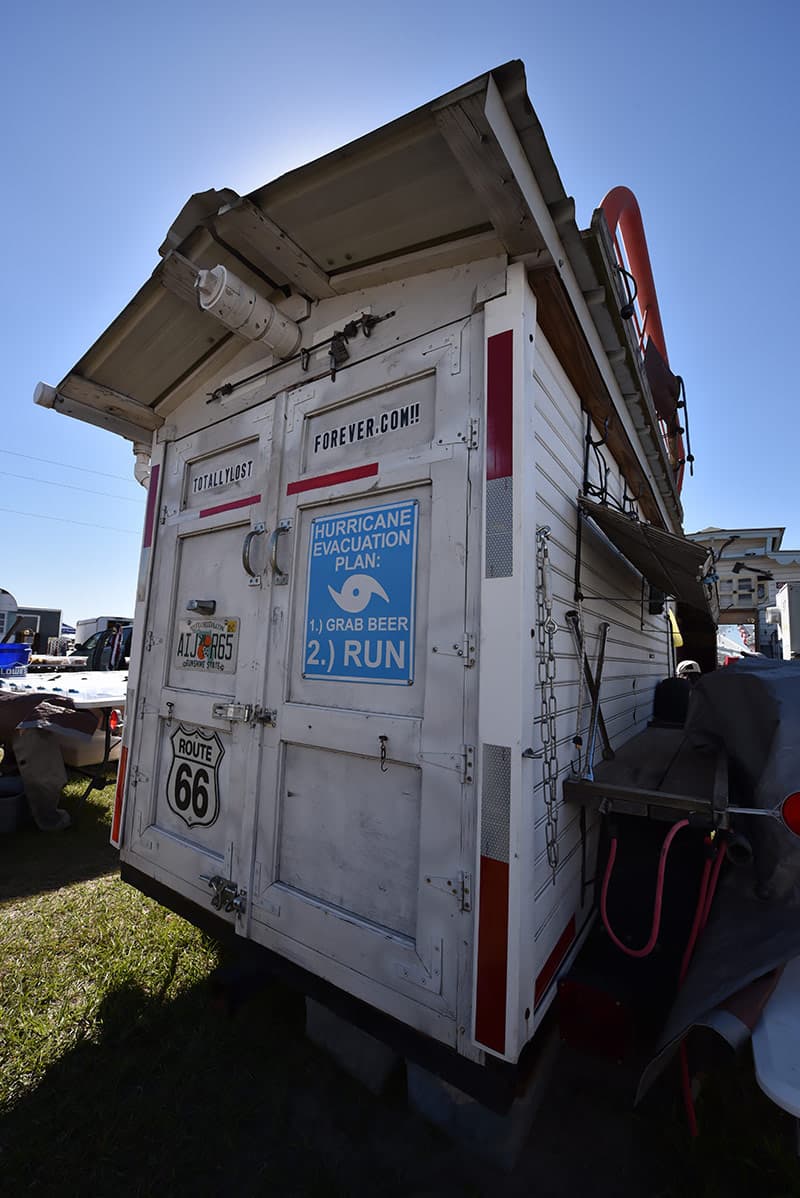 The total length of his rig – camper and trailer combined – is 29'6".  He is careful to keep his rig under 30-feet since that's the limit for many events.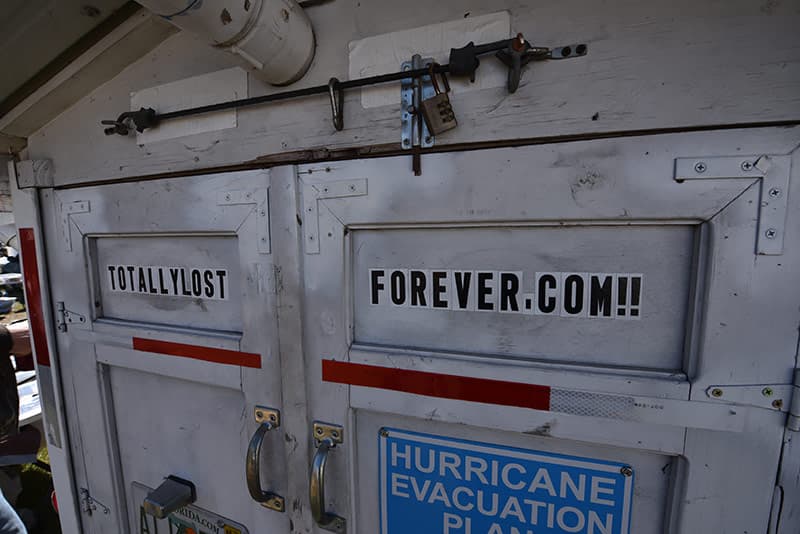 I asked Michael about the URL on the back of his trailer, totallylostforever.com.  Michael just laughed and said, "I don't use a computer or a smartphone.  I like to read my books.  It's not a real website."  He said that he sees people on the road typing in the URL and he'll laugh because he just made up the website and put it on the back of the trailer.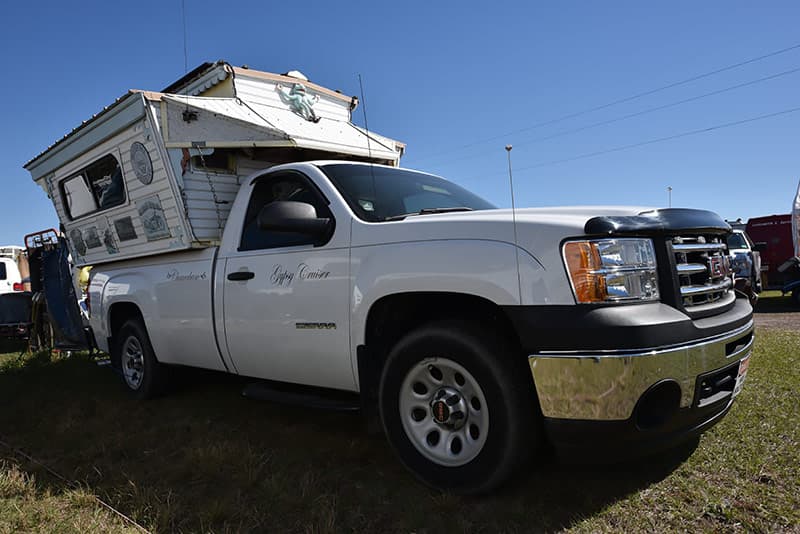 Toward the end of our conversation, Michael said something that seemed to capture the essence of his spirit.
"People chase me down the road to see my camper, and kids go in and like to see it.  My camper makes them happy.  I am totally free.  I wonder why I didn't do this twenty years ago."