Truck Camper Magazine readers reveal their favorite hide outs to escape old man winter and his dark, cold, and snowy tantrums.  Don't let your jacks frost.  Follow the endless summer south.

In February of 2014, we asked, "Would you snowbird in your truck camper?" for a Question of the Week.  We wanted to know if our readers would consider spending an entire winter staying warm in the popular snowbird destinations; Florida, Texas, Arizona, southern California, Mexico, etc.
This wasn't a given as most snowbird folks have a towable or motorhome.  Drive through the snowbird campgrounds in the aforementioned areas and you'll see 99 towables and motorhomes for every truck camper.  Most folks want the space if they're going to be in one place.
Well, 110 truck camping readers answered, "Heck yeah we snowbird, and how!"  It was one of the biggest Question of the Week responses we've ever had, and one of the most passionate.  It seems most folks hate the cold and dark (as we do) and can't wait to drive south for the winter.
Fast forward to 2016.  Now that we know truck campers love to snowbird, we wanted to dig deeper to find the best tips and destinations for truck camping snowbirds.  This week's Question of the Week was, "What are your best tips and/or favorite destinations for snowbirding in a truck camper?"
Snowbird Destinations in Arizona
Jim Furubotten
2006 Ford F350
2014 Northern Lite 10-2 CDSE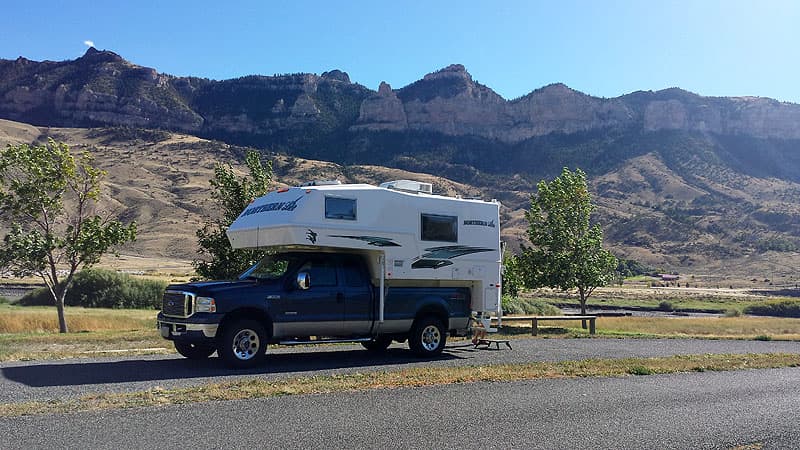 We stay at Scenic View RV Park in Quartzsite, Arizona, which is about $400 a month.

Most of the time, weather permitting, we are outside.  We ride ATVs, go geocaching, go plinking, and go to flea markets.  Plinking is shooting guns for fun, not hunting.  This whole area is a big desert, so we can ride our ATVs from the RV park to the wide open desert.  We can also ride our ATV on the streets.  We even ride the ATV to the grocery store, or to dinner.
This area goes from about 3,000 people to about 300,000 plus in January and February.  From what we've read, Quartzsite the largest gathering of RV dealers and swap meets in the United States.  It's been a bucket list destination for us since our first RV, which was a VW van, 37 years ago.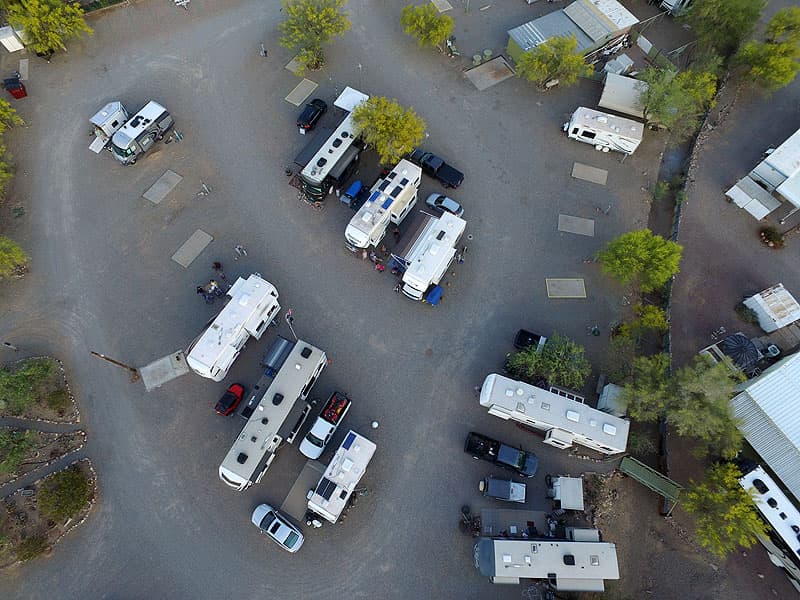 We are really newbies. This is our second year of retirement.  Being from the Olympic Peninsula, we just want to find sunshine in the winter.
Frank Poole
2016 Ram 5500
2016 Arctic Fox 990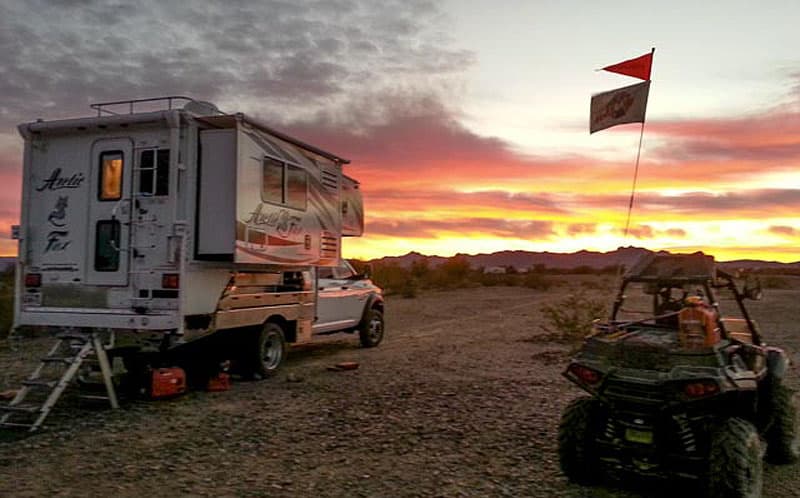 I go to Arizona for approximately five months; November through March.
I initially went down there not knowing a thing about the place except for a friend saying that he stayed at Dome Rock for the free 14-day maximum.  Dome Rock was perfect because I could ride the hills or ride into the buggy-friendly town.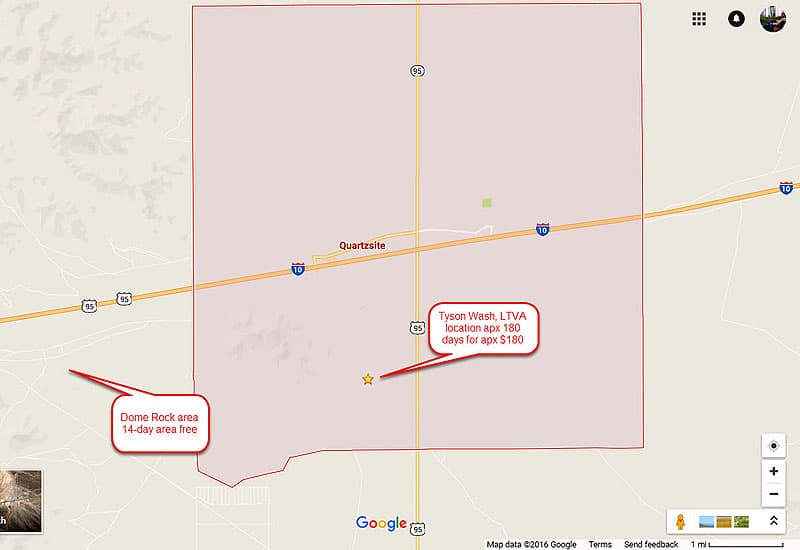 After exhausting the 14-day limit, I ended up on the La Posa Tyson Wash LTVA (Long Term Visitor Area).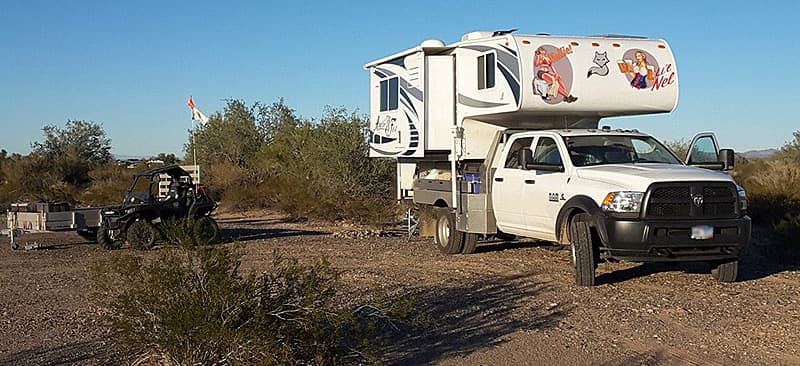 I think of Quartzsite as one big flea market, sitting in a large rock and brush RV park, with a highway running through it.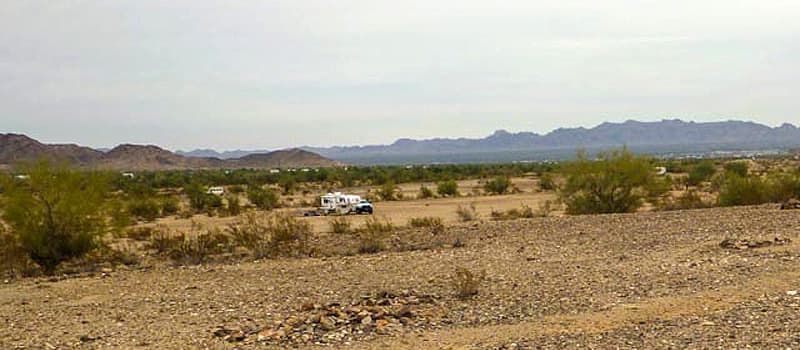 Would I do Quartzsite if I didn't have the buggy to ride with the groups down there?  Nope.  It's a nice place, but there's nothing really to do except to hang out – which gets old after awhile.  After five to ten days I start to get antsy on things to do.

My advice is to watch for the wind patterns, and try to stay off the main roads because of dust.  Also, upon arrival, I recommend finding out where the dump and fill stations are located.
The "Q" is nice if you have something to do, otherwise, it's time to move on.  The sunsets and sunrises are to die for.
David Weinstein
1999 Ram 3500
2005 Arctic Fox 1150
Quartzsite has been our destination for the past five years.  We leave New York the day after Christmas and usually arrive on January 1.  We're in no rush.  On the way we stay over at the large gas stations, Cracker Barrels, and Walmarts.  We pull in at sundown and leave early in the morning.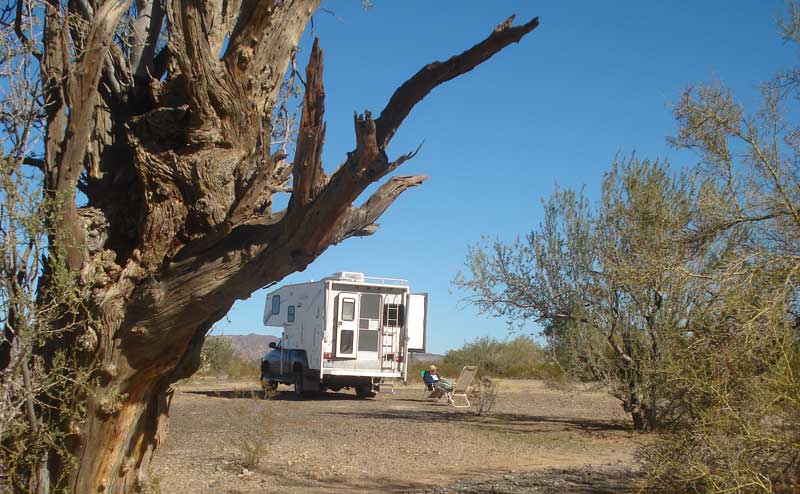 We stay on the free 14-day BLM in Quartzsite.  There are many areas like this, but they have no services.  You can then go to the $40 BLM area and stay two weeks.  There you can dump and fill with water.  Do this when you arrive and when you leave.
You have now been there a month.  Repeat the process, or you can dump and get water in town.  For things to do, there is a very large RV show, at least four larger flea markets, dancing at the town center, and you can visit shows like the New Christy Minstrels (boy am I old).  A gaming casino is about 70 miles north and then you can continue to Lake Havasu for the balloon festival.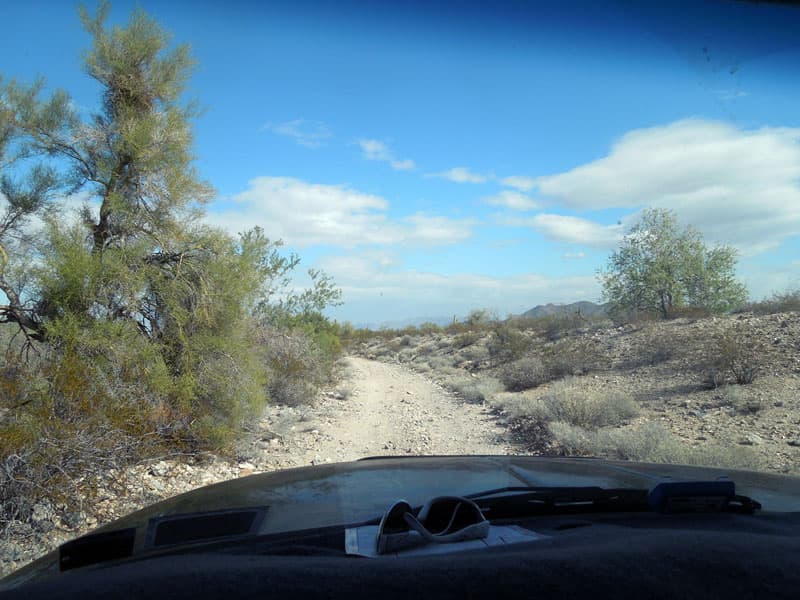 Go south 60 miles and you're in Yuma.  It's a big town with a large air museum, shows, and a Bluegrass festival.  Then, go east about two hours to Phoenix.  It's very cosmopolitan with Scottsdale and the Barrett Jackson car auction.
One year we even went west and took a seven day cruise to Mexico out of Los Angeles.  We parked the truck camper right at the dock.  You can be busy every day or go further into the desert and see no one.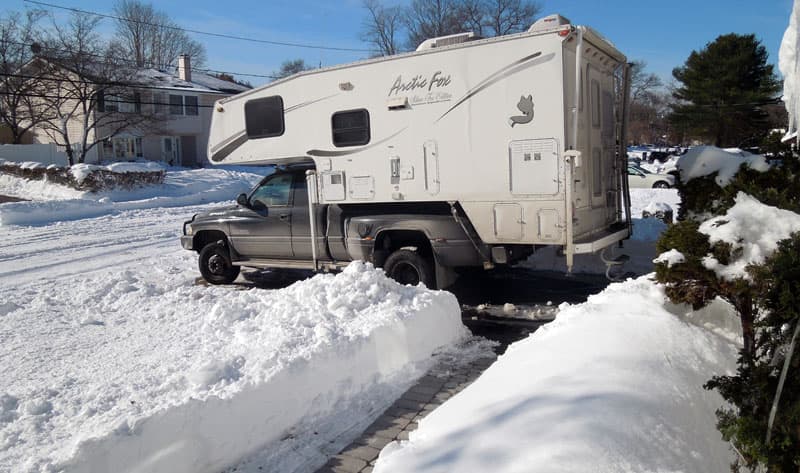 We always return too early in late February or early March for one reason or another, and it's snow, snow, snow.
Firman Schiebout
2004 Ford F-350
2012 Northstar 9.5 Igloo U
We stay at the SKP (Escapee) Park in Benson, Arizona.  Reservations are not necessary, but the park can be full at times.  We seldom make reservations.  If we do, we only make them a few days ahead.
We like the SKP in Benson because it gives us good access to Tucson, and the park is in the country.  Other SKP parks in Arizona are Casa Grande and North Ranch, which gives us good access to Phoenix.  Typically we do not make reservations ahead at for these parks either, but we do call ahead to check if they are full.  Normally they have room.  SKP parks are typically very friendly and a good value.
If you are looking for a swank resort type park with a pool, this is not it.  But, the Escapee parks are friendly and helpful.
We do not like to snowbird in any one place, but prefer to roam.  We start out heading south from Wisconsin in early January to Texas.  We stop at the SKP park near Branson, Missouri to de-winterize.  Then, we go on to east Texas.  From Texas, we go west to New Mexico, Arizona, and California.
Next winter we will go east to Louisiana, Alabama, Florida, and then possibly up the Atlantic coast.  Since we do not know exactly when we will be where, we very seldom make reservations.  We use a combination of SKP parks, Airstream parks, and Passport America parks.  When traveling from point A to point B, we normally use a Walmart, Cracker Barrel, or movie theater parking lot.
Frank Niehus
2007 Ford F-350
2007 Arctic Fox 1150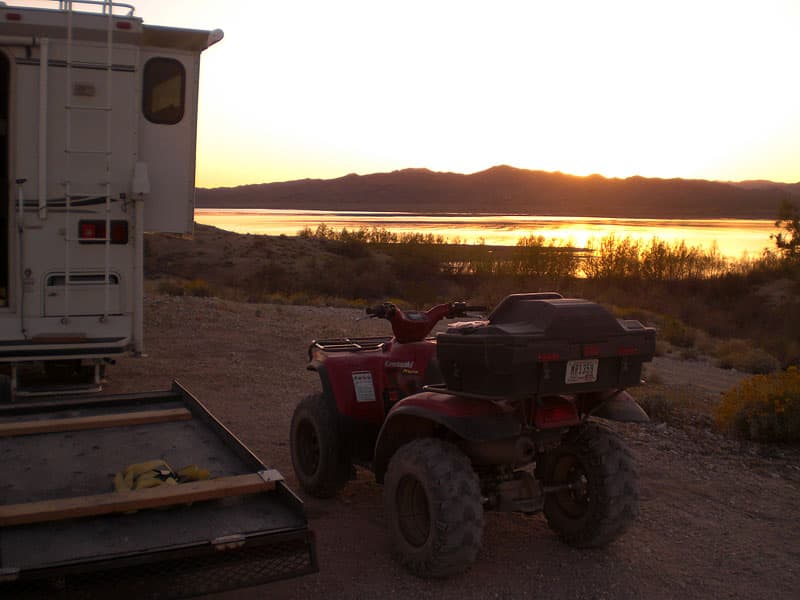 We stay anywhere in southern Arizona.  There is BLM land everywhere there.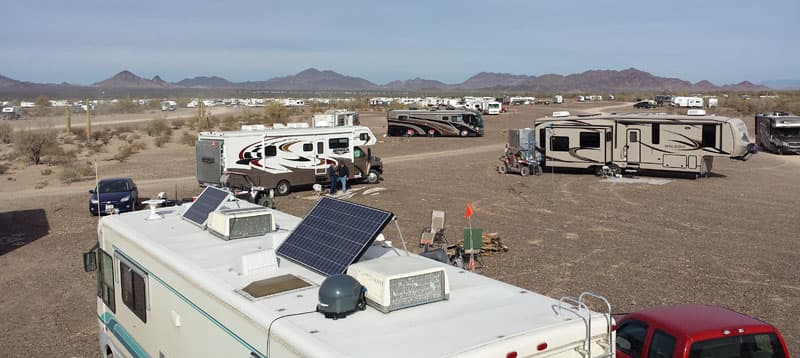 Quartzsite is popular, and some places do no charge to camp.  Some charge for longer stays; 14 days to 180 days.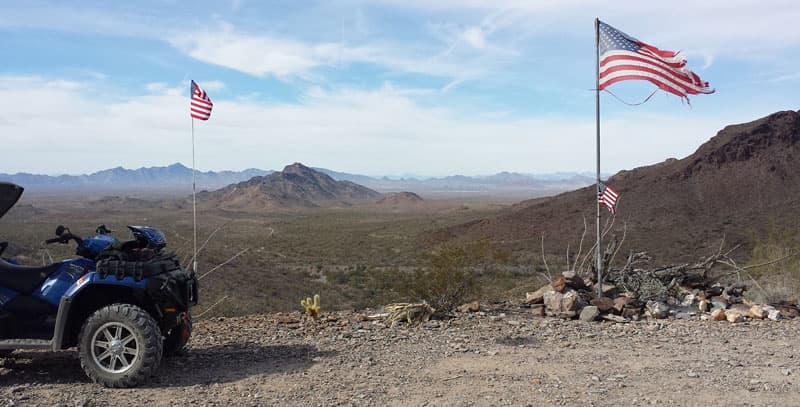 We take the ATVs down and ride all over.  Now signs are showing up from the Arizona Land Trust that you need to get a permit to use it.  It's easy to get the permit, and inexpensive.  Places like Alamo lake have signs stating 14 day stays, but you see motor homes that have been there for months.  They have 55 gallon barrels of water sitting around.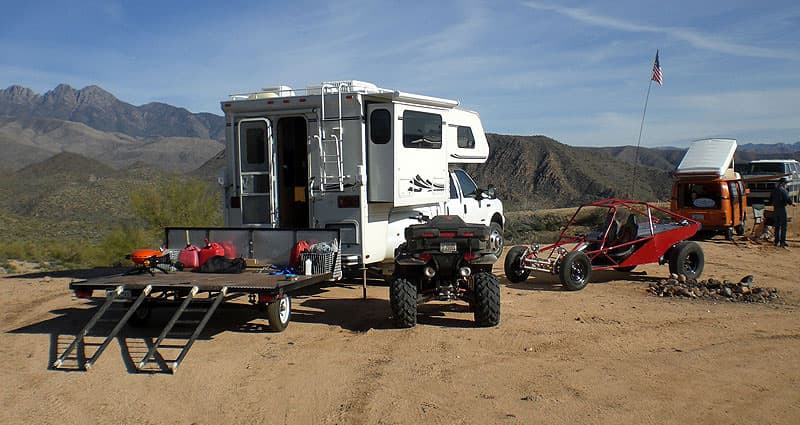 We visit friends and relatives in Phoenix, Yuma, and other small towns and stay in front of their houses, at retirement places, in laundromat parking lots, etc.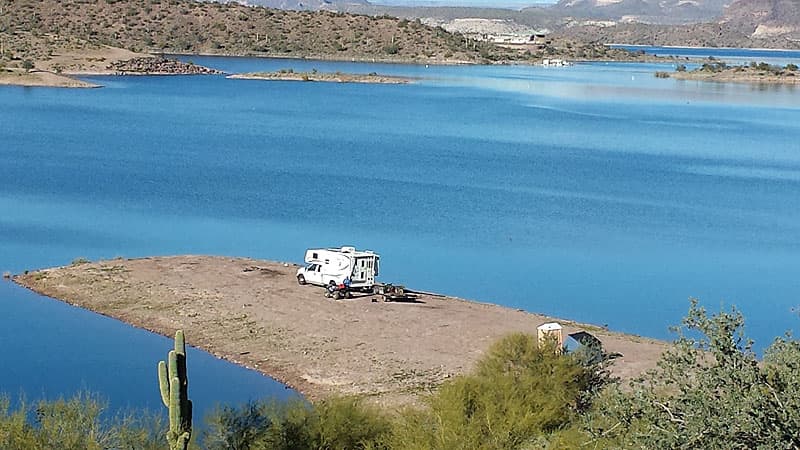 There are many places to dump for free or for a small fee.  One is a RV center in west Phoenix where you can dump 24 hours a day.  Lake Pleasant outside of Phoenix has dry camping for $12, and you can dump.  It's a beautiful place.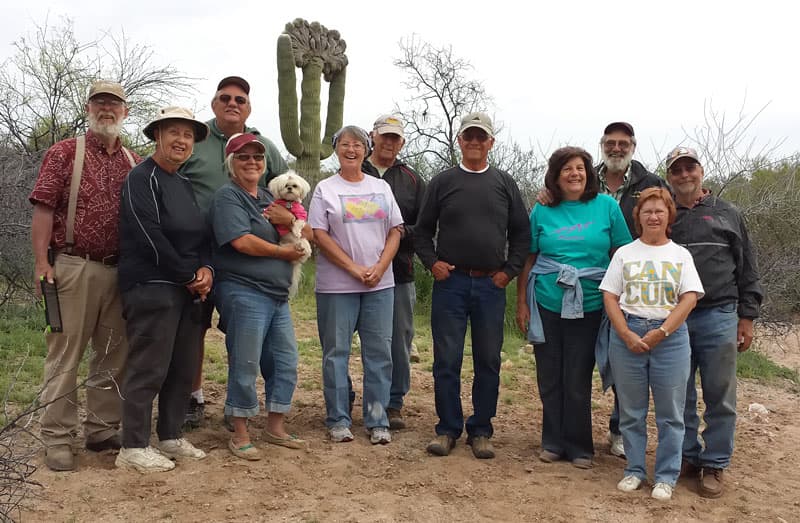 Above: These six couples were from six different states and it was the last day before we parted for home last year.
Two years ago we were out 80 nights and paid a total of $62 to park and/or dump.  A couple of our friends have dumps at their houses.  Listening to people back east, we are very fortunate living out west that we have all this beautiful space and all this free parking.  The great thing is that you can get away from people or camp closer to them.
Snowbird Destinations in Florida
Charles Coushaine
2001 Ford F350
2012 Chalet DS116RB
My wife and I are recent retirees, and have spent the past five years traveling all over Florida through the winters.  After seeing most of the state, here are two of our favorite spots.  You will need reservations for both in the high season.
Boyd's Key West Campground is one of the closest RV parks to Key West (on Stock Island).  There is an easy bus ride (right outside campground) or an easy scooter ride right into Key West for all sorts of fun!  Boyd's is an extremely nice campground, but quite expensive.  We feel it is worth the cost based on its close proximity to Key West. Highly recommended!
Turtle Beach Campground in Sarasota is located south of Tampa on the Gulf Coast.  It is unique in that it has its own beach that you can walk to from your campsite.  Every night campers take a glass of wine, their beach chair, and stroll to the beach to watch the sunset – spectacular!
One of the other nice benefits of this campground is how close it is to Siesta Key Beach, which was voted one of the best beaches in the USA.  Its pristine bright white sand is so white that it doesn't get hot during the sunny days.  It also has lifeguards, a snack bar, and a bathroom to make the day of sunning all the better.  Highly recommended.
The only wisdom, learned the hard way, is that some parts of Florida have ants that try to invade your truck camper.  We learned to keep the hose and electrical cords suspended off the ground and we sprinkle ant killer around the tires and jack legs.  Then all is fine.
Sylvie and Jake Mathis
1994 Dodge Ram 2500
2003 Northern Lite 9C Q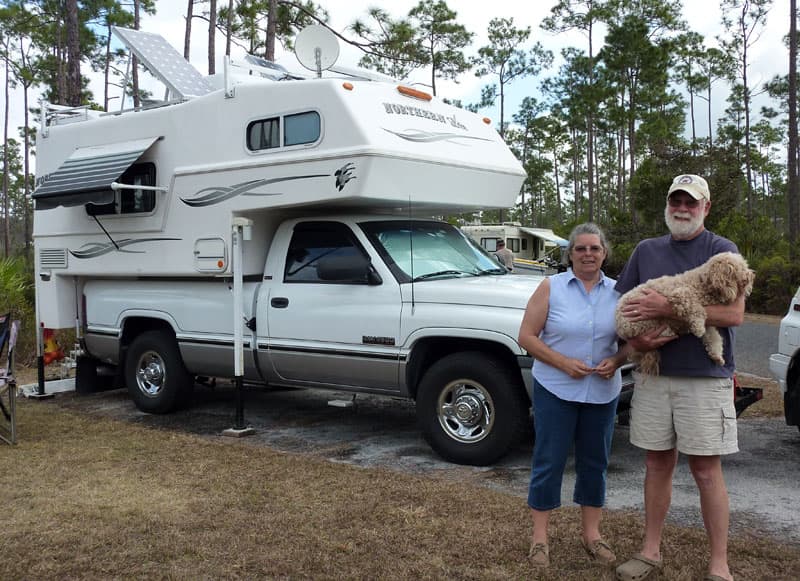 Our secret with 22 years in the Navy with two tours in Vietnam is the Key West military base.  It is dry camping and we use our solar panels for an average cost of $20 per night.
Our new favorite spot in Florida is Cedar Key.  It's on the central west coast of Florida, and a bit more cool then South Florida, and really a price performer.  It's quiet there.  They roll the sidewalks around 9-ish at night.
Helen and Dann O'Kane
2011 Ford F350
2013 Lance 855S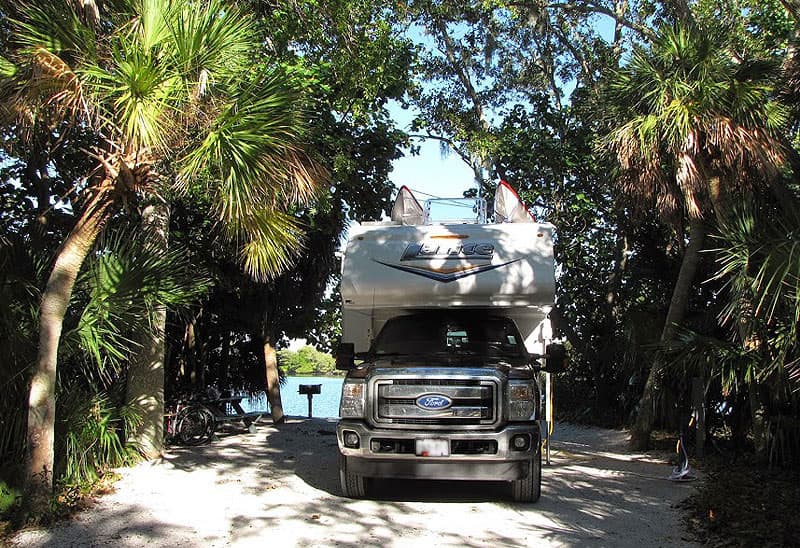 We like Fort DeSoto near Tampa, Florida.   It's a fabulous park for biking.  Get a waterfront site and you can kayak from shore.  It has a fabulous beach and fishing pier that you can bike to.  You can see manatees, dolphins, and amazing bird life.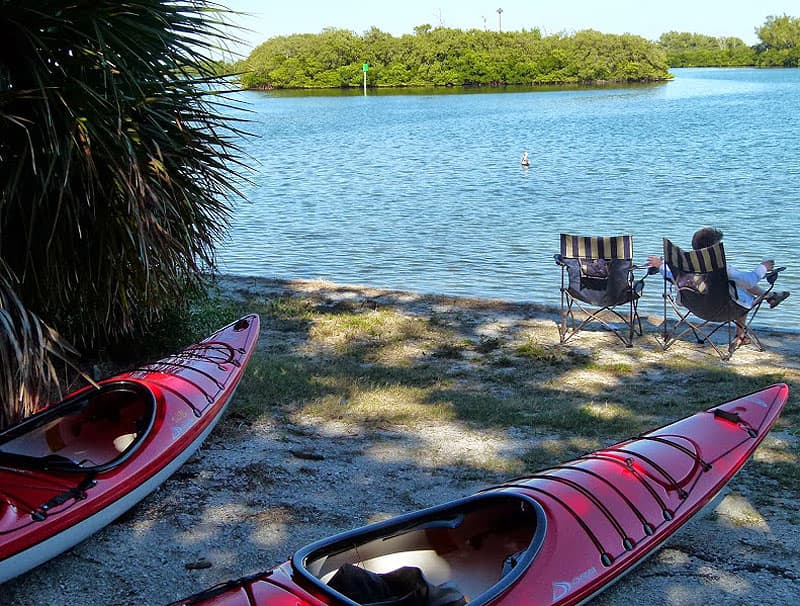 The beach is accessible.  There are several restaurants biking distance away.  Try Billy's for seafood and Good Time Cafe (only open for dinner) for amazing lamb.  There is a bait shop, and ice cream at campground.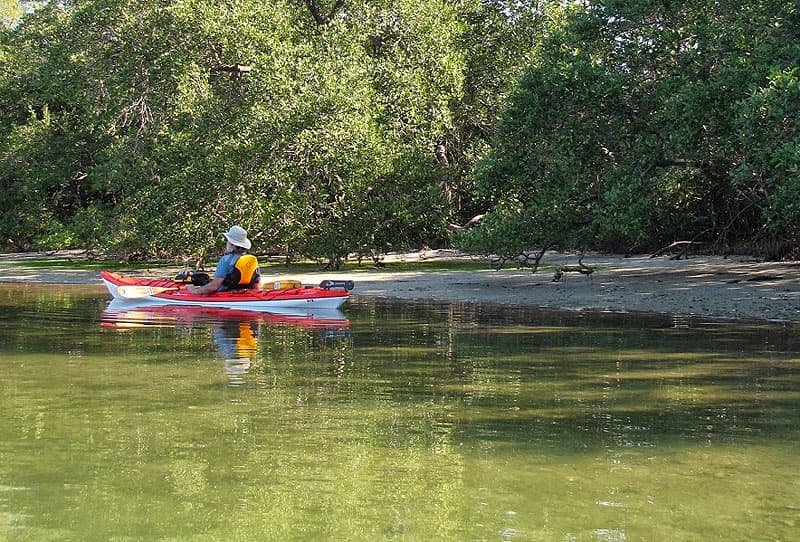 It's $33.60 to $45.37 a night depending on the site (taxes included).  The maximum stay is two weeks.  I made a reservation online several weeks in advance but, in peak season, it will be booked months ahead.  It's a very popular park, so you can have a hard time getting in.
Up to mid-January it is possible to book a site from Sunday to Thursday with no problem.  10-percent of the sites are held back and released every Friday morning at 7:00am.  These can be booked online.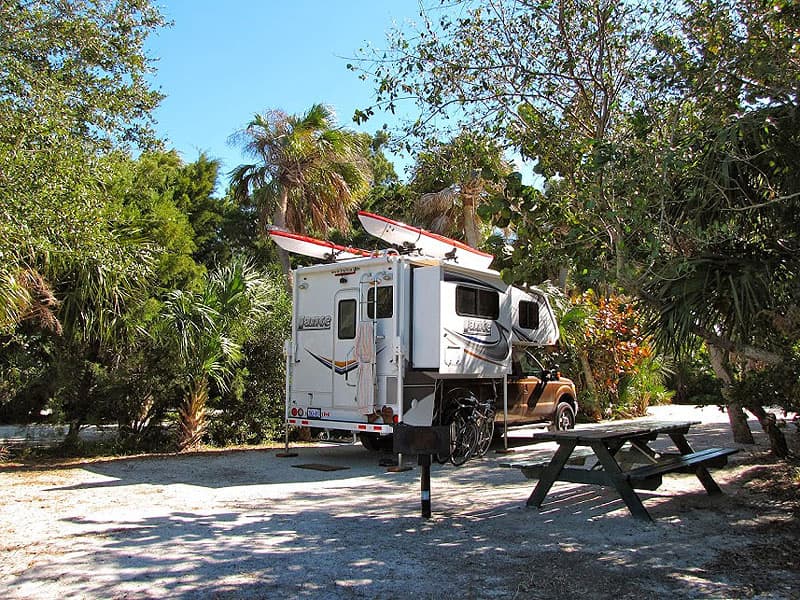 This campground allows pets, but it does have a pet-free zone.  The campground's shower facility is nice.  The laundry was fine with two washers and two dryers at the bathhouse.  They lock the gate at night.  In our opinion, it's by far the best camping in Florida.
Pat Mitchell
2007 Ford F150
2016 Capri Camper Retreat
We stay at Grand Lake Golf and RV Resort, between Gainesville and Ocala, Florida in Citra.  Reservations are needed.  It has it all; golf, heated pool, lake fishing, activities like crafts, a book club, exercise, dances, concerts, church, and much more.
Many Florida state parks are within an hour's drive.  The University of Florida is close for cultural activities.  There is community theater in Ocala.  You can be busy or lazy.  Lots of folks come every year, so you make friends easily.  It's a well maintained facility with great management.  Get outdoors!
Snowbird Destinations in Texas
Richard Mount
2013 Ford F150
2013 Four Wheel Camper Grandby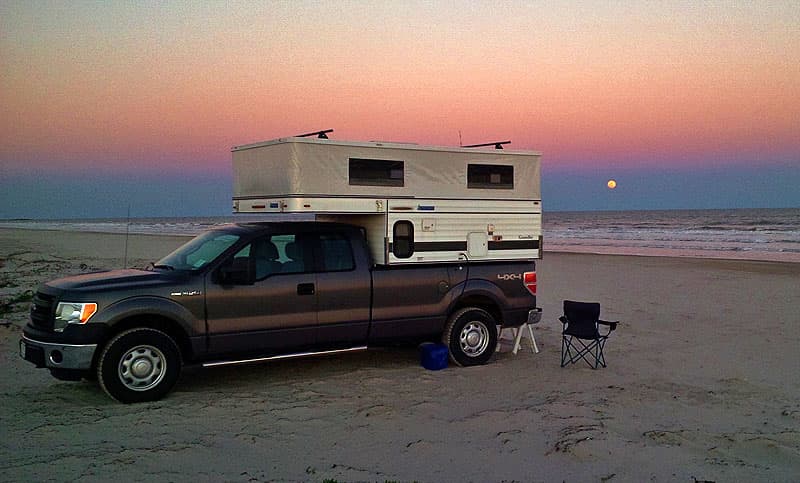 Most of my time in Texas is spent on Padre Island National Seashore, South Beach.  This is a strip of beach that's more than 60 miles long with free camping along its entire length.  A park entry permit is required, and it's $10 for seven days and $20 for a year.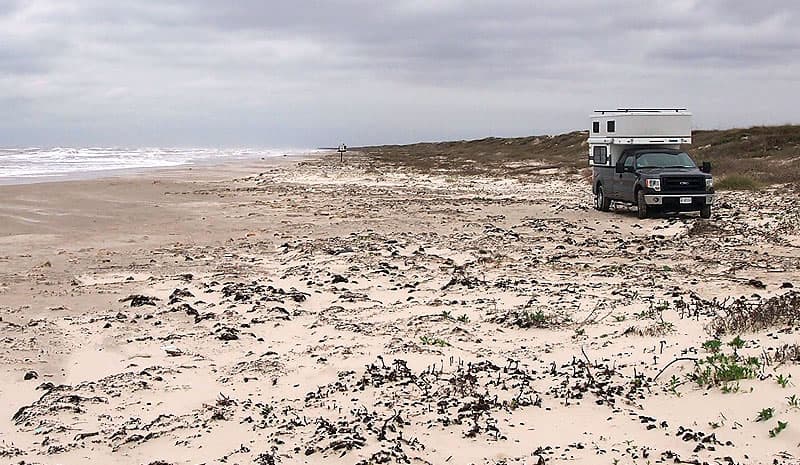 Every tide change brings a different collection of shells and sometimes trash to the shore, so walking the beach is a different experience everyday.  The first couple of miles are usually accessible to RVs and trailers, and further down the beach four-wheel drive is a necessity.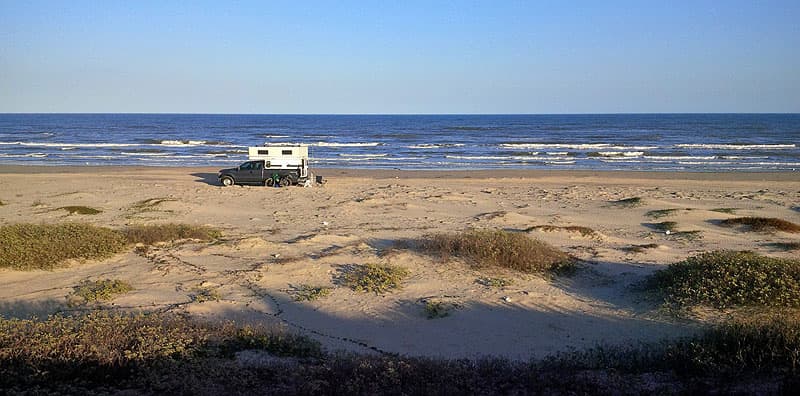 There is similar camping available on North Beach which is a safer choice for those with only two-wheel drive vehicles.  The maximum stay is 14 days before you must leave for 48 hours or more.
There are no services on the beach, but a dumpster and toilets are available at the beach entrance, and a dump station and water are available at the nearby visitor's center.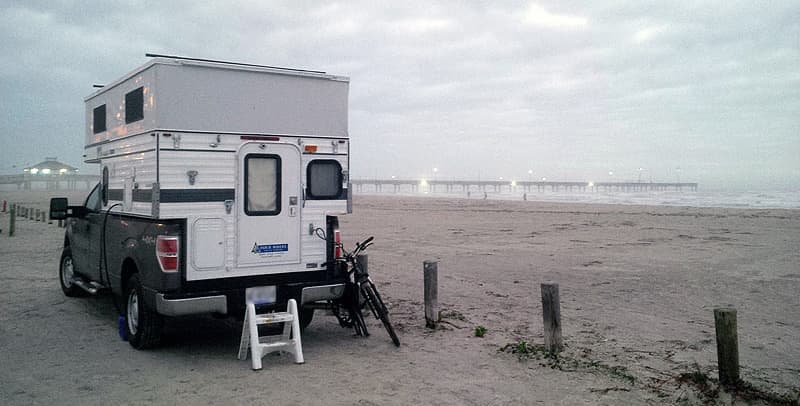 The town of Port Aransas is less than 30 minutes away and also offers free beachfront camping with the purchase of a low cost beach parking permit.  This is an ideal spot to spend a couple of days if you are worried about over staying the 14 day limit at Padre Island, or just need to stock up on supplies.
Walking the beach, surf fishing, reading, watching the wildlife and enjoying the sunrises and sunsets takes up most of my day.  For me, the highlight of camping on Padre Island is the solitude and the fact that you get a beautiful view of both sunrise and sunset sitting outside your camper.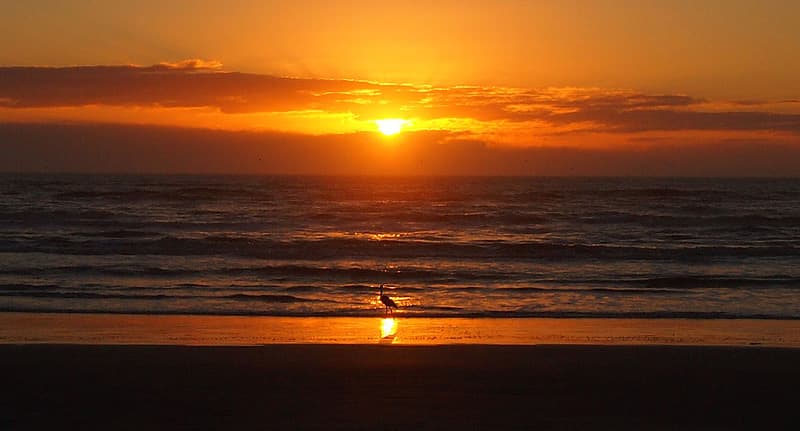 Winterize your water system earlier than you think you have to.  On the return trip north you can run into below freezing temperatures earlier than you expect.
Bill and Sue Billyard
2000 Dodge Ram 3500
2008 Palomino Winter Creek RS115
We have been snowbirds from Florida to California.  We finally settled on South Texas in the Rio Grande Valley.  There are over 500 RV parks in the valley offering a great selection from basic low cost to high-end costly resorts.  With so many parks you do not need to reserve for your first visit.  Come on down, explore the area, and then decide.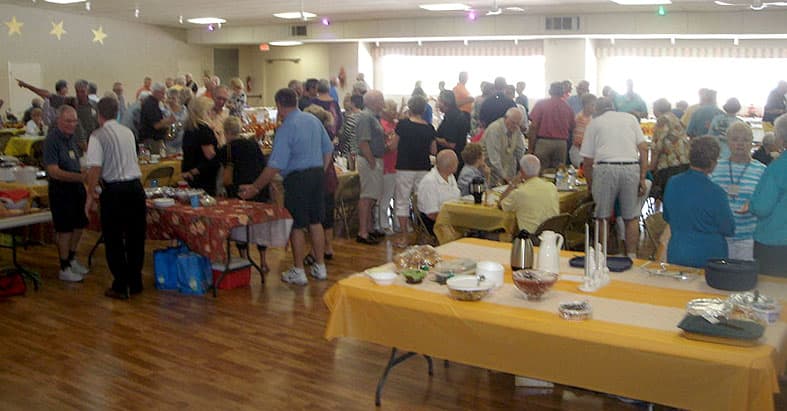 We have found it to be less costly than many of the other southern states.  The local economy depends heavily on the Winter Texans and the locals make us feel very welcome.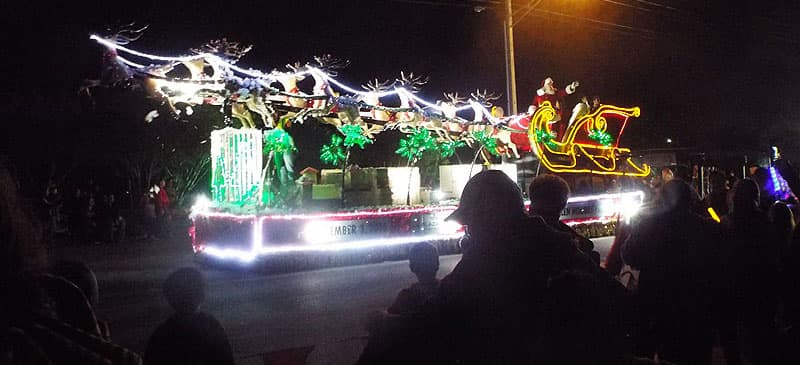 Many entertainers from Branson spend their winters here and shows for $10 or less are not uncommon.  The local high schools also do live theater with their students who often have amazing talents.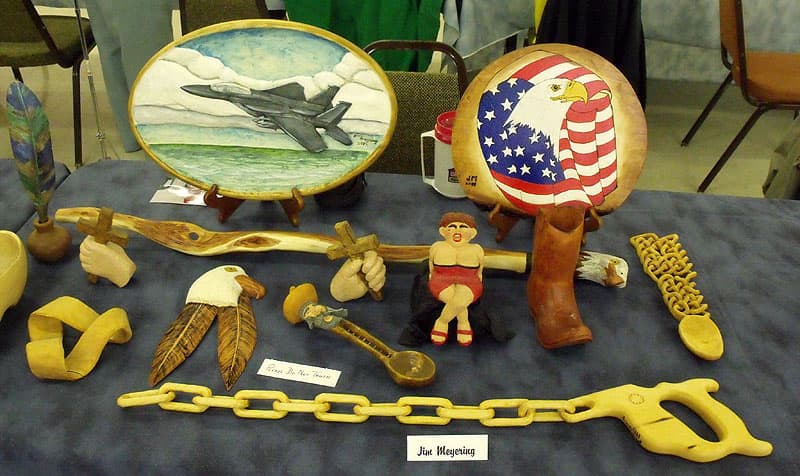 A few of the parks will not take truck campers and there is no BLM land.  We settled on a park twelve years ago and bought a park model.  We now camp coming and going with the truck camper taking two weeks or more to make the three day trip from home.
Richard Desrosiers
2003 Dodge 3500
2001 Lance
I go to the Rio Grande Valley in south Texas, where you are not Snowbirds but Winter Texans.  There is free beach camping at Boca Chica beach, and low cost dental and medical at Nuevo Progresso.  I have nineteen porcelain caps that were very affordable. The cost of living in this area is ten to fifteen percent lower than in Florida.
Real house prices in Harlingen are under $100,000 for brick homes that are not in a HOA.  For photos of Boca Chica beach follow Google Earth out of Brownsville to the east end where the pavement ends.  At low tide there is seven or eight miles of free beach camping.
Tom and Joy Julkowski
2005 Ford F350
2004 Sun Valley Sun-Lite 955SD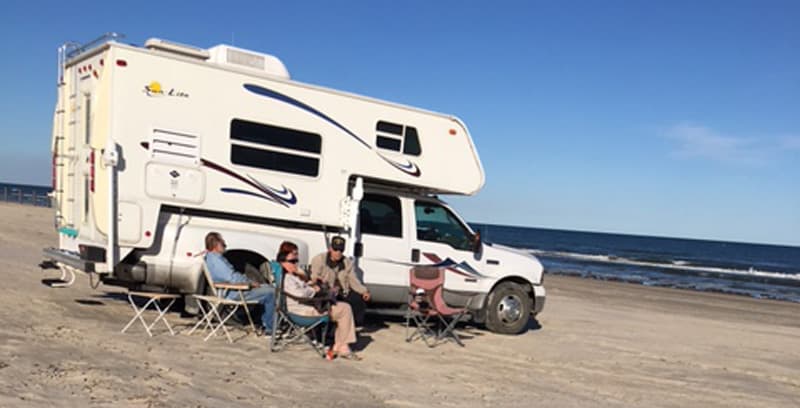 I go to Texas from October to May.  Since we retired in 1998, we have spent many winters along and near the coast of the Gulf of Mexico.  We like Rockport, Texas where we're not called Snowbirds, but are known as Winter Texans, and are welcomed and appreciated for the economic impact we have.
Goose Island State Park, near Rockport-Fulton, is right on the Gulf.  It is protected by barrier islands with nice wooded campsites or beach sites.  It became our favorite winter camping spot. The wooded sites at Goose Island are large and private and heavily used.  The grass there has taken a beating, but we like it.
We opted to buy an annual Texas State Parks pass for $70 instead of paying the daily fee because we stayed in Texas months and visited other Texas parks.  The annual pass covers all people in the vehicle and gives discounts for camping and park store purchases.
We have also volunteered at Inks Lake State Park.  Inks Lake is a very nice park, but does limit your stay to 14 days.  If you can get a job as a volunteer you must do some kind of work for 24 hours a week, but you get a free site with full hookups.
Near Goose Island is Bay View RV resort, which is very much like Goose Island State Park.  I guess the biggest complaint we had when we stayed at Goose Island were the airboats that would launch at the boat ramp around 5:30am during hunting season. Those un-muffled engines will wake you up from a sound sleep.
Bay View is not a fancy resort type park, but may have some of the largest RV sites in the Rockport-Fulton.  Most people are critical of the roads which are gravel or crumbling asphalt, although they do try to grade them after a rain.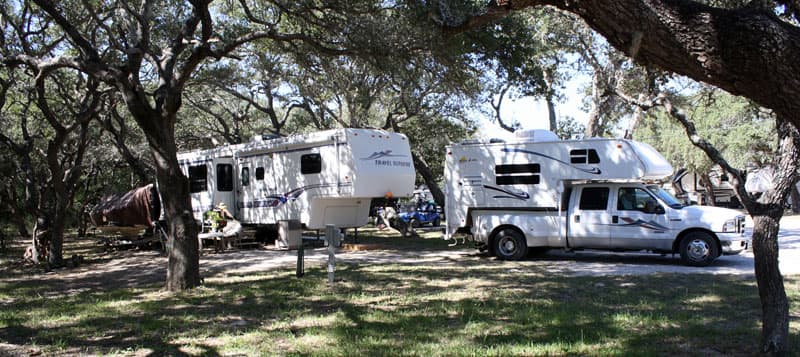 The park has about 350 sites of various sizes, some closer together than others.  The cost per site depends on how big the site is, if it is on water, and if it has a cement patio.  So, you have a choice on what you want to pay or where in the park you want to stay. The 2016 cost for water and sewer sites are $45 daily, $180 weekly and $225 to $425 monthly plus electricity.
We like Bay View and now permanently rent a site there leaving our fifth wheel on site year round.  We are able to have campfires like the state park, unlike many of the other 200 plus private parks in the area.  We have enough room to set up a screen tent, can store a boat on our site, and we can get permission to plant a garden.  There are two swimming pools and many organized and non-organized activities.
Rockport-Fulton has many things to do and see during the time we are there.  There are indoor and outdoor celebrations, tropical Christmas activities, an Oyster Fest, a movie theater, multiple grocery stores including our favorite HEB, great fishing with many piers and free boat launching, many great seafood and other type restaurants.  If you can't find it there, Corpus Christi is 35 miles to the south.  Rockport is a town that surrounds the smaller beachfront town of Fulton hence the term Rockport-Fulton.
Leaving our trailer in Texas led us to discover truck campers.  We didn't want to stay in motels during our drive back and forth to our northern Minnesota home, and towing a small trailer down and then storing it wasn't something we wanted to do.   Once settled in at Bay View, we left the camper on the truck.  With an extended hitch bar we are able to launch and retrieve our sailboat at the nearby ramp on Copano Bay.  We try to get out sailing every week.  We were able to boondock at nearby Padre Island in the truck camper.  There are places along the beach where you can camp that require an inexpensive permit and other areas that are free.
We now leave Minnesota near the end of October and return around the beginning of May, so no snow or ice for us.  The winters in Rockport do get chilly during the month of January and it probably is warmer further south along the coast and down in the Rio Grande Valley, but Rockport gives us what we need without the traffic and crowds we've seen when visiting the valley.
Sylvie and Jake Mathis
1994 Dodge Ram 2500
2003 Northern Lite 9C Q
I recommend the beach at the Padre Island National Seashore near Corpus Christi.  There's dry camping only, cold showers are fifteen miles away, there is no phone reception, and no television.  Great sand and great beach walking.
Snowbird Destinations in California
Vince Kurpan
2014 Promaster
2014 Custom
We stay at any of the overpriced RV parks in Morro Bay.  Morro Bay State Park used to be nice, but last time we went down it was getting run down and even more expensive than before.
We like Morro Bay because there are some very nice views and it's near Hearst Castle.  We usually combine this trip with stops at Carmel, Monterey, and other places.
Last time we stayed at Morro Dunes, which is pretty nice, but it's not cheap at around $45 to $50 a night.  They may have monthly rates.  I think Morro Strand RV Park is similar.
Rancho Colina, a few miles east on 41, is cheaper and probably less windy.  We may try that one next time.  If you go 20 miles inland (around Atascadero) you can probably get something cheaper if you are staying long term.
The California coast is generally a very expensive place, so most people up here in Oregon go to Arizona, which is much cheaper.   If you go to Arizona, find ways to take hobbies and crafts with you or you'll go nuts.
D Hubbard
2014 Ram 3500
1998 Lance Legend
Camping in the deserts of California and along the coast are my frequent destinations.  I volunteer at Red Rock Canyon State Park and love the solitude and sands.  I never tire of the changing hues of light on desert rock formations.
Hiking, reading, and playing in the sand are our favorite activities.  Some folks might find it boring since there is nothing but the Mojave Desert nearby, but that is why we love it.
Old mining towns and ATVing are a couple of other attractions.  Few camp there, and I have never seen the campground even half full.  There are no amenities, which we say yay to.
There is ocean front camping at Emma Wood State Park, the Rincon parkway, or Faria beach in Ventura.  They are great winter getaways.  We ride bikes and spend hours watching sea life and waves.  Maybe I shouldn't tell you about those places.  There are no reservations and they are often full, so maybe I won't get those sweet spots as often.
Years of being sleepless in a noisy flapping tent in desert winds has now turned to being snug and happily rocked to sleep in my truck camper.  I just wish I'd had this pleasure sooner!
Snowbird Destinations in Baja
Ray Mostowy
2007 GMC Sierra 3500
2007 Adventurer
I go to San Felipe, Baja north.  The prices are good, there are wonderful friendly locals, lots of sun, and virtually no rain.  We purchased property, but there are good campsites. San Felipe is about 180 km (100 miles) from the US border at Calexico, California.
We are from Vancouver Island, British Columbia and came here 15 years ago to escape the winter rain.  The area is as safe as back home, and the safest in Mexico.  The stuff you get on the news does not exist here.  There are lots of good restaurants, good fishing, and a great place to rest up.  The Shrimp festival, The Baja 250, and Baja 1000 road races are great fun and are known throughout North America.
We use our truck camper to drive to Mexico.  A lot of Walmarts may have notices posted that overnight stays are not permitted.  However, when you ask permission from management, they will say the reason for the sign is they reserve the right to limit the stay to one night and not have the this benefit abused by some that stay several days and set up BBQs, etc.
Gypsy Style Snowbird Destinations
Ken Pastorius
2015 GMC Denali 3500
2012 Arctic Fox 1150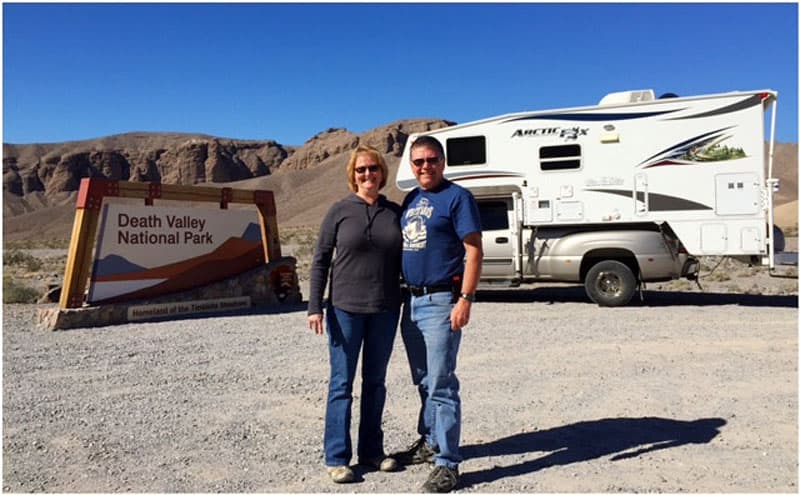 This is a topic that's near and dear to my heart.  For the past several years, we've been only able to fit in one month getaways, but both of us are growing more and more weary of northern Michigan winters.  Now we're very willing to take in whatever we can get.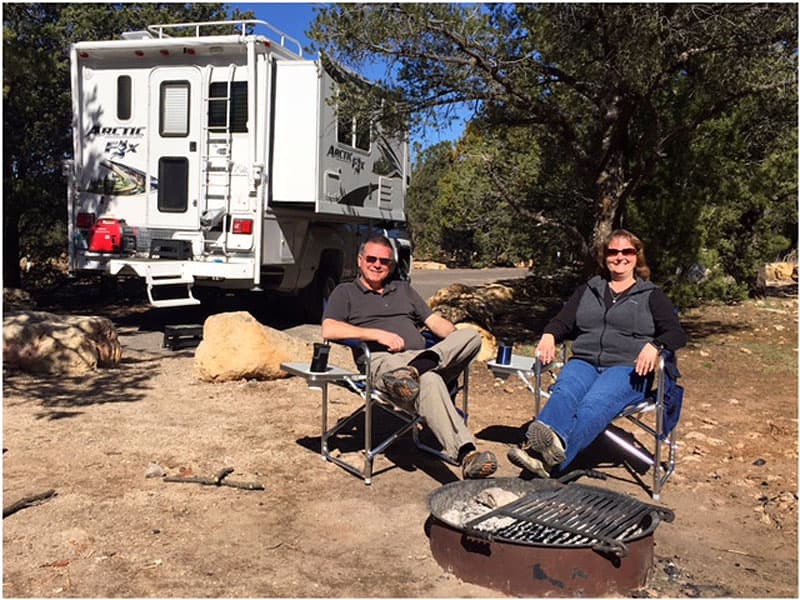 Above: Grand Canyon National Park, Arizona
Unlike many snowbirds, we don't travel to one particular location for a winter retreat, but prefer more of a gypsy styled adventure.  We always head south with National Parks as our destination, and then just roam around.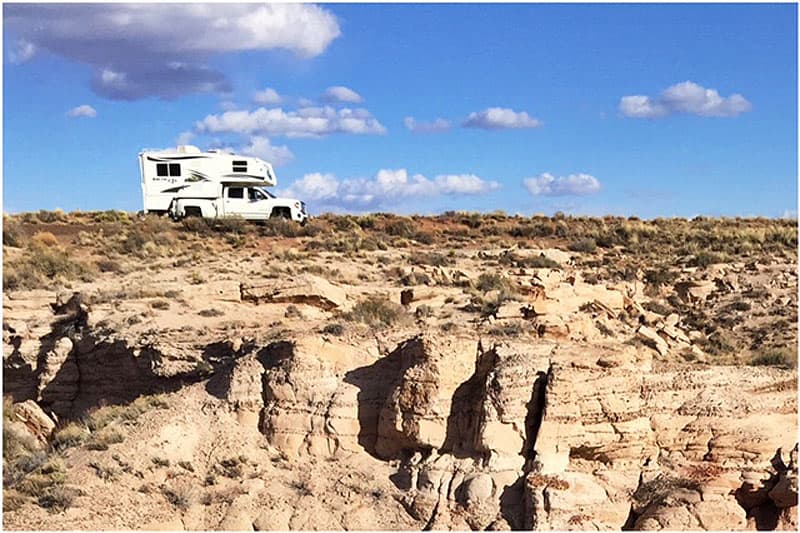 Above: Petrified Wood National Park, Arizona
We never unload our camper, often stay at a location for only a few days, and then move on.  We do have a list of places we'd like to see, but we are always ready and willing to get distracted.  If we don't see every place on our list, we'll save it for another getaway.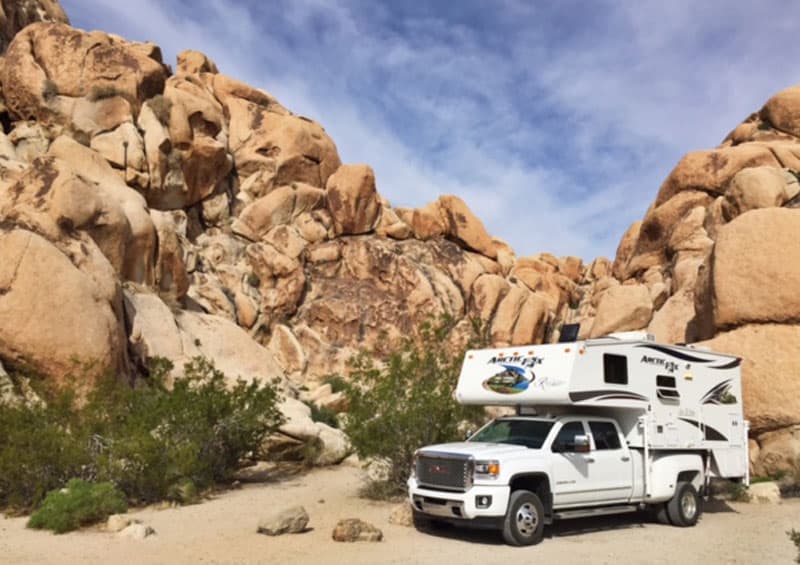 Above: Joshua Tree National Park, California
We rarely stay at campgrounds on the way to a destination preferring truck stops, rest stops, Walmarts, or just pulling off to the side of the road.  We never make reservations.
That practice proved to be tricky on our first snowbird adventure to Florida in 2013, but it all turned out to be very doable.  That trip included visits to my parent's home in Clearwater and Donna's sister's, in Gainesville.  Then we headed down to the Everglades and the Keys.
On that trip we spent the night only at rest stops, except for when driveway camping with family, or camping in the Everglades and Keys.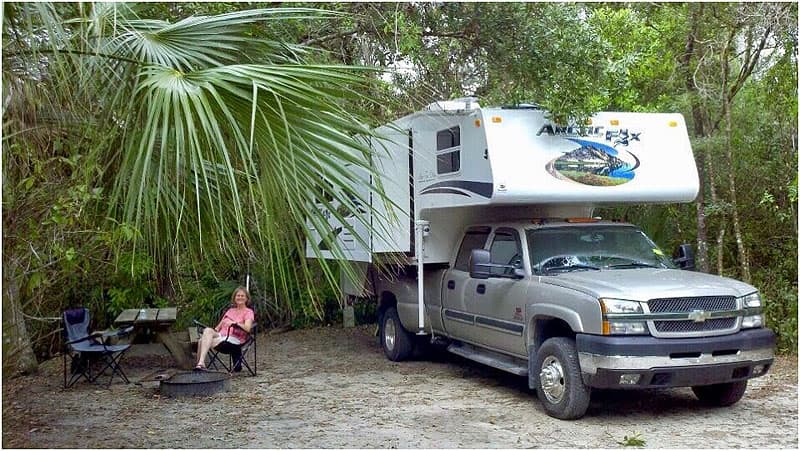 Above: Collier Seminole State Park, Florida
In the Everglades, we were able to dry camp in tent sites at Collier Seminole State Park, Long Pine Key, and Flamingo.  In the Keys we stayed at Big Pine Key Fishing Lodge.
In 2014, both my parents passed on during the winter which prevented any travel.  In 2015 and 2016, we headed to the Southwest, visiting National Parks in Texas, New Mexico, Arizona, and California.  Again, we did this without reservations or camping at campgrounds, except at the National Parks.
As far as snowbirding in a truck camper, it's the best!  If our truck can fit, we call it home.  At Collier Seminal State Park, the only place left to camp was in an out of the way tent site, bordering the swamps, crawling with alligators.  It was an incredible site!
When wanting to drive to the top of Mount Lemmon in Arizona, we pulled off to the side of the road at the base of the mountain, and woke viewing the most beautiful landscape, right outside our dinning room window.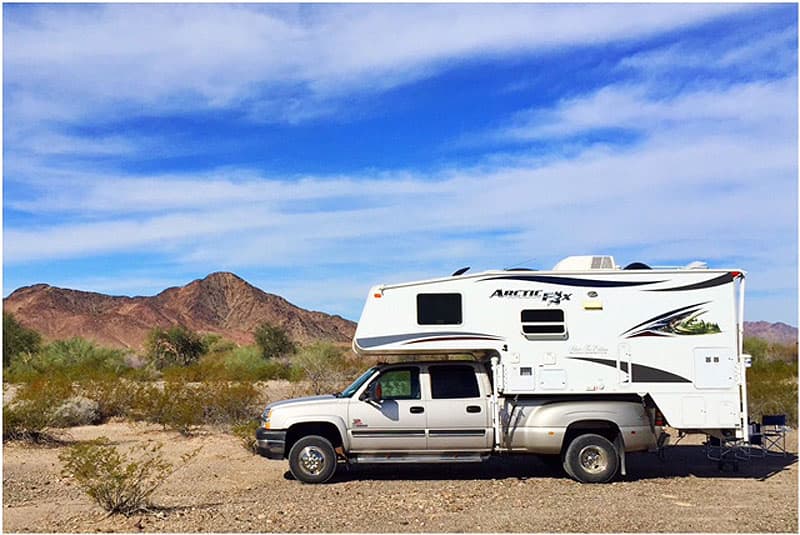 We also stay at BLM land whenever possible. Quartzsite is very crowded during the busy season in January and early February but, by the middle of February, there is plenty of room.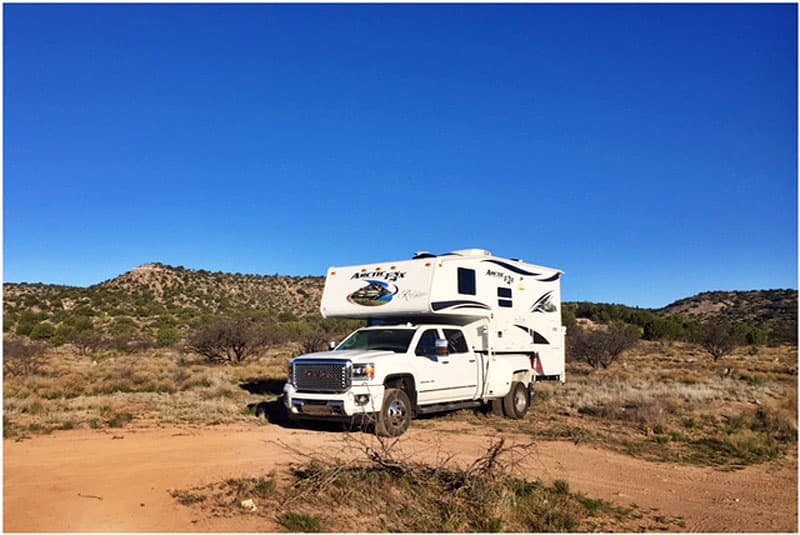 This coming February, we plan to travel to Texas with an ambitious plan to visit all the National Parks, Monuments, and Recreational Areas.  We'll have to let you know how that turns out.
Bryan Appleby
2008 Ford F550
2009 Lance 1191

To be honest, escaping the winter snows and cold is the main reason I snowbird in the southern portions of the USA.  When I first started in 2009 I headed to the gulf coast and Florida.  It was a beautiful area to explore but the thing I discovered was that I kept running into people and populated areas.  After growing up in the west, I kept remembering the wide open spaces and lack of populated areas.  That is where I headed and have not stopped visiting these areas of the desert southwest.
I spend my time exploring these areas hiking, photography, night sky watching, canyoneering, watching wildlife, and backcountry motorcycling.  I also meet up with friends and other desert enthusiasts!
To be honest, I wish I would have discovered earlier how convenient it is to have many of the comforts of home life along with you in a truck camper.  As a lifelong tent camper and backpacker it was quite a transition for me to go to a RV.
For me the versatility of a truck camper is what attracts me to this type of RV life.  Being able to get that much farther off the beaten path, and away from the normal locations of RV camping is the benefit of truck camping ownership.  From these locations I am able to "base camp" to further explore a region for an extended period of time.