Three decades in the making, Carlos Armas shares his extraordinary Ford F-550 flatbed and Northern Lite 10-2EX build and details the process of going full-time on the road. The approach is extreme, but his perspective is priceless.
It's not uncommon for retired couples to sell a house in an expensive area with high taxes and move to a less expensive area with low taxes. As a bonus, the less expensive area often has fantastic access to better weather, outdoor activities and – if you're really lucky – fellow retirees with the same 'have-fun-now' mentality. The result of this move is a nice windfall, hopefully, a nicer house, and maybe enough left over for new toys, vacations, and fun. This is a well-known and age-old strategy for countless retirees – grandkids permitting.
Full-time RVing takes this concept and ups the ante by multitudes. It starts with not just selling the house in an expensive area, but also selling – or otherwise purging – most of your household belongings. Rather than rolling that sizable windfall into another home, you keep it, and/or put it towards a full-time-worthy RV and everything you need and want on the road. Imagine what kind of truck, camper, and toys you could have if you sold everything and deployed it in that direction.
Here's the best part. You can be anywhere. Driveway with the grandkids in California? Yep. Icefields Parkway in August? Yep. Key West in February? If you are a good planner and have the inclination, you can be where you want, follow the best weather, attend the Albuquerque Balloon Festival every year, and…. follow your bliss. That makes the folks who moved to a less expensive state look like they're sitting still. You're free to roam the entire United States, Canada and Mexico – and beyond – and live life as full and adventurous as you want.
The catch is that things happen on the road. Flat tires. Car accidents. Dead refrigerators. Engine lights. Heath scares. Family emergencies. Worldwide pandemics. It's not a relaxed way to live, at least not compared to staying in a house. If you can't handle the unpredictable, living on the road isn't for you. As Angela and I like to say, life on the road is full of high-highs and low-lows. Living at home is rarely – if ever – that high, or that low. It's also less memorable, if not completely forgettable. That's the deal.
Carlos Armas has taken the concept of selling in an expensive area and hitting the road full-time in style to a level rarely seen. At first blush, the sheer magnitude of his rig might be a bit off-putting but consider the enormous trade-offs he and his wife made to make this happen. They started with 30 years of dreaming and saving and then sold their house and belongings. On top of that, she's still working. In a nutshell, they have pushed all their chips into the middle of the great gambling table of life and said, "We're all-in on living full-time on the road". It's amazing what you can do with that level of commitment.
Of course, Carlos also reminds us that full-time RVing – in a truck camper or otherwise – isn't easy. With the number of people deciding to go full-time right now, we hope that Carlos's story, and the other full-time articles we've been publishing, give a clear-eyed look into what this choice means. Carlos also has an absolutely incredible truck and camper build and details what life is like on the road.
Thirty Years To Full-Time
by Carlos Armas
We sold our house and have been on the road since February 2022. My wife, Lisa, Petey, our cat, and I live in our Northern Lite 10.2 dry bath. This is the story of how we decided to go full-time in a truck camper, and how we put our rig together.
The 30-Year Plan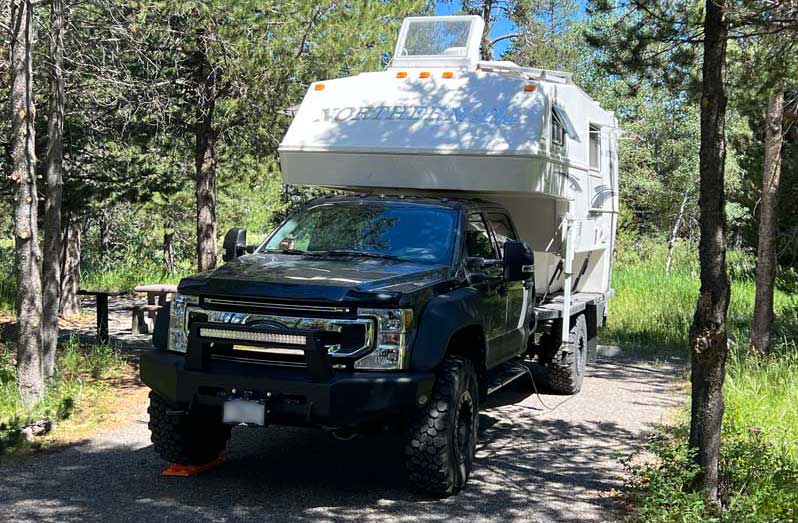 Above: Carlos and Lisa's Ford F-550 and Northern Lite 10-2EX
We have been RVing since 1997 after selling a second home in Big Pine Key, Florida. Even at that time, we started thinking about retirement even though it was many years away. We had both been busy with traveling jobs that only allowed four to five weeks a year of vacation time. We were always limited to a one or two-week vacation and where we could get to from the East Coast in that time.
We knew we wanted to spend time exploring the West. We also wanted the chance to spend more quality time together. Lisa had traveled extensively with her parents as a child and I did regular road trips from New Jersey to Florida to visit family. We both had the road trip bug from the start.
So, we have been planning this lifestyle on the road for the last 30 years. If you want to do this, you need to have a goal or a timeline if you want to stay on track. Otherwise, you will procrastinate and never hit your goal. The whole process of going full-time can be very stressful. Having a plan is essential if you don't want to lose your mind.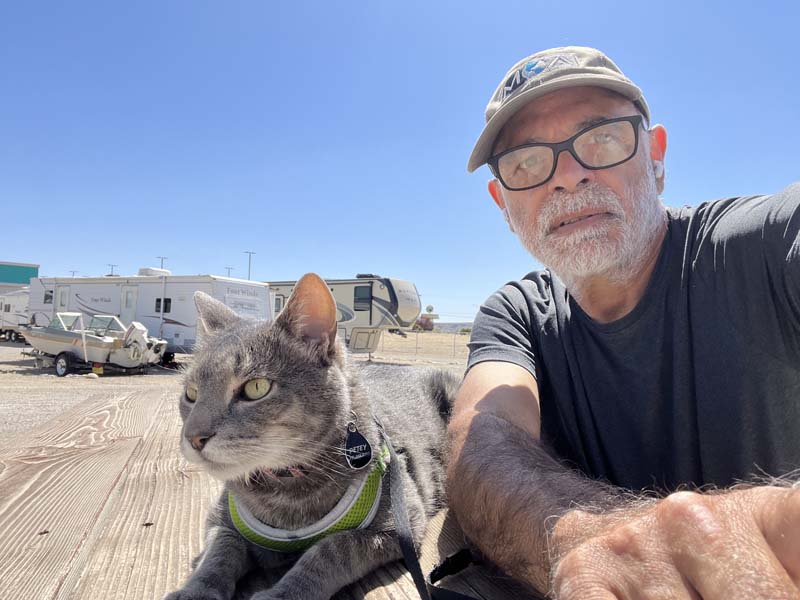 Above: Petey with Carlos in Kirkland, New Mexico
Getting To Full-Time: The Process
Once you have committed to entering into this lifestyle, you tackle it one step at a time. If you're five years out from the time you want to be on the road, start getting rid of stuff. Sell what you can. Three years out, start donating stuff and giving stuff to your friends. That is what we did. You can speed all of this up, but you will increase the stress level by doing it too.
Even though we had a small home and had intentionally tried not to accumulate a lot of stuff, we somehow had managed to do so anyway. Deciding what to do with our stuff was a big challenge since we were in New Jersey and had plans to domicile in Texas. I made two trips to Texas to deliver items to a storage unit there.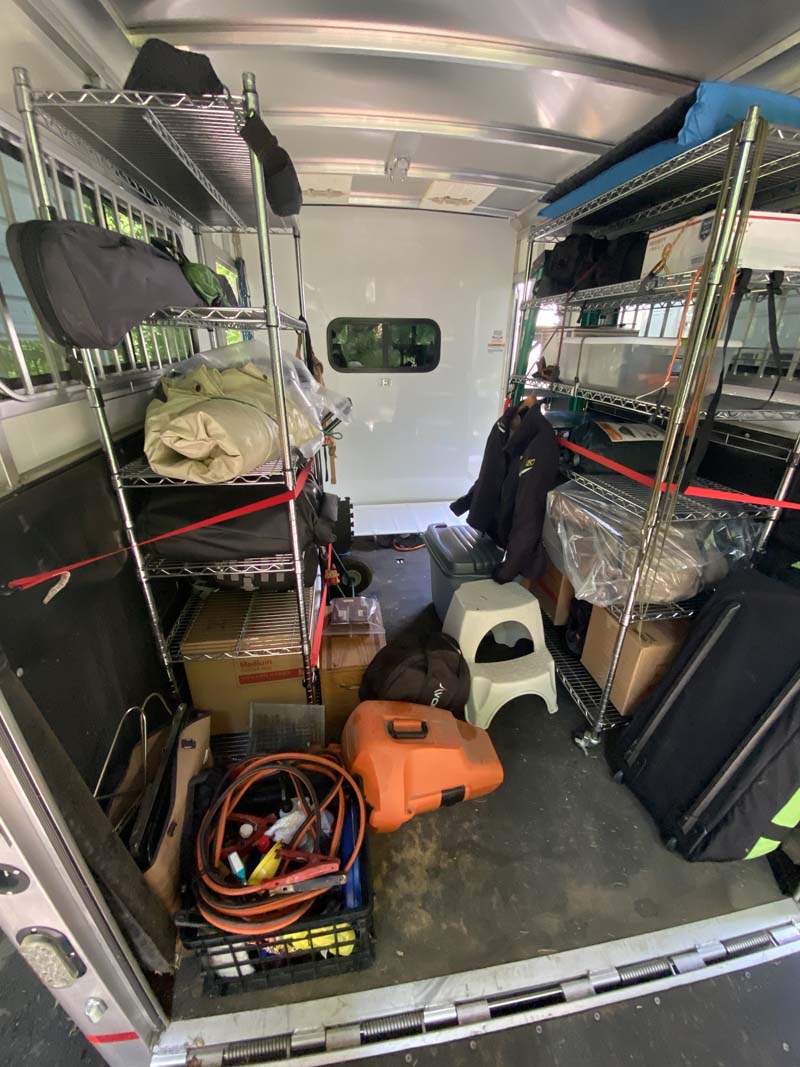 Above: Packing up the horse trailer to take to Texas
Since we want to end up in a house at some point, we decided to have two storage places. We put the stuff that we will not need to touch in a climate-controlled location. Our second storage location in Texas is where we put things like clothes and camping gear that we can get to as needed. We also have land in Texas, so we made Texas our home base. We became members of Escapees and use their mail-forwarding service.
Ultimately, we opted to have most of the household we kept (but didn't anticipate needing while we traveled), put in storage with the movers at their warehouse. Once the house sold, we packed just what we absolutely needed in the camper and put the rest in a motorcycle trailer that then went into the storage unit in Texas.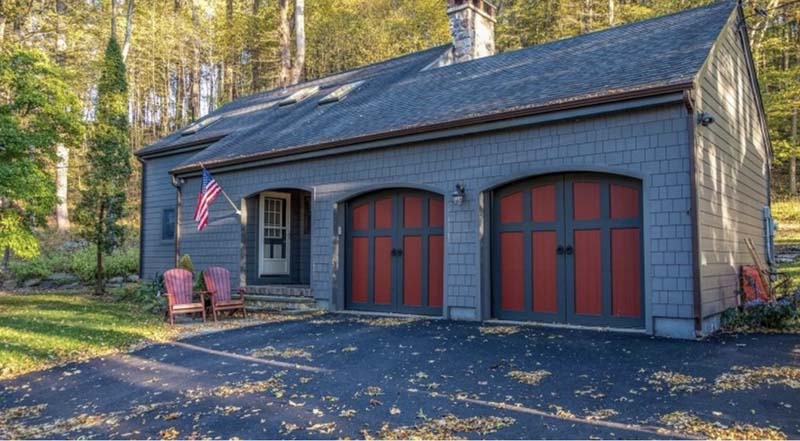 Above: The sold house in New Jersey
There's no doubt about it; the whole process of getting rid of stuff, preparing the house for sale, and saying goodbye to long-time friends, all while trying to decide what went where was very stressful. Thankfully, we did a pretty good job of getting ourselves down to the bare essentials for travel by donating a large amount of stuff, giving away items to friends, and then just throwing away a lot.
Life is a lot easier once you've sold almost everything. You realize that you don't miss a lot of the stuff you had.
Deciding To Get A Truck Camper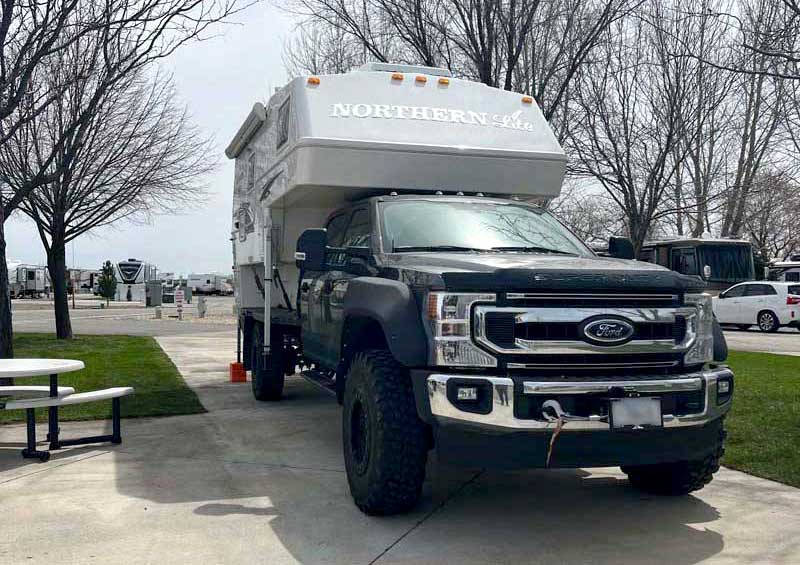 Above: Mountain Home RV Park in Idaho
We've had RVs for twenty-eight years. Over that time we have bought and traded-in several RVs; five Class A motorhomes, two residential fifth-wheels, and three truck campers.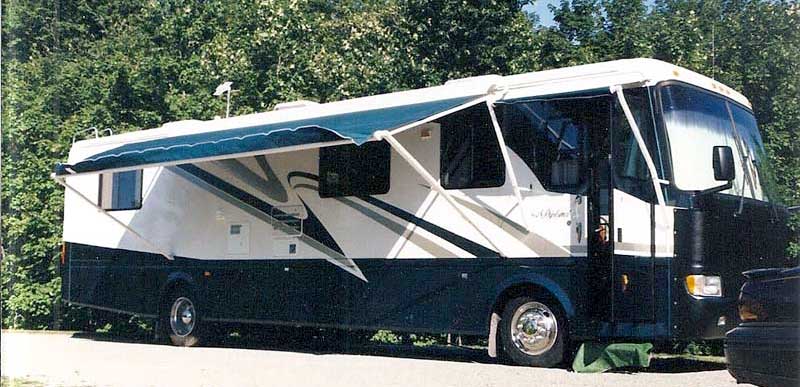 Above: Monaco Diplomat
We upgraded along the way and spent a lot of money that we didn't need to. We've learned the hard way; probably no different than a lot of people.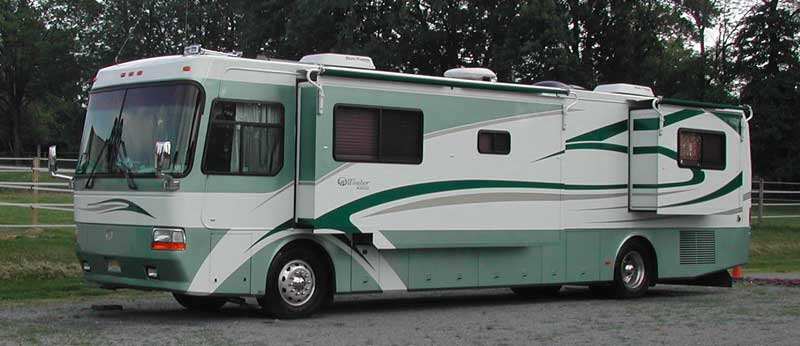 Above: Monaco Winsor
Once we got to the truck camper stage of RVing, we loved it so much that we regretted not starting out with one.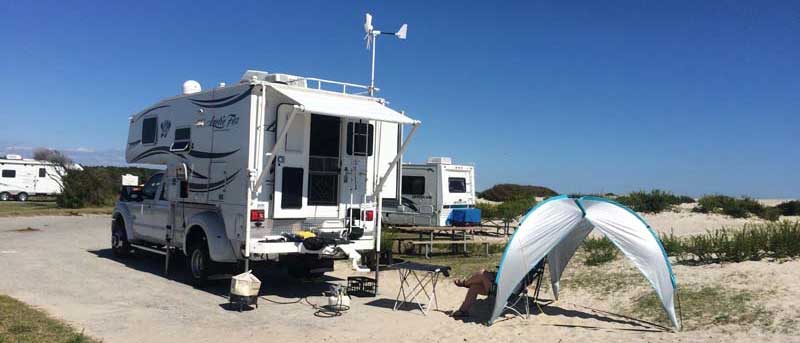 Above: Arctic Fox at Assateague Island State Park in Maryland
But, we didn't know what we didn't know, until we got there. We finally figured out that a truck camper gave us a way to travel the way we wanted while allowing us to get to the point where we actually owned our rig outright.
Owning different RV types taught us the pros and cons and prepared us for the type of lifestyle we wanted. We knew that a capable rig under 28 feet would allow us to be more nimble.
With a lot more people on the road than when we first started RVing, we wanted the ability to go deeper into dispersed camping in case RV parks were not available. These capabilities do come at a cost. We took the, "pay once… cry once" approach while we were still working, especially since we know that we'll eventually be on a fixed income.
We looked at a lot of different rigs from expedition vehicles to truck campers to super Cs to travel trailers. Resale value and depreciation were important factors. We want to minimize the depreciation when we sell. Having the ability to sell either the truck or the truck camper or both made sense to us. The truck we bought can handle anything from a pop-up camper to a bigger hard side. It can also go deep off-road.
Delivery of the rig was important from the day you make your decision. A custom vehicle and/or rig can take up to two years before you get it, not to mention the potential for cost overrun. So going with a common truck, that can be easily customized, and an off-the-lot truck camper was a quicker turnaround solution to getting on the road. It was also significantly less expensive than other options we were considering.
With a truck camper, we knew that we would be able to get into almost anywhere without a problem. For example, we can go to regular gas stations instead of truck stops. We can easily stop for places to eat. Back-in sites are usually less expensive. Parking in busy parking lots when you go grocery shopping is more doable.
We wanted to see the country without any restrictions, which for us means maneuvering the rig around in tight places. When you're traveling in a Class A or big fifth-wheel, getting stuck is easy, especially when your GPS sends you down the wrong road and you're pulling a tow vehicle or a trailer.
The bigger rigs really forced us to plan ahead more and made us less spontaneous with where we would go. We had everything planned out so we knew exactly where we were going to be for each stop, and we knew that each destination could accommodate us.

Above: Carri-Lite 5th Wheel
Often the most difficult challenge with the larger rigs was just getting them backed up our driveway when we got home. However, we also knew that we were missing out on places that had limits on length, like the national parks. If we wanted the chance to stay in some of those places, we needed a unit that was under 30 feet.
If we wanted to do off-grid camping and more boondocking, we needed a shorter, more nimble, and self-sufficient rig. At the same time, we didn't want to spend the kind of money it would take to buy an expedition vehicle.
Our 24-foot-long truck and camper rig is the solution. It's nice to have the flexibility to just pull off at an exit to grab a meal when we feel like it and not worry about whether we can get into or out of the parking area.
Ford F-550, Flatbed and Super Singles
The decision to go with a Ford F-550 chassis came first. I wanted to reduce as many weight limitations as possible and I believe in over-spec'ing the most important things. The F-550 was, to me, the perfect platform to safely carry our truck camper and anything else we wanted to take with us.
The F-550 comes in a cab and chassis configuration, so I had to find a flatbed that would give me as much storage as possible. Sherptek offered to do that for me in 2019. It's better to have storage, even if you don't need it. Now, there are several flatbed choices you can go with. All of them can accommodate any commercially produced truck camper.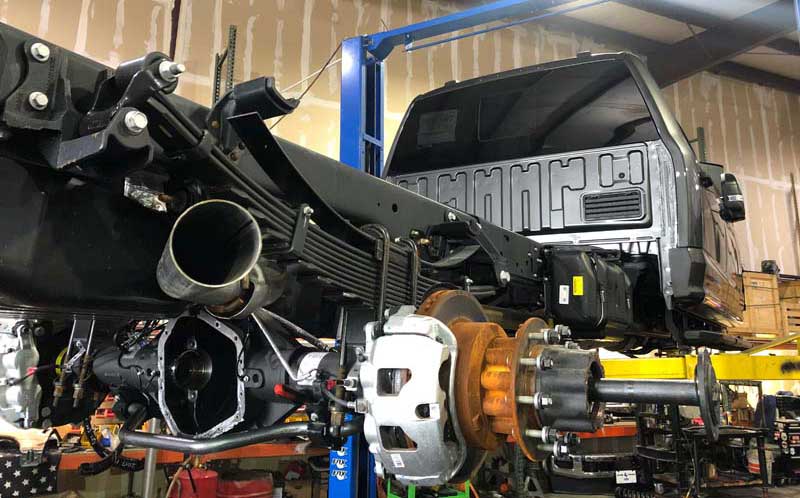 Above: The F-550 super single installation at DBL Design
I had the F-550 super singled by DBL Design in Texas. Back in 2019, we had two choices for super singles; Buckstop in Oregon, or DBL Design in Texas. Texas made more sense than Oregon because it was closer to where we were living.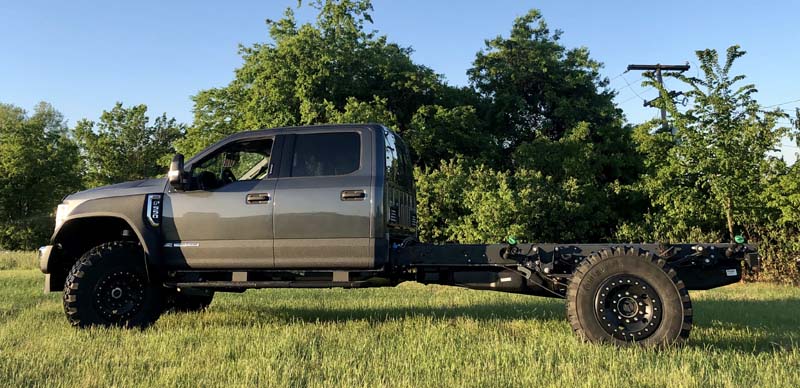 Above: Leaving DBL after the super singles were installed
I ordered the F-550 from DBL's local Ford dealer, and they dropped it off at DBL. It took several weeks to finish because of Covid. Once it was ready, we had it shipped to New Jersey from Texas by truck transport. If you want the carrying capability of an F-550 and want split rim wheels and military 41-inch tires, you go to a place like DBL that builds forest fire trucks and other heavy-duty use trucks.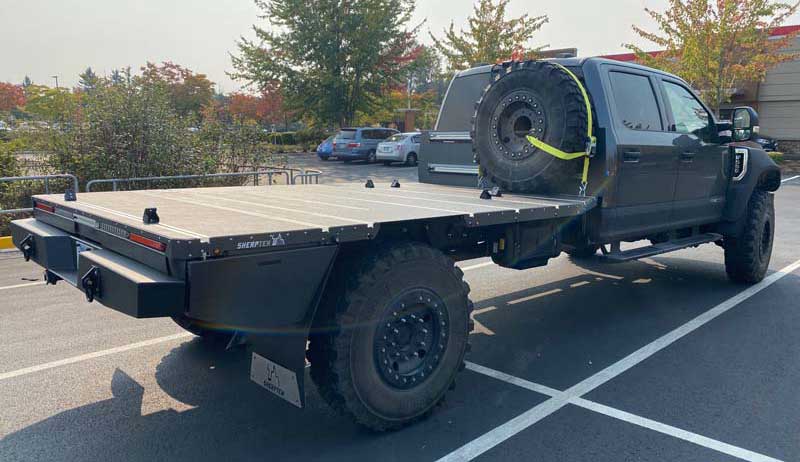 The Sherptek bed (pictured above and below) is 11 feet and weighs 500-pounds. This leaves a lot of room for a 250-pound spare tire, mobile 'poop mobile', and an extra 20-pound propane tank. Sherptek flatbeds are all custom-built to the truck camper. They are not the cheapest flatbeds out there, but the fit is designed specifically to the truck and camper. It's like getting a tailored suit versus a suit off-the-rack. The bottom line is that a bigger truck allows us to carry everything we need to bring with us as full-timers.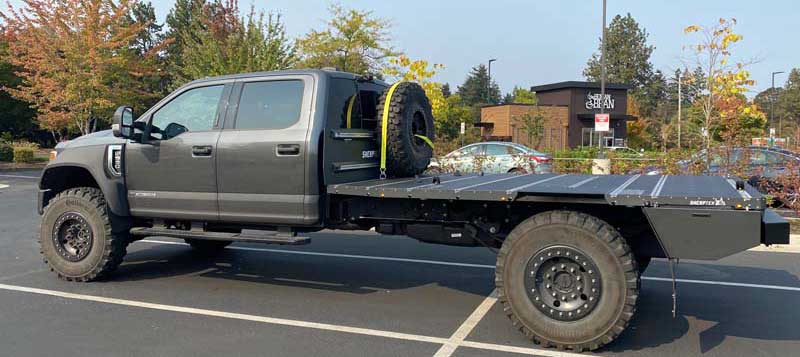 The F-550 was $68,000. The super single conversion from DBL Design was $26,000. The flatbed from Sherptek was $30,000. And, we're not done quite yet. We anticipate another $15,000 to add side panels and front storage boxes. We also added a Buckstop front bumper with the 2-inch front receiver to be used with our electric bikes.
Since receiving our Ford F-550 in March 2020, it has held up well even though the first generation of the 10-speed transmission has had two recalls. There were also other recalls like a frame rail crack. Luckily, that recall didn't apply to us because we don't have a crane or cherry picker or use it as a roll-off tow truck. The first transmission recall was done successfully at a Ford dealer before we sold the house.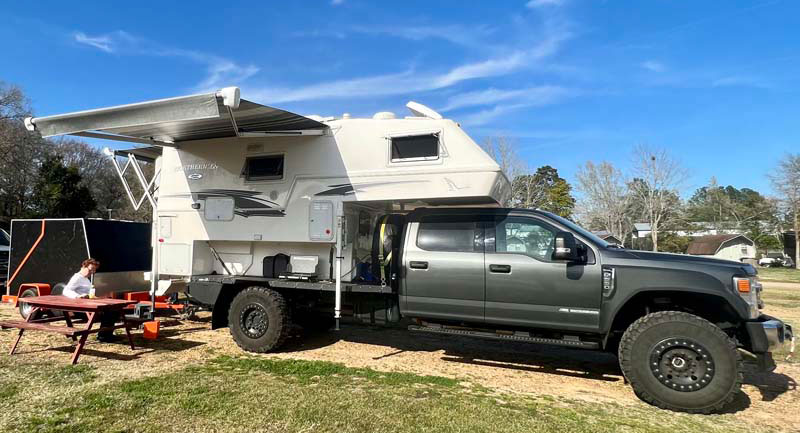 The only downside of placing a truck camper on an F-550 with a 2.5-inch lift and 41-inch wheels is that it's a little top-heavy, so we have to be careful about road conditions.
Northern Lite 10.2, Victron System, Lithium and Solar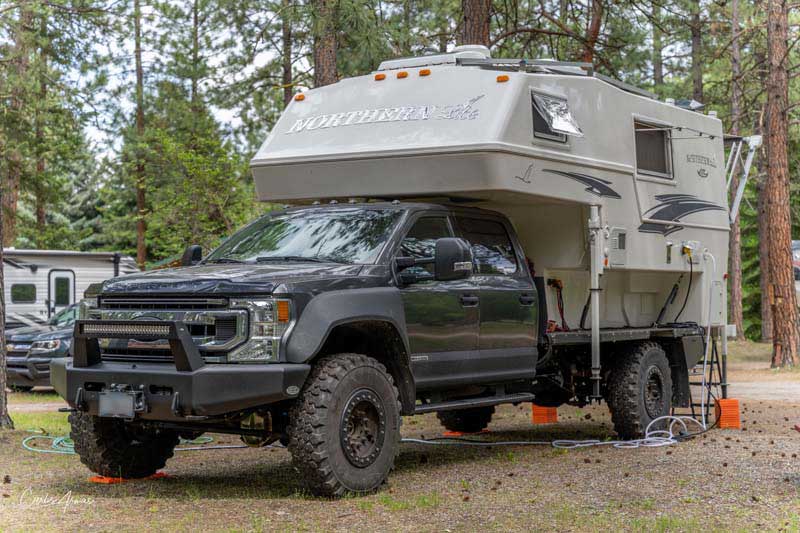 Above: Ford F-550 and Northern Lite at Yellow Rock RV Park in Montana
We'd originally purchased an Eagle Cap 1165, which was around 5,000-pounds without adding so much as your toothbrush. We wanted a truck that could handle it and the F-550 fit that bill. However, within a very short time, we realized the Eagle Cap wasn't practical for the way we wanted to travel.
We traded in the Eagle Cap for a Northern Lite 10-2 dry bath with a U-shape dinette and their renowned clam shell fiberglass construction. Their interior is fabulous. The workmanship is top-notch. The insulation is four-season ready. And the total dry weight is 3,400-pounds. I ordered the camper from D&H RV in Apex, North Carolina.
The Northern Lite came with two 190-watt solar panels and D&H was able to customize the electrical system with a Victron system.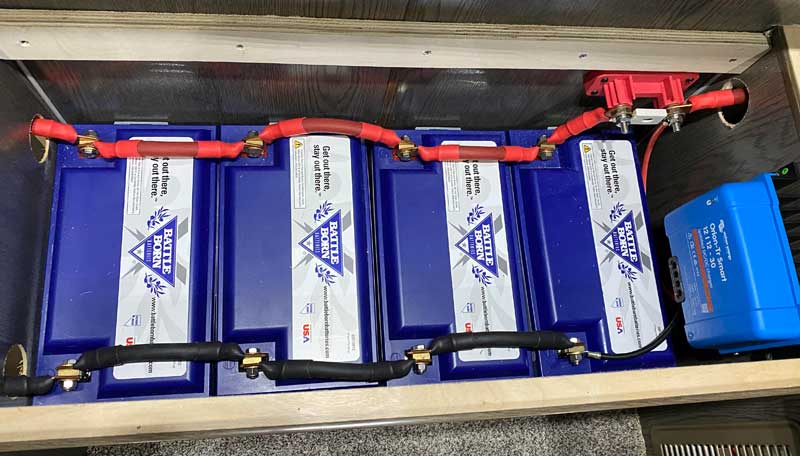 I also had them install a DC-to DC-Orion charger so the truck can charge the 600-amp-hour Battleborn batteries while traveling, a 3,000-watt inverter charger, a 150/85 amp MPPT solar controller and color monitor, and a smart shunt. Finding a one-stop shop made for an easy decision, especially because they were located within an easy drive from home.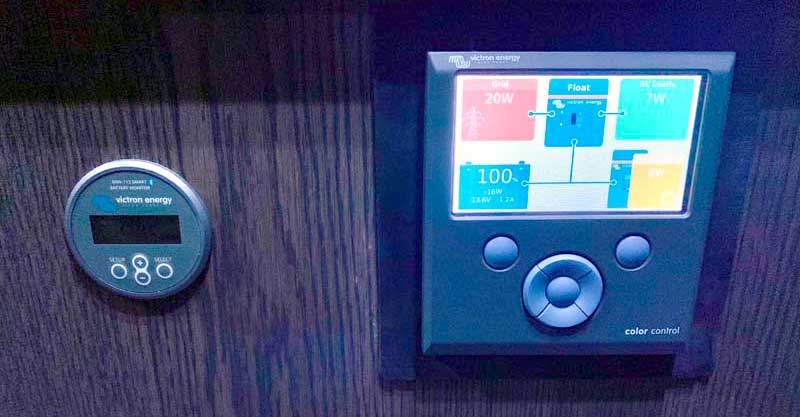 As with everything else, I decided to install the maximum that would fit. I spent about $14,000 on the lithium batteries and Victron system. Most of that was in labor and technical expertise, which is very important to me since this is my home.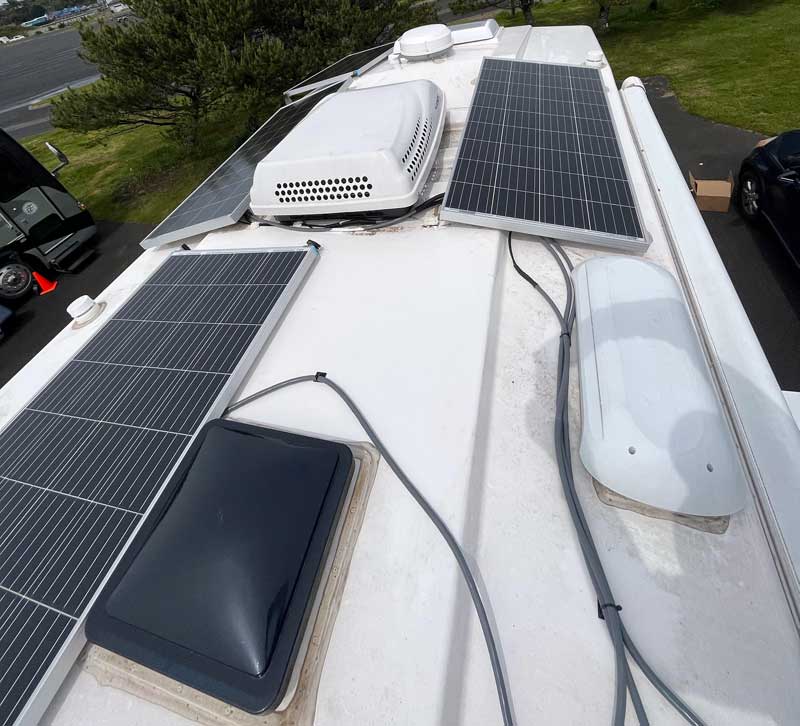 I later had an AM Solar partner install two additional 170-watt solar panels.
I have 720-watts of solar with room enough for another 170-watts if I want it. I have 600-amp hours of batteries and two separate portable solar generators.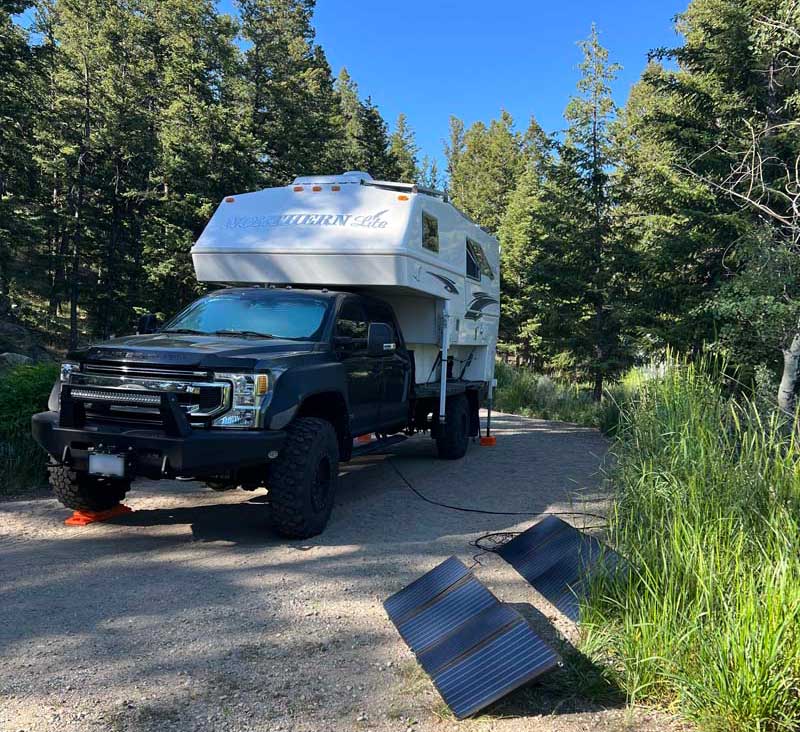 One of the portable solar generators is powered through the cigarette lighter plug in the truck which in turn runs the ICECO portable refrigerator in the back seat area.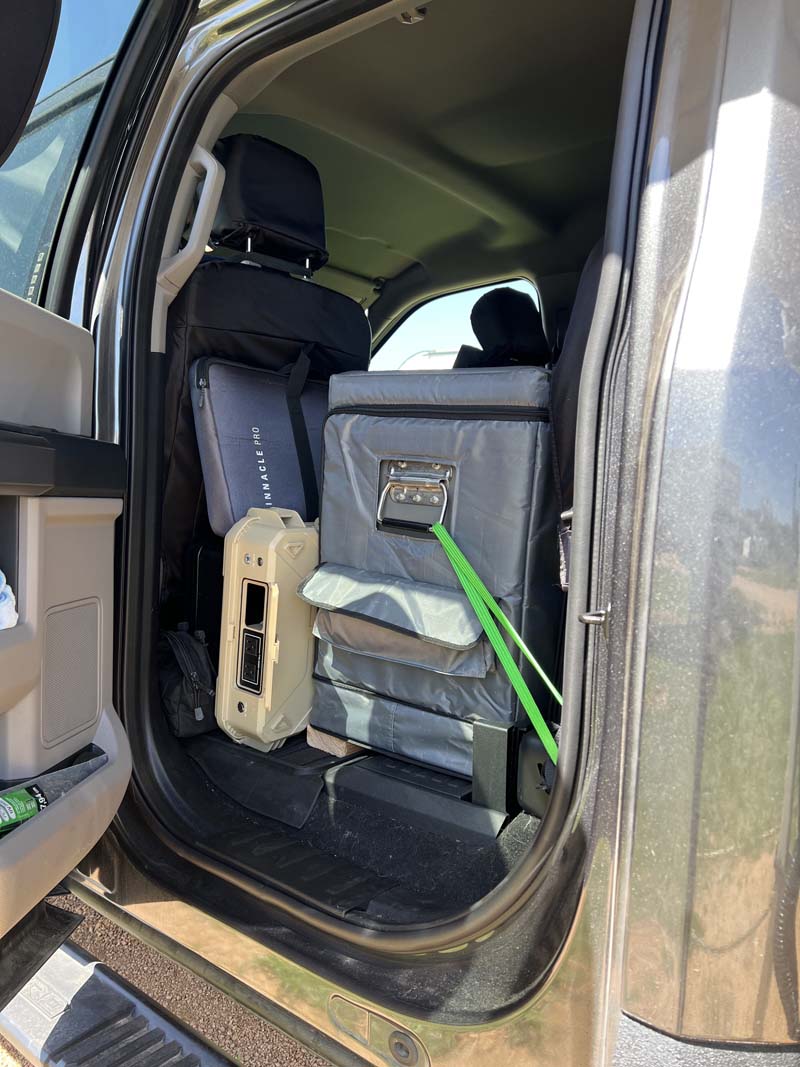 I have an Easy Start for my air conditioner which runs on AC power. With this system, I can go days without sun or a generator. I only need to use the inverter to run the air conditioner if we leave our cat in the camper while we are hiking or going grocery shopping.
I don't regret any of the truck and camper choices at all. I'm happy to walk away from my rig and not have an ounce of worry. Could you go with less? Yes, but in my book, more is better.
For Work: Cell Service and Starlink Plans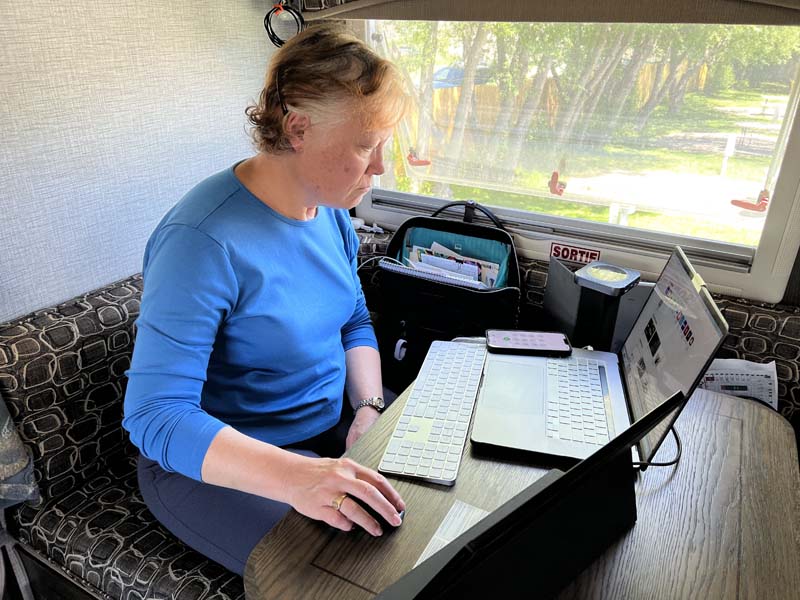 Lisa still works on the road Monday through Friday for an insurance company. We carry two cell phones; one with Verizon and the other is with AT&T with unlimited data on both phones. We also have two stand-alone hotspots, for a total of 400 GB of hotspot data capacity. We also have a WeBoost cell phone signal booster.
So far so good with having two carriers. There have been only a handful of campgrounds where we could rely on consistent WiFi, but cell service has been pretty reliable in most places. We also plan our work-week stays in places that have stronger cell service.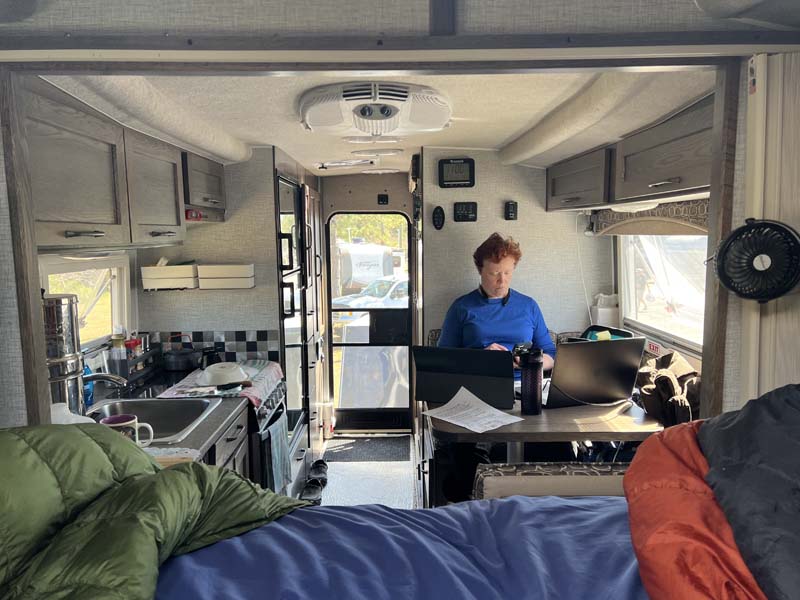 We use Campendium a lot to get cell service feedback from prior campers and we also check for coverage using an app on our phones. There have been days when it became necessary to switch back and forth between our two phones as conditions changed during the day. Overall, we've been fine with cell service. Even with several Zoom calls a week and having to be connected all day to a virtual desktop, we've not found ourselves in a place yet where connectivity has been an issue. However, cell service is always a factor we consider when making plans for where to go.
For several years now, we have been following several YouTube channels that document life on the road. Honestly, Truck Camper Magazine and these channels are where we have learned a lot about what to do and they have allowed us to stay on top of the latest technology. When it comes to staying current on connectivity developments, the YouTube channel that is a must-follow is the Mobile Internet Resource channel.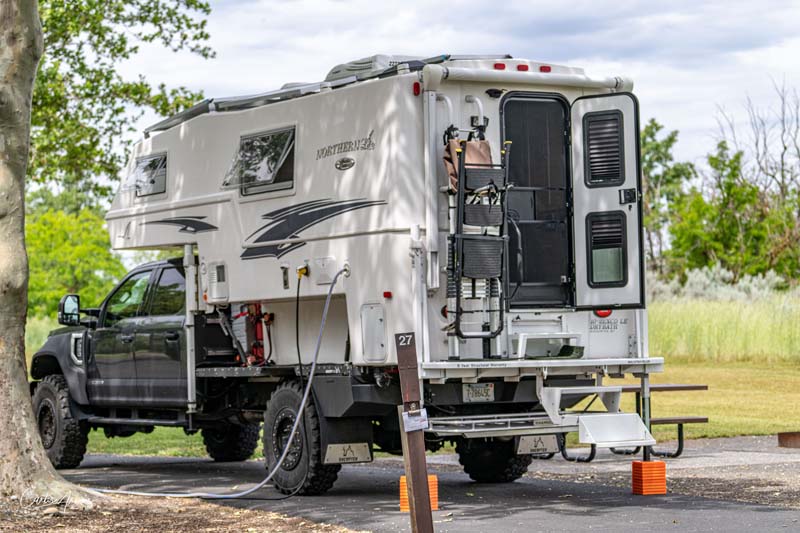 Above: Plymouth, Washington Army Corps Of Engineers campground
We are staying at campsites for now because we are finding that campsites are usually where we find good cell reception. Once we get Starlink, we will be able to get into off-road sites and get away from paid RV Parks. Starlink should be a game changer.
What appeals is the option to go to places that don't have strong or any cell service like National Forest campgrounds and dispersed camping. As long as we have line-of-sight to a satellite, we will have even more flexibility in where we decide to go. During the summer travel season, especially, if we aren't able to find a spot we like with good cell service, we can opt for more remote locations, avoid the crowds, and still have reliable connectivity.
Starlink now has an RV plan that doesn't require you to have a fixed home address. The throughputs are reportedly extremely good. I can see us eventually getting rid of the two designated hotspots, replacing them with Starlink for about the same cost, but with fewer limitations.
Weekly Schedule and Work Challenges
When Covid hit, Lisa's job easily transitioned to full-time remote. Even after things started re-opening, she was able to continue working from home full-time with full support from her employer. That made the idea of working on the road more viable.
Since my wife is still working, we stay put during the week. Travel days are usually Saturdays. We also go food shopping on travel days.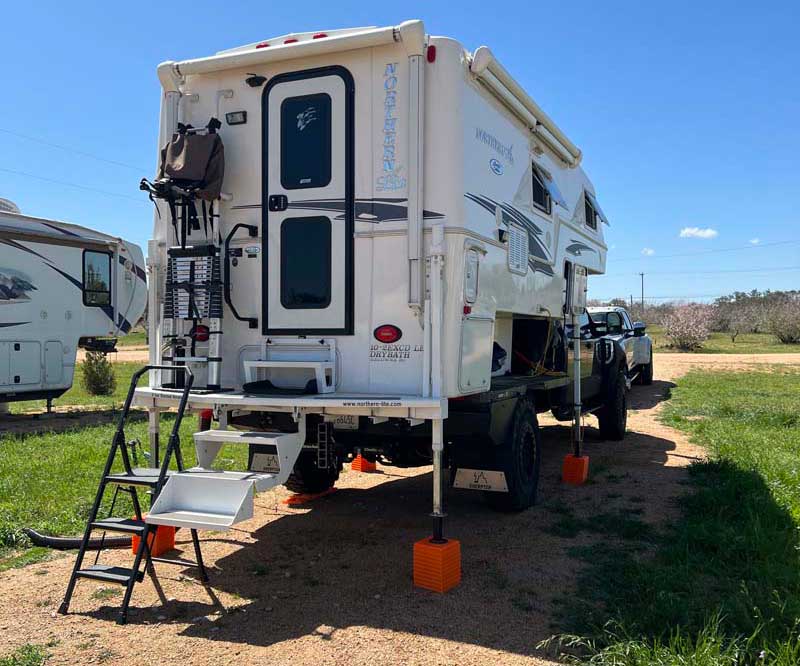 Above: Peach Valley RV Park, Round Mountain, Texas
We would prefer not to have to stick to a work-week cycle that requires us to stay put when we'd rather be exploring. That will come in time. We went into this with our eyes open, knowing there would be times when we question whether it was the right thing to do. Those days only happen once in a while. The key was good planning and trying to anticipate all the potential pitfalls.
Currently, we are only traveling 150 to 250 miles per week, so we haven't been spending a lot of money on fuel. We are spending more on groceries than we were when we had a house, but so is everybody else. We try to stay at places that have things for me to do while Lisa works. We have stayed at places where there have been opportunities to see an air show, a rodeo, and all sorts of wildlife.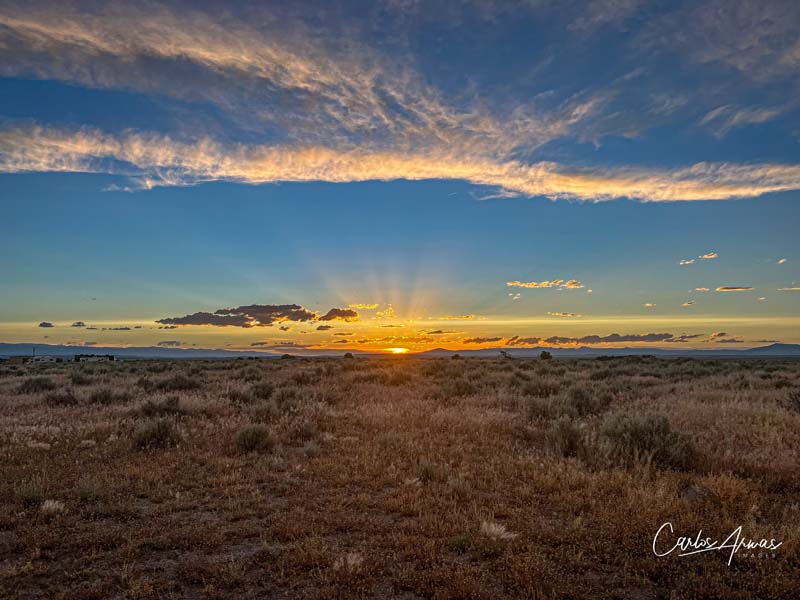 I have started seriously doing photography so I upgraded all my camera gear prior to selling the house. I have been using smartphones and DSLRs for decades, and I have been upgrading my gear along the way. I have a passion for wildlife and birds. Lisa is a birder so she is a great spotter for me on our walks.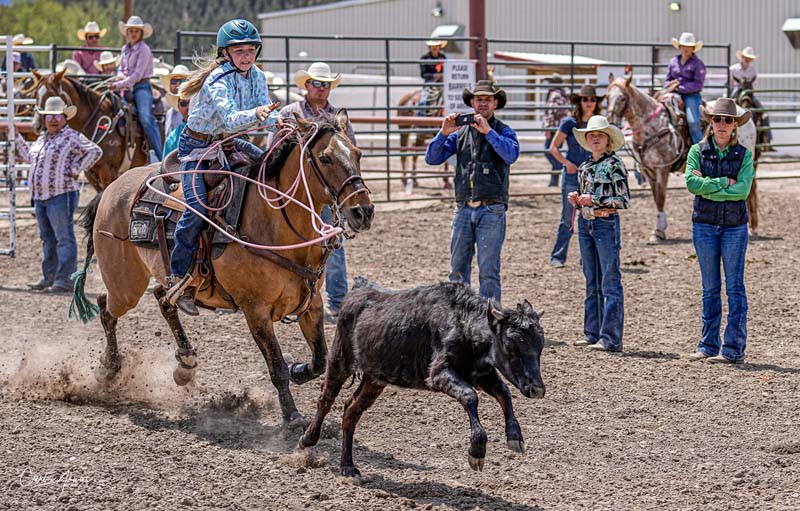 I like shooting astrophotography, landscape, and events like air shows and rodeos.
Additional Perspectives For Future Full-Timers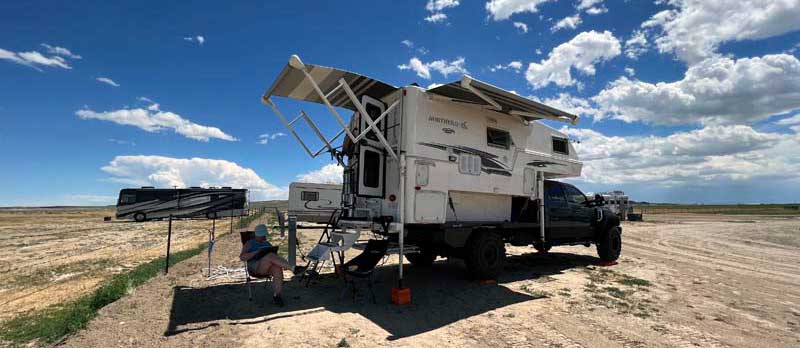 Above: Riverton, Wyoming with side and rear awnings out
If you are traveling with your spouse, be ready to be really close. Know your partner and be sure to know you can exist without killing each other. You have to know each other. We have been married for 35 going on 36 years and we have both wanted to see the country for the last 30 years.
As a couple, you have to both be committed not only to each other but also toward the goal you want to accomplish. Full-timing has been our goal and to do it in a truck camper allows us to easily tackle all the obstacles we might encounter. So you can say we went into selecting our rig with our eyes fully open.
We have been able to take advantage of the experiences of others who've done this before us to make things easier for us. Truck Camper Magazine and other off-road camping resources have helped tremendously.
We haven't had any big challenges so far. We have been able to get our Chewy and Amazon orders delivered to us at the campsites where we're staying for several days.
Overall, full-time truck camping has been as good as we had hoped. There are days that test our patience, like when we are stuck inside for days because of non-stop rain, or when we are feeling under the weather. Access to healthcare is always a concern, but we've been pretty lucky so far. Being able to get mail-order prescriptions delivered where we are staying is also a big plus.
Another key is to share equally in the effort of keeping things running well. Even if you're not mechanically inclined, it's important to get a good basic understanding of how everything works. It may not be something you want to know, but if something goes wrong, it might be something you need to know in a pinch.
The Long-Term Plan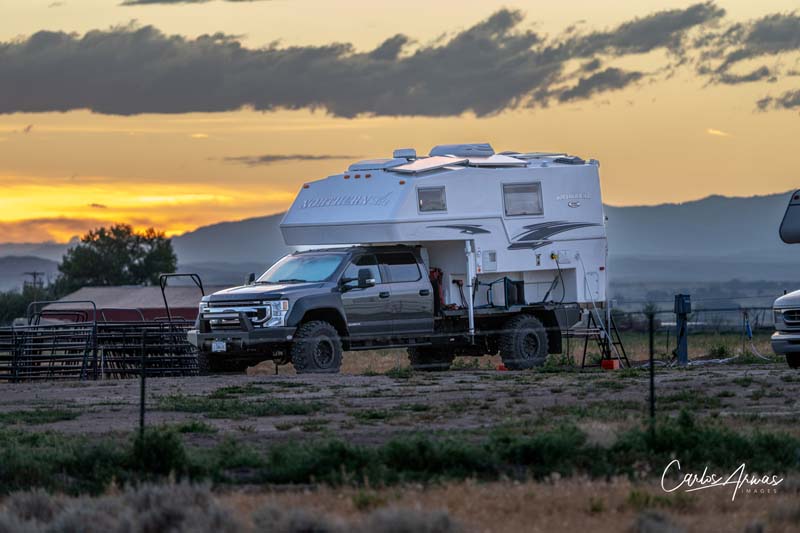 Right now, we anticipate being on the road for another couple of years. We plan to build a house in Texas, but that could change if we find another place that appeals as we travel. With the high costs of building, we are in no hurry and are open to other options. If and when we put down roots, we expect to continue our travels part-time until it's no longer safe or possible for us to do so.