When Rigel Menard isn't battling the United States government on behalf of his clients, he's climbing mountains from his Phoenix Camper.  How he got there is the real story.

It's common knowledge that doctors, lawyers, and accountants commute to a building everyday for work.  Doctors need hospitals, lawyers need law firms, and accountants need accounting offices.  If these professionals want to go fishing, they have to find that time during weekends and vacations.  Otherwise, it's commute to a building and work – right?
Well, not necessarily.  With the invention of cell phones and the internet, radical new business models have emerged to challenge the requirement for a traditional workplace.  Professionals including software engineers, architects, scientists, and creative professionals can take advantage of these technologies and business approaches and enjoy a level of freedom that would have been unimaginable just a few years ago.
Perhaps the best example of this concept is telemedicine.  Via telemedicine, doctors employ cellular connections and the internet to treat patients from anywhere in the world, 24-hours a day.  This not only frees the doctor from the hospital, but the patient as well.  For truck campers, telemedicine could mean getting symptoms diagnosed in a remote location, and getting the right medication called in to the closest pharmacy.
As a patent attorney and passionate mountain climber, Rigel Menard has taken the work-from-anywhere concept, combined it with the "Go Anywhere, Camp Anywhere" capabilities of a pop-up truck camper, and created a compelling work-life balance.  With satellite internet, a solar panel and battery bank system, and the discipline to work while surrounded by potential distractions, Rigel is able to professionally serve his clients from the road.
Of course, nothing is that easy.  To dig deeper into exactly how Rigel was able to achieve his remarkable truck camping work-life balance, we went to the source.  During his interview, Rigel was on a hike with his dog, Cooper.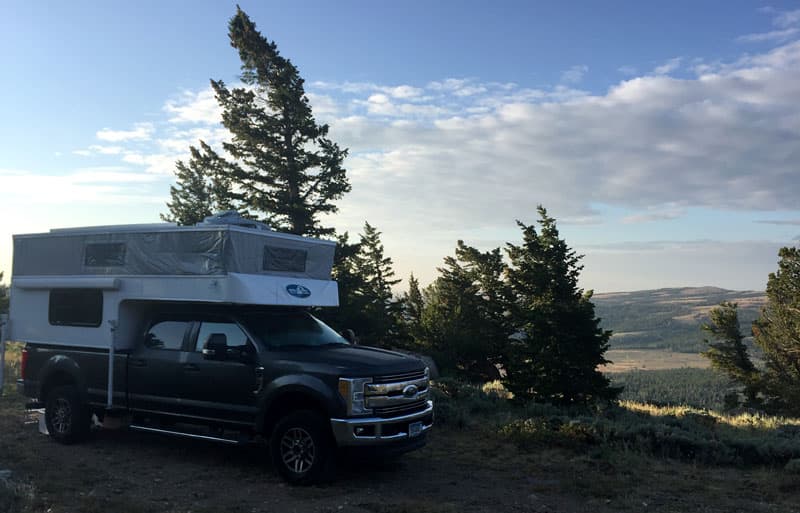 Above: Rigel's Phoenix camper in Wild Iris near Lander, Wyoming
TCM: How did you get into truck campers?
Rigel: Nobody I know has a truck camper.  A lot of my friends are climbers and live in a van or a truck with a topper.  I wanted something more comfortable, but couldn't find anything to satisfy my needs for work and daily life.
I got into truck campers after my girlfriend suggested a pop-up camper.  When I talked to a dealer about what I was looking for, they recommended Phoenix Campers.  They said Phoenix specialized in lightweight custom pop-up campers and would build exactly what I wanted.
From that recommendation, I contacted Phoenix and sent them a design of what I was looking for.  They asked me a few questions and scheduled my order.  About ten months later, we got into more details as they were preparing to build the camper.  Robby Rowe is brilliant and came up with great solutions for what I asked for.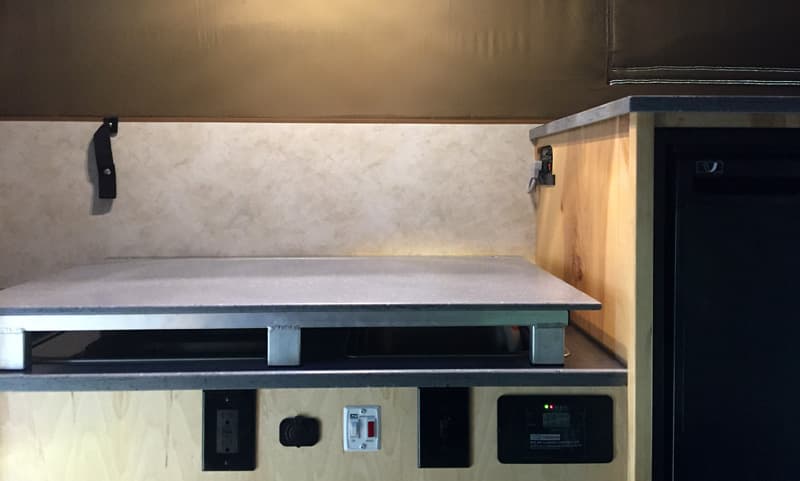 Above: Standing desk on top of counter, stove and sink underneath
TCM: Robby is incredibly creative.  What kinds of things did you want in your custom camper?
Rigel: I wanted a standing desk since I work from the road, and I need to be comfortable typing for many hours a day.  The standing desk typically holds my laptop.  The surface over the refrigerator has a spare monitor.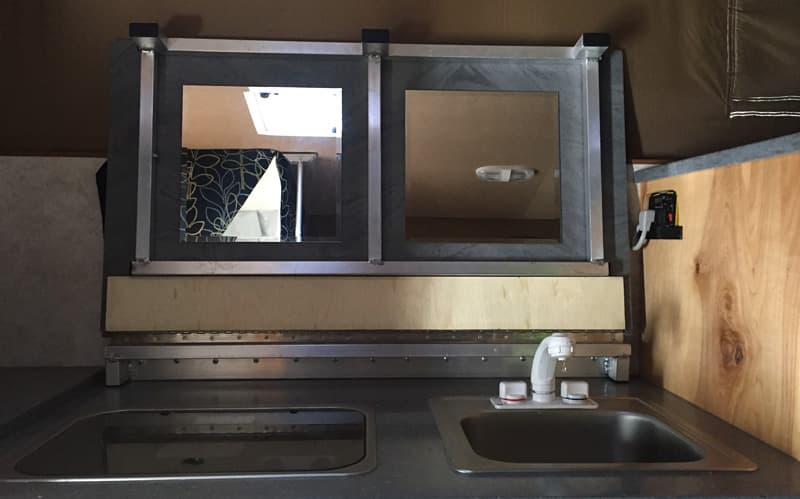 Above: The standing desk flips up for access to the faucet and stove
To accommodate the standing desk at the proper height, I needed a pull-out faucet and not a traditional one.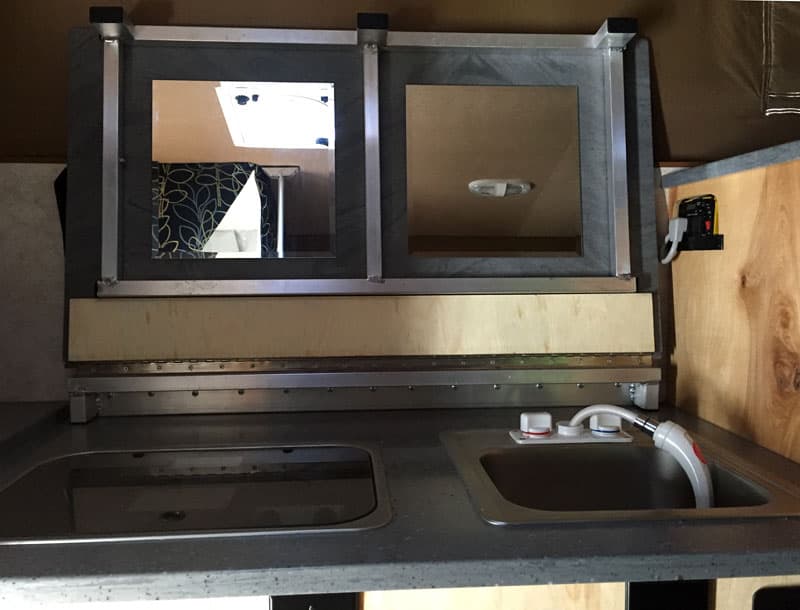 Above: The pull-out faucet made the standing desk possible
Robby figured that out.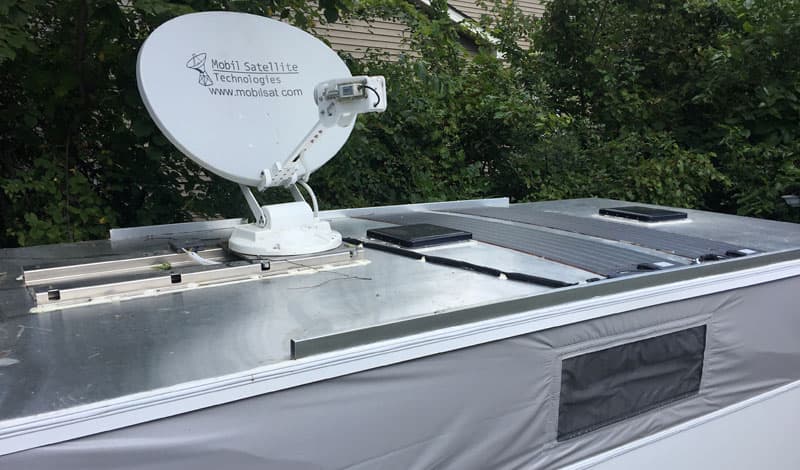 To be able to access the internet from remote places, I needed a satellite internet dish installed on the roof of the camper.  That allows me to work from anywhere.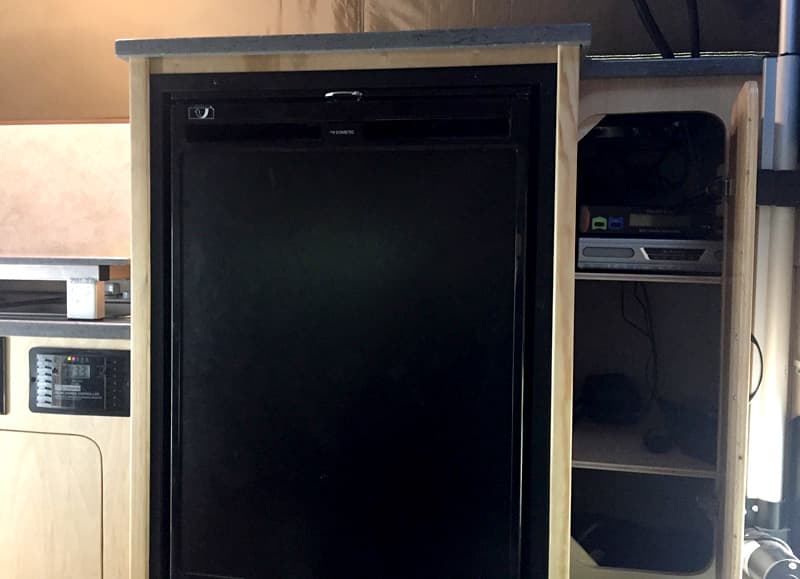 Above: Shelves for electronics and refrigerator
Robby designed and installed a cabinet with shelving for the electronics needed for internet access and an inverter to run the satellite dish, modem, router, internet phone, and laptop charger.
My battery bank is rated to 400 amp hours and the camper has two 100-watt solar panels.  The battery bank and solar panel system allows me to run the satellite, refrigerator, and other devices for a long time without needing to use a generator.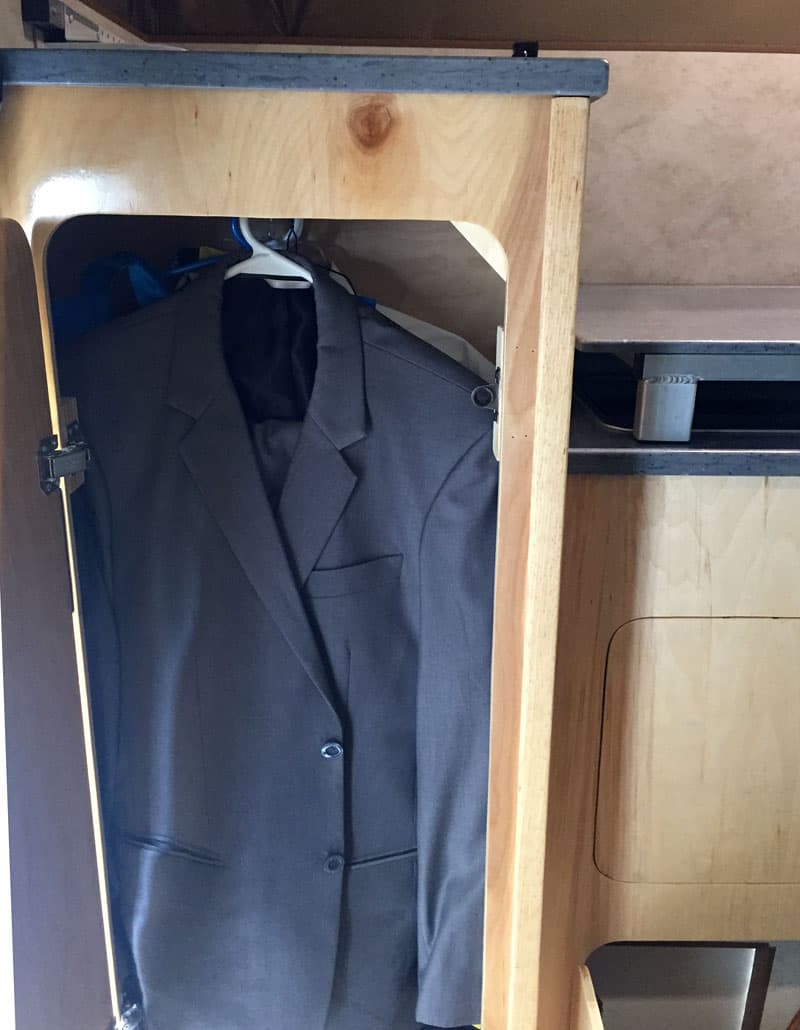 Above: The tall closet that was built in for business clothes
For when I visit clients, I needed a tall closet for suits.  Phoenix designed a tall custom closet for my business clothes.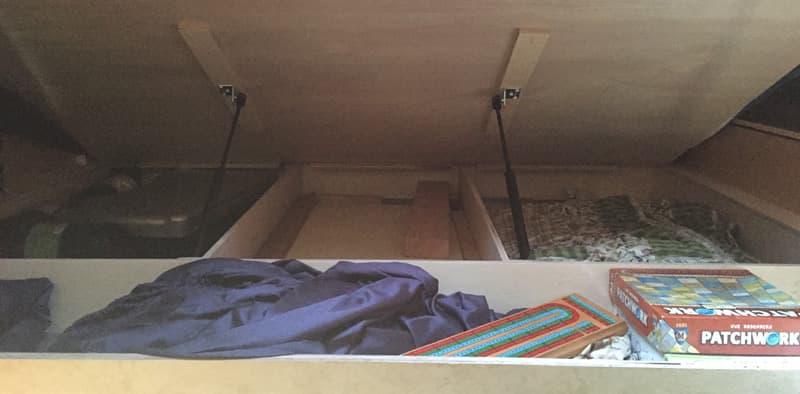 Above: Storage under the bed is common in Phoenix campers
The camper has lots of storage including under bed storage, cabover side storage, and storage under the dinette bed.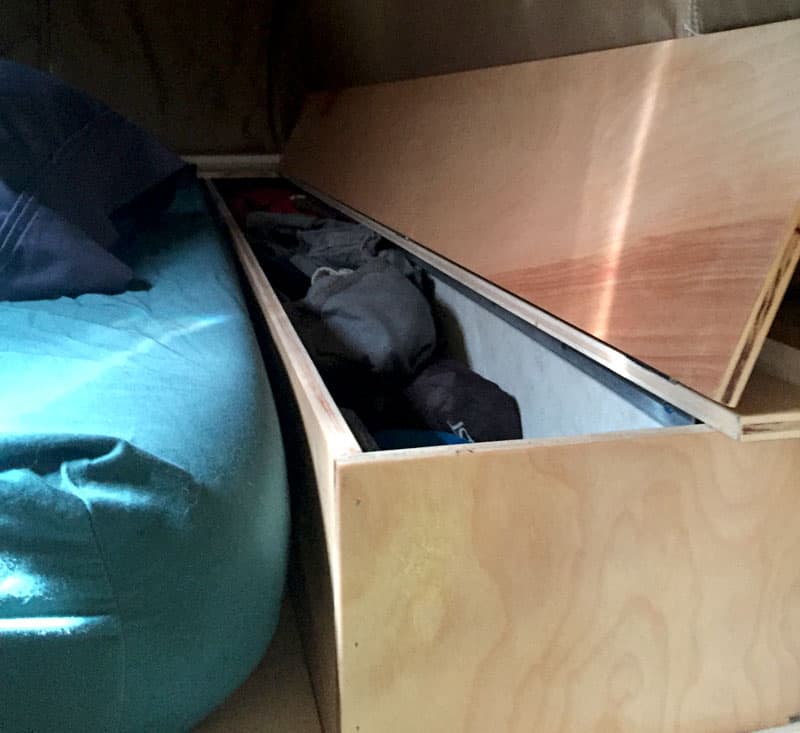 I use these storage areas for recreational equipment, clothing, board games and bedding.
Since I visit some colder places and don't like showering in the cold, I needed an inside shower.  There is also an outdoor shower that I really enjoy using as well.
Being on the road so much, I need to be able to be comfortable working in a lot of temperatures.  To make the camper capable of four seasons, I have an air conditioner and a furnace.  On my last trip I was in temperatures between 35 and 110 degrees.  I had no comfort issues.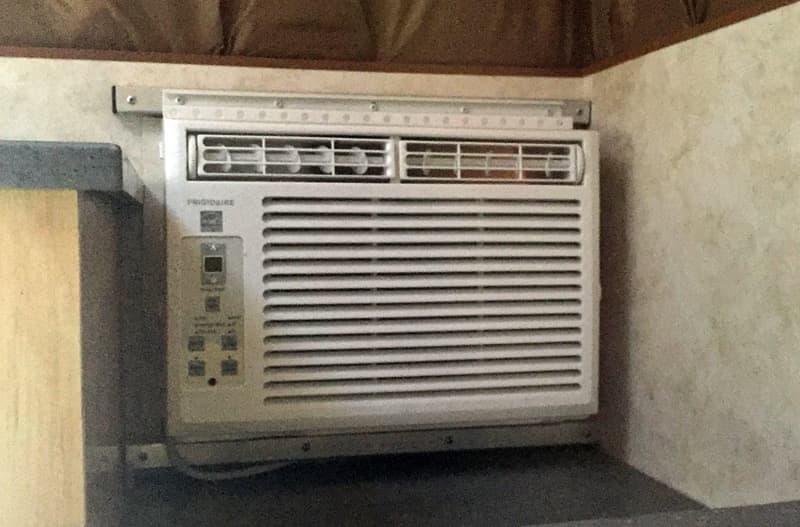 I asked Robby to make sure I could run the air conditioner on the generator while powering the rest of the camper from the 400 amp hour battery bank.  To accomplish this, there's access to the air conditioner's power cord through the custom tall closet.  That works well.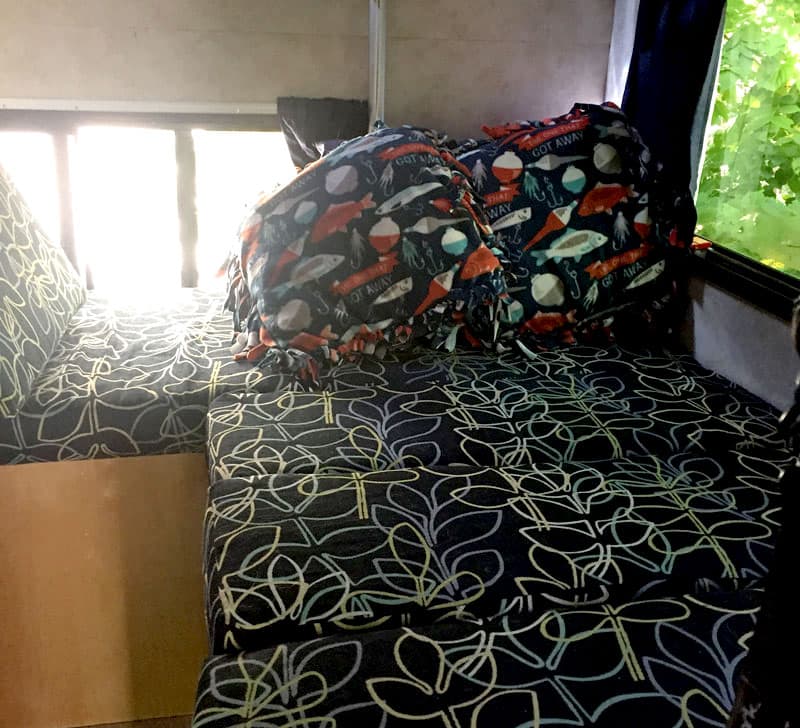 Finally, I wanted to be able to host at least four people in the camper.  To do this I needed a second bed.  By converting the U-couch into a bed, hosting four people in the unit becomes easy and comfortable.
TCM: Where did you get the idea to work from the road?
Rigel: My climbing lifestyle drove me in that direction.  Some of the best climbing areas in the Midwest are at least three hours from my home in Minnesota.  That's too far for a day or weekend trip to go climbing and come back.
Then I thought it would be great to have a truck camper as my mobile office.  When I brought this idea up with my bosses, they said it was okay.  As long as my work is done and I am available to keep up with client expectations, they're fine with it.  I can also visit clients while I'm out on the road.
TCM: What kind of work do you do?
Rigel: I'm a patent attorney.  I help inventors get patent rights on their inventions.  We submit the application and argue with the United States government as to why our client deserves the rights they're asking for.
I did work in the office for two or three years before I went mobile.  Now I'm in the office maybe two to five days a year.
My law firm, Schwegman, Lundberg, and Woessner, P.A. hires a lot of satellite attorneys who work from home.  I'd say it is 50-50 of attorneys who work from home and attorneys who work in the office.  Being in the camper gives me the flexible lifestyle I want and makes me a true satellite attorney.
I will be working out of the camper on the road more in the future.  I am much happier on the road than at a house or traditional office.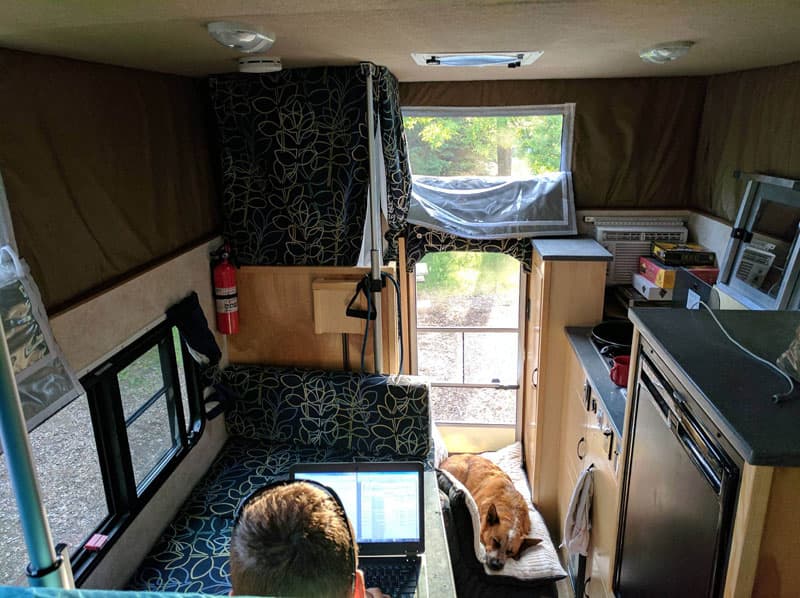 Above: Rigel working while Cooper naps on the floor, Photo taken by Alyssa Witt
TCM: Is it challenging to stay focused and get your work done from the road?
Rigel: The concentration aspect comes down to a scheduling challenge.  I need to make sure that deadlines are sufficiently spaced apart so that I can get my work done on time.  I could get also sued for malpractice if don't get my work done on time, so that helps me to stay focused.
I like that I can visit clients on the road.  I was near Washington and a client asked me to meet him in San Diego.  I told him that I'd be there.  I was able to pull my suit and tie out of the closet, fly down, and fly back.  I can also drive my rig to a client's location.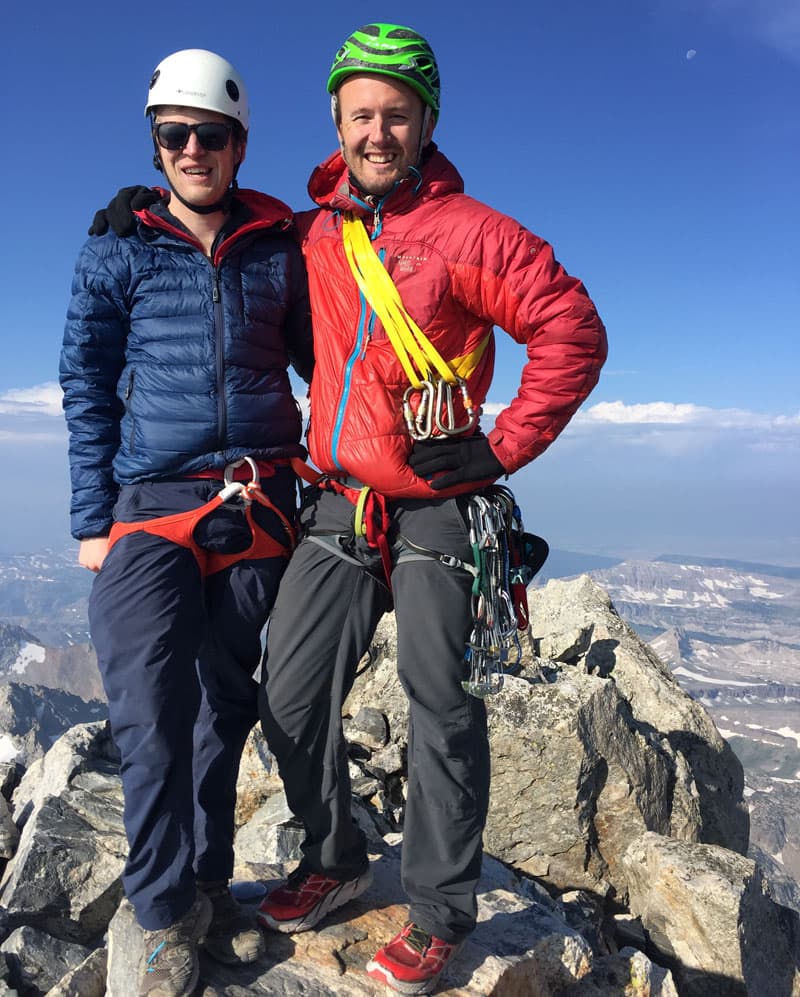 Above: James Ortmann on the left and Rigel on the right
TCM: We can relate to that.  Let's move on to the recreation side of your truck camping lifestyle.  What kind of a climber are you?
Rigel: I mostly do tall rope climbing.  I don't often do bouldering.  Mountain climbing is my biggest passion and what I strive for with the camper.  I have been climbing since I was twenty, so fourteen years now.
I carry a rope, traditional gear, quick draws, harness, a belay tool, and a helmet.  All of that fits incredibly well under one of the seats in the U-couch.  I have an equipment bucket that fits everything.
TCM: What are your goals for climbing?
Rigel: That's a hard list.  I've done a lot of climbing in the High Sierras in California.  I've also done a lot in southern California.  This last trip I climbed a lot in Wyoming, which is an amazing area.  I've also been climbing in Colorado.
I'm planning to go to Red Rock Canyon and it would be fun to do a longer route up to Eagle Face.  Mt. Rainier is on my bucket list.  I was going to try to do that before, but conditions got too warm and I'm not skilled enough for that.  There would have been too many crevices.  I'd love to do the Matterhorn in Switzerland some day.
TCM: That's an ambitious list.  Tell us about some of your climbing experiences using the Phoenix Camper as base camp.
Rigel: My friend, Rolf Severtson, and I climbed for a weekend in Rifle.  This was difficult since I was not acclimated to being 7,000-feet above sea level.
Then my friend, Winston Elliott, joined me for a week of climbing at Wild Iris just outside of Lander, Wyoming.  We climbed nearly every day, with one day off.   After climbing in Lander, my dog, Cooper and I headed to Seattle to meet up with some friends and do some climbing in Washington Pass.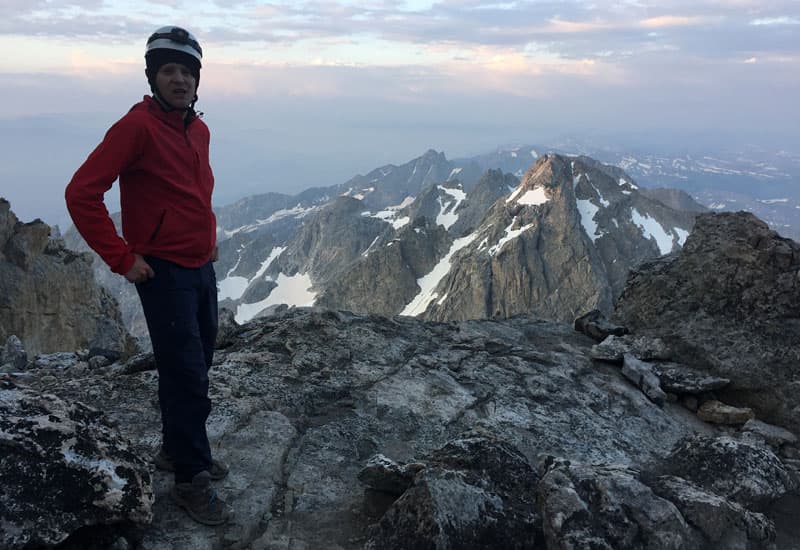 Above: James Ortmann climbed Grand Teton with Rigel
Then, I went to Jackson, Wyoming and met up with some college friends, Anna and Tim Buchholz, who were competing in and supporting the international adventure racing championship.  My law school friend, James Ortmann, flew in from Washington D.C. and, after a near disaster caused by the airline losing his baggage, we summited the Grand Teton.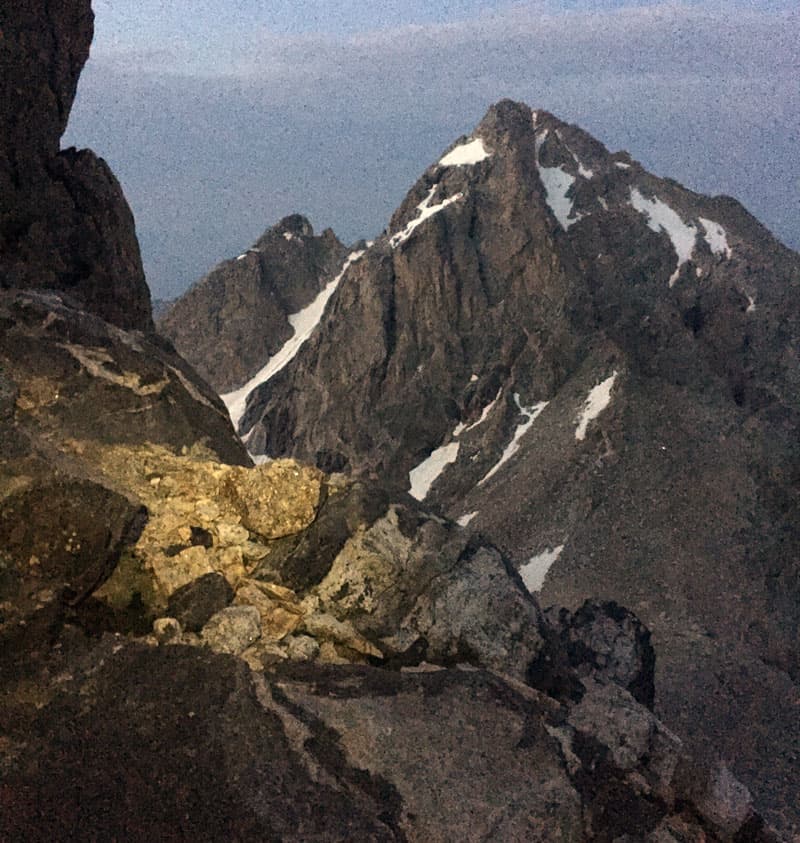 Above: View while climbing Grand Teton
Then, I drove to Ten Sleep, Wyoming and met up with some friends from Arkansas.  We climbed for three days.  After that I drove to Mammoth, California where I met up with my buddy, Jason Ryba, for a bachelor party.
The bachelor, Christopher Kohel, is a climber, so the party included a bunch of climbing and general debauchery.  During this time, the camper was parked at a campground and Jason and I stayed in the camper.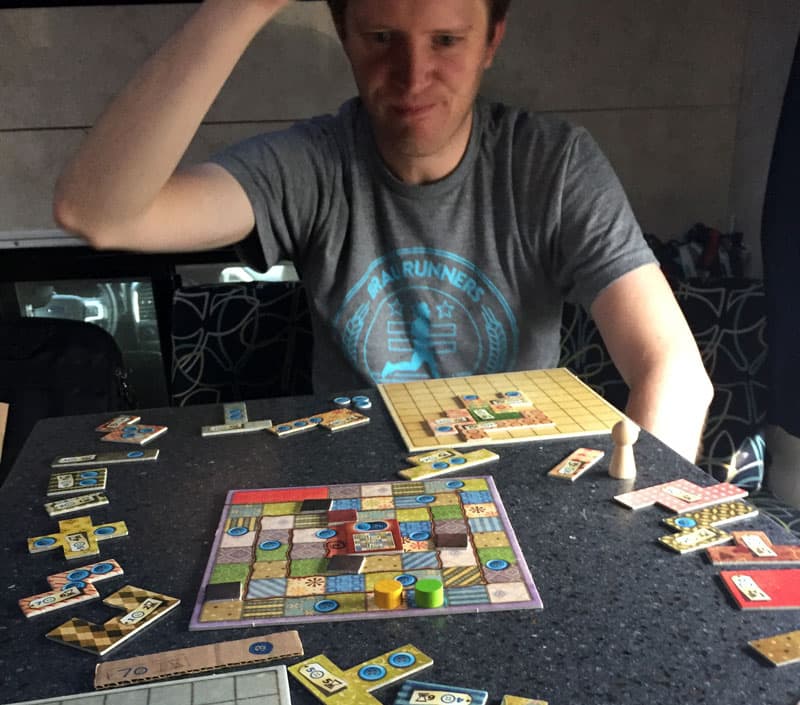 Above: Playing games on a rainy day
After the bachelor party, Jason and I went to Tuolumne Meadows to climb Cathedral Peak for the eclipse.  We summited before noon, got a cool view of the eclipse, and returned to the truck to drive to Los Angeles the same day.  After climbing Cathedral Peak, I went south to visit some friends.
TCM: It sounds like a big part of being on the road for you has been meeting up with climbing friends.  Was that the intention when you first got your rig?
Regil: This trip came together that way.  I think if I had to do it over again, I'd probably streamline it better.  It was my first trip in the camper.  I drove 6,000 miles and I could have taken 2,000 miles off it.
I really wanted to see friends and see how I'd feel using the camper.  My friends were there just in case I didn't like truck camping.  That way I could stay at their house, but I really like staying in my camper.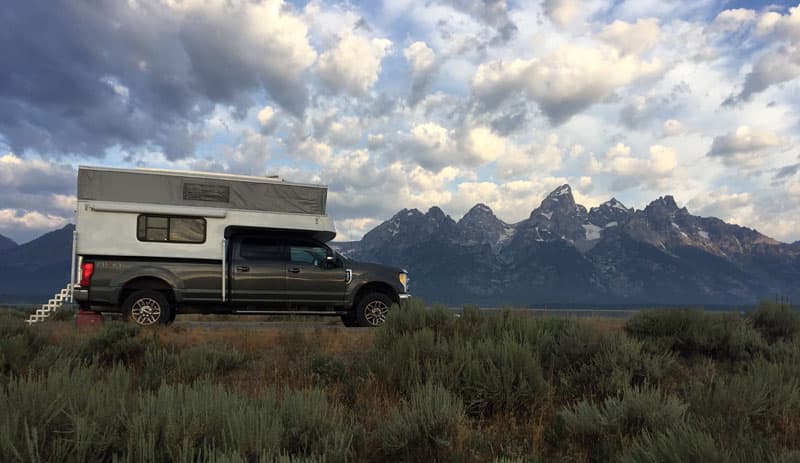 Above: A pull-out in Grand Teton National Park
TCM: We almost always stay in our camper when visiting friends and family.  How has having a truck camper made those meet-ups better?
Regil: The camper makes it so much easier.  You don't need to bring a tent along or make reservations.  You can have your home on your back without having to set it up.  You don't have to deal with an external stove.  It's just so much easier.
When we went to Teton National Park, we slept in the parking lot below the mountain.  We could do that because we had the home on our back.
TCM: Is sleeping in the parking lot at Teton National Park permitted?
Regil: It is if you're going to climb the next day.  Rangers come by and we'll tell them that we are getting up at 3:00am to climb.  That's okay.

Above: Street camping in Seattle, Washington
TCM: That's an early start.  Where do you typically camp?
Regil: I have camped at national parks, the side of the road, truck stops, pull-offs, and streets in front of friends' houses.  On this last trip I only stayed in a RV park or house three out of thirty-four days.  I plugged into shore power only once and I ran the generator four times.
In Seattle, I parked the camper on the street and slept in the camper.  It seems that you can do this as long as you are not breaking any parking or city ordinance laws.  I also did this sort of street camping in Los Angeles.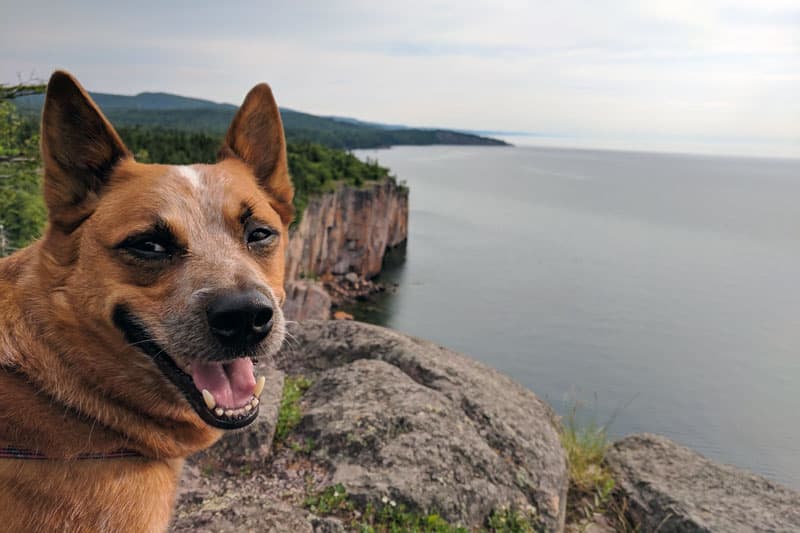 Above: Cooper at Shovel Point taken from Palisade Head, north shore of Lake Superior, photo taken by Alyssa Witt
TCM: You mentioned Cooper, your dog.  Does he like truck camping?
Rigel: Cooper loves the road.  He snuggles by the heater when it's cold.  He's patient and wonderful.  We have a great time truck camping.
TCM: Being from Minnesota, where would you recommend fellow truck campers visit in your home state?
Rigel: I took the camper up to the boundary waters in Minnesota.  There are all kinds of public boat landings up there where you can set up the camper and take a canoe out and explore the boundary waters.  The town of Grand Marais is a really phenomenal spot.
If you go to northern Minnesota, I recommend going in the fall because there are less bugs.  There can be mosquitoes, sand flies, and horse flies.  It can be a tough area to sit and be comfortable.
TCM: What are your future plans for your truck camper?
Rigel: I want to explore California, Oregon, Washington and areas in the west.  Being in my camper more often than not is my goal.  I also want to extend the time in the places I'm exploring.  And I'll be visiting family on the road.
I have gotten fantastic help from the folks at Phoenix Campers.  They very graciously helped me finish installing a second solar panel, troubleshoot how to isolate my air conditioner unit from the rest of the electrical system, and other minor touchups.  My time with Phoenix made me feel comfortable to hit the road.
Rigel Menard's Rig
Truck: 2017 Ford F350
Camper: 2017 Custom Phoenix Pop-Up
Tie-Downs/Turnbuckles: Phoenix Custom
Gear: See article above