When Rigel Menard isn't battling the United States government on behalf of his clients, he's climbing mountains from his Phoenix Camper.  How he got there is the real story.

It's common knowledge that doctors, lawyers, and accountants commute to a building everyday for work.  Doctors need hospitals, lawyers need law firms, and accountants need accounting offices.  If these professionals want to go fishing, they have to find that time during weekends and vacations.  Otherwise, it's commute to a building and work – right?
Well, not necessarily.  With the invention of cell phones and the internet, radical new business models have emerged to challenge the requirement for a traditional workplace.  Professionals including software engineers, architects, scientists, and creative professionals can take advantage of these technologies and business approaches and enjoy a level of freedom that would have been unimaginable just a few years ago.
Perhaps the best example of this concept is telemedicine.  Via telemedicine, doctors employ cellular connections and the internet to treat patients from anywhere in the world, 24-hours a day.  This not only frees the doctor from the hospital, but the patient as well.  For truck campers, telemedicine could mean getting symptoms diagnosed in a remote location, and getting the right medication called in to the closest pharmacy.
As a patent attorney and passionate mountain climber, Rigel Menard has taken the work-from-anywhere concept, combined it with the "Go Anywhere, Camp Anywhere" capabilities of a pop-up truck camper, and created a compelling work-life balance.  With satellite internet, a solar panel and battery bank system, and the discipline to work while surrounded by potential distractions, Rigel is able to professionally serve his clients from the road.
Of course, nothing is that easy.  To dig deeper into exactly how Rigel was able to achieve his remarkable truck camping work-life balance, we went to the source.  During his interview, Rigel was on a hike with his dog, Cooper.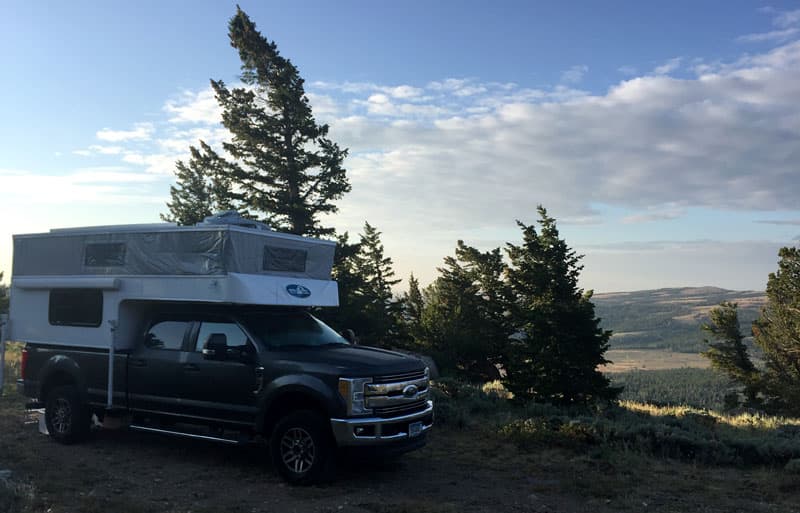 Above: Rigel's Phoenix camper in Wild Iris near Lander, Wyoming
TCM: How did you get into truck campers?
Rigel: Nobody I know has a truck camper.  A lot of my friends are climbers and live in a van or a truck with a topper.  I wanted something more comfortable, but couldn't find anything to satisfy my needs for work and daily life.
I got into truck campers after my girlfriend suggested a pop-up camper.  When I talked to a dealer about what I was looking for, they recommended Phoenix Campers.  They said Phoenix specialized in lightweight custom pop-up campers and would build exactly what I wanted.
From that recommendation, I contacted Phoenix and sent them a design of what I was looking for.  They asked me a few questions and scheduled my order.  About ten months later, we got into more details as they were preparing to build the camper.  Robby Rowe is brilliant and came up with great solutions for what I asked for.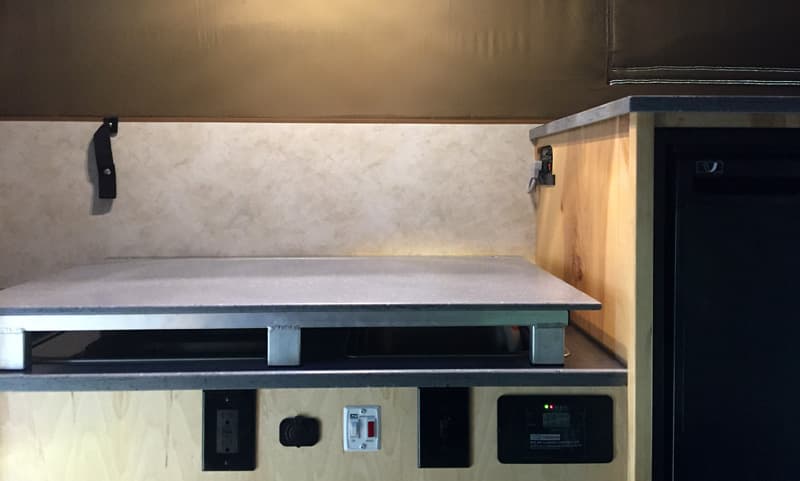 Above: Standing desk on top of counter, stove and sink underneath
TCM: Robby is incredibly creative.  What kinds of things did you want in your custom camper?
Rigel: I wanted a standing desk since I work from the road, and I need to be comfortable typing for many hours a day.  The standing desk typically holds my laptop.  The surface over the refrigerator has a spare monitor.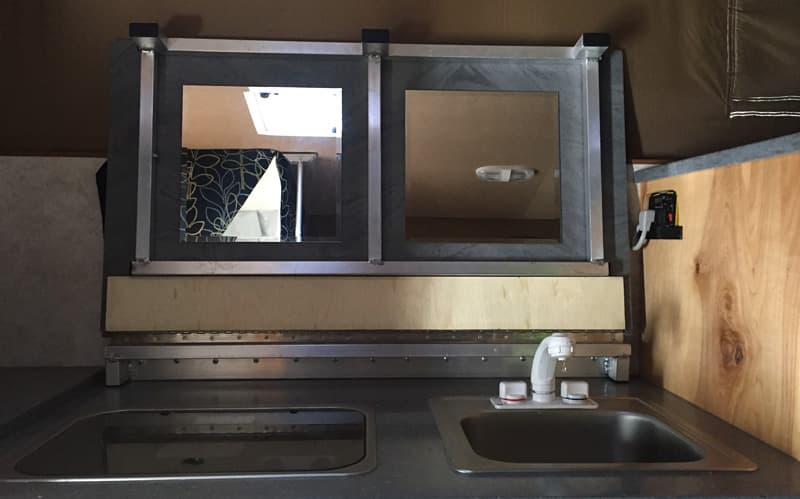 Above: The standing desk flips up for access to the faucet and stove
To accommodate the standing desk at the proper height, I needed a pull-out faucet and not a traditional one.