Erika: The red dog is Arrow, who never liked riding in the car.  I was worried about that.  But since he's been to all these interesting places, he now gets excited when I pack the camper.  A few years ago I got Kodo, who is a few years younger.  Both of them are from Big East Akita Rescue in New Jersey.
My dogs are good sports and have come to love the camper.  They love sniffing the air wherever we go and look forward to the security and reliability of the camper, their cozy den.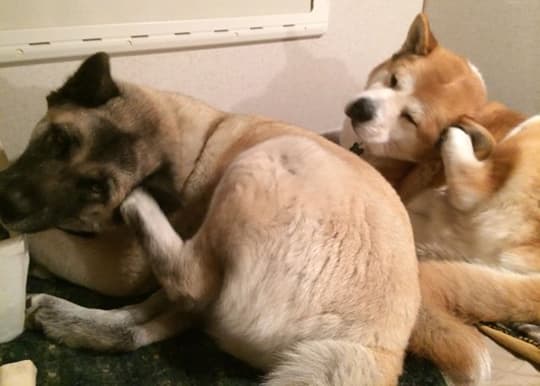 Above: The dinette folds down as a second bed for Kodo and Arrow
I'll usually fold the dinette down so they have a second bed, however they see the whole camper as their doggie bed.  They love to stretch out.  The camper is small, but they are house dogs by nature and big couch potatoes.  They are happy relaxing in the camper after a day of walks and exploring.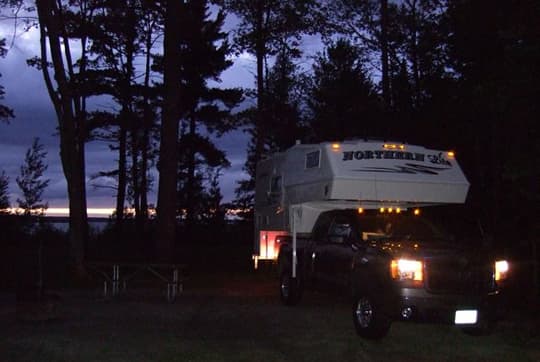 Above: Sunset on the Upper Peninsula of Michigan
TCM: What are your future truck camping plans?
Erika: Time will tell.  I'll travel around the Northwest more and visit my brother and his wife in Colorado.  I'd like to write a book about some of my adventures.
Before my next big trip, I want to do some mods with my camper, primarily solar.  I have a generator but I don't use it.  Once the solar power is set up I'll look forward to boondocking for longer periods of time.  I haven't been to a lot of the national parks, so those are on the list.
TCM: That's an excellent plan.  The national parks are stunning.
Erika: I would encourage other people, especially women, to go for it and travel.  It's easy to have a truck camper even if you're not mechanically inclined.
Truck: 2008 GMC Sierra 2500HD, 4×4, extended cab, short bed, gas
Camper: 2010 Northern Lite 8-11 Q Classic
Tie-downs/Turnbuckles: Torklift Fastguns
Suspension: Firestone airbags
Gear: Bridgestone Dueler A/T Revo2s: 265/75R/16E and MB 72 8.5″ wheels