When I finally got out west, I couldn't decide where to settle down, so I camped for three months around the Northwest.  I'm now renting a house and have room for my camper in the driveway.  This is a good way for me to live in the West.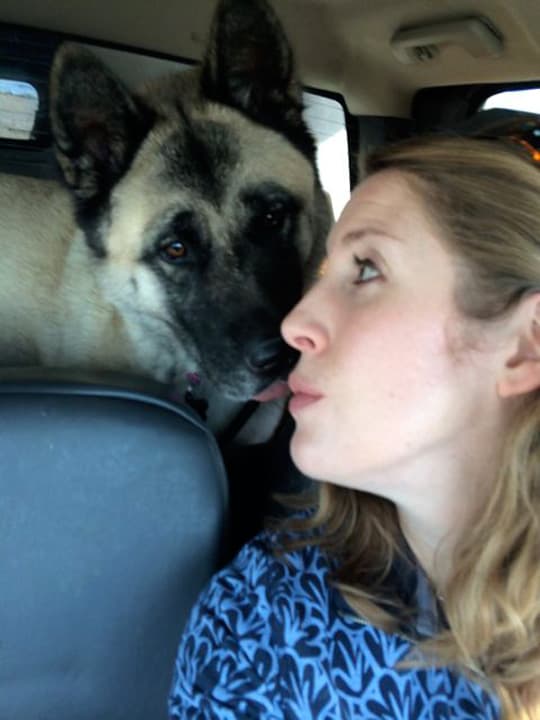 Above: Consulting with Kodo about that day's route and smells
TCM: What's your truck camping lifestyle like now that you're on the West Coast?
Erika: I normally do weekend trips.  Recently I went to Portland, Oregon and stayed for a week to celebrate the retirement of a family member.  The great thing about bringing the camper is that I can take the dogs with me.  It's convenient to sleep in my snail house when visiting family and friends.
I run my own business, Refresh Media Resources, LLC, offering editorial and web maintenance services, so I can work anywhere.  I use my Verizon Jetpack mobile hotspot because I have had trouble with WIFI in public places.  I work a few hours each day, which is just right for vacation traveling.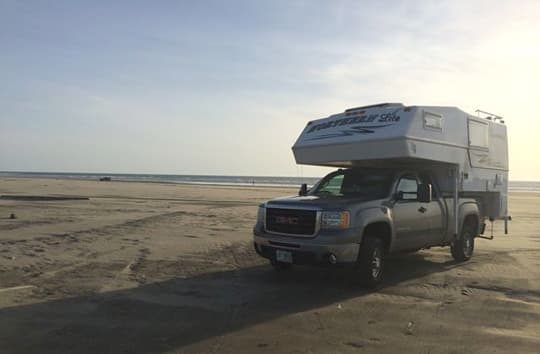 Above: Ocean Shores, Washington
TCM: Our readers will be curious about what led you to travel so much in your early thirties.
Erika: Both of my parents died young of cancer.  I was telling you that my dad was having a trimaran built.  He never got to enjoy it.
Don't put off your dreams.  Who knows what could happen tomorrow?  This has made me grateful for today.  Stay healthy and keep yourself, and the people around you, happy.
Other people who influenced me were my high school teacher and his wife who are retired and travel full-time in a fifth wheel.  When I started traveling, they helped by sending RV troubleshooting tips.  They encouraged me to join the Escapees Club and have the same philosophy about life that I do.
It's good to see the world and visit people I care about who live far away.  Staying mobile provides fresh perspectives on life.  There is so much to see out there.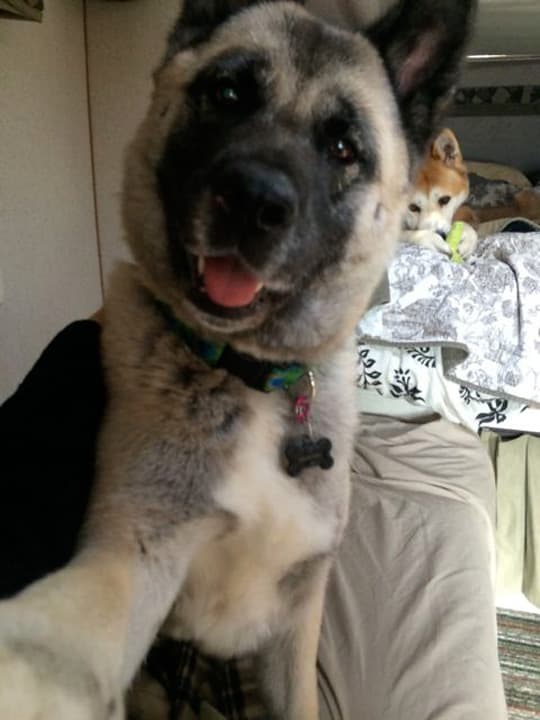 Above: Kodo and Arrow hanging out inside the camper
The truck camper is now an extension of my life.  It's so convenient.  I spend time helping relatives and volunteering.  I go to weddings and retirement parties.  I also do a fair amount of urban camping to attend concerts.  I am a longtime fan of the band Phish and took the rig on the 2013 fall tour following the band.  It was so perfect that I plan on doing that again in the future.
If I'm going anywhere outside of the immediate area, I take my truck camper because I could potentially extend any trip.  With my camper, the dogs and I have a known comfort zone.  The flexibility of the truck camper is perfect.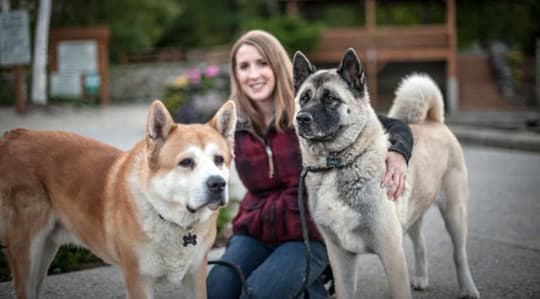 Above: Arrow and Kodo with Erika
TCM: Tell us about your travel companions.  How do they like traveling?