Above: Picking the camper up at Five Star RV Center
I also wanted a Northern Lite Classic.  All the campers I found at dealerships were Special Editions.  I didn't need all the extras, so I special ordered a Classic through Five Star RV in Henderson, Colorado.  I optioned it exactly the way I wanted and Five Star RV offered me a great price.  I went with a friend and my dog to pick it up in July 2010.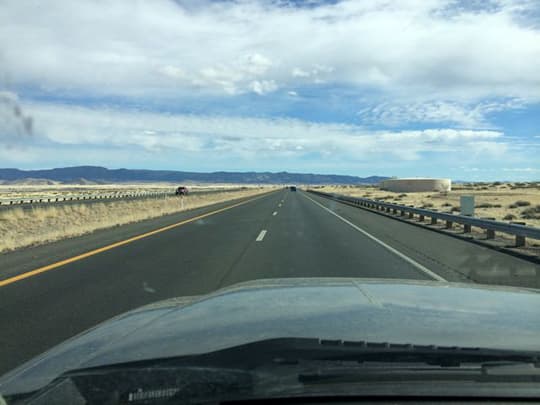 Above: Driving on the open road
TCM: What is driving the truck camper like compared to hauling the fifth wheel?
Erika: I love driving the truck camper rig.  The maneuverability is fantastic.  I can stop where I want to sightsee, grocery shop, and walk my dogs.  I have peace of mind and a lot more freedom compared to the fifth wheel.
I did find that the rig was more top heavy with the truck camper loaded and had to adjust to that when driving on the highways.  With the fifth wheel, I would also stay places for longer, sometimes even longer than I wanted because of the logistics of having to pack it up and move it.  I am more spontaneous with a smaller rig.  The truck camper is the vacation home of my dreams.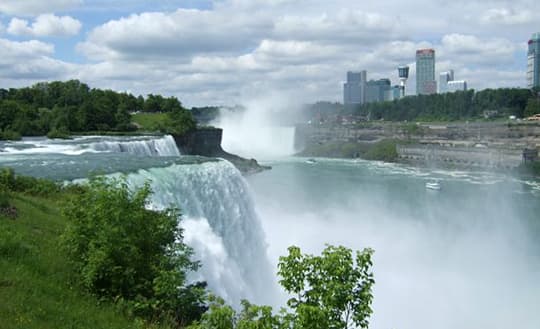 Above: Niagara Falls, New York
Right after I got the Northern Lite, I traveled to the Black Hills in South Dakota and the Upper Peninsula of Michigan.  I also stopped and marveled at Niagara Falls.  South Dakota was the highlight of that road trip.  I had never been to the mountainous regions of South Dakota.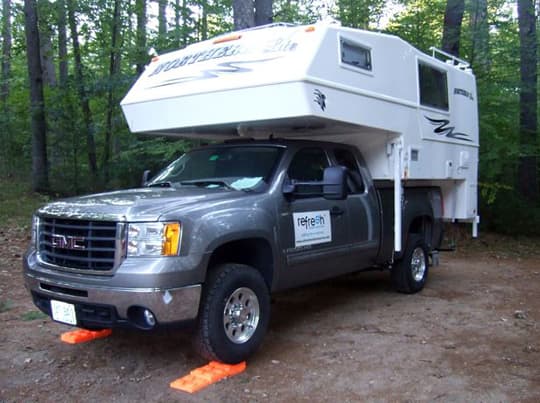 Above: Weekend trip at a New Hampshire state park
After that initial road trip, I got to know the camper better by taking it all over New England visiting friends and family.  I went to state parks, met with clients, skied in Vermont, watched wildlife in northern New Hampshire, and listened to waves roll in along the coast of Maine.  It is easy to take my camper anywhere.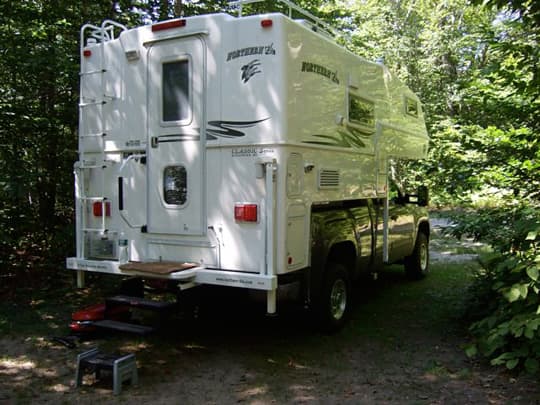 Above: State park in southern New Hampshire
TCM: Tell us about moving to Seattle.
Erika: I had wanted to move to the Seattle area for a long time because I have friends and family here.  That was the end goal of the four-month trip from New Hampshire to Washington that I started in January of this year. I took a southern route and visited towns that looked neat.  I didn't plan too much along the way and was open to distractions.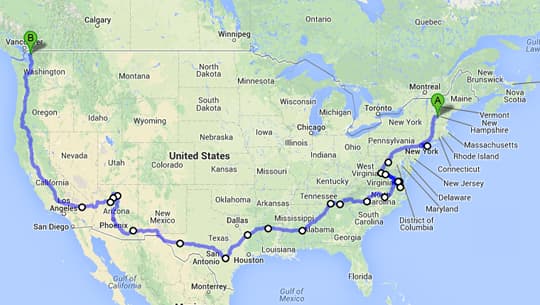 Above: Approximate route during the move from New Hampshire to Washington, January to February, 2014
I saved up before the trip and kept my expenses down, made my own food, and kept my speed around 60 miles per hour to save on gas.  I would spend a week somewhere, catch up on work, and then drive.  It balanced out.