Balancing work and play, Editor Erika Hokanson and her Akitas set out from New Hampshire in a Northern Lite seeking freedom, adventure, and the wonders of the West.

Life in a traditional stick home tends to fall into a comfortable routine.  It can be difficult to remember, or distinguish, the days, weeks, and even months spent at home.  While memorable events happen, most days drift past as the last.  If we're not careful, we find ourselves thinking, "What happened to Summer?" and, "It's my birthday again?"
Life on the road is another story.  New places, people, and experiences are common, indelibly marking their territory in time with a mental clarity that home life almost never provides.  At Truck Camper Magazine, the strongest motivation that gets us back on the road is this; can we remember, and distinguish, the days, weeks, and months spent at home?  The answer, all too often, is no.  The road is what makes our memories.
For us, the story of Erika Hokanson was a fresh and invigorating reminder of the importance of this life-affirming perspective.  Erika's strength and positive attitude has propelled her to overcome tragedy, reconnect with distant family and friends, move to the opposite coast, and push forward to make the most of every day.  As Erika explains, she is "grateful for today".  We can all gain from her example, and be inspired to live our lives to the fullest.  Seize the day.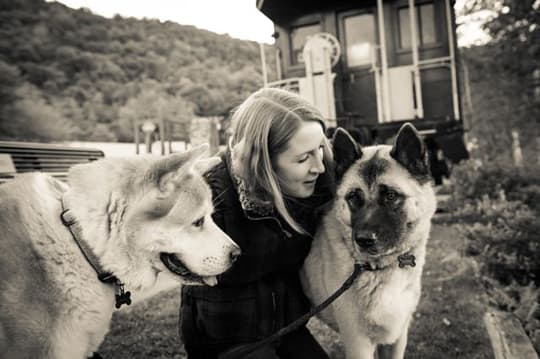 Above: Arrow, Erika, and Kodo
TCM: Tell us about how you got into truck camping.
Erika: Growing up in New Hampshire, I went camping with my family a lot.  Those were treasured times.  My dad was also into sailboats and was having a trimaran built to sail around the world with my brother.  Dad's sense of adventure and spirit inspired me, but I wanted something to explore the land.  In high school I read Steinbeck's Travels With Charley and Kerouac's On the Road.  A few years after college, I planned a cross-country road trip and wanted something big enough to live in.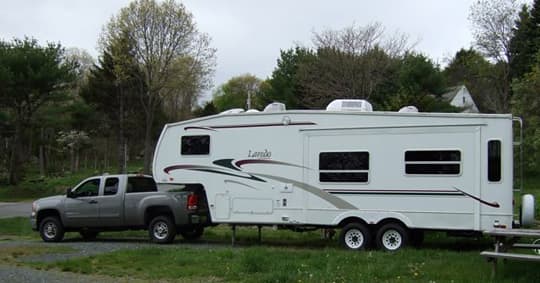 Above: Erika's 2008 GMC Sierra 2500HD and fifth wheel
I bought a fifth wheel, which was like an apartment.  The interior was great and it was a good match for my truck.  Unfortunately, the fifth wheel was just too much to manage traveling by myself.  For example, it was hard to back up and turn around.  I needed more flexibility about where I could stop.  My dog and I enjoyed the fifth wheel for a while, but eventually I put it up for consignment at an RV dealership.  It sold almost instantly.
That started my search for truck campers.  A truck camper really appealed to me.  I already had the truck, so the camper would need to fit what I had to work with.  Before long, I had narrowed my search down to Northern Lite.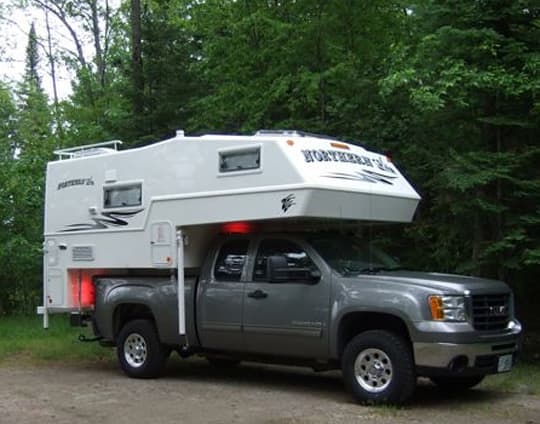 Above: Maiden voyage, camped on Michigan's Upper Peninsula
TCM: Why did you choose Northern Lite?
Erika: I really enjoy skiing.  I had seen other campers who stay in ski resort parking lots to enjoy the first mountain tracks in the morning.  So I wanted a camper that could handle the cold.
With my boating background, Northern Lite's molded fiberglass construction and four-season insulation appealed to me.  After I crunched the numbers, weights, and tank sizes, Northern Lite seemed like the right camper for me.
I first tried to find a used Northern Lite, but found that people keep them.  That told me a lot about the brand and these units, how well they're built, and how they hold their value.