WARNING: This article contains detailed descriptions and sumptuous photography of delicious food prepared in a truck camper.  Gourmet anywhere!  Bon appetit.

The history of our truck camping lifestyle is rather short.  We always tended towards the outdoors, and did our share of camping.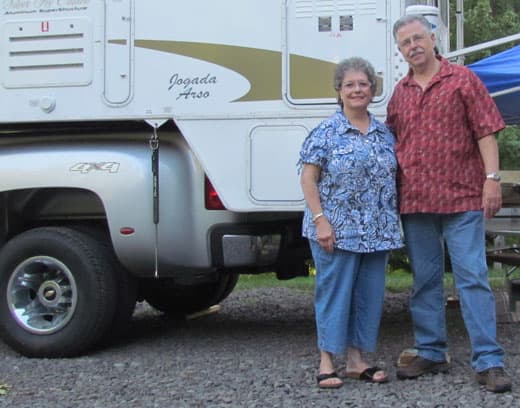 When we became empty nesters, we decided to get an RV.  We only needed something for the two of us, and I preferred a rugged go anywhere, self-sufficient approach.  That led us toward a truck camper.  The factors that actually clinched the choice for a truck camper were our very steep driveway approach, and the twelve foot by twelve foot entrance to our barn.
Most fifth wheels and Class A motorhomes would not clear the twelve foot barn door height; a travel trailer would, but would not clear our driveway's sharp angle of approach, nor would most of the other RV types.  A truck camper fit our needs and met the physical requirements, although models that build above the truck rails would still not clear the barn door height.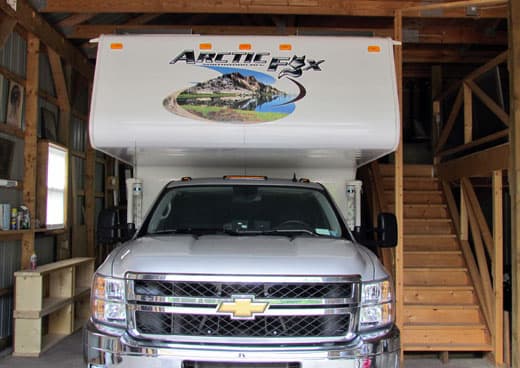 We looked at several truck camper models and decided on an Arctic Fox 1140.  With a wheel well height basement and a low profile air conditioner, it clears the twelve foot ceiling by about three inches.  We checked off just about every option on the dry bath version including two 135 watt solar panels, two Fantastic Fans (we now have three), installed two AGM batteries, and changed all twelve cabin lights to LEDs.
We put the camper on a Chevy 3500HD dually, held down by Torklift Fastguns.  Firestone air suspension with the on-board air compressor and air reservoir tank were also added.  I can now raise and lower the rear from the driver's seat.  We added a hard-wired rear view camera, and a CB radio with the antenna on top of the camper.  We also permanently installed a Garmin GPS.  On longer trips I add a Tom Tom GPS.  We have two different brands knowing that if they agree, we have a high degree of confidence in where we are going.
We learned about the Northeast Truck Camper Jamboree on the internet.  Now we try to attend most of their rallies and jamborees.  Food is always a prominent part of the gatherings.  Typically, there is an appetizer gathering most nights, with one potluck dinner on Saturday night.
Food has always been one of our passions.  We dine out regularly, and Marianne is a great cook.  Naturally, this translated into enthusiasm for the food part of the rallies.  We enjoy bringing and preparing the appetizers and food for the potluck dinners.  Marianne has developed several recipes where she does some preparation work at home, followed by some final cooking and preparation at the campsite.
We'll start with the Eggplant Rollantini that we brought to the Mid-Atlantic Truck Camper Rally.
Eggplant Rollatini
This is a dish that we prepare at home and finalize at the campsite.
Ingredients:
Several medium sized eggplants (the larger ones tend to have too many seeds)
Quality fresh ricotta (about 1 to 2 tablespoons for each finished rollatini)
Shredded mozzarella
Grated parmesan cheese
Ground black pepper
Dried parsley flakes
Marinara (red tomato) sauce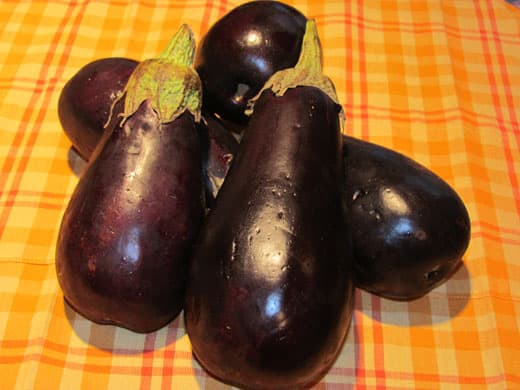 Wash, peel and slice the eggplants.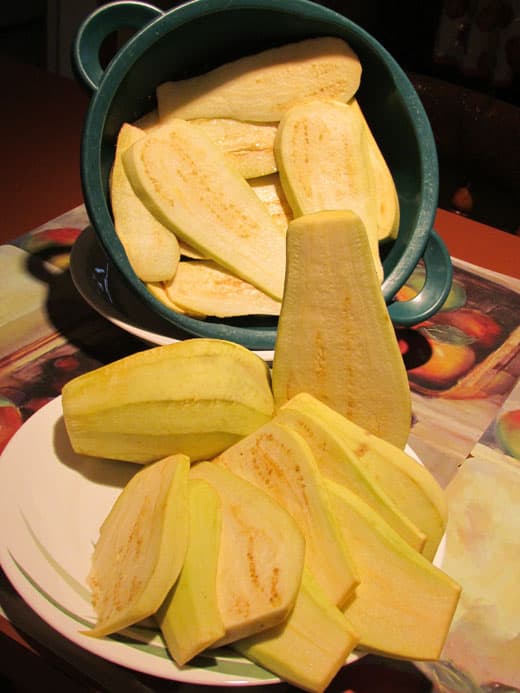 The slices should be about three-eighths of an inch thick.  Salt the raw slices and place into a colander with a dish underneath for about an hour.  This will draw out moisture.  Then wipe with paper towels to remove the surface salt and moisture.  Stack with clean paper towels between the slices, pending frying.