In October of 2016, Hurricane Matthew flooded Laurel and Terry Coon's Florida house causing severe damage. For nearly a year, their Lance 850 truck camper was their home, refuge and security post. Then Hurricane Irma approached from the south…

We met Laurel and Terry Coon at the annual 2018 Florida Flywheelers Antique Engine & Tractor Show in Fort Meade, Florida. Over the course of the event, we learned that Laurel and Terry had lived the better part of 24-months in their truck camper rig after their St. Augustine area home was flooded by Hurricane Matthew and, less than a year later, damaged again by Hurricane Irma.
Laurel and Terry's experience is an important reminder of how a truck camper rig can instantly become a Family Emergency Vehicle (FEV). Whether you're facing forest fires, floods, hurricanes or the unpredictable nature of earthquakes, volcanic eruptions, tornadoes, and man-made disasters – a truck camper can be your family escape plan. I know many of us sleep better knowing our campers are always ready to go.
For further reading on this subject, we recommend reading, "Truck Camper Hurricane Preparedness" and, "7 Reader Tips For Hurricane Preparedness".
Thank you, Laurel and Terry, for sharing your story.
The Hurricane Escape and Recovery RV
by Laurel Coon
Both of us have great memories of the outdoors. Terry's parents upgraded the size of their campers over the years while living in Nebraska, eventually becoming dedicated snowbirds with a fifth wheel. I never camped with my family, but did stay in tents with friends over the years.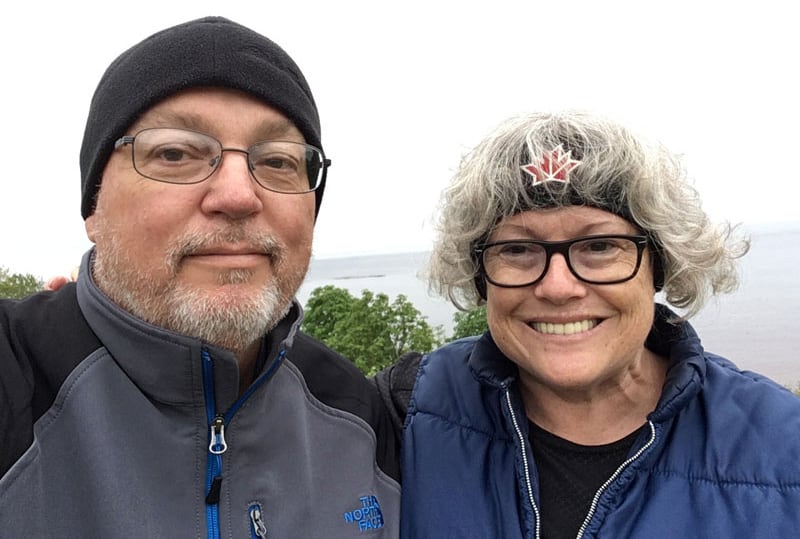 When we retired, we discovered that we could travel for months at a time. In 2014, we went to Alaska for two months in a Ford Flex SUV with a roof top tent. With that setup, we experienced amazing freedom and the ability to go just about go anywhere.
I was mesmerized by the Canadian Rockies. Wild animals were grazing right outside our windows. The entire trip was a wonderful unexpected adventure.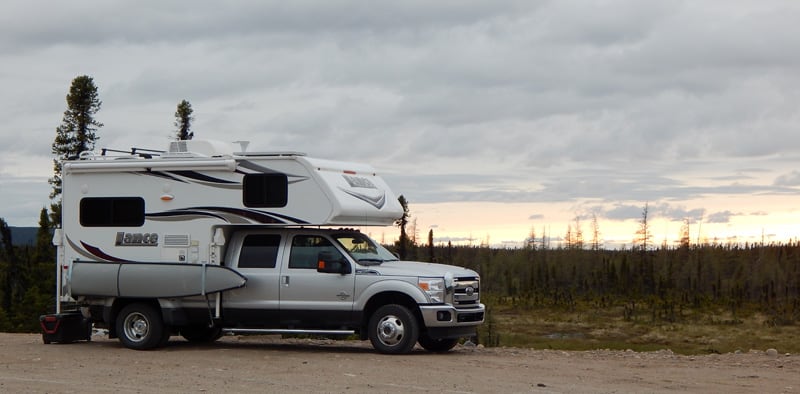 Above: Their Lance 850 on Highway 510 in Labrador, Canada
During that experience, we realized that we wanted a more comfortable set-up that could still take us practically anywhere.
After the Alaska trip, we purchased a 2016 Ford F-350 dually and 2016 Lance 850. With our new truck camper rig, we explored the United States and Canada and pursued the off-road and off-grid opportunities we had dreamed of.
The Lance 850 really had what we wanted. The layout was a good fit. The storage and larger refrigerator impressed us, and the unit was well made. Even better, Ocean Grove RV was in Saint Augustine, just down the road from our home.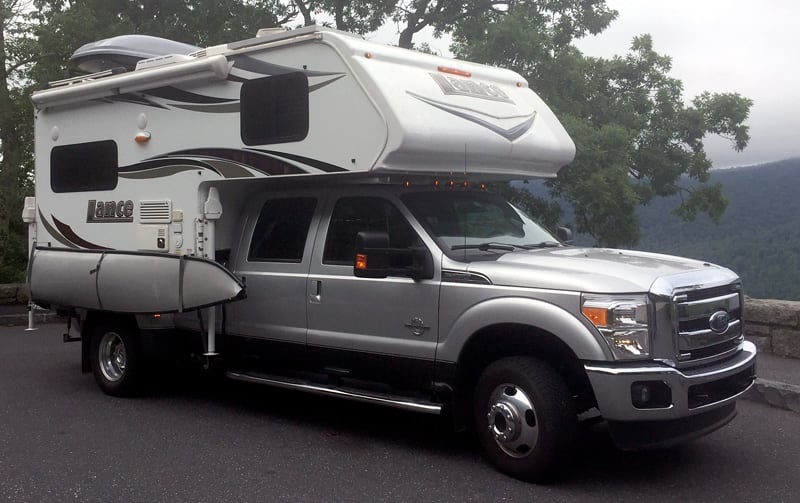 With childhood memories of fishing, we purchased a 10-foot Porta-Bote folding boat, mounted it to the right side of our Lance Camper, and added a 6-horsepower Suzuki outboard motor.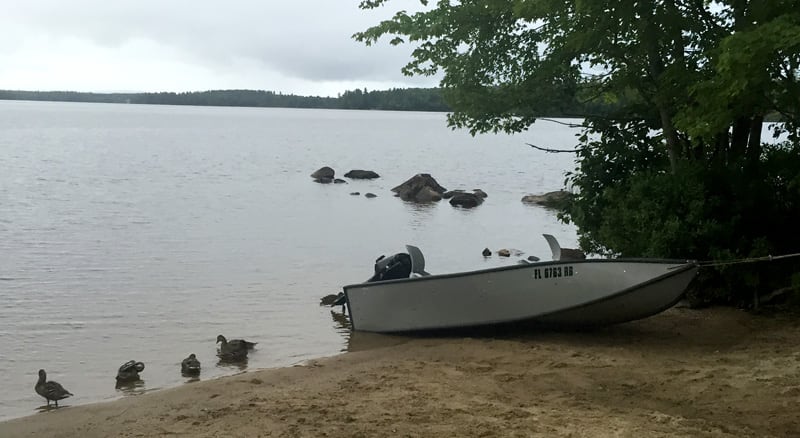 With our Porta-Bote, we can literally stop at any lake and further enjoy nature and its beauty and solitude – all without towing.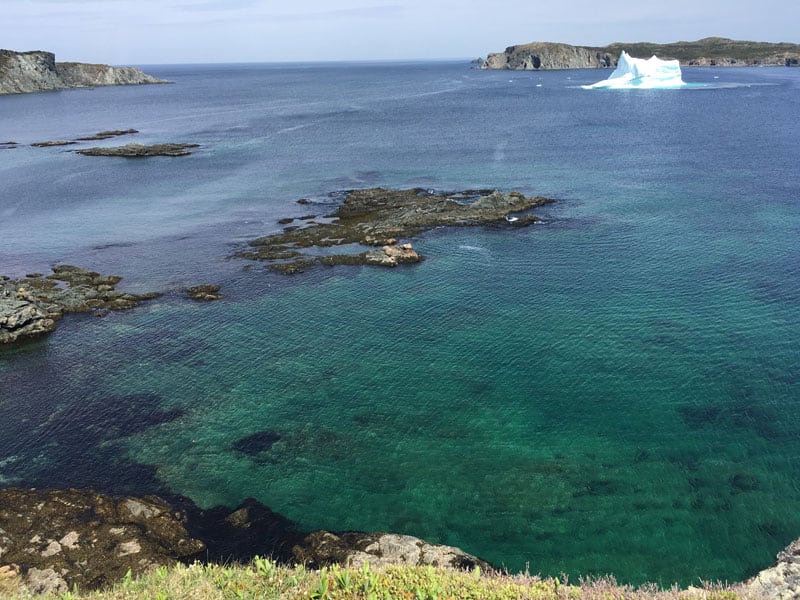 Above: Iceberg In Twillingate Newfoundland
In the early summer of 2016, we planned an extended trip fishing in Minnesota, and then traveled through the eastern providences of Canada with the goals of eventually visiting Labrador and Newfoundland. Then we zig-zagged our way home fishing from New Hampshire to Georgia.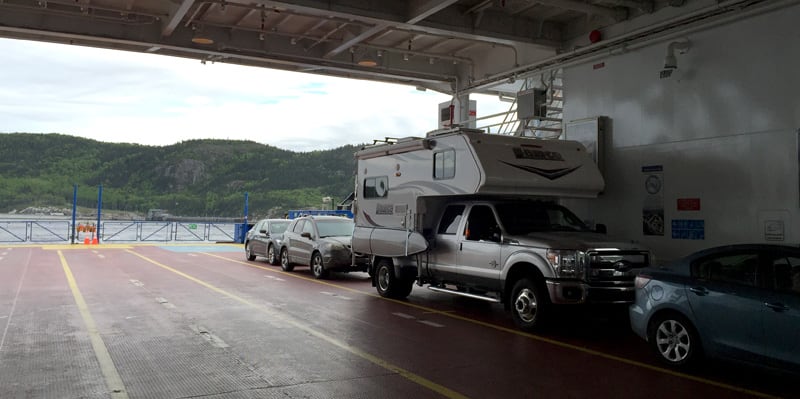 During that trip we saw icebergs and experienced our first ferry ride with our truck and camper.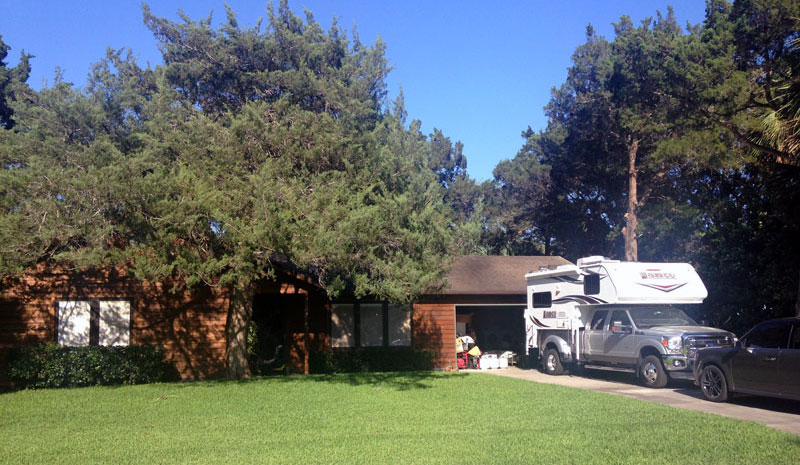 Finally home in Florida, we spent September enjoying the warm weather and really becoming excited for my niece's wedding. The wedding was scheduled for the second week of October in Washington DC. We planned to attend her wedding, and do some additional traveling.
Hurricane Matthew
Soon after leaving for the wedding, Hurricane Matthew formed into a record-setting Category 5, and devastated the islands of Haiti and Cuba as a deadly Category 4. It struck the northern Bahamas, and then began approaching Florida's East Coast.
When we reached the Carolinas, it become more and more apparent that Hurricane Matthew was likely headed for our barrier island home outside of Saint Augustine. Heartbroken about missing the wedding, we turned around to close up our home and prepare for the approaching storm.
"I was also worried about the alligator farm in our neighborhood, but didn't need to be reminded about that."
We quickly boarded up the house and evacuated in our truck camper rig to a friend's home further inland.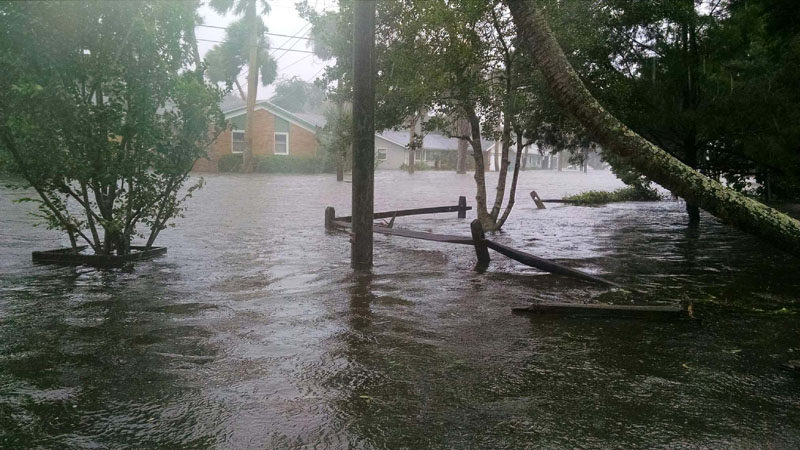 The hurricane never made landfall in Florida, but ran along the Florida coast causing extensive damage. Everyone in our area lost power during the event. With battery power, we were able to sit in our truck camper with our friends and watch the hurricane approach on our camper's television. Mounted on a dually truck and parked on the side of our friend's house, the Lance 850 didn't wobble much in the 70 to 80-mile-per-hour winds and rain.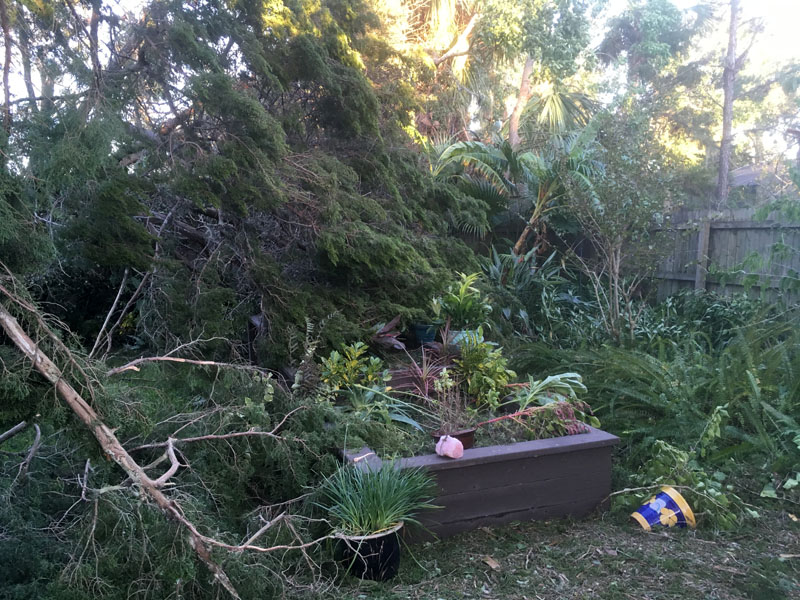 After the hurricane passed, we had to wait to be let on the island due to the damage. We knew that we had been flooded and were afraid for the numerous large cedars next to the house. I was also worried about the alligator farm in our neighborhood, but didn't need to be reminded about that.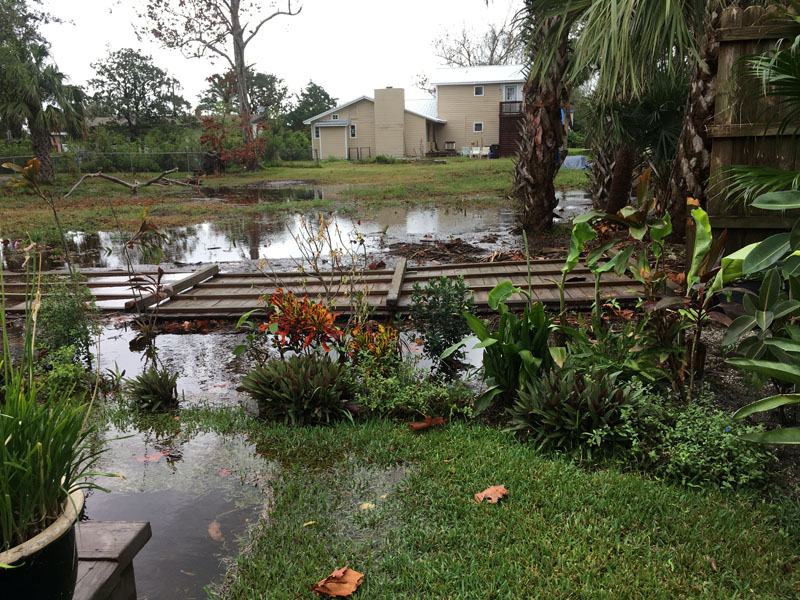 When we were finally allowed back to our home, there was flood damage from an ocean surge. A cleaning crew would need to come in to tear up our flood damaged walls, floors, cabinets, and furniture. That would "keep up the momentum" before mold or other issues could occur. The large cedars hit everything but the roof.
In that moment, we had no idea what we were up against, nor the out of pocket expenses that were sure to come. I was in a state of shock and went into overdrive to get boxes to pack everything in sight.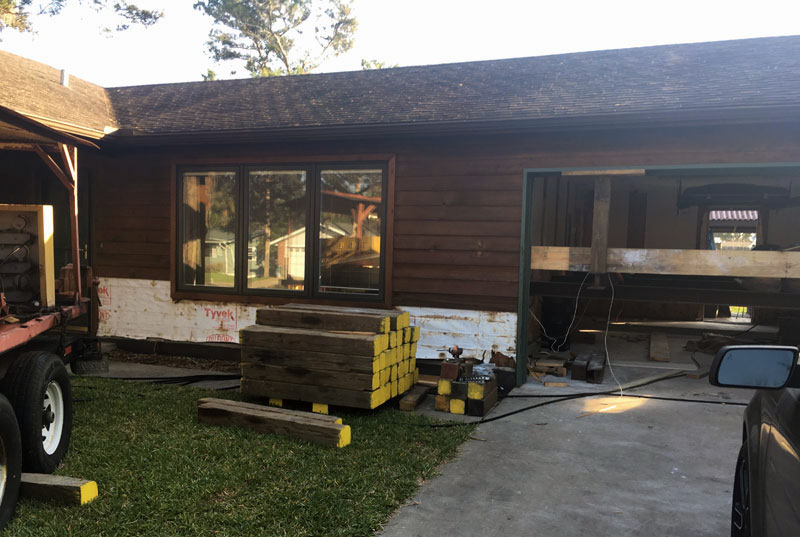 Above: Their home right before construction started
We watched our home being torn apart as FEMA trucks came daily to dispose of our losses. From the storm surge, there was salt water and sewer water everywhere. It did not take long for the overwhelming smell to fill the air.
"During all of this time, our Lance truck camper was our refuge. Others had to find a place to sleep and live."
The FEMA crews, local police, and non-affected residents were so supportive. But, we also watched a multitude of people went through and stole belongings from damaged homes prior to the cranes and garbage trucks.
Living In Our Lance 850 and Rebuilding
During all of this time, our Lance truck camper was our refuge. Others had to find a place to sleep and live. FEMA would not provide enough money to rent anything due to the snowbird rentals.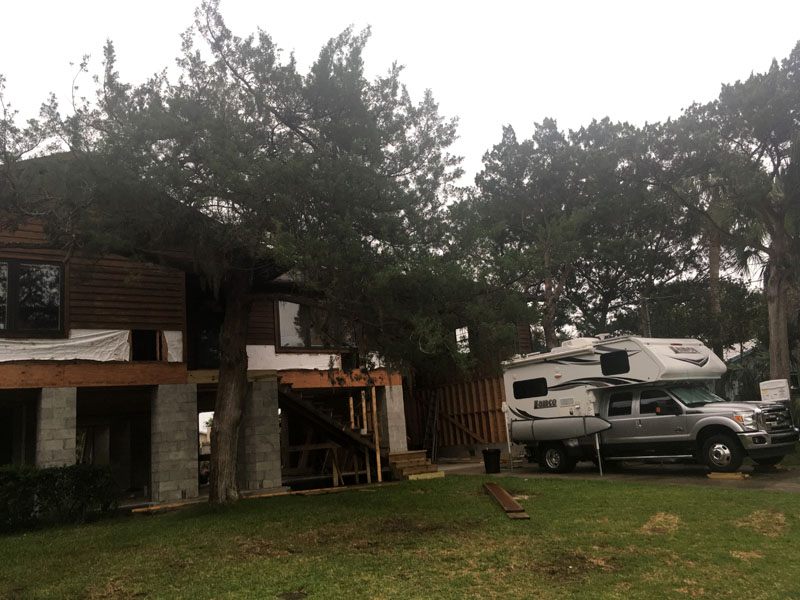 In our camper, we had power and air conditioning. To relax after a day of dealing with the house, we could read, use our computers, and watch television. Just for a few hours, we could try to forget what was outside our door.
Since we were staying on our property in our camper, we could watch out for theft. Therefore, our house was much safer.
During the recovery process, we discovered that we needed to change the elevation of our home or it would be worth less than our camper. Prior to the storm, our home's elevation was less than one-foot below what FEMA required to not be considered significantly damaged and face future FEMA consequences.
To address this situation, we decided to raise our home. In fact, we decided to raise it high enough to create a garage for the truck and camper.
The process of raising our home started in the beginning of November. We had no idea of how long it would take, or what the final cost would be.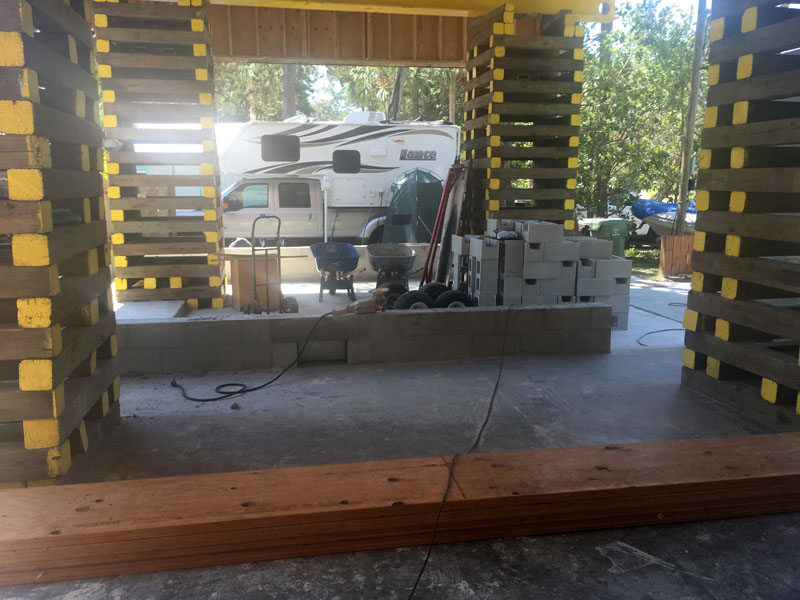 After the beams were lifted out with a crane, there were new plywood floors and columns built for the support of our new second story home.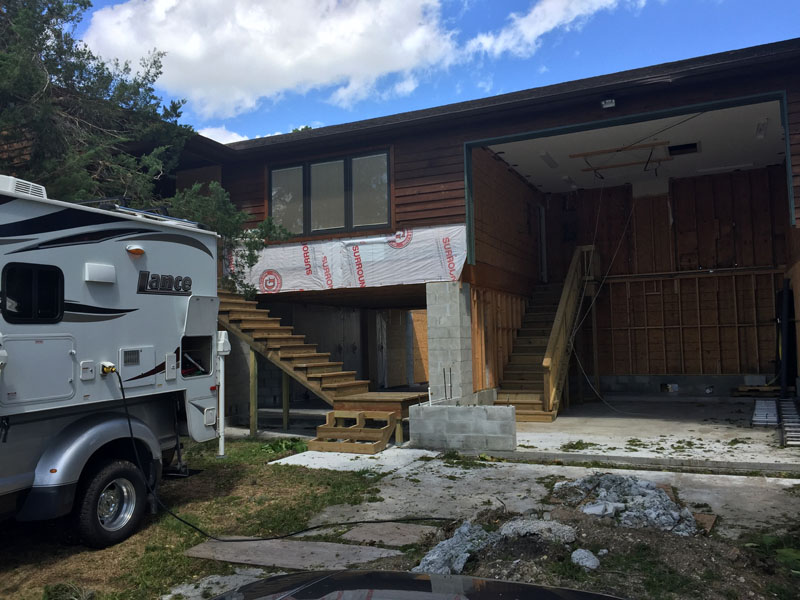 The Lance Camper's wet bath became a closet. We used the contractor's "green outhouse" and rigged up a dome tent in the backyard for outdoor showers. We had a gas grill for cooking outdoors and used the camper's microwave. Our larger refrigerator/freezer in our camper was a blessing.
When one of us needed some space, we had our unfinished house to roam around in, gardening, or the laundromat. Compared to other folks, we were – and are – so blessed.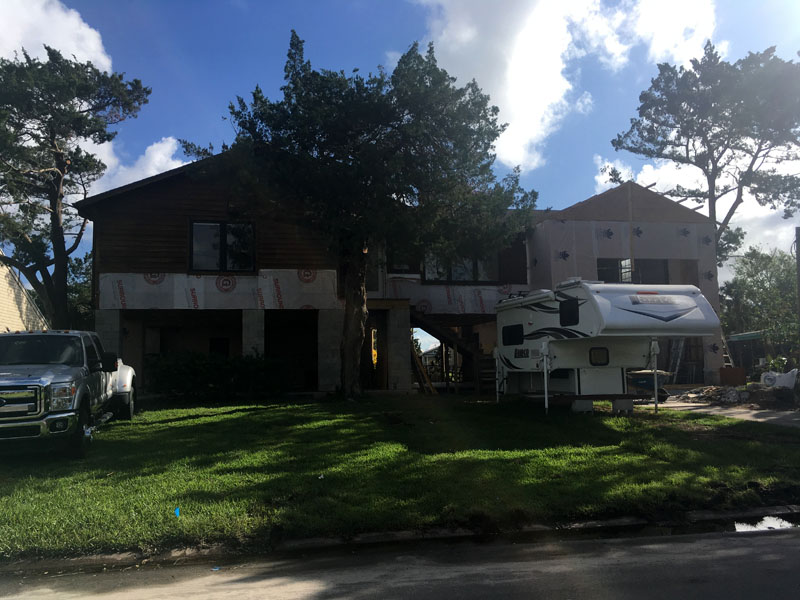 If we knew we were going to live in it 24-7 for over two years, a slide-out would have been better. But, we really did quite well in our Lance 850.
The Calgary Stampede and Hurricane Irma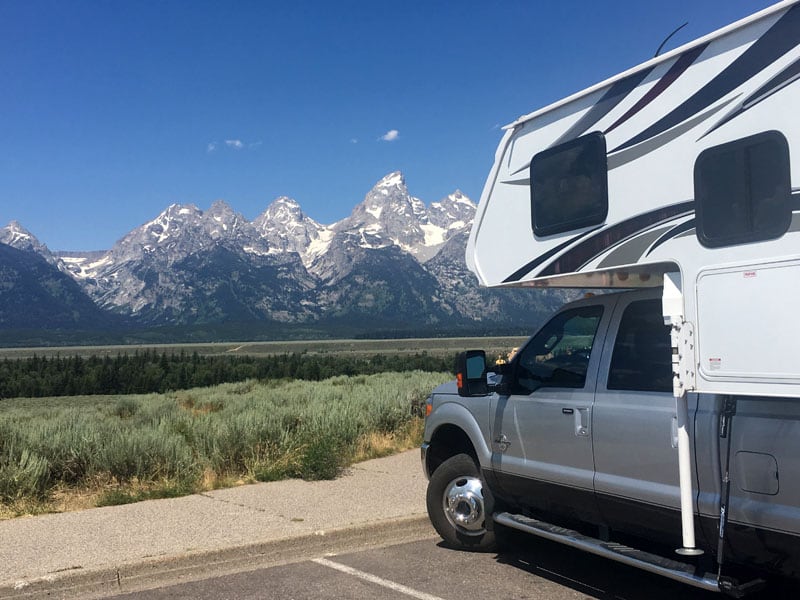 Above: Grand Teton National Park
Believe it or not, we actually went on a one-month, long-distance truck camping adventure the following summer. We had made a commitment the year prior to meet up with friends in Calgary, Alberta for the famous Calgary Stampede. We also had planned to visit Glacier National Park.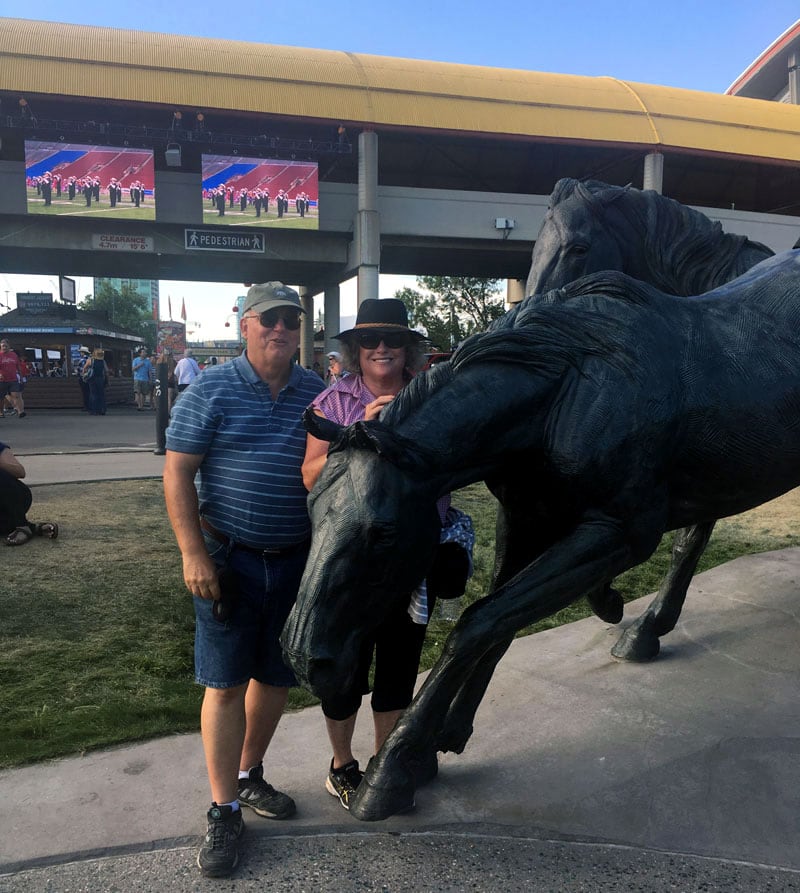 By that point we were very excited to get in our truck camper and just hit the backroads. So many folks asked us how we could live in our camper while our house was still being built. We were excited to travel. It's the mindset!
Things got decidedly less fun when we returned. Less than a year after Hurricane Matthew was Hurricane Irma. Hurricane Irma strengthened to a Category 5, caused terrible damage and loss of life throughout the Caribbean, ravaged the Florida Keys as a Category 4, and carved a destructive path through the state of Florida – including St. Augustine.
Once again we evacuated to our friend's house and we were in the same scenario of sitting in our truck camper and watching the hurricane on the news. This time one of the neighbor's roof singles hit the side window of our truck really hard. There's scarring on the fiberglass as a result.
Luckily, our house had been raised before Hurricane Irma. The windows, doors and steps were secured. We did not suffer any flood damage, but the wind damaged our roof and fence, resulting in another insurance claim.
Homes that had not changed their elevation were flooded again. The two hurricanes devastated our neighborhoods, not only creating a depressed environment, but also creating very stressed out and depressed neighbors. We were very fortunate.
Finally Home
In June of 2018, we passed final inspection to live in our raised home. In total, we spent twenty-four months (June of 2016 through June of 2018) in our camper as the house was raised and repaired.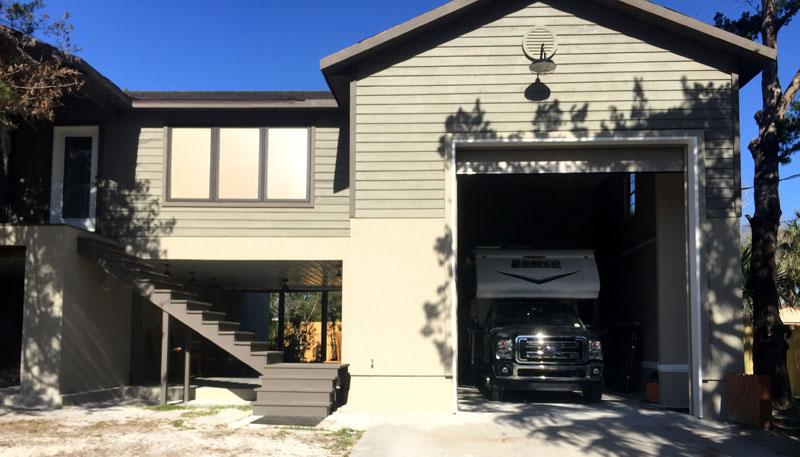 Our garage for the camper has a wide staircase, an 18-foot ceiling, and a 14-foot door. It's a little over-kill, but hopefully someday it will be a great selling point. We also were able to put a single garage door on the other side of the house for our Ford Flex.
When we visit friends in our truck camper, they often ask if we would like to stay in their guest rooms. Most folks don't realize that our camper is the best refuge ever.
In our camper is a small framed picture that my parents had for years. It says, "Retirement: After Climbing the Mountain, You Can Now Appreciate the Beauty of the View". We are now planning for our next adventure!
Laurel and Terry's Rig
Truck: 2016 Ford F350, Crew Cab, 4X4, dually, diesel, long bed
Camper: 2016 Lance 850
Tie-Downs/Turnbuckles: Torklift Tie-Downs, Torklift FastGun Turnbuckles
Suspension products: Torklift StableLoad upper overload